The Condidate

Week of 11/10/23
Actual headlines from the internets. You Google 'em.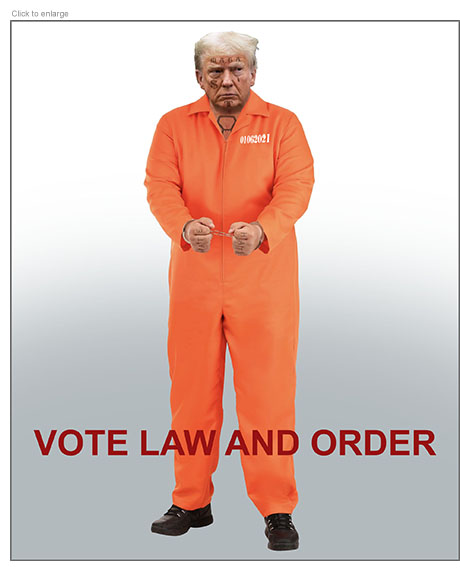 Judge chides Trump as ex-president testifies in civil fraud trial: 'This is not a political rally'
–– 'Except, admittedly, in your warped mind.'
Rudy Tells Trump He'll Go Down With the Ship
–– And see him at bottom.
Dr. Lance Dodes on Trump's courtroom antics: "Decompensate to the point of gross paranoid psychosis"
–– 'What does that mean? He's friggin' cuckoo-for-cocoa-puffs!'
Trump Leads in 5 Critical States as Voters Blast Biden, Times/Siena Poll Finds
–– Whose paranoidly psychotic now?
3 Things We Learned From Ivanka Trump's Trial Testimony
–– 1. Asshole doesn't fall far from tree.
Ivanka Trump testimony: Why 'I don't recall' is a common legal strategy
–– Amongst guilty witnesses.
What to watch when Donald Trump takes the stand in New York civil fraud trial
–– Three Stooges' reruns.
Cohen slams testimony from Trump's sons in fraud trial: 'How stupid do you have to be?'
–– They insist on far exceeding standard.
Michael Cohen Produces Old Trump Document To Make Damning Point About Ex-Boss
–– On Fall '23 Cohen Atonin' Tour.
Trump Says U.S. Had 'No Problems' Under His Watch
–– Kim, Putin, Bannon remember as 'Golden Age.'
Judge Cannon keeps Trump trial date in documents case, with a caveat
–– Trump: 'I'm not crazy about caveat. What is it –– fish eggs on toast?'
Biden's real reason for wanting to meet Xi at the Apec summit
–– Wants Moo Goo Gai Pan recipe.
High court seems likely to allow gun bans for those under protective orders
–– Suggest free baseball bats for abusive husbands.
Hutchinson booed for over a minute after claiming 'significant likelihood' Trump will be found guilty
–– For over two minutes when he asserted it was 21st century.
'You're Just Scum': Nikki Haley Slams Vivek Ramaswamy For Invoking Her Daughter
–– C'mon, he's so much worse!
Nikki Haley: I 'Showed a Lot of Restraint' in Calling Ramaswamy 'Scum'
–– Guess she knows him better than we realized.
Opinion | At third GOP debate, Haley's comet again shone brightest
–– In night sky filled with space junk.
Vivek Ramaswamy slams Ukrainian President Zelenskyy, who is Jewish, with 'Nazi' reference
–– Affectionately refers to Putin as 'Tsar of All the Russias.'
Tim Scott Soft Launches His Girlfriend at the GOP Debate
–– Only reaches second row with her.
Jill Stein Announces Third-Party Bid for President
–– This Week in Just for Laffs.
Speaker Johnson navigates 'mission impossible' to avoid shutdown, without clear plan
–– We hope it includes rappelling down capitol dome.
'I refuse to put people over politics': Speaker Johnson fundraises with apparent typo
–– Or unexpected candor?
Kelly Johnson, House Speaker's Wife, Tells Fox News Her Husband's Political Ascent Is 'Biblical' (Video)
–– Like plague of locusts.
Mike Johnson and His Son Monitoring Each Other's Porn Intake Is Worse Than You Think
–– Top sites are all step-dads on stepsons.

EXCLUSIVE: House Speaker Mike Johnson's 'adopted' 40-year-old son Michael Tirrell James in court on charges of running illegal cannabis business and possession of brass knuckles - as it's revealed rap sheet goes back to 2003
–– See, naysayers, he did get to shape character!
Joe Manchin Wants One Thing, and It's Disgusting
–– Slaw dog.
How McConnell helped engineer Manchin's exit
–– Provided lug wrench.
FBI seizes New York City Mayor Eric Adams' phones as part of federal investigation into fundraising
–– Will mean sifting through lotsa selfies.
Jackie Kennedy Allegedly Had Plans to Divorce JFK Before a Proposition Changed Her Mind
–– From Lee Harvey Oswald, ladies.
Did Fake Donors Give the Mayor Real Money? The F.B.I. Wants to Know.
–– Sounds dumb enough for him.
Israel has agreed to a daily 'humanitarian corridor.' What does this mean?
–– Run!
Blinken meets with Palestinian Authority president in first wartime visit to West Bank
–– Brings Abbas ABBA's Greatest Hits.
The Tunnels of Gaza
–– Travel & Leisure's least popular tourist destination.
Rashida Tlaib Posts Video Accusing Biden of Supporting 'Genocide'
–– Driving sense from river to sea.
Woman drives into building she thought was an 'Israel school', police say
–– Was actually run by antisemitic extremist sect –– did she bring enrollment papers?
Obama Urges Americans to Take in 'Whole Truth' of Israel-Gaza War
–– Decisive as ever.
Billionaire Bill Ackman says it's 'pathetic' that colleges rely on corporations and law firms to police antisemitism on campus
–– Money talks, bullshit teaches.
Jewish Man Dies After Altercation at Dueling Protests in California
–– At how many paces?
'Corpses on streets': Sudan's RSF kills 1,300 in Darfur, monitors say
–– U.S. media: 'C'mon, if you want coverage you're gonna have to beef up those numbers.'
The New Enemies of Argentina's Far Right: Swifties and the BTS Army
–– Sure military is shaking in jack boots.
A Chance Encounter and a Fugitive Linked to a President's Killing Is Caught
–– Assassins Haiti when that happens.
STRIKE OVER: Actors Make a Deal With Studios After 118 Days
–– Let the emoting begin!
Wednesday's Jenna Ortega Gets Honest About Why She 'Can't Watch' Her Own Work
–– Little thing called taste.
James Corden Returns to Talk — Via New Weekly SiriusXM Interview Show
–– Who?
Gannett's Taylor Swift Reporter, Revealed: Meet Bryan West, the First Full-Time Swiftie Journalist (EXCLUSIVE)
–– Edward R. Murrow, in grave, can't shake it off.
'The Marvels': Where we left off with Captain Marvel, Ms. Marvel and Monica Rambeau before the film
–– Hoping to never see them again.
Report: Captain America: Brave New World to Undergo Extensive Reshoots
–– Marvel still hopes for big soma movie.
3 Reasons Why Moon Knight Could Have Been A Turning Point For The MCU, And 2 Reasons Why It Wasn't
–– 1 of 3: It could've been good. 1 of 2: It wasn't.
Kel Mitchell Says He's "Now on the Road to Recovery" After "Frightening" Medical Incident
–– In most out-there promo yet for Good Burger 2.
The attention seeker's attention seeker: Jared Leto climbs the Empire State Building
–– Carrying picture of Fay Wray?
Warner Bros. Shelves John Cena's 'Coyote Vs. Acme' Movie a Year After It Completed Filming (Exclusive)
–– Tosses negative into canyon.
The surprising way Barbra Streisand won over James Brolin
–– Cash.
Barbra Streisand wasn't happy with how Siri said her name. So she called up Apple's CEO to get it fixed
–– Now pronounces it S-T-R-I-D-E-N-T.
Barbra Streisand's Memoir Is 48 Hours Long on Audiobook
–– 58 with dramatic pauses.
Barbra Streisand Says She Only 'Kind Of' Remembers Sleeping With This Hollywood Legend
–– Not Bill Cosby!
Sharon Stone Says a Former Sony Boss Sexually Harassed Her During '80s Office Meeting: 'He Took His Penis Right Out in My Face'
–– Is she sure it wasn't Peckermount? DickWorks? Wanker Brothers? Metro-Goldwyn-Member?
Sofia Coppola Says She Wanted Lana Del Rey on the 'Priscilla' Soundtrack: "Didn't Work Out With the Timing"
–– What a riveting non-story.
Ridley Scott Tells Historian Who Called Out 'Napoleon' Errors to 'Get a Life,' Will Say 'It's About Feckin' Time' If He Ever Wins an Oscar
–– Tells him to flush 'bleedin' research down water loo.'
Taylor Swift's Blockbuster '1989' Rerecording Tops Sales of Original
–– Everything old is meh again.
Tracy Chapman wins CMA Award for 'Fast Car' decades after song's debut
–– CMAs already stuck in 1988.
Marvel's Echo Trailer Is Surprisingly Bloody, And Feels Brutal Like Netflix's Daredevil
–– Highest praise?
Danny DeVito Says He and Arnold Schwarzenegger Missed Out on Making 'Twins' Sequel: 'He Should Have Done 'Twins 2′ Instead of Becoming Governor'
–– Would that farce have had greater entertainment value?
Jason Momoa to Host 'SNL' Ahead of 'Aquaman 2' Release
–– From sinking ship to sinking lifeboat.
Are 'Elf' and 'Love Actually' the Last Holiday Classics We'll Ever Get?
–– Like you deserve more.
Lily Gladstone Offers Support to Native Audience of 'Killers of the Flower Moon': "See It When and Only If You Feel Ready"
–– "The rest of you murdering bastards: see it now!"
'Cool Runnings' Star Says He's Never Forgotten A Comment John Candy Made On Set Before His Death
–– 'Are you gonna finish that?'
'Inside Out 2' Trailer: Pixar Introduces New Emotion, Anxiety
–– Reflecting company's terror of another flop.
Elon Musk Biopic in the Works at A24 With Darren Aronofsky Set to Direct
–– Boy, do those two deserve each other.
"We were the same side of the coin – we were just different coins." Eddie Vedder on Kurt Cobain, and the time they slow danced together
–– Um, uh, exactly?
Elizabeth Hurley straddles Elton John in plunging dress you won't believe
–– How did he fit into it?
Why the upper classes are shunning sex, according to Jilly Cooper
–– She's 86, we assume evidence is anecdotal.
Big Ten suspends Jim Harbaugh 3 games for Michigan's alleged sign-stealing scheme
–– Found Visitors Locker Room sign in his garage.
Dusty Baker says criticism from Astros 'bloggers and tweeters' played role in his decision to retire
–– Criticism of 'codgers and cheaters.'
Jason Kelce named one of People's 2023 Sexiest Men Alive
–– In 'lumberjack' category.
Legendary Topless Surfing Pioneer Inducted into Hall of Fame
–– Check out those swells.
Opinion Musk did at least one thing right in his first year at X
–– Began crucial job of dismantling it.
WeWork files for bankruptcy
–– To be redubbed WeWait.
Chatbots May 'Hallucinate' More Often Than Many Realize
–– Not as often as techs who program them.
Victoria's Secret, the hypersexualized iconic millennial brand, tried to remake itself as feminist—and Gen Z saw right through it
–– They are so clever, never get fooled by ads.
A Hairy Truth About Your Sense of Touch
–– Can't get much cilia.
Nonbinary teacher at Florida school fired for using 'Mx.' as courtesy title
–– Last name is Mxyzptlk.
Tech mogul Bryan Johnson undergoes shock therapy on penis to get 'erections of an 18-year-old'
–– So long as they were really, really painful.
What to Know About Seasonal Depression
–– Yeah, shed some light on it.
'This baby clears off inches of snow from my car in no time': This windshield snow broom is just $20
–– Is actual baby on stick.
Apple hunter's 16-year quest for rare 'lost' variety was just the start
–– Found Apple II Plus in Los Altos dump.
Pizza Hut selling snake pizza in Hong Kong
–– Even snake thinks it's lousy.
How the spritz became the 'cocktail of the moment'
–– Same way Ritz became cracker de jour?
The Biggest Prep Mistake You're Making With Pulled Pork
–– Yanking pig too hard.
What Happens If You Heat Up Canned Cranberry Sauce
–– Not much.
Video shows India's iconic monument shrouded in smog
–– Taj Ma –– hack, hack, hack!
Iceland's Blue Lagoon closed as 1,000 earthquakes hit in 24 hours
–– Even chill Creature reportedly 'unnerved.'
Can I collect both my dead spouse's Social Security and my own at the same time? Here are 5 secrets of 'survivors benefits' you need to know
–– Don't give mate any ideas.
Just Stop Oil protesters smash frame of Velázquez's 'Rokeby Venus' in London gallery
–– Venus de morons.
Kansas City Manager Suspended After Employees Received Explicit Video Of Him Pleasuring Himself
–– Managing personal property.
Bonanno crime family killer says he's 'not stupid,' would've taken 20-year prison deal if he knew he'd get life for murder
–– Slays with sense of humor.
World's first whole-eye and partial face transplant gives Arkansas man new hope
–– Eye-popping.
The hunt quickens for vaccines and antibody therapies against opioids
–– Not cheaper to quit?
Kids may have destroyed a $1.5M home with chainsaws and axes because it's 'supposed to have a ghost,' one of their dads said
–– Not demo-gorgon?
Why Australians Are Growing to Appreciate These Giant, Threatened Bats
–– Have you seen their other neighbors?
Hummingbirds have two creative strategies for flying through tight spaces
–– One involves K-Y Jelly.
Species of mammal named after David Attenborough believed extinct rediscovered
–– Less a fame whore than namesake.
Century-old buffalofish are still living in their prime
–– With hep catfish.
What Loch Ness monster hunters found after biggest search in 50 years
–– Nae muckle.
Archeologists Uncover Neolithic Stone Tomb With Hugging Skeletons in Scotland
–– Boners still intact.
Half man, half woman, this sculpture addresses life's deepest questions
–– Like, 'How's it feel to have no head, no arms, no lower legs, one boob.'
Orcas attacked a Polish yacht for 45 minutes, sinking it off the coast of Morocco, tour company says
–– Their idea of Polish joke.
Space Billionaires Should Spend More Time Thinking About Sex
–– With tentacled aliens!
Elon Musk told SpaceX workers not to wear safety clothes because he doesn't like bright colors: report
–– 600 injuries since 2014 thankfully included none to boss' sensibilities.
A tire chemical is threatening salmon. Here's what you need to know.
–– What goes around comes around.
Scientists say they've finally found remnants of Theia, an ancient planet that collided with Earth to form the moon
–– In some crappy 50s sci-fi movie.
Apple co-founder Steve Wozniak hospitalized in Mexico City, source says
–– Guess Apple a day wasn't enough.
Scientists have found a 'sleeping giant' of environmental problems: Earth is getting saltier
–– Old cuss' sense of humor racier than ever.
"Like When a Beatle Dies": Hollywood Unpacks Why Matthew Perry's Loss Feels So Massive
–– Which one was least talented, smarmiest?
Matthew Perry's Death Certifcate Confirms Preliminary Findings
–– He wasn't much of speller.
Bob Welch, last surviving Great Train Robber, whose job was to menace the train's fireman – obituary
–– Welched on deal.