I Witless Testimony

Week of 11/03/23
Actual headlines from the internets. You Google 'em.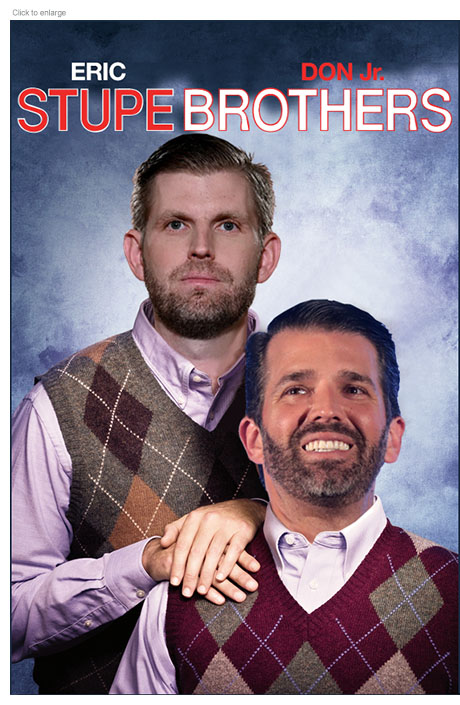 Trump sons downplay involvement with documents at center of New York fraud trial
–– Though Don Jr. claims he 'banged' form 1120.
Whatever Happened to Carpal Tunnel Syndrome?
–– Became wrist-averse?
Uh-Oh: Eric Trump Stumbles in Key "Gotcha" Moment in Fraud Trial
–– And on sidewalk from limo, at entrance to courtroom, into chair at witness table.
Trump's kids take the stand in N.Y. fraud trial — but only Ivanka matters
–– Which is how he feels.
Judge Tells Ivanka She Can Probably Afford a Babysitter
–– But Jared needs two just to change him.
Don Jr. Referenced a Fake SBF Pic in His Creepy Request to Courtroom Sketch Artist
–– Promisingly, he got Tom Brady's portraitist. Sadly, she was too kind.
Biden Issues Executive Order to Create A.I. Safeguards
–– Placing faith in team of Terminators.
How Obama helped President Biden draft the AI executive order
–– Virtually.
Ex-Prosecutor Warns Fining Donald Trump 'Sends Exactly The Wrong Message''
-– Beating with oranges in sack much clearer.
How Trump's Verbal Slips Could Weaken His Attacks on Biden's Age
–– But make him more relatable to brain-damaged base.

It Seems Judge Aileen Cannon Is About to Hand Trump a Massive Win
–– Another Cannon misfire.
America Needs a Guy Fawkes Night for Jan. 6
–– Bonfires with real thing, not effigies.
Trump calls people imprisoned for U.S. Capitol attack 'hostages'
–– Ransom deeply stupid stuff past rally audience.
Voting officials push back against 'security' device distributed by Mike Lindell
–– Joy buzzer used by poll workers to shock brown voters.
Mark Meadows sued by book publisher over false election claims
–– You publish Meadows, expect Honest Abe?
Top Democrats plead with party: Stop looking for a Biden alternative
–– Settle, already!
Guess Who MAGA Mike Johnson Once Blamed for the Fall of Rome
–– Gay as Julius Caesar?
Mike Johnson Said Same-Sex Marriage Would Lead to People Marrying Their Pets. Wanted to Sentence Abortion Doctors to "Hard Labor"
–– Insists he only dated Golden Retriever, wanted to sentence pregnant women to "harder labor."
Kelly Johnson, who is married to House Speaker Mike Johnson, practices a form of Christian counseling that classifies people into 'choleric', 'phlegmatic,' and other ancient personality types purportedly ordained by God
–– Sounds stupidic.
Mitch McConnell warns GOP senators they'll face 'incoming' if they back Hawley bill to limit corporate giving in campaigns
–– He'll toss crumpled-up cancelled checks at them.
Second effort to expel George Santos from House fails
–– More Milk of Magnesia!
"If you come for me, you best not miss": Santos gloats after vote to expel shakes out in his favor
–– Hard to with target that size.
Ron DeSantis Finally Got Called Out Over Alleged Shoe Lifts, Heeled Boots
–– Height of idiocy.
Mike Pence suspends his struggling 2024 campaign
–– Put in shoebox, had mother bury in backyard.
Tuberville: I Worked Just as Hard as Marine General Who Collapsed
–– Getting him to collapse from overwork.
Andrew Cuomo Blames "Cancel Culture on Steroids" for Political Frenzy After Sexual Harassment Allegations
–– No "macho posturing on viagra"?
John Fetterman laments living by himself in DC and potentially appearing as a 'creeper' looking for a table for 1 for dinner
–– He's not that bad.
FBI agents search home of a key fundraiser for NYC Mayor Eric Adams' campaign
–– Looking for any evidence how utter incompetent got job?
U.S. Investigating Whether Adams Received Illegal Donations From Turkey
–– Adams: "No jive Turkey is gonna mess with this mean mutha!'
Two Alabama Republicans set to run against each other in 2024's first member-on-member primary
–– Sword fight in locker room?
Clarence Thomas' Attorney Denies Claims the Justice's $267K RV Loan Was Forgiven After Senate Panel Raises Ethics Questions: 'There isn't Even a Plausible Excuse'
–– For still sitting on Court? Agreed.
Israel appears to reject U.S. push for 'pauses' in Gaza assault
–– Won't commit to pause process?
Watch Blinken react to footage of Hamas terrorist attack on family
–– Blinkin' once if upset, twice if horrified.
No text, no talk. Palestinians plunged into digital darkness in Gaza.
–– Maybe now young people can empathize.
A Close Look at Some Key Evidence in the Gaza Hospital Blas
–– NY Times still trying to justify initially buying Hamas account.
An increase in harassment against Jewish and Muslim Americans has been reported since Hamas attacks
–– Behind the hate ball.
Cornell University cancels classes Friday amid 'extraordinary stress' on campus after violent antisemitic threats led to the arrest of a student
–– Students major in triggerometry.
How Posters of Kidnapped Israelis Ignited a Firestorm on American Sidewalks
–– Pillage to post.
The West Is Losing the Global South Over Gaza
–– South bye, South waste.
White House says US sending smaller military packages to Ukraine due to Congress inaction
–– Still need lotsa ribbon for package of M1 Abrams tanks.
Russians are hunting the Ukrainian drone pilots destroying their tanks and firing everything they've got, if they pick up their electronic trail, operator says
–– Sending up sharp-eyed mice in own drones.
Meghan McCain says leaving "The View" was like "a bomb going off"
–– "…the air."
CBC Investigation Says Buffy Sainte-Marie Has Falsely Claimed Her Native Identity
–– Finally, the truth!
'Bridgerton' Star Says Netflix Did Nothing When She Had Two Psychotic Breaks
–– Heard No. 3's lucky one.
Robert De Niro Testifies That He Had Ex-Assistant Scratch His Back: 'Never Done with Any Disrespect'
–– Nailed it.
Robert De Niro Admits He Once Had a Late-Night Martini Ubered to Him From Nobu
–– Outrageous! Didn't ask taxi driver.
Abigail Breslin's Accusations Against Aaron Eckhart Come to Light in New Lawsuit
–– Little missed sunshine.
'Caligula: The Ultimate Cut' to be Represented by Submarine for North American Sales – Film News in Brief
–– Does this one include graphic castration?
End of The CW's DC Era: 'Superman & Lois' to Conclude With Season 4
–– Mark thee well, chroniclers of the Age.
David Fincher Says 'I'm Not Responsible' for 'Fight Club' Being a Hit With Incels and the Far Right: 'I Don't Know How to Help' People Who Idolize Tyler Durden
–– He thought it promoted swinger lifestyle.
'South Park' Mocks Kathleen Kennedy, Disney Diversity Efforts; Gina Carano Reacts
–– Spoof filled with Wokies?
It's a Bird. It's a Dame. It's Heidi Klum's Halloween Costume.
–– No, it's a desperate narcissist.
Heidi Klum, 50, Almost Bares It All in Sensual Halloween Teaser
–– Get back to us when it's all.
BO Boss Casey Bloys Apologizes for Using Fake Twitter Accounts to Troll TV Critics: 'Dumb Idea'
–– Atta Bloys!
Carrie Fisher's Daughter Blames James Blunt for Mom's Death, He Says in Memoir
–– Wasn't Blunt she was smoking.
Mariah Carey Sued by Andy Stone Again over Claims 'All I Want for Christmas Is You' Copies His Same-Name Song
–– Once again puts on Santa suit.
Opinion / I hope I love anything as much as my grandma hated 'The Sound of Music'
–– Raindrops on roses? Whiskers on kittens?
Did the Beatles song 'Now and Then' lead you to gently weep? You weren't alone
–– For that ersatz mash-up? Even our guitar gently smirked.
Marina Abramovic Thinks the Pain of Love Is Hell on Earth
–– We think her performances close seconds.
Kate Middleton Gives Unexpected Reply When a Child Asks Who She Is During Scotland Visit
–– "Your worst nightmare, punk.'
With Rangers Win, an Overlooked Texas City Grabs the Spotlight
–– And immediately lets go.
Michael Jordan And Scottie Pippen's Former Teammate Dennis Rodman Weighs In On Whether They'll Squash Their Beef
–– Is that some queer baller slang we don't know?
NBA Twitter reacts to James Harden's trade to Clippers: 'They just got Harden for a bag of Jalapeño Cheetos'
–– This Week in 'Artificially Spicy Turns of Phrase.'
Home schooling's rise from fringe to fastest-growing form of education
–– This Week in 'Why America Is Dum as a Rock.'
X Is Now Worth $19 Billion, Down 57% From $44 Billion When Elon Musk Bought Twitter
–– We don't have MBAs: is that not good?
Here's what Mark Cuban would do with just a phone and $500 in cash: 'That is the best question I have ever been asked'
–– Hit every massage parlor in Contacts.
The Guardian fires longtime cartoonist after allegations of antisemitic imagery
–– For whom Bell tolls.
Artists Lose First Round of Copyright Infringement Case Against AI Art Generators
–– Beaten by AL lawyers.
Six things to know about the political debate around daylight saving time
–– 1. It's waste of time.
Centuries after witch trials, Mass. group seeks to clear nearly 200 names
–– Make them disappear in thin air like magic.
Fruit Purée Pouches May Contain Lead, F.D.A. Warns Parents
–– To assure consumers dumb enough to buy more.
Sam Bankman-Fried is found guilty of all charges in FTX's spectacular collapse
–– Scheduled for extended Bankman's holiday.
Senate Banking panel chair hails conviction of Bankman-Fried as 'victory' 
–– Banking fried Bankman-Fried.
American Airlines offers passenger 5K free miles after perv fondled himself next to her without consequence
–– Insisted he was pilot manipulating throttle.
Ex-North Dakota Lawmaker Charged With Flying to Prague to Rape Minor
–– Czech mated.
Wisc. Teacher, 75, Gets 10 Years for 'Repeatedly' Sexually Assaulting 14-Year-Old Boy in School Basement
–– Grade F-minors.
Maine gunman who killed 18 was found in third search of recycling center
–– Was among newspapers with hundreds of mass shooting stories since forgotten.
Police Were Told Maine Gunman Had Threatened to Carry Out Shooting Spree
–– But no one drew them picture?
2 Teens Arrested After Allegedly Firing 100 Rounds Into Wrong Home, Killing Woman
–– Republicans blame Google Maps.
Mexican Sinaloa Cartel's Message to Members: Stop making Fentanyl or Die
–– "Or do really anything and die. We are feeling frisky."
Youngkin orders schools to address fentanyl after 9 students overdosed
–– Held assembly for local pushers.
Kevin Bacon, a missing Pennsylvania pig, returns home after actor Kevin Bacon's public plea
–– After failures of Jon Hamm, Miss Piggy.
Cats Make Nearly 300 Different Facial Expressions
–– Claims agoraphobic cat lady in Topeka.
'We found each other digging in the dirt': singles flirt over worms at weed dating
–– Do it in flower bed?
NYC exterminators' new weapon has eliminated nearly 100% of rats from over 100 burrows — and they already have their next targets mapped out
–– We're talking to you, litterers.
'It's an abomination': battle brewing over proposed US laws to protect pesticide companies
–– Roundup the usual suspect.
Witnesses Describe Horror as Shark Tears Aussie Man Apart During Attack
–– Was like Surf and Turf at Outback.
'They wanted to kill me': Swimmer says otters bit him 12 times in California lake
–– 'In the most adorable way possible.'
California's Surfboard-Stealing Sea Otter Has Given Birth to a Pup
–– With a gun!
Tarantula sighting results in car accident in Death Valley National Park
–– Well, duh!
Doctor banned for 12 months after sending racist email to Australia's first Indigenous eye surgeon
–– Guilty of aboriginal sin.
Your Consciousness Can Connect With the Whole Universe, Scientists Say
–– So do 'shroom users.
Europe's first ever large-scale war may have been fought '1000 years earlier than previously thought'
–– Experts: 'Your guess is as good as ours.'
Archaeologists Discover Centuries-Old Prosthetic Hand in Germany
–– Real slap in face for rivals.
Wife buried next to husband for 1,000 years had face hollowed out — historians aren't sure why
–– He was just trying to close mouth.
Morocco unearths Roman-era second century site in Rabat
–– Down Rabat hole.
Scientists finally acknowledge that they got their solar cycle predictions wrong, and that we are fast approaching the sun's explosive peak
–– Bright lights they turned out to be.
Robert Brustein, fiery champion of nonprofit theater, dies at 96
–– Curtain called.
Frank Howard, Towering Slugger Whose Homers Were, Too, Dies at 87
–– Tater in the pine.
Hall of Fame college basketball coach Bob Knight dies at 83
–– Takes Knight off.
David Kirke, Who Made the First Modern Bungee Jump, Dies at 78
–– Strung out.
Ken Mattingly, Astronaut Bumped From Apollo 13, Is Dead at 87
–– Touched down.
Matthew Perry, the Sweet and Snarky Chandler on 'Friends, Dies at 54
–– Prompting more coverage than Jimmy Carter will garner.
Matthew Perry's Ex-Fiancée Reflects on Their 'Complicated' Relationship After His Death
–– We bet it got complicated.
Matthew Perry's Pickleball Coach Gives Glimpse Into Actor's Final Moments
–– Hot tub was on pickle ball court?
Matthew Perry Was in a 'Really Good Place' Prior to Death, 'Friends' Co-Creator Says
–– Now, not so much.
New Update On Matthew Perry's Death Provides Clues On Time Of Death
–– Paging Sherlock Holmes.