Speaker Shock

Week of 10/20/23
Actual headlines from the internets. You Google 'em.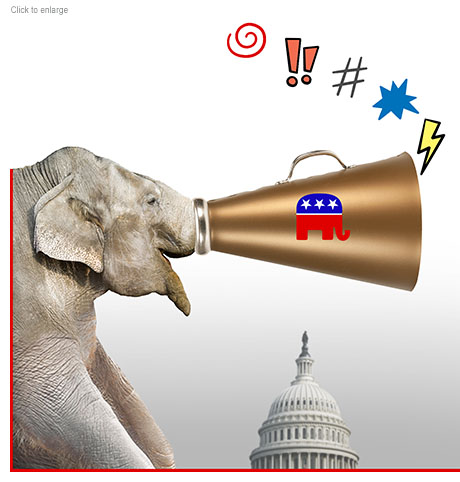 House Republicans vote to drop Jim Jordan; more candidates enter speaker race
–– Looking to break Guiness record.
Pence's campaign faces mounting debt
–– Pounds shilling Pence.
McCarthy Says 'Whole Country' Would Yell at Gaetz After Reports of Screaming Match
–– After guffawing at McCarthy.
Jim Jordan Makes a Clean Break From Reality in Rambling Rant
–– Unlike OSU wrestling team, he won't be pinned down.
Opinion: Jim Jordan sums up what's wrong with the House GOP
–– 'Me.'
"They're harassing our spouses": Top Jordan ally admits he's losing support as Republicans rage
–– Almost 'Harrising' them like they would Kamala.
Newsmax Angrily Cuts Away From Biden's Oval Office Address
–– New smacks.
How Joe Biden got on board with a wartime trip to Israel – and what he hopes to accomplish
–– With assistance up ramp.
Biden snubbed by Middle East allies as Arab world seethes over Gaza hospital blast
–– Shell-shocked by terrorists.
An Israeli reoccupation of Gaza would be a mistake, Biden says
–– Hamas Owners Association fees insanely high.
Netanyahu is to blame for Hamas war, say four out of five Israelis
–– Who also recommend sugarless gum.
Jon Billionaire Ronald Lauder threatens to pull funding if UPenn doesn't do more to fight antisemitism
–– Lauder and prouder.
Huntsman says family 'will close its checkbook' to Penn over non-response to Hamas' attack on Israel
–– S'no right and the Huntsman.
A Columbia professor called Hamas terror attacks 'awesome' and 'astounding' in an article. A petition for his removal has passed 34,000 signatures.
–– Maybe if he promises to stop posting reviews on Rotten Terrormatoes.
Joaquin Phoenix, Cate Blanchett and More Stars Demand Joe Biden Call for Israel-Gaza Ceasefire: 'Compassion Must Prevail'
–– Hollywood and vyin'.
Joaquin Phoenix, Cate Blanchett and More Stars Demand Joe Biden Call for Israel-Gaza Ceasefire: 'Compassion Must Prevail'
–– More impactful than if signed by letter carrier, trash collector, gardener?
'The Marvels' Tracking for $75M-$80M Domestic Debut in Latest Test of Box Office Superhero Fatigue
–– Marvels of wishful thinking.
Actors' open letter condemns 'Israel's war crimes' but not Hamas massacre
–– Sophists' choice.
Dentist in Florida fired after caught on camera ripping down posters of kidnapped Israeli children
–– Was more extracted.
A Florida dentist fired for tearing down posters of Israeli hostages had the 'best of intentions' but is now getting death threats, his lawyer says
–– Intended to not get caught.
Rep. Rashida Tlaib accuses fellow Detroit-area congressman of being too 'busy posting memes' and being 'absent from doing his job' after he denounced her comments on Israel
–– While she works overtime spreading nonsense.
Lindsay Graham: Trump Praising Hezbollah Was a 'Huge Mistake'
–– 'But I still love that rascal and his baller attitude!
"Embarrassing": D.C. court flags Trump lawyer's filing because he's "not a member of the bar"
–– But behaves as if drinking heavily.
Kenneth Chesebro: Pro-Trump lawyer pleads guilty in Georgia election subversion case, implicates Trump in fake elector conspiracy
–– Kenny croons There Goes My Life.
Trump attorney Sidney Powell pleads guilty in Georgia election subversion case
–– In momentary lapse of insanity.
Sidney Powell's Plea Deal Could Be a Threat to Trump
–– Biff! Bam! Powell!
"Shouldn't we refer to her as Trump defense counsel?": Experts slam Cannon order scolding Jack Smith
–– How about Trump Pet?
Prosecutors Slam Trump's Claim Comparing Himself to Lincoln and Washington
–– How? Two arms, two legs?
Judge grants limited gag order in Trump's federal election interference case
–– Couldn't find one big enough to span gaping maw.
Judge Engoron rebukes Trump lawyers after prosecutors accuse them of "witness intimidation"
–– Of entire nation who observed his crimes.
Donald Trump Shares Link Revealing Letitia James' Address While Raging Against Her
–– Dox breakfast.
Donald Trump fined $5,000 for violating gag order in New York fraud trial and warned twice about imprisonment
–– Lock him up! Lock him up!
At Donald Trump's civil trial, appraiser recalls Eric Trump's 'lofty' views on property value
–– Eric: 'No way! I just priced 2 bedrooms as lofts for tax purposes and as ballrooms for loans.'
Trump's loyal CFO Allen Weisselberg may have lied on witness stand in fraud trial, New York AG's lawyers say
–– Have to check tape to see if lips were moving.
After perjury allegation, legal analyst warns Allen Weisselberg risks having his probation "revoked"
–– And be sentenced to remedial accounting class.
U.S. Deficit, Pegged at $1.7 Trillion, Effectively Doubled in 2023
–– Weisselberg sets it between $17 million and $17 trillion.
New Book Says Mitt Romney Considered Humiliating Himself To Stop Trump In 2016
–– Instead humiliated state of Utah.
Mitt Romney says Ron DeSantis 'looks like he's got a toothache' when smiling for selfies with Iowa voters: 'There's just no warmth at all'
–– Claims man as colorless as Mormon underwear.
Jeff Landry, a Hard-Line Republican, Is Elected Governor of Louisiana
–– Confident he can wrest lowest IQ state title from Mississippi.
LSU Prof Resigns After Politician He's Shared Years-Long Beef With Is Elected Guv
–– Shared in cajun gumbo.
Democratic Party "Apathy" Is Major Concern in 2024 Elections, Warns 'Texas, USA' Director Andrew Morgan
–– Must have incredibly long thermometer to take temperature of voters 12 months out.
California Sen. Laphonza Butler Will Not Seek Full Term
–– Vows to keep bench warm.
With Putin by His Side, Xi Outlines His Vision of a New World Order
–– Delusional suspects.
A Russian soldier was so weak from lack of food and water that he couldn't wear his bulletproof vest, Ukrainian intelligence says
–– So hungry tried to bite bullet.
Daniel Noboa, Banana Empire Heir To Ecuador's Youngest President
–– Didn't slip up.
Fox's top lawyer blasts judge in Dominion case, says trial would've been 'months of utter pain'
–– We were hoping for years, but OK.
Viet Dinh Stands By Fox Legal Strategy In Dominion Case
–– Even legal strategy pretends not to know loser.
Rachel Maddow Won't Abandon You: "Every Time a President Gets Arrested, I Promise I'll Be There"
–– To tuck us in?
Drew Barrymore's Post-Strike Season Premiere: A Meandering Muddle That Could Use Better Writing
–– Used to be like cocktail hour at Algonquin Round Table.
'Barbara Loved a Chocolate Man': Paul Mooney Once 'Walked In' on Barbara Walters Hooking Up with Comedian Richard Pryor, Says Sherri Shepherdº
–– Was Brando there, too?
John Stamos recalls finding girlfriend Teri Copley naked in bed with Tony Danza: 'My worst nightmare'
–– She hadda agree.
Will Smith Responds to Jada Pinkett Smith's Confessions About Their Marriage in Memoir, Which He Says 'Woke Him Up'
–– Like slap in face?
Jada Pinkett Smith's Memoir Tour About Will Smith Is Straining Her 'Red Table Talk' Image
–– Au contraire! She's still same tedious narcissist.
Tyler Perry Says Bidding Process for Paramount's BET Business Was "Disrespectful"
–– Were looking to sell minority majority stake.
"The View" cohost Sunny Hostin injured while doing split after 2 glasses of wine: 'Audible crinkling'
–– And that's just from our grin.
Lee Child leaves Jack Reacher in his brother's hands
–– For Reacher round.
Tommy Lee reveals he drank 2 gallons of vodka a day, shot Jack Daniels with syringe when out of cocaine
–– Puffed Pink Ladies from bong when out of Midol.
Taylor Swift's Bodyguard Has Landed in Israel to Fight in Hamas War
–– Will she appear in sky box to cheer him on?
Paul McCartney Says Yoko Ono's Presence During Beatles Studio Sessions Was Workplace 'Interference'
–– Band's response: 'Ono. Not again.'
Rolling Stones and Lady Gaga give stunning performance at intimate album release show
–– Of pop-pop song.
8 billion-year-old radio signal reaches Earth
–– Includes cut from Rolling Stones first album.
'It's Like Eating F---ing McDonald's': Sopranos Star Really Hated Top Gun: Maverick And Did Not Hold Back
–– If you projectile vomited it across skies.
Tim Allen Faces Rival Santa Played by Eric Stonestreet in 'Santa Clauses' Season 2 Trailer
–– We're waiting for Kringle cut.
Martin Scorsese reveals why he works with Leo DiCaprio so much
–– Someone stole his Filofax?
Martin Scorsese Explains Why He and Robert De Niro Sometimes Roll Their Eyes at Leonardo DiCaprio
–– Same reason we all do.
Jon Stewart's 'The Problem' Not Moving Forward at Apple Amid Creative Differences
–– Never really did move forward.
Rite Aid, Facing Slumping Sales and Opioid Suits, Files for Bankruptcy
–– Then shoots Jack Daniels with syringe.
The US won't regulate this deadly, addictive antidepressant
–– To brighten your day.
Teen Mom's Kailyn Lowry Ate Her Placenta—But Here's Why It's Not Always a Good Idea
–– There's womb for doubt?
More Than a Third of Women Under 50 Are Iron-Deficient
–– More than two thirds irony-deficient.
Electric scooters, curling irons, desk magnets: Pediatricians warn products are injuring kids
–– And not apologizing.
Why Netflix Is Planning to Open Its Own Permanent Retail Outlets
–– Can't chill.
A high school band teacher quit. Now, the students teach, direct themselves.
–– Don't give school board ideas.
Former Senator Ben Sasse condemns academics for talking about 'Halloween costumes and microaggressions' but remaining silent on Hamas' terrorist attacks on Israel
–– Sasse squash.
Race isn't real, science says. Advocates want the census to reflect that.
–– And like reality isn't real, man.
'Sexy' calendar of homeless men: Exploitative? Or empowering?
–– Or sorta comical?
8 Sex Myths That Experts Wish Would Go Away
–– 2. Sex experts.
G-string-clad prostitutes prowl San Diego streets; families, businesses forced to scramble
–– Padres surprisingly unfazed.
I Live in My Car
–– Yeah, we also spend so much time driving it feels like… wait, for real?
GOP donor known for racist tweet, American flag outfit dies in attempted murder-suicide
–– At least he got suicide right.
St. Louis cancels youth football team's season after parent allegedly shot the coach
–– But he did not shoot his deputy.
Man Convicted of Murdering Wife for Refusing to Appear "Zombie House Renovations" Reality TV Show
–– Hoped to bring her on as real zombie.
Man gets life sentence for killing 2 officers and wounding 5 in South Carolina ambush
–– Light punishment for 79-year-old.
Mug shot shows teen driver accused of intentionally striking Montgomery County officer on I-270
–– Must've used wide-angle lens.
A masked police officer robbed three Las Vegas casinos of $164,000. He was identified in part by his unusual gait
–– Investigators took in stride.
Amazon warehouse altercation over joke leads to one man attempting to kill the other with a box cutter: police
–– Told to pack it in.
Miami Teacher Showed 'Winnie the Pooh: Blood and Honey' to Fourth Grade Class: A 'Mental Health Counselor' Has Met With 'Students Who Expressed Concern'
–– Got more than smackeral of shit for it.
Why is movie candy sold in boxes?
–– We always get ours from between seat cushions.
It's decorative gourd season, and this man is not playing around
–– So watch where you sit down in his house.
6 green pepper recipes because we love this underdog vegetable
–– And we say you can stuff peppers.
Bottle of 'most sought-after Scotch whisky' to come under hammer at Sotheby's in London next month
–– Hope they don't smash it.
Video: Rare 1985 Domino's delivery car up for auction once came with a pizza oven
–– Pie sprinkled with Extra Virgin 5W-30 Oil.
Boaters shocked to find land-dwelling creature mysteriously swimming in Hawaii waters
–– Utter boar.
Man faces off with 'jacked' kangaroo holding his dog under water
–– Beats him to the pouch.
Billions of crabs went missing around Alaska. Scientists now know what happened to them
–– So don't use toilets in local dive bars.
Man attacked by grizzly bear in Montana to return home after losing his lower jaw, says he's ready for 'round 2'
–– At least that's what we think he said.
EasyJet flight canceled because of 'defecation' incident
–– In ejecta seat.
What you need to know about Europe's bedbug panic
–– It's crazy as a…
An Egyptologist thought a pyramid might have hidden rooms. It took almost 200 years and lidar to prove him right
–– Whispers 'told you so' during seance.
Lab Leak Fight Casts Chill Over Virology Research
–– Well, you do have to keep samples pretty damn cold.
Burt Young, 'Rocky' actor, has died at 83
–– Down for count.
Piper Laurie, who excelled in roles fragile and fierce, dies at 91
–– Pays piper.
Suzanne Somers, 'Three's Company' actress, dead at 76
–– Blonde yields.