Dead to Rights

Week of 06/30/23
Actual headlines from the internets. You Google 'em.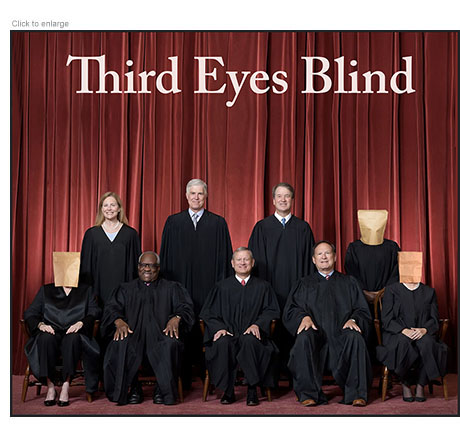 Supreme Court rejects Biden student loan forgiveness plan
–– Helpfully suggests debtor's prison alternative.
Opinion: RFK Jr. is running in the wrong party
–– Is American Vegetarian Party still active?
Supreme Court restricts race-based affirmative action in college admissions
–– Reafffirms legacy-based free ride.
Who's Impacted by the Supreme Court Student-Loan Forgiveness Ruling
–– Is this trick question?
The time Clarence Thomas said affirmative action was 'critical' for society
–– Hang on, you found actual evidence of his hypocrisy?
State affirmative action bans helped White, Asian students, hurt others
–– 'Analyzing' data from plague years.
Supreme Court says Christian business owner can refuse to create same-sex marriage websites 
–– Unless they promote felching.
Gay couple cited by Christian web designer who won Supreme Court case may not exist
–– Because she doesn't believe gayness real?
Opinion | The Trump tape Cokes join history's other dubious product placements
–– His tagline: 'I'd like to teach the world to sink in perfect harmony.'
Trump Crowns Presidents With An 'Absolute Right' To Docs: 'That's The Law'
–– In 16th-century England.
Trump Lawyer Says It's 'Impossible' Leaked Recording Came From Reporter Because 'He Said Off the Record' (Video)
–– And former Presidents have 'absolute right' to demand of reporters under threat of beheading.
Trump Demanded 'My Documents' Back Even After His Lawyers Told Him He'd Be Indicted
–– Wanted another shot at removing DNA material.
Trump hits the panic button: Antisemitic attacks on special counsel Jack Smith betray desperation
–– Button with swastika on it.
As Legal Fees Mount, Trump Steers Donations Into PAC That Has Covered Them
–– Ones not going directly in pocket.
In Pitch to Evangelicals, Trump Casts Himself as Christian Crusader Who Helped End Roe v. Wade
–– Jesus could be heard retching in Hereafter.
Chris Christie Fires Back at Trump Over Weight Criticism: 'Like He's Some Adonis?' (Video)
–– Bacchus up on this.
Ivanka Trump Ominously Wishes Her Father "the Happiness You Deserve" on His Birthday
–– After seductively singing 'Happy Birthday, Mr. President' in low-cut Marilyn Monroe dress.
President Biden denies he was present during alleged Hunter Biden 2017 text
–– "No, I denied I was President! I wasn't, was I?"
RFK Jr. Claims 'Vaccine Research' Likely Responsible for HIV and the Spanish Flu
–– And HOV lanes, Spanish fly.
Shirtless presidential candidate has the internet gawking
–– View of RFK Jr.'s naked psyche would have them barfing.
Opinion | A year after Dobbs, the pro-choice movement has never been stronger
–– This week in 'Sorta' Silver Linings.'
Mayor Adams likens white woman to slave owner as he flips out over question on rising rent in NYC
–– His deportment has no rant control.
Jesse Watters taking over Tucker Carlson timeslot on FOX
–– Muddy Watters.
George Soros' foundation lays off 40% of workforce after passing control over to his son
––
Open Society
slams door.
Four questions after Russia's insurrection
–– 4. Hunh?, 3. Wha?, 2. Really?, 1. Are you kidding me?
Russian General Knew About Mercenary Chief's Rebellion Plans, U.S. Officials Say
–– Looks like Kremlin drew up nutso strategy.
Wall Street Journal: Wagner boss planned to capture top Russian defense chiefs
–– So we know he was thinking straight.
Prigozhin and the Long and Infamous History of Failed Russian Rebellions
–– Don't make big plans for next birthday.
Russian leaders try to reassert control after mercenary rebellion
–– Strap on adult diapers.
How Putin Cannibalizes Russian Economy to Survive Personally
–– And aides for high-protein snacks.
Ukraine's top general, Valery Zaluzhny, wants shells, planes and patience
–– Along with money, guns, lawyers.
CIA director, on secret trip to Ukraine, hears plan for war's endgame
–– Version of Stratego.
Mike Pence makes surprise trip to Ukraine
–– Where his 2024 poll numbers are markedly better than U.S.
Macron appeals to parents, blames social media in French crisis
–– His parents tell him, 'Behave!'
Biden administration failed to foresee Afghanistan mayhem, review finds
–– Same conclusion when we reviewed in real time.
Meghan McCain Blasted for Hypocritically Calling Hunter Biden 'the Ultimate Product of Nepotism': 'We See You NepoBarbie'
–– Tweets NepoLoser.
Geraldo Rivera leaves Fox News as only Geraldo could
–– Creepy like Fox.
Remember when Paris Hilton wore a Barbie-branded handbag to a Britney Spears concert?
–– If so, please go away.
Mattel President Flew to London to Argue With Margot Robbie and Greta Gerwig Over an Off-Brand 'Barbie' Scene: 'The Nuance Isn't There' on the Page
–– And Barbie's always been about nuance.
Barbiecore Is Surging Its Way into Home Décor and Interior Design
–– Because Age we live in not ugly enough.
Monica Bellucci Confirms Relationship with Her 'Beetlejuice 2' Director Tim Burton: 'I Love Him'
–– Burton of proof.
How 'Perry Mason' Tackled Queerness With a Contemporary Lens: "You've Been Gay, But You've Never Been Gay in the 1930s"
–– You, the one born after 1939.
Kevin Spacey Described as "Sexual Bully" Who "Assaults Other Men" as U.K. Criminal Trial Gets Underway
–– Spacey heater.
Jonathan Majors' Pattern of Alleged Physical and Emotional Abuse Detailed By More Than 20 People
–– Kang banger.
Jon Hamm Left 'Megalopolis' Table Read Thinking 'I Don't Know How He's Gonna Make This Movie'
–– Coppola: 'Me either.'
Harrison Ford Told Phoebe Waller-Bridge to 'Get the Hell Out of My Trailer' After She 'Scared the Crap Out of Him' With 'Indiana Jones 5' Set Prank
–– Gave him Phoebe-jeebies.
What Do the Recent Moves At TCM Mean For Film History, And Why Are Scorsese and Spielberg So Worried?
–– Afraid they'll be asked to consult for free.
TCM Reborn: Steven Spielberg, Paul Thomas Anderson, and Martin Scorsese to Guide Channel Programming
–– Hopefully better than any Indiana Jones sequel.
'Secret Invasion' Star Cobie Smulders Is Shocked That the Series Premiere's Ending Didn't Leak
–– Did reek.
Who Is David Corenswet? Meet DC's New Superman
–– Changed name from Smith.
Jennifer Lawrence says she only understands the plot of her horror movie 'Mother' because she was 'sleeping with the director'
–– We were sleeping with movie.
Lucrecia Martel Never Saw 'Black Widow' After Turning It Down: Marvel Effects Are 'Very Ugly'
–– Widow's pique.
Colleen Ballinger Defends Herself Against Child Grooming Accusations With a Ukulele Song
–– Puke-a-lamely.
Tom Holland Acknowledges That His Apple TV+ Series 'The Crowded Room' Has Been "Horribly Reviewed"
–– Yes, but only by sighted critics.
Roseanne Barr Re-Cancels Herself: 'Nobody Died in the Holocaust'
–– Perhaps she'd deserve some leeway for clearly sarcastic remarks except they supported Trump's 'rigged election' obscenity.
Patti LaBelle Gives Powerful and Uplifting Tribute to Tina Turner at BET Awards Despite Forgetting the Lyrics to "(Simply) the Best"
–– Simply a bust.
Kevin Costner Claims Wife's Child Support Request Is 'Inflated,' Calls Out Her Plastic Surgery Bills
–– So are certain body parts.
Kelly Ripa says her son Joaquin once opened a drawer and 'peed into my wardrobe' while he was sleeping
–– Or that's what husband told her.
Ryan Seacrest Named 'Wheel of Fortune' Host, Replacing Pat Sajak
–– Who g_ives a sh_t?
Graham Norton to Host U.K. 'Wheel of Fortune' Reboot
–– Still not gayer than Seacrest version.
Frankie Valli Is Married! Four Seasons Frontman Weds Jackie Jacobs in Las Vegas (Exclusive)
–– Uncanny Valli!
'Don't put cowboys on the couch': why John Wayne reckoned Clint Eastwood ruined the Western
–– ''Less yer gonna ride 'em bareback.'
'Hot Ones' Hits 300 Episodes: How Scorching Chicken Wings Conquered YouTube and Hollywood
–– Honors sauce material.
Opinion | What the fat-shamers don't get about Lizzo
–– She's big boned?
TV CEO on Former Morning Show Host's Affair With Younger Colleague: "The Imbalance of Power Makes It Deeply Inappropriate"
–– C'mon, he's 61 –– young guy could easily pin him.
The 50 Best TV Shows on Netflix Right Now
–– Of 150,000.
Taylor Swift to Fans: Stop Attacking John Mayer
–– Be happy attacking her.
Princess of Wales wins point against Roger Federer while playing tennis at Wimbledon
–– We miss point of article.
Princess Diana, Kate Middleton and Meghan Markle top celeb sex doll requests
–– With talking pull strings removed.
ESPN lays off top on-air talent
–– Whose expert commentary was about as valuable as your cousin Phil's.
Los Angeles Angels break franchise records in 25-1 annihilation of Colorado Rockies
–– Feel mile-low.
Pickleball injuries may cost Americans nearly $400 million this year
–– Dilleterious effect.
Klimt's 'last masterpiece' sells for record-breaking $108.4 million
–– A steal for Klimtomaniac.
How Hokusai's Art Crashed Over the Modern World
–– After catching Wave.
How Did a $2 Billion Trove of Art End Up in a Random Attic in France?
–– Devious spiders?
Scholar finds doodles made by Henry VIII in ancient prayer book
–– It's unclear if Cardinal Wolsey's 'staff' was actually that small.
Penis enlargement is on the rise: Filler shots are 'all the rage now'
–– Fill 'er up.
A common nail salon tool may cause DNA damage and mutations in human cells, research finds
–– Matter transmission machines also bitch to keep clean.
Whose fault is obesity? Most of the blame rests with one culprit
–– Don't worry, chunky, it's not yours.
Apple is now worth $3 trillion
–– Based on core business?
What It's Like to Eat a 50-Course, 6-Hour Tasting Menu
–– Makes water-boarding seem appetizing.
Egyptian chefs are revolutionizing their cuisine — one meal at a time
–– Process expected to take until 2082.
Saudi Arabia Wants Tourists. It Didn't Expect Christians.
–– Can they hack them?
Airport worker 'ingested' into plane engine in Texas died by suicide, medical examiner's office says
–– Asses to ashes.
Jury Acquits Deputy Who Failed to Confront Parkland Gunman
–– Was charged yellow penalty flag.
American arrested after Canadian airport drug tests gave false positives
–– Praised his trafficking skills, insisted his product was 'primo.'
Chicago homicides in 2023: 282 people slain. Here's how that compares with previous years.
-– Chi of record?
Girlfriend of dentist who killed his wife on their African safari is sentenced to 17 years in prison
–– So wanted to be trophy wife …on wall.
DOJ issues scathing rebuke of Bureau of Prisons detailing multiple failures that led to Jeffrey Epstein's suicide
–– No praise for saving tax payers cost of prosecution?
Rescued chimp Vanilla now thriving at new home, touches grass for first time
–– Higher than Kong on Empire State.
Fossil reveals human ancestors butchered one another for reasons beyond ritual
–– Lots of slow Saturday nights.
Our Human Relatives Butchered and Ate Each Other 1.45 Million Years Ago
–– That would've been Aunt Myrna's side of family.
Salvaged debris from Titan submersible contains 'presumed human remains': US Coast Guard
–– What, they brought gerbils on board?
Opinion | Before condemning the Titan's pilot, consider his side of the story
–– Part where he killed 4 people, self?
My rescue dog bit someone. I almost gave up on him –– then I learned to heal us both
–– Though the guy died.
Why Do Dogs Sploot? Veterinarians Explain the Cute Canine Behavior
–– Same reason horny teen males do.
Alligator charges toward fisherman on Hilton Head Island
–– Gator raid.
"Story of the year": rare earless dragon seen for first time in decades in Australia
–– Talk about low expectations for second half of 2023.
An NJ Man Allegedly Cut Down 32 of His Neighbor's Trees to See NYC. You Can't Do That.
–– From Cape May!
A college janitor turned off a freezer in a lab to silence 'annoying alarms,' but destroyed $1 million in scientific research in the process, a lawsuit claims
–– RPI deceased cultures.
Opinion | How I learned to love toxic chemicals
–– I'm mainlining some now.
Image captured by Mars rover shows a mysterious 'doughnut' on the planet's surface
–– Next to cup of Marvin's coffee.
Humans pump so much groundwater that Earth's axis has shifted, study finds
–– Thirsty buggers!
Covid isn't over, but even the most cautious Americans are moving on
–– Have caught Fukid bug.
Fraudsters likely stole over $200 billion in Covid relief aid, watchdog says
–– Nothing to sneeze at.
Opinion | A new, sensible plan for fall covid boosters is taking shape
–– We're sure anti-vaxxers will agree.
Human Remains Found Near Search Area for Missing Actor Julian Sands
–– Sands of time.
David Bohrman, Former CNN, ABC News and Current TV Executive, Dies at 69
–– Current or current?
Frederic Forrest, Actor in 'Apocalypse Now,' 'The Rose,' Dies at 86
–– Forrest cut down.
Sheldon Harnick, 'Fiddler on the Roof' Lyricist, Dies at 99
–– Some rise, some set.
John B. Goodenough, 100, Dies; Nobel-Winning Creator of the Lithium-Ion Battery
–– Expected to self-cremate.
Alan Arkin, Virtuoso Comic Actor With a Serious Side, Dies at 89
–– Arkin lot.