Ball Buster

Week of 12/31/21
Actual headlines from the internets. You Google 'em.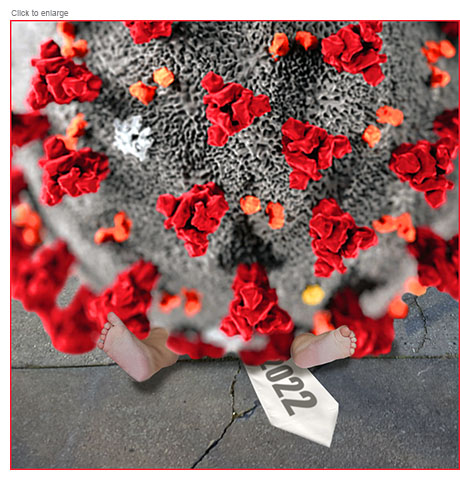 Subdued Celebrations Welcome 2022 as Omicron Casts a Pall Over New Year's Eve
–– Rue pall.
The seven principles of Kwanzaa
–– 1. You do not talk about Kwanzaa.
They eat what? New Year's food traditions around the world
–– And who?
Restored Big Ben to bong again at midnight to bring in new year
–– As Londoners hit bong again.
New laws in 2022 address surprise medical bills, chained pets, cocktails-to-go
–– Specifically unexpected x-rays for drunk cockatiels-to-go.
Biden lays out "two paths" for Ukraine crisis in call with Putin
–– Better remember Vlad has permanent residence on low road.
Biden says he warned Putin of 'severe sanctions' if Russia invades Ukraine again
–– Will ban elevator shoes at next face-to-face summit.
Cook Report projects GOP as clear favorite to win House majority
–– Cook their goose.
John Roberts has highest approval rating among 11 federal leaders
–– Only because polled Republican confuse him with Fox 'journalist.'
Manchin Worries West Virginia Parents Are Wasting the Child Tax Credit on Drugs. Here's How They're Actually Spending It
–– On meth, but for kids.
Armed man with 'hit list' including Biden, Fauci arrested in Iowa on way to White House
–– To be held until 2024, forced to undergo Caucus.
Ocasio-Cortez staffer calls Israel a 'racist European ethnostate' that was built on 'stolen land'
–– Hamas home point.
Fact-check: Does Alexandria Ocasio-Cortez represent more people than Joe Manchin?
–– Tied in anti-Semites.
Oregon father who told Biden 'let's go Brandon' said comment was in 'jest'
–– 'And I'm just a tiny, soulless punk, so no harm intended.'
The Oregon man who told Joe Biden 'Let's Go Brandon' in livestreamed Christmas Eve call now says the 2020 election was '100% stolen' from Trump
–– Doubles down on double-downer.
Rep. Debbie Dingell Shares Example of Abuse Since Trump Bashed Late Husband: 'I Hope Your Family Dies in Front of You'
–– Dingell bury?
Republican Reps. Marjorie Taylor Greene and Andrew Clyde have amassed more than $100,000 in fines for defying House mask rules, report says
–– Can they start fining for stupid?
Retired general warns the U.S. military could lead a coup after the 2024 election
–– With uprise citizens' brigade?
Trump supporters plan 'vigils' across US on 6 January to support Capitol rioters
–– For brain dead.
Trump Claimed 5,000 Dead People Voted in Georgia. The Real Number… Was Four
–– Same way he calculates net worth.
Alex Jones' wife arrested on domestic violence charge
–– Who could blame her?
Supreme Court term limits are popular — and appear to be going nowhere
–– Warming the bench.
'Magic' Weight-Loss Pills and Covid Cures: Dr. Oz Under the Microscope
–– Along with other bacteria.
Oprah Winfrey Weighs in on Dr. Oz's Republican Senate Campaign in Pennsylvania: 'It's Up to the Residents'
–– Ringing endorsement.
Huma Abedin tells Dana Bash about the 'final straw' in her marriage
–– Didn't it all suck?
Natalie Wood death: Investigator calls new witnesses "very credible"
–– Wagner the dog.
Data: 'Dexter: New Blood' Gives Showtime Subscriber Infusion
–– Of those with plasma TVs.
'He Doesn't Want Me to Be Another Him': Michael B. Jordan Responds to Denzel Washington Comparisons
–– 'Because he has more than two expressions.'
Lucille Ball's daughter said she 'couldn't have taken it' if Nicole Kidman looked exactly like her mother in 'Being the Ricardos'
–– Or sounded, acted even remotely like her.
Nicole Kidman calls out 'sexist' question about Tom Cruise marriage: 'I would ask not to be pigeonholed'
–– 'Even though he was hung like a sparrow.'
Faberge and 'Game of Thrones' Reveal the Dragon Egg That Sold for $2.2M
–– And boy, did Mother of Dragons have trouble laying it.
Stan Lee Knew Early on Comic Collecting Would Be a Highly Lucrative Hobby
–– Invested heavily in resealable comic book bags.
'Spider-Man: No Way Home' is first film to make $1 billion since 2019
–– Ock du lieber!
'Spider-Man: No Way Home' cements Willem Dafoe as the king of playing psychopaths, topping even Nicolas Cage
–– Steal Cage match.
Nicolas Cage doesn't want to be called an 'actor'
–– Not crazy about 'former king of playing psychopaths' either.
'Hawkeye' costume designer says Kingpin casting was so secret he only met Vincent D'Onofrio the day of filming
–– Seamingly.
Bradley Cooper's 'Licorice Pizza' character is based on a real-life Hollywood producer who started out as a hairdresser, was married to Pamela Anderson for 12 days, and fought Steven Seagal
–– Peters' pan.
'This is so cringe': David Foster's photo praising Katharine McPhee's post-baby body sparks backlash
–– Yes, this age we live in is.
Broadway's Temptations Musical 'Ain't Too Proud' to Close in January
–– Ain't too ashamed.
Cardi B Says Daughter Kulture, 3, Is 'So Much Like Me' as They Pose for Christmas Photo Shoot
–– Can't spell either.
Steve Jobs' daughter Eve flaunts her svelte physique in a brown bikini
–– For your iPud.
'I Am Sam' Turns 20: Director Recalls Studio Battles, 'Tropic Thunder' Jab and "Directors' Jail"
–– What's next filmic anniversary: God's Not Dead 2 turns 5?
Dwayne Johnson Brands Vin Diesel's Instagram Post About Him 'An Example Of His Manipulation'
–– Got his Rock's off.
'The View' Is Reportedly Struggling to Find a Conservative Replacement for Meghan McCain: "They Are Really Looking for a Unicorn"
–– To take place of mule with stick up ass.
Armed intruder arrested in the grounds of Windsor Castle as the Queen celebrated Christmas
–– Scrooge pissed about Christmas present.
Queen Elizabeth Left Prince Harry and Meghan Markle Out of Her 2021 Christmas Address
––Forgot Naughty List.
New Study Names Meghan Markle Smartest Member of Royal Family
–– Conducted by London School of Ironics.
Naomi Osaka, Simone Biles and the enduring sports message of 2021
–– Quit.
Monday Night Football: Miami Dolphins defeat New Orleans Saints to create a little piece of NFL history
–– Fish for compliments.
Escape your comfort zone: I am on a diving board the height of a two-storey building. Can I take the plunge?
–– Wait til they drain pool.
Dana White issues challenge to Jake Paul: Cocaine test me for 10 years if I can PED test you for two
–– Doper man pincher.
Naval commander, executive officer removed from posts due to 'loss of confidence'
–– Navy: 'And they used to be so cocksure.'
U.S. Navy Seized More Than a Thousand AK47s
–– On gunboat?
How Discord, Born From an Obscure Game, Became a Social Hub for Young People
–– Should discard.
Amazon's Alexa tells 10-year-old child to touch penny to exposed plug socket
–– Claims Siri made her do it.
How Will Americans Eat in 2022? The Food Forecaste/rs Speak.
–– Not with utensils, mouth?
I'm looking for a cannabis-friendly red-leaning state with no state income taxes — where should I retire on $60,000 a year?
–– You've gotta be toking.
Apparently We've All Been Applying Deodorant Wrong, So I Asked A Dermatologist
–– Pointed out it doesn't go on tongue.
Abolishing grades on homework will hurt the neediest kids
–– But make dummies ekstatick.
This mom knows moms don't actually have time to have kids
–– Dropped hers in field, never saw again.
Before his coma he spoke English; after waking up he's fluent in Spanish
–– Hit him in head, we'd like to hear some French.
Second time capsule found at former site of Robert E. Lee statue in Richmond
–– A Confederacy of deuces.
Colorado governor reduces sentence of truck driver who was given 110 years in fatal crash
–– He brakes for animal.
Ghislaine Maxwell Found Guilty on Sex Trafficking Charges
–– Maxwell smarts.
Ghislaine Maxwell may face difficulty attempting to overturn conviction, experts say
–– May not turn a trick.
After Ghislaine Maxwell's sex trafficking conviction, the spotlight turns to Epstein accuser's sexual abuse lawsuit against Prince Andrew
–– Finger Prince.
Virginia Giuffre's lawyers demand proof that Prince Andrew can't sweat
–– And evidence to support other pore excuses.
'Did Not Live Up to Editorial Standards': BBC Walks Back Alan Dershowitz Commentary on Ghislaine Maxwell Verdict
–– Patron of the arse.
Teen Murder Suspects Surveilled Then Ambushed Their Spanish Teacher, Prosecutors Say
–– Vigilancia y emboscada, por favor.
Poway synagogue shooter sentenced to second life sentence
–– Because lunatic believes in afterlife.
Florida man shoots neighbor during dispute over loud music
–– Had treble in mind.
Las Vegas cops find severed head in pickup truck during traffic stop
–– Were betting on tails.
Virginia Sues Town of Windsor, Accusing It of Discriminatory Policing
–– Tied in Windsor knots.
Millions of adults fear they won't be able to turn the heating on while it's cold
–– Really need to learn how to use switches.
Pablo Escobar's personal photographer confronts the drug lord's complicated legacy
–– Is being murderous drug lord scumbag 'complicated'?
Hong Kong Police Arrest Cantopop Singer Denise Ho, 5 Journalists for Sedition
–– Heave Ho.
Nicaragua seizes former Taiwan embassy to give it to China
–– Demonstrating Taipei personality.
Russian Court Orders Prominent Human Rights Group to Shut
–– Put in place.
Russia test-fires new hypersonic Tsirkon missiles from frigate, submarine
–– Russia be-serkin', ya'll!
3 members of the Saudi hit squad that killed Jamal Khashoggi are living in 'seven-star' villas in government security compound: report
–– Yeah, but limited spa amenities keep it from being eight-star.
Last president of Afghanistan said he only had 2 minutes to decide whether to flee Kabul, and he didn't realize he was flying into exile until after takeoff
–– Ghani with the wind.
Iran says Biden White House 'now responsible' for Trump-era General Soleimani killing
–– Because they failed to revive corpse?
Lawmakers brawl after heated debate over women's rights
–– Crossing Jordan.
Māori journalist becomes first person with facial markings to present primetime news
–– Her sign-off: 'Tat's all, folks!'
Woman dyes dog bright red, sparks debate over coloring pets' fur
–– Blooddredhound?
Scientists Tested Cats With Scooped Out Eyeballs To See What Makes Them Land On Their Feet
–– And determine if they still want nine lives.
Last surviving dog from ex-NFLer Michael Vick's fighting ring has dies; spent rest of life in comfort
–– Sold film rights to life story.
These female animals don't need a male to reproduce
–– Thus Asian Water Dragon channel on Pornhub.
Five sea stars and a pygmy pipehorse among species discovered in 2021
–– Still trying to figure out how they light tiny thing.
Human-caused climate change and pollution devastating Florida ecosystems
–– But delighting Ron DeSantis.
Ikea to hike prices amid supply chain woes, inflation
–– Swedish meatballs will cost same, but be sourced from rats.
'I saw two eyes looking at me': Spanish man eats rat he thought was an artichoke
–– Artichoked.
Anger over mask mandates, other covid rules, spurs states to curb power of public health officials
–– And calls for executing postal carriers if they deliver bad news.
GOP's House Judiciary Committee members, led by Rep. Jim Jordan, tweet that booster shots don't work
–– Omicron, meet your ideal host.
Candace Owens suggests Trump only touted vaccines because he's too old to know how to find alternative sources online
–– And can't get on dork web.
As Florida shatters its record for new coronavirus cases, Democrats ask, 'Where is Ron DeSantis?'
–– Partying with Waldo maskless.
Ron DeSantis photos fuel speculation about whereabouts amid COVID surge
–– He has cameras in john?
Fauci says he was 'stunned' when Trump got booed by supporters after he announced he received a COVID-19 booster shot and is pro-vaccines
–– Wouldn't prescribe dose of his own medicine?
Oil rally hits Omicron demand roadblock as glut worries rise- Reuters poll
–– And we really, really give fuck about Saudi Aramco's profits.
Nothing said Cairo quite like the ever-present water pipe — until Egypt banned them to fight covid
–– Government: 'Suck on this!'
Wayne Thiebaud, Painter and Former Disney Animator, Dies at 101
–– Takes the cake.
Jean-Marc Vallée, 'Dallas Buyers Club,' 'Big Little Lies' Director, Dies at 58
–– Death Vallée.
Wanda Young, Member of Motown's The Marvelettes Who Sang on Hit "Please Mr. Postman," Dies at 78
–– Shipped out.
Tiffini Hale, 'Mickey Mouse Club' and The Party member, dead at 46
–– Never quite made Central Committee.
E.O. Wilson, a Pioneer of Evolutionary Biology, Dies at 92
–– Bought ant farm.
Harry Reid, a longtime US senator from Nevada and former Democratic leader, dies at 82
–– Reid 'em and weep.
John Madden, Excitable Coach Turned Entertaining NFL Broadcaster, Dies at 85
–– Reaches end zone.
Ryan Reynolds: stop 'exploiting' my relationship with Betty White
–– Turned out to be Reynolds wrap.
Beloved TV Funny Lady Betty White, Star of The Golden Girls, Dead at 99
–– White out.
Desmond Tutu, anti-apartheid leader and voice of justice, dead at 90
–– Tutu sad.