Stone Cold Sobber

Week of 01/25/19
Actual headlines from the internets. You Google 'em.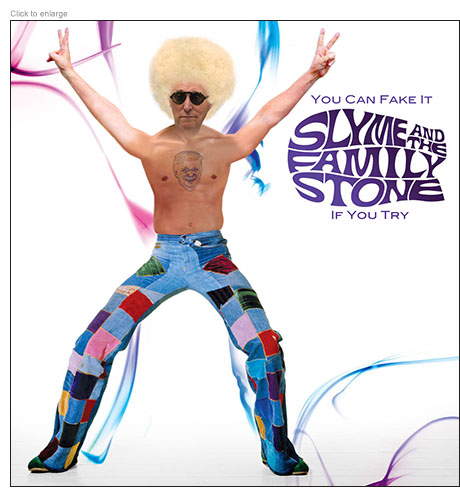 See the moment Roger Stone was arrested by the FBI
–– Proving they have Stones.
Trump Caves, Ends Longest Government Shutdown in History Without His Precious Wall
–– Cave of the Klan bearer.
Democratic congressman calls Trump 'grand wizard of 1600 Pennsylvania Avenue'
–– Hood wanked.
Pro-Trump Media Stars Despair After Trump Caves on Shutdown
–– Coulter then a witch's tit.
Mueller indicts Roger Stone, says he was coordinating with Trump officials about WikiLeaks' stolen emails
–– Trump officials? Coordinated? Sounds unlikely.
How Roger Stone spent the last 72 hours before his arrest
–– Bingeing Breaking Bad, The Sopranos, Nixon Tapes.
House Democrats zero in on Deutsche Bank
–– German mark.
The $238 Million Penthouse, and the Hedge Fund Billionaire Who May Rarely Live There
–– Hedge hog.
Macedonia will change its name. Here's why it matters
–– Mac easier to remember.
Family removed from plane after fellow passengers allegedly complained about body odor
–– Reeker madness.
Condoms That Change Color In Contact with STD Win Tech Award
–– And emit, "Eww!"
Canada Goose share hit by downgrade
–– Running out of customers to fleece.
Jets' Jamal Adams injured Patriots mascot with tackle at Pro Bowl
–– Pat down.
Florida Secretary of State resigns after reveal of blackface photos
–– Shit of State.
Army vet dress coded at gym for wearing 'racist' Trump shirt: 'It's 2019, get the hell over it'
–– Tee-boned him.
Trump says he will not give State of the Union until after shutdown ends
–– Will give time to fact-check in hockey sense.
Michael Cohen says Trump, Giuliani have threatened his family, cancels upcoming testimony out of fear for 'safety'
–– After tamper tantrums.
Trump Says Cohen Has 'Only Been Threatened by the Truth'
–– His nickname for Keith Schiller's 'associate.'
Dana Loesch upset but can't escape history when it comes to Parkland student activists
–– Shooting off mouth.
Prince Philip is the 'rudest human being ever', according to Piers Morgan
–– Magnanimously cedes title.
Anthony Scaramucci Exits 'Celebrity Big Brother' House
–– Mooch ado about nothing.
'Accidents happen' says woman of samurai sword slice and slash
–– In cutting remark.
Save Scabby: The inflatable rat beloved by unions and reviled by management is suddenly under siege
–– Strikes sour note.
Indiana mayor Pete Buttigieg jumps into 2020 race
–– Indiana jonesing.
New Ohio governor says he will 'absolutely' sign 'heartbeat bill' Kasich vetoed
–– Need 'braindead bill' for him.
Trump recognizes Venezuelan opposition leader as nation's president
–– Couldn't pronounce his name with phonetic cue card.
With military backing, Venezuela's Maduro hits back at rival Guaidó
–– Caracas down.
The Chavista Revolution Has Come Full Circle
–– Swirling down drain.
Robert Redford makes bizarre exit from Sundance Film Festival kickoff, says he wants to 'move on to a different place' from the fest he founded
–– Jumps from stage yelling 'Oh, shiiiiit!'
Jonas Mekas, 'Godfather' of American Avant-Garde Film, Dies at 96
–– Mekas cutoff.
MAGA hats don't belong on a Catholic school trip
–– Unless in very short bus.
Chinese regulator says Democracy is 'not working very well'
–– Takes credit.
Jay Leno Expresses No Regret For Conan O'Brien 'Tonight Show' Drama
–– 'Although final kick to groin might've been nice.'
Biden's Paid Speech Buoyed the G.O.P. in Midwest Battleground
–– Gave him Joementum.
GOP Strategist Slams Stephen Miller, Says: 'Maybe Someday He'll Have a Relationship With a Live Human Woman'
–– For now he has sex doll with Ivanka mask.
What Does My Dog Think I'm Doing When I'm Watching TV?
–– What he's doing when licking self.
Mavericks reportedly ban superfan who allegedly told Patrick Beverley 'f--- your mother'
–– Beverley hells.
Duff Goldman Got Married And Had 5 Wedding Cakes, One Of Which Was A "Meat Cake"
–– Just for his wife.
Anastasia Vashukevich: Model who claimed evidence of Trump-Russian collusion freed from custody
–– Will try to avoid press coverage on obit page.
World Cup Guests Just Won't Leave Russia Half a Year After the Games
–– What shithole countries are they from?
'I Just Ate My Salad.' Inside the Dinner Where Mark Zuckerberg Served Jack Dorsey a Goat He Shot With a Stun Gun
–– That bleats all.
Hailey Baldwin and Justin Bieber Are Delaying Their Wedding Due to This Common Planning Issue
–– Scheduling around rehab.
Donald Trump Tweets On Government Shutdown Day 33 : "BUILD A WALL & CRIME WILL FALL!"
–– EXCEPT IN WHITE HOUSE.
Trump Repeats Unfounded Arguments in New Appeal for a Border Wall
–– He founded them in own rectum.
Wilbur Ross says furloughed federal workers should take out loans
–– So he can buy more bad debt.
Markets open mixed after Wilbur Ross warns US is 'miles and miles' from China trade deal
–– Why Administration never tells truth.
Lara Trump: Shutdown 'A Little Bit Of Pain' But It's 'Bigger Than Any One Person'
–– Spoken like little pain.
Out of touch? Trump aides struggle with shutdown empathy
–– Or touched?
Donald Trump Jr. Accuses Media Of Trying To Subvert Democracy
–– And steal Dad's job.
Catholic student in viral video says he respects Native American elder, but he doesn't owe an apology
–– Should be drummed out.
Pink Won't Apologize for Condemning Student Involved in Face-Off with Native American Elder
–– Not red-faced?
James Gandolfini's son cast to play young Tony Soprano
–– Son of a gun.
Bangladesh's 'tree man' is back in hospital and needs more surgery
–– Groot awakening.
Russell Baker, Pulitzer Prize winner and host of 'Masterpiece Theatre' dies at 93
–– Baker's dozin'.
Giuliani says Trump might have talked to Cohen about testimony
–– In latest slang for undoubtedly.
Giuliani: Trump Tower Moscow negotiations were 'active' during 2016 election
–– But couldn't keep stories straight.
Is Rudy Giuliani really in danger of losing his job?
–– Or just mind?
Trump's lawyer Giuliani says he listened to 'all the tapes', before admitting: 'I shouldn't have said tapes'
–– Only tape he needs is for mouth.
Trump Tweet Endorses Curt Schilling For Baseball Hall Of Fame
–– Shilling for right-winger.
Florida police run over couple lying in the road to watch lunar eclipse
–– Was Super Blood Wolf Moon.
Melissa McCarthy Swears That This Hair Texturizer "Literally Doubles" Her Volume
–– And she's already too loud.
House Democrats turbocharge committee probes of Trump
–– Order mega proctoscopes.
Why Swedish Moviegoers Are Being Sealed in Coffins
–– IKEA instructions FUBAR.
Supreme Court allows transgender military ban to go into effect
–– Kavanaugh gives one-finger salute.
The NHS Gave More than 450 Men Bionic Penises Last Year
–– Not dicking around.
Ayesha Curry: Secret to long marriage to Stephen Curry is putting him first, not kids
–– 'You know, Riley, Ry-something, and the other one.'
Trump-Kim February Summit Expected to Take Place in Vietnam
–– Pair should check into Hanoi Hilton for several years.
Jenna recalls 1 of the most 'beautiful' talks she had with her Gampy
–– About how cute nicknames can cause vomiting.
SNL's Elizabeth Warren Wants to Stick Her Finger Up Your Caboose, for America
–– Might find head writer.
Former Mormon conversion therapist says he will be 'choosing to pursue life as a gay man'
–– Boney Moroni.
Fox News Apologizes for Airing Graphic Implying Ruth Bader Ginsburg Has Died
–– Adds, 'But we can dream…'
John Travolta's 'Gotti' leads Razzie nominations
–– The Teflon gone.
Regina King gushes over meeting celebrity crush Sam Elliott
–– Elliott nasty.
Trump, Pence make unannounced visit to MLK memorial
–– Pence has spray paint, Trump eggs.
Amsterdam's red light district suffering from tourist overload
–– Keep coming.
'Bikini Climber' freezes to death after massive fall
–– Bikini a-hole.
Christie: Trump has 'found himself saddled with riffraff'
–– Eric: 'Daddy never let me ride on his back!'
Described as Defeated, Islamic State Punches Back With Guerrilla Tactics
–– ISIS ices, baby.
The top 26 billionaires own $1.4 trillion — as much as 3.8 billion other people
–– Which still leaves 3.7 billion who own different amount.
Gabbard campaign fundraising on Dean's 'not qualified' remarks
–– Tussley Gabbard.
Kamala Harris to run for president in 2020
–– Amid charges of Harrisment.
Presidential candidate Kamala Harris lets loose, dances to Cardi B in new video
–– So You Think You Can Dance into White House?
Cardi B and Tomi Lahren are feuding over the government shutdown
–– Lincoln, Douglas do semi-spin in graves.
After Kevin Hart Debacle, Oscars Forge Ahead Hostless
–– Were already clueless.
This Year's Oscars Will Be the Queerest Ever. But There's a Bigger Story Behind the Numbers
–– As opposed to usual macho ceremony.
'Bohemian Rhapsody' out as contender for GLAAD award
–– GLAAD to hear it.
Bryan Singer Will Keep 'Red Sonja' Directing Gig Despite New Accusations
–– Sonja bragger.
The Big Twist M. Night Shyamalan Needs: He Should Stop Writing His Own Scripts
–– Shot Glass.
Prince Philip spotted driving without a seatbelt 48 hours after car crash
–– He's really sick of Queen.
A toddler walks toward police with her hands up as her dad gets arrested
–– Does burp walk.
Weekend Update: Pete Davidson and John Mulaney Review Clint Eastwood's The Mule
–– Good to have ass perspectives.
Colbert asks how many 'f---s' Ocasio-Cortez gives about Dem criticism. Her response: 'Zero.'
–– Doesn't give a Dem.
Alexandria Ocasio-Cortez Calls On Women To 'Shake The Table' In Women's March Speech
–– In latest go-figure of speech.
Alexandria Ocasio-Cortez Is Glad The Shutdown Gives Her 'Free Time To Make Trouble'
–– A-dor-a-ble!
Ben Stein: Ocasio-Cortez Is Promising 'The Same Kinds Of Things' As Hitler
–– If she could get trains to run on time, she could stay for life.
Kevin Hart to Star in Lionsgate's 'Monopoly' Movie
–– Should not pass Go.
Adam McKay on Trump's White House Burger Buffet: "Is He An Actual Marsupial?"
–– Certainly slothful.
Kirsten Gillibrand Takes First Steps Toward Presidential Run on 'Late Show'
–– Belongs on comedy show.
Aaron Sorkin Calls on Democrats to Be "Non-Stupid Party"
–– Is he quitting?
Trump says San Antonio shows border walls works, despite city being 150 miles from border and having no wall
–– Suggests moving all border cities 100+ miles North.
Trump Offers to Extend DACA Protections in Exchange for Border Wall Funding
–– DACA dicker.
Trump, Pence Say Their Immigration Offer To Democrats Is Not Amnesty
–– Not really even an offer.
Fact-checking Trump's border speech and DACA offer
–– First have to find one.
Boo, 'world's cutest dog,' dies aged 12
–- Well 'Boo-friggin'-hoo.
Beto's excellent adventure drips with white male privilege
–– News analysis drips with black female resentment.
---
Those Lips, Those Lies

Week of 01/18/19
Actual headlines from the internets. You Google 'em.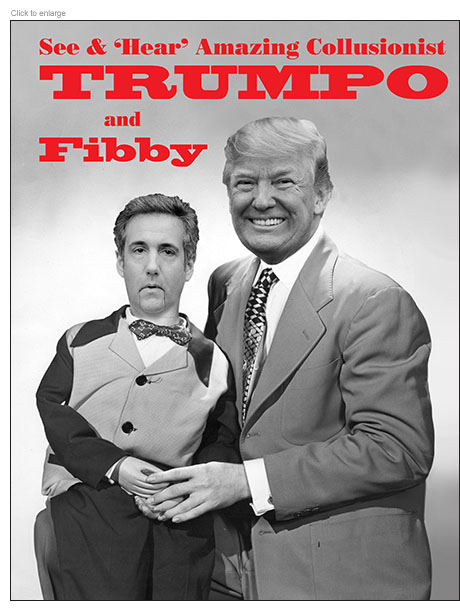 BuzzFeed: Sources say Trump directed Michael Cohen to lie to Congress about proposed Moscow project
–– Tower of baffle.
Hoyer: The State Of The Union Is "Not Officially Off"
–– It's waaay off.
Mueller's office disputes BuzzFeed report that Trump directed Michael Cohen to lie to Congress
–– BuzzKill.
White House Spokesman Refuses To Deny That Trump Directed Michael Cohen To Lie
–– Just hum The Boxer chorus: 'Lie la lie, lie la lie la lie la lie.'
Congressional Democrats pledge to 'get to the bottom' of article that alleges Trump directed Cohen to lie to Congress
–– It's all bottom.
Once again, a racial slur was used in TV story about Martin Luther King Jr. This time it happened in St. Louis
–– Slip of the dung.
'The First,' Starring Sean Penn, Canceled at Hulu
–– At last.
'Ghostbusters': Why Ignore the All-Female Reboot?
–– It bit?
Kenan Thompson Inching Closer to 'SNL' Exit
–– Comedy fans donate roller skates.
Louis C.K. defends his sexual misconduct: 'I like to jerk off, and I don't like being alone'
–– And too cheap to pay professional to watch?
Philadelphia Woman, Mad the Eagles Lost, Allegedly Attacks Girlfriend and Puts Dog in Microwave
–– Bitch zapped.
A Man Injected Himself With Semen As A Back Pain Cure And It Didn't Turn Out Well
–– How he got nicknamed Needledick.
Lawyer Claims Man Who Punched 11-Year-Old Girl Was Defending Himself
–– Couldn't he have just crossed legs?
Restaurant owner meets man who robbed him instead of calling the cops: 'Forgiveness is better'
–– 'But sticking his hand in deep fryer will have to do.'
Naomi Campbell's natural hair makes a rare appearance at Paris Fashion Week
–– Fans rooting for it.
Jeff Bezos and Ex MacKenzie 'Grew Apart Without Even Knowing It': There Was 'No Sign of Problems'
–– Like inadvertently subscribing to auto-delivery on Amazon.
White House announces second Trump-Kim summit
–– Insists both leaders felt urge to make Number Two.
A Favorite Restaurant in Syria Led ISIS to Americans
–– A take out joint.
Prince Philip's car crash sparks questions about why the 97-year-old was driving
–– And why Charles didn't force Queen to join him.
Judge blocks Trump question on citizenship in US Census
–– Senseless takers.
Maria Shriver Reveals the Sweet Way Her Son Patrick Makes Her 'Feel Loved'
–– That skirts incest laws.
Justin Bieber's mom calls daughter-in-law Hailey Baldwin 'a gift' in sweet selfie
–– Like Shih Tzu leaves on carpet.
Cleaning New York's filthy harbor with one billion oysters
–– Who's shelling out for that?
Pelosi Suggests Trump Delay State of the Union Address
–– Identifies speech impediment.
Trump denies Pelosi military aircraft for war zone trip
–– Grounds for impeachment?
'SMILF' Tax Credits in Jeopardy As Massachusetts Lawmakers Seek to Withhold Them Amid Probe
–– Of witless tampering.
Frankie Shaw Brainstorming "Better Communications Structure" After 'SMILF' Misconduct Claims
–– There's a tempest in teapot.
Rudy Giuliani says Trump didn't collude with Russia but can't say if campaign aides did
–– Or if Trump could be said to have 'assisted' self in campaign, and thus be considered own 'aide' and if so, maybe.
President Trump Denies Working for Russia: 'It's Just a Hoax'
–– 'Since when is a blackmail victim an employee? I'm an extortee!'
Cruz: People outside DC are not concerned with Russia investigation
–– Just because your constituents can't read?
Schumer Will Force Vote Tuesday on Deripaska-Firm Sanctions
–– Collusion in on him.
Model Anastasia Vashukevich claims she has recordings of Russian oligarch
–– Which she can listen to during dismemberment.
Wall Street Journal: Michael Cohen paid thousands to rig polls in Trump's favor
–– Trump warned us.
During campaign, Trump bragged about online polls Cohen rigged
–– Proud of bargain he got.
Bob Marley-branded CBD drinks coming to stores soon
–– One Load.
Karen Pence teaching art at school that bans gay students, parents
–– And refuses to paint still lifes of fruit.
'Complete humiliation': How the front pages saw Theresa May's Commons Brexit vote defeat
–– Them's the Brexits!
Theresa May Survives No-Confidence Vote in British Parliament
–– Nobody else wants job.
Theresa May, Britain's Kafkaesque Prime Minister
–– She does seem buggy.
As Elon Musk Cuts Staff at One of His Companies, Another Says It's Hiring
–– Needs HR staff to fire workers.
Kate Middleton Had the Best Reaction When a Child Asked If the Queen Ate Pizza
–– Reflexively regurgitated at mention of fatty food.
Adam Gase's crazy eyes were the true star of his Jets news conference
–– A damn gaze.
Trump Nominee Neomi Rao Wrote Articles Blaming Women For Sexual Assault
–– Perfect judge to replace Brett Kavanaugh.
Passenger's lawsuit claims American Airlines flight attendant punched him repeatedly in dispute over a drink order
–– But he ordered punch.
Mom shocked when security camera appears to show ghost of late son: 'I felt like he was letting me know he is happy in heaven'
-– 'And glad I got into his old stash.'
Judge Throws Out Alabama Law That Protects Confederate Monuments
–– With muskets, grapeshot.
Mexico's President Fights Gas Crisis, While Mexicans Endure Long Lines With Jokes

–– Swears off tacos.
MSNBC's Stephanie Ruhle implies Trump is blackmailing Lindsey Graham over 'something pretty extreme'
–– Ruhle of scum.
Lindsey Graham 'hell-bent' on replacing Ruth Bader Ginsburg despite Supreme Court saying she is 'cancer free'
–– He'll get there soon enough.
Sex offender with horns in his head accused of trying to lure child into his home
–– Had Devil of a time convincing her.
William Barr to Dems: 'Ludicrous' to say my Mueller memo was a bid for AG job
–– Though it worked ridiculously well.
William Barr says it would be a crime for Trump to pardon someone in exchange for their silence
–– Plus Stormy-style payoffs are better for economy.
Barr: "I will not be bullied into doing anything I think is wrong"
–– "I'll do wrong all by lonesome."
Graham: I have no doubt Barr with investigate deep state, FBI and Justice Department corruption
–– Oh, we're positive he with.
McConnell: If Steve King doesn't get why his 'white supremacy' comment was offensive, 'he should find another line of work'
–– 'Ah could use an advisor.'
Trump personally paying for Clemson's fast-food White House meals
–– "300 hamburgers, many, many french fries -- all of our favorite foods" costs $$56.15 with coupons, tip for Jared delivery.
'We're all out of hamberders': Burger King flame broils Donald Trump
–– Even autocrats turning on him.
Michael Strahan Invites Clemson For Lobster After Trump's Fast-Food Buffet
–– Clawing for attention.
Trump calls Joe Biden 'weak,' says Obama took him off the 'trash heap'
–– Under which Trump crawled.
Far-right German politician is beaten unconscious by masked men
–– Concerns for condition of plank that hit head.
Maroon 5, Travis Scott, Big Boi to Perform at Super Bowl
–– NFL gets what it deserves.
Jeep will make its first pickup in 26 years
–– At singles bar drive-thru.
John Lasseter's Return to Hollywood Divides Animators: "I Wouldn't Work at Skydance"
–– Refuse to hug it out.
Carol Channing, Star of Broadway's 'Hello, Dolly!' and 'Gentlemen Prefer Blondes,' Dies at 97
–– Goodbye, Dolly!
Sharapova shows no sympathy after handing Dart double-bagel
–– Schmeared.
Kate Beckinsale Jokes She Kept Date, 29, 'in the Cellar' After Fan Asks If He's Her Son
–– With her career.
Hugh Grant Appeals for Return of Script Stolen in Car Break-In
–– Victim of sides hustle?
Conan O'Brien Wants to Scare Himself With the New, Shorter 'Conan'
–– As much as advertisers?
Janeane Garofalo Defends Louis C.K. in Heated Podcast Interview
–– No hard feelings for flasher.
Hollywood Power Players Assemble to Save Iconic Deli Nate 'n Al
–– Order Bacon, Lettuce, Cheddar.
Anne Hathaway Pops in Pink Pantsuit and Soaring Heels Alongside Matthew McConaughey
–– Like subcutaneous abscess.
Why is China blurring men's ears?
–– Lobe and behold.
China says its 2018 trade surplus with the US was the highest in more than a decade
–– Tariffic jam.
Ford's CEO says a 'big surprise' is coming next year with electric vehicles
–– Longest extension cords yet.
Woman riding cart while drinking wine from Pringles can barred from Texas Walmart, police say
–– Security guards horrified, "You should only pair Chardonnay with Cheez Balls."
McDonald's customer throws hot coffee at employee after fries take too long
–– Provides worker opportunity to sue employer over burns.
Largest single group of migrants ever tunnels under border wall in Arizona, says Border Protection
–– Suspected of being moles.
Donald Trump Appears to Claim That Pakistan Is in the Middle East As He Makes Case for Wall at Southern Border
–– Claims 100% right to rename geographic regions.
GOP senator says Trump declaration of national emergency wouldn't get wall built
–– Declare away!
Mueller Draft Report Says Trump 'Helped Putin Destabilize the United States', Watergate Journalist Says
–– Of course, he's very destable genius.
Susan Pompeo's travels during shutdown anger some diplomats, sources say
–– Pompeo buried in overflow.
Melania Trump Flies To Florida For Vacation Amid Government Shutdown
–– Orifice of First Lady has been shut down for years.
Trump Is Reportedly Unhappy Over TV Coverage of the Shutdown: 'We Are Getting Crushed!'
–– Shutter to think.
Trump's economic adviser compares shutdown to vacation, says furloughed workers are 'better off'
–– Compares food pantry to 3-star restaurant.
Trump Denies 'Chaos' in White House Amid Shutdown, Insisting 'Almost Nobody' Is Left 'But Me'
–– 'Or I can't find them. Either way.'
Trump says record-long govt shutdown could be resolved 'in 15 minutes'
–– In doesn't take 15 minutes to resign.
Democrats question EPA nominee's hearing prep during shutdown
–– Prep schooled.
Canadian air traffic controllers send pizza to US counterparts affected by shutdown
–– Topped with poutine.
Snake found covered with more than 500 ticks
–– Who to feel sorry for?
What is maintenance sex? It may help strengthen your marriage
–– Ask your wife's auto mechanic.
Trump mocks Elizabeth Warren with Wounded Knee reference over Instagram livestream
–– Bury his head at Wounded Knee.
Trump mocks "Jeff Bozo" while calling National Enquirer "more accurate" than Washington Post
–– No honor among clowns.
Scoop: Trump dressed down Mulvaney in front of congressional leaders
–– Removed fright wig, ruffle collar, floppy shoes?
Trump Reportedly Flays Mick Mulvaney In Shutdown Meeting: 'You Just F**ked It All Up'
–– What whipping boys are for.
R. Kelly's daughter speaks out on 'monster' father
–– 'I believe he can fry.'
R. Kelly Dropped by Sony Music
–– Like hot album.
She Recorded Her Boss's Lewd Call. Guess Who Went to Jail?
–– Not R. Kelly?
Hospitals Must Now Post Prices. But It May Take a Brain Surgeon to Decipher Them.
–– And EMT with defibrillators to revive him.
Passenger carries firearm through TSA screening at Atlanta onto Delta flight
–– Gets all Honey Roasted peanuts he wants.
DNA pioneer stripped of honors over 'reprehensible' race comments
–– Prejudicial, my dear Watson.
'El Chapo' paid former Mexican president $100 million bribe: trial witness
–– Enrique Peña: 'Neato!"
Traffickers at the El Chapo trial say drugs aren't smuggled through open parts of the border
–– But look forward to digging under new walls like dogs they are.
Washington Post: Trump concealed details from meetings with Putin
–– By zipping up.
Trump blasts Comey as 'total sleaze' in response to FBI probe reports
–– 'Sleaze' common denominator.
SpaceX, Elon Musk's Rocket Company, Cuts 10 Percent of Its Work Force
–– What Roman numeral X stands for.
Kamala Harris Is Hard to Define Politically. Maybe That's the Point.
–– Or maybe she's just confused.
How a hacked phone may have led killers to Khashoggi
–– Hacks of violence.
---
Power Down

Week of 01/11/19
Actual headlines from the internets. You Google 'em.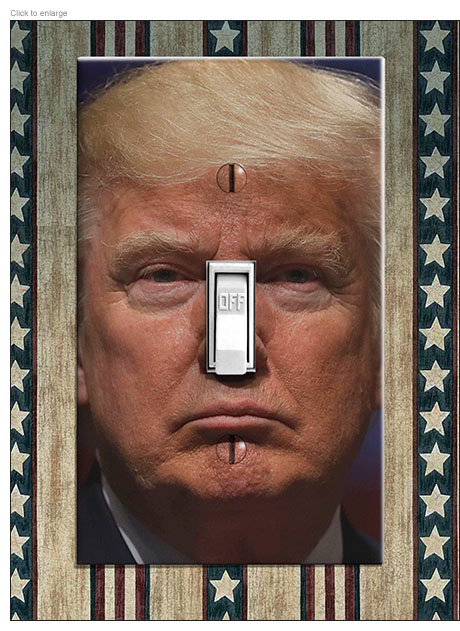 What Trump Could Learn From His Shutdown
–– In latest slang for 'won't.'
Trump calls border wall a 'medieval solution' that works
–– Serf City, USA.
Trump brought candy for congressional leaders, GOP House leader says
–– All-day suckers.
Trump walks out of shutdown meeting, calling talks 'total waste of time'
–– Let's door hit him on way out.
Trump loves to say 'bye-bye'
–– We would love to say 'bye-bye'.
Washington's Strong Economy, Financed by Taxpayers, Takes a Hit From Shutdown
–– Malled.
Shutdown stops federal government from paying its $5 million water bill to Washington DC
–– And everybody really needs shower during this.
President Trump cancels Davos trip because of government shutdown
–– Can still be butt of all jokes there.
As government shutdown drags on, where is Senator McConnell?
–– Withdrawn into shell.
Cher asks Nancy Pelosi to end government shutdown before Trump: 'PPL WILL STARVE'
–– Because she's PPL PRSN.
Some national park Joshua trees have been cut down during the government shutdown
–– Rangers need heat.
Twitter Goes Into A Frenzy After Donald Trump Names His Border Wall "Peaches"
–– "Peaches" and creamed.
Trump claims 'obviously' Mexico isn't going to write a check for a border wall
–– 'Like what pathetic loser would suggest that?'
Trump: I have 'absolute right' to declare emergency over border
–– Like Mad King George's to name dog Chief Regent.
Trump, Heading to the Border, Suggests He Will Declare an Emergency to Fund the Wall
–– Entire Administration going South.
1950s Western Predicted a Border Wall From a Fictional Con Man Named Trump
–– Appropriate as we're living in Twilight Zone.
White House asks Congress for $5.7 billion for 'steel barrier'
–– World's biggest chastity belt.
White House Considers Using Storm Aid Funds as a Way to Pay for the Border Wall
–– While insisting barrier will keep flood waters in Mexico.
Fox News Leads Coverage of Trump's Border Wall Speech With 8.2 Million Viewers
–– All rubbernecking car wreck.
Trump Jr. compares border wall to zoo fences
–– He, family should be in cage in Brownsville, TX.
Ana Navarro Blasts 'Entitled Little Brat' Donald Trump Jr.
–– Entitled to jail time.
Taxpayers will pay for wall, White House aide acknowledges
–– Why not just levy special tax on Mexican immigrants in US?
Rahm Emanuel: Trump's 'base will follow him... over a cliff' even if no border wall
–– Need wall at cliff.
Trump says China is 'more honorable than Chuck and Nancy'
–– And Number One Son.
Huawei executive arrested in Poland on spying charges
–– Fear he stole dumbphone design.
The 'Stable Genius' Just Rage-Tweeted a Misspelled Threat to Cut Funds for Fighting 'Forrest Fires'
–– EPA agents raid Gump barbecue.
Trump threatens to cut FEMA funding for California wildfires
–– Will instead extend gasoline credits to pyros.
Ivanka Trump shares a sweet message for husband Jared Kushner's birthday
–– Roses are red, violets are blue, Daddy's a thug, and so are you.
Former Trump Organization VP Spills Beans On Donald Trump's Awful Dealmaking Skills
–– Chickpees.
Nobody Is Moving Our Cheese: American Surplus Reaches Record High
–– System plugged up.
Should Hyping Edible Bugs Focus On The Experience Instead Of The Environment?
–– Or consumer's self-loathing?
Child porn leader stabbed to death during prison attack
–– Usually liked little pricks.
Piers Morgan shares hospital bed photo: "Bad news, I'm not dying"
–– Piers to be.
It's Final: Megyn Kelly and NBC Part Ways. And She Will Be Paid in Full.
–– Here's the chance for you and your family to get away, Megs. Far away for a long, long time. Far. Long.
Gwyneth Paltrow's ex-husband came along on her honeymoon
–– It got kinda Goopy.
2 Waffle House employees fired after filming themselves putting food on sleeping customer
–– Real eggheads.
Former LSU OL Matt Branch Lost Leg in Hunting Accident; Friend Says Dog Shot Him
–– Georgia Bulldog?
Wealth Is 'in the Wrong Hands,' Mayor Says, Pledging to Redistribute It
–– To other billionaire developers' mitts.
After the 'Surviving R. Kelly' Documentary, #MeToo Has Finally Returned to Black Girls
–– Ain't they lucky?
DJ admits to cold case murder after being linked through novel DNA technique, apologizes to victim's family in court
–– Dedicates Killing You Softly to her memory.
Texas Republicans defend county GOP leader as group pushes to oust him because he is Muslim
–– Givin' him the ol' Allah-oop.
Fiji Water girl literally steals Golden Globes spotlight: 'You've got to angle'
–– Refuses to return it.
Jamie Lee Curtis still looks miffed... days after slamming Fiji Water Girl for commercializing Golden Globes red carpet
–– Bottled-up rage.
NASA's asteroid probe snaps incredible shot of Earth from 71 million miles away
–– Photobombed by Fiji Water Girl.
A second mysterious repeating fast radio burst has been detected in space
–– ET cover of Welcome to the Jungle suspected.
Rick Santorum Praised Donald Trump's 'Softer Side' And Twitter Wasn't Having It
–– Top starting with head.
I'm Sorry My Nudes Make You Thirsty, But This Drink Is All Mine
–– For Maalox.
Kit Harington Says Final 'Game of Thrones' Season Left Cast 'F**king Sick' of It
–– Like us with hype for final season?
Jeff and MacKenzie Bezos Are Divorcing, Will Remain 'Cherished Friends'
–– In latest slangs for unwilling business partners.
Why the National Enquirer says it decided to investigate Jeff Bezos
–– Asked What Would Donald Do?
All the Hot Goss From the Reporting on the Bezos Divorce
–– Goss leak.
Paul Manafort's lawyers tried to redact a court filing but it didn't work. Oops.
–– You'd think they'd carry plenty of white-out.
Kellyanne Conway embarrasses CNN's Jim Acosta: 'You're such a smarta--'
–– Spoken like dumbc---.
Jenna Jameson leaves Twitter after anti-Semitic comments: 'I am being attacked for my faith'
–– Relax, boobalah.
Influencer says she was on a 'tapas and cocaine' diet to stay thin — here's why that's not healthy
–– Here, in headline.
Attorney General pick Barr expresses confidence in Mueller
–– Passes Barr exam?
Paris' first naked restaurant to close
–– Wee-wee non non.
Kevin Hart on apology: I'm done with it
–– Hart's not in it.
Sam Darnold "super pumped" about Adam Gase's arrival
–– All that pumping creates delay of game.
A woman is fined after bragging about poaching a deer to a game warden on a dating app
–– Doe!
Watch Warriors' Klay Thompson Drop 43 Points Despite Taking Only 4 Dribbles
–– Wore bib.
Heathrow Airport halts departures after drone sighting
–– Boris Johnson in lounge.
Lemon: This is Trump's 'dirty little secret'
–– How about all big filthy ones?
A man was found dead at Democratic donor Edward Buck's home. It's not the first time.
–– 'Bucking' trend.
AI technology can identify genetic diseases by looking at your face, study says
–– Which makes it sick.
Meteorologist fired after viewers claim he uttered racial slur on air
–– Experienced cold affront.
Al Roker defends the meteorologist who was fired for a racist slur
–– Warming trend in his neck of woods.
Activist wants Dollar Tree to sell stuff for more than $1
–– Change name to Buck and Change Wood.
Kendall Jenner fans feel punked
–– Now, now, you're just brainless losers.
Post Malone Asks Fans to Help Him Stay "Mentally Stable"
–– Too late.
King of Malaysia abdicates amid rumours of marriage to ex-Russian beauty queen
–– Maylaid.
Pete Davidson Is All Smiles at Basketball Game With Machine Gun Kelly
–– As grotesque media suicide watch continues.
Editorial Board Of Vermont Paper Begs Bernie Sanders Not To Run In 2020
–– Writing for us all.
Jada Pinkett Smith on R. Kelly's Music Spiking Since Airing of Docuseries: 'What Am I Missing?'
–– Dignity, smarts.
Brian Garfield, Prolific Author of 'Death Wish,' Dies at 79
–– Got his.
Trump claims Syria withdrawal plan hasn't changed
–– Because it isn't plan.
Bolton attempts to clarify US' next step in Syria, troops could stay for a while: report
–– Asks Siri, "Uh, what next?"
Fox News Host Brian Kilmeade Calls Christian Bale's Golden Globes Speech a "Real Insult"
–– Mission accomplished.
This Pic of Lady Gaga Lounging Topless in Bed With Cereal and Her Golden Globe Is a Full Mood
–– As old people pretending to be young people might say.
Sacha Baron Cohen Brings Wife Isla Fisher as Golden Globes Date After Asking Sarah Palin
–– And Track had date with Department of Corrections.
Jim Carrey Can't Stop Gushing Over New Girlfriend Ginger Gonzaga on 2019 Golden Globes Red Carpet (Exclusive)
–– Insists she'll make it to Final Four.
Bryan Singer Makes Himself a Part of Bohemian Rhapsody's Golden Globes Win on Instagram
–– Fired up.
Ryan Seacrest slammed for wearing Time's Up bracelet at the Golden Globes
–– At least it wasn't cock ring.
Melissa McCarthy Gave Out 30 Ham And Cheese Sandwiches At The 2019 Golden Globes
–– Of 40 she brought.
Alfonso Cuarón defends 'Roma,' Netflix after film's success is questioned at the Golden Globes
–– Foul à Roma?
Asteroid that killed the dinosaurs caused a mile-high tsunami around the Earth
–– Video at 11.
Kevin Spacey appears at courthouse to face sex assault charges
–– For groping under wood.
Swiping chicken tenders left on Alabama highway is a crime, officials say
–– Especially if still in bird.
Donald Trump Called a 'Motherf***er' for Second Time in 3 Days, This Time by Canada's First Woman Prime Minister
–– Do they know something about Trump family we don't?
The greatest trick Donald Trump ever pulled
–– Let's see, what hasn't he pulled out of butt?
Alexandria Ocasio-Cortez Has An Epic 4-Word Clapback To Joe Lieberman's Slam
–– "So is Joe Mama."
Ocasio-Cortez: 'No question' Trump is a racist
–– His black lies matter.
'Betrayed' Factory Boss Turns On Trump, Says Plant May Move To Mexico
–– Will return MAGA Forever friendship ring.
More coal-fired power plants have closed under Trump than in Obama's first term
–– Blown out their ash.
'The Rider' Wins Best Picture from National Society of Film Critics Awards
–– 4 people who saw it 'ecstatic.'
Japan sushi tycoon pays record tuna price
–– To tuna $3 mil.
Ireland criminalizes emotional abuse with new domestic violence law
–– Names whiskey as accomplice.
---
Shit and Nancy

Week of 01/04/19
Actual headlines from the internets. You Google 'em.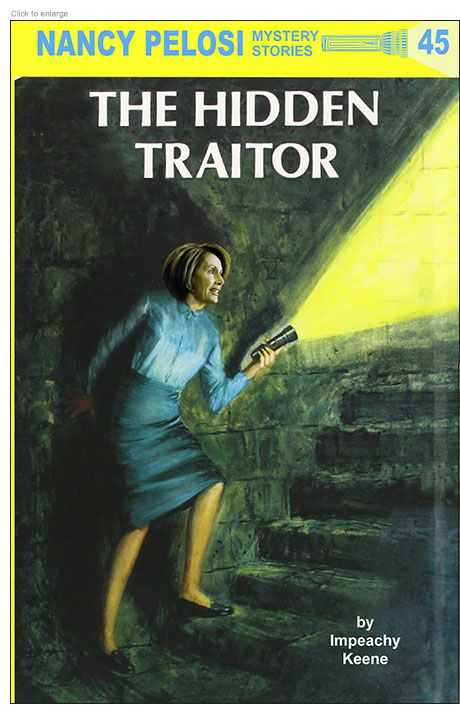 Nancy Pelosi Elected Speaker Of The House
–– More Blabber, but still.
Nancy Pelosi: "We're not doing a wall"
–– Trump would, in glory hole.
Pelosi will 'cut your head off and you won't even know you're bleeding,' daughter says
–– Apparently studied with Saudis.
Trump confirms he said he could keep shutdown going for months or years
–– May never get it up again.
Trump told lawmakers he prefers word 'strike' to government shutdown, sources say
–– He's like Samuel Gompers of White Supremacists.
Mulvaney eggs Trump on in shutdown fight
–– Mostly on face.
Government Shutdown Leaves Workers Reeling: 'We Seem to Be Pawns'
–– Of Mad King.
Congressman proposes eliminating Electoral College, preventing presidents from pardoning themselves
–– Even when entire presidency has been metaphorical belch?
Dem Rep. Rashida Tlaib faces backlash for profanity-laced Trump impeachment vow
–– No veiled threats from her.
What I Learn From Watching Others Watch Movies on the Plane
–– I'm a creep.
Big Bang Theory's Jim Parsons Says It Was the 'Right Time' to End the Show: 'We Chewed All the Meat Off This Bone'
–– Gesturing below own belt.
Ellen DeGeneres Faces Backlash After Defending Kevin Hart During Interview
–– Gay lady down.
Woodstock 50th Anniversary Festival Planned at Bethel Woods Site
–– For rockingest Depends ad ever.
Former 'American Idol' host defends driving Uber
–– Over Ryan Seacrest.
The Queen Reportedly "Reached Her Limit" With the Drama Between Kate Middleton and Meghan Markle
–– Six of Guinness.
US national debt reaches a new high under Trump
–– America's debt beat dad.
NBC News Veteran Leaves Network, Says Media Have Become 'Prisoners of Donald Trump'
–– In SuperNewsmax facilty.
Prosecutors Drop Domestic Violence Case Against Reuben Foster
–– Muff perfectly-thrown bomb.
"I Was Petrified of the Monster": Johnny Depp, Amber Heard Legal Documents Shed New Light on Dual Abuse Accounts
–– While admiring commitment to role.
Nat Geo Pulls Neil deGrasse Tyson's 'StarTalk' Amid Misconduct Allegations
–– Acted like Big Dicker.
Queen Guitarist (And Astrophysicist) Brian May On His Work With NASA and His New Song About Ultima Thule
–– Wee Wittle Rock You.
Kanye West declares he will perform in MAGA hat 'from now on': 'Just so in 2019 you know where I stand'
–– In metaphorical pool of own urine.
Apple Plunged 10% in Hours and the Firm Still Doesn't Know the Root Issue
–– Rotten Apples?
Here's Tim Cook's plan to get more people to upgrade their iPhones and turn Apple revenue around
–– Electric shocks sent through Apple Watch.
White House Predicts 'Heck of a Lot' of Companies Sharing Apple Pain
–– Rest loving it.
Trump Says He 'Would Have Been a Good General' While Feuding With Generals
–– Like Generals Confusion, Anesthesia.
Trump gives new Pentagon chief a taste of his world view
–– Tastes like chicken.
CNN's Brian Stelter ponders censoring Trump with a '10 minute delay' during live events
–– Needs 10 hour minimum.
Ocasio-Cortez suggests 70% tax for wealthy to fund climate change plan
–– Add knee to groin and it's a deal.
Ocasio-Cortez Slams McCaskill After She Calls Her a "Thing," "Shiny New Object"
–– She's not that bright.
A video of Ocasio-Cortez dancing in college leaked to smear her. Instead, the Internet finds it adorable.
–– Especially Elaine Benes.
Rep. Alexandria Ocasio-Cortez Is Booed in Congress and Trolled for College Dance Video
–– Must be doing something right.
Ilhan Omar Is Poised to Be the First Muslim Woman to Wear a Hijab in Congress Tomorrow
–– Should keep her day hijab.
Special-ed teacher arrested for throwing New Year's Eve party and letting kids drink alcohol and smoke pot
–– Isn't that special?
Woman Discovers Drunk Guy Sleeping With Her 150-Pound Mastiff
–– He likes it doggy-style.
McConnell asks new Democratic House if it will choose "policymaking or presidential harassment"
–– Be greedy, choose both!
Man attacks McDonald's employee over a straw
–– That sucks.
Trump's Freewheeling and Fact-Free Cabinet Meeting
–– A double album.
New Year, New Globes: "Co-Dependent" Hosts Sandra Oh and Andy Samberg Preview a "Crazy-Pants" Show
–– Should get crazy pans.
Trump describes his Christmas: "I was all by myself in the White House"
–– Groping stockings hung by chimney with great care.
How 'Sorry to Bother You' Shaped a New Film Genre
–– Wacksploitation.
Netflix Warns Against #BirdBoxChallenge
–– #BirdBrainChallenge.
Are Animals Getting Better at Acting?
–– Or are they all just CG Julliard graduates?
How Chadwick Boseman Embodies Black Male Dignity
–– According to publicist.
Netflix Pulls Episode of Hasan Minhaj's Comedy Show After Legal Threat From Saudi Arabia
–– Nixy Minhaj.
Tiffany Haddish Bombs on New Year's Eve, Fans Walk Out of Comedy Show
–– Tiffany baddish.
PETA responds to Tiffany Haddish's vow to wear fur till 'police stop killing black people'
–– Or she starts slaying audiences.
House Republicans quietly end probe into allegations of FBI bias in Clinton, Trump investigations
–– Weep silently they couldn't smear her further.
Australian man screaming at spider 'why don't you die?' triggers full police response
–– While strangling with dental floss.
Trump's 'CALM DOWN AND ENJOY THE RIDE' Message Triggers Twitter Freak-Out
–– Same message NASA gave Challenger.
McConnell insists he has "no particular role" in ending standoff
–– Smells burnt toast, asks 'where am I?'
GOP senator floats three options for ending shutdown
–– See 'em before we flush.
Smithsonian museums, National Zoo close doors due to shutdown
–– Animals: 'Whatta relief!'
Joshua Tree National Park to close campgrounds amid shutdown due to overflowing toilets
–– Yucka!
How Iran made ice cream 2,000 years ago
–– No-fatwa.
Cleveland Clinic fires resident after online threat to give Jews 'wrong meds' surfaces
–– Semite-lethal.
Bob Einstein, a.k.a. Super Dave Osborne and Larry David Pal, Dies at 76
–– Was Pal Indian character?
WWE Hall of Famer 'Mean' Gene Okerlund Dies at Age 76
–– Down for count.
Daryl Dragon, of the Captain and Tennille Pop Duo, Dies at 76
–– Cap's off.
Don Lusk, Animator on 'Pinocchio,' 'Fantasia' and Charlie Brown Specials, Dies at 105
–– Out of Lusk.
Harry Reid: Trump is 'amoral' and 'the worst president we've ever had'
–– Reid, you loud and clear.
Romney says Trump hasn't 'risen to the mantle' of presidency in Washington Post op-ed
–– Aced 'mental.'
'A Pumping Conspiracy': Why Workers Smuggled Breast Pumps Into Prison
–– Can be used for huffing?
Box Office: Clint Eastwood's 'The Mule' Packs Powerful Holiday Punch
–– Not kick?
Wielding Rocks and Knives, Arizonans Attack Self-Driving Cars
–– Automanic transmission.
Is There Any Humane Way to Kill a Mouse?
–– Asks Mickey.
US military tweets, deletes New Year's Eve message about dropping bombs
–– Dropping balls.
New Year's revelers in Times Square should pack a poncho
–– Christina Aguilera sprays as she sings.
The Nude Manicure Is This Wedding Season's Most Unexpected Beauty Staple
–– Sensual nail-biting extra.
China's Xi pledges to continue reforms, open markets
–– Hack enemies, steal secrets, destroy press, jail critics.
Kevin Spacey Photographed Smiling, Wearing 'Retired Since 2017' Hat After Sexual Assault Charge
–– And 'Perv Since 1986' T-Shirt.
North Korea's 'Hotel of Doom,' world's tallest empty hotel, lights up with state propaganda
–– Trump Organization negotiating for naming rights.
Kamala Harris, Elizabeth Warren and Other Democrats Shift Into High Gear for 2020
–– First.
Trump Rags On Elizabeth Warren's Native American Heritage In Wordless Tweet
–– Like 100% Naive American.
Elizabeth Warren drinking a beer on Instagram Live gets mixed reactions
–– Worried supporters fix selves Boilermakers.
Elizabeth Warren's "Likability" Is Already the Dumbest Debate of 2020
–– In incredibly stiff competition.
'That's a Bunch of Bulls***' Lindsey Graham Explodes on CNN Anchor
–– Left 'Graham cracker' on chair.
A new Associated Press poll shows that President Trump has a high job approval rating among veterans
–– With CTE.
Tomi Lahren: "Left hates that our troops love Trump"
–– Prefer non-morons protect country.
Saddam Hussein's daughter publishes last message before his death
–– "Gak!" from gallows.
To understand culture in 2018, you must understand Ariana Grande and Pete Davidson
–– Lede from Western Civilization's obit.
Comcast Voice-Remote Rejects "Dick Van Dyke" Search: "I Cannot Handle That Type of Language"
–– Surprisingly did search for Schlong ibn Muffdiver.
Scarlett Johansson says trying to stop people making deepfake porn videos of her is a 'lost cause'
–– Blown effort.
Sara Foster Can't Stop Roasting Bikini-Clad "Mom" Katharine McPhee
–– She's already pretty hot.
Trump's own pick for attorney general once doubted need for border barrier
–– So he's not completely insane, big deal.
'Hold fast': Defense Secretary Jim Mattis departs with a new message, but no fanfare
–– 'When feds come to take you away.'
Trump says he 'essentially' fired Mattis (who actually resigned in protest)
–– With 23 months straight heckling.
Iran's Revolutionary Guards plan to upgrade speed boats with stealth technology
–– Extra-quiet oars.
Retired Gen. David Petraeus Says He Wouldn't Serve in the Trump Administration
–– 'My name's not Betraeus.'
Pete Davidson claims Louis C.K. tried to get him fired from 'SNL' for smoking pot
–– In blunt remarks.
C.K. Stirs Outrage With Jokes About Parkland Shooting Survivors, Gender Identity Issues
–– With personal 'swizzle stick'.
Rob Schneider Defends Louis C.K, Kevin Hart: "Jokes Are Words You F---ing Moron C---s"
–– "I hear."
Kelly, on His Way Out, Says Administration Long Ago Abandoned Idea of Concrete Wall
–– Except certain cemental case.
Trump points to 'wall' built around Obama's DC home during fight for border wall funding
–– And brick in own head.
Man marries computer-generated hologram
––– Yes, in Japan, duh.
Sinaloa Cartel hands out Christmas presents to local villagers
–– Snow for everybody.
Michael Palin Becomes First Monty Python to Receive Knighthood
–– Got down on Ni.
One day before New Year's Eve, Utah will implement the strictest DUI law in the country
–– Adopting Missionary position.
Social Worker Led Frugal Life To Leave Nearly $11 Million To Children's Charities
–– Trump: 'America needs more losers like this.'
Trump blames child border deaths on Democrats
–– Deluding refugees America's still land of freedom.