JUDGE ROY PEEN
Week of 11/10/17
Actual headlines from the internets. You Google 'em.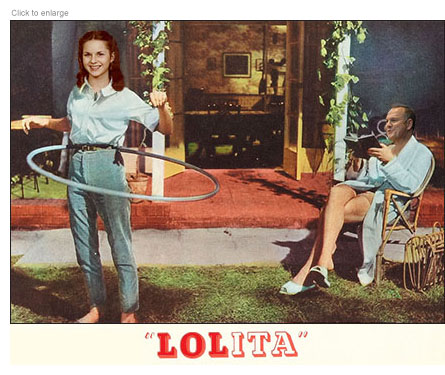 Roy Moore Is Fundraising Off Report He Pursued Relationships With Teens
–– Through Roys for Tots.
Why New Zealand wants to be predator-free
–– Same reason as Hollywood.
Roy Moore's brother to correspondent: He's being persecuted like Jesus
–– Jesús the pedophile in Alabama Dept of Corrections.
Trump, Republicans Send 'Incredibly Dangerous Message' by Doubting Roy Moore's Sex-Abuse Accuser
–– It's supposed to seem dangerous to accusers.
Watch GOP Sen. Luther Strange accuse Roy Moore of being soft on pedophiles back in September
–– And hard on underaged.
Alabama state auditor says Roy Moore bombshell 'much ado about very little' — even if 'completely true'
–– 'Weren't a blood relative. Which still ain't so bad.'
Internet destroys Breitbart for describing Roy Moore's advances on underage girls as 'being romantic'
–– Like Romeo and juvie yet.
Sean Hannity Targets Senate Candidate Roy Moore's Accusers: 'Do People Do It for Money?'
–– Yeah, why couldn't he just pay for teen sex?
Louis C.K. Breaks Silence on Sexual Misconduct Claims: 'These Stories Are True, I Wielded Power Irresponsibly'
–– 'And my pud.'
Donald Trump's Morning Routine: What He Does Every Single Day
–– Drops load, then hits john.
IS leader Baghdadi reported in Syrian town - Hezbollah media
–– On staycation.
Before Trump Meeting, Rodrigo Duterte Reveals He Was a Murderer at 16
–– Which some would take as encouraging.
Gorka on Trump's Asia trip: He's knocked it out of the park
–– 'Like an ICE agent with a nightstick on a Dreamer.'
McConnell to NYT: I 'misspoke' on tax increase for middle class in Senate plan
–– 'I meant no tax increase fuh middle rich.'
Omarosa reportedly leaves her shoes 'all over' the White House
–– Under who's bed?
Soccer star Hope Solo says ex-FIFA chief grabbed her inappropriately
–– Hard to imagine Sepp Blatter doing anything inappropriate.
Trump voters: We'd do it again
–– Referring to driving nail into head.
Why the church shooting hasn't changed rural Texans' minds about guns
–– Too small to fit new evidence.
Polish far-right march goes global, drawing people from afar
–– Pretty good likenesses of tiny Nazis.
Trump's nominee to lead his environmental council isn't sure if water expands as it warms
–– Does demonstrate how Trump nominees shrink when exposed to light.
'I Am Not a Scientist.' President Trump's Pick for Environmental Adviser Is Climate Change Skeptic
–– You are a science experiment.

Steve Bannon in Michigan: 'You can't fake Trump agenda'
–– 'That's like fake fake, a double negative.'
Steve Bannon Is On A Juice Cleanse And Avoiding Doritos To Prepare For 'Battles,' Book Says
–– Acai, kale, wheat germ, Scotch.
Bannon compares Moore accusations to coverage of Trump's 'Access Hollywood' tape
–– Both accurate reports of sex crimes.
Louis C.K. Crossed a Line Into Sexual Misconduct, 5 Women Say
–– O.C. missing from name.

Louis C.K. movie release halted following misconduct allegations
–– Yanked it.
Why men use masturbation to harass women
–– Stiff competition.
A Virginia bus driver's dark journey to Raqqa
–– No headlights?
Sean Parker Says Wealth Disparity Will Create a 'Class of Immortal Overlords'
–– He won't live to see the day.
Bill Clinton suggests Donald Trump is a member of 'the dictators club'
–– aka Herr Club for Men.
Are Mass Murderers Insane? Usually Not, Researchers Say
–– Then what does word even mean?
Why has Fox News abandoned Benghazi?
–– Efforts to revive dead horse for more beating failed.

Longtime bodyguard Keith Schiller reveals Russians offered Trump 'five women' for group sex
–– With own mops.
Massive Leak Reveals New Ties Between Trump Administration and Russia, Implicating Commerce Secretary Wilbur Ross and Jared Kushner
–– Same five women.
Portia de Rossi claims Steven Seagal 'unzipped his leather pants' during audition
–– No Fire Down Below.
White House urged DHS secretary to end Honduran immigrants' protections
–– Including confiscation of condoms.
Red Square rendezvous: Visiting Lenin's body in Moscow
–– Get cold shoulder.
Pope Francis wants the faithful to lift hearts, not cell phones, during Mass
–– And no sectsting.
Self-driving bus involved in accident on its first day
–– Luckily ran over robot.
Second fatal crash this year involving Icon A5 flown by ex-pitcher Halladay
–– Twice with same pilot?
Trump blames Gillespie for loss in VA race: He 'did not embrace me'
–– Didn't want to ruin suit.
Trump warns North Korea: 'Do not try us'
–– 'Our court system will.'
Jared Kushner on Donald Trump's Election Night: 'I Got an Idea, Let's Call Drudge'
–– So they got Pence on phone.
Britney Spears Sold a Flower Painting for $10,000 to Benefit Las Vegas Shooting Victims
–– Hopefully, ones with bad eyes.
Syria Vows To Sign Paris Agreement, Leaving U.S. Alone In Climate Denial
–– Gassy bovines will sign before Trump.
Trump not invited to Paris climate summit next month
–– Would be like inviting Ted Nugent to Lilith Fair.
Zimbabwe: Ruling Party Youths Say Grace Mugabe Reputable, Untouchable
–– Voters shouldn't, with ten-foot pole.
Mother-of-five who encouraged terror attacks is spared jail
–– Sent home to little terrors punishment enough.
Fox News host: At least the Texas shooting victims got killed in church
–– Fitting, like you saying unbelievably stupid thing on Fox.
Rose McGowan Blasts Alec Baldwin As 'Baby Man' And 'Scum Bucket' In Weinstein Feud
–– Think she meant Baby Boss.
Mary Jo Buttafuoco: Amy Fisher, Who Shot Her in the Face as a Teen, Is 'Kind of a Waste'
–– Why she was almost wasted.
Trump Bodyguard Sent on McDonald's Runs Because White House Food Not Yummy Enough
–– McDonald's runs is what Trump should get.
Police: Man snapped woman's neck, ripped her eyes out after she rejected his marriage proposal
–– Her instincts were good.
Crown Prince bin Salman 'bribed' Trump, Saudi Twitter whistleblower claims
–– Smoked Salman.
Meek Mill's Lawyer Says Judge Showed 'Enormous Bias' in Sentencing
–– Put through mill.
Sean "Diddy" Combs Has Changed His Name Yet Again
–– Diddy?
'Shameless' star Ethan Cutkosky arrested for DUI in Los Angeles
–– Doing research.
Saudi prince killed in helicopter crash near Yemen border a day after royal purge
–– Sheikh down.
Weinstein Lawyer Repped NYT During Sexual Harassment Probe, "Secretly Worked to Stop" Story
–– Boies will be Boies.
Anthony Bourdain Slams Weinstein Conspirators: "You Are Beneath Whale S--t"
–– Which is delicacy in kinky igloos.
Audience Network Head Chris Long to Depart
–– Not for sexual harassment!
Sia Outwits Paparazzi by Leaking Nude Photo
–– Can you Sia…?
Paul Ryan Defends His Call For Prayers After Texas Mass Shooting: 'Prayer Works'
–– Prayers to LaPierre.
Trump: Gun Control Would Have Left 'Hundreds More Dead' In Texas Church
–– Because killer could've holed up for years and picked off subsequent attendees.
Woman Fired For Flipping Off Donald Trump's Motorcade
–– Finger fucked.
This Is the Haircare Line Used on Superheroes
–– The Green Hairnet.
BMW Recalls Roughly a Million Vehicles at Risk of Catching Fire
–– Like Reichstag in '33.
Flint Mayor, Ushered in to Fix Water Crisis, Now Faces Recall
–– Total washout.
Paul Ryan's latest line in the sand on Trump? Firing Mueller
–– Line in sand with tide rolling in.
Kaepernick could bring this team a Super Bowl
–– If he stole Vince Lombardi Trophy, drove it to Texas.
Trump to Kim: Returning abductees would be 'something very special'
–– Church Lady agrees.
New 'Fifty Shades Freed' Trailer Teases Dangerous Last Chapter
–– Could hurt self laughing.
Trump asks Japan to build cars in the U.S. It already does
–– Takes credit for plants opened in 1980s.
Trump Gets Visas For 70 Foreign Workers At Mar-a-Lago Despite 'Hire American' Pledge
–– Promises they'll all swear they're American to ICE.
Donald Trump's press secretary promotes 'tremendously successful' Trump Hotel during official briefing
–– In PSA.
Vin Scully: 'I will never watch another NFL game' due to protests
–– Dodger blew.
Fans reckon slurring Johnny Depp was 'drunk or high' on Graham Norton
–– Actor's reps: 'Johnny's always been high on Graham –– he thinks the world of him.'
Donald Trump Jr. Told Russian Lawyer 'If We Come to Power' an Anti-Russia Law Would Be Reconsidered
–– Even he thought it was joke.
British Media Regulator Finds Fox News in Breach of Impartiality Rules
–– Didn't have to look far.
Dent: Trump team hires 'almost an embarrassment'
–– Team promises to strive for 'complete.'
Anti-Defamation League Blasts Larry David's Concentration Camp 'SNL' Jokes: "Offensive, Insensitive & Unfunny"
–– Don't appreciate camp?
Trump: Texas shooting a mental health problem
–– Insane gun laws.
Trump Blames Texas Shooting on Shooter's Mental Health: 'This Isn't a Guns Situation'
–– Maniac used brain waves to kill 26.
After Texas Massacre, The State's Attorney General Calls For More Guns At Church
–– Apparently disappointed with body count.
Nancy Friday, 84, Best-Selling Student of Gender Politics, Dies
–– TGIF.
Horror show just won't end for Macy's and Nordstrom
–– Zombie stores.
Trump's approval rating hits historic low, Washington Post-ABC poll says
–– The Floorwalking Dead.
Warner: Papadopoulos 'had been on our screen for a long time'
–– 'We haven't switched from CNN for hours.'
Kevin Spacey is dropped from Dutch event over abuse claims
–– After tiptoeing through two lips.
Trump Kicks Off Native American Heritage Month By Reviving 'Pocahontas' Slur
–– He's definitely not red-faced.
What Do People Eat in North Korea? A Lot of Corn, Pizza and 'Man-Made Meat'
–– aka 'Kim Jr.'
Ivanka Trump's miniskirt is too short for Japan, says social media: 'Inappropriate!'
–– Can almost see Hirohito.
Papa Johns Tells Nazis 'Don't Buy Our Pizza' After Chain Is Claimed As Official Pie Of Alt-Right
–– Then announces sales blitz.
LA Times columnist faces backlash after comparing Sarah Huckabee Sanders to a 'chunky soccer mom'
–– Well, fat in the head.
Paul Manafort Offers Up Trump Tower Apartment In Bid To Get Off House Arrest
–– Suite deal.
Melania Trump is a vision in white wrap dress during visit to Pearl Harbor
–– Whora Whora Whora.
House GOP revises tax bill, makes it less generous to middle class
–– Redefines middle class as the 99.9%.
Trump makes unexpected stop before Asia trip
–– Hoping to get leid.
Donald Trump mocked by Hawaiians holding 'welcome to Kenya' signs
–– WH claims as proof 'President was right all along.'
Donald Trump's mother asked: 'What kind of son have I created?'
–– What kind of husband had you married?
Could Bernie Sanders have won a primary that wasn't 'rigged'? Um.
–– Hillary couldn't win general election that was.
Lebanon's Prime Minister resigns, plunging nation into new political crisis
–– This week's.
Police: Rand Paul assaulted in Bowling Green
–– Shocked nation: 'What took so long?'
Rand Paul's Pumpkin Patch, Lack of Respect For Neighborhood Rules, Possibly Led To Six Broken Ribs
–– Or maybe it was nasty Jack o' Lantern portrait.
George H.W. Bush labels Trump a 'blowhard' in new book
–– Suggests wind farm be erected on South Lawn.
---
THE RUSSIAN REVELATION
Week of 11/03/17
Actual headlines from the internets. You Google 'em.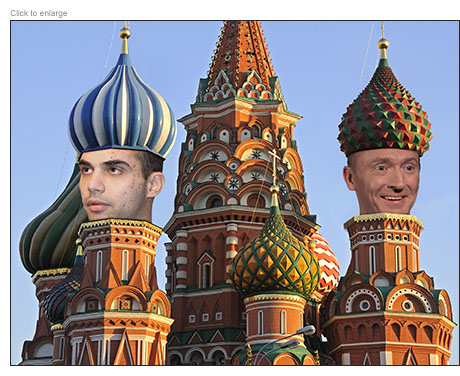 Trump campaign aide met Russian officials in 2016
–– Carter paged.
Papadopoulos Repeatedly Represented Trump Campaign, Record Shows
–– In all its incompetence.
Vanilla Ice's 'Ice Ice Baby' Honored by the Smithsonian (for Some Reason)
–– Because they couldn't find Kevin Federline's address to mail notification.
Trump expected to meet 'Pen Pineapple Apple Pen' singer Pikotaro in Japan
–– And receive Pineapple Apple Pen to sign agricultural reform executive order.
Brett Ratner Harassment Claims Turn Spotlight on Friendship With Warner Bros. CEO
–– Jack Warner would've been proud.
Richard Hambleton, 'Shadowman' of the '80s Art Scene, Dies at 65
–– Shadow of former self.
Corey Feldman Names One of the Men Who Allegedly Assaulted Him in New Interview
–– During chat?
Trump Says He Has Little Memory of Papadopoulos Meeting
–– And no possible idea how to spell name.
Pope paves the way for married men to become Catholic priests
–– Altar boys breathe sigh of relief.
'I'm The Only One That Matters,' Trump Says Of State Dept. Job Vacancies
–– 'And nobody's more vacant.'
Poll: Nearly Half Of Americans Believe Trump Likely Committed A Crime Linked To Russia
–– Other half not paying attention.
Bin Laden played video games like Counter-Strike and Super Mario Bros.
–– And The Legend of Zealot.
Osama bin Laden's hatred of West developed after visiting Shakespeare's birthplace
–– No holds Bard.
The world will never see Osama bin Laden's huge stash of porn
–– Rumored to include
Debbie Does Riyadh
,
Behind the Green Zone
&
Abbotobad Girls
starring Johhny Fatwad.
Jake Tapper Unloads On 'Sick' And 'Disgusting' Fox News In Blistering Takedown
–– Wired Tapper.
Former Trump Aide: Mueller Investigation "Will Not" Exonerate Trump
–– No matter how much he offers to pay them.
Did Russia make this ship disappear?
–– USS State?
Puerto Rico's leaders don't know who has power. We tried to find out
–– Don't they?
Trump slams Bergdahl decision: 'Complete and total disgrace'
–– 'Like me.'
U.S. Report Says Humans Cause Climate Change, Contradicting Top Trump Officials
–– Science still out on how red faces should be.
Twitter: Employee briefly shut down Trump's account on last day of work
–– Considered for Congressional Medal of Honor.
Donald Trump laments he's 'not supposed' to influence DOJ, FBI
–– At least he has vague idea it's illegal.
Scientists discover mysterious 'void' in Great Pyramid of Giza
–– Where grain used to be.
Melania Trump to be protected by special all-female Japanese police squad
–– In latest Tarantino flick.
Defected North Korean diplomat: I was 'a modern slave'
–– Defecated?
Sanders explains tax plan with beer anecdote
–– Falls flat.
Tyrese Gibson Threatens to Quit 'Fast 9' if Dwayne Johnson Returns
–– Wants to get Rock off.
Trump pick Sam Clovis blasted schools for 'indoctrinating' students with ideas like 'environmentalism' and 'racism'
–– And 'occasional salads', 'stop talking crazy', 'zip up your fly'.
Trump's pick for USDA chief scientist withdraws
–– Cow-like Clovis put out to pasture.
Rick Perry claims fossil fuels can help prevent sexual assault
–– If you line underwear with coal.
Kevin Spacey to Seek "Evaluation and Treatment" in Wake of Sexual Assault Claim
–– Diagnosis: "scumbag", prescription: "jail time".
'House of Cards' made Netflix a powerhouse. What now?
–– Nutflex.
Netflix Mulling 'House of Cards' Spinoffs
–– Ace Holes, King of Queens.
Trump calls for death penalty in NYC truck attack
–– Wants suspect torn apart by Ram pickups.
Trump Court Pick Rated 'Not Qualified' Sits Through Humiliating Senate Hearing
–– In preparation for mortifying career on bench.
Trump's NASA Pick Skewered For Climate Change Denial, Divisive Past At Hearing
–– Dumb as moon rock.
'Great British Bake Off' judge Prue Leith spoils finale
–– Leith likely to secede.
Trump Argues His Sexual Assault Denial Is "Political Speech" Outside Reach of Defamation Law
–– Makes sense when you consider every political statement is essentially "Fuck you."
New York terror suspect planned attack for weeks, police say
–– Took moron days to figure out how to get from Paterson to lower Manhattan.
Uber: New York truck attack suspect passed background check
–– Driven crazy.
Six women accuse filmmaker Brett Ratner of sexual harassment or misconduct
–– Six million of being lousy director.
More Allegations of Sexual Misconduct Surface Against Kevin Spacey
–– The Usable Suspects.
Today's the last day to get your boarding pass to Mars
–– Not far enough from Trump.
Amazon wants you to shop for Black Friday in augmented reality
–– With imaginary credit.
Kim Jong Un and wife appear on state media
–– In latest episode of Desperate Housewife.
Trump didn't dismiss idea when foreign policy adviser suggested setting up Putin meeting
–– Was mentally weighing which tie, cologne he'd wear to impress him.

Trump can hardly remember meeting Papadopoulos
–– Heard PapaJohnpoulos, daydreamed of pizza.
Papa John's says NFL protests are hurting sales
–– So there's one positive.
Trump labels US justice system 'laughing stock'
–– Prefers Saudi-style beheadings for fake news peddlers.
Top NPR editor resigns amid allegations of harassment
–– They really are considering all things.
Showtime Says 'The Affair' Actress Shouldn't Complain About Being Called a "Sexytime Double"
–– Which sounds like sake bar cocktail.
White House says Trump will not visit DMZ
–– Afraid Harvey Levin might ask tough question.
Wendy Williams Faints on Halloween Show
–– One look in mirror of self as Lady Liberty did it.
How the world potty trains
–– Who gives a shit?
Adam Sandler blasted after repeatedly touching Claire Foy's knee
–– Happy Gropemore.
Ann Coulter Thinks Sexual Harassment Allegations Against Harvey Weinstein Are a 'Lot of Fun'
–– As she pulls wings off butterflies.
Ivanka Trump Admits She 'Doesn't Understand How Birthdays Work' After Ignoring Tiffany's
–– Keeps setting cakes on fire, eating candles.
Newt Gingrich Is Outraged Paul Manafort Was Woken Up In His Pajamas
–– He leant them?
Mueller's Investigation Won't Shake Trump's Base
–– Mullosks can't read.
Andy Dick Fired From Movie Over Sexual Harassment Claims
–– Handsy dick.
Arrest Warrant Issued for Rose McGowan in Connection to Drug Charge
–– High on pity.
Facebook estimates 126 million people were served content from Russia-linked pages
–– Or 1/4 that oohed over puppies.
Kelly: 'Lack of an ability to compromise' led to Civil War
–– North could've at least allowed day slaves.
Trump Chief of Staff John Kelly calls Confederate Gen. Robert E. Lee an 'honorable man'
–– 'Traitors can be. Right, Mr. President?'
Kelly says he'll 'never' apologize for comments about Rep. Frederica Wilson
–– On General principle.
Google CEO addresses hamburger emoji debate
–– What happens when Japanese flip your cheeseburger.
Japanese man arrested after body parts found in cooler
–– Cheese underneath meat.
Tony Podesta stepping down from lobbying giant amid Mueller probe
–– Podestrian x-ing.
Jam Master Jay remembered on 15th anniversary of his murder
–– By fans of lame handles.
Kevin Spacey criticized for how he came out
–– To 14-year-old he was accused of molesting?
Danish inventor admits dismembering journalist Kim Wall but denies murder
–– Demoed Wall.
Mom uses Halloween costumes to help 3-year-old embrace her arm amputation
–– With other arm?
Trump comes ahead with fresh criticism of Russia inquiry
–– And acropper.
Trump Ignored His Kids Until They Entered College, Ivana Says
–– Lucky bastards.
Trump Assails 'Phony Witch Hunt' Ahead Of Possible Indictment In Russia Probe
–– Right: charge it's 'Witch Hunt' is 'phony'.
A seven-year-old baseball fan with a 3D-printed hand is throwing out the first pitch of World Series Game 4
–– And threw better than anyone else in 13-12 debacle.
Donald Trump Concedes He's 'Not At All Presidential' As He Slams Michael Moore Play
–– Except in Idi Amin sense.
Controversial Congressman Touts Iowa 'Peasant Hunt' With Donald Trump Jr.
–– It's good to be King.
Paul Manafort: Trump former campaign manager 'not aware' of possible criminal charges against him
–– Really hitting bottle since raid on house.
Paul Manafort turns himself in as Trump-Russia inquiry heats up
–– Not sure he can Manafford $10 mil bail.
$934K at a rug store. How the feds say Manafort spent lavishly
–– Thought that was his own hair.
The new Japan Taxi from Toyota wants to be an international icon
–– Chances fare to middling.
Andy Cohen Calls Kathy Griffin's Accusations of Drug Use '100% False'
–– 'Is she high? On my stash?'
Jared Kushner Doesn't Read, Calls His Father Daddy, Former Employee Says
–– Calls Trump Mommy.
Kushner took unannounced trip to Saudi Arabia
–– Thought plane was on way to Vail.
Twitter suspends account of Trump ally Roger Stone
–– Dropped like one.
Chelsea Handler Earns First No. 1 on Top TV Personalities Social Media Ranking
–– Out of gratitude for quitting show.
Astros first baseman Yuli Gurriel made a racist gesture after World Series home run off Yu Darvish
–– Whirling Darvish.
Barack Obama called for jury duty in Illinois
–– If only current President called for witness stand.