DESE DEMS DOPES
Week of 09/15/17
Actual headlines from the internets. You Google 'em.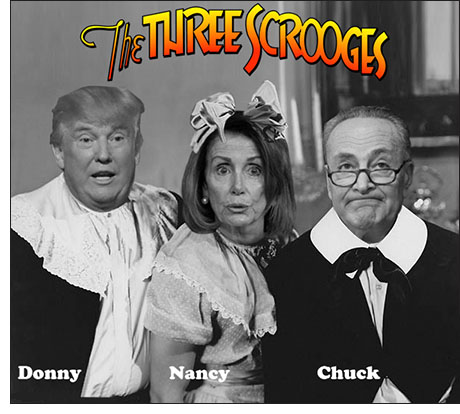 Trump's debt ceiling deal with Schumer, Pelosi stunned White House budget director
–– But he was already dazed.
OJ growers are devastated by Irma
–– Orange is the new blecch.
Left warns Pelosi, Schumer: Don't get too close to Trump
Especially you, Nancy.
Hollywood Mourns Death of 'Legendary' Harry Dean Stanton: 'The Definition of Cool'
–– Now cold.

Black man poses as white supremacist
–– At American Foundation for the Blind's Klan chapter meeting.
Florida Keys residents trickle back to warning of new crisis
–– Trickle when they see shape of homes.
Mike Pence's press secretary is leaving the White House
–– No one ever asked question.
Billy Joe Saunders' Son Punches Dad's Opponent in the Groin at Weigh-In
–– Getting in some heavy bag work.
'Where can I go to meet 30-something single women?': Journalist Katy Tur describes interactions with married senior Trump campaign staffer
–– 'I need to get our 'pole' numbers up.'
Smuggled North Korea Clams Show China's Struggle to Stop Kim
–– Though they refuse to talk.
Trump White House's Latest Strategy to Deal With Leaks… Has Been Leaked
–– Drip drips drip.
Girl sexting Anthony Weiner 'was trying to influence US presidential election', lawyers claim
–– Thought she could sway dick pick.
Candice Bergen Describes Her Very Color-Coordinated Date With Donald Trump
–– All-white.
Trump Blames Bad Cell Service for Failure to Call Mexico After Earthquake
–– Insists Mexico will pay for the call.
Hillary Clinton: 'Nobody Said A Word' When It Was My Fake Severed Head
–– C'mon, Trump said 'lock it up.'
Ivanka Trump Is a Failure at the White House, and Now Democrats Are Stepping in to Save Her Child Care Plan
–– Appoint Jared full-time nanny to their kids.
Alice Waters's Grilled Cheese Is Not Like Yours and Mine
–– No Cheez Whiz?
The Playlist: Björk Rediscovers Love and 10 More New Songs
–– Still searching for key.
SoFi Board Says C.E.O. Is Out Immediately Amid Sexual Harassment Scandal
–– So Fired.
Report: At WH dinner, Pelosi asked, 'Do the women get to talk around here?'
–– Trump: 'If you call me Daddy.'
Steve Bannon Is Reportedly Trying to Make Movies Again
–– Sequels to Birth of a Nation, The Great White Hope.
George Clooney Slams 'Failed F---ing Screenwriter' Steve Bannon
––'American chaos' line was heard on most screens in history!
Floyd Mayweather: Donald Trump Is a 'Real Man' for P---y Grabbing Comments
–– Comments apparently grabbed this pussy.
Motel 6 says it will stop sharing guest lists with ICE
–– No more 'We'll leave the spotlight on for you.'
What the Latest Crackdown in Cambodia Means
–– Government really hates Angelina Jolie's new movie.
China wants to ban gas and diesel cars
–– Bring back rickshaws drawn by North Korean immigrants.
Alabama senate candidate repeatedly appeared on radio with pastor who preaches penalty for homosexuality is death
–– Which makes him too Liberal for Alabama senate.
Surveillance video 'shows disoriented 19-year-old walking into hotel freezer alone and the door shutting behind her' hours before she was found dead after wild party
–– Did pause to see if door said Ladies.
Trump Called Sessions an 'Idiot' Before Demanding His Resignation in May, Report Says
–– For those who say he can't do anything right.
Hot mic catches Schumer talking Trump: 'He likes us'
–– We know he loves junk feud.
Hannity to all-white panel: 'We are not racist'
–– 'Oh, and we're not dumb blondes. I'm salt-and-pepper!'
Game of Thrones to Reportedly Shoot Multiple Endings So You're Not Sure Who Dies
–– But how will they make you care who does?
Anthony Scaramucci Reportedly Wants a Paternity Test for Newborn Son
–– Hasn't been able to get it up in years, except for Trump.
Harrison Ford breaks silence on Carrie Fisher
–– With what sounds like belch.
Congress pushes Trump to condemn white supremacists
–– Like asking him to give up taco bowls.
Trump on DACA recipients: Does anyone really want to 'throw out' good, educated young people?
–– Yeah, you.
Has President Trump passed enough tests as yet?
–– Are rabies results in?
Why Hillary Clinton Is Into 'Alternate Nostril Breathing'
–– Began when Trump was upwind from her at debates.
Hillary Clinton Suggests That Women Didn't Vote for Her Because of the Men in Their Lives
–– Pollsters didn't bet on point manspread.
Bride and Her Bridesmaids Walk Down the Aisle With Doughnut Bouquets: "Can We Eat Them?"
–– Will throw bride's to crowd of unmarried fatties after ceremony.
'Marvel's Inhumans' Rockets Up to a 7 Score on Rotten Tomatoes — Goodbye, Goose Egg
–– Goose Egg lamest supervillain.
Trump White House Accused of Smear Campaign Against James Comey
–– Claim to have compromising photos with Bigfoot.
Russia Wants Trump to Think of These Ordinary North Koreans Before Starting a Nuclear War
–– Starving ones for whom incineration would be blessing.
White House Wants ESPN Anchor to Be Fired for Calling Trump a Bigot
–– In color analysis.
Fenway Park Security Confiscate 'Racism Is as American as Baseball' Fan Banner
–– So it can proudly be strung up in Southie.
Sean Spicer Stands by Trump, Defends "Alternative Facts" on 'Jimmy Kimmel Live!'
–– Still exhibiting Schlockhome Syndrome.
Selena Gomez's best friend gave her a kidney this summer
–– Always was a pisser.
Mnuchin asked to use a government jet for his honeymoon
–– Requested Ivanka serve, join newlyweds in mile high club.
Democrats Say Trump Agreed to Make Deal on 'Dreamers'
–– While asleep at wheel.
Top Dems Say Trump 'Agrees' To Law Protecting Dreamers; White House Denies
–– Whoa, Trump's inconsistent? No way, dude.
Amber Tamblyn Pens Open Letter to James Woods After He Called Her a Liar: "I Call You a Silencer"
–– Wish that small bore had silencer.
There's an interesting reason South Korea is publicly talking about a 'decapitation unit' for Kim Jong Un
–– A heady move.
Stevie Wonder: Climate Change Deniers 'Must Be Blind'
–– Look it up.
How Omarosa Became the Most 'Despised' Person in the Trump White House
–– By just being herself.
Democrats investigating whether Flynn promoted reactor project as Trump aide
–– In latest Flynn Flam.
Richard Branson: Devastated Caribbean islands need a 'Marshall Plan' after Irma
–– Or a Margaritaville Mandate.
Meet Hope Hicks: Donald Trump's 28-year-old new White House communications director
–– Stix nix Hicks pix.
Black Lives Matter targets Jefferson monument in Charlottesville
–– Trump just grins.
Ahem, Alex Jones Now Says Donald Trump Is Being Covertly Drugged
–– Finally, one of his conspiracy theories that makes sense.
'My body freezes — my heart stops': Journalist Katy Tur describes receiving an unwelcome kiss from Trump while covering 2016 campaign
–– 'Now I understand that look on Melania's face.'
St. John Mom Who Survived Irma Under Mattress Speaks Out: 'The Smell of Death Is Overwhelming'
–– 'I really need a new mattress.'
Bossert says the link between climate change and recent hurricanes to be analyzed 'at a later date'
–– 'Like a hundred years when we're all living on rafts.'
New Miss America Says U.S. Needs Seat at Paris Climate Table
–– Yes, even beauty contestants smarter than president.
Sarah Huckabee Sanders: "Sad" That Last Chapter Of Hillary Clinton's Political Life Is Propping Up Book Sales With "False Attacks"
–– Twat happened.
Clinton blasts Don Jr.'s 'absurd lie' about Russian lawyer meeting
–– Jr.: 'Hey, that lie was genius!'
Hillary Clinton Blames Loss on Not Sharing White Anger, but Still Hates 'Creep' Trump
–– Needed to share man anger.
Inside an all-clown screening of 'It'
–– Audience far more terrifying than film.
Top White House Official to Discuss Climate Change at U.N.
–– In dead Prussian dialect.
Eric Luke Trump, the President's Newest Grandchild, Is Born to Lara and Eric Trump
–– Father's middle name's Lunk.
Seattle Mayor Ed Murray Resigns After Another Abuse Accusation
–– Seattle slew.
Jamie Dimon calls bitcoin a 'fraud'
–– Dimon in the rough.
Myanmar's Suu Kyi skips UN assembly amid criticism over Rohingya crisis
–– Suu Kyi self.
Report: Russia proposed full normalization with US under Trump
–– America, U.S. despise each other again: mission accomplished
Selena Gomez Recalls Feeling ''Really Violated'' Throughout Her Disney Days
–– Mickey being questioned by authorities.
Gwyneth Paltrow Creeps Up On James Corden While He's Mocking Goop
–– More like oozes.
Fox host compares 9/11 memorial to Confederate monuments
–– From when Grant flew balloon into Tara.
Ex-UFC Fighter Diego Brandao Leaves Cage Mid-Fight
–– Cage-free chicken.
Why airplane cabins now smell different
–– Tacos!
Viral gospel singers perform on 'Tonight Show'
–– Spirit 'infectious'.
Rare 'barn find' Ferrari sells for $2M
–– Chickenfeed.
Pope Francis slams climate change deniers
–– Building ark in St. Peter's Square.
Irma destroyed about 25% of houses in Florida Keys, FEMA says
–– Cay pasa?
Irma: Florida residents call on Trump to open Mar-a-Lago as a shelter for hurricane victims
–– Mar-a-Water-Logo.
Donald Trump Jr. hits Michael Moore for suggesting Mar-a-Lago open as shelter: 'Narrative!'
–– Moore: 'Documentary!'
Jennifer Lawrence told boyfriend he had 'psychological problems' after reading his 'Mother!' script
–– 'Not to mention dramaturgical ones.'
Michelin-Starred Chef Reveals A Surprising Secret To His Scrambled Eggs
–– He gets oeuf on them.
Trump refuses 'to make eye contact' with his top economic adviser
–– Don't see eye-to-eye.
Nordstrom Is Opening Concept Store That Has No Inventory
–– What a concept!
Kristen Bell Sings 'Frozen' Songs for Floridians at Hurricane Irma Shelter
–– Haven't they suffered enough?
Bannon: Comey firing was worst mistake in 'modern political history'
–– By worst mistake in modern political history.
Steve Bannon on '60 Minutes': Mainstream Media Trying to 'Destroy' Donald Trump
–– Before he does it to self.
Toronto: Darren Aronofsky Should Make a Comedy, Says 'Mother!' Star Jennifer Lawrence
–– Like a sequel/remake My Mother the Car!
It's finally dawned on Trump how much people 'f---ing hate' him — and he's pivoting to a new strategy
–– Get them to 'motherf---ing hate' him.
Bill Maher: It's An 'Inconvenient Truth' That Climate Change Deniers' Homes Are In Irma's Path
–– And damp shame.
Trump's EPA head Scott Pruitt on Irma: Now is not the time to talk about climate change
–– 'Can't hear critics anyways–– they're underwater.'
Hillary Clinton Says Political Career Is Over; Calls Trump Inaugural Speech "Cry From White Nationalist Gut"
–– We know where that hot air escapes from.
Trump's Bid to End Saudi-Qatar Stalemate Ends in Recriminations
–– Winning!
Bound to No Party, Trump Upends 150 Years of Two-Party Rule
–– Establishes Donner Party.
Trump Monitors Hurricane as His Cabinet Descends on Camp David
–– So he can get Fox News in woods?
Newly unearthed ancient tomb with mummies unveiled in Egypt
–– Daddies absent.
Ex-Inmate Takes to Hong Kong's Airwaves, and Prisoners Tune In
–– All Thugs Considered.
---
IRMA LA DOUCHE
Week of 09/08/17
Actual headlines from the internets. You Google 'em.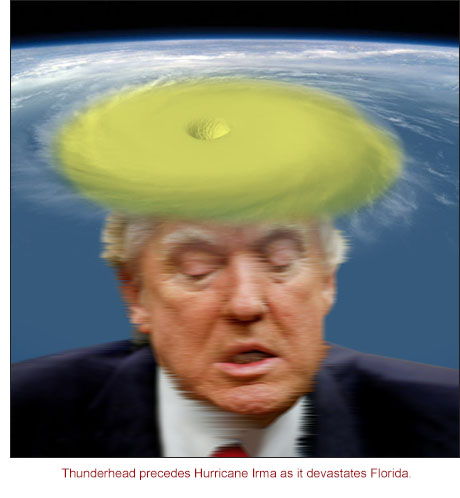 Hurricane Irma threatens 'to devastate the United States,' FEMA chief says
–– Sorta like Tornado Trump.
Ivanka Trump's Plea to 'Daddy' Makes Twitter Cringe
–– Or cwinge.

FEMA could run out of cash this weekend
–– Couldn't some rich Floridian float them loan?
Rush Limbaugh Says Hurricane Irma Is Conspiracy, Evacuates Anyway
–– Has to change underwear.
Gay people to blame for Hurricane Harvey, says US Pastor
–– Pastors to blame for Hurricane Irma says RuPaul.
New FBI head says he's not seen 'any whiff' of White House interference in the Russia investigation
–– Needs to get nose out of Trump's ass.
'Lips and teeth' no more as China's ties with North Korea fray
–– But still lots of 'tongue'.
Trump, Schumer agree to pursue plan to repeal the debt ceiling
–– Creeping with the enemy.
Donald Trump doesn't realise Ivanka 'isn't that impressive to people', says political analyst
–– Trump: "C'mon, when she walks in all the guys in my Cabinet 'stand at attention'."

Kid Rock: 'F*** any mother****' who disrespects the National Anthem
–– Admits Colin Kaepernick's afro makes him Rock hard.
'I smell a rat here': Lindsey Graham wants James Comey to testify on the Clinton email case again
–– 'Here, in mah dainties.'
Trump Complained That the Emir of Kuwait's Plane Was Longer Than His, Continuing Peculiar Obsession With Size
–– And that he wanted flying carpet, too.
Trump admin backs Colorado baker who refused to make cake for same-sex wedding
–– Won't touch those buns.
Eric Bolling out at Fox News after report of lewd text messages
–– Bolling for dullards.
The formerly conjoined McDonald twins' amazing journey home
–– So two heads are better than one?
GOP bristles at Mnuchin's debt plea: Do it for me
–– 'Remember the good times we had. Think of all I've done for you. Plus my wife wants me to take her shopping…now.'
Trump blasts own party, calls filibuster 'GOP death wish'
–– Nominating him was death wish.
All five living former presidents launch joint Harvey relief effort
–– Unprecedented blast of hot air.
President Trump's $17 Million Caribbean Home Was Just Pummeled By Hurricane Irma
–– Always a silver lining.
High School Students in White Hoods Burned Cross and Waved Confederate Flag
–– At Jefferson Beauregard Sessions Prep.
'Shiloh' Star Blake Heron Dies at 35
–– Trying to add 'i' to last name.
Strong Earthquake Hits Off Mexico's Coast
–– Because there is a God and he's sick of all the shit.
Giant Equifax data breach: 143 million people could be affected
–– You gotta give 'em credit.
Equifax execs sold stock before hack was disclosed
–– Equifux SEC.
How Do You Get Back on the Field After Losing 98-0? As Quickly as Possible
–– Ask Trump.
Priebus was sure Trump tape ruined campaign
–– No wonder the Mooch whacked 'im.

Steve Bannon: 'Access Hollywood' Moment Showed Who Was Loyal to Trump
–– 'I mean if you can't even defend sexual assault…'
Bannon: 'Access Hollywood' tape cost Christie a Cabinet post
–– 'It was his for the groping.'
Bannon: I'm going to be Trump's 'wing man' outside the White House
–– 'As in vulture.'
Bannon on Catholic Church's DACA support: 'They need illegal aliens to fill the churches'
–– 'We need 'em to spook our voters.'
Cardinal Dolan responds to Bannon's 'insulting' remarks
–– 'That's like saying we just need altar boys for those long winter nights.'
Trump Is Disgusted by White Supremacists, Paul Ryan Says, Because 'His Grandchildren Are Jewish'
–– "His adorable 'liddle yids'."
Three 6 Mafia Star Remembers His Oscar-Winning Night: "Like That, Salma Hayek Killed My Hard-On"
–– 'I was like high, then ecch!'
What 'Game of Thrones' Still Needs to Accomplish With 6 Episodes Left
–– Make you forget every Season 7 episode but last.
Graydon Carter to End 25-Year Run as Vanity Fair's Editor
–– The snark descending.
Who is Jim Bridenstine, the Climate Change Denier Trump Picked to Head NASA?
–– Guy who'd build space wall if we discover illegal aliens.
Squid ink could make your dentist visits much less painful
–– But kiss white teeth goodbye.
'Boomer and Carton' co-host Craig Carton arrested on charges stemming from fake ticket sales
–– Juiced Carton.
NBC Sports' Lead Baseball Writer on Craig Carton Arrest: 'Pardon Me if I Die Laughing'
–– Skunk at a Carton party.
Joe Buck admits to secretly peeing while calling a touchdown on national television
–– Borrowed waterboy.
Jennifer Lawrence wore head-to-toe, see-through fishnet at the London premiere of "mother!"
–– Crotch of the day.
ISIS Supporters Call For Poisoning of Food in Grocery Stores Across U.S. and Europe
–– Shrinking terror org will next suggest short-sheeting infidels.
North Korea Erupts in Mass Celebration of Sixth and Most Powerful Nuclear Test to Date
–– Government offers hungry citizens slices of mushroom cloud.
Martin Shkreli offers $5K reward for sample of Clinton's hair
–– $50K if from 'carpet'.
Kentucky Could Become The Only State Without A Clinic That Performs Abortions
–– And one that needs them the most.
Jeff Sessions Always Wanted to Deport Undocumented Immigrant Youth. Now He Can
–– As a child painted tin soldiers brown, sent them back to Toyland.
BIAS ALERT: Conservative publisher Regnery cuts ties with the New York Times over best-seller lists
–– When they won't count illiterates who buy their books.
Washington National Cathedral to remove stained glass windows honoring Robert E. Lee, Stonewall Jackson
–– Peggy Lee stricken from American Songbook, Jackson Pollocks removed from MOMA.
Trump gets millions from golf members. CEOs and lobbyists get access to president
–– Caddy slack.
Navy Ships Suffered From Shoddy Maintenance, Overworked Sailors
–– Admiral issues stern warning.
Trump bucks GOP leadership, backs Democratic deal on debt ceiling, funding government
–– The arggh of the deal.
Facebook says it sold ads to Russian 'troll farm' during 2016 campaign
–– Produced 'bump her' crop.
Jimmy Fallon Reveals He Had Another, "Hopefully Last" Surgery on Finger
–– Digit redo.
Washington Nationals Star Bryce Harper Rocks Cornrows in New Look
–– National disgrace.
Tiger on the loose near Atlanta killed by police
–– Didn't know Detroit was in town.
Boy whose heart stopped after bite of hot dog found to have rare condition
–– Mustard gas.
Madonna is happy she moved
–– And America's not exactly complaining.
Man Tied to Cinder Block and Dumped in Water Was Son of Mob Associate
–– Sinks in.
White House Says President Trump 'Wrestled' With Decision to End DACA
–– That's why his head locked.
Trump's EPA Can Now Veto Science Grants if They Mention Climate Change
–– According to CC rider.
Kenyan shares drop 2 pct on election ruling, shilling stable
–– Actually shilling at all time high.
Israel: Netanyahu's Wife To be Charged With Fraud Over Lavish Dinner Parties and Private Chefs
–– Bibi ate.
Venezuelan President Maduro to address U.N. Human Rights Council
–– Like him giving keynote at Mental Health Day.
White House: It's Congress' job to legislate
–– Just handed Constitution.
North Korea's 'pink lady' serves up earth shaking news from a reclusive regime
–– Cocktail shaker.
John Kelly is running a tight ship
–– With loose pirate captain.
Donald Trump 'lashed out' at new chief of staff John Kelly amid rising tension in White House
–– 'Aye, thirty lashes with me cat o'nine tails, matey!'
John Kelly Doesn't Like Donald Trump, According to Closest Ally Keith Schiller: Report
–– Who's been schilling for him for long time.
Trump's departing security chief, Keith Schiller, is apparently also his 'emotional binky'
–– Thought he was like Bannon and sucked own.
North Korea warns Trump of "gift packages" heading towards the U.S.
–– Evil genius quips still in early stages of development
Putin says the country that perfects AI will be 'ruler of the world'
–– Kim needs to study real supervilllain.
The EPA's bizarre response to report on Houston contaminants
–– 'Yummy!'
Report: Red Sox stole signs with Apple Watch
–– Use finally discovered for device.
Why J.J. Watt's turning down movie roles and ads
–– Can't act, looks like Leatherface's illegitimate son.
Lego to cut 1,400 jobs citing declining revenue in U.S., Europe
–– Management filled with blockheads.
Democrats, Republicans slam Trump's DACA decision as 'heartless'
–– Equally brainless.
Spicer's 'candor' helps him land speaking job: report
–– As press secretary to El Chapo.
Ingraham to Trump: Remember how you won the presidency
–– 'Co-dependant women like me voted for you.'
Putin Says Trump's 'Not My Bride,' But Still Hopes for Detente
–– 'And I can still fuck him when I like.'
North Koreans Will 'Eat Grass' So Kim Jong Un Can Buy War Weapons, Putin Says
–– 'At least we turn into vodka first.'
Descendent of Robert E. Lee Has Stepped Down From His Church Following VMAs Backlash
–– Career goes South.
'Too Big to Fail' Label May Shrink for Some Firms Under Trump
–– Because 'to fail' his signature business strategy.
Louise Linton: 'I see the irony of making an apology in a ball gown'
–– 'But irony is for losers, bitches!'
Duchess of Cambridge topless photos were invasion of privacy
–– And criminally not hot.
A robotic crib rocked my baby to sleep for months
–– After nursing on teflon teat.
Walter Becker, Steely Dan Guitarist, Dies at 67
–– Reelin' in the biers.
North Korea Says It Has Tested Hydrogen Bomb That Can Fit on ICBM
–– Or in Kim's shorts.
What's left to sanction in North Korea after its big nuclear test?
–– Ban export of Kim's hair gel.
How the world reacted to William and Kate's exciting royal baby news
–– Gave one-and-a-half shits.
Germaine Greer blasts Princess Diana: 'Worst f*ck in the country'
–– Thought that was Nigel Farage.
Janis Joplin's Drug-Related Death Isn't as Cut-and-Dry as You Think
–– Cut-and-Dry-and-Hydrate-and-Inject.
Trump Downsizes Black College Conference, Because At This Point What Does He Have to Lose?
–– Dennis Rodman's support?
Trump threatens to cut off trade with China if it does not stop trade with North Korea
–– File under Empty Threats, right after 'Fire and Fury'.
Trump told Hurricane Harvey survivors to 'have a good time' while visiting shelter
–– Wink wink, nudge nudge.
Idaho Police Department Thanks 'Heroic' Nurse For Standing Up To Utah Cop
–– 'That took some pretty big potatoes.'
GOP Lawmaker Mocks Trump's 'Great Heart' In Blistering Response To DACA Threat
–– 'Why, aorta…'
'My Hands Are Too Big,' Says President With Smaller-Than-Average Hands
–– Trying to pull on child's mittens.
Nikki Haley Says Kim Jong Un Is 'Begging For War' With 'Abusive Use Of Missiles'
–– 'You see the brutal way he's flogging them trying to get them off?'
'Twin Peaks': 18 Burning Questions Following the Showtime Finale
–– 3. Should we use gasoline?
Burning Man attendee dies after running into flames
–– A bit on the nose.
Domino's testing self-driving pizza delivery
–– Offers 20 minute delivery guarantee if you're willing to pay for injured pedestrians.
Startup behind ridiculed $400 juicer shuts down
–– Felt squeeze.
Tom Jones Postpones Fall Concerts to Spring 2018
–– It's not unusual.
Astros provide healthy distraction from Hurricane Harvey
–– Texans love seeing New York asses kicked.
Two NASA astronauts slated to return from space to Houston after devastating floods
–– As aquanauts.
Prince's sister says purple wasn't his favorite color
–– And beret was ruby not raspberry.
McCain: Trump 'poorly informed,' Congress 'not his subordinates'
–– Master of the obvious.
Justice Department: No evidence Trump Tower was wiretapped
–– But was it 'wiretapped'?
Obama's 2018 budget requests will make him most expensive ex-president on taxpayer dime — Here's why
–– Luther, his pricey anger translator, needs to respond to nonsense like this.
---
APPALL HARVEY
Week of 09/01/17
Actual headlines from the internets. You Google 'em.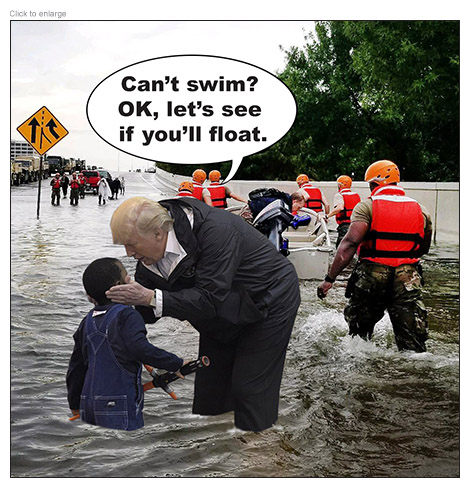 Trump returns to Texas to see Hurricane Harvey recovery in Houston
–– 'I just can't get enough of pain and suffering!'
Mattis disputes reports of being at odds with Trump
–– Sitting on Defense.

How Merkel Has Neutered the Far Right as Vote Nears
–– And spayed their bitches.
Trump Says Decision on 'Dreamers' Program Will Come Soon
–– 'Of course, I have to sleep on it.'
Energy Department Official Who Called Obama A 'Kenyan Creampuff' Resigns
–– Which are, BTW, delish.
Ahead of Trump's visit, Houston mayor says crisis is urgent: 'We need the resources yesterday'
–– Trump brags 'we sent them last month.'
Russian official warns of retaliation after US closes consulate with 'solo breakdance moves'
–– 'We do cossack dance and kick ass.'
Seven sentenced after animal rights activists film abuse at chicken farms
–– Mostly for choking chicken.
Second grader reports weeks-long sexual assault on second day of school
–– In very uncomfortable show-and-tell.
Kushner Family Still Struggling With 666 Fifth Avenue
–– Having Devil of a time.
Mysterious Floating Brain-Shaped Creatures Are Washing Up In A Canadian Lagoon
–– In lamest rerun of The Outer Limits.
Paul Ryan Calls Alternative Health-Care Proposal 'Intriguing'
–– In latest slang for 'DOA'.
Harvey is a 1,000-year flood event unprecedented in scale
–– According to Woodland tribesmen cave paintings.
Displaced undocumented immigrants won't face screenings
–– Although ICE deployed frogmen to Houston.
Donald Trump Jr. Will Get Six Figures for 30-Minute Talk at North Texas University Event
–– Each one $20.
U.S. Gives Russians More Eviction Notices As Diplomatic Row Escalates
–– Row of embassies levitates?
Hungry North Korean soldiers 'ordered to steal corn because war is imminent'
–– From other soldiers' feet.
Trump reportedly calls Steve Bannon on his personal phone when John Kelly isn't around
–– Asks him to talk dirty.
Donald Trump Spelled 'Heal' Wrong Again in a Tweet
–– Time wounds all heals.
A third of Bangladesh under water as flood devastation widens
–– Is that anywhere near Houston?
Geraldo: Ending DACA will permanently tarnish Trump's legacy
–– Can shit tarnish?
'Marvel's Inhumans' Premieres to Harsh Reactions: 'Thor But S–ty'
–– Oh, the Inhumanity!
Trump: First Lady "Affected" by Harvey
–– Latest excuse to not sleep with him.
Trump loyalists have reportedly nicknamed John Kelly 'the church lady'
–– Because their entire frame of reference is 80s TV.
'Hannity' Sub On Heather Heyer: 'She Was Still Marching With Antifa'
–– Subhuman?
Charlie Hebdo's Harvey Cover Praises Drowning Of 'Neo-Nazis Of Texas'
–– Sadly, fake news.
Sean Spicer's Last Words To Staff: 'Honor of a Lifetime' to Serve Trump
–– Summing up pitiful existence.
Of Course Sean Spicer's Goodbye Email Contained A Typo
–– Proofed by Sarah Huckabee Sanders.
Utah nurse arrested for refusing to draw blood from unconscious patient
–– Didn't have red marker.
Trump says he 'could not be happier' with chief of staff Kelly
–– Kelley hears, registers at monster.com.
John Kelly Pushing Out Omarosa for 'Triggering' Trump
–– Which sounds dirty until you picture either of them.
Glenn Beck's TheBlaze Lays Off Dozens of Staffers
–– Goes out in TheBlaze of glory.
Pence says Trump will make DACA decision with 'big heart'
–– Has all the cholesterol and rage enlarged his ticker?
'False and wholly unsubstantiated': Trump's lawyer pushes back on Steele dossier allegations amid Russia firestorm
–– 'All wet.'
Even Fox News Isn't Taking Kellyanne Conway's Sh*t Anymore
–– After she's been playing with it.
Kate Hudson revealed the "worst thing a party guest could do"
–– "Over there floating in the punchbowl."
Georgia Mom Says Husband Left Her After She Was Severely Burned in Fire He Accidentally Started: 'I Was Devastated'
–– Lost face.
Houston offers a grim vision of Los Angeles after catastrophic earthquake
–– Yes, LA, it's all about you.
Eric Trump says his father 'tunes out' criticism so he doesn't kill himself
–– Crank it up, Mr. President!.
GOP Rep Tells Black Attorney She May 'Go Missing' For Protesting Confederate Statues
–– Like his mind.
House GOP eyeing $1B disaster funds cut to finance wall
–– Why not just use Harvey debris as base?
White House Quietly Removes Sexual Assault Report From Website
–– Replaces with Bill Cosby Spanish Fly recipe.
Trump Ramps Up Obamacare Sabotage With Huge Cuts To Enrollment Programs
–– Thank God there are no ramifications for patients.
Firefighter who heard Princess Diana's final words tells how he thought he'd saved her life after giving her CPR
–– Said: 'You're standing on my…urk.'
Trump called him "my African American." But he condemns the president's treatment of black America
–– After being sold.
Trump: 'All I want to do is MAGA'
–– New Afro-Caribbean dance sensation.
No joke: Robbers walk into a bar full of off-duty cops
–– Shots on the house.
'We Only Shoot Black People': Georgia Police Lieutenant Under Investigation After Comment During DUI Stop
–– No points for honesty?
Pete Rose out at Fox Sports in aftermath of underage sex allegations
–– Network already owns pedophile demo.
What North Korea's Missile Tests Look Like to a South Korean Reporter
–– Too damn close.
Storm's Impact on Oil Industry Is Felt at Gasoline Pumps
–– And everyone gets soaked.
Libya's Increased Oil Production Thwarts OPEC's Reduction Plans
–– Has them over barrel.
Bush's Press Secretary Criticizes Trump's Harvey Response For Lacking Empathy
–– Just the way cold-blooded reptiles are.
Trump Pledges $1 Million Donation to Harvey's Victims
–– How rich sociopaths say 'I care.'
White House walks back promise about Trump donating his 'personal money' to Harvey victims
–– 'Discount vouchers for online MAGA merch as good as cash.'
'The Six Million Dollar Man' actor Richard Anderson dies at 91
–– Goldman sacked.
David Clarke, Milwaukee County Sheriff and Trump Supporter, Resigns
–– Turns in gold star, tinfoil hat.
Sheriff David Clarke expected to join Trump administration: report
–– His level of self-loathing will make it non-minority hire.
'Star Wars: The Last Jedi' pits BB-8 against its dark side, BB-9E
–– Balls to the wall.
Cohen lawyer rebuts Russia dossier allegations
–– 'There were no butts involved.'
Trump's Lawyer Addresses 'Pee Tape' Dossier Allegations Against Him in Letter to Congress
–– Said they left him 'drained.'
Wells Fargo uncovers up to 1.4 million more fake accounts
–– Filled with Monopoly money.
Google Critic Ousted From Think Tank Funded by the Tech Giant
–– Google's explanantion: 'Search me.'
Doctor braves Harvey flooding in canoe to perform teen's surgery
–– Already had paddles for defibrillation.
How social media shamed Houston televangelist Joel Osteen in to opening his dry megachurch to Hurricane Harvey evacuees after he claimed it was inaccessible and flooded
–– Noah count varmint!
Joel Osteen Talks Hurricane Harvey Backlash: 'I Feel at Peace Because We Did the Right Thing'
–– 'The Lord let 'em drown, too.'
Skin suits, 'shrunken heads' and soup bowls made of skulls: The true crimes and grotesque souvenirs of Wisconsin bachelor who inspired film villains from Psycho and The Silence of the Lambs
–– Geinocology.
Larry Sherman, Donald Trump's First Publicist and New York Actor, Dies at 94
–– Sherman tanks.
Flavor Flav Sues Chuck D, Public Enemy Team Over Unpaid Royalties and Releasing Music Without His Consent
–– And not telling him he had giant clock hanging around neck.
Kanye West Faces Insurer's Countersuit Pointing to Drug and Alcohol Policies
–– That should be hard to prove.
Warner Bros. Plans Female-Led 'Lord of the Flies'
–– Won't need to zip up.
Taylor Swift's 'Look What You Made Me Do' Breaks Multiple Records
–– Makes buyers do same.
Kermit the Frog's new voice debuts on 'Muppet Thought of the Week'
–– Has throat in frog.
ESPN Analyst Ed Cunningham Resigns Due to Concern over Head Injuries in Football
–– And that's just his fans.
Report: Mueller, New York AG to work together on Manafort
–– Schneiderman will hold arms, Mueller has brass knuckles.
AFL-CIO's Trumka: Some White House aides 'turned out to be racist'
–– 'Turned out' in the sense of always were.
Conservative firebrand Tomi Lahren joins Fox News as contributor
–– Commentary just wasn't dumb enough.
Do It Now!' U.K. Regulator Turns to Animatronic Arnold Schwarzenegger
–– Indistinguishable from real thing.
Trump pitches tax reform to 'bring back Main Street'
–– After complete teardown, rebuild as over-priced condos.
Trump is about to unveil his tax plan by targeting a 'rigged' economy
–– And making it 'riggier'.
"What a crowd, what a turnout!" Trump visited Texas and forgot to mention Hurricane Harvey's victims
–– "There's a flood of people, all for me! There haven't been this many folks since the parting of the Red Sea."
Trump Feels 'isolated' Following Chief of Staff John Kelly's White House Moves, Gorka Says
–– Should be quarantined.
KKK Hoods And Urine-Proof Sheets Seen At Trump Tower Gift Shop
–– Sold so well they're restocking.
'Only morons pay the estate tax,' says White House's Gary Cohn
–– Is he previewing Trump's return?
Peskov: Trump lawyer wrote to Kremlin, got no response
–– Glad that's settled by reliable source.
Trump: 'Talking is not the answer' with North Korea
–– Empty, grandiose threats is?
6,000-year-old wine residue found in Sicilian cave
–– Next to pizza sauce stains.
Trump fumes at staff over Phoenix rally crowd size
–– Whole administration running on fumes.
Royals GM Dayton Moore Suggests Link Between Pornography, Domestic Violence
–– Batty, takes balls.
Anheuser-Busch halts beer production to give water to Harvey victims
–– In extraordinary act of charity … helping victims nice, too.
Bolton says he's no longer allowed to see Trump
–– By marriage counselor.
Melania Trump Arrives in Texas Wearing Sneakers After Facing Heat for Leaving D.C. in Stilettos
–– 'It is because I heard there might being high water.'
New York Times Beats Sarah Palin Defamation Lawsuit
–– Palin: 'But I'm still defamous!'
21st Century Fox Pulls U.K. Fox News Feed From Sky
–– First good news since Brexit.
Tim Cook: Apple will invest $1.3 billion in Iowa
–– Could buy entire state for half that.
Trump retweets claim that 'true' source of violence is from anti-fascists and not the right
–– Encourages pro-fascist militias.
Trump to Fully Restore Military Surplus Transfers to Police
–– Citing threat of Antifa insurgents.
Cruz Explains Harvey Aid Request Despite Sandy 'No' Vote
–– 'I'm a venal, hypocritical sack of shit.'
Boomers And Those Living With Dementia Cringe At Description Of Trump As 'Demented'
–– He actually gives 'demented' worse name.
Congress Needs to Open a Formal Impeachment Inquiry
–– We don't care if they're wearing T-shirts, cut-offs.
Trump Associate Tried To Broker Moscow Deal So That 'Our Boy Can Become President'
–– 'Y'know, the one who's emotionally five years old.'
White House aides 'call Ivanka Trump Princess Royal behind her back'
–– And Jared Prince of Dorkness.
Former Trump adviser says in email that he 'arranged for Ivanka to sit in Putin's private chair' during a trip to Moscow
–– With him, pantless, in it.
Can Trump turn his presidency around?
–– And head it into fire instead of off cliff?
Trump attorney reached out to Kremlin to pursue Moscow Trump Tower project
–– In pussy-grabbing sense.
Trump Says He Pardoned Former Arizona Sheriff During Hurricane Watch for Better Ratings
–– And everyone was already discussing disasters.
North Korea has launched a 'projectile'
–– As they call any discharge from Kim's body.
Trump to aides: 'I want tariffs'
–– 'They're tariffic!'
Judges remain silent as Trump pardons Arpaio
–– Justices deaaf, dumb, blind.
Trump could pay a price if he hands out pardons in the Russia inquiry as he did for Joe Arpaio
–– In rubles.
Sears is closing 28 more Kmart stores
–– K stands for Kaput.
EPA will no longer sponsor the annual climate leadership awards
–– Will instead recognize
Special counsel Mueller is looking into whether Michael Flynn took part in an effort to get Hillary Clinton's emails from Russian hacker
–– Not Mikey!
Sebastian Gorka: Hillary Clinton Allies Are Working From Within White House To Ruin Trump
–– Live in walls, emerge only at night.
Donald Trump 'might refuse to leave the White House when his term ends', expert warns
–– Might take tumorectomy.
Harvey: 'Unprecedented' flooding 'beyond anything experienced' inundates Houston area, kills at least 3
–– Everything bigger in Texas.
'Texas has never seen an event like' Harvey, FEMA chief says
–– Not even when JR got shot?
Fire destroyed their home during Harvey. But a Virgin Mary statue survived
–– Now they can pray for new one.
Memphis Theater Cancels 'Gone With the Wind' Screening
–– Frankly, I don't give a damn.
Tobe Hooper, Director of 'The Texas Chain Saw Massacre,' Dies at 74
–– Tobe or not to be.
Trump Forges Ahead on Costly Nuclear Overhaul
–– Gold-plating warheads top priority.
Floyd Mayweather Beats Conor McGregor by 10th-Round TKO in Megafight
–– May weather shellacking.
Gorka: Bannon, others 'systematically undermined'
–– Underminded.
Paul Ryan 'does not agree' with Arpaio pardon, spokesman says
–– Them's "not fightin'" words.
Report: Trump asked Sessions to consider dropping Arpaio prosecution
–– Sessions: 'I was contempted.'