SOCIAL JUSTICE WORRIER
Week of 11/09/18
Actual headlines from the internets. You Google 'em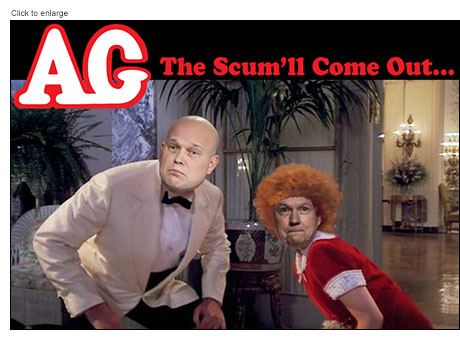 Matt Whitaker, Trump's Acting Attorney General Pick, Is A Major Critic Of The Russia Probe
–– Putin party before country.
Dean: Sessions firing planned like a murder
–– By Leatherface.
Jeff Sessions protests: thousands march after Trump fires attorney general – as it happened
–– Batter the devil you know.
Trump considering Christie, Bondi for attorney general
–– And ex-chauffeur, ghost of Roy Cohn.
Acting Attorney General Once Declared Courts 'Inferior' and Criticized Supreme Court's Power
–– Judge doody.
Matthew Whitaker's Appointment as Acting Attorney General Is Illegal
–– Should go sue himself.
Whitaker's link to a 'scam' company that was shut down by the government
–– Perfectly prepares him for Trump Administration.
Trump reviewing his answers to Mueller as he changes who oversees the Russia investigation
–– With Whitaker's cheat sheet.
Trump defends choice for acting AG, but also says he doesn't know him
–– Aides put pictures of several spineless lackeys on wall, he just threw dart.
'He's a F*cking Fool': Justice Department Officials Trash Matt Whitaker, Their New Boss
–– They know him.
Whitaker ran conservative group funded by dark money
–– Whitest dark money ever.
Even for This President, It Was a Remarkable Week of Attacks on American Institutions
–– 'Even failing New York Times calls me REMARKABLE!'
Trump Reportedly Directed Hush Money Payments and National Enquirer Offered to Help
–– Well, shut my mouth!

Trump slams George Conway: You mean 'Mr. Kellyanne ...'
–– Talk about bitch slap.
Many Who Fled California Attack Were Survivors of Las Vegas Massacre
–– Thinking of switching to classical music.
Trump limits asylum, says migrants must "have merit'
–– Insists they wear sash with badge.
Seven-Year-Old Cowboys Fan Writes Letter to Jerry Jones, Says Believing in Cowboys is 'Hard'
–– 'Even Roy Rogers!'

Spice Girls announce reunion tour
–– Ban on Old Spice jokes immediately imposed.
Meg Ryan and John Mellencamp are engaged
–– Her lips demand prenup.
"We're Nobody's Third Love, We're Their First Love"—The Architects of the Victoria's Secret Fashion Show Are Still Banking on Bombshells
–– Bikini a-hole.
People are furious about Amazon's reported decision to split its HQ2 between New York City and Virginia after months of deliberation
–– Defy Prime Directive.
'I Know My Films Work Better for Some:' Terry Gilliam on 'Quixote' Criticisms
–– 'You don't know who you are.'
WFAN war picks up: Mike Francesa is a miserable 'bully'
–– Someone not a FAN.
Washington Post: Michelle Obama says in memoir she'll 'never forgive' Trump for endangering her family
–– She speaks for all Americans.
Judge Blocks the Disputed Keystone XL Pipeline in a Setback for Trump's Energy Agenda
–– Crude joke.
Mob chants threats outside Tucker Carlson's DC home
–– More a mobette.
Is Theresa May a Secret Genius?
–– Best kept since JR was shot.
69-year-old Dutchman starts legal bid to become 20 years younger
–– Age before booby.
'It disturbs me to my core': Fox News staffers express outrage over Hannity's rally appearance
–– 'I mean it would, if I had one.'
Trump accuses black reporter of 'racist question' after she asks if his rhetoric has emboldened white nationalists
–– Or 'question for racist?'
Trump Attacks CNN's Jim Acosta as "Rude, Terrible Person" During Press Briefing
–– From him, sounds like compliment.
White House pulls CNN correspondent Jim Acosta's pass after contentious news conference
–– After yanking chain.
White House press secretary tweets misleading video from InfoWars personality to justify revoking CNN reporter's credentials
–– Were Jonesing to lie again.
Trump Threatens to Retaliate Against Reporters Who Don't Show 'Respect'
–– Dead Rodney Dangerfield deserves more.
Midterm elections: Blue wave fails to materialise – but Trump's life is about to be made more difficult
–– Voters return favor.
With control of U.S. House, Democrats will seek to rein in Trump
–– Like busting bunco.
Rep. Jim Jordan wins seventh term despite Ohio State wrestling team scandal
–– Supporters closed eyes, imagined he was groping them in shower.
Obama urges reconciliation, praises Democrats for midterm victories
–– Between Trump's left, right brain lobes?
Trump and Pence appear to renew their vows for 2020
–– For marriage made in Hell.
Trump warns Democrats about investigations: "I'm better at that game than they are"
–– "Like any one you can cheat at."
McConnell warns Democrats: 'Presidential harassment' could backfire
–– Let's just see.
Retiring GOP congressman: Trump mocking losers like 'dancing on somebody's grave'
–– More shuffling gleefully.
Kellyanne Conway spins House loss, calls Trump a "consummate dealmaker"
–– Cites historic pact with unreality.
Beto O'Rourke Drops F-Bomb on Live TV During Concession Speech
–– Not obvious 'Fuck Cruz and fuckin' fucks who fuckin' reelected him.'
What happens now that a dead pimp has won a Nevada senate seat?
–– They have leader they deserve.
Girl Scouts sue Boy Scouts over name change
–– They Scouts?
Julia Roberts' Infamous Armpit Hair Reveal Was a Statement—But Not the One You Think
–– 'I don't have a razor.'
Sinead O'Connor says she 'never wants to spend time with white people again' following conversion to Islam
–– White people: 'Thank you.'
'Alec Baldwin Show' Moved to Saturday Nights on ABC
–– Because Tuesday midnight at Bowl-a-Rama was booked.
Bill Gates brings poop to the podium to tout new toilet tech
–– Wasn't micro, soft.
Idris Elba Named People's Sexiest Man Alive
–– Disable was I ere I saw Elba's ID.
Cigar-shaped interstellar object may have been an alien probe, Harvard paper claims
–– Or Venusian sex toy.
Rebel Wilson Responds to Backlash After Claiming to Be the 'First-Ever Plus Sized' Rom-Com Lead
–– Big fat lie?
Burger King Flame-Grills Kanye West Over His Love For McDonald's
–– Talk big smack.
Triumph the Insult Comic Dog Mocks Ted Cruz to His Face: Trump 'Neutered' You
–– Calls spayed a spayed.
Jim Carrey savages Ted Cruz ahead of Election Day, calls him out for 'sucking up' to Trump
–– Up and off.
Author Stephen King On Fellow Steve King: Vote Out 'This Racist Dumbbell'
–– Carrie on.
Election Day weather forecast: Potent storm to blast eastern US, could affect voter turnout
–– Maybe God is Republican.
Trump says Yemen bus attack was due to bombers not using weapon properly
–– Saudis should've enlisted Khashoggi death squad.
Fisherman saves toddler floating face-down in the ocean
–– Ironically, was named Bob.
The Utah mayor who died in Afghanistan had one final wish. He wanted Americans to vote
–– Or was that after 'let me breath one more breath?'
How 'Child's Play' Survived Bad Test Screenings to Become a Horror Classic
–– Wasn't child's play?
Warner says Trump riding economic "sugar high" ahead of midterms, warns of "hangover" in 2019
–– 1% snorting unregulated nose candy.
Trump: Migrants Will Camp on Front Lawns if Gillum Wins in Florida
–– Next to his base's lawn jockeys?
Trump Called Pittsburgh Mayor Minutes After Tree of Life Shooting—to Discuss the Death Penalty
–– Only had time for one thought, no prayer.
Trump Now Lying "30 Times A Day" Ahead Of US Midterm Elections
–– Same as resting hate rate.
'Bohemian Rhapsody' Sends Thunderbolts And Lightning Through B.O. As Freddie Mercury Biopic Hits $50M Opening
–– Taste-wise, is very very frightening.
Winklevoss twins claim cryptocurrency guru stole 5,000 bitcoins
–– In imaginary sack.
Cool or cruel?: Man creates dog-drawn carriage to help him get around 
–– Cute if it was sled?
Prince Harry reveals he was teased at school because of a habit Prince Charles taught him
–– Taking 'lil' Prince' out for noon air.
Yoga Studio Shooting Hero Attacked Gunman With A Vacuum Cleaner And Broomstick
–– Hoping to clean clock.
Alibaba's Ma calls U.S.-China trade war "most stupid thing in this world"
–– Including its instigator?
Alec Baldwin faces assault, harassment charges after alleged parking dispute
–– Dumb Alec.
Jamal Khashoggi's sons demand return of murdered journalist's body for burial in Saudi Arabia
–– In as many envelopes as necessary.
Saudi Prince Alwaleed: Khashoggi probe will exonerate leader
–– Are you all on weed?
Senate Report Finds 'No Credible Evidence' of Sexual Misconduct by Kavanaugh
–– Incredibles 3.
Chelsea Handler Poses Topless While She Encourages Her Followers to Vote
–– Two thumbs down.
Taylor Swift Ripping Off Her Fake Eyelashes in Concert Is a Big Mood
–– According to spellcheck.
Far-Right Internet Groups Listen for Trump's Approval, and Often Hear It
–– Huddled around their Victrolas.
The Rhine, a Lifeline of Germany, Is Crippled by Drought
–– Botch on the Rhine.
Donald Trump Jr. Emerges as the G.O.P. 'Relief Pitcher' of 2018
–– Righty who features screwball.
Brian Kemp's Office, Without Citing Evidence, Investigates Georgia Democrats Over Alleged 'Hack'
–– Should investigate own office for confirmed hack.
Georgia's Kemp resigns as secretary of state with governor's race still undecided
–– Job of getting self elected done.
Rush Limbaugh, Sean Hannity to Appear With Trump at Midterm Eve Rally
–– On steel-reinforced stage.
Lowe's is closing 51 stores in the US and Canada
–– Lowe blow.
Pompeo says he will meet N.Korea number two in New York
–– Toilet.
A short history of toilets at 35,000 feet – what really happens when you flush a plane loo?
-– A hard rain's gonna fall.
Pete Davidson's 'SNL' Joke About Wounded Vet Running For House Seat Draws Fire
–– Patchy.
Kenan Thompson Says Pete Davidson Went Too Far With Wounded Veteran Joke
–– Though Crenshaw wants to go even further with Trump joke.
Uber Driver Arrested After Allegedly Refusing to Let Out Passengers While Leading Police on Chase
–– Forgot he didn't have meter.
Trump says Democrats would ruin Florida, his second home
–– Like he's ruined current, the White House?
Dozens of US spies killed after Iran and China uncovered CIA messaging service using Google
–– Hacked mole on menu.
Melania Trump Spokeswoman Furious About Report On $95,000 Cairo Hotel Tab
–– When she realize she didn't get cut.
Trump Administration Goes To Trial To Defend Adding A Citizenship Question To Census
–– Senseless takers.
Even Fox News Stops Running Trump Caravan Ad Criticized as Racist
–– Too racist for Fox is like too dishonest for Trump.
Pentagon no longer calling border mission 'Operation Faithful Patriot'
–– Redubbed Operation Rolling Blunder.
Trump Celebrates 'Beautiful Barbed Wire' On U.S.-Mexico Border
–– Always loved little pricks.
Border Protection is preparing for the caravan — with weapons and gear designed for combat
–– Incuding Weapons of Mass Detention.
The Latest: Caravan splinters as it heads through Mexico
–– Trump suspects tactical ploy as children circle around through Canada, to surprise troops from rear.
Capt. Sullenberger: Vote against Republican control
–– Message lands.
Air Force Mascot, a Falcon, Is Injured by West Point Cadets During Prank
–– Winged.
US Navy has had 18 unsafe or unprofessional encounters with China since 2016
–– Issued condoms, cash.
Supreme Court won't block children's climate change lawsuit
–– Had SPF 30 ready.
Elementary school teachers in Idaho dressed up as a MAGA border wall for Halloween
–– Appropriate for blockheads.
How Mike Lindell, the MyPillow guy, became a midterm messenger
–– Feather-brained.
---
MIDTERM ABORTION
Week of 11/02/18
Actual headlines from the internets. You Google 'em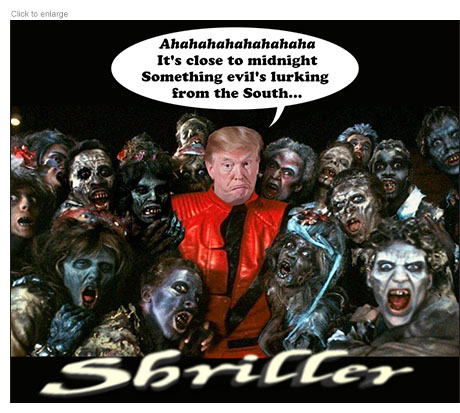 Trump Posts Pro-GOP Ad Comparing Migrants to Convicted Murderer
–– Odious amigos.
Trump: 'When I can, I tell the truth'
–– Not even when in can.
Outrage erupts over Trump campaign ad blaming Democrats for immigrant who 'killed our people'
–– A sore spot.
Trump laments that 'two maniacs' stopped GOP momentum in midterms
–– Him and who else?
Michael Cohen claims Trump made repeated racist references
–– Guess he's listening to campaign rallies.
Midterms 2018: Steve Bannon attracts crowd of 'about 25 people' to election rally in Kansas
–– Including Toto.
'They look a lot bigger than people would think': Trump says he's 'good at estimating crowd size' when talking about caravan
–– 'The Hispanics are pretty short, but those Middle Easterners are yuge.'
Study of Cellphone Risks Finds 'Some Evidence' of Link to Cancer, at Least in Male Rats
–– And Republican voters?
Roger Stone Sold Himself to Trump's Campaign as a WikiLeaks Pipeline. Was He?
–– At $2.50, maybe.
Kavanaugh won't make traditional walk down court steps due to security concerns
–– Will instead ooze.
Jeff Bezos says he's choosing HQ2 location with his heart
–– Gutless decision?
North Korea: Extent of horrific sexual violence against women revealed in shocking report
–– Everyone assumed regime was woke.
Equating rocks with rifles, Trump proposes radical new rules of engagement for troops along border
–– Equating rocks with brains.
Women for Trump Founder Justifies Rocks as Rifles Policy With Bible Story: Remember David and Goliath?
–– And AR-15 little guy should've had?
White House Spox Warns Fox & Friends of 'Daily Caravan' Invading United States
–– A pox on both crox.
Tennessee killer says, 'Let's rock' before state executes him with electric chair
–– Or 'shock?'
Satanic Temple having devil of a time with 'Chilling Adventures of Sabrina'
–– No rest for the wiccan.
Al Roker defends dressing as white character for Halloween
–– Isn't Doc Brown?
British applications for Irish passports almost double as Brexit looms
–– For emergency Brexit.
Jennifer Lopez Addresses Alex Rodriguez's Past Doping Scandal: 'Everybody Has Flaws'
–– She met Mr. Roid.
Indiana Farmers Impacted By Soybean Exports To China Down 97 Percent
–– Amounts to hill of beans.
Ben & Jerry's Launches New Anti-Trump Ice Cream Flavor Called 'Pecan Resist'
–– Resist.
'We don't do stunts', Mattis says of troops to border
–– Unless Trump tells him to stand on head.
Gen. McCaffrey: Trump is bordering on unconstitutional behavior
–– And Congress won't build wall.
Twitter Users Needle Donald Trump Jr. For Telling People To Vote On The Wrong Day
–– His followers should vote Wednesday.
CBS' New Board Chief Is 60 and Has 8 Percent Body Fat
–– So long as he hasn't chubby.
Bodies of 2 Women Bound Together with Duct Tape Found Washed Up on the Rocks of the Hudson River
–– Viaduct?
WeWork to limit free beer all-day perk to four glasses
–– Or WeRest.
EPA quietly telling states they can pollute more
–– Blowing smoke up ass.
Alex Trebek, Pat Sajak, Vanna White Renew Contracts Through 2022
–– Exciting fans who can never quite remember names.
Logan Paul Would Like One More Chance: "I Hate Being Hated"
–– But we love hating you.
Civil servant who watched porn at work blamed for infecting a US government network with malware
–– It was at EROS Center.
Woman accuses American Airlines of stealing belongings from her suitcase, but learns she actually took the wrong bag
–– Ms. Litella: 'Never mind!'
The Bizarre And Failed Attempt To Smear Robert Mueller
–– Couldn't uncover past probes.
Sundar Pichai emailed Google staff saying he is 'deeply sorry' for the firm's record on sexual misconduct
–– Hopes they catch competition.
Hardline Islamists in Pakistan call for death of judges who overturned Christian woman's death sentence for blasphemy
–– Sharia, baby.
Pakistan Christian woman acquitted of blasphemy will have to leave country for her own safety
–– Gets off easy.
Fox News Undermined Megyn Kelly Long After She Left for NBC
–– By not gagging her?
Land O'Lakes Withdraws Support For White Supremacist GOP Congressman Steve King
–– Milk, yogurt, blancmange wavering.
Pressure building to expel Steve King from Congress
–– Like after eating six sticks of butter.
Sanders: Trump's visit to synagogue 'humbling'
–– Or 'bumbling'?
Local, national officials decline to appear with Trump in Pittsburgh
–– Not cootie-bound.
Mourning Protestors at Tree of Life Synagogue Turned Their Backs on Trump
–– Yep, it's Mourning in America.
Synagogue shooter 'listened to noise and noise told him his people were being slaughtered', says Jewish doctor who spoke to Robert Bowers
–– Noise: 'Fake news!'
Pittsburgh synagogue shooting: Why was synagogue attack suspect Robert Bowers apparently obsessed with HIAS?
–– Little FOXie told him.
Jewish groups from both parties slam 'offensive' decision to have Messianic Jewish minister at Pence event
–– Boos for Jesus.
And just like that, Kanye West appears to be over politics
–– And under doctor's supervision.
Chapman, Pratt Want Kentucky HOF Plaques Removed If Nazi Items Displayed at Expo
–– How about for Lynching HOF?
Julian Assange: The house guest who overstayed his welcome?
–– Started to smell three years ago.
Why Jon Stewart didn't take Trump seriously
–– Overestimated Americans' intelligence.
India Unveils World's Tallest Statue, Twice the Size of Lady Liberty
–– Has equivalent of 'two torches' in pants.
Sharice Davids Could Become First Lesbian Native American Congresswoman
–– Squaw peg.
Lion Air jet one of Boeing's newest, most-advanced planes
–– Engines failed to roar.

Oldest weapons ever found in North America rewrite human history
–– Ancient peoples fought with sharpened pencils.
Woman who had sex with 20 ghosts is now engaged to a spirit
–– Expecting wedding presence.
Stolen inflatable colon found in vacant home
–– Both evacuated.
Trump claims he can defy Constitution and end birthright citizenship
–– As he makes self levitate.
Paul Ryan says 'You cannot end birthright citizenship with an executive order'
–– Was told by developmentally-challenged 10-year-old.
Birthright citizenship: Trump claims only the US grants it, he's wrong
–– Phrase 'Trump claims' always infers that.
Graham to introduce legislation to end birthright citizenship
–– McCain puking in grave.
Sources: Justice Department investigating Interior Secretary Ryan Zinke
–– Interior desecrating.
Neanderthals might not be the hunched cavemen we thought they were, study says
–– A straight-up lie?
Boston gangster James 'Whitey' Bulger killed in West Virginia prison a day after transfer
–– Good news at last!
How Mob Boss 'Whitey' Bulger Won $14.3 Million in 1991 Lottery
–– From store he owned? Luck, of course!
Whitey Bulger's attackers tried to cut out his tongue, federal official says
–– Aw, rats.
GE slashes 119-year old dividend to a penny
–– GE-whiz!
Shaun White Apologizes for "Offensive" 'Tropic Thunder' Halloween Costume
–– Simple jack.
Louis C.K. Greeted by Protesters at First Official Stand-Up Gig
–– Punchline: 2.
USAG directs head tumbling coach for the 2018 U.S. World Championships Team to resign
–– Flips out.
50 Cent and Ja Rule escalate beef
–– Raise steaks.
James Cromwell: 'There Will be Blood in the Streets' if Trump Isn't Stopped
–– Bait: pig in the city.
Fox News Bans Guest for George Soros Comments on 'Lou Dobbs Tonight'
–– Almost turned host's hair white again.
Kellyanne Conway: Trump trying to heal country
–– With leeches.
Joe Jonas Wows Kate Hudson's Halloween Bash as Fiancée Sophie Turner's Game of Thrones Character
–– No Sansa fashion.
Why peanut reactions have become 'almost epidemic' — and what to do about food allergies
–– More nuts than ever.
Merkel to give up party leadership after poll setback
–– Germans no longer believe in Merkels.
Mural depicting Beto O'Rourke as a superhero is vandalised days after being unveiled
–– By Wrecking Cruz?
Police say man reportedly shot by woman's ex-husband during date at Twin Peaks restaurant
–– BOB suspected.
Prince Harry Thanks New Zealand Fans on Behalf of 'Myself, My Wife and Our Little Bump'
–– Nickname for his 'Harry Jr.'
At Least 1 Trump Supporter Still Thinks Obama, Clintons Sent Bombs To Themselves
–– Huckabee Sanders awaiting denial from President.
Michael Moore Shares Cut Footage Of Cesar Sayoc At Trump Rally From 'Fahrenheit 11/9'
–– Should've put a Sayoc in it.
Duterte spokesperson comments on Fil-Am suspected of sending mail bombs to Obama, Clinton 
–– 'I could've told son-of-a-bitch how to make them work!'
Saudi FM says global outcry over Khashoggi 'hysterical'
–– Sheikhs can't stop laughing.
After the Khashoggi Murder, Pakistan Shakes Down Weakened Saudi Prince for $6 Billion
–– Paks it in.
WWE defends 'incredibly tough decision' to go to Saudi Arabia
–– Yeah, a real moral suplex.
Khashoggi's body was dismembered, Turkish chief prosecutor says
–– Still piecing together story.
Boston Red Sox Win the World Series
–– Get out of Dodger.
Kimmel, Damon wear 'I'm with stupid' shirts at World Series
–– Both right.
The Washington Post: Ruth Bader Ginsburg calls Congress the 'culprit' in polarizing the confirmation process
–– SCOTUS's Miss Marple.
Tesla slashes price of Model 3 'performance package'
–– Which is also what Musk promises super model dates.
Hungary Turned Far Right. That's Meant Millions for Its Opera.
–– Won't go Hungary.
Trump falsely says NYSE opened day after Sept. 11 attacks to justify holding rally after Pittsburgh shooting
–– 'On September 17 in which the 7 is basically a 2 missing the bottom part.'
House majority leader deletes tweet saying Soros, Bloomberg, Steyer are trying to 'buy' election
–– Still blames Rothschilds.
Trump Calls for Unity After Synagogue Shooting, Then Swiftly Denounces Democrats
–– United we strand.
Pittsburgh Mayor to Trump: Guns in synagogues are not the answer
–– He's off the bimah.
What is Gab? Social media site used by Pittsburgh synagogue shooting suspect 'being forced offline'
–– Mad Gab.
On Day Of Mass Shooting, Trump Jokes He Nearly Canceled Speech Due To 'Bad Hair Day'
–– What's under hair really bad.
There have been 47,220 gun incidents in the U.S. in 2018 — and here they all are on one map
–– We'll wait for NRA's 2018 commemorative edition.
Kentucky Dad Apologizes For Father-Son Nazi Halloween Costumes
–– MAGA hats were in wash.
Campbell Soup VP who tweeted Soros conspiracy is out
–– Controversy brought to boil, simmered.