EVERY WITCH WAY
Week of 05/18/18
Actual headlines from the internets. You Google 'em.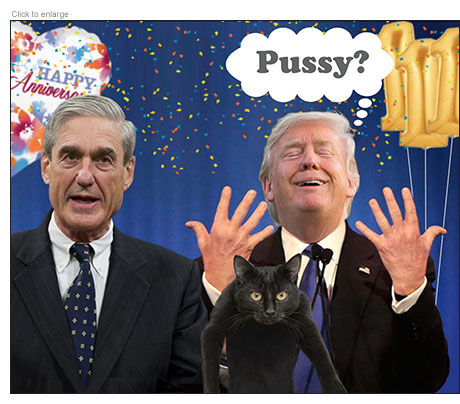 Trump marks anniversary of Mueller probe by claiming FBI 'spied' on his campaign
–– Seventh in Don years.
Why is Melania Trump still in the hospital?
–– Because Donald isn't.
Jennifer Aniston and Tig Notaro will play POTUS and FLOTUS in Netflix film
–– Excuse me while I BLOTUS.
Teen dies after hiding bag of cocaine in her mouth to avoid cops
–– Wouldn't fit in nose?
Sarah Sanders: Trump is way out of Jim Acosta's league
–– Maybe he should hit on Mike Pence.
Putin Praises Trump for Business Skills, Calls Him 'Donald'
–– Sanders: 'See, Acosta, he's taken.'
Trump reportedly pushed USPS to double Amazon's shipping rates
–– And make them wait in Passports line.
Twitter Users Pan Ted Cruz After He Tweets 'Prayers' To Santa Fe School Shooting Victims
–– Dark Lord not well-pleased.
DeVos responds to Texas shooting: 'We simply cannot allow this trend to continue'
–– Orders all charts tracking gun violence rise turned upside down.
Santa Fe High School student claims students and coaches 'emotionally bullied' suspected shooter
–– Now we have motive.
Met Opera sues former conductor for $5.8 million over sexual misconduct allegations
–– So he's misconductor?
Kent State Graduate Who Carried an AR-10 Gun On Campus Claims She's a Victim of 'Blatant Racism'
–– And bias against assholes.
Rudy Giuliani Reverses Trump Team's Position, Says President Can Obstruct Justice
–– And warp time, space.
'Climax' Director Gaspar Noe Defends On-Screen Male Nudity, Explains Why He Hated 'Star Wars' and Walked Out of 'Black Panther'
–– No anal rape, 3D jizz shots.
Bradley Cooper to Star With Clint Eastwood in 'The Mule'
–– Guess which stubborn cuss has title role.
Bill Gates draws laughs at Trump's expense, says president confused HIV with HPV
–– And HOV.
Bill Gates says Trump told him, "Trump hears that you don't like what Trump is doing."
–– Gates mocked what Gates was hearing.
Trump administration to bar abortions at facilities receiving federal family funds
–– Will redirect money to Father Relief Hush Fund.
Meghan Markle will begin bridal procession alone, in bold feminist statement
–– 'Daddy couldn't make it!'
Meghan Markle to Walk Down the Aisle With Prince Charles
–– Even bolder.
White House cancels daily communications meeting after McCain joke leaks
–– By same logic, cancel entire Administration.
Doral resident shouting 'anti-President Trump rhetoric,' shot in police firefight at Trump National Resort
–– Got hole in one.
Trump Jr. called a blocked number before and after the Trump Tower meeting. Whom did he call?
–– 1-800-COL-LUDE.
Almost half of US families can't afford basics like rent and food
–– Trump: '50%, that's a really big number. Obama never touched it.'
Campbell Soup CEO retires, leaving 23 women running Fortune 500 companies
–– Causes stir.
Giuliani says Mueller has agreed to narrow scope of potential Trump interview
–– Doesn't need more than dozen acts of perjury,
Michael Avenatti, Anthony Scaramucci-Led TV Show Being Shopped
–– Sharks Tank.
Lucian Pintilie, Dubbed "Godfather of the Romanian New Wave," Dies at 84
–– aka Who?
The earth has had warmer-than-average temperatures for 400 straight months now
–– Deniers: 'That's what, 4 years or so? Big deal.'
Bumble Bee CEO indicted for tuna price-fixing scheme
–– Rotten to the albacore.
Man to Spanish speakers at New York restaurant: 'My next call is to ICE'
–– The Pig Chill.
Lawyer Who Ranted Against Spanish-Speakers Faces Office Eviction, Disciplinary Complaint
–– Landlord put on ICE jacket for comic effect.
Trump suggests probe of Oakland mayor for ICE warning; calls some immigrants 'animals'
–– No office eviction, disciplinary complaint?
New Theory Suggests Loki's Posing As Bruce Banner In Avengers: Infinity War
–– Standing on grassy knoll.
Fla. Teacher Investigated for Allegedly Drowning Two Raccoons in Front of His High School Class
–– Wore burglar's eye mask while doing it.
Trump Jr. tried to coordinate statements about Russia meeting
–– To keep their stories crooked.
Trump Jr. Left Open Possibility That Dad Knew Of Trump Tower Meeting At The Time
–– Can't even lie properly.
Trump financial form discloses Stormy Daniels debt payment to Cohen
–– Notes front-end load.
Prince Harry and Meghan Markle pictured arriving in Windsor for royal wedding rehearsal
–– Updates on loo visits to follow.
Meghan Markle's half-sister, Samantha Grant, 'injured in car crash' after 'confrontation with paparazzi'
–– A life in air quotes.
Parkland school resource officer decried as coward gets princely pension of $8,702 a month
–– Three quarters goes for home security, adult diapers.
Bob Weinstein's Office Packed Up as New Owners Take Over Weinstein Co.
–– Could never have gotten stains out.
White House Brushes Aside North Korea's Threats to Cancel Summit With Trump
–– Can't bullshit bullshitter. Except always.
Scientists train spider to jump on command
–– Over own webs in Double Dutch.
Ikea launches a new credit card
–– Which requires some assembly.
The world's first goat golf caddies
–– Trim greens between shots.
Science can explain why some people hear Laurel and others hear Yanny
–– And fat people hear Hardy.
Trump made a video on Yanny vs. Laurel, and this meme is officially dead
–– His greatest accomplishment.
Piers Morgan calls Markle's half-sister a 'vulture'
–– Media corpse afraid.
Fox News settles swath of lawsuits for around $10 million
–– Some from employees with swathy skin.
Red Sox RP Carson Smith Suffers Shoulder Injury Throwing Glove in Dugout
–– Water cooler called out.
Gap apologizes for China T-shirt that didn't include Taiwan
–– And didn't read Xi: President for Life!
Rise from one-time Uber driver to chief of staff startles some HUD observers
–– As does surge pricing to meet with Secretary.
Ben Carson's ex-Uber driver chief of staff sends a signal
–– Hard right turn.
Haley: Gaza violence unrelated to embassy move
–– Just massive coinkydink.
Tom Wolfe, Author of 'The Right Stuff' and 'Bonfire of the Vanities,' Dies at 88
–– To be cremated on bonfire of y'know.
Apple CEO Tim Cook tells Duke graduates to 'think different'
–– Except about iPhones.
Did 'Sex and the City' Inspire Your Move to New York?
–– Because there's a bridge we'd like to sell you.
Kristen Stewart Climbs Cannes Red Carpet Stairs Barefoot
–– Arch statement falls flat.
Maybe We Don't Deserve John McCain
–– Perhaps the one who picked Sarah Palin.
Spike Lee Slams Trump as 'Motherf–ker' After 'BlacKkKlansman' Cannes Premiere
–– Inspiring another 10,000 volunteers for Trump 2020 campaign.
Avalanches. Frostbite. Double Amputation. Still, He Scaled Mt. Everest.
–– Peak-a-boob.
Family Realizes Pet Dog Is Black Bear After Animal Doesn't Stop Growing
–– Missing cats other clue.
Sarah Huckabee Sanders Says Jim Acosta 'Whines' Like Her Children
–– Don't they more growl, yip?
WH press secretary berates staff for leak of Sadler's McCain comment
–– Only time they've effectively got word out.
Torture Expert Tells MMA Fighter Who Waterboarded Himself in Support of Gina Haspel 'You're Just Holding Your Breath'
–– But nowhere near long enough.
The World Doesn't Need Trans Fats
–– We're looking at you Chaz Bono.
Why Melania is winning in the court of public opinion
–– Because she stands next to husband.
Cannes: 5 Signs of a Festival in Decline
–– 6. No Harvey Weinstein.
Dismembered human feet keep washing up on beaches in western Canada
–– Establish toehold.
Ted Sarandos Says Ryan Murphy, Shonda Rhimes "Don't Care" About Netflix Viewership Numbers
–– Or sensibilities.
Blood Donations From 'Man With the Golden Arm' Saved Millions of Australian Babies
–– Type 14K postive.
White House aide who joked about John McCain "has been dealt with, internally"
–– High fives, back slaps.
Zawahiri calls for jihad on eve of US embassy move to Jerusalem
–– Wants blast from past.
Jared Kushner makes rare remarks at Jerusalem embassy opening, condemns 'those provoking violence'
–– Rare in naivete.
Jared Kushner: "We have shown the world once again that the United States can be trusted"
–– "To totally fuck up.'
Pastor Who Said Jews Are Going to Hell Led Prayer at Jerusalem Embassy Opening
–– Kushner: "Welcome to Hell."
Mitt Romney Slams 'Religious Bigot' Pastor Who Is Giving Opening Prayer at U.S. Embassy in Jerusalem
–– 'Should've had polygamist, anti-Catholic worshiper of charlatan Joseph Smith.'
Trump like African dictator, Trevor Noah says
–– Trump love all kind dictator.
Student presents thesis in underwear after professor says her 'shorts are too short'
–– Kept it brief.
Trump Changed His Burger Order To Make It A Little Healthier
–– Removed human remains.
Donald Trump does 1 thing at least 20 times a day
–– Not that: tiny hands cramp easily.
WaPo: Errors caused 26 Virginians to vote in wrong district during razor-thin 2017 race
–– Guess which party won!
Beitar 'Trump' Jerusalem: Israeli soccer club renames itself after US President
–– Just for kicks.
Why this NBA coach's wife is a little jealous of James Harden
–– It's in the name.
Genealogist digs up Tomi Lahren's family tree after she attacks immigrants — and the results are hilarious
–– More family scrub.
North Korea details plans to dismantle nuclear test site
–– Still has original instructions from Estes kit.
Attorney Avenatti drops a bombshell on Michael Cohen-linked DC law firm – then warns his contacts to come clean
–– Will take shitload of penicillin.
Michael Avenatti Responds to Latest Giuliani Flub: 'This Guy Is a Walking Train Wreck'
–– Mixed metaphor criminal/former prosecutor deserves.
Avenatti calls on Giuliani to retire: You're 'becoming an embarrassment'
–– After career as humiliation.
Michael Avenatti Says Other Women Claiming to Have Had Affairs With Trump and Signed NDAs Will Soon Be Revealed
–– Women who'll admit sleeping with him exhibit real courage.
Giuliani says Trump 'denied' the AT&T-Time Warner deal, then backtracks
–– Ricichet Rudy.
Trump claims he saved almost $999,800,000 on US embassy in Jerusalem
–– Because arithmetic is fake news.
Texas woman who ran over cheating husband released from prison
–– Warned to tread lightly.
How Did Our Sports Get So Divisive?
–– Think pieces like this.
---
PULP FACTION
Week of 05/11/18
Actual headlines from the internets. You Google 'em.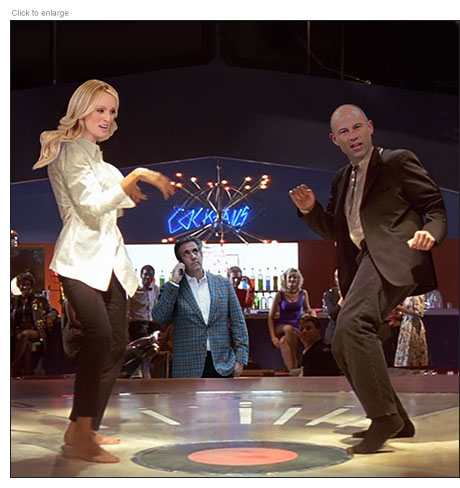 Avenatti Says Cohen Tried to Hide Stormy Deal's Trump Link
–– Where the sun don't shine.
Giuliani trades 'pimp' jabs with Stormy's lawyer
–– Porn brokers.
Michael Avenatti hits back at Tucker Carlson for hair style, journalistic skills
–– Carlson defends for his part.
French family narrowly escape cheetahs after getting out of car to take pictures in safari park
–– C'est dommage!
John McEnroe: Donald Trump offered me $1 million to play Serena Williams
–– In made-for-TV movie.
Pruitt's Dinner With Cardinal Accused of Abuse Was Kept Off Public Schedule
–– Had common interest in defiling virgin territory.
NASA program to track greenhouse gas is canceled
–– Had traced source to Oval Office.
Josh Brolin Calls Ryan Reynolds the "Daniel Day-Lewis of Comedians"
–– Can he try retirement part?
Woman Accused of Sending Man 65,000 Texts After Just One Date Opens Up in Jailhouse Interview
–– Reporter received 150 followup jailhouse phone call thus far.
Woman says she called police when black Airbnb guests didn't wave at her
–– Deserved one-finger salute.
'The Expanse' Canceled at Syfy
–– Fails to contract.
Don't Call Ali Wong a "Mom Comic"
–– Though she performed both Netflix specials pregnant.
This Is the Most Surprising Thing Melania Trump Changed When She Moved Into the White House
–– Lock on chastity belt.
Trump Administration Moves To Expel 300,000 Immigrants, Despite Warnings From Senior Diplomats
–– Hostile la vista, baby.
Homeland Security Secretary Was Close to Resigning After Trump Berated Her
–– Gets low points for deportment.
Caitlyn Jenner Claims Donald Trump Has Set Transgender Community "Back 20 Years" In Parliamentary Address
–– Yes, one would have to agree with…Caitlin Jenner addressed the British Parliament?!!
Miley Cyrus apparently slept in a 'pool' of her own vomit the night before the Met Gala
–– Took her months to fill.
Brie Larson's 'Captain Marvel' Suit May Not Be What You Think
–– A costume in a movie?
61 Percent of Republicans Think the FBI Is Framing Trump, Poll Finds
–– 62 percent think Mueller reports to Thanos.
Rosenstein keeps a 'strange calm' under fire from Congress, White House
–– At Department of Juiced Us.
Bradley Cooper to Star In, Direct Leonard Bernstein Biopic
–– Worst Side Story.
Once Viewed as a Savior of Children, Hans Asperger Is Now Called a Nazi Collaborator
–– A total assburger.
AT&T Was Paying Trump's Lawyer While White House Turned Into Foe
–– Screamed bloody merger.
Trump Will 'Be Worm Food' Before Iran Falls, Ayatollah Khamenei Says Amid Nuclear Deal Fallout
–– Worms: 'That's OK, we're good.'
Ronan Farrow Fires Back at Eric Schneiderman: 'This Was Not 50 Shades of Grey'
–– No choking matter.
Jane Fonda is done dating at 80: 'I've closed up shop down there'
–– Put up 'Gone Fishy' sign.
British flight attendant claims first-class passengers pay stewardesses for sex
–– Pound them.
Mahathir, 92, sworn in as Malaysia's seventh prime minister
–– Promises ambitious 5-month plan.
Katharine McPhee Confirms She Is Dating David Foster as They Step Out Together at the Met Gala
–– Mahatir was off market.
Firm Tied to Russian Oligarch Made Payments to Michael Cohen
–– Access of evil.
Pence dismisses selling access to Trump as 'a private matter'
–– If Cohen knew what he was doing.
Watch: Sarah Huckabee Sanders Asked If President Trump Is Embarrassed by Michael Cohen's 'Swampy Behavior'
–– 'As we have said many times, the President does not have that thar 'embarrassed' gene.'
After Trump Threat, Sarah Huckabee Sanders Says White House Is "Very Committed" to Free Press
–– After delusional statement, she should be very committed.
Pence says it's time for Mueller to "wrap it up"
–– Rotten fish head of an administration.
Ivanka Trump's Photo Op With Boris Johnson Is Totally Freaking People Out
–– Mistook him for dad.
Taylor Swift: 'I went through some really low times'
–– We heard.
McCain Doesn't Want Trump Attending His Funeral: Reports
–– Wishes he could attend Trump's.
John McCain has the right to despise Donald Trump
–– The duty.
Hatch says it's 'ridiculous' for McCain to block Trump from funeral
–– Here's hoping only Trump is at his.
White House Official on McCain's Opposition to Haspel: 'He's Dying Anyway'
–– Nobody torture to show respect?
Fox Business Guest Defends Torture: It Worked On John McCain
–– This coward sings for Trump without duress.
Fox Cuts Ties With Guest Who Cited John McCain To Defend Torture
–– Should've cut them after he was strapped in chair for week.
John McCain calls on Senate to reject CIA nominee Gina Haspel
–– Yeah, over his dead body.
'The Man Who Killed Don Quixote' Can Screen at Cannes, French Court Says
–– Can Cannes can?
Coal baron Blankenship goes down hard in West Virginia, and other primary news
–– Down the chute.
Report: Johnny Manziel hospitalized, released in Texas after medication reaction
–– Vodka/coke don't mix.
Mom spreads warning of 'Deodorant Challenge' after daughter is severely burned
–– Raises stink.
Donald Trump threatens to 'take away media's credentials' over negative news stories about him
–– 'Y'know cards in their hat bands that read PRESS –– the kind I saw in an old movie.'
Donald Trump Jr. is being dad-shamed because his 3-year-old daughter isn't wearing a top
–– Sr. asks Ivanka to remove hers in solidarity.
Shepard Smith: You Can't Say Trump Pulled Out Of Iran Deal; He Made Decision To Violate It
–– Apparently Trump never pulls out.
Anne V. Coates, Oscar-Winning Film Editor for 'Lawrence of Arabia,' Dies at 92
–– Cut.
Paris museum opens its doors to nudists
–– For well-hung show.
Geologist: The weird thing about the Hawaii eruption
–– Anyone's surprised.
Rapper Dr. Dre loses a trademark dispute with ob/gyn Dr. Drai
–– Dre be his pussy.
Haspel: "Never, ever take CIA back to an interrogation program"
–– 'Cross my heart and hope they die.'
Haspel says she "absolutely" supported destroying the torture tapes. Here's why.
–– 'My hair was such a mess in them.'
Haspel: "I don't believe that torture works"
–– 'Sure is fun, though.'
Roman Polanski Calls #MeToo Movement "Collective Hysteria"
–– 'Have a 'lude, baby, relax.'
104-year-old scientist David Goodall 'welcomes death' at Swiss clinic
–– Where they bore you to it.
Woman's runny nose was actually fluid from inside her brain
–– Kellyanne needs antihistamines.
Vanessa Trump's first love was member of violent street gang
–– First husband, too.
Cynthia Nixon wants to use marijuana licenses as 'reparations'
–– 'When they're high they won't miss cash reparations.'
Former Cannes Festival President Gilles Jacob Dishes on "Oversized Monster" Weinstein in New Book
–– Did he have bathrobe encounter, too?
Keanu Reeves and Alex Winter Reteaming for 'Bill & Ted 3'
–– Need machine to return to time when we'd give shit.
University of Cincinnati Revokes Bill Cosby's Honorary Degree
–– Diploma will remain on wall of disgraced comic's basement john.
Edgar Ramirez, Pedro Pascal Starring in 'Wasp Network'
–– White Anglo-Saxon Protestants protest 'brown-bagging".
John Skipper Has A New Job
–– Double Dutch coach.
Amazon's smart doorbell company wants to help stop neighborhood crime
–– One day free Rent-a-Cop with Prime membership.
Melania Trump 'Be Best' pamphlet was first published by Obama's FTC
–– C'mon, it's not 'Be First'.
Bill O'Reilly Offers To Stand Next To Sarah Sanders To Handle 'Out Of Line' Reporters
–– To supplement income as bouncer at Applebee's.
Jada Pinkett Smith regrets dating Will Smith while he was still married: 'I probably should have fell back'
–– Instead of 'on back'.
Leopard snatches and eats toddler at Queen Elizabeth National park in Uganda
–– And it wasn't even Toddler Tuesday.
Connecticut To Give Its Electoral College Votes To National Popular Vote Victor
–– Wyoming to give its three to highest bidder.
Former Trump Aide Warns President: Mueller Team Already Knew Answer to Every Question
–– Really? Just thought they needed help in investigation.
Rudy Giuliani, America's mayor, has jumped the shark
–– He is the shark.
Giuliani doesn't rule out that Trump could take Fifth Amendment in Mueller probe
–– If law team can ever finish explaining to him.
Giuliani, Conway Leave Open Possibility Of Trump Hush Money To Other Women
–– Like undone fly.
Giuliani Says Trump Lawyer Michael Cohen 'Has No Incriminating Information About The President'
–– 'FBI took it.'
Giuliani parts ways with law firm, citing 'pressing demands' of client Trump
–– Trump has him steaming pants now that Hope Hicks is gone.
That $1.2 Million Payment to Trump's Lawyer Wasn't Even a Drop in the Bucket for Novartis
–– Was like shot in the arm for Cohen.
Novartis CEO: 'We Made a Mistake' in Agreement With Trump Lawyer
–– 'In dealing with moron who couldn't keep bribe secret.'
'Transparent' to End After Fifth Season
–– After everyone's seen through it.
Marin Hinkle ('The Marvelous Mrs. Maisel'): Our show is 'doing a musical without the song'
–– 'A comedy without the laughs.'
Oliver North to be NRA's new president
–– More Greatest Shits.
'This Is America': The Childish Gambino video explained
–– Desperation.
Third flight in three weeks diverted because of damaged window
–– Had crack crew.
Trump slams Kerry over 'shadow diplomacy' to save Iran deal
–– Takes umbrage.
Caputo: Mueller probe is crushing my children
–– Poor American: Trump policies are crushing my children.
26 Years Later, Justice for Men Imprisoned for a Bogus Rape
–– Their Time's Up.
Stop Licking Opponents, N.H.L. Tells Brad Marchand. 'It Is What It Is,' He Says.
–– Called for high-licking.
Warren Buffett says bitcoin is 'rat poison'
–– Or craptocurrency.
Melania, Who Swats Trump's Hand Away, Might Not Like Spending Time With Him
–– You should see her swat fly.
Spy Firm Hired to Find 'Dirt' on Obama Officials, Possibly by Trump Allies: Report
–– Targeting blackmale.
96-Year-Old Secretary Quietly Amasses Fortune, Then Donates $8.2 Million
–– Never stopped at Bates Motel for shower.
Trump's Nominee for C.I.A. Director Offered to Withdraw Amid Concerns Over Past Role in Torture Program
–– WH: 'But that's why we chose you.'
Trump urges West Virginia voters to reject GOP Senate candidate Don Blankenship
–– Miners don't dig.
White House calls China's warning to airlines 'Orwellian nonsense'
–– Direct from Ministry of Truth.
Colts Owner Jim Irsay Pays $2.4M at Auction for Alcoholics Anonymous Document
–– After falling off wagon.
Sylvester Stallone In Line To Take On Mexican Cartel In 'Rambo 5'
–– Why not steroid dealers?
What Happened to Killmonger's Mother in 'Black Panther' Will Make You Cry
–– Not Killmama!
Ronan Farrow Says His "Career Was on the Rocks" Before Weinstein Exposé
–– Until he started throwing stones.
Stormy Daniels Plays Herself in Star-Studded 'SNL' Cold Open
–– Often 'played self' in pornos.
SNL's Stormy Daniels Trump sketch went 'over the line': Joe Piscopo
–– Unemployment one he knows well.
The Real Stormy Daniels Warns 'Trump' on 'SNL': Storm's A Comin', Baby
–– Knowing he'll pay for showers.
Will the Cannes amfAR Gala Survive Harvey Weinstein's Fall?
–– amfAR gone.
Filmmaker Carlos Carvalho Dies After On-Set Giraffe Accident
–– Shouldn't have stuck neck out.
A Puppy Went Missing after an Amazon Delivery. The Dog's Owner Emailed Jeff Bezos to Get Her Back.
–– Bezos demanded '$100 billion dollars.'
---
THE MONEY SHOCK
Week of 05/04/18
Actual headlines from the internets. You Google 'em.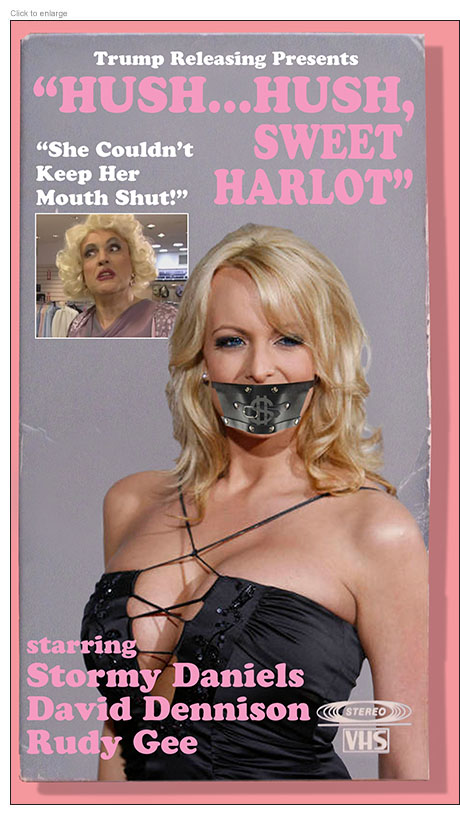 Giuliani says Trump reimbursed Cohen for Stormy Daniels payment
–– From sluts fund.
Pence swears in openly gay Trump appointee
–– And at.
Trump walks back Giuliani: 'He'll get his facts straight'
–– 'But keep his lies crooked.'
Sarah Sanders defends Trump's shifting story on porn star payment
–– Which explains her neck brace.
Giuliani Tells Mueller To Back Off 'Fine Woman' Ivanka Trump But Calls Kushner 'Disposable'
–– Should be 'heavily fined woman.'
Giuliani vows to get medieval on Mueller if he targets Ivanka
–– With can of mace.
132-pound ovarian tumor removed from Connecticut woman
–– To head Trump 2020 campaign in state.
'There's something off about Rudy Giuliani these days'
–– 'These days' dating to 9/11.
Paul Manafort asks Virginia judge to throw out 1 charge
–– Thinks even 17 is kinda greedy.
U.S. judge says Mueller should not have 'unfettered power' in Russia probe
–– After Manafort, Trump fettered.
Why a Judge Delivered a Bizarre Tirade Challenging Mueller's Authority to Charge Paul Manafort
–– 77-year-old Uncle Tom Ronald Reagan appointee? Can't imagine.
Fox News Host Neil Cavuto Tells Trump He Stinks In Fiery Takedown
–– Swamp gas highly flammable.
Pence's doctor resigns after reports of concerns about Jackson's conduct
–– She was sick of Pence's wife always in room during exam.
Exclusive: Nunes demands Justice Department records. Then he doesn't read them.
–– Or can't?
Camille Cosby Compares Husband to Emmett Till and Blames Media
–– After Kool-Aid Jell-o shots.
Man mauled to death by bear while taking selfie with it
–– Just had time to post to Snapchap.
Naked Trump statue mocking his manhood sells for $28K at auction
–– To some little prick.
Why DJ Khaled won't perform oral sex on women
–– HaLOL!
Pruitt's Coziness With Lobbyists Includes Secretly Buying a House With One
–– Talk about a love nest.
Stephen Hawking Finished Mind-Bending Parallel Universe Paper Days Before His Death
–– Is editing it there now.
Mike Myers Pays Tribute to Late 'Austin Powers' Co-Star Verne Troyer: "I Miss Him"
–– Was easy to overlook when alive.
The Cars' Ric Ocasek and Paulina Porizkova 'peacefully separated'
–– At Slauson cutoff.
Abbasolute scandal: Swedish meatballs are really Turkish
–– Ones made with turkey.
Roller Coaster Riders Suspended 100 Feet In The Air, Facing Down, After Malfunction
–– Designers of Batman: The Ride coaster should've thought of that.
Redskins Cheerleaders Detail '13 Trip to Costa Rica Involving Topless Photo Shoot
–– And were their skins red.
Art Paul, Art Director Who Gave Playboy Its Look, Dies at 93
–– Airbrushed out.
Luis García Meza, Bolivian Dictator Jailed for Genocide, Dies at 88
–– Bolivian oblivian.
GOP Strategist: "This is the most shambolic administration" in U.S. history
–– Sham bollocks!
Cambridge Analytica announces closure
–– Silver Lining of the Week.
'White Customers Only': Black Woman Says She Wasn't Allowed To Eat at Waffle House in Alabama
–– Silver Lining Runner-up.
Macron slip-up: Calls Turnbull's wife 'delicious'
–– Sounds more like slip-in.
Modigliani's controversial 'Nu couché' painting breaks auction record
–– Naked greed.
GOP hopeful defends 'Chinaperson' remarks
–– As Cretinperson.
Trump administration removes language on freedom of the press from Justice Department handbook
–– Replaced with freedom to repress.
Rod Rosenstein: Justice Department is 'not going to be extorted'
–– 'Distorted, sure.'
Mass Murderer Moves Into Home Opposite La Grange Elementary School: 'I'm Scared, Very Scared'
–– Volunteers as AmeriCorpse Coach.
Dennis Rodman Says Kim Jong Un Had 'Change of Heart' After Reading Trump's Book
–– Wanted to write own Art of the Heel.
San Antonio brewery offers Kawhi Leonard 'free pizza and beer for life' if he stays
–– That should improve his game.
Kanye West Calls Slavery A 'Choice,' Gets Schooled On History
–– No, involuntary like mental illness.
Eric Benet Thinks Kanye West Isn't Safe From Crips
–– Nor crap.
Waffle House hero James Shaw Jr. meets his idol, Dwyane Wade, on 'Ellen'
–– Took Heat.
Kanye West Called Emma Gonzalez His Hero. She Responded by Saying James Shaw Jr. Was Hers
–– Didn't Waffle.
Joe Clokey, Caretaker of the Gumby Empire, Dies at 56
–– Stretched out.
Stormy, Hulk Hogan had nearly identical NDAs
–– As did Marvel's Hulk.
Jack Daniel's claims competitor's look-alike whiskey bottle 'dilutes' its brand
–– Like watered-down shots at Dave & Buster's.
She modeled in New York and worked for the Navy. At 93, parasites ate her alive at a nursing home.
–– Modeling prepared her metaphorically.
Stormy Daniels lawyer: Trump in 'panic mode' over Michael Cohen
–– Not sure how you can tell.
Giant alligator nearly the size of a car stops traffic on Texas highway
–– Wanted to pay motorcycle toll in TExpress lane.
Ex-EPA Deputy Chief of Staff: Pruitt 'Bold-Faced' Lied to Congress
–– 'Dirty' more appropriate.
Sean Hannity pouts that 'half of' Mueller's questions for Trump are 'dumb anyway'
–– Because even he could answer them.
Paul Ryan vs. the House Chaplain Is Really Ayn Rand vs. Pope Francis
–– With switchblades.
Three Americans detained in North Korea transferred to hotel, activist says
–– Caughtyard by Marriott.
Meet the Schlapps, Washington's Trump-Era 'It Couple'
–– Schlapp happy.
A Taxi Driver Took His Own Life. His Family Blames Uber's Influence.
–– Using UberPool instead of hearse for funeral.
Stein: No 'special golden goose' in documents withheld from Senate pane
–– Won't allow gander.
Just America's second 'princess': Why Meghan Markle is a modern Grace Kelly
–– Hopefully not her driving skills.
Ashley Judd suit claims Harvey Weinstein 'torpedoed' career
–– He 'torpedoed' many young actresses.
Iran supreme leader: US 'feet must be cut off'
–– Make it harder to ankle deal.
The Latest: Pompeo says US stands with allies against Iran
–– Not if Khameini has way.
White House claims 'clerical error' led to drastic change in Iran statement
–– Trump: 'Look, their clerics have made lotsa errors, too.'
Omarosa tweet to Nigerian President: 'He said it'
–– Shithole diplomacy.
Investment Boom From Trump's Tax Cut Has Yet to Appear
–– Rich investing more in offshore banks than ever.
French Museum Discovers More Than Half Its Collection Is Fake
–– And rest stinks.
John Kelly says report he called Trump an idiot is "total BS"
–– And he's no Boy Scout.
Since when did 'perfect smokey eye' become an insult, America?
–– When Sanders Huckabee's constantly blowing smoke in ours.
Trump's nod to meeting Kim Jong Un at the Korean DMZ could save North Korea from an 'embarrassing' problem
–– Inability to read road maps.
Saudi Crown Prince Mohammed bin Salman to Palestinians: Negotiate or 'shut up and stop complaining'
–– 'Oy, enough mit the kvetching!'
Bill Cosby mentally preparing for prison, invokes Nelson Mandela's name: Report
–– Terrible excuse for 'lude behavior.
Prominent Republican says it's 'wrong' for journalists to call out Trump's lies
–– Exhausting, not wrong.
Marco Rubio points out that there's 'no evidence whatsoever' that the GOP tax cut 'massively' benefited American workers
–– Unless 'massively' is synonym for 'hardly.'
Handbag Designer Judith Leiber, Known For Her Sculptural Minaudieres, Dies at 97
–– Clutch hit her.
Stormy Daniels files defamation lawsuit against Trump
–– Already guilty of her famation.
Michelle Wolf Did What Comedians Are Supposed to Do
–– Except the funny part.
Internet Burns Former 'SNL' Comic For Needing 3 Days To Write Michelle Wolf Jokes
–– She wrote hers in 3 minutes.
Michelle Wolf Slammed for "Vile" Sarah Huckabee Sanders Jokes at White House Correspondents' Dinner
–– Or "vile Sarah Huckabee Sanders" jokes.
Mike Huckabee Says His Daughter Is Doing Just Fine After Dinner Roast (Q&A)
–– So upset she could barely lie.
Netanyahu says he has proof of secret Iranian nuclear program
–– In Homeland, Season 6.
Kim Prepared to Cede Nuclear Weapons if U.S. Pledges Not to Invade
–– And promises never to call him Rocket Man again.
As Two Koreas Talk Peace, Trump's Bargaining Chips Slip Away
–– Down to handful left over from Taj Mahal.
South Korean president: Trump 'should win the Nobel Peace Prize'
–– Moon shot.
Severed heads found in Texas, Louisiana may be part of the same case, police say
–– Police urged to put heads together.
Duterte permanently bans Filipinos going to work in Kuwait after maid found stuffed in freezer
–– Minute Maid?
Gowdy: Lawmakers should not accuse Comey of committing a crime
–– Just cuz he never did?!
Halle Berry Defies Age With Bone Broth — and Yes, She Knows It Sounds "Nasty as Hell"
–– Latest slang for ejaculate.
Woman shocks 64-year-old man with stun gun at McDonald's, police say
–– Came in Zappy Meal.
Tree planted by Donald Trump and Emmanuel Macron on White House lawn mysteriously disappears
–– Jared peed on, killed it.
Doctor: Trump associates raided my office after Propecia reveal
–– Hair-raising.
Donald Trump dictated letter describing his health as 'astonishingly excellent', claims president's former doctor
–– Though suffering from a fib.
The smearing of Ronny Jackson is a disgrace
–– Of feces on self.
Ronny Jackson will not return as Trump's physician, Politico reports
–– Neglected to describe president's condition as 'mind-bogglingly stupendous.'
Doctor allegedly threatened to slit employees' throats, cut heads off
–– And wasn't ENT or brain surgeon.
'Am I missing something?' Parkland community shocked over weapons ban during Pence appearance at NRA event
–– NRA afraid shooter wouldn't be missing something.
NYPD Sergeant Suing Starbucks: Altercation Over Free Croissant Led To Potential Career-Ending Injury, Lawsuit Says
–– Should teach him to stick to free donuts.
Bernardo Bertolucci Says Ridley Scott "Should Be Ashamed" for Replacing Kevin Spacey
–– For all the morons in the world.
Larry Harvey, Burning Man founder, dies at 70
–– Gotta be cremated, right?
Kasich: 'I didn't leave the Republican Party. The Republican Party left me'
–– 'The bitch!'
MSNBC's Joy Reid Says, "I Genuinely Do Not Believe I Wrote Those Hateful Things"
–– Blames chablis.
Kanye West, T.I. debate Trump on new 'Ye vs. the People' track
–– Yeesh!
Bob Dylan's Latest Gig: Making Whiskey
–– Tangled up in booze.