MICK'S WEENIE
Week of 12/14/18
Actual headlines from the internets. You Google 'em.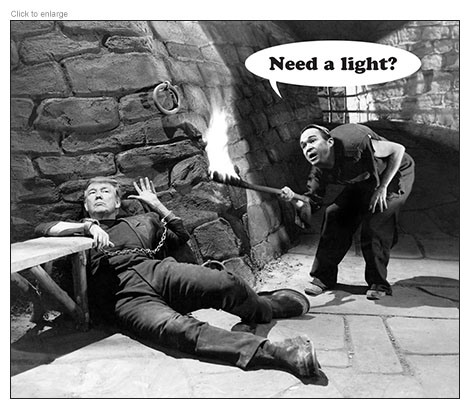 Mick Mulvaney to replace John Kelly as 'acting' chief of staff, Trump says
–– Typecast in horror roles.
Trump: Prosecutors are trying to embarrass me
–– 'And that's my job!'
Mulvaney calls Trump 'terrible' in 2016 video
–– Before spinectomy.
Chris Christie Drops Out of Consideration for White House Chief of Staff
–– Never weighed in.
Wisconsin's Scott Walker Signs Bills Stripping Powers From Incoming Governor
–– Democrats cheesed off.
The Weekly Standard, a conservative magazine critical of Trump, to shutter after 23 years
–– Razing the Standard.
Beto O'Rourke tops new poll as possible Democratic nominee for 2020 Presidential run
–– Sure Beto?
Passenger notices strange in-flight menu warning on British Airways flight: 'Bullet fragments that could be found in this meal'
–– After seeing flight attendants shooting geese on takeoff.
A human heart for donation was left behind by mistake on a Southwest flight
–– Was meant for human sacrifice atop Mayan pyramid.
Disastrous night for Theresa May as EU leaders refuse to renegotiate Brexit Withdrawal Agreement
–– You Brexit, you buy it.
Turkey will enter Syria's Manbij if U.S. doesn't remove YPG fighters, Erdogan says
–– Insists on PG-14.
Gandhi statue removed from University of Ghana following protests over 'racist' Indian leader
–– Alabama: 'We'll take the little brown fella, long as he really is racist.'
Neal Katyal: Trump is 'wigging out' & without a defense anymore
–– Which can be dangerous with that mop top.
Google CEO Had To Explain To Congress Why Googling 'Idiot' Shows Donald Trump
–– And why his pic doesn't appear next to Webster definition.
Rep. Steve King makes Apple iPhone complaint to Google CEO, demands list of employees
–– King of comedy.
US military sends $331 million bill to Saudis, UAE after refueling 'accounting error'
–– Miscalculate customer loyalty program.
Trump inaugural committee under criminal investigation, source says
–– 3 Doors Down, Big & Rich probed for crimes against humanity.
'Sesame Street' Muppet becomes first to experience homelessness
–– Seen bumming change from letter P, number 2.
Leopard kills meditating monk in India
–– Spot on.
Starbucks is going to sell Nitro at all its US stores
–– In whole lattes.
Betsy DeVos will cancel $150 million in student debt after being sued for delays
–– DeVos settlement.
Bodies of missing climbers discovered in Himalayas 30 years after disappearance
–– Frozen on sticks.
Keith Richards Reveals He's Cut Back on Drinking: 'I Got Fed Up With It'
–– Even vodka bottle was like, 'Dude, you've had enough.'
Suspect in deadly shooting in France 'neutralized' during standoff with police, authorities say
–– Or 'served 72-Virgin Bloody Mary.'
Christian Bale says Donald Trump really thought he was Bruce Wayne when he was filming 'The Dark Knight Rises'
–– Is bats.
Trump administration could deport thousands of Vietnamese refugees after immigration rules changed
–– Nam nuts.
Man Steals Foot-Long Sub by Stuffing Sandwich Down His Pants, Hilarity Ensues Thanks to the Police
–– Was just happy to see them.
Twitter Users Tauntingly Tweak Donald Trump's 'People Would Revolt' Impeachment Claim
–– Most already revolted.
Middle School Student Dumps Trump From His Name After Relentless Bullying
–– Beat best.
Christine Blasey Ford Emerges to Honor Gymnast Who Spoke Out Against Larry Nassar
–– Could present Harvey Weinstein Jean Hersholt Humanitarian Award at Oscars.
Defying Trump, U.S. Senate advances measure to end support for Saudis in Yemen
–– Yeah, man.
The White House Christmas Party Is Canceled—For the Press, At Least
–– Will be mailed coal-filled stockings.
Donald Trump Jr. & Kimberly Guilfoyle Talk First Christmas Together
–– In case you need emetic.
Michael Flynn Asks To Avoid Prison Because He Cooperated With Russia Investigation
–– Skin Flynn.
Flynn's lawyers say his lie to FBI 'uncharacteristic'
–– 'Unusually small.'
South African 'cannibal case' men get life sentences
–– Don't want to be serving time as cellmate.
Melania Trump's poll numbers plummet
–– Like pre-White House necklines.
He Helped Build an Artists' Utopia. Now He Faces Trial for 36 Deaths There.
–– So more like firetrap Valhalla.
The Oil Industry's Covert Campaign to Rewrite American Car Emissions Rules
–– In latest slang for overt.
Ruth Bader Ginsburg Steals the Show at Biopic Premiere in Washington, D.C.
–– Being held by authorities for questioning.
'One Dollar' Canceled by CBS All Access After One Season
–– Buck's trend.
Does Tom Brady Still Have It? B/R Asks NFL Experts and Legends
–– If he got rid of deflategate pressure gauge.
WSJ: Boy Scouts may file for bankruptcy
–– And drop 'thrifty' from motto.
Post Malone Crocs sold out in minutes, again
–– To fans craving footwear to puke on.
Pelosi and Dissident Democrats Reach Deal to Limit Her Speakership to 4 Years
–– Forget-more reassures know-nothing.
Nancy Pelosi mocks Trump's 'manhood' after 'wild' Oval Office meet, says she tried to 'be the mom'
–– And tell him not to show everyone his pee-pee.
Everybody's Wrong: Donald Trump Won the Chuck-n-Nancy Meeting, and Here's Why
–– You see this massive doobie?
Fact-checking Trump's rowdy powwow with Pelosi and Schumer
–– Him heap big liar.
Tabloid Publisher's Deal in Hush-Money Inquiry Adds to Trump's Danger
–– Pecker exposed.
Was Queen Anne Really Caught in a Lesbian Love Triangle? Fact-Checking The Favourite
–– Fake nudes.
No sign of that back brace! Hillary Clinton boogies with John Kerry and King of Bollywood Shah Rukh Khan at the star-studded $100million wedding of India's richest heiress
–– On season premiere of Hobbling with the Stars.
'It was as sacred and as blessed as a passing can be': Oprah Winfrey opens up about the emotional final moments she spent with her mother before the 83-year-old died on Thanksgiving
–– Of course, God received gratuity.
Mika Brzezinski accused of using homophobic slur live on air as she refers to Secretary of State Mike Pompeo as a 'wannabe dictator's butt boy'
–– Butt boys sore.
The India girl who took her dad to the police over a toilet
–– On piddling charges.
Twitter's Jack Dorsey answers critics of Myanmar meditation retreat
–– Sorry, Rohingya number.
Sen. Orrin Hatch on Trump Allegations: I Don't Care
–– Hatchtag: #fuckruleoflaw.
Hatch says he regrets his 'I don't care' comment about Trump allegations
–– Too late, nobody cares.
Trump's 'no smocking gun' defense won't protect him
–– Is he high on cock?
Eczema patients at 36% higher risk of suicide attempts, study says
–– Prone to rash decisions.
69% of Americans Don't Think Trump's Border Wall Is a Priority, Poll Says
–– Third person limited.
Trump says trade deal pays for border wall, Democrats scoff
–– Respond with lafta.
Trump seizes on France attack to push border wall
–– Offers Macron assistance in convincing Belgians to build their own wall.
Trump should 'dig in,' not 'give in' when it comes to border wall, Lindsey Graham says
–– Should actually 'dig under', 'go south'.
Nikki Haley: Trump's 'unpredictable' behavior was advantageous at UN
–– Yeah, see how world admires us.
Ancient Roman statue discovered in margarine tub
–– I can't believe it's not Buddha!
Kellyanne Conway says Ocasio-Cortez 'doesn't seem to know much about anything'
–– 'And we have this opening at the White House…'
NASA Invites Stephen Curry to Tour Lunar Lab After Moon Landing Comments
–– Says he 'loves cheese.'
Ex-Baylor frat president indicted on 4 counts of sex assault won't go to prison
–– Deep in the Hard-on of Texas.
Senior citizens arrested after 'large amount of cocaine' found stashed on cruise ship
–– Whatever floats your boat.
44 former US senators urge current Senate to defend democracy in op-ed
–– Like reminding cops to arrest criminals.
US successfully tests missile defense system in Hawaii
–– Easier when you launch yourself.
Schwarzenegger: How I fought my way back to fitness
–– 'With RPG and flame thrower.'
Heather Nauert, Trump's pick for U.N. ambassador, is unlikely to enjoy Nikki Haley's global respect
–– Unlikely to enjoy Haley Joel Osment's.
Nazi-themed posters found in various location around SUNY school
–– Sieg Heiler education.
Kid Accidentally Brings Blow-Up Sex Doll to School Nativity
–– Teacher requested 'nice ass.'
Former Bloomberg Executives to Be Charged in Construction Fraud Scheme
–– Kickback, enjoy.
How the FBI solved a 4,000-year-old mummy mystery
–– With mile-long wrap sheet.
An insane amount of people turned out to vote in the midterm elections
–– For insane people.
NYPD officers pry 1-year-old child from mother's arms in startling video
–– Had pryer offense?
Former 'El Chapo' lieutenant testifies of ominous serenade followed by 4th attempt on his life
–– Mariachis with machine guns.
Maria Butina Pleads Guilty to Role in a Russian Effort to Influence Conservatives
–– By Alt-White Russians.
Nick Ayers Declined Trump's Offer To Replace John Kelly As Chief Of Staff: Reports
–– "Hitler Youth still need me.'
A closer look at Trump's White House turnover
–– Filled with raspberries.
Hear the 'sound' of wind on Mars
–– InSight lander lets one go.
'I can't breathe.' Jamal Khashoggi's last words disclosed in transcript, source says
–– In solidarity with #blacklivesmatter.
Nuns embezzle 'substantial' amount of funds from church school, monsignor says
–– Gambling habits.
Doctor with a big heart is 2018 CNN Hero of the Year
–– Rushed to cardiac unit.
Donald Trump throws his support behind Paris 'yellow vest' protests
–– Yellow is favorite color.
Donald Trump makes it official: Gen. Mark Milley to chair Joint Chiefs of Staff
–– Milley vanilley.
Kevin Hart Quotes Martin Luther King Jr. After Oscars Host Drama, but That Causes More Backlash
–– Should've quoted Farrakhan.
Jack in the Box May Be Sold Amid Franchisee Revolt
–– Depends what pops up.
Ex-lawyer Cohen says Trump knew hush payments were wrong: ABC
–– Fake news: his moral compass reads permanent South.
Michael Cohen Sentenced To 3 Years In Prison Following Plea That Implicated Trump
–– One for each of his faces.
Michael Cohen, President Trump's former fixer, sentenced to three years behind bars for 'smorgasbord of criminal conduct'
–– As unappetizing a buffet as Mar-a-Lago's.
Michael Cohen blames Trump's 'dirty deeds' as he is jailed
–– Not done dirt cheap.
Advice for ex-Trump lawyer Michael Cohen ahead of sentencing: 'Bring toothbrush to court'
–– To clean prison toilets.
Congress will have to 'start impeachment proceedings' against Trump after Cohen filing, says former Nixon White House lawyer
–– Still living in 1974.
James Comey: If Trump Weren't President He'd Be 'In Serious Jeopardy' Over Cohen
–– And if he were, we'd be.
James Comey: Russia investigation started with four Americans with ties to Trump, Russia
–– So-called Marx Brothers.
Comey calls on Americans to 'use every breath we have' to oust Trump in 2020
–– You first.
Marco Rubio Warns Trump: It Would Be A 'Terrible Mistake' To Pardon Paul Manafort
–– Or 'consistent with every other aspect of this Presidency.'
Jared Kushner advised Saudi prince on how to 'weather' Khashoggi slaying, report says
–– Rain of terror?
'Saudis have ALREADY paid the price' for Jamal Khashoggi's murder claims secretary of state Mike Pompeo as he backs Trump's bid to fight off sanctions on kingdom's crown prince
–– Internet memes can be so hurtful.
Duchess of Sussex's father releases her handwritten letters and details of first wedding in latest bid to reconcile
–– Nothing succeeds like Sussex.
Schiff says Trump faces "real prospect of jail time" after leaving office
–– Who says he'll leave?
Former Miss Kentucky charged with sending nude photos of herself to 15-year-old student
–– With KY jelly.
California teacher faces charges after forcibly cutting a student's hair while singing anthem
–– Title song from Hair.
Egypt investigating couple pictured nude on top of Khufu pyramid
–– Worshipping Anudis?
Trump announces John Kelly is leaving
–– Parole came through.
---
STAFF AND NONSENSE
Week of 12/07/18
Actual headlines from the internets. You Google 'em.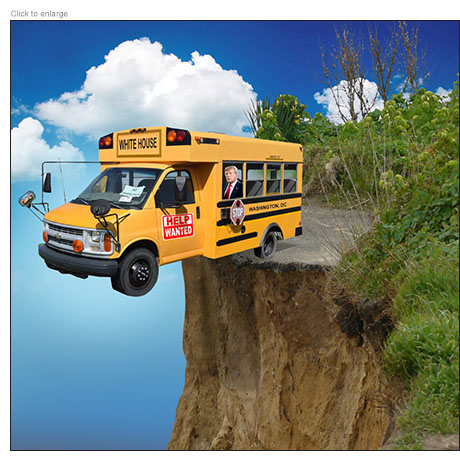 Trump's Cabinet shakeup kicks into gear
–– Reverse.
Cleveland radio station bans 'Baby, It's Cold Outside'
–– Christmas ughsnog recipe.
Trump announces he'll nominate William Barr as next attorney general
–– Will he pass Barr exam?
Trump Picks Heather Nauert, Former Fox News Anchor, As U.N. Ambassador
–– After exhaustive search for least qualified at network.
El Chapo trial week 4: Lost cocaine shipments, keeping track of expenses and a work-related injury
–– Chapo and verse.
Trump signs Hatch-sponsored child pornography victim assistance law
–– Felt they'd already done enough for Roy Moore.
Judge: Clinton's private emails are 'one of the gravest modern offenses to government transparency'
–– 'Since tinted windshields.'
Giuliani says Mueller has accused Manafort of lying about Trump
–– Like accusing of breathing.
Tara Reid Files $100 Million Suit Over 'Sharknado' Slot Machines
–– Demands settlement in coins fed directly into mouth.
Kevin Hart Fires Back at Critics of His Homophobic Tweets, Does Not Apologize
–– Doesn't Hart LGBTQ.
Donald Trump Becomes Butt Of Twitter Jokes With 'Boarder Security' Typo
–– Renters need protection, too.
Ted Cruz And Other GOP Senators Announce Bill To Give Trump $25 Billion For Border Wall
–– But he'll need to assemble Legos himself.
Kelly expected to resign soon, no longer on speaking terms with Trump
–– Communicate with baboon-style facial expressions, rump displays.
Bitcoin's epic plunge continues
–– Renamed Twobitcoin.
Rex Tillerson claims he had to constantly remind Trump not to violate the law
–– Went no better than paper training.
Trump Plans Major Rollback of Sage Grouse Protections to Spur Oil Exploration
–– After much unsage grousing.
Huawei exec's arrest opens a new front in the US-China trade war
–– Wha'? Way?!
Huawei exec's arrest sends shudders through stock markets
–– Like Shih Tzu with high voltage line between teeth.
U.S. Nabbing Huawei Is the Dog That Caught the Car
–– In tired cliché.
Facebook Emails Show Its Real Mission: Making Money and Crushing Competition
–– Oh, they're a business?
Some Words Defy Translation. Angela Merkel Showed Why.
–– Shitstorm, not Scheißeblitz?
This CEO thinks it's crazy to work more than 40 hours a week
–– Can afford that opinion.
Trump Organization subpoenaed for business records
–– Will need hazmat suits to collect.
Pig hearts can function for months in baboons, study shows, bringing us closer to their use in humans
–– Pig brains already employed in DC.
Carbon emissions to hit all-time high, says report
–– Trump couldn't be prouder.
Wisconsin Republicans Approve Bills Stripping Power From Incoming Democratic Governor
–– Cut the Cheeseheads.
Les Moonves Obstructed Investigation Into Misconduct Claims, Report Says
–– CreepBS.
Flynn Was Key Cooperator and Deserves Little Prison Time, Mueller Team Says
–– Canary should fly?
Kevin Durant Posts Instagram Telling Redskins to Sign Colin Kaepernick
–– Kneedles them.
Jackie Chan releases new English memoir: 'I really was quite a nasty jerk'
–– Present tense lost in translation.
Man at center of North Carolina election fraud probe turned in hundreds of absentee ballot requests
–– Claims multiple personality disorder.
Cardi B announces breakup with Offset
–– You can print that.
Eddie Murphy becomes a father for the 10th time
–– Still busy making sequels.
'An Incredible Deal:' Making Sense of Trump's Overblown Take on the China Trade War Truce
–– Always amazing when you can slow down disastrous policy.
Trump says U.S. defense spending 'crazy!'
–– What lunatic signed off on that?!
Margot Robbie Didn't Consult Roman Polanski for Her Portrayal of Sharon Tate
–– She was way too old for him.
NASA deep space probe reaches asteroid deemed potential Earth threat
–– Now send Bruce Willis, Ben Affleck one way.
NASA's adorable space station AI had an emotional meltdown in his debut
–– Simple CIMON.
Tim Cook Tells White Supremacists They 'Have No Home' on Apple Platforms
–– Like other worms.
Mexico's Leader Sells Off 'Too Lavish' Presidential Boeing 787
–– Gets drug lord to overpay.
Schwarzenegger would time travel to terminate fossil fuels
–– In scenario arguably better than last four sequels.
Arnold Schwarzenegger Goes After Trump On Climate: America Is More Than One 'Meshugge'
–– But, Arnie, bubala, papa was a Nazi schlimazel!
Manafort Tried to Broker Deal With Ecuador to Hand Assange Over to U.S.
–– Until Assange threatened to release his emails.
500-year-old skeleton still wearing thigh-high boots found in London river
–– Just wading to be discovered.
Former President George H.W. Bush lies in state at US Capitol
–– Current President Trump lies there, everywhere.
Trumps pay respects to George H.W. Bush
–– With 24-hour ban on cursing family members.
Trump salutes Bush's casket in Capitol rotunda
–– Miffed it doesn't salute back.
For George Bush and His Eldest Son, a Relationship Unique Among American Presidents
–– Since John Quincy Adams at least.
Nation says goodbye to Bush: 'To us, he was close to perfect'
–– Yes, W., but you have you for comparison.
What Brings U.S. Presidents Together? Often, Their Funerals
–– Guess which one they're all hoping for.
Inspector General: No Evidence FCC Chairman Concealed White House Contact Over Sinclair
–– Pai eyed.
Taxi Driver Writer Slams Modern Moviegoers, Says Audiences Were Better in the 70s
–– You talkin' to me?
Shining Sequel Doctor Sleep Wraps Production
–– Wake us up when it's over.
Glenn Beck's TheBlaze and CRTV merge to create conservative media company
–– Next-level high, deaf.
Nigeria's President Buhari denies clone rumors: 'This is the real me'
–– In double talk.
Preschoolers served Pine-Sol in juice mix-up
–– Won't need to brush for week.
Researchers say ancient ring may bear Pontius Pilate name
–– Mood ring stuck on black.
Michelle Obama On Leaning In: 'That S**t Doesn't Work All The Time'
–– Ballistic Michelle.
Plastic Bag Removed From Sea Turtle's Throat In Troubling Video
–– Should've left in?
George Soros-Backed University Says It's Been 'Forced Out' Of Hungary
–– Like DinoSoros.
Spend Eternity With Merv Griffin, Eva Gabor for $20,000
–– Hell has admission fee?
Hailee Steinfeld Slays in Sexy, Skintight Leather Boots & Sequin Slit Dress
–– Police have pretty detailed description.
'Fake news' could destroy Western society, State Department official warns
–– Which may or may not be what he said.
North Carolina Board of Elections chairman resigns amid election fraud investigation
–– Dead voters outraged.
Trump wants Kim to know he likes him and will fulfill his wishes, South Korean leader says
–– Including Kardashian lap dance.
Ivanka Trump Looks Ready for Business in Pencil Skirt & Power Pumps in Argentina
–– If business is hooking.
Trump heard saying 'Get me outta here' on a hot mic at G20
–– G19: 'You said it, buddy!'
Popular scientist Tyson rejects misconduct allegations
–– Claims it was rocket in pocket.
Be celibate or leave the priesthood, pope tells gay priests
–– Offers free castrations.
Pope Francis says being gay is a 'fashion' to which the clergy is susceptible
–– Like men in long dresses.
Trump lawyer Rudy Giuliani says Mueller team is trying to intimidate president's allies
–– Only if wussies are ascared of jail time.
American Airlines passenger left in wheelchair overnight after flight home was cancelled
–– Better than floor.
Woman shot dead by husband's ex-wife as she decorated Christmas tree with his children
–– No, that's not tinsel hanging there…
Sanders eyes 'bigger' 2020 bid despite some warning signs
–– On calendar with his birth date.
Fortnite Fans Notice That the Iceberg is Getting Closer
–– Republican party in denial.
Despite Big House Losses, G.O.P. Shows No Signs of Course Correction
–– 'Anxious' to meet iceberg.
Israeli software company 'shared hacked messages' from Khashoggi with Saudi, lawsuit claims
–– Then he got hacked message.
Intercepts Solidify C.I.A. Assessment That Saudi Prince Ordered Khashoggi Killing
–– Saw right through it.
Pompeo: no intelligence directly links Saudi prince to Khashoggi killing
–– 'I mean if they found a body part with MBS DNA on it, well, then, maybe.'
Ted Baker staff demand end to 'forced hugging' at work
–– Condemn hugger-mugger.
Qatar is pulling out of OPEC to focus on gas
–– Flatulence etiquette 101.
Israeli Police Urge Bribery and Fraud Charges Against Netanyahu. Again.
–– Repeat, 'Offender.'
Hugh Hefner's Personal Typewriter Sells For Over $160,000 in Charity Auction
–– Sticky keys and all.
Ken Berry, TV Actor in 'Mama's Family,' 'F Troop,' 'Mayberry R.F.D,' Dies at 85
–– May bury.
Richard Branson and the Indian government are offering $3 million to reinvent air conditioning
–– Not cool million?
Macron tours damaged Arc de Triomphe after Paris hit by riot
–– Gets eyeful.
Paris Is Burning as French Say, 'Macron, Listen to Us!'
–– Inexplicably translating message into English.
Yellow Vests' Riot in Paris, but Their Anger Is Rooted Deep in France
–– Like truffles.
Zac Efron Looks So Much Like Serial Killer Ted Bundy in This Official Photo It's Actually Freaky
–– In latest slang for mildly surprising.
Tiffany Trump Reportedly Has a New Boyfriend, and He's a Billionaire From Nigeria
–– Met him through spam.
'Alaska earthquake: Trump calls 7.0 magnitude quake to hit near Anchorage a 'big one'
–– Trying on his seismologist hat.

Starbucks Started a War on Porn and Porn Is Fighting Back
–– Opening Starfucks where bareistas serve extra-hot café au lay.
NFL fines Ezekiel Elliott for throwing money, Dak Prescott into Salvation Army kettle
–– Wanted quarterback.
Mattis reveals Russian government attempted to interfere in U.S. midterm elections
–– No laughing Mattis.
Putin says briefed Trump on Ukraine, wants fuller talks
–– Told him exactly what to tell press.
Putin says he discussed Kerch Strait incident with Trump 
–– Trump replied he liked courage straight.
Legal questions swirl around idea to offer $50 million penthouse to Putin in Trump Tower Moscow
–– Like turd in toilet.
'We Literally Had Our Very Own James Bond': California Officer Killed in Crash Laid to Rest
–– In latest slang for figuratively.
Ruth Bader Ginsburg cringing in this new Supreme Court photo is all of us in a post-Kavanaugh world
–– Yo, Ruthie, sling back a brewski and chill.
NYPD found their lost ring in a drain. Now they're searching for the couple
–– Keep looking, they're sure to be down there.
Ancient tools found in North Africa could 'rewrite human origin story'
–– Spork.
6 White House officials found in violation of the Hatch Act
–– Down the Hatch?
Comey says he will testify after legal challenge
–– Still wants game of horse against Judiciary Committee Chairman.
Trump agrees to freeze higher tariffs on $200B in Chinese goods — for now
–– Using Xi's cold shoulder.
Cohen claims 'regular contact' with Trump legal team when crafting false statement to Congress
–– After years of 'inappropriate contact' with client.
Pompeo: 'Ludicrous' to suggest Trump canceled Putin meeting over Cohen news
–– In latest slang for 'true.'
Michael Cohen's lawyers ask for no prison time for their client in sentencing memo
–– And not sharing cell with Don Jr. if he must.
The code word used to share news of George H.W. Bush's death
–– FINALLY.
Former President George H.W. Bush's last words, as spoken to his son, George W. Bush
–– 'I always liked Jeb better.'
In George H.W. Bush's repose, a rare chance for unity
–– Should go over like 'Read my lips.''
Trump Is Invited to Bush's Funeral Because 41st Commander-in-Chief Didn't Want to 'Stiff' Him
–– Even as stiff.
Ariana Grande Covers Up Tattoo Honoring Pete Davidson's Late Father With a Mac Miller Tribute
–– Can't she cover that with 'I Heart George HW Bush?'
Sully the service dog visits Bush's casket in the US Capitol
–– In latest slang for pees on.
Disney adds Nick Nolte to the cast of its 'Star Wars' streaming shows
–– As Slobba the Nutt.
Nick Nolte, 77, Reveals His 11-Year-Old Daughter Sophie Calls Him 'Grandpa'
–– And 'dirty old bastard.'