Treason to Believe

Week of 01/14/22
Actual headlines from the internets. You Google 'em.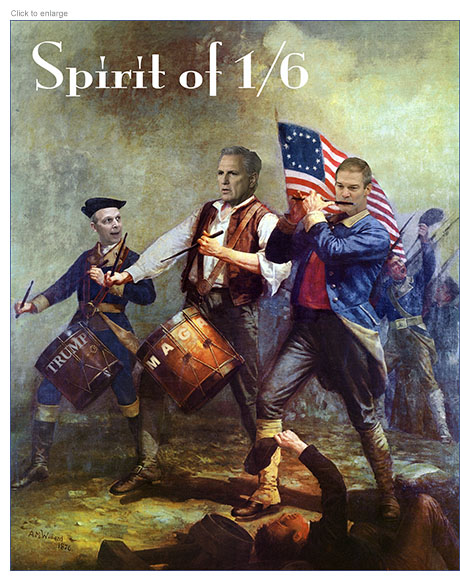 Kevin McCarthy Refuses Interview Request From Jan. 6 Committee
–– Unless Hannity conducts it.
Selling Melania Trump, One NFT at a Time
–– Non-fungible Trump.
McCarthy explains why he's reversing course, refusing to testify before Jan. 6 committee
–– 'I am a massive asshole.'
Liz Cheney says Kevin McCarthy is 'clearly trying to cover up what happened' at the Capitol riot after he refused to work with investigators
–– Like dog scratching dirt over shit.
Mo Brooks urged a Jan. 6 crowd to 'fight.' Now his actions long before the insurrection face new scrutiny.
–– Mo better bruise.
Raskin: Ex-Trump press secretary gave "a lot of names" in Jan. 6 conversation
–– 'Still tracking down Sleepy, Grumpy, Doc.'
After stating he has 'nothing to hide,' Rep. Jim Jordan says he won't cooperate with Jan. 6 committee
–– 'Not like when I was watching Coach Strauss at Ohio State working out the wrestling team in the shower room. I needed both hands to hide that.'
'A cockroach moving in my head': Insect removed from man's ear after three days
–– Jim Jordan: 'Big deal, I've had one in there for 30 years.'
Texas AG Ken Paxton broke state law by refusing to turn over messages about his travel to a Jan. 6 Trump rally, DA's office says
–– Capitol offense.
Trump spent January 6 anniversary watching Biden and Pelosi on cable news and he was enraged, report says
–– Just like January 1, 2, 3, 4, 5, 7, 8, 9, etc.
A Connecticut mother and daughter who climbed over a bike rack to get into the US Capitol on January 6 have pleaded guilty
–– Bicycle bilked for two.
McCarthy vows to remove Democrats from committees if Republicans win House
–– Buy partisan pledge.
Sinema says she doesn't support lowering the Senate filibuster threshold to pass voting-rights legislation
–– Sinema: we've seen this movie before.
Sen. Kyrsten Sinema's filibuster speech has reenergized progressive efforts to find someone to primary and oust the Arizona Democrat
–– Where liberalism is Cardinal sin.
Mitch McConnell calls Biden's speech 'incoherent' and 'beneath his office'
–– 'Ah thought fer a minute Trump was still President.'
Obama firmly backs Biden's call to change the filibuster to pass voting-rights legislation, blasts Senate Republicans for failing to protect democracy
–– Strikes the gabble.
We Found the One Group of Americans Who Are Most Likely to Spread Fake News
–– Ones with fingers, smart phones.
December prices rise 7 percent, compared to a year ago, as 2021 inflation reaches highest in 40 years
–– Santa demands bonus.
Is there a version of Biden's economic plan that Joe Manchin can support?
–– One with $100k in unmarked bills for him?
Negotiating with Manchin is like playing on an 'Etch A Sketch' because his opinion changes based on the last person he talked to, Democrats say
–– More like Retch A Sketch.
Biden has lowest first-year Senate confirmation rate among last three presidents, according to new report
–– And he's Catholic!
After a 'horrendous' 2021, the I.R.S. will start the tax season with a major backlog.
–– There audit be a law.
Biden faces delays in undoing Trump's war on efficient dishwashers, dryers and lightbulbs that made him 'look orange'
–– How about every other manufactured device in world that had same effect?
A conspiracy theorist who Trump put on a US body overseeing Holocaust monuments is still there more than a year after calls for Biden to fire him
–– Thinks there should be monuments on both sides.
U.S. plans to discuss missile deployments with Russia as part of effort to defuse Ukraine crisis
–– Great bargaining technique –– get them discussing something they love.
Russia reacts furiously to Blinken jibe over troops in Kazakhstan
–– Made you Blinken!
Russia-U.S. talks hit impasse over NATO expansion as Moscow denies plans to invade Ukraine
–– Putin: 'Is it invasion when you reenter second home after couple of years?'
Mud could complicate possible Russian plans for an invasion of Ukraine, US officials say
–– They've thrown enough in lead-up.
US claims Russia planning 'false-flag' operation to justify Ukraine invasion
–– Will plant rainbow flag in Zelensky's bedroom.
Sarah Palin asks federal judge to bar footage of her Masked Singer appearance in her defamation lawsuit against the New York Times which will go to trial in weeks
–– Bears watching.
Sarah Palin says Kamala Harris and AOC are 'fake feminists who bring the woman's movement back so far'
–– Remember when women could proudly dress as cartoonish bears, humiliate selves in front of world?
Vice President Kamala Harris dismisses question about being on the ticket with Biden in 2024: 'I'm sorry, we are thinking about today'
–– Wouldn't Veep for joy?
Sen. John Thune announces he will run for re-election
–– Thune or later?
Trump predicts Rep. Elise Stefanik will be president 'in about 6 years'
–– Dog years.
Ron Johnson says he will run for third Senate term despite previous pledge to retire
–– Insists it was evil twin conjured by Hillary Clinton from souls of murdered underaged pizza parlor sex slaves who made that pledge.
Mike Pompeo says he lost over 90lb – but experts are skeptical about his fitness journey
–– Bust a gut.
Baltimore state's attorney indicted on federal charges
–– Just to bolster Charm City's street cred.
NYC Mayor Adams names his brother NYPD deputy commissioner
–– Insists he was most qualified sibling for job.
Sidney Poitier was an icon of racial reassurance. But his genius lay in his rage.
–– Um, uh, sure.
Jews Don't Count? Helen Mirren 'Jewface' Row Over Golda Meir Portrayal Divides U.K. Entertainment Industry
–– 'Jew' is a color?
Mark Ruffalo, Jim Jarmusch, and More Defend Emma Watson's Support for Palestine
–– Can Jew play anti-Semite?
Emma Watson Says She'd 'Definitely' Return for Another 'Harry Potter' Reunion in 20 Years
–– Mark your calendars.
Watch Salma Hayek Crack Up Her Eternals Costars in Hilarious Gag Reel
–– Approximately 8x more entertaining than film.
Sources Claim Wendy Williams Had A Drunken Episode That Caused Her To Strip Naked In Front Of Manager And Others
–– Was panty-wasted.
'Winnie-the-Pooh' just entered the public domain. Here's what that means for fans.
–– Rip off at will.
Pooh Shiesty's Motion for Bond Denied Until Sentencing
–– And judge can't stop laughing at name.
At 48, Heidi Klum's Sculpted Booty Is All Muscle As She Romances The Camera On IG
–– Riddle of the Sphincters.
Heidi Klum, 48, Flashes Her Toned 🍑 In A Black Thong, And I'm Sweating
–– Klum with a view.
Hugh Hefner's Wife Crystal Unveils the "Real" Her After Removing "Everything Fake" From Her Body
–– Taking out brain easiest part.
Jenna Jameson, 'unable to walk,' has Guillain-Barré Syndrome
–– Luckily won't effect ability to work.
Geena Davis calls out 'certain male actor' who said she was too old to be his on-screen love interest: 'I was 20 years younger than him'
–– But 20 years older than girlfriend.
Alia Shawkat Calls It 'Gross and Stupid' How Brad Pitt Rumors Got More Media Focus Than Her Acting
–– And so impossible to predict that media would focus on superstar.
Jason Momoa and Lisa Bonet Announce Split After Nearly 5 Years of Marriage
–– Loan Momoa.
Elvis Costello says he will no longer perform 'Oliver's Army,' which contains a racial slur
–– White n***ers cry foul.
Steve Harvey Slams "Cancel Culture": "Political Correctness Has Killed Comedy"
–– 'I just strangled it some.'
Kanye West Named as Suspect in Criminal Battery Investigation
–– Accused of stealing AAs to power ego massager.
The Rock slides into middle of Sesame Street 'feud'
–– With fuzzy, bald, Vin Muppet.
Martha Stewart's Old Vienna Apple Strudel
–– As she refers to her privates.
The 35 best movies to see before you die, from Spirited Away to Raiders of the Lost Ark
–– Kill us now.
How to Watch James Gunn's 'The Suicide Squad' Spinoff Series 'Peacemaker' on HBO Max
–– Have anything to do with turning on TV, using clicker?
'Action Comics' No. 1 Sells for $3.18M
–– By man of steal.
Shark Tank's Kevin O'Leary on how he lost weight: 'Now I'm never hungry'
–– Cut down on chum.
Knicks' Julius Randle fined $25,000 for 'egregious use of profane language'
–– Randle: 'Wait, ain't egregious a dirty word?'
The United States could lose all flights to China ahead of the Beijing Winter Olympics
–– Olympics should've been in Wuhan two years ago.
Creator of Wordle Ripoff App Apologizes After Apple Removes His Clone: 'I F—ed Up'
–– Feared…fooled…flamed…flaked…fueled?
"Furious" Prince William Didn't Want to Attend Statue Unveiling with Prince Harry But Kate Convinced Him
–– Statue of Prince Andrew!
Queen Elizabeth Strips Her Son, Prince Andrew, of All Military Titles and Royal Patronages
–– Leaves fig leaf.
On eve of Prince Philip's funeral, Downing Street held lockdown parties
–– Lots to celebrate with old bastard gone.
Britain's Boris Johnson apologizes amid national anger over lockdown party at his residence
–– Tory aimless.
A Saudi court ordered the name of a convicted sexual harasser to be made public for the first time
–– Shockingly not member of Royal family, hanger-on.
Desperate Kim Jong Un Pleads With Citizens to Make More Poop
–– Not easy when you're starving.
California Gov. Gavin Newsom Denies RFK Assassin Sirhan Sirhan Parole
–– Sirhan Sirhan wrap.
At least 34 people rescued after they became stranded on a floating chunk of ice in Green Bay
–– Cooling their heels.
Delta security officer 'viciously assaulted,' repeatedly beaten with his own radio at JFK
–– Over and out.
Train Crashes Into Downed Plane Seconds After Pilot Is Rescued
–– In outtake from Mission: Impossible 7.
NYC suspects pose as cops during Bronx home invasion, but real NYPD officers not fooled
–– Might've been custodian helmets.
Man who dumped 90,000 pennies was retaliating against ex-worker, Labor Department says
–– Decision sounds penny-anti.
Lawsuit Says 16 Elite Colleges Are Part of Price-Fixing Cartel
–– Led by notorius El Rico.
In a First, Man Receives a Heart From a Genetically Altered Pig
–– Hope he doesn't have to take ribbing…
The ethics of a second chance: Pig heart transplant recipient stabbed a man seven times years ago
–– …the pig we, mean.
Man becomes first person in Colombia with non-terminal illness to die by legal euthanasia
–– Now if we can just get third-party approval for euthanasia…
They bought a blender. Three weeks later, their cats continue to hold it hostage.
–– Sounds like it's time for Kittyritas.
The judge who sentenced Ahmaud Arbery's killers held a minute of silence to represent a 'fraction' of the time they chased him
–– Really ticked off.
Judge tells ex-prison guard convicted of sexually assaulting a female inmate he can join the military or go to jail
–– In rear infantry.
Brace yourself South Florida; 'Wheels Up, Guns Down' road mayhem is coming, and officers are ready
–– With guns up, wheels down strategy.
A growing global potato shortage is affecting french fries, from Japan to Kenya
–– Growers all eyes.
James Webb Space Telescope successfully unfolds its giant gold mirror in space
–– Just to impress other satellites.
Two bald eagle eggs have hatched in Florida, part of a huge success story. Here's what conservationists say we can learn from it
–– Avian toupees could benefit other breeds.
Oldest Known Human-Bred Hybrid Animal Was a 'Kunga'
–– Kunga the jungle?
Egypt to mark centenary of Tutankhamun tomb discovery with new, lavish museum
–– For Tut le mode.
Rare 'fish scale' armour discovered in a Chinese tomb 
–– Enemy could always smell you coming.
In 1973, 'Soylent Green' envisioned the world in 2022. It got a lot right.
–– Explains taste of Arby's chicken sandwich.
Supreme Court blocks COVID-19 vaccine-or-testing mandate for workplaces but lets medical rule stand
–– Give me Liberty and give me death.
The highly contagious Omicron variant will 'find just about everybody,' Fauci says, but vaccinated people will still fare better
–– Thought mask would hide identity.
Florida Gov. Ron DeSantis asked if people ever sought testing to see if they were sick before the coronavirus pandemic: 'Think about it'
–– 'Because I can't.'
Covid led to smell problems for many. Seniors are especially vulnerable.
–– When they don't change underclothes during quarantine.
Meet the Kovids. These people share the same name as the covid-19 pandemic.
–– Worst sitcom on Peacock+.
Novak Djokovic's fans are fighting to get him out of his hotel. Inside, refugees wonder if they'll ever leave
–– Making racket.
Novak Djokovic Can Remain in Australia, Judge Rules
–– In backhanded compliment.
CDC director, under fire for confusing guidance, seeks to reshape messaging
–– With Silly Putty.
Bare rooms, rotten fruit and boredom: Quarantine life on infected cruises
–– Same as usual, except bare rooms.
Robert Durst, real estate heir and convicted murderer, dies at 78
–– Inherits 6-foot plot.
Bob Saget, Comedian and Full House Star, Found Dead at 65
–– Sack it.
Bob Saget contemplated life after death in Betty White tribute days before passing: 'I don't know what happens when we die'
–– Didn't have punch-out line?
Dwayne Hickman, Actor and Star of 'The Many Loves of Dobie Gillis,' Dies at 87
–– Was sickman?
Michael Lang, Woodstock Organizer and Co-Creator, Dies at 77
–– Peace, man.
Marilyn Bergman, award-winning lyricist, has died at 93
–– The way she were.
Ronnie Spector, Ronettes Singer and Ultimate Girl-Group Icon, Dead at 78
–– Left confident she wouldn't meet Phil where she's going.