HAITI'S GONNA HATE
Week of 01/12/18
Actual headlines from the internets. You Google 'em.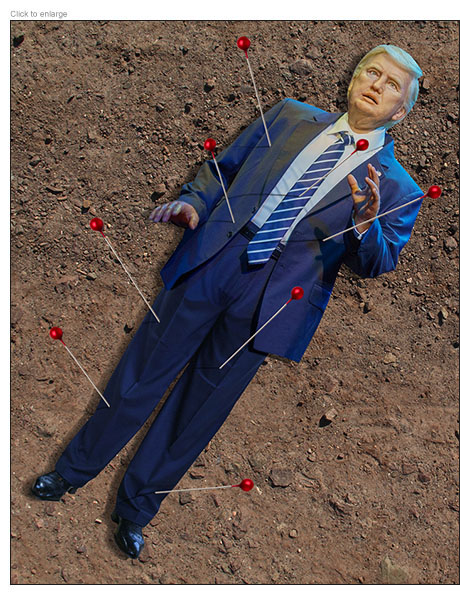 Trump decries immigrants from 'shithole countries' coming to US
–– Straight from asshole.
Sessions wants to get back on Trump's good side
–– Back one.
Trump had promised to be a 'champion' of Haitian-Americans
–– Muddle heavy-weight.
Donald Trump Denies "Sh*thole" Comment Even As CNN Says He Phoned Allies For Reaction To It
–– Y'know, "shi*theads".
Fox News Justifies Trump's 'Shithole' Comment, Says 'More Offensive' Things Are Happening in the World
–– 'And you're watching one.'
Rex Tillerson just gave his staff a speech about the importance of diversity
–– Sometimes refer to poor countries as 'shitholes', other times as 'assghanistan'.
FCC Received Complaints Over NBC, CNN Use of Trump Profanity
–– Bleepin' Trump!
Chris Matthews Apologizes for Making 'Bill Cosby Pill' Joke Before Hillary Clinton Interview
–– Sounds like he took dose.
Porn Star Was Reportedly Paid to Stay Quiet About Trump
–– This time to keep mouth shut.
Trump's new Netherlands ambassador grilled at awkward first press conference
–– Dutch treat.
MLK nephew: Trump 'racially ignorant and racially uninformed'
–– Race-bated breath.

Trump Thinks Only Black People are on Welfare, but, Really, White Americans Receive Most Benefits
–– 'But those mamas in the Cadillacs are all black, right?'
#MeToo's Impact on Hollywood Writers Rooms: "Maybe That's a Joke I Can't Say"
–– Rubbing assault in wounds.
The New #MeToo Economy: Hollywood Lawyers, Crisis PR Pros Seeing "Unprecedented" Uptick in Business
–– Veritable Updick.
James Franco "Responds" to New Sexual Misconduct Accusations
–– Is visibly aroused.
Trump sold $35 million in real estate in 2017, mostly to secretive buyers
–– We all saw infomercials from WH.
McAuliffe Suggests He'd Knock Out Trump During a Debate: 'You Would Have to Pick Him Off the Floor'
–– Would need forklift.
Pope Faces Turmoil in Chile Over Indigenous Group and Sex Abuse
–– And indigenous group sex abuse?
Is this woman who successfully returned a "dead" Christmas tree to Costco a terrible person or a genius?
–– Is clerk who accepted it moron or fired?
500 Lb. Serial Killer Joseph Metheny Allegedly Served His Victims to Strangers as BBQ
–– Still less disgusting than Trump.
'Venom' First Look: Tom Hardy Is Going to Do 'Everything He Can' to Deliver the Best Villain Possible
–– Engineered $1B nuclear blackmail plot to prepare.
Ellen DeGeneres Reveals Her Father Died at Age 92 in Moving Tribute
–– Tribute was going too fast, veered off road into ditch.
Mother of H&M Model in 'Racist' Monkey Hoodie Tells People to 'Get Over It'
–– Critics quietly, politely tweet "OK", chill.
Steve Mnuchin: The purpose of tax cuts was to "put more money in companies"
–– So that was genius master plan!
Donald Trump Cancels February Visit to the U.K.
–– BBC News to air Fawlty Towers marathon instead.
Don Lemon's Had It With Trump Supporters: 'You Know What You Can Go Do?'
–– They already went, fucked selves in 2016 election.
Schiff: GOP blocking key witnesses in effort to scuttle House Russia inquiry
–– Defending indefensible.
Richard Sherman Calls NFL's Concussion Protocol 'Absolute Joke'
–– Head-shaking.

A doctor's wife threatened to expose the opioid ring he ran, so he killed her, officials said.
–– He's no dope.
Johnny Weir won't forgive Tonya Harding, calls Hollywood portrayal 'glamorization of a villain'
–– Refuses to take knee.
Donald Trump claims US sold Norway 'F-52' aircraft that doesn't exist
–– And nuclear viking ships.
Trump Caused Violence In Israel, West Bank To Spike With Jerusalem Embassy Move
–– Lists among first year accomplishments.
Celebrities Furious Over Report That Mark Wahlberg Made 1,000 Times More Than Michelle Williams
–– And that they don't have his agent.
Michelle Williams offered to reshoot "All the Money in the World" for free — and Mark Wahlberg wanted *millions*
–– Inspired by title.
Kellyanne Conway says 'no one' at White House talks about Hillary Clinton
–– It's all hysterical screaming.
MSNBC's Joe Scarborough Says the Media Is "Reflexively Anti-Trump"
–– Like gag mechanism.
John Dickerson to Replace Charlie Rose on 'CBS This Morning'
–– Needed a neuter.
Police stand guard outside Florida university class on 'white racism'
–– To make students sit through.
ICE immigration officers swoop in on 7-Elevens nationwide
–– Undocumented workers take big gulp.
Trump set to take questions alongside Norwegian prime minister
–– His answers to be translated into English.
Harvey Weinstein Slapped at Resort in Scottsdale
–– Not by woman.
Democrats to introduce 'stable genius act' making presidential candidates undergo mental health test
–– Trump already performing 'stable genius act'.
Donald Trump speaks at a fourth-grade level, the lowest of last 15 U.S. presidents, according to analysis
–– A fourth grade full of stable geniuses.
Chef at Mario Batali's Babbo restaurant steps down amid allegations of sexual misconduct, 'lewdly' stroking meats
–– Don't order tartare.
Russell Simmons ends #NotMe campaign after sexual misconduct accusations, says report
–– Replaced with #MaybeMe.
Royal Pet Peeves: The 1 Word Queen Elizabeth Won't Ever Use and Other Things She Can't Stand
–– Taint. Ass-less chaps, Night Train, felching.
Trump Tells American Farmers: 'You Are So Lucky I Gave You That Privilege' of Voting for Me
–– Explains how he fashioned U.S. Constitution.
If Donald Trump 'Doesn't Call Himself a Genius, Nobody Else Will,' Lindsey Graham Says
–– Not without multiple quote marks.
Doctors Want Trump to Undergo an Emergency Mental Health Evaluation. Here's How that Would Work
–– Unscrew the cranial merkin, carefully peek inside with flashlights.
Americans are paying for Kellyanne Conway and Sarah Sanders to have their makeup done
–– Well, they make up everything.
McConnell decries 'obstruction' on judicial nominees, irony weeps
–– Irony's been drinking heavily this past year, breaks down all the time.
Armond White Wants You to Know 'Justice League' Is Much Better Than 'Star Wars: The Last Jedi'
–– Only dogs can hear faint praise.
The US is reportedly considering a 'bloody nose' attack to humiliate North Korea — here's how it could go down
–– Would lift little feller high off ground via wedgie.
Roseanne Barr explains why her TV character is a Trump supporter: 'It's just realistic'
–– 'She always was stupid.'
This Is the Reason So Many People Hate Donald Trump Jr.
–– Here, this picture of his face.
Second Republican Lawmaker Commits Suicide Following Sexual Abuse Allegations In Less than a Month
–– Pervs pledge to keep up pace.
In swift reversal, Trump admin says no new oil drilling off Florida coast
–– Does open Gov. Rick Scott's pate for exploration.
Trump Blasted for National Anthem Performance: 'Disgraceful for Any President'
–– Except Putin.
After Dad Fails To Sing Anthem, Trump Jr. Tweets That's 'How It's Done'
–– 'Since January 20, 2017.'
Catherine Deneuve Signs Letter Blaming #MeToo for Spurring 'Puritanism,' Unfair Punishment of Men
–– Viva la indifference.
Zuma spacecraft launched by SpaceX is lost after failing to reach orbit
–– Redubbed Zima.
Moments after midnight, Australian same-sex couples say 'I do'
–– Mate.
Is Oprah the Un-Trump, or the Un-Clinton?
–– The Un-Acceptable.
Jeff Bezos is the richest person in history
–– Claims Alexa.
Schiff: 'It doesn't take a genius' to see Trump 'badgering' spurred Clinton Foundation investigation
–– So he didn't ask Trump.
Louis C.K. Animated Comedy 'The Cops' Scrapped at TBS in Latest Harassment Fallout
–– Jerked off schedule.
LG Display's 65-inch TV rolls up like wrapping paper
–– Or toilet roll.
Coachella Bans Marijuana, Despite California Legalization
–– 'Ya mean we gotta listen to The Weekend sober?'
Scanning an Ancient Biblical Text That Humans Fear to Open
–– Especially Nazis worried about melted faces.
BBC News Editor Quits Her Post to Protest Gender Pay Gap
–– More money for the gents!
Full Panel: Marijuana Legalization Might Be The One Thing Americans Agree On
–– Especially now.
Sharon Stone, 59, wore one of the most revealing dresses at the Golden Globes
–– Barely contains boulders.
Evan Rachel Wood Asks Golden Globes Guests To "Circle" Alleged Harassers
–– Circle jerks?
Golden Globes: Seth Meyers monologue jokes carefully tackle sexual misconduct
–– Oh, those were jokes.
James Franco Blocked Tommy Wiseau From Hijacking His Golden Globes Award Speech
–– Almost cleared The Room.
Roger Waters, Peter Gabriel Sign Letter Supporting Lorde's Israel Decision
–– Lorde shall Semite thee.
Tiffany Trump says her father 'wishes' he ate McDonald's in bed every night
–– With hooker dressed as Ronald wetting sheets.
Sources: Oprah Winfrey 'actively thinking' about running for president
–– 'Actively thinking' already makes her more qualified than Trump.
How Hot Was It in Australia? Hot Enough to Melt Asphalt
–– So hot roos put ice packs in pouches.
Trump Administration Rules That Nearly 200,000 Salvadorans Must Leave, Officials Say
–– Trump: 'Including that weirdo painter Dali.'
Bannon Tries Backing Away From Explosive Commen
–– Through minefield.
Donald Trump to undergo medical check amid swirl of allegations over his health
–– Critics want craniorectal exam.
Theresa May: I'm not concerned about Donald Trump's mental stability
–– 'I've got Boris Johnson to worry about.'
These Boris Johnson articles about 'hot totty' and 'tank-topped bumboys' show why he defended Toby Young
–– Sounds like 'top tanked dumboy.'
Trump Could Destroy the Entire Human Species, Says Yale Psychiatrist Who Warned Congress Members
–– So he is God like he thinks.
London, Warsaw and Jerusalem celebrate "No Pants Day"
–– Israelis' cut short.
Seth Meyers Savages Sexual Predators Harvey Weinstein and Kevin Spacey in Golden Globes Monologue
–– But they like it rough.
Saudi Arabia Jails 11 Royal Family Members Who Didn't Want to Pay Their Own Bills, Report Says
–– No great sheikhs.
Trump Says U.S. 'Not Going To Look Foolish As Long As I'm Here'
–– Nothing does when he's there for comparison.
Ryan Seacrest didn't want to talk about the Time's Up movement
–– Preferred Up Times.
It's Not Genius For Trump To Point To Reagan When Defending His Mental Stability
–– Forgot about Alzheimer's.
Wolff Says White House Spoke Of Replacing Trump Via 25th Amendment 'All The Time'
–– Part of daily prayer.
Sen. Tom Cotton on Wolff book: Trump has 'been active, engaged and effective leader'
–– Radioactive, engaged in larceny, ineffective.
Before losing battle with cancer, this 27-year-old woman penned a heartbreaking, eye-opening letter
–– If you want to have stroke, go blind.
Lewandowski Slams 'Fire And Fury' Book, Which Alludes To His Relationship With Hope Hicks
–– She should be angry one.
The Ocean Floor Is Sinking Under The Water Weight From Melting Glaciers, And It's As Bad As It Sounds
–– Sounds good, levels should be lower.
Reese Witherspoon's smoky pink Golden Globes eye look made her whole face glow
–– Like Thomas fire.
Oprah Would 'Absolutely' Run for President, Stedman Graham Says
–– And this is good news?
President Trump's Schedule Heavy on 'Executive Time'
–– On throne.
Stephen Miller had to be escorted off CNN's set after his interview with Jake Tapper went off the rails
–– On crazy train.
Water leak floods JFK Airport baggage claim, forces evacuation
–– Carousel doubles as river adventure ride.
Texas Rex stands his ground in the face of Trump administration chaos
–– Good boy, Rex.
Axios: Trump's official West Wing schedule getting shorter
–– Silver lining of week.
NFLer accuses Incognito of racial slurs
–– Unrecognizable ones.
Trump calls his presidency 'consensual,' Twitter responds
–– Country cries #MeToo!
Trump, Defending His Mental Fitness, Says He's a 'Very Stable Genius'
–– Like Flicka, Trigger.
Secretary of State Rex Tillerson: 'I intend to be here for the whole year'
–– 'I also expect to sprout wings this Spring.'
Tillerson says he's 'never questioned' Trump's mental fitness
–– 'Moron's a snug fit for Presidency.'
---
WOLFF BLITZER
Week of 01/05/18
Actual headlines from the internets. You Google 'em.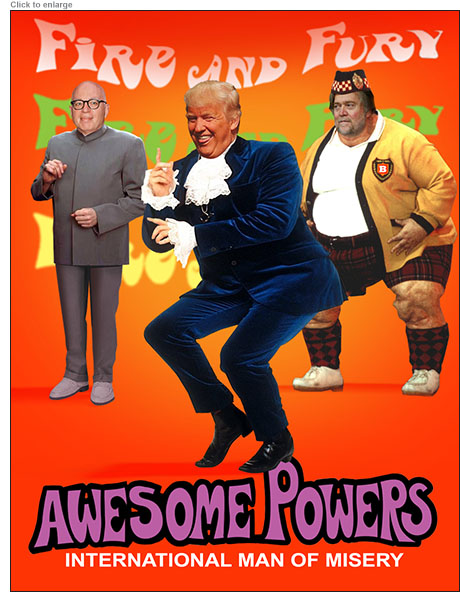 Michael Wolff Thanks Trump for Making His Book #1
–– And Trump loves #1, ask Russian hookers.
Moore's Jewish lawyer is a practicing Christian
–– Praise Jesus!
Wolff Book: Trump Is 'Incapable of Functioning' in His Job, Can't Recognize Old Friends
–– Old friends amused, relieved.
Michael Wolff to Trump: 'Where do I send the box of chocolates?'
–– Trump: "My mom always said life was like a box of chocolates."
Trump lawyer sends cease-and-desist to Michael Wolff publisher
–– Over excessive celebrating.
Donald Trump Called Melania His 'Trophy Wife,' Barely Spent Time With Her Before Presidency and Was Absent Father to Barron, Book Claims
–– Like Trump's elusive Emmy, only with less to say.
Science has a solution for that constant ringing in your ear
–– Non-hoop earrings.
Doug Jones' gay son sentences Mike Pence to life in side-eye prison
–– Pence has minister perform exorcism after swearing-in.
Teacher mom, 38, charged in sex romps with six teen boys is now focus of three new lawsuits
–– Reading, 'riting, rhythm stick.
Trump Told Hope Hicks She Was 'The Best Piece Of Tail' Corey Lewandowski Would Ever Have, Book Claims
–– 'Until we gang-banged Lady Liberty.'
Sarah Huckabee Sanders kills irony dead, once and for all
–– Pardox on life support.
'Today' Show Staff Not Upset Over Loss of Matt Lauer, Source Says
–– Female interns can finally pick up paper clips on floor.
Who Will Get Charles Manson's Body? A Legal Battle Is Underway
–– Let satanists have him.
Golden Globes Men's Fashion Preview: The End of Peacocking?
–– Start of Pussywhipping?
BAFTA Awards: Stephen Fry Steps Down as Host
–– Fry stirred.
Trump Plans Vast Expansion of Offshore Drilling
–– Slick move.
White House: It's 'disgraceful and laughable' to question Trump's mental fitness
–– Because mental fitness is both.
Weight Watchers soars on DJ Khaled endorsement
–– Like the Hindenburg.
Australia wants to sell pot to the world
–– Will roo the day.
Trump administration eases penalties against negligent nursing homes
–– In preparation for his upcoming stay.
"You Can't Make This S--- Up": My Year Inside Trump's Insane White House
–– But that's exactly what he does.
Researchers Discover Two Major Flaws in the World's Computers
–– Chips are down.
Republicans in South Carolina want to honor black Confederate soldiers. There's just one problem...
–– There was as many of those as black Kings of Norway.
White House bans personal cell phones from the West Wing
–– Two-way wrist radios OK.
Flub costs 'Jeopardy!' contestant
–– Isn't that game?
Anthony Scaramucci: Donald Trump's view on climate change would surprise people
–– But we think it's Martian hoax, too.
Scaramucci to Bannon: Get back to therapist
–– Aroma therapist.
Sessions to rescind Obama-era pot rules
–– In boldest move of New Year, 1958.
Jewels stolen from Venice exhibition in brazen daytime heist
–– Thieves escape in unmarked gondola.
Trump dissolves voter fraud commission
–– In warm spit.
Cryptocurrency boom: Why everyone is talking about ripple
–– Need cheap buzz.
Iceland makes it illegal to pay women less than men
–– Will Reykjadik over coals.
Paul Sorvino Threatens Harvey Weinstein- 'I Will Kill That Motherf---er'
–– Pauly walnuts.
Donald Trump Responds To Utah Senator Orrin Hatch's Retirement
–– Downs the Hatch.
Report: Scaramucci telling friends that Trump wants him back in the White House
–– Isn't finished Mooching off taxpayers.
White House Says Secret Rounds Of Golf Make Donald Trump A Better President
–– Anything the keeps him out of office.
Woman who punched male groper defends actions and attire: 'A human's body is their own'
–– Quite a handful.
Hoda Kotb's 'Today' Salary Far Less Than Matt Lauer's
–– Will get door-locking button at desk.
Bannon: 2016 Trump Tower meeting was 'treasonous'
–– Crossed words.
Mueller Will 'Crack Trump Jr. Like an Egg,' Says Bannon, Branding Russia Trump Tower Meeting 'Treasonous'
–– Make Eggs Benedict Arnold.
Trump unloads on former top aide Bannon: 'He lost his mind'
–– Like misplacing spare key.
Trump's latest on Bannon: 'He called me a great man last night'
–– 'And said it was best sex he ever had.'
'Idiot': Murdoch mocked Trump after phone call on immigration, book claims
–– Fox and hound.
11 dead from cold as East Coast braces for winter 'bomb cyclone'
–– Direct from Weather Channel's Office of Scary Names.
Sumner Redstone's Ex-Companion Loses Bid to Revive Health Care Case
–– Would first have to revive him.
Mike Tyson to Open 40-Acre Marijuana Resort 'Tyson Ranch' in Southern California
–– With a mule?
Recreational Pot Is Officially Legal in California
–– Cali high is calling.
Mudslide danger replaces fire threat in Southern California
–– But now nobody cares.

It's not just pot: California's legislating guns, tampons and diaper changes in 2018
–– Hits, slits, shits.
Pot Panic: Fox News' Laura Ingraham Roasted After Criticizing CNN New Year's Eve Coverage
–– Refer madness.
Trump taunts North Korea: My nuclear button is 'much bigger,' 'more powerful'
–– Offers to show Kim, if he shows first.
Meghan Markle unrecognizable in never-before-seen holiday photo
–– That's her foot sticking out from behind tree.
North Korea Leader Kim Jong Un Breaks Tradition With Gray-Colored Suit for New Year's Address
–– Drab Party suit at Chinese laundry.
Peggy Cummins, Legendary Femme Fatale of 'Gun Crazy,' Dies at 92
–– Cummins and goins.
Iran's Supreme Leader blames 'enemies' for protests, death toll hits 21
–– Not 'friends'.
Gretchen Carlson wants to rebuild Miss America Organization to empower women: 'It's a form of justice'

–– Contestants in gowns will be blindfolded, carry scales, swords.
Israeli archaeologists find 2,700-year-old 'governor of Jerusalem' seal impression
–– Included 'flipper' clapping, barks, balancing ball on nose.
Peter Martins Retires From New York City Ballet After Misconduct Allegations
–– Full split.
Dave Chappelle Says Louis C.K. Accuser Has a "Brittle
–– Louis should've been able to handle himself?
CNN's Randi Kaye Reports Live With Lit Marijuana Joint on NYE Telecast
–– In roach clip.
Jodie Foster Says Studios Are 'Ruining' Movies With Big-Budget Superhero Blockbusters
–– But wasn't she Thor's girlfriend?
Dan Talbot, Impresario of Art Films, Is Dead at 91
–– Fin.
Jets never thought about playing Christian Hackenberg
–– Even though he was one of few opponents they might've beat.
All the Stores That Are Open on New Year's Day 2018 — And What's Closed
–– The ones not open.
Trump Slashed Staffing In All Cabinet Departments Except Three, Reversing Obama Hiring Expansion
–– With boxcutter.
Mike Pence's Vacation Home Neighbors Trolled Him With a 'Make America Gay Again' Banner
–– Mike ponce?
Disney Is Bringing Mace Windu Back Into the 'Star Wars' Universe
–– Windu left open.
Trump: Pakistan 'given us nothing but lies & deceit'
–– Talk about regifting.
Rep. Cohen: Trump is "the most despicable human being" ever to be president
–– Then confirmed water's wet.
Trump Booster David Clarke Threatens To Make Media 'Taste Their Own Blood'
–– Licking their wounds?
Kim Jong Un: U.S. War With North Korea Is Impossible Because Nuclear Arsenal Is Now Complete, Button on my Desk
–– 'Next to Diet Coke button, just like American Dotard.'
UN Secretary-General Puts World On 'Red Alert' In Somber New Year's Eve Address
–– Button on his desk reads 'panic'.
Trump Hikes Prices For Mar-a-Lago New Year's Eve Party Tickets
–– Includes Apocalypse surcharge.
Trump to New Year's Eve guests: 2018's 'going to be something very, very special'
–– 'Like a Counsel.'
President Trump, first lady host New Year's Eve bash
–– Take turns punching Jeff Sessions.
Starz Channels Go Dark in New York Area Amid Altice USA Contract Fight
–– Dwarf Starz.
Mariah Carey Redeems Herself on Freezing 'New Year's Rockin' Eve' Do-Over
–– Atonals for her sins.
Who Are Kim Jong Un's Children and Does North Korea Have an Heir?
–– Heir of desperation.
Would Ivana Trump Make a Better First Lady Than Melania? She Says Yes
–– FLOTUS like butterfly, stings like bee.
This Completely Disturbing Fact Will Make You Question the Queen's Royal Marriage to Prince Philip
–– It won't even make me think about it.
New Year's Eve in Times Square sounds like a urine-soaked hell
–– Eternal dampnation.
How cold is it? It's so cold that sharks are dying
–– So don't expect a loan.