The Jeer Hunter

Week of 09/15/23
Actual headlines from the internets. You Google 'em.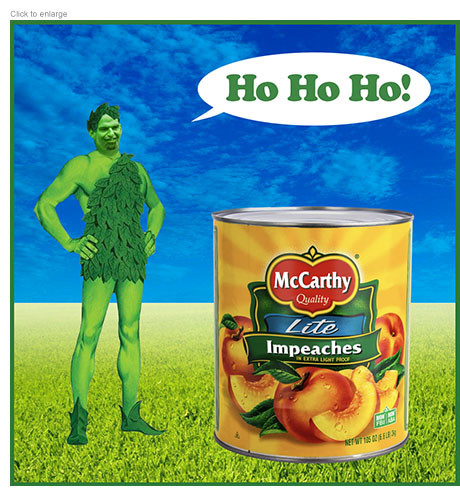 Sen. John Fetterman Feigns Disbelief Over Biden Impeachment Inquiry: 'Oh My Gosh, It's Devastating'
–– Actually impeachy keen on it.
Hunter Biden Indicted on Gun Charges
–– Not hunting rifle?
GM CEO Twists Herself Into Pretzel Trying to Defend Outlandish Salary
–– Like she's wrapped around telephone pole.
Why you shouldn't be surprised that auto workers are asking for a 40% pay raise
–– Greed's job one.
Trump: UAW workers 'being sold down the river'
–– To be ship-builders?
Pretrial-palooza underway for Trump
–– Per loser.
Special counsel seeks 'narrowly tailored' gag order against Trump, citing 'disparaging and inflammatory attacks'
–– Gag for his trap needs to be wide as Christie's cummerbund.
Special counsel's office obtained 32 direct messages from Trump's Twitter account
–– Trump: 'What's that? I never even heard of Twitter'.
'Malignant' Trump Torched By His Former Attorney Who Is Predicted To Flip
–– Heat's one way to remove tumor.
Donald Trump Addresses Wife Melania's Absence from Campaign Trail: 'I Like to Keep Her Away from It'
–– 'My neck.'
In April, Trump said his private-jet LLC was worth no more than $1,001. Then in July, he said it was worth up to $25 million. Why?
–– He makes George Santos look like Honest Abe.
Georgia indicted Trump for trying to overturn the 2020 election. Why hasn't any other state?
–– They're 'gulp' even scummier than Georgia?
Proud Boys leader Tarrio says prosecutors pushed him to implicate Trump
–– Or tell truth for once in life.
How Schadenfreude Is Poisoning U.S. Politics
–– Or making it bearable?
Mitch McConnell left Mitt Romney on read after Romney texted him before January 6 about concerns mobs would burn down McConnell's home and storm the Capitol: book
–– Game, set, Mitch.
Romney to Retire, Calling For a 'New Generation' Beyond Biden and Trump
–– Mitt drops ball.
Joe Biden Has A New Nickname For Donald Trump And It's Historic
–– Reference even older than him.
Giuliani asks judge to rescind charges in Georgia election case citing 'deficiencies'
–– Rudy can be hard on self when drinking.
Chris Christie mocks Trump over the former president's desire to 'debate' Meghan Markle: 'Maybe they can have a Spotify broadcast together'
–– Lie/Counter Lie.
Sen. Tim Scott says people point out that he's single because they 'can't say I'm Black'
–– Can they say 'another rightwing asshole?'
Video shows Boebert vaping after blaming smoke on fog machine
–– Why she's totally vapid.
Footage shows Boebert and her date fiddling with each other's privates at "Beetlejuice" musical
–– Has her by boobert.
Ex-GOP Lawmaker Recalls Wild Moment Colleagues Made His Head Explode
–– That was Riggleman in Scanners?
Michigan jury acquits three men in plot to kidnap Gov. Gretchen Whitmer
–– Lawyers ransom nonsense by jury.
Outflanked by liberals, Oregon conservatives aim to become part of Idaho
–– Tater tot will be state flower.
Inside Kim Jong Un's luxurious — and slow — armored train
–– Weight of bar car reduces speed.
Kim pledges to back Putin's 'sacred struggle' during rare summit
–– They both pray to same god of death.
Shuffle of Russian military chiefs preceded death of Wagner boss Prigozhin
–– Still all jokers.
Biden visits Vietnam to bolster alliance confronting China
–– Phở shizzle.
For Biden, Who Neither Fought in Vietnam Nor Protested War, Trip Offers Opportunity
–– Has been in elected office since Spanish-American conflict.
White House press secretary ends news conference as Biden is still responding to questions from reporters
–– 'Um, uh, no, I can't remember what I had for breakf…'
Here's why many Black people despise Clarence Thomas. (It's not because he's a conservative.)
–– Let us count the ways.
G20 Declaration Omits Criticism of Russia, Notes Ukrainians' 'Suffering'
–– Extends 'thoughts and prayers.'
The former Russian arms dealer known as the "Merchant of Death" who the US exchanged for Brittney Griner is back in Russia and now learning to use a smartphone
–– Sets up Death shop on Etsy.
China preparing for war with US, Air Force secretary says
–– While US calmly awaits Chinese takeover of government, society.
Bret Baier, Fox News Extend Contract
–– Baier necessities.
Mads Mikkelsen shuts down reporter who questions 'lack of diversity' in his new film at Venice premiere
–– Set in 1750s Denmark.
Jeff Bezos's Biological Father Didn't Know He Was The Billionaire Founder Of Amazon Until 47 Years After Giving Him Up For Adoption — He Died Without Ever Speaking To His Son
–– Did have loving relationship with Alexa.
One of Elon Musk's favorite video games taught him the 'life lesson' that 'empathy is not an asset.' It's the opposite of what most CEOs preach
–– Good, we have zero for him.
Musk's college friend quit working with him at Zip2 after only 6 weeks: 'I knew I could either be working with him or be his friend, but not both'
–– 'And salary was better as friend.'
Conan O'Brien says January 6 is 'a blip' compared to how much Trump 'hurt comedy': 'That's his greatest crime'
–– To appear in episode of Night Court reboot to answer for it.
Why We Keep Putting Up With Martin Short
–– Read grimly.
Comedians Are Sticking Up for Martin Short After a Bizarre Op-Ed Called Him 'Desperately Unfunny'
–– Long of the Short of it.
Steve Martin's 'Little Shop of Horrors' costar Miriam Margolyes says he was 'horrid' to her on set
–– Hey, lady, read title.
The Morning Show' Review: Jon Hamm Joins the Watchably Stupid Apple TV+ Soap for a Slightly Less Stupid, Still Watchable Season 3
–– Unreadably stupid review follows.
MTV Video Music Awards: 5 Memorable Moments
–– 5. We forget. 4. We forget. 3. We forget. 2. We forget. 1. Who cares?
Kate Winslet isn't going to waste 'precious energy' criticizing herself when filming nude scenes
–– Audience won't go hard on her.
Harry Styles Flashes His Ridiculously Toned Abs While Swimming in British Duck Pond in New Photos
–– Mallards seemed impressed.
Louis C.K. doc producer says stars who once spoke out against harassment 'declined' film: 'Quite dark'
-– While Louis' still same jerk-off.
Pete Davidson Says He Took Ketamine Regularly for 4 Years Before Going to Rehab This Summer
–– Horse's ass tranquilizer?
Burnt-out from work? Try following Hugh Jackman's 85% rule
–– Or Pete Daividson's 15% rule.
Hugh Jackman and wife Deborra-lee Jackman announce separation: 'Our journey now is shifting'
–– 'We're 85% sure.'
Dakota Johnson Wore the Most Incredible transparent Maxi Dress We've Ever Seen
–– How could you see it?
Haunted Mansion' to Release on Disney+ in October
–– Consider self warned.
Well, of course Bill Maher is bringing his show back without its writers
–– 'No' rules.
Drew Barrymore Gives Emotional Apology to WGA, But Her Show Will Continue: 'There Is Nothing I Can Do That Will Make This OK'
–– Doesn't she owe everyone tearful apology for show?

Hasan Minhaj Admits to Fabricating Stand-Up Stories, Including Daughter's Anthrax Scare: 'The Punch Line Is Worth the Fictionalized Premise'
–– If only he could fabricate laughs.
Mehdi Hasan Reveals Who He Suspects 'The Real' Vivek Ramaswamy Is
–– Hasan Minhaj?
New Godzilla: Minus One Images See the King of the Monsters in Destructive Form
–– For a change.
Prince Harry Will Reportedly 'Never Forgive' King Charles For Revoking Military Titles
–– And taking away life-sized tin soldiers.
Why the Royal Family Didn't Send Public Birthday Wishes to Prince Harry This Year
–– Used insufficient postage for pop-up card.
Found in an Attic, Princess Diana's Iconic 'Black Sheep' Sweater Sells for $1.1 Million
–– Baa, humbug!
New York Jets quarterback Aaron Rodgers to miss the rest of the 2023 NFL season with an Achilles tear, per reports
–– Packers it in.
Jets owner Woody Johnson is privately lobbying GOP megadonors to donate to Trump's campaign
–– Backs another lame over-the-hill anti-vaxxer.
Picasso masterpiece depicting his young mistress could sell for over $120 million at auction
–– For which you could keep 100s of mistresses.
Stolen Van Gogh piece is returned in a bloody pillowcase inside an Ikea bag
–– With tool for reassembly.
The internet's uneasy embrace of 'Catholic Mexican Girl' style
–– ¡Madre de Dios, que mierda!
London's India Club to serve its last curry after more than 70 years
–– End of the matar.
The world's first 3D-printed salmon is hitting store shelves, and it looks kind of good
–– If you have 3D-printed eyeballs.
Smucker is buying Twinkies maker Hostess for $5.6 billion
–– Wins custardy battle.
Former Starbucks CEO Howard Schultz steps down from board of directors
–– Does whole latte good.
Dunkin's newest pumpkin drink contains actual donuts
–– That you dunk in other cups of coffee.
McDonald's is getting rid of self-serve soda machines
–– Will replace with self-serve stomach pumps.
Crazy Mason's milkshakes are as big as my head. I tried to eat one anyway.
–– And have more brain power.
How Did Vanilla Become a Byword for Blandness?
–– White usage.
Fall Recipes For Your Cooking Bucket List
–– But don't tell family you're dying.
Texas student suspended over his loc hairstyle days after state's Crown Act takes effect
–– Hung from ceiling with dreads.
Escaped murderer spotted with new look, Pennsylvania police say
–– Slays in fierce Fall fugitive fashion.
Escaped Pennsylvania killer stole a van over the weekend and tried to contact acquaintances, police say. Here's where the search stands
–– On its ass.
Fugitive Killer Danelo Cavalcante Was 'Forcibly' Taken Down by Police K9
–– Pennsylvania police finally put McGruff on case.
Mafia widow who found new partner was 'murdered and fed to pigs'
–– Preferred to 'sleeping with fishes.'
Dubai police seize over $1 billion of captagon drug smuggled inside furniture
–– Including number of highboys.
Overdoses soared even as prescription pain pills plunged
–– Addicts don't follow script.
A Decongestant in Cold Medicines Doesn't Work at All, an F.D.A. Panel Says
–– Suggests you shove bottle up nose.
SpongeBob Lives in a Pineapple. These Sharks Live in Sponges.
–– Is NY Times writing headlines for 5-year-olds?
A rare fish with 'hands' is spotted in a surprising place
–– Your pocket!
Watch nearly 14-foot gator swim toward Girl Scout troop in lake
–– Not interested unless it made off with box of Samores at minimum.
Moose tramples hiker along Colorado trail, officials remind hikers to keep safe distance
–– Those idiots need reminder to breath.
Washington is full of rats. These dogs are happy to help with that.
–– We will avoid rodent politicians, canine watchdogs joke.
Mosquitoes are annoying and some are deadly. Here's why we can't – and shouldn't – simply kill them all
–– We prefer to make them suffer first.
My Frenchie pays my mortgage — I earn $2,000/mo posting cute dog videos online
–– Of me giving him one.
American XL bully dog will be banned, says Rishi Sunak
–– Typical anti-American… Crikey, they're monsters!
Does your cat truly love you? Science has the answer
–– After sneering at you for asking.
Where Can You Find the Oldest Cat Door on Earth?
–– In oldest cat house?
Archaeologists discover 2000-year-old graves containing burnt human remains
–– In delicious paprika rub.
Smart Toilets and Licking Rocks: Ig Nobel Prizes Celebrate Strange Scientific Achievements
–– We submitted Smart Rocks, Licking Toilets.
When nature calls: Canadian wilderness area offers poop bags to fix fecal furore
–– XL sacks for bears.
On an EV road trip to promote green tech, the US Energy Secretary and her entourage couldn't find enough electric vehicle chargers
–– That skids right past metaphor.
Kilian the sniffer dog searches for survivors after the Morocco quake
–– Vito the hungry vulture seeks others.
Record-high summer temps give a 'sneak peek' into future warming
–– Like trailer for The Day After Tomorrow.
Hurricane Lee on track to swipe parts of New England with gusty winds, power outages and high surf
–– It's going to make off with them?
ADHD Drug Shortages Worsen as Makers Say Production Is Maxed Out
–– We said 'ADHD drug shortages worsen as makers say production is maxed out!'
Fraudsters may have stolen $1 of every $7 in covid jobless aid, watchdog finds
–– Flu the coop.
Jimmy Buffett's wife Jane Slagsvol pays tribute: 'Every cell in his body was filled with joy'
–– That's what killed him?
Jimmy and Rosalynn Carter are 'coming to the end' but together and 'in love,' their grandson shares
–– And 'in no hurry.'