GLOSS FINNISH
Week of 07/13/18
Actual headlines from the internets. You Google 'em.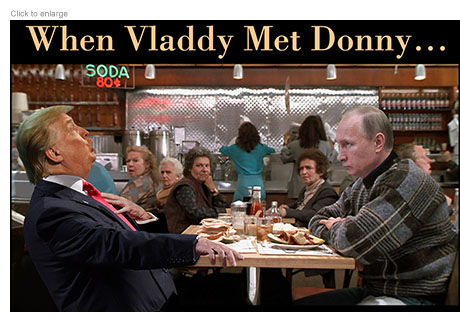 For Putin, Helsinki talks with Trump a win before he even sits down
–– Hell sinki in the West.
Rosenstein: Think as Americans, not partisan
–– Or just think.
Trump says Putin meeting 'may be the easiest of them all'
–– Bringing From Russia With Love DVD as gift.
Here's What Vladimir Putin and Donald Trump Talk About When No One Else Is Listening
–– Whisper sweet nyetings.
12 Russian Intelligence Officers Indicted in Hacking Tied to the Clinton Campaign
–– Which witch is which?
Trump Invited the Russians to Hack Clinton. Were They Listening?
–– Didn't even need bugs, headphones.
Despite Russia election bombshell, the Trump-Putin show will go on
–– Don't want to disappoint the kiddies.
'Rudeness Upon Rudeness:' Even Theresa May's Opponents Are Taken Aback By Trump's Brexit Attack
–– So far spared U.S.'s 'lewdness upon lewdness.'
Trump Denounces His Own Attack on Theresa May as, Yes, "Fake News"
–– Actually is when direct quote.
Trump in the U.K.: President Tells May Ties Are at 'Highest Level of Special'
–– 'Y'know, right between sailor's knot and full bondage.'
Roughly 250,000 Turn Out to Protest Trump in London
–– Protest roughly.
'Downton Abbey' Movie Officially a Go With Series Cast Returning
–– Plus Trump as Isis.
Peter Strzok Hearing Descends Into Chaos After First Question, Republican vs. Democrat Shouting Match
–– Strzok dumb.
Gowdy and FBI agent Strzok in angry exchange over anti-Trump texts
–– Serving Trey.
GOP Rep. Gohmert unloads on 'smirking' Strzok: 'How many times did you look so innocent into your wife's eyes and lie to her?'
–– 'Cuz I'm jealous –– I can't do it with m'constituents.'
Republicans walked right into Peter Strzok's trap -- Here's what they missed (and Americans need to know)
–– They are pathetic nitwits.
FEMA Was Sorely Unprepared for Puerto Rico Hurricane, Report Says
–– Left island sore.
As Trade War Persists, Mnuchin Says China Talks Have 'Broken Down'
–– 'Like a paraplegic-powered rickshaw.'
JPMorgan Chase makes $8.3 billion profit thanks to 'healthy' US consumers
–– And 'sick' Congress.
$4.69 billion verdict against Johnson & Johnson's talcum powder
–– There's the rub.
Neil Patrick Harris and Elton John Take Their Families on Vacation — See the Adorable Kid Pics
–– Aww, do we gotta?
Spicer describes Trump as 'a unicorn, riding a unicorn over a rainbow' in new book
–– With him sitting on one of horns.
Great white shark makes U-turn off Carolinas coast. It may mean 'something big,' researchers say
–– They've been to Myrtle Beach.
How Banning Plastic Straws Could Make Pollution Even Worse
–– Sucks either way.
Kellogg's Honey Smacks Cereal Linked to 100 Salmonella Infections, CDC Warns
–– And 125,000 timeouts.
Racial Slur Leads to Papa John's Founder Quitting Chairman Post
–– Shit pie no matter how you slice it.
Papa John's to remove founder's image from ads
–– Make Schnatter-proof.
Michael Jackson was 'chemically castrated' by his late dad, claims singer's ex doctor
–– So Billie Jean not his lover, child not his son.
Dr. Conrad Murray hopes Joe Jackson 'finds redemption in hell'
–– With Michael's help.
Backlash over Forbes dubbing Kylie Jenner 'self-made'
–– Like paramecium.
Trump Thought Bill Shine Was Victimized By #MeToo. Then He Hired Him
–– Groped out to him.
HHS secretary: We're performing great act of 'generosity and charity' for immigrant children
–– 'Like when you give cookie to child you molested.'
Government Says Half of Separated Kids Under 5 Won't Be Reunited
–– To be remanded to Miss Hannigan's orphanage.
'Bad Girls Club' Star Arrested for Allegedly Stealing From Dead Man
–– Novel brand building strategy.
North Korea Criticizes 'Gangster-Like' U.S. Attitude After Talks With Mike Pompeo
–– Got that right.
White House thinks Pompeo's North Korea visit went 'as bad as it could have,' report says
–– Trump satisfied as long as it was superlative.
Kim Jong Un may have purposefully clowned the Trump administration by ditching his Secretary of State for a potato farm
–– Where he'd see eye-to-eye.
North Korea fails to attend talks on repatriation of US war dead
–– Stiffed negotiators.
Trump releases letter from Kim Jong Un, touts "great progress"
–– Expects 'amazing' Christmas card in coming months.
Authorities Release Paul Manafort's Mugshot
–– Move over Nick Nolte.
Brett Kavanough's Explanation for His Crippling Credit-Card Debt is Pure MAGA
–– Doesn't explain why he isn't Secretary of Treasury.
The next Air Force One could be red, white and blue
–– Gold for body-spanning 'T'?.
Stormy Daniels Arrested For Hitting Cop With Her Breasts
–– Dirty pillow fight.
Charges against Stormy Daniels are dismissed after Ohio strip club arrest
–– Dropped like G-string.
Justice Department reopens investigation into 63-year-old murder of Emmett Till
–– Sessions hopes to prove it was suicide.
Bradford Smith, Who Showed Postcards From Outer Space, Dies at 86
–– Of really hot Venusians.
Patricia Schiller, a Sex-Education Pioneer, Dies at 104
–– Maintained erection for over a century.
What to Do if You Spill on Your Laptop
–– Wipe joy juice off.
Elon Musk's Thailand cave rescue would use a 'kid-size' submarine
–– 6-inch Subway.
Father of Australian doctor died just after trapped Thai boys were rescued
–– Even as cousin of Tasmanian postal worker fell into coma.
Thai Caves Where Schoolboys were Trapped to be Turned Into a Museum
–– Presumably closed during monsoon season.
Paul Manafort thinks he's being treated like a 'VIP' in jail, special counsel says
–– Very Impotent Person.
Zsa Zsa the English Bulldog, 'World's Ugliest Dog,' Dies at 9
–– Fleas scene.
Driver flees crash scene after smashing into Yaxley petrol station
–– Was already tanked.
Jordan: 'To think I would not stand up for my athletes is ridiculous'
–– 'Especially when they were already at full mast.'
How can you tell if a shark is in water? SC man has 'foolproof' trick experts endorse
–– Guy over there with one arm.
Slain Teen Renard Matthews Propped in Front of TV as He's Displayed in Funeral Home
–– Ironically watching The Walking Dead.
Trump's Former Personal Driver Sues Claiming Years Of Unpaid Overtime
–– Driving mess crazy.
Australia monster croc caught after eight-year hunt
–– Charged with amphibious assault.
Rick Santorum Turns On Trump: He 'Just Bowed To The Washington Elite'
–– 'Which is a position that makes it easier for me to kiss his ass.'
'Fox & Friends' Trashes Trump's Supreme Court Pick: 'The Swamp Wanted Judge Kavanaugh'
–– Let's not get bogged down in details.
White House does not dispute report that Trump struck a secret, corrupt deal with Justice Kennedy
–– Judge for yourself.
Kavanaugh kicks off effort to sell himself for high court
–– Touts Roe v. Wade rebate special.
Schumer: Trump picked Kavanaugh for protection from Mueller
–– Promised to take writ for him.
Disney Pushes 'Indiana Jones 5' a Year to 2021; Dates 'Maleficent,' 'Jungle Cruise'
–– Gets to first base with 'Jungle Cruise.'
There's a British campaign to make Green Day's 'American Idiot' the No. 1 song when Trump arrives
–– Shower the People his No. 1 song.
Business Insider introduces new guidelines for 'culturally sensitive topics' after deleting story
–– In latest slang for 'censorship.'
Trump pardons ranchers whose case sparked Bundy takeover of Oregon refuge
–– Why not Ted Bundy?
Trump says he hasn't brought up issue of abortion with Supreme Court pick
–– Came preapproved by right-wing Federalist Society.
Smucker is saying goodbye to Pillsbury and its doughboy
–– Rolls him.
Johnny Depp Sued for Allegedly Punching Crewmember on Movie Set
–– Depp charged.
'Star Wars': Billy Dee Williams Reprising Role as Lando Calrissian
–– One more original star to kill off.
Carrie Fisher Once Asked William Shatner to Sign a Slave Leia Photo
–– Shatner asked her to sign him 'where no man has gone before.'
Stephen Miller reportedly threw out $80 worth of sushi after a bartender at the restaurant flipped him off
–– May have included some relatives.
Simon Pegg on Battling Alcoholism, Depression: "It Owned Me"
–– Brought down a Pegg.
Boys recused Monday were in better condition than those who came out Sunday
–– But cannot discuss in sworn testimony.
A Black Man Wore Socks in the Pool. After Calling the Police on Him, a Manager Got Fired.
–– Black sox scandal.
Prince Harry Gifted Meghan Markle a Super-Romantic Piece of Art
–– Black velvet painting of him as ginger Fabio.
Mitch McConnell Confronted By Protesters Asking: 'Where Are The Babies?'
–– After he ordered shrimps for dinner.
Sacha Baron Cohen Asks Dick Cheney To Sign A Waterboard Kit In New TV Show Teaser
–– His signature model?
Sarah Palin Claims 'Evil' Sacha Baron Cohen Duped Her into an Interview by Posing as a Disabled Vet
–– After 'evil' Alexa made her buy
From hopeful to concerned: Lobster industry hard hit by Trump trade war
–– Feeling pinched.
Toddler, 2, dies of self-inflicted gunshot with parents not home
–– Couldn't bear life with neglectful idiot parents.
Scott Pruitt's Loophole for Glider Truck Manufacturers Faces Backlash
–– Backfires?
Ivanka Trump's Chinese-Made Products Conveniently Spared From Dad's Tariffs
–– He reserves right to lay private customs on her.
More than 200 hit by parasite from Del Monte vegetables; symptoms can include 'explosive' bowel movements
–– Del Montezuma's revenge.
Why you might want to wrap your car key fob in foil
–– So it keeps for lunch the next day.
Starbucks is eliminating plastic straws from all stores
–– By adding more plastic to lids.
Trump at NATO summit: 'Germany is totally controlled by Russia'
–– 'Ich bin there.'
Merkel responds to Trump: 'I have witnessed' Germany under Soviet control
–– Trump, 'Ahh, the days of that big beautiful wall!'
John Kelly Was Upset With Breakfast, Not Trump, At NATO Summit, White House Claims
–– Bad eggs at table.
Trump claims to have forced Nato members to spend more, but fails to provide evidence
–– Also insists he got Merkel to pronounce first name Anjela.
Boris Johnson resigns in major Brexit blow to UK PM Theresa May
–– And major victory for British hairstylists.
Tab Hunter, 'Damn Yankees' Star and Gay Icon, Dies at 86
–– Delete Tab.
Giuliani 'Close To Determining' That Trump Won't Sit Down With Mueller
–– Still not sure if they want to defend contempt charges?
Giuliani seems to say Trump asked Comey to give Michael Flynn 'a break'
–– Or his goons would give Comey's leg one.
Trump team not worried about Michael Cohen: 'As long as he tells the truth, we're home free': Giuliani
–– 'Y'know home in the Big House.'
Emmanuelle Seigner, Roman Polanski's Wife, Rejects Invitation to Join the Academy
–– Expresses Repulsion.
Airbus unveils Beluga XL complete with whale-themed livery
–– Avoid seat under blowhole.
3 YouTube Travel Adventurers Die in Waterfall Accident in Canada
–– Needed RubberTube.
Every Episode of 'Sharp Objects' Will End With a Mental-Health PSA Urging Viewers to 'Please Seek Help'
–– That's En-ter-tain-ment!
Steve Bannon Called "Piece of Trash" By Heckler in Virginia Bookstore
–– Good read.
Trump's lawyers want 'factual basis' from Mueller before agreeing to interview
–– Mueller wants same for his presidency.
As Haiti protests continue, US citizens warned to shelter in place
–– Haiti gonna hate.
GOP candidate in Kansas: 'Outside of Western civilization, there is only barbarism'
–– Standing in strip mall at Cirilla's Adult Entertainment Store between Flatland Vapes, Cash 2 Go down the road from Leavenworth Penitentiary.
New Bruce Lee bio debunks myths about the 'kung fu Jesus'
–– No wokking on the water.
---
PRUITT AWAKENING
Week of 07/06/18
Actual headlines from the internets. You Google 'em.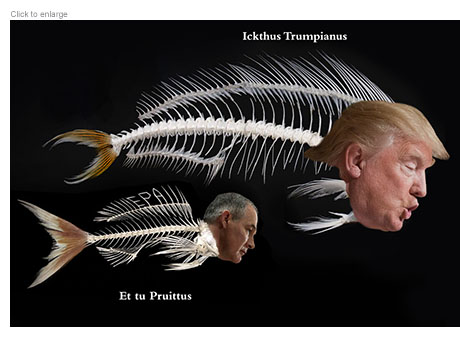 EPA's Scott Pruitt is gone, but the Trump adminstration's culture of corruption remains
–– Poisoned fish rots from head.
Bill Shine officially joins Trump administration
–– Another bright idea.
Arnold Schwarzenegger: Scott Pruitt 'will go down in history books' as 'the worst' EPA chief ever
–– Leave room on page for successor Wheeler.
Pruitt in resignation letter to Trump: You are president because of God's providence
–– Jehovah's witless.
Thai Cave Rescue Will Be a Murky and Desperate Ordeal, Divers Say
–– Like last 18 months of Pruitt.
Politico: EPA intentionally delayed release of cancer study, officials say
–– Consistent with pro-growth agenda.
19 parents with kids under 5 have already been deported, Justice Department says
–– 'But kids told us how much they loved deportes.'
Donald Trump Boasts His Crowds Bigger Than Elton John's Using Only Mouth "Hopefully Attached" To His "Brain"
–– Would never compare to Lil Rocket Man's.
Trump at Montana rally: "Democrats want anarchy," mocks "Me Too" movement
–– Then why didn't they vote for him?
Trump Assails Bush, Warren and #MeToo. Putin? 'He's Fine'
–– Not first time he got away with assailing bush.
Chrissy Teigen brands Donald Trump a 'dipsh*t' after he mocks the #MeToo movement
–– Ipse dipshit.
Man accused of tossing drink at pro-Trump teen inside Whataburger arrested
–– A MAGAhit.
'Trump Baby' balloon gets mayor's approval to fly over London during POTUS visit
–– Has one-tenth hot air of original.
Claude Lanzmann, Epic Chronicler of the Holocaust, Dies at 92
–– Shoah stopper.
Gudrun Burwitz, Ever-Loyal Daughter of Himmler, Is Dead at 88
–– Reunited with papa below.
Steve Ditko, Spider-Man Co-Creator and Legendary Comics Artist, Dies at 90
–– Steve did go.
Lions kill suspected rhino poachers who sneaked onto South African game reserve
–– Which qualifies as 'feel-good story' of week.
Anthony Bourdain worth only $1.21M at the time of his death
–– To really put life in perspective.
Chris Brown arrested moments after concert in Florida
–– Tough critics in West Palm.
Maker of Jack Daniel's worried about impact of trade war
–– Won't it boost sales to stressed CEOs?
As Trade War Begins, Feds Eye $30 Billion Bailout Fund For Farmers Facing Losses
–– From their $34B tariff plan.
Fox News' Brit Hume Deletes "Democrats Don't Love America" Tweet After Backlash
–– Hume and cry.
Anti-Trump comedian Michelle Wolf compares Ivanka to 'vaginal mesh,' 'herpes' in vulgar attack on first daughter
–– Wolf at the whore.
Guy Pearce reflects on working with Kevin Spacey, calls him 'handsy'
–– Not in applause sense.
Andy Dick Gropes Ivanka Trump's Leg in Resurfaced 'Kimmel' Video
–– Handsy Andy.
James Woods Dropped by Agent Over Politics, Actor Says
–– Taken to Woods shed.
Analysis: After summit, Pompeo wants nuke details from Kim
–– Wasn't that meant for before summit?
'Ant-Man And The Wasp' Bound To Swell To $155M+ Worldwide Start, But Could Grow Bigger
–– Depending on stinger.
Yvette Nicole Brown on Replacing Chris Hardwick at Comic-Con: 'I Am Filling in for a Friend'
–– Like in All About Eve.
Woman Who Scaled Statue Of Liberty Was Protesting Trump's Immigration Policies
–– Your huddled asses yearning to be free.
2 weeks ago, half a bourbon warehouse collapsed. Now, the other half is down
–– Falling down drunk.
Houston streets flood after heavy rains, sparking memories of Harvey
–– Must they blame everything on Weinstein?
Injured woman begs bystanders not to call ambulance
–– Many still said, 'You're an ambulance.'
Woman, 92, allegedly killed son who wanted to put her in a nursing home
–– Does state pen have elder care wing?
Arnold Schwarzenegger mocks Trump on coal, asks if he'll bring back Blockbuster next
–– Or star at 70 in Terminator sequel.
Snoop Dogg invests $10 million in British weed company with Patrick Stewart
–– On drug Enterprise.
Bear relaxes in backyard, drinks a margarita
–– Then returns to hacking 2018 election.
UK reportedly tells Trump he cannot meet with Brexit architect Nigel Farage
–– Does UK still have sodomy laws?
Mexico's president-elect shuns guards, asks 'people' for protection
–– Cartel bosses: 'We're people.'
'This is what depression looks like': Viral post shows how difficult the little things are with depression
–– Shows NASA shot of North America.
What Has Donald Trump Refused to Throw Out the First Pitch During His Presidency?
–– What indeed.
'Art Of The Deal' Co-Author: Trump 'Incapable Of Reading A Book, Much Less Writing One'
–– Could start burning one.
JK Rowling is mocking Trump for making a spelling error in a tweet boasting about his writing prowess
–– He's Wizard of Id.
An Unusual Jailbird Is Found at Rikers Island: A Snowy Owl
–– Where Harry Potter's doing time.
Bipartisan Senate Panel Gives Middle Finger to Devin Nunes
–– After removing from own ass.
Scott Pruitt 'asked government aide to find six-figure job for his wife', staffers claim
–– 'Y'know more that $1000 and change. Now!'
Pruitt directly asked Trump to replace Sessions with him
–– Swap meatheads.
Official: Pruitt 'inching forward to the tipping point
–– Like toxic ooze through drain pipe.
Michael Avenatti Says He Could Run for President Against Trump in 2020
–– Scaramucci for dog catcher.
Cable News Ratings: 'Ingraham Angle' Has Best Month to Date, MSNBC Grows in Total Viewers
–– Proving America loves car wreck.
When the 4th of July is on a Wednesday, your long weekend gets confusing
–– If you're complete idiot.
Trump pledges July 9 announcement on Supreme Court nominee
–– Maybe we can extend July 4th holiday several years.
Sacha Baron Cohen Teases New Project With Trump Fourth of July Greeting
–– Trump: 'Unfunny loser would be nothing without me. Steals everything, even my son's name.'
Trump's Independence Day Speech Stresses America's "Win" Over Great Britain
–– "Surrender at Appomattox was sweet."
Despite July 4 deadline, Giuliani says no decision on cooperation with Mueller
–– Another dud.
MLE Considering Electronic Scoring After Nathan's Hot Dog Eating Miscounts
–– That old Chestnut.
Soccer-Hotdog-munching trio in Russian garb unlikely stars of World Cup
–– Would be bigger if they downed 222 in ten minutes.
Trump asked advisers about invading Venezuela in 2017
–– Asked if US ever fought in Asia before.
For Trump and 'Angel Families,' a Mutually Beneficial Bond
–– Between heaven, hell.
Poland Purges Supreme Court, and Protesters Take to Streets
–– Used 100 kielbasi, 50 kilos of sauerkraut, 35 cases of vodka.
Top Chinese executive dies after falling from wall in France
— Not a great wall.
Barnes & Noble fires CEO for violating company policy
–– He books.
The government is refusing to release new stats on kids from separated families
–– DHS: 'Like we even know.'
GOP Rep. Jim Jordan denies accusations he turned a blind eye to alleged sexual abuse
–– "Bull. I was positively gawking when Doc Strauss grabbed wrestlers' junk."
Congressman Jim Jordan rebuts claims he ignored sex abuse allegations
–– "Doc woulda 'rebutted' them wrestlers, too."
US Customs Seizes 108 Fake Super Bowl Rings Being Shipped from Hong Kong
–– Ordered by NY Jets.
Jar Jar Binks Actor Says He Considered Suicide After 'Star Wars' Backlash
–– With jar jar of poison?
Senate panel agrees with intel community that Putin was trying to help Trump
–– House panel awaits president's tweet to reply.
Anti-Trump mood sways Mexican voters in U.S. in favor of Lopez Obrador
–– Making other countries great again, too.
Olivia de Havilland turns 102, outlives rest of 'Gone with the Wind' cast
–– Who are.
David Foster's Daughter Erin, 35, Calls Katharine McPhee, 34, 'Mommy' After Engagement News
–– Calls father 'Creepy'.
Daredevil's Charlie Cox STILL Hasn't Seen Infinity War
–– Duh, he's blind!
Trump Orders Flags to Half-Staff for Capital Gazette Victims, in Apparent Reversal
–– Ironic because lowering standards his specialty.
Trump: I've interviewed 4 potential justices
–– With 2 questions: 'How do you like hair?', 'Can I pardon myself?'
Trump completes interviews of Supreme Court candidates, as short-list shrinks
–– To moral midgets who'd do his bidding.
Morning Spin: Emanuel says departing Supreme Court Justice Kennedy not 'a modern-day King Solomon'
–– He'd chop up baby either way.
Justice Clarence Thomas leading the US supreme court? A scary thought
–– Using sign language?
Susan Collins, Pivotal Moderate, Says 'Hostility' to Roe Would Sway Her Vote
–– Wades into it.
Schumer urges Trump to tap Merrick Garland for Supreme Court
–– Breaks Vegas trying to calculate astronomical odds against.
Alan Dershowitz is firing back over his 'shunning' on Martha's Vineyard
–– Claims Black Dog purposely shat on lawn.
Trump Has a Bill That Would Blow Up the WTO. It's Called the U.S. FART Act.
–– Whiffed on deal.
Roseanne Barr Says She's Been Offered 'So Many' Projects Since Being Fired From 'Roseanne' Reboot
–– But preferred not wearing hood while performing.
Dutch Prime Minister Mark Rutte Tells Off Trump Right To His Face
–– Now he's in Rutte.
After fish pedicure, woman loses her toenails
–– Should've known fish don't have feet.
CO2 Shortage Puts Beer Supplies In Danger Until September
–– Brewers not feeling pressure.
Experts say algae is the food of the future. Here's why.
–– Experts suck.
Philippines mayor Antonio Halili shot dead by sniper, police chief says
–– Head's out.
Second Philippine mayor shot dead in two days
–– Two heads better than one.
Netflix Is No. 1 Choice for TV Viewing, Beating Broadcast, Cable and YouTube (Study)
–– Stream of consciousness.
Trump Administration Reverses Obama on Affirmative Action
–– New policy: Negative Inaction.
Republican Congressman Says Rod Rosenstein Is Spying On Him And His Staff Without Providing Any Proof
–– Gohmert says he can feel his eyes 'all over me' when changing in House gym locker room.
TNT Renews 'Animal Kingdom' and Claws'
–– Needs series based on 'Jaws.'
A cruise ship crew member falls overboard -- and is rescued 22 hours later by another cruise ship
–– In outline for plot of sequel to Overboard remake.
The $6.3 trillion debt binge: American companies have never owed this much
–– Crossing red sea.
Tesla finally hits Elon Musk's target for the Model 3
–– To convince enough insecure monied weenies to buy it.
Madeleine Albright calls Trump 'most undemocratic president in modern American history'
–– Unless you count co-President Putin.
Cohen says his loyalty is first to family and country, not Trump
–– And own ass.
Michael Cohen: "I Am Not a Villain of This Story"
–– You could be our hero.
Michael Cohen drops Trump attorney label on Twitter
–– Replaces with more accurate 'Mob Mouthpiece.'
"Stuttering John" Melendez Talks Prank-Calling Trump, "Secret Service" Visit and Why He Called Michael Avenatti
–– Needs a-a-a-t-tention.
Neighbor calls police on a 12-year-old boy for mowing the wrong lawn
–– Sod 'er.
'Orange Is The New Black' Actress Tearfully Recalls Being Separated From Family at D.C. Immigration Rally
–– Found them at Starbucks 20 mins. later.
At Toys 'R' Us, 'There Is Nothing Left': The Day It Closed for Good
–– Geoffrey the Giraffe found safe after failed hanging attempt. Not enough rope.
As Bolton Says North Korea Could Disarm in a Year, Reality Lags Promises
–– Reality full-on trolling efforts.
Bolton: Trump will discuss election meddling with Putin
–– If you can call joking discussing.
U.S. softens North Korea approach as Pompeo prepares for more nuclear talks
–– Any softer and negotiations will occur on Casper mattress.
Trump brashly declares: 'If not for me, we would now be at War with North Korea!'
–– 'I single-handedly stopped that madman who rules US!'
Shark drags woman into crocodile-infested waters in Australia
–– Didn't see 'Don't Feed the Sharks, Stupid' sign.
Donald Trump says Democrats want to see 'all police' abolished in early morning Twitter rant
–– Not until after his perp walk.
Restaurant manager sacked after refusing to serve customer in MAGA hat
–– Brimming with anger.
GOP senator: Report that North Korea will not denuclearize 'very troubling'
–– Or 'totally predictable.'
Trump: Critics 'Better Just Take It Easy'
–– 'Or I'll sic Jared on you!'
'Smiling' Somali Pirate Says Jailers Have Ruined His Grin
–– Or was it well-endowed fellow inmates?
Trump claims he never pressured House GOP on immigration bill, despite tweeting otherwise
–– Even he doesn't believe own BS.
Indians reliever Oliver Perez made history without throwing a single pitch
–– Walk us through that.
Obama: Pelosi will be Speaker again after November midterms
–– Because Democrats really are masochists.
Kevin Feige Explains Why Marvel Studios Expanded to 3 Films Per Year
–– By sending link to Box Office Mojo.
Did Avengers 4's Cinematographer Accidentally Reveal The Title?
–– Body later found with Stormbreaker marks to head.
Morrissey postpones European tour dates amid dispute over racism claims
–– Fans depressed. Habitually.
Trump's on a hot streak: Court rulings, vacancy, summit plan
–– Leading straight to Hell.