FLIP FLOP
Week of 09/14/18
Actual headlines from the internets. You Google 'em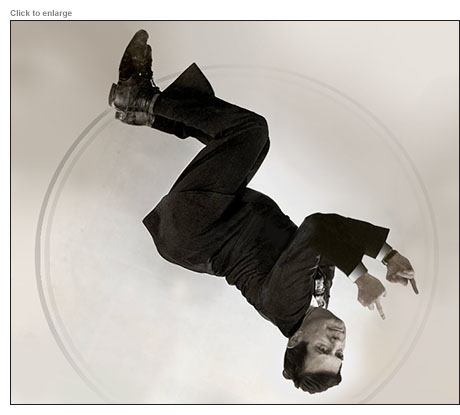 Paul Manafort breaks
–– Wind.
Paul Manafort to Plead Guilty to Reduced Charges in Deal with Prosecutors
–– Manaffront.
Woman Alleges Brett Kavanaugh Attempted To Rape Her In High School
–– Not Lady Justice.
Brett Kavanaugh wants to do away with legal abortion. He told us so.
–– We used Gobbledygook to English translation software.
Does Brett Kavanaugh have a gambling problem? Sen. Sheldon Whitehouse wants to know
–– Senators who vote on him sure do.

Pompeo blasts Kerry's Iran meetings as 'beyond inappropriate'
–– So 'beyond Trump'?
4,000-year-old Egyptian Tomb of Mehu opens to the public for the first time
–– Can't keep mummy under wraps.
Nike's Colin Kaepernick gamble is already paying off
–– As moral stances always should.
McRaven resigned from Pentagon board days after criticizing Trump
–– No McRaven lunatic.
Clarence Thomas takes jab at Cory Booker over 'Spartacus' comment
–– Quips to Federalist Society, 'he's more a Long Dong Silver, amirite?'
Henri Bendel is closing after 123 years in business
–– Didn't come through in clutch.
Red Sox fan taken to hospital after being struck by errant bat at Fenway Park
–– Had been sleeping in rafters.
'Designing Women' Revival Lands At ABC
–– Reviving some original cast members will be trickier.
Trump signs order to enable sanctions for U.S. election meddling
–– Aides got him to sign by saying he could use against Mueller.
Trump Plans To Pay Millions To Mexico So It'll Deport Undocumented Immigrants
–– But they'll pay for wallet.
Former EPA Chief Scott Pruitt May Soon Have A New Gig. With The Coal Industry.
–– Same job, new title.
Coal is still king in 18 US states. But for how long?
–– Until Trump insists they swear allegiance to him.
Willie Nelson attacked by fans online over upcoming Beto O'Rourke rally appearance in Austin
–– What were they smoking?
Cardinal Who Met With Pope About Sex Abuse Scandal Accused of Mismanaging Priest
–– Couldn't get him off?
The Secret to Cracking Trump's Base
–– Crack, free-base.
The Wall Street Power Lunch Is Back, With Martinis and Impunity
–– Helps dull pain of fucking over poor people.
Top Cancer Researcher Fails to Disclose Corporate Financial Ties in Major Research Journals
–– Cashed in on growth industry.
'You've set back the Jewish contribution': Stephen Miller's former rabbi issues fiery rebuke on Rosh Hashanah
–– Direct from Shondaland.
Norm Macdonald Apologizes for "Down Syndrome" Remark, Tries to Clarify Roseanne Barr, Louis C.K. Comments
–– 'Sorry I was such a retard.'
Build-A-Bear CEO sorry for botched Pay Your Age event
–– Knocked stuffing out of customers.
David Hockney painting poised to smash auction records
–– Not 'Portrait of an Artist (Pool with Two Figures) to make big splash?'
U.S. Has Highest Share of Foreign-Born Since 1910, With More Coming From Asia
–– Trump demands China double height of Great Wall.
Burt Reynolds' Death Certificate Confirms Actor Was Cremated
–– Smoky and abandoned.
Trump is admitting a record-low number of refugees
–– Well, at least he's admitting something.
Vet Reveals What Happens in a Dying Pet's Final Moments, Breaks Hearts Around the World
–– Vomit, gassy discharge.
Ex-Trump Org. Executive: Trump surrounded by 'cowardly people'
–– 'Like me.'
Donald Trump Sparks Backlash for Doing a Double Fist Pump as He Arrives at 9/11 Memorial Service
–– 'I was respectful…one for each tower.'
Here's Why Yum China Holdings Inc. Stock Fell 12.5% Today
–– Investors' bad taste.
Karlie Kloss Lost Modeling Jobs After Going on Birth Control: 'My Body Became More Womanly'
–– Was graded on curves.
Hurricane Florence's tropical storm-force winds begin lashing North Carolina, life-threatening storm surge and rain predicted
–– TV meteorologists doing rain dance.
Weatherman accused of dramatizing conditions
–– Blow up.
Donald Trump Pounds San Juan Mayor To Assure Carolinians He's Ready For Hurricane Florence
–– Only thing eroded: his credibility.
Trump skewered after calling Hurricane Florence 'tremendously big and tremendously wet'
–– 'Like that kiss on Putin's keister.'
Trump falsely claims nearly 3,000 Americans in Puerto Rico 'did not die'
–– 'Don't those people practice voodoo? I hear most of them were brought back.'
Donald Trump's hurricane tweets show he can always go lower
–– Readings well below record 870 hPa.
20,000 pallets of bottled water left untouched in storm-ravaged Puerto Rico
–– Unpalletible.
Paul Ryan On Massive Hurricane Maria Death Toll: 'Casualties Don't Make A Person Look Bad'
–– And denying them?
Deviating from McCain, Sen. Graham goes all in on Team Trump
–– Past elbow.
Toronto: Jim Acosta Says Donald Trump Is a "Marketing Genius"
–– Sadly product is him.
Pope Francis Summons World's Bishops to Meet on Sexual Abuse
–– Originally scheduled for Bangkok.
The Joke Prince Charles Made After Prince Harry's Birth That Broke Princess Diana's Heart
–– 'He looks like you.'
Eric Trump Accused Of Anti-Semitism For Bob Woodward 'Shekels' Criticism
–– Eric: 'Not racist? Aren't shekels what slaves were in?'
Donald Trump Jr says not worried about going to jail: report
–– Expects family to keep him company.
Madonna's Daughter Lourdes Leon, 21, Walks in NYFW Wearing Risqué Seashell Bra and Unshaven Legs
–– Legs slung around neck.
F.D.A. Cracks Down on Juul and E-Cigarette Retailers
–– Warns no lighter sentences.
Bob Woodward's 'Fear' is the fastest selling book since 'Go Set a Watchman'
–– A sort of sequel to To Kill a Mocking Turd.
Jamie Dimon says he could beat Trump in an election, then retreats
–– Chased.
'60 Minutes' producer Jeff Fager leaving CBS amid allegations of inappropriate conduct
–– Ticked off.
The Recovery Threw the Middle-Class Dream Under a Benz
–– Parked next to bus filled with poor people.
In Texas, Ted Cruz Has 'a Dogfight on His Hands,' Some Republicans Admit
–– Appropriate for mutt.
Brad Peacock Diagnosed with Hand, Foot and Mouth Disease
–– And tail.
'Jeopardy!' host debuts new beard
–– Replaces old wife?
Billie Jean King: Serena was 'out of line,' but umpire 'blew it'
–– Good people on both sides.
Report: Pharma exec says he had 'moral requirement' to raise drug price 400%
–– Speaking through dog God told him to.
Trump: "We are totally prepared" for Hurricane Florence
–– 'We will be on bedroom bed watching coverage on Fox with bagful of Mcdonalds.'
He plans to hunker down during the storm with his pet parrot
–– Who's been practicing safe word.
'Don't use birth control,' Tanzania's President tells women in the country
–– 'Because I want to screw you over.'
Trump Falsely Claims G.D.P. Growth Is Higher Than Unemployment 'for the First Time in 100 Years'
–– 'Calculated in dog years.'
Trump adviser concedes GDP tweet was false
–– But intention to mislead was honest.
Oscar De La Hoya Says He's 'Very, Very Serious' About Running for President
–– Will run on the left, left, right, left.
Alex Rodriguez Works at Wahlburgers After Losing Yankees/Red Sox Bet
–– Called in Marky Mark.
Rep. Mia Love's campaign admits to improperly raising primary election funds
–– For the Love of money!
Why You Should Stop Yelling at Your Kids
–– And start in on parenting experts.
Anthony Bourdain honored with posthumous Emmy awards
–– Confirming wisdom of career move.
NYT: Mulvaney says GOP candidates like Cruz not 'likable' enough, could lose
–– Worms wouldn't eat his corpse.
Pence: Disappointing to see Obama break with tradition
–– After Trump left it bleeding in gutter.
Olivia Munn 'shunned' by co-stars and director of 'The Predator' after sex offender scandal
–– Barren von Munn shun hosin'.
Director Shane Black gets emotional discussing Olivia Munn 'Predator' controversy: I 'caused pain to the cast and that's not acceptable'
–– Unrepentant about movie.
Cryptocurrency wipeout deepens to $640 billion as Ether leads declines
–– Investors tried Oxycontin, but took too long to ease pain.
Kim Jong Un tells Chinese envoy North Korea is upholding U.S. nuclear deal
–– Asks what else he wants to hear.
Cardi B Exits Bash 'Barefoot with Her Dress Ripped and Butt Out' After Nicki Minaj Fight: Source
–– Undercardi bout.
Let Jordan Barrett, Fashion's Newest It Photographer, Take You Inside Frame Denim's Model-Filled New York Fashion Week Dinner
–– No.
'It's the dumbest experiment in human history': Elon Musk rails against fossil fuel use and climate change (TSLA)
–– 'Dude, we need to burn clean Kush, not coal.'
Blue bird from 'Rio' movie now extinct in the wild
–– Can only be found on digital formats.
Cuomo distances himself from, criticizes NY Dems' mailer targeting Nixon as unsupportive to Jewish community
–– After vowing to Semite enemy.
Trump ups ante on China, threatens duties on nearly all its imports
–– And doodies on trade agreements.
Barack Obama once got booted from Disneyland for smoking with his friends
–– Got Dopey.
Erdogan Says Turkey Won't Watch Killings in Idlib From Sidelines
–– Tosses jug of Gatorade, cries, 'Put me in, coach!'
Donald Trump Blames NFL Ratings Drop On Protests; Omarosa Says He's "Poking & Prodding" African Americans
–– Remember Ben Carson's only one in reach.
Mike Pence: I Would Take A Lie Detector Test About Anonymous NYT Op-Ed 'In A Heartbeat'
–– 'If I had a pulse.'
Sweden is starting to talk about leaving the EU — here's what a 'Swexit' might look like
–– Brexit for smaller meatballs.
There's nothing wrong with Meghan's pet name for Harry - it's certainly better than what the Dutch call each other
–– Cloggiepoo.
Watergate's Woodward says Times Trump op-ed not up to his standards
–– Anon. starter.
The Netflix Executives Who Bent Comedy to Their Will
–– Doubled over in pain.
'The Nun' Streaks Past Expectations to Collect Nearly $54 Million
–– Out of habit.
To Restore Civil Society, Start With the Library
–– Check it out.
C.I.A. Drone Mission, Curtailed by Obama, Is Expanded in Africa Under Trump
–– Droning Trump's thing.
Les Moonves is out at CBS after harassment allegations, corporate battle
–– Les is unmoored.
Les Moonves, Longtime CBS Chief, Steps Down
–– Shoot the Moonves.
Leslie Moonves Breaks Silence on CBS Ouster: 'Untrue Allegations … Are Not Consistent With Who I Am'
–– 'I'm way worse.'
CBS' Dilemma: What About Julie Chen's Two Shows In Its Post-Moonves Era?
–– Which to unceremoniously dump her from first?
'Designing Women' Creator Says Les Moonves Sidelined Her Career for 7 Years: 'Go F– Yourself'
–– If he had taken advice, might still have job.
Julie Chen Supports Husband Les Moonves in Her Return to Big Brother: 'I'm Julie Chen Moonves'
–– Stand by your man-thing.
Serena Williams is calling out sexism in tennis. Here's why.
–– She's female, was losing.
Sen. Ben Sasse: I think about leaving the GOP 'every morning'
–– 'Before that first hit of smack.'
Bill Daily, witty sidekick on 'I Dream of Jeannie,' dies at 91
–– Bottled up.
'Plaid shirt guy' removed from Trump rally
–– Replaced by hyena.
Government erred in claiming accused Russian spy Maria Butina offered to trade sex for political access
–– Near-sighted agent mistook coffin for eggplant emoji.
US officials secretly met with Venezuelan military officers plotting a coup against Maduro
–– Scheme was totally Caracas.
---
ANON. JUDGMENTAL
Week of 09/07/18
Actual headlines from the internets. You Google 'em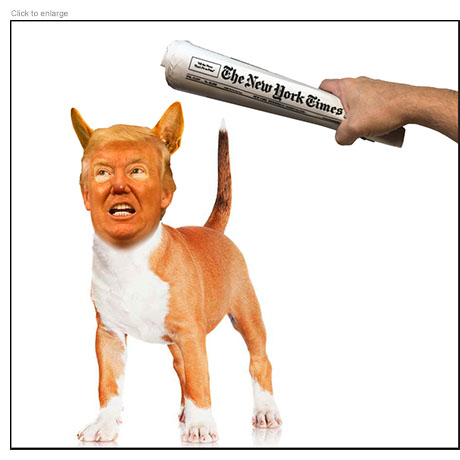 I Am Part of the Resistance Inside the Trump Administration
–– Free dumb fighters.
The cowardice of the 'Sheep Throat' op-ed
–– Ewe gotta be kidding.
How dare a senior Trump official arrogantly subvert an elected President
–– Who's arrogantly subverting Presidency.
Trump Calls Scathing New York Times Op-Ed 'Gutless'
–– Or 'brainless' blasts 'nameless'.
It Wasn't Me: Pence, Pompeo and a Parade of Administration Officials Deny Writing Op-Ed
–– Riding giant chicken float.
Trump on New York Times op-ed: 'You could call it treason'
–– 'If you were me.'
Trump Wants Attorney General to Investigate Source of Anonymous Times Op-Ed
–– Already have motive for crime: him.
'You Are Not Protecting This Country.' Melania Trump Responds to New York Times Anonymous Op-Ed
–– 'He's still President.'
Donald Trump tries and fails to pronounce 'anonymous' during campaign rally speech
–– 'Anonymous' botch.
NYT: White House eyes 12 potential authors behind anonymous op-ed
–– The female ones lasciviously.
Giuliani says 'diaper' anecdote in Woodward book didn't happen, tells his side of the story
–– He's all wet.
Dan Rather: We're in chaos, deep and dark
–– We'll just assume that's not royal we.
Amazon poaches Heidi Klum and Tim Gunn for new fashion series
–– Project runaway.
Author of romance novel 'The Wrong Husband' charged with murdering her own
–– Authorities have 'The Right Wife'.
Wife Accused of Poisoning Husband With Eye Drops Shot Him With Crossbow in 2016: Officials
–– Visine gets dead out.
Hannity Guest: Science Proves Trump Is The 'Most Sound-Minded' President Ever
–– After consulting audiologist.
Trump Speculates About His Impeachment During Rally: 'If It Does Happen, It's Your Fault'
–– Was he in own audience?
Jared Kushner's Awkward Wait Outside A Locked Door Becomes Perfect 'Veep' Spoof
–– Cooling heel.
5 reasons why you shouldn't be surprised Elon Musk smoked weed
–– 4) He's so musky.
Peter Dinklage Finally Explains Why Tyrion Was Creeping On Daenerys And Jon Snow Having Sex On 'Game Of Thrones'
–– Had them by short heir.
Obama Lashes Trump in Debut 2018 Speech. President's Response: 'I Fell Asleep.'
–– Exhausted from hate-tweeting predecessor.
A 'Faustian Bargain': Republicans May Wince, but the Payoffs From Trump Have Been Rich
–– Who the Devil?
Bolton warns Russia over election interference, denies Trump is a 'security risk'
–– Ominously twirls mustache.
National Park Service edited inauguration photos after Trump, Spicer calls
–– Mall rat.
Papadopoulos says Sessions supported Putin campaign meeting, asks for most lenient sentence
–– On blockchain gang.
George Papadopoulos gets 14 days in prison
–– Punishment too weak.
Papadopoulos breaks silence, 'can't guarantee' he didn't tell Trump campaign about Russian dirt
–– 15 days in slammer would've made him talk.
Doctor diagnoses woman in 'Mona Lisa'
–– The da Vinci cold sore.
Gwyneth Paltrow's Goop to pay for making unsubstantiated claims about vaginal Jade eggs
–– And making erroneous insertions.
Ivanka Trump Meets with Kim Kardashian West to Discuss Prison Reform
–– Before hubbies are sent away.
Ivanka Trump Reportedly Got Into a Screaming Match With Steve Bannon Over Her White House Title
–– 'Her Royal Highness' or 'Miss Thang'.
Report That Prince Charles Has Strained Relationship with Sons a 'Total Fabrication': Palace Source
–– Charles: 'Don't believe the little bastards.'
Eight-year-old model from Texas makes her runway debut at New York Fashion Week
–– Mom, dad automatically nominated for Parents of Year.
Former USA Gymnastics trainer who worked with Larry Nassar arrested; she's accused of sexual assault of a child
–– Learned from the monster.
Twitter bans Alex Jones and InfoWars
–– Jones bitch.
Rubio to InfoWars' Alex Jones: 'Don't touch me'
–– Marco YOLO.
Elizabeth Warren: Time to use 25th Amendment to remove Trump from office
–– Impeaches and cream.
Amway co-founder Richard DeVos dies at 92
–– Am away.
Fox Deletes Scene From 'The Predator' With Registered Sex Offender
–– Which is tad ironic.
Burt Reynolds, "Smokey and the Bandit" star, dead at 82
–– Burnt Reynolds.
Ryan Reynolds' Twitter tribute to Burt Reynolds is as perfect as you'd expect
–– Deadpoo.
About That Time Burt Reynolds Accidentally Snubbed Greta Garbo
–– Swede nothings.
In 'Fear,' Bob Woodward Pulls Back the Curtain on President Trump's 'Crazytown'
–– Trump also made self mayor of McDonaldland.
Bob Woodward: Trump thought Charlottesville cleanup 'biggest f---ing mistake I've made'
–– 'Stormy level!'
Omarosa Says "Woodward's Book Will be a Great Complement to Mine"
–– But no compliment.
Bob Woodward's new book reveals a 'nervous breakdown' of Trump's presidency
–– And country.
Trump: 'I'm the Ernest Hemingway of 140 characters'
–– For whom the bull tolls.
Book states Trump claims to be Hemingway of Twitter
–– Mariel?
'I Don't Talk' That Way, Trump Says. Except When He Does.
–– 'That was John Barron, I swear it!'
Scaramucci: Maybe it's all true. So, what?
–– Mooch ado about nothing?
Roy Moore Sues Sacha Baron Cohen for $95 Million
–– Aww, did he feel abused?
Steve Bannon Slips in Quietly to Venice Premiere of 'American Dharma'
–– More oozes.
Man intentionally rams truck into Dallas TV news station, police say
–– Ram tough.
Trump warns Assad against assault, denies wanting to assassinate him
–– Checks with Putin to see if he got that straight.
Cyborg roaches may help in a disaster
–– When you smoke using eClips.
Brett Kavanaugh proves the Supreme Court swing vote is dead
–– Replaced with Big Band.
Brett Kavanaugh Just Called Birth Control "Abortion-Inducing Drugs"
–– And wire hangers "abortion instruments."
Piper Perabo Arrested While Protesting At Brett Kavanaugh SCOTUS Confirmation Hearing
–– She pays piper.
Media outlets celebrate Cory Booker's 'Spartacus' moment hours after it was proven to be inaccurate
–– Now hoping to cover Twitter crucifixion.
Siemens warns of dangers of xenophobia after violent protests in Germany
–– Simple, Siemens.
Zac Posen 'didn't know' Stormy Daniels would wear his dress in 'Vogue'
–– Just asks she dry-cleans before returning.
Megyn Kelly Says Ronan Farrow Had Rose McGowan on the Record, Contradicting Andy Lack's Memo
–– Alas and a Lack.
This Tiger Woods doppelgänger totally upstaged the real Tiger at a golf tournament
–– Tiger wuss.
That hole in the International Space Station was caused by a drill, not a meteorite, and the search is on for the culprit
–– Astronaut blames Xenomorph.
Former Apple software engineer describes demoing for Steve Jobs, and it doesn't sound fun
–– More like demolition.
Trump Threatens NBC's License Over 'Highly Unethical Conduct' on Spiked Harvey Weinstein Story
–– If they made him pay too much to catch and kill story.
Nicki Minaj would like sex from her male partners three times a night, please
–– Minaj a trois.
Blowback at Nike over Colin Kaepernick deal starts with people lighting their own stuff on fire
–– As long as they were still wearing.
Tucker Carlson Calls Colin Kaepernick's Nike Ad An 'Attack' On America
–– Did he take knee to head?
Man ridiculed for cutting Nike logo off socks in protest at Colin Kaepernick, as conservatives rage
–– Ankles brand.
Missouri college drops Nike over Kaepernick ad
–– Show me state of confusion.
Oil demand to hit 100 mln bpd sooner than projected: OPEC's Barkindo
–– Totally made up figure a week early.
Photo of make-up free Meghan Markle watching TV with her goddaughter unearthed on Instagram
–– Greatest find since glyph of Nefertiti, niece playing Senet.
Andrew Cuomo Is the Democrats' Best Choice for Governor
–– Deny Miranda rights.
Airport security trays carry more germs than toilets, study reveals
–– So feel free to relieve self on line.
Bishop Apologizes to Ariana Grande for 'Too Friendly' Grope During Aretha Franklin Funeral
–– Offers to try out 'just right' grope next time.
Ariana Grande reminds us women have no safe place in America
–– Nor do our ears.
Exclusive: Government transparency site revealed Social Security numbers, other personal info
–– All sensitive material protected with Saran wrap.
The New Yorker uninvites Steve Bannon from its festival after backlash
–– Had enough cartoons this month.
Steve Guttenberg Says New 'Police Academy' Movie is Coming
–– You've been warned.
Shohei Ohtani 1st Player Since Babe Ruth to Pitch 50 Innings and Hit 15 Homers
–– 100 cases of beer record still safe.
Trump touts Puerto Rico response as 'fantastic' despite nearly 3,000 dead
–– In 'remote from reality' sense.
In GOP, Trump bump has become a tsunami
–– In aptly fucked-up metaphor.
'People are afraid': Gay caning stokes fear in Malaysia's LGBT community
–– And strokes.
U2 Abruptly End Berlin Show After Bono Suffers 'Complete Loss of Voice'
–– In latest humanitarian act.
Nick Cave & The Bad Seeds Pianist Conway Savage Dead at 58
–– Planted.
Study finds 'hot spots' where surge of parents are not vaccinating children
–– aka 'shot spots'.
China's Xi offers another $60 billion to Africa, but says no to 'vanity' projects
–– In bathrooms.
Former MI6 officer 'encouraged Russian oligarch to give evidence against Trump campaign'
–– Or 'did job.'
Mollie Tibbetts' Father Wrote a Scathing Rebuke to Everyone Who Wants to Politicize His Daughter's Murder
–– Political rapists not listening.
It's Not Just Robert Mueller. President Donald Trump Faces Six Separate Investigations And Lawsuits.
–– Keeps setting records.

President Donald Trump goes after AFL-CIO head Richard Trumka on Labor Day
–– 'He stole my name and made it sound commie.'
CNN Pulls 'Parts Unknown' Episodes Featuring Asia Argento
–– Tug job.
Roseanne Barr sounds off on 'The Conners,' says losing show was like 'a death'
–– You mean suicide, right?
Roseanne Barr Says She's Moving to Israel When 'The Conners' Airs
–– Roseanne barf.
Myanmar: Reuters journalists investigating Rohingya killings sentenced to 7 years in prison
–– Put on back Burma.
Trump issues 4-word reply after criticism at McCain, Franklin funerals
–– 'Good riddance bad rubbish.'
Microwave Weapons Are Prime Suspect in Ills of U.S. Embassy Workers
–– Who insist on drying hair in them.
Did George W. Bush Just Sneak Michelle Obama A Piece Of Candy At McCain's Funeral?
–– During Lieberman eulogy: was it meth tab?
Washington Mourned John McCain. President Trump Played Golf.
–– Got hole in one head.
Obama Asks Americans To Rise Above 'Petty Politics' During John McCain Eulogy
–– For more than duration of speech.
How the once-proud Kenmore brand ended up on the scrap heap
–– Sears sucker.
Racist robocall targets Andrew Gillum in Florida governor's race
–– Set on screed dial.