MINI THE MOOCHER
Week of 07/21/17
Actual headlines from the internets. You Google 'em.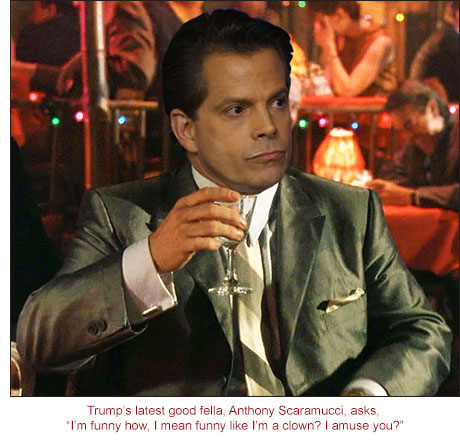 What Anthony Scaramucci tells us about Donald Trump's White House
–– It can always get worse.
Can President Trump pardon himself?
–– For first 71 years?
Sean Spicer resigns as White House press secretary after objecting to Scaramucci hire
–– Quotes Dr. King upon exit: "Free at last, Free at last, Thank God almighty we are free at last."
A smart fish tank left a casino vulnerable to hackers
–– Was filled with suckers.
Trump plans to nominate non-scientist to head science at USDA
–– Lays an egg.
Sarah Huckabee Sanders Named White House Press Secretary
–– Sean…come back!
Why Americans are having less sex
–– Can't get image of Huckabee Sanders out of head.
Linkin Park Filmed 'Carpool Karaoke' Shortly Before Singer Chester Bennington's Death
–– In hearse.
Tillerson's Exxon violated Russia sanctions, Treasury says
–– And a few oligarchs.
Armstrong moon bag NASA lost sells for $1.8 million
–– A smashing clutch sprinkled with stardust.
Will Smith says 'Star Wars' was better than sex
–– As he looks at his kids.
A Warrant to Search Your Vagina
–– For Trump?
Lyft to Develop Self-Driving Car Technology in New Silicon Valley Facility
–– Only safe indoors.
Elon Musk Warns: Regulators Must Be Proactive On AI; Don't Wait Until Robots Are Killing People In The Streets
–– Ignore driverless cars doing it.
Stephen Colbert Just Rented Out Trump's Alleged 'Pee Pee Tape' Suite In Moscow
–– Streamed live?
'Despacito' Is Officially The Most Streamed Song Of All Time
–– *psy*.
Burger King, KFC drinks in UK found to include 'significant' fecal bacteria, report says
–– Want ice in your Diet Caca?
Bill Nye Slams 'Dingbats,' Says Climate Deniers Are Old And Will Soon Be Dead
–– But want to take us with them.
Tucker: Trump's attack on Sessions useless, self-destructive
–– Drop 'attack on Sessions.'
Trump endorses FCC's plan to roll back net neutrality
–– And Putin's for nyet neutrality.
Trump Lawyer Says Nothing Illegal in Son's Russia Meeting
–– WIth every finger and toe crossed.
WNBA legend Sue Bird: 'I'm gay,' and U.S. soccer star Megan Rapinoe is my girlfriend
–– Stop the full-court presses!
Jared Kushner is reportedly still being name-dropped to entice Chinese investors
–– In privatized prisons.
John McCain Cancer Is 'Godly Justice' for Challenging Trump, Alt-Right Claims
–– What's explanation for malignancy in their heads?
O.J. Simpson to seek parole
–– Yeah, c'mon, poor guy has suffered enough.

O.J. Simpson Wins Parole, Claiming He Has Led a 'Conflict-Free Life'
–– Already removed source of irritation.
O.J. Simpson separated from other inmates
–– With crowbar.
Colbert: Trump meeting with Putin again like if O.J. gets "parole and immediately goes glove shopping"
–– 'If he's full of shit, you mustn't acquit.'
Salvador Dalí's Remains Are Exhumed as Part of Paternity Suit
–– Surreal shame.
CIA chief signals desire for regime change in North Korea
–– With his lil' Kim boner.
Sean Hannity will no longer receive Buckley Award after controversy
–– Will instead get Schmuckley honor.
Jeff Sessions: 'I plan to continue' as attorney general
–– 'Case the President can't find a lame puppy t'kick.'
White House: Trump has confidence in Sessions, despite biting comments
–– All his comments bite.
Olivia Wilde Says She's "Honored" Jennifer Lawrence Vomited During Broadway's '1984'
–– "I've often puked over her work."
Kobach defends voter commission: Criticisms 'ridiculous'
–– Commission 'absurd.'
Trump's 'election integrity' chief won't say if Hillary Clinton won the popular vote
–– That's OK, it's not 'election accuracy' commission.
Texas police seize 75 pounds of liquid meth in cleaning jugs
–– For brainwashing.
How Fear of Falling Explains the Love of Trump
–– Or love of failing?
Canadian official touches Queen, blames carpet for protocol breach
–– 'And yes, carpet definitely matches drapes.'
Jim Henson's Son Explains Why Kermit Actor Was Replaced
–– It's not easy bleeding green.
Vladimir Putin Cut From Two Upcoming Hollywood Movies
–– Despicable Me 4, Lord of Collusions 2.
Trump Says Failed Health Bill "Will Get Even Better" After Lunch With Republicans
–– How could it? Death panels? Euthanasia? Genocide?
Why ISIS Female Suicide Bombers Mean The End of The Caliphate Dream
–– Sounds like al-Baghdadi wet dream.
US Congress takes step toward giving Charlie Gard residency
–– As amendment to bill funding border wall, enhanced immigration enforcement. If only all immigrants were terminal.
Missing Swiss couple found frozen in Alps after 75 years
–– Swiss missed.
United posts strong sales and profits, despite Dr. Dao debacle
–– Not for seats in aisle.
NRA Claims The Washington Post Is Where 'Journalism Dies'
–– 'Or where we'll shoot it.'
'You treat me like a baby!': The 'final straw' that reportedly led Trump to oust his former campaign chairman Paul Manafort
–– Said it with gook-gook still in mouth.
GOP Sen. Heller receives threatening note over health care
–– 'If you don't vote for health plan, I will make sure you lose bigly. Anonymous.'
Stephen Colbert Tours Moscow's Infamous Trump Hotel Suite for "Russia Week" on 'The Late Show'
–– Should've been for "Bladder Weak".
Trans woman takes photo with Texas gov. ahead of bathroom bill debate
–– Couldn't decide whether to take it standing up or sitting down.
Mitch McConnell 'master tactician' label damaged after Senate health care fight
–– Curled up, fell off forehead.
Christian man accused of killing daughter who was dating a Muslim
–– Damned Hillary voters!
Former House Speaker Dennis Hastert leaves prison
–– Authorities refused transfer request to juvenile hall.
Fox News' Sean Hannity calls colleague Shep Smith 'so anti-Trump'
–– Latest slang for "nancy."
Steve Bannon Reportedly Attacked Paul Ryan As 'A Limp-D**k Motherf**ker'
–– 'Like moi.'
Senator Joins Ethics Probe That Could Get EPA Chief Scott Pruitt Disbarred
–– Endangered specious.
Trump Finds That Demolishing Obama's Legacy Is Not So Simple
–– And he is so simple.
Chipotle stock drops 6% on new illness report
–– Runs on stocks.
Billy Crystal Reveals Sneeze Injury That Led Him to Postpone 'Jimmy Kimmel Live!' Appearance
–– Atchoo story.
Trump Addresses Health Care Bill Fail: 'We Were Let Down'
–– By?
Let Obamacare fail - Trump's new plan
–– Failure he can do.
Delta vs. Ann Coulter: Why it's a big deal
–– Her very last chance for cultural relevancy.
China cracks down on 'Winnie the Pooh'
–– Will Roo day.
Saudi Religious Police Search for Woman Who Wore Miniskirt in Online Video
–– Doing legwork.
Perry Praises 'Clean Coal,' but Trump Administration Policies Don't Promote It
–– Seen licking briquets.
Health Care Overhaul Collapses as Two Republican Senators Defect
–– To reality.
Rupert Murdoch's papers criticize Trump; is the mogul sending a message?
–– 'Even I'm embarrassed, mate!'
Trump Says He Has Signed More Bills Than Any President, Ever. He Hasn't.
–– But his signature was way bigger.
Trump Recertifies Iran Nuclear Deal, but Only Reluctantly
–– Shrugs shoulders, rolls eyes, mutters, 'Do I gotta?'
Kushner-Linked Startup Got Exclusive Invite To Meet Top Tech CEOs At White House
–– Seeking Kushy positions.
John Cena Reveals His Daily Manscaping Routine, And It's A LOT To Handle
–– Assistant mows him with 22" Toro.
Clean your toilet with… Coke? Surprising home cleaning hacks
–– Only if narcs are at door.
How German Condoms Funded the Russian Revolution
–– Rubber the wrong way.
Health care state of play: McConnell puts bill on ice after losing McCain's 'yes' vote for now
–– Applying ice only treatment covered by plan.
CNN speaks to the Duchess of Cornwall
–– Neigh-sayer.
The Crown season 2: Queen Elizabeth II actress Claire Foy teases HUGE twist
–– She's a man, baby!
Did you catch Jim Broadbent's Harry Potter in-joke in the Game of Thrones season 7 premiere?
–– If so, get a life!
Maryam Mirzakhani, First Woman To Win Math's Highest Honor, Dead At 40
–– Counted out.
Skydiver Sent Message to Wife That He Was Not Going to Pull Parachute Cord – and She Was 'Moments' Too Late to Save Him
–– Aww, 'chute!

ISIS Leader Abu Bakr Al-Baghdadi Is Not Dead and Will Turn Group Into 'Al-Qaeda on Steroids'
–– Claims walking cliché.
What Trump Supporters Think of Russia Probes Doesn't Matter
–– 'Think.'
Will James Comey Tell All About Trump-Russia in Real Life 'House of Cards' Memoir?
–– No, duh: Underwood-Russia collusion.
A barely-there bump! Pregnant Lara Trump shows off a tiny tummy less than two months from her due date, as she and husband Eric attend the U.S. Open together
–– Lizard eggs are relatively small.
Activist group forces Homeland Security to release presidential visitor records from Mar-a-Lago – but Trump's members-only club in Palm Beach may not be keeping any
–– If it's as well run as WH.
Justin Trudeau meets tiny Justin Trudeau
–– In bathroom stall.
Chechen leader: 'We don't have any gays'
–– 'I mean here, in dacha.'
Where North Korea's elite go for banned luxury goods
–– Kim's Club.
Former Laker: I didn't have beef with Kobe
–– 'Though I hear Kobe beef's delicious.'
The White House Doxxed People Who Submitted Comments On Election Integrity
–– What's up, dox?
Ryan Phillippe Explains How He Broke His Leg, Shares Hospital
–– Can't explain why you should care.
How cadaver dogs found a missing Pennsylvania man deep underground
–– Trainer promised him biggest bone ever.
MLBer hasn't cut his beard since 2013
–– Just found missing foul ball from 2015 in it.
Edible Doom And Gloom: L.A.'s Most Expensive New Restaurant Wants to Depress You for Dinner
–– $500 bill good place to start.
Reality Reasserts Itself in Summer TV With Record 11 New Shows
–– Where rebooted Battle of the Network Stars qualifies as reality.
Outgoing Ethics Chief: U.S. Is 'Close to a Laughingstock'
–– At home 'a weepingstock.'
Snoop Dogg Launches Line of Water Pipes
–– Story leaked.
Chris Christie's era of misrule in Jersey: The empty swamp mall and the canceled tunnel
–– And the Trenton sinkhole.
How can Mike Pence get away with outrageous lies about the health care bill?
–– Look plausible next to Trump's.
Trump rejects his poll numbers as fake news — but even his voters are starting to notice the scam
–– You mean tune into his speeches?
Parents Accuse R. Kelly of Holding Their Daughters in Abusive 'Cult,' Report Claims
–– I believe he can fry.
$1 million in marijuana found in brand new Ford Fusions
–– Fully loaded models.
Poll: Trump job approval rating at 36%
–– Almost down to a turd.
Delta Airlines Responds to Ann Coulter Criticisms: "Unacceptable and Unnecessary"
–– Or her life?
Caitlyn Jenner Says She Has "Considered" a Senate Run
–– In her stocking.
Bret Easton Ellis Says He Was Called a "Trump Apologist" While Leaving L.A.'s Sunset Tower Hotel
–– Or just a sorry bastard.
New 'Doctor Who' Star Jodie Whittaker: Don't Be "Scared By My Gender"
–– Doctor Hoo-ha.
George Romero, 'Night of the Living Dead' Director, Dies at 77
–– Shuffles off.
A Russian Developer Helps Out the Kremlin on Occasion. Was He a Conduit to Trump?
–– Why a duck?
ISIS wife: It was like Tinder
–– Not that bad!
Chile hit with a very rare snow event
–– Chilly?
Senate Dems on Kid Rock run: We can't afford to treat this as a joke
–– We are talking Michigan.
Warner: 'Unbelievable' Trump wasn't told about meeting
–– He is pretty unbelievable.
Pink Floyd's Roger Waters defends his anti-Trump tour
–– Just another prick on the wall.
United Airlines sends rapper's dog to wrong city
–– Was just a hip 'n' a hop from destination.
Watch thieves use digger to steal ATM
–– Was there watch inside?
Tomb Robbing, Perilous but Alluring, Makes Comeback in China
–– Tomb it may concern.
Donnie Wahlberg leaves a $2,000 tip for Waffle House servers
–– 'Don't invest 2 grand in New Kids on the Block tickets.'
What chemicals are in your mac and cheese?
–– Asking you, Donnie Wahlberg.
Ex-Trump adviser denies any campaign contact with Russians
–– OK, case closed.
---
DONNYBROOK
Week of 07/14/17
Actual headlines from the internets. You Google 'em.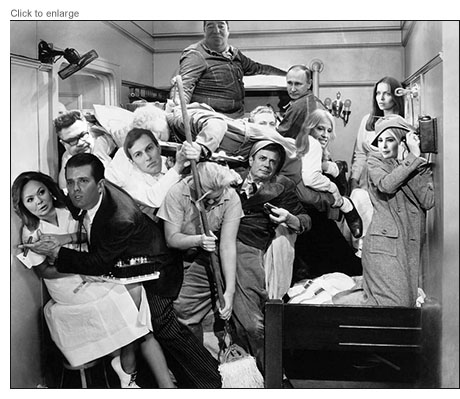 Trump Tower Russia meeting: At least eight people in the room
–– Not counting dozen Moscow Circus clowns.
Bush, Clinton stress humility in presidency
–– Trump, humiliation.
'Stupid s***': Jamie Dimon tees off on American gridlock
–– Yes, that's what Trump is, but you're no better.
Jaden Smith Drops Two New Songs as Roc Nation Announces Partnership With His and Willow's MSFTSrep Collective
–– Should drop singing career instead.
Charles Krauthammer: Trump Jr. emails are evidence of 'collusion'
–– Getting first thing right in 20 years.
Senate Republicans Unveil New Health Bill, but Divisions Remain
–– Arms, legs, head with criminal brain, not attached.
Trump donor 'kills himself' after revealing he tried to get Hillary Clinton's emails from Russian hackers
–– Was 'Vince Fostered.'
Reverence for Putin on the Right Buys Trump Cover
–– Like Kremlin hookers, they bow before him.
Trump says his wall along the US-Mexico border will have to be see-through so people don't get hit with giant sacks of drugs
–– WIll be world's biggest shower curtain.
As 'Game of Thrones' Returns, Is Sharing Your HBO Password O.K.?
–– And can Melisandre send shadow demon after you if not?
Trump Backed Off Putin Because 'What Do You Do? End Up in a Fistfight?'
–– Or fisting.
How to defend the Constitution when the KKK comes to town
–– White knuckles.
Miley Cyrus changed her raunchy style because she started to 'feel sexualized'
–– Boy, she's slow starter.
Fukushima's Nuclear Waste Will Be Dumped Into the Ocean, Japanese Plant Owner Decides
–– Pre-cooked sushi!
Jennifer Lawrence Isn't 'Pretty Enough' To Play Sharon Tate, According To Tate's Sister
–– Even for 'after' scenes?
Hawaii wants to ban pedestrians from looking at their cellphones while crossing the street
–– Tells them to lei off.
Trump Lawyer Marc Kasowitz Threatens Stranger in Emails: 'Watch Your Back , Bitch'
–– He's class action suit.
Man Trapped Inside Texas A.T.M. for 3 Hours Is Rescued by Police
–– Forced to swallow $10,540 in deposits.
Eels from overturned truck slime cars in grossest wreck ever
–– Took writhe turn.
Trump tells Brigitte Macron: 'You're in such good shape'
–– 'For lady who's long in le tooth.'
A Man Peed on a Woman's Face in the Subway
–– At least he first offered her seat.
Soon you'll be able to openly carry a sword in Texas
–– Implementation of law needs run-through.
Trump is no longer listening to his friend 'Jim'
–– Will consult other imaginary one.
Trump education official says 90% of sexual assault accusations can be summed up by 'we were both drunk'
–– 92% of Trump education pronouncements make sense only if we are both drunk.
Body of judge in unsolved boy's death found with bag on head
–– Attending costume party as man o' war.
Ordered by court to disclose his Russia contacts, Sessions releases blank sheet of paper
–– Accurately reflects his thinking.
White House misspells word 'inaccurately' in video attacking CBO for being inaccurate
–– Unnbelievable.
Why Isn't Sarah Huckabee Sanders on Camera?
–– Pity?
Now Eric Trump Is Accused of Stealing From a Cancer Charity
–– Called it his 'growth fund.'
ESPN '30 for 30' EP Believes 'Mike and the Mad Dog' Will Reunite One Day
–– As replacements for Sean Spicer, Sarah Huckabee.
Former Kermit the Frog Puppeteer Says He Was Fired
–– By Miss Piggy in Trump wig.
The Senate health bill would make the opioid epidemic worse. Here's how.
–– Pain, baby.
How Wiz Khalifa and Charlie Puth's "See You Again" Dethroned "Gangnam Style" as YouTube's Top Video
–– Musical taste actually eroded further.
Paul Ryan takes up women's right to bare their arms on Hill
–– Or bear arms?
Trump threatens anger if health care fails
–– Ill logical.
GOP lawmakers on Trump Jr. emails: 'Distraction,' 'doesn't help'
–– Jail time might.
Ex-President of Brazil Sentenced to Nearly 10 Years in Prison for Corruption
–– Lula lemon.
Assessing how 'transparent' Trump Jr. was in his Hannity appearance
–– Has always been easy to see right through him.
Evangelical leaders 'lay hands' on President Trump in Oval Office gathering
–– Trump offered to return favor to ladies.
Critic's Notebook: Sean Hannity Throws Nothing But Softballs in Interview With Donald Trump Jr.
–– Still whiffs.
'Fox & Friends' Walks Back Debunked Report About James Comey
–– Has to hold both hands of lame idiot.
'Donald Trump Jr. is an idiot': New York Post lays into Trump Jr. in scathing editorial
–– And what are editors and publisher who defended his and father's every lie?
'Morning Joe' co-host Joe Scarborough is leaving the Republican Party
–– Tough to choose winner there.
Trump defends embattled son, calls Russia controversy a 'witch hunt'
–– Needs to lay off description for spell.
Iceberg the Size of Delaware Breaks Off Antarctic Ice Shelf
–– What will Delaware? Parka.
President Trump: Don Jr. Did 'a Good Job'
–– 'I can get out of this damn job early.'
Dana White says President Trump '100 percent' wants to attend the Mayweather-McGregor fight
–– Any chance to see white guy beat up black one.
Conor McGregor Wears 'F--- You' Suit to Floyd Mayweather Event
–– Don Jr. wants to borrow for inevitable Senate hearing.
FBI nominee Wray testifies: I will never allow bureau to be 'driven by anything other than the facts'
–– 'Y'know, the alternative ones.'
Trump tweets: My son was 'open, transparent and innocent'
–– None of the above.
Clint Eastwood Casts Real-Life Soldiers in Next Film 'The 15:17 to Paris'
–– With walk-on part for chair.
'The L Word' Sequel Series in Development at Showtime
–– The M Word?
Kaine: Trump Jr. may have committed treason
–– If given second chance.
Rep. King: Use food stamp funds on border wall
–– Why not just have indentured poor build it?
Former Anheuser-Busch CEO arrested for allegedly trying to fly a helicopter while intoxicated
–– Head spinning faster than rotor.
Archie Comics Turning Fan Favorite Into Werewolf in 'Jughead: The Hunger'
–– Tears into enormous hamburgers.
Stephen Colbert Apologizes to Eric Trump, Jokes "We Always Thought You Were the Dumb One"
–– Has been upgraded to ninny.
Donald Trump Jr. Just Tweeted Out Pretty Clear Evidence That He Broke The Law, Experts Say
–– Thought he was retweeting hilarious meme of father mowing down reporters as Rambo.
'I Love It': Donald Trump Jr. Knew He Was Meeting With Kremlin-Linked Lawyer
–– As much as he 'knows' anything.
Sebastian Gorka: Getting Dirt is 'What Political Campaigns Do'
–– 'And what this campaign was.'
Wife says 'never go to bed angry' after waking from row to find husband dead on sofa
–– Adds 'with a gun in your hand.'
Mattis to high-school reporter: 'Get the political end state right' before going to war
–– 'Is what I hear some countries do.'
Jared tried getting a $500 MILLION bailout from Qatar
–– For a fiancial kushioner.
Why Trump got an 11 out of 10 at the G20
–– Because Jeffrey Lord lies, can't count.
US says missile defense system successfully intercepts projectile during test
–– Giant spitball, but still.
Russian lawyer: Trump aides wanted info 'so badly'
–– Same way they do everything.
At G-20, Beethoven Sends a Mixed Message to Trump
–– With stirring Ode to Joik.
Republicans increasingly think colleges are harming the U.S.
–– And damaging there self-esteam.
Is coffee good for you? New study shows the drink may help people live longer—even if it's decaf
–– Study authored by Dr. S. Bucks, Dr. D. Donuts.
Russia's Satan Nuclear Missile Said Capable of Destroying Countries, but It's Taking a Long Time to Get Right
–– Can't even level Vatican City yet.
Longtime Kermit the Frog Voice Actor Replaced After 27 Years
–– Had frog in throat.
Chris Christie calls constituent 'bum,' 'communist' on sports talk radio
–– Left out 'pinko', 'fag'.
Lena Dunham Sells Pieces from Her Wardrobe to Benefit Planned Parenthood
–– She had wardrobe?
British lawmaker refers to Brexit no deal as 'n***** in the woodpile'
–– Blacked out.
Gemma Whelan Was Almost Fired From Game of Thrones for Revealing She Was Going to Play Yara Greyjoy
–– And they do it at stake.
Fox News Hires Ari Fleischer as Contributor
–– Thinks if you could defend W. you can defend Trump. Sad.
Jada Pinkett Smith and Will Smith Celebrate Son Jaden Smith's 19th Birthday with Epic Throwbacks
–– They wish they could throw back.
Jaden Smith Performs Shirtless At Concert; Girlfriend Spotted In Crowd
–– Also left voice in dressing room.
EXCLUSIVE: Christopher Nolan Compares Casting Harry Styles in 'Dunkirk' to Making Heath Ledger the Joker
–– How'd that work out?
Country Stars Maren Morris and Ryan Hurd are Engaged -- See the Gorgeous Ring!
–– She put through his nose.
Ex-Penn State frat member's text: 'I don't want to go to jail for this'
–– In shocking admission.
Trump trolls Chelsea Clinton in defense of letting Ivanka take his chair at G-20
–– 'I've wanted to grab her seat for years.'
Abercrombie & Fitch is no longer for sale, sending stock plunging to 17-year low
–– Greeters lose their shirts.
'Planet of the Apes' Filmmakers Worried 1968 Original Wouldn't Be Taken Seriously
–– Could not foresee 2016 election.
Wimbledon faces complaints that the quality of the grass is slipping
–– Andy Murray: 'I barely got a buzz, dude.'
Trump suggested a cybersecurity pact with Russia. Lawmakers say they were 'dumbfounded.'
–– Or found dumb.
Trump backtracks on cyber unit with Russia after harsh criticism
–– Still considering joint bare-chested horse patrols in Ukraine.
Beijing Says U.S. Apologized for Confusing China With Taiwan
–– Stopped short of 'you've seen one, you've seen all' explanation.
After Scalise Shooting, a Twist: Lawmakers Want to Loosen Gun Laws
–– And give mentally ill target practice.
Facebook's Oculus Cuts VR Hardware Bundle Price by 33%
–– Advertises 'virtual steal.'
Amelia Earhart mystery: Forensic dogs scent human remains on remote Pacific island
–– With 80-year-old noses.
Camping teen awakens to 'crunching sound' as bear bites his head
–– Before adding milk.
Gordon Brown and Shakira: G20 leaders agreed to education financing, now comes the harder part
–– Explaining why these two are talking it up.
Tobacco use jumps 80% in top-grossing movies
–– Cancer plot points remain steady.
Haley: We can't, and won't, ever trust Russia
–– Trump: 'We can't?'
Depressed, Abandoned Dog Stared at Shelter Wall for Days – Then Something Amazing Happened
–– Peed on it and left.
KKK marchers in Virginia town met by counter-protesters
–– Who strongly oppose diners.
Shia LaBeouf Arrested For Disorderly Conduct, Public Drunkenness, Again
–– Was either that or press conference.
They Thought They Saved a Puppy Covered With Dirt – But They Got Quite the Surprise at the Vet
–– Was shit.
Mayor In Canada Defends 'Creepy' Bathroom Wall Filled With Photos Of Residents
–– At fly-level.
McCain: Republican Healthcare Bill Probably 'Dead'
–– 'Or maybe just the brain.'
Bella Thorne Paints the Town Pink in See-Through Attire
–– Can see bushstrokes.
Tillerson was reportedly 'stunned' at the way Trump asked Putin about election meddling
–– Stunned or simply stupid?
Paul Ryan says he won't hold public town halls because he doesn't want 'a screaming fest'
–– Neither pierced ear drums, sore throats covered in health plan.
Trump says Ivanka's life would be 'so much easier' if he wasn't her dad, pledges $50M to her World Bank initiative
–– Constantly being hit on can't be fun.
'We Are Not Heartless People': Green Day on Performing After Fatal Stunt
–– 'Tuneless, maybe.'
Amelia Earhart and other mile-high mysteries
–– Do sperm move faster up there?
Ivanka Trump Briefly Takes Her Father's Seat at the Table. Outrage Follows.
–– Wasn't dry seat in the house.
Feeling That Trump Will 'Say Anything,' Europe Is Less Restrained, Too
–– Trying to get him to talk shit.
'Time to Move Forward,' Trump Says After Putin Denies Election Hacking
–– 'Nothing to see here.'
At Private Dinners, Pence Quietly Courts Big Donors and Corporate Executives
–– Not if they're women.
Donald Trump Jr. Tweets 'Top Gun' Video of Dad Shooting CNN Jet
–– And one of Jr. shooting self in foot.
Donald Trump Jr.: I 'had to listen' to Russian lawyer who promised dirt on Clinton
–– 'Dad told me to, without me ever telling him about it!'
Putin: Trump is different than he is on TV
–– Taller.
Slave quarters unearthed in Jefferson's mansion
–– Sally de bain.
---
TETE A TETE OFFENSIVE
Week of 07/07/17
Actual headlines from the internets. You Google 'em.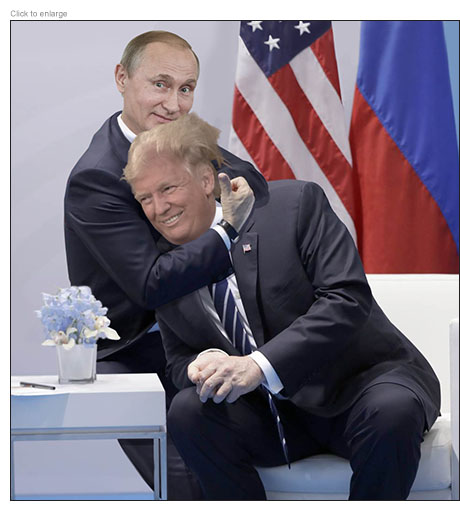 Donald Trump, Vladimir Putin Meet At G-20 Summit
–– Biggest bout since Sgt. Slaughter vs. Russian Assassin.
Trump, in Poland, Asks if West Has the 'Will to Survive'
–– Him.
Trump confronts Putin on election hacking in first meeting
–– Or 'politely asks to deny.'
Retail to lose $70 billion over 10 years if food stamp benefits are cut; here's who gets hit the most
–– Mick Mulvaney: ' Oh, I thought takers were eating the money.'
Ex-Sheriff Joe Arpaio's fate in criminal contempt trial rests with judge
–– Does crime Arpaio?
Betsy DeVos Is Under Fire For Scaling Back Campus Rape Investigations
–– Hits back at 'opponents of sex ed.'
Bobby Knight Investigated by FBI After Alleged Groping of Women at Spy Agency
–– Called for illegal use of hands.
Bill Maher Writes "Nail Salon" Joke About North Korea's Missile Threat
–– Showing lacquer judgment.
Pence on that viral NASA photo: Rubio dared me
–– 'Also dared me to lick liquid nitrogen tank.'
Emma Stone Says Her Male Co-Stars Have Taken Pay Cuts So She Could Be Paid Equally
–– And producers, shockingly, were willing to comply.
Bill O'Reilly Says Chris Christie Used Beach Incident to Help Him Get Media Deal
–– Or contract with Sea World.
SiriusXM Fires Radio Personality Opie Three Years After Dumping Anthony
–– Took long time to squeeze out second one.
Fox Business' Charles Payne Calls Harassment Allegations a 'Lie'
–– African-American working for Fox knows about living a 'lie'.
Trump Claims 'Everyone' at G20 Is Talking About John Podesta, DNC Hacking
–– 'Telling me to stop bringing it up.'
2 Americans Gored On Opening Day Of Pamplona's Running Of The Bulls
–– Al and Leslie.
Andrew Garfield Faces Backlash After Stating That He's Gay 'Without the Physical Act'
–– Critics gay 'without the sense of humor.'
Trump DOJ Says A Few Tweaks Are Enough To Fix Texas' Discriminatory Voting Law
–– Maybe scale back requirement poor voters recite Declaration of Independence backwards.
Animal control officers uncover a nest of snakes and a pool full of alligators at Thousand Oaks home
–– Which turned out to be metaphors.
ISIS Female Fighters Use Own Children as Human Shields In Last Desperate Moments of Mosul Siege
–– Ran out of maxi pads.
Melania Trump unable to attend G20 spouse events due to protests
–– Best excuse since 'I have a headache.'
If a nuclear bomb explodes, these are the emergency supplies you should have prepared or grab on the run
–– Lipstick so you can properly kiss ass goodbye.
Rick Perry Hilariously Misunderstands Supply and Demand Theory in Attempted Defense of Coal Industry
–– The more non sequiturs he supplies, the more we demand them.
Trump and Putin Meet in Testosterone-Fueled Face-Off
–– Not sure that's a 'face'-off
Emmanuel Macron Dropped Onto A Nuclear Sub And Folks Now Think He's 007
–– Jacques Bond.
Trump sticks to Obama's ISIS plan, but hopes it looks different
–– No worries, same plan sounds dumber coming out of his mouth.
Puppy Found With Heartbreaking Letter in Airport Bathroom: 'My Ex-Boyfriend Kicked My Dog'
–– Isn't puppy too young for ex-boyfried?
Trump's Latest Meeting With Angela Merkel Looked Even More Awkward Than His First
–– Will be a Merkel if they get along.
Conservative Polish politicians bus people in for Trump speech
–– Day after visit.
Lauren Conrad and William Tell welcome baby
–– With apple on head.
'Twin Peaks' Star Kyle MacLachlan Promises "Everything Will Make Sense"
–– "Here, pop two of these."
Ethics official who sparred with Trump is leaving government
–– Martin Shkreli bruited as successor.
Nigella Lawson's Carbonara Recipe Has The Internet In An Uproar
–– Got creamed.
Oklahoma State Senator Accused Of Sexually Assaulting Uber Driver
–– Not OK!
Trump couldn't find hotel to book for G-20: report
–– Is staying in hostile.
Kathy Griffin Reportedly Questioned by Secret Service For An Hour
–– Finally confirmed it's 'Griffin' not 'Griffith'.
Hillary Clinton fires back after official GOP Twitter account asks for her healthcare plan
–– So desperate they also asked Bernie Sanders, Mitt Romney, Dr. McDreamy.
Ex-KGB Spy: Trump is No Match One-On-One with Putin
–– 'Is like Tyrion Lannister vs. LeBron.'
David Petraeus: Trump's fitness for office is 'immaterial'
–– Like his physical fitness.
Trump says election meddling 'could be Russia' but 'no one really knows for sure'
–– 'Except me, Flynn, Manafort, Jared, and two or three dozen people in my campaign.'
50 Cent Disses Jay-Z's Album '4:44': 'S— Was Like Golf Course Music'
–– 'Like he was beatin' a club over my f––in' head.'
Hobby Lobby Agrees to Forfeit 5,500 Artifacts Smuggled Out of Iraq
–– Jesus ratted.
Trump's first paycheck to fund restoration projects at Antietam battlefield
–– Trump: 'It was no Battle of the River of Blood, but I'm told a lot of reds died.'
New Muppet promotes education, gender equity in Afghanistan
–– Brought to you by letter F as in Fatwah.
Amelia Earhart Survived Plane Crash, History Channel Documentary Claims
–– Died from food poisoning at airport snack bar.
Donald Trump gets confused looking for his presidential limousine
— Driver was holding "Drumpf' sign.
After Backing Trump, Christians Who Fled Iraq Fall Into His Dragnet
–– Which administration is using to replace safety net.
Has Pandering to Chinese Audiences Hurt 'Transformers 5'?
–– Or pandaing?
Cops get complaint about slip-and-slide, end up going on it
–– Suspects give them slip.
Morning Joe' Scores Huge Ratings Win in Wake of Trump Tweets
–– Got phase-lift.
Lindsay Lohan Defends Trump: "Stop Bullying Him"
–– "And stop saying his vodka's not delicious!"
National Bikini Day Salutes Hollywood, From Raquel Welch to Judi Dench
–– Two-piece out.
'Self Restraint' Is Only Thing Stopping War in Korea, U.S. General Says
–– Holding own leash.
Aides' Biggest Worry on Trump's Europe Trip: A Meeting With Putin
–– Tell Trump to check wallet, wristwatch on way out.
Sophie Turner: 'Game of Thrones' was 'my sex education'
–– Pity her boyfriend.
Donald Trump Tweets U.S. 'Would Be Delighted' To Help Terminally Ill U.K. Infant
–– 'Brain dead' his key demo.
Warsaw sets up stage, gears up security for Trump visit
–– Flag poles.
Iran: Donald Trump Cartoon Contest Mocks President as Money-Obsessed Nazi
–– In life drawing.
What This Garbage Man Said to a Little Girl on His Route Will Leave You in a Puddle of Mush
–– Which he better clean up.
Conservative Christians Ask Facebook 'Where's Our Emoji' After LGBT Pride Gets One
–– Born-agains cross.
TV Reporter Wendy Burch Gets Puked On During Beer-Chugging 'Ironman
–– Wendy Burrrp-chhh.
Conservative Activist: Raising Taxes On The Wealthy Is 'A Cruel Thing To Do'
–– Snatching healthcare from poor 'humane'.
Maxine Waters Says Ben Carson 'Knows Nothing About The Mission Of HUD''
–– Carson: 'I saw the Paul Newman movie, but I am a bit confused about what he was doing.'
Haley complains about spending July 4th in North Korea meetings
–– UN cry.
Declaration of Independence: NPR Tweets Prompt Trump Opponents Into Talk of Revolution
–– About time they read user's manual.
Trump: Never heard of term 'second lady'
–– 'We always said sloppy seconds.'
Hot air balloon lands in gator-infested pond
–– In latest Bond script.
What we know about the FetLife fetish site
–– They don't sell insurance.
Putin and Lavrov laugh about the US
–– 'At', not 'about.'
Canadian baby given health card without sex designation
–– Named after Addams Family's hairy cousin.
Jurassic-era crocodiles had T. rex teeth
–– Which they removed with rudimentary pliers.
Reddit User Behind Trump's CNN Bodyslam Video Apologizes: "It Was a Prank, Nothing More"
–– "I'm a punk, nothing more."
Stephen Colbert July Fourth PSA Jokes Dogs Are Scared of Fireworks Because of North Korea
–– Fear of becoming dinner.
Joey Chestnut Wins July Fourth Hot Dog Eating Contest for Tenth Time
–– Joey, don't read next head.
Heartburn drugs tied to increased risk of early death, study says
–– Finding produces agita.
Tesla's First Mass-Market Car, the Model 3, Hits Production This Week
–– Hope consumers can remember name.
Americans are going deeper into debt to buy cars
–– Which they will soon be living out of.
India to sell only electric cars by 2030
–– And some models running on vindaloo.
Stephen Hawking Blasts Trump's Climate Policy
–– WH: 'How lame.'
Clint Eastwood, Warner Bros. Face Copyright Lawsuit Over 'Jersey Boys' Adaptation
–– Su-ue ye, Sue ye, baby.
Skip Homeier, Nazi Child in 'Tomorrow, the World!' and 'Star Trek' Actor, Dies at 86
–– Skip's out.
Pope, Trump offer support to parents of dying child Charlie Gard
–– Trumpcare will support all sick babies as long as illness is terminal.
Nevada's new pot business is up and running. But stores worry about supply
–– Slots replace lemons with cannabis leaves.
Court rejects EPA attempt to halt Obama-era methane rule
–– So that's what we smelled.
Voter integrity panel's vice chairman questions states' 'idiotic' withholding of information
–– For 'moronic' survey.
James Deen Blocked Documentary That Cites Rape Claims, Director Alleges
–– Like Jimmy Dean blocking sausage claims.
Spider-Man and His Inker: Wrists Still Going Strong a Half-Century Later
–– From which he shoots ink?
Support for Donald Trump's Impeachment Is Way Higher Than His Latest Approval Rating
–– That or WW only ways to get approval up.
Justice Official Quits Over White House Conduct 'I Would Not Tolerate Seeing In A Company'
–– In a company? In a carjacking ring.
Emmanuel Macron assassination plot: Suspect held over 'plan to kill French President with assault rifle in front of Donald Trump'
–– Day of the Jackass.
Government services shut down in Maine and NJ
–– Fat slob psycho govs not only thing states have in common.
New Jersey shutdown: 'Gov. Christie, get the hell off the beach!'
–– 'You're scaring away the jellyfish.'

Chris Christie's Fall, From Dreams of the White House to an Empty Beach
–– In huge crater.
Christie mocks newspaper who took beach photo
–– Copter couldn't get closer than 500 ft. to fit him in frame.
New York commuters' 'summer of hell'
–– aka 'Rush Hour'.
Poll: Majority of Americans say civility has declined since Trump elected
–– Fuck them!
'I'm a creep. I'm sorry.' Another tech investor apologizes for mistreating women
–– Digital delay.
Sick baby prompts concern over placenta pills
–– Sick puppy came up with idea.
MLB Details Testing Process Amid Claims Baseballs Are Juiced After HR Record
–– HGH injections suspected.
White House pays women 80 cents for every dollar paid to men
–– Trump won't rest until it's 75.
Canadian Twittersphere erupts after Trudeau forgets Alberta in speech
–– So boring Albertans forget it.
11-year-old Alaska boy shoots bear charging fishing party
–– Bill was too high.
'We need to be having more transparency': Journalists discuss WH briefings, lack thereof
–– Currently clear as window on reptile house.
NASA Denies Theory That It Is Running A Child Slave Colony On Mars
–– Insist they get paid minimum (Martian) wage.
Brazilian Drug Lord Who Used Plastic Surgery To Change Looks Arrested After 30 Years On The Run
–– Doc made him look like El Chapo.
Sen. Mike Lee says if his health fix isn't supported, repeal now and replace later
–– 'C'mon, we gotta start killin' people, people.'
Brain-Eating Amoeba Found In Louisiana Tap Water; People Warned To Avoid Water In Nose
–– Chlorine huffers targeted.
FBI Employees Wear 'Comey Is My Homey' Shirts To Family Day
–– And 'Color Me Mueller.'
'It has to be something, but it could be infinity': Trump ponders space in strange ceremony
–– Peers into void, recognizes self.
Buzz Aldrin Looked As Baffled As We Felt During Trump's Space Talk
–– Witnessed loony eclipse.
Celebrities React to Donald Trump's CNN Body Slam Tweet: 'How the F— Are You a President'
–– 62 million Americans voted for him.
Trump: States are 'trying to hide' things from voter fraud panel. Here's what they say.
–– Their private parts.
Kentucky secretary of state: 'There's not enough bourbon here in Kentucky' to justify White House request for voter info
–– 'You're way off the Beam.'
After moving to D.C., Melania Trump is becoming more vocal
–– If that's how you describe guttural screams of anguish.
Trump Tweets a Video of Him Wrestling 'CNN' to the Ground
–– Geeko-Roman style.
Counseled by Industry, Not Staff, E.P.A. Chief Is Off to a Blazing Start
–– Like forest wildfire.
Donald Trump renews attack on 'dumb as rock' MSNBC host Mika Brzezinski
–– From 'stupid as pebble.'
Trump defends tweets, says he's 'modern day presidential'
–– In primordial sense.
'I'm President and They're Not': Trump Attacks Media at Faith Rally
–– Sorta quoting Chevy Chase.