Expell Disaster

Week of 12/30/22
Actual headlines from the internets. You Google 'em.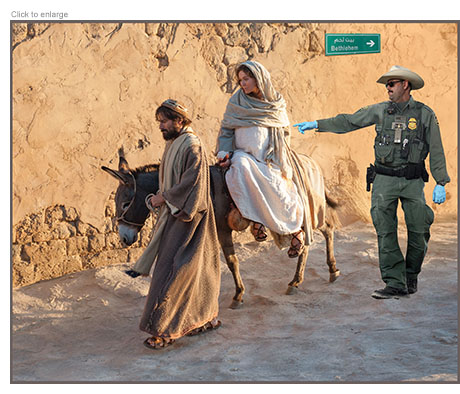 Supreme Court leaves in place Title 42 border policy for now
–– Feliz Navidad, suckers!
In a Bad Year for Stocks, Tesla Plunged 65%
–– As though driven by company's Autopilot.
Buses of migrants dropped outside Kamala Harris' home in freezing temperatures on Christmas Eve, reports say
–– Unwrapped!
White House condemns Texas governor after migrants were dropped off outside Kamala Harris' house: 'Abbott abandoned children on the side of the road in below freezing temperatures'
–– Gov. Abbot: 'Bah, humbug!'
NORAD started tracking St. Nick on Christmas Eve after a child tried to call Santa's phone number but got the Air Force instead. Now 1,500 helpers answer the hotline every year.
–– Gov. Abbott insists system be used to track 'illegals.'
Hunter Biden's ex-stripper lover requests to change their child's last name to Biden
–– Boom Boom Biden.
Democrats call for George Santos to resign seat over résumé 'lies'
–– Republicans call for him to teach them how to do it.
Tulsi Gabbard tears into George Santos during Fox interview: 'Do you have no shame?'
–– 'Like me?'
Ullyses S. Grant promoted to general of the armies in new defense spending bill
–– Proving it's been in committee way too long.
House panel releases Trump tax returns in another setback for former president
–– Now accounting for bad taste.
Trump's tax returns released by House committee show he paid little in taxes
–– Many happy returns.
Trump White House Drafted Memo Calling for Staffers Who Didn't Believe Election Fraud to Be Fired
–– Nicknamed 'Easter Bunny test.'
Hope Hicks told Trump that January 6 was as bad as everyone said it was and he complained that it wasn't fair that he was being blamed
–– Only second part rings true.
Kayleigh McEnany a 'liar and opportunist', says former Trump aide
–– Don't forget 'idiot.'
Melania Trump distrusted her husband's advisors, including his own son, Donald Trump Jr, Stephanie Grisham told the Jan. 6 committee
–– File under 'Not as stupid as she looks.'
Donald Trump Jr. blamed his own cynicism for his initial belief that January 6 rioters weren't Trump supporters
–– And a speedball.
Kimberly Guilfoyle said she is 'very traditional' in her relationship with Donald Trump Jr. Here's a timeline of their romance.
–– 'I love cooking for him, then cleaning the spoons and needles afterwards.'
Jan. 6 Transcripts Shed New Light on How Trump Considered Blanket Pardons
–– Or at least thunder blankets for co-conspirators.
Rep. Zoe Lofgren crashed Proud Boy Enrique Tarrio's January 6 deposition to ask why he called her the C-word on Telegram
–– Said he meant 'Z-word.'
Moorish Americans take over a rural gun range, sparking a strange showdown
–– Moorish or less.
'I'll be crashing on someone's couch till I get paid': life as the first Gen Z congressman
–– Aww, so tough –– until $174,000 salary kicks in next month.
Home Depot's 93-year-old cofounder who said 'nobody works' anymore because of 'socialism' has donated $64 million to elect Trump and the Republican party over the years
–– Appropriately dumb as a plank.
Russian State TV Hails Lauren Boebert For Refusing To Stand For War Hero Volodymyr Zelensky
–– Rested on her Lauren's.
Russian sausage magnate dies after hotel fall in India
–– Slipped on kolbasa.
Russia's Yandex co-founder Volozh pens farewell message to staff
–– Assumes he'll be next oligarch to die under mysterious circumstances.
Iran holds top military drills in major oil waterway in 'war before the war'
–– Pre-war building?
A video of the British prime minister's conversation with a homeless man has gone viral as people label it 'cringeworthy' and 'excruciating'
–– Served at Sunak encounter.
Jair Bolsonaro leaves Brazil for the US ahead of Lula's inauguration
–– Not the US –– Florida.
Hundreds of Florida 'Surfing Santas' brave freezing Christmas Eve temperatures to surf for charity
–– Ho-ho-hodads.
Buffalo couple who lives on a church campus stocked up on food to spend Christmas with their 9 kids — but when the storm hit, they opened their doors to 130 strangers instead
–– And threw kids out in snow.
Walton Goggins Shares His Favorite Sparkling Wines for New Year's Eve
–– Which he's already drinking on December 27.
Panettone: Sweet treat from inside prison
–– With metal file baked in.
Some Peruvians get punches instead of presents as part of a regional tradition to settle scores on Christmas Day
–– Are you sure that's not Festivus?
1,000 Southwest flyers sleep overnight at Denver airport amid 'nightmare' flight cancellations
–– Ironic, but inflight movie was to be Tim Burton classic.
Barack Obama puts Michelle Obama's book at the top of his 2022 favorites: 'I'm a bit biased'
–– Yikes, so is she.
Paulina Porizkova poses topless on the beach, shares her superpower: 'You make other women feel beautiful'
–– -adjacent.
Cher Ignites Engagement Rumors With Picture of Huge Diamond Ring From Boyfriend
–– Cher lunacy.
Bella Thorne says she 'almost got fired' by Disney after being photographed in a bikini at 14
–– Now Disney Princesses encouraged to post pix of labia rings.
Camila Valieva Recreates Viral Wednesday Dance in Figure Skating Routine Inspired by Netflix Hit
–– Or has series of seizures on ice.
The stars of 'The Tinder Swindler' and 'Bad Vegan' say Netflix failed in its portrayal of abuse and manipulation by men
–– Now that's how professional victims do it.
Paris Hilton Dresses as Sexy Santa for Christmas Photos: 'Sleighing in Red'
–– 41-year-old posing like slutty 14-year-old not sad at all.
Paris Hilton Brings Back 'Y2K Pop' With Refreshed Version of 'Stars Are Blind'
–– And rereleasing forgotten 16-year-old dreck positively joyful.
Meek Mill Posted Bail for 20 Incarcerated Women So They Could Spend the Holidays With Family
–– Can't fault his PR team for lack of creativity.
'Glass Onion' star Kate Hudson weighs in on the 'nepo baby' debate and says she really doesn't care what people say because 'storytelling' is in her family's blood
–– Which means they're bunch of liars, we think.
I'm a therapist to the ultra-rich. Trust me when I say Glass Onion is not as far-fetched as you think
–– We're human beings who have watched movies: it's more.
Ed Helms Says 'Hangover' Fame Created Anxiety: I Was 'Spinning Out and Panicking'
–– Office rocker.
Teresa Giudice Stands by 3-Times-a-Day Sex with Husband Luis Ruelas: 'It's a Normal Thing'
–– And watches.
Paula Abdul Is Being Called Out For Facetuning Herself To Look 19, Like She Looks Like A Completely Different Person
–– She must be using pitchfork.
Andrea Bocelli and family perform "The Greatest Gift"
–– Turning off volume on wretched holiday album.
Whoopi Goldberg doubled down on her comments that the Holocaust was not about race: 'You could not tell a Jew on a street'
–– Except by Stars of David they were forced to affix to clothing.
Joan Collins, 89, poses in swimsuit in holiday celebration with husband Percy Gibson, 57
–– That's her hand waving above surface as he holds her head under.
Courtney Love Says These Two Artists Are the Only 'True Musical Geniuses' She's Ever Met
–– Lana del Rey? What Hole has she been living in?
Courtney Love Says Brad Pitt Got Her Fired From 'Fight Club' After She Rejected His Bid To Play Kurt Cobain
–– First rule of Fight Club is: She's nuts.
A man was given the death penalty after footage of him being roasted in jail by Comedy Central's Jeff Ross was used in his sentencing
–– And no, Texas doesn't use electric chair which would be too on nose.
Allison Williams responds to 'nepo babies' discourse: 'It doesn't feel like a loss to admit it'
–– Nepo in the bud.
Bill Cosby Plans to Tour in 2023
–– Entitled My Knockout Punch.
Art Spiegelman on Life With a '500-Pound Mouse Chasing Me'
–– Maus trapped.
Jenna Bush Hager, Progeny of Presidents, Is Now a Publishing Kingmaker
–– Ironic for daughter of illiterate.
Dennis Eckersley's family 'in complete shock' after daughter accused of leaving baby freezing in woods
–– Thrown curve ball.
FTX founder released to parents on $250m bail
–– Why not rearrest on other charges, see if family will pay $500m?
Sam Bankman-Fried met with 'Big Short' writer Michael Lewis during house arrest
–– Already working on first draft of Big Shit.
'Pharma Bro' Martin Shkreli advises Sam Bankman-Fried on potential prison time, saying he should prepare by listening to rap music and shaving his head
–– Geez, and what… change name to Blackman-Freed?
Greta Thunberg's Twitter Takedown Inadvertently Leads to Andrew Tate's Arrest for Human Trafficking
–– Oh, that is so rich, almost too good to be…
Pizza Box Did Not Lead To Andrew Tate's Trafficking Arrest: Romanian Agency
–– …true.
Celebrity-Backed Bail Organization Shutters After Releasing Man Who Went On To Shoot Waiter
–– Hollow tip bullet.
Crime Buff Who Studied Eight Miles Away Arrested in Idaho Murders
–– In worst field trip ever.
FBI 'most wanted' murderer found in Mexico posing as yoga instructor for 12 years: reports
–– Favorite pose was deadward dog.
Queens dad, an MTA driver, told sons to 'keep your seat belts on' before running down wife with SUV, then stabbing her: prosecutors
–– Should've finished All About Eve quote: "…it's going to be a bumpy night.'
Texas man dressed as woman arrested for allegedly photographing women in bathroom, brandishing pepper ball gun
–– Why he had them hold gun real mystery.
Florida man allegedly beat roommate's raccoon with hammer, threatened to kill neighbor with sewing needle
–– Had authorities in stitches.
Scientology leader David Miscavige 'nowhere to be found' as prosecutors try to serve federal trafficking suit
–– Did they check Xenu's spaceship?
Arizona bill would require teachers get parents' permission to use students' 'preferred pronoun'
–– Them's fightin' words. They's?
Patagonia's founder, who gave his company to a non-profit, loves saving money. From eating cat food to living in beach shacks, here are some of the wackiest examples.
–– Wasn't giving away company loony enough?
Le Creuset Quietly Discounted Dutch Ovens, Bakeware Sets, and More During Its Major Year-End Sale
–– Then dropped 5-piece set, made racket.
Feed your soul with a warming bowl of bacon, kale and bean soup
–– And your toilet bowl.
From the McRib to the Choco Taco, here are 6 foods we lost in 2022
–– In our couch.
You never quite know what you'll get with Australia's Lamington cake
–– Which is exactly what you want from dessert.
This whisky commercial is moving viewers to tears. See why
–– They're sloppy drunk.
'We're going number one': How rap icon Jadakiss is using coffee to build Black generational wealth with his son and father by his side
–– It's drinking all that coffee.
Did the Mother of Young Adult Literature Identify as a Man?
–– More NY Times tran fiction.
Sometime In My 50s, I Became Invisible To Men. Here's What I Didn't Expect To Feel.
–– A lot of guys bumping into me, stepping on feet.
Trio attack Black teens at pool they consider 'whites only,' South Africa reports say
–– Miami Herald reaches all the way to South Africa to spur racial animus.
I live with my cat in a 388-square-foot tiny home in a national forest. Here's what it's really like.
–– Lady, we don't care.
Dog who "froze" in -35 degree wind forced to be rescued by owner
–– Pupsicle.
Nebraska pit bull caught on video helping owner walk across icy path
–– Before mangling leg.
Almost 30 pregnant sheep killed in one of 'worst livestock attacks' in Kent
–– Ewes-full information?
It's a myth that ancient Egyptians pulled mummy brains out by the nose — they likely scrambled them instead, says an expert who tried it
–– Sounds like he scrambled own brains.
Did we get Egyptian mummification totally wrong? It might have nothing to do with preserving the body after death, experts say.
–– Should've kept under wraps.
Ancient Roman Baths Discovered in Egypt's Temple of Khnum
–– Create Khnumdrum for scholars.
'Exceptionally rare' find proves these dinosaurs were not picky eaters, researchers say
–– Petrified White Castle Crave Clutch.
Species of clam thought to exist only as a fossil found alive
–– Were being held by mussels for ransom.
A barber in Buffalo turned his shop into a shelter for 50 people during the killer blizzard. They slept in the chairs and the floor with barber capes as blankets.
–– Woke up bald.
Worst drought 'in living memory' threatens the world's olive oil supply
–– Or latest 'Industry excuse for inflated prices.'
Do people live in Antarctica? Here's a look at population on the icy continent.
–– Spoiler Alert: No.
India suspends construction, demolition work in Delhi as air worsens
–– Take breather.
Wuhan is once again besieged by Covid — three years after it recorded the world's first cases
–– Couldn't happen to nicer city.
Few tourists, deserted streets in casino hub Macau after reopening
–– Craps out.
Kathy Whitworth, winningest player in golf history, dies at 83
–– One in hole.
Edie Landau, 'Hopscotch' and 'The Deadly Game' Producer, Dies at 95
–– Loses 'Game.'
Ruggero Deodato, Director of Banned Horror 'Cannibal Holocaust,' Dies at 83
–– There will be brief service after body is devoured.
Maggie Thrett Dies: Actress And Singer Most Famous For "Mudd's Women" Episode Of 'Star Trek' Was 76
–– Thrett has passed.
Vivienne Westwood, 81, Dies; Brought Provocative Punk Style to High Fashion
–– Punk rot.
Pelé, transcendent soccer superstar and Brazilian 'national treasure,' dies at 82
–– Post goal.
Barbara Walters, TV's tireless pursuer of the newsmaker 'get,' dies at 93
–– Meets deadline.
Barbara Walters, first among female TV journalists, dead at 93
–– From a View to a kill.