Generation Whine

Week of 10/21/22
Actual headlines from the internets. You Google 'em.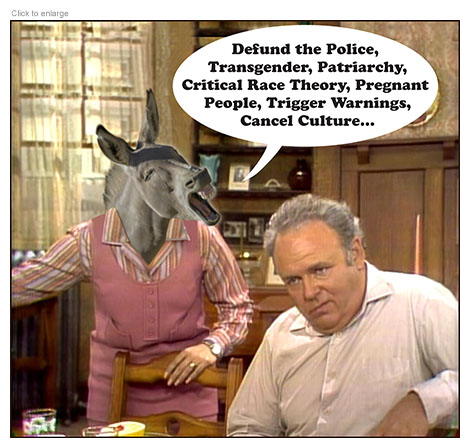 Barack Obama says Democrats need to avoid being a 'buzzkill'
–– They're total drag queens.
Baker uncovers 1,300 ancient breads
–– Sells for 1/2 price.
After Truss's Fall, U.K. Could See New Prime Minister in Days
–– Truss busted.
Early voters in Georgia face obstacles under state's new election law
–– C'mon, they've got more than two weeks to figure it out.
Biden has spent more than a fourth of his presidency working from Delaware, outpacing Trump's regular trips away
–– Yeah, but 'working.'
Opinion In defense of extreme (Democratic) partisanship
–– And getting your righteous ass kicked.
The 'oil piggy bank' is running low — but President Biden says he'll replenish it when prices hit a range of $67 to $72 a barrel. Will the plan work?
–– The way tackling greased pigs usually does.
Justice Dept. Recommends Bannon Be Sentenced to 6 Months in Prison
–– And decent haircut.
Bannon gets 4 months jail term for defying Jan. 6 committee subpoena
–– Which is sorta 6 months in dog years.
Trump's company charged Secret Service 'exorbitant' hotel rates to protect the first family, House committee report says
–– In mini-bar 100 Grand candy was.
Trump Fraud Suit Will Stay Before Judge Who Held Him in Contempt
–– He has dozen other navy ones to replace it.
Former DOJ official says Trump's reaction to the January 6 panel is starting to look like the makings of an insanity defense
–– He's been reported seen getting fitted for navy blue strait jackets with red ties attached.
Rep. Adam Kinzinger says Trump is 'required by law' to testify before January 6 committee: 'He can ramble and push back all he wants'
–– And he's always been law-avoiding citizen.
Federal judge finds that Trump lied under oath about voter fraud in Georgia while trying to overturn the 2020 election results
–– Should've known when Bible he touched combusted.
Chris Christie says Trump kept the classified documents seized at Mar-a-Lago as a 'trophy': 'That's what they were, more than anything'
–– Which he could display next to all of Eric's 'participation' cups.
Special master Dearie unhappy with Mar-a-Lago document progress: 'Where's the beef? I need some beef'
–– There's chopped chuck between Trump's ears.
The Incredible Mystery of How Trump Got Judge Cannon in the Mar-a-Lago Case
–– How did he loose Cannon?
Trump's secret, ugly breakup with Deutsche Bank is revealed in new allegations by NY's attorney general
–– He treated bank like Russian hooker.
Newsmax bans Lara Logan after QAnon-style rant, condemns her words in 'the strongest terms'
–– Logan's run off.
Boebert tells Republican dinner guests they're part of 'second coming of Jesus'
–– Insists first one got her pregnant.
The Midterms Aren't the Only Things That Are Looming
–– There's Trump's fat ass on horizon.
See why Republicans are trying to get you to focus on 'wokeness'
–– IT WINS ELECTIONS!
Herschel Walker Doubles Down On Claims Law Enforcement Badge He Flashed During Senate Debate Is "Legit"
–– Insists on being referred to as Deputy Dawg.
Warnock calls out Walker for skipping debate: 'Half of being a senator is showing up'
–– So a quarter for half a senator?
Obama says conservative media 'has a lock' on molding GOP candidates: 'People will vote for DeSantis even if I'm not sure that they would really have a great time' with him
–– Unless they were pranking him which would be sweet.
How a Trump favorite is already tainting a new election with his playbook
–– And her taint.
First Known Family of Neanderthals Found in Russian Cave
–– aka Putin's Cabinet.
'Coffins Are Already Coming': The Toll of Russia's Chaotic Draft
–– Total bier blast.
If a nuclear bomb is dropped on your city, here's what you should (and shouldn't) do to increase your chance of staying alive
–– Kiss ass goodbye after fleeing.
Bread Prices Skyrocket as Inflation Grips Europe
–– So picture baguette on lunch pad with flames shooting out end…
Far-right leader Giorgia Meloni named as Italy's first female prime minister
–– Full of Beloni.
'Moving Backward': In Xi's China, Some See an Era of Total Control
–– That's what Xi said.
China Delays Indefinitely the Release of G.D.P. and Other Economic Statistics
–– Party didn't want to brag.
Former Chinese leader Hu Jintao unexpectedly led out of room as Party Congress comes to a close
–– Hu-boy!
American technology boosts China's hypersonic missile program
–– Only running dogs can hear.
'One of the most dangerous times' in cyber nears
–– Black Friday?
Opinion Saudi Arabia sentences U.S. citizen to 16 years in prison for tweets
–– Or is that Fact?
French company to pay nearly $778 million as part of plea deal to US charge of providing support to ISIS
–– Sounds treasonable.
'Done on the Sly': France's Flawed Return of Skulls to Algeria
–– Not tres bone?
Berlusconi, Caught on Tape Gushing Over Putin, Heightens Anxiety About Italy
–– Physically, over topless pic.
Ari Emanuel Calls on Kanye West's Business Partners to Stop Working With Him
–– Yeah, but isn't he Teflon Don of rap?
Balenciaga Severs Ties With Kanye "Ye" West
–– They were collaborating on ugly ties, too?

'Drink Champs' Pulls Kanye West Episode Due to "False and Hurtful" Comments About George Floyd
–– We'd expect sober assessment from them.
Kanye West to acquire conservative social media platform Parler
–– Might rename Er.
First 'Creed III' Trailer Pits Michael B. Jordan Against Jonathan Majors
–– Wood vs. Ham.
George Clooney Disses Trump, Remembers Him Asking 'Which Cocktail Waitress Was Single': 'That's Who He Was' (Video)
–– And 'under 20 bucks.'
Kerry Condon on Gender Roles in 'The Banshees of Inisherin': "Irish Women Tolerate So Much"
–– Sounds wee bitter.
Björk, Still Using Style to Captivate
–– In latest slang for sneer.
Groundbreaking movie star Anna May Wong to be first Asian American featured on US currency
–– Shoulda been Wong dollar coin.
Legendary New York Concert Promoter Ron Delsener Announces His Retirement; There Will Never Be Another
–– Sure –– how many promoters named Ron Delsener can there be?
Kelly Ripa 'Wouldn't Have Done' Live with Regis Philbin Had She Known About Behind-the-Scenes Hardships
–– How about viewers' onscreen ones?
Olivia Wilde Muses on Directing Career Amid 'Don't Worry Darling' Drama: "It's Tempting to Excuse Ourselves from the Burning Hellfire of Misogyny"
–– How about self-lit flames of 'Infidelity' and 'Mediocrity?'
Sigourney Weaver Weighs in on Selena Gomez's 'Working Girl' Reboot: "It's a Great Instinct to Want to Do That Again"
–– As primal as greed.
Geena Davis Says She Rejected Jack Nicholson's Sexual Advance With Dustin Hoffman Advice
–– Tootsie role.
Kevin Spacey Says He Didn't Publicly Come Out as Gay Because His Father Was a 'White Supremacist and a Neo-Nazi'
–– American beauty.
Kevin Spacey Trial: Anthony Rapp Loses $40 Million Sexual Battery Lawsuit
–– Beats Rapp.
Former boxing champ George Foreman accused of sexual abuse by daughters of his former associates, lawsuits show
–– Expected to be grilled.
How Pig Became Nick Cage's Cash Cow
–– He squeezed til it squealed.
New 'Percy Jackson' Book Is on Its Way, 14 Years After the Previous One
–– But who's keeping count? Really –– previous readers aged out, potential new ones can't.
Cara Delevingne: 'I Didn't Realize I Was a Prude' Until Taking Part in Masturbation Seminar in 'Planet Sex'
–– Rubbed her wrong way?
"The View" Host Joy Behar Admitted To Having Sex With Multiple Ghosts, And Whoopi Goldberg's Response Was Hilarious
–– Despite doing as annoying Oda Mae Brown character.
Donna D'Errico, 54, Just Dropped a Red-Hot Lingerie Instagram of Her Entire Toned Body
–– Her perineum is a-ma-zing.
Are We Missing Out When Athletes Retire on Top?
–– On schadenfreude of watching dismal decline?
Philadelphia Embraces a Star Who Embraced the City Back
–– It's love when bum meets goon!
Half the World Has a Clitoris. Why Don't Doctors Study It?
–– How about all those digital, oral exams by enthusiastic amateurs?
'Kind of Awkward': Doctors Find Themselves on a First-Name Basis
–– What, too intimate, like prostate exam?
Why you are not a failure as a mother
–– Not your fault kids are absolute monsters.
Are inflatable hot tubs worth it? Absolutely. Here are 5 you should check out
–– If you're not sharp object.
Two Black Comedians Sue Police Over Search at Atlanta Airport
–– Are they joking?
Newark airport authorities remove snake from a plane
–– Can't get Samuel L. Jackson to leave.
'He's constantly going to live in fear.' Spared execution, Cruz faces hellish life in prison
–– Can't prison issue trigger warnings to other inmates?
Massive whale-shaped plane appears in the sky for first time in over a decade
–– Was anyone baleen out?
I went inside the secret room where flight attendants sleep on Qatar's Boeing 777 and was shocked at how big it was
–– More stunned to see both pilots napping.
This Motorola rollable phone can change size with a press of a button
–– And tiny wheels make it easier to get on planes.
The Italian village with the 'elixir' of healthy life
–– 'De old-a inna-out, inna-out.'
Tourist strips naked on the steps of Italian cathedral
–– Nice apse.
The $1,800 potato chip purse that screams 'notice me!'
–– 'And then kick me!'
Archaeologists restoring ISIS damage in Iraq discover Assyrian reliefs unseen for millennia
–– So, 'Thank you, ISIS?'
Human Remains May Have Revealed the Site of a Medieval Friary
–– Next to oil, potatoes still in cooker.
Terrified fish by the thousands throw themselves onto Outer Banks beach, videos show
–– Saw some fat guy in Speedo.
Meet Massachusetts' new state dinosaur
–– Barney Frank?
This meat has unreal tenderness from being wrapped in clay, Stone Age style
–– You've never had such mouth-watering Pteranodon.
I Did Not Steal Two Piglets. I Saved Them. A Jury Agreed.
–– Now how about their molestation suits?
German shepherd mix named Hercules needs a home: He'll 'steal your heart'
–– After he swipes hot dog, steak, Golden Apples.
Seattle's famous bus-riding dog Eclipse has died
–– Was ultimately more Setter.
Images of farting zebra and petulant penguin shortlisted for Comedy Wildlife Photography Awards 2022
–– In squeaker.
Bright, powerful burst of gamma rays detected by multiple telescopes
–– Trained on Hulk couples weekend.
Rare 300-foot whaleback boat discovered at the bottom of Lake Superior
–– Did it sink a whale back?
Why Ian May Push Florida Real Estate Out of Reach for All but the Super Rich
–– Who else stupid enough to pump millions into Hurricane Alley?
Asteroid that wiped out dinosaurs triggered 'megatsunami,' with mile-high waves
–– Sixty-six million years before invention of life vests.
Burst of cold air: Here is who will see freezing temperatures this week
–– Warning: It's looong list of names.
Goats and Sheep Are Brawling in the Rockies. Blame Glacial Melt
–– And crooked Bighorn promoters.
Severe drought reveals incredible discovery at bottom of Mississippi river
–– A book!
CDC director tests positive for COVID-19
–– First positive development of her tenure.
XBB, BQ.1.1, BA.2.75.2 — a variant swarm could fuel a winter surge
–– Killer Bs.
New York's struggle with the new Omicron variant BQ is trying to tell us something
–– First, struggle is messaging you? Second, variant taking BQE?
How the Black Death shaped the human immune system
–– Plague's a big part.
Whites are now more likely to die from covid than Blacks. Here's why the pandemic shifted.
–– And how we shift coverage from 'victimized' to 'smarter' Blacks.
Bruce Sutter, Hall of Fame Relief Pitcher, Is Dead at 69
–– Card dealt.