Case of the Willies

Week of 11/04/22
Actual headlines from the internets. You Google 'em.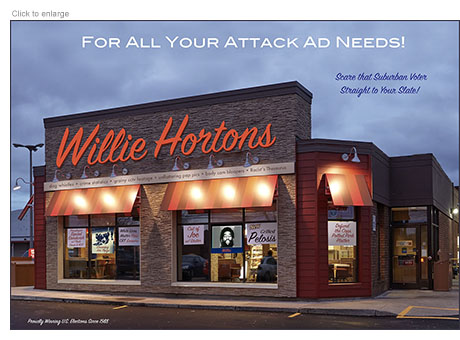 Stoked by Republicans, Fears of Crime Loom Large for Midterm Voters
–– Urban panning.
Deadly Fungi Are Infecting More Americans
–– Fungi jumpin'.
Obama heckled in Phoenix, slams toxic politics: 'Everybody's yelling'
–– Vex populi.
Opinion Why are Democrats dumping on progressives? Perry Bacon Jr. answered your questions.
–– Ones about to cost them election? Hmm.
Democrats count on huge Black turnout, but has the party delivered in return?
–– Just enough to lose both Houses?
Walker hits back at Obama: 'Put my resume against his resume'
–– "Bet mine weighs more –– I attached my badge.'
Amid scandals, Herschel Walker hopes voters 'believe in redemption'
–– Promises free coupons for all Georgians to redeem.
Trump, Mastriano's wife criticize Jews for not loving Israel enough
–– As in, moved there.
White House gets 'Goldilocks' jobs report as they look to make up ground on the economy
–– Republican bears mess it up.
Opinion Biden is making the most of good economic news
–– Is letting Congress slip away best use?
'The View' Host Sunny Hostin Marvels at White Suburban Women Voting Republican: 'Almost Like Roaches Voting For Raid'
–– Provides conservatives with roach clip.
Biden Accuses Oil Companies of 'War Profiteering' and Threatens Windfall Tax
–– They call it 'Putin something away for a rainy day.'
Immigration officials say Pelosi attacker was in US illegally
–– From Mars?
Paul Pelosi attack: Neighbors describe suspect as 'odd,' say his 'intention' was to 'traumatize Nancy Pelosi'
–– Same effect Republicans wanted on average American with their response.
'Absolutely no evidence:' Police, FBI affidavit debunk salacious conspiracy about Pelosi attack pushed by conservatives
–– But read all the craziness here as we 'refute' it.
Intruder Wanted to Break Speaker Pelosi's Kneecaps, Federal Complaint Says
–– A right-wing racist nut wants to take knee?
Donald Trump Jr.'s reaction to Paul Pelosi's attack shows exactly how low we have sunk
–– Hammer and suckhole.
Opinion Youngkin's Pelosi gaffe shows he's not presidential material
–– Presidential?! Did Mickey Mouse Club lose chief exec?
Opinion Ketanji Brown Jackson asks the right question about affirmative action
–– Majority is going to give her wrong answer.
Chief Justice John Roberts puts temporary hold on release of Trump's tax returns
–– Seals permanent status as 'Lickspittle.'
Opinion | Team Trump thought Clarence Thomas would do them this solid. He didn't.
–– Instead pissed on them.
The deadline for Trump to deliver subpoenaed documents has arrived. What now?
–– Sure he hasn't slept wink worrying about it.
Trump Comes Right Out And Says It: 'Some Of Us Have Horrible Children'
–– Eric: 'You mean like Hagar? Because he was actually nice. I always wanted to be a Viking. Y'know Eric the Red. Remember, Dad? Dad?'
Oath Keepers founder Stewart Rhodes slipped and testified he supports the 'right to riot' at his January 6 trial
–– Insists it's in 28th Amendment along with right to party.
Employers worry U.S. workers are getting less done. The data backs up their fears.
–– Though it's incomplete because statisticians left early.
U.S. workers have gotten way less productive. No one is sure why.
–– All that time bitching, moaning.
If Oregon Turns Red, Whose Fault Will That Be?
–– The Bluesers.
New York City agrees to pay $26 million to 2 men wrongly convicted of Malcolm X murder
–– X checkers.
Medvedev says Russia is fighting a sacred battle against Satan
–– Putin: "Dmitry, you idiot, I said with!'
German Chancellor Scholz and Zelensky reject Russian claims of Ukraine preparing a "dirty bomb"
–– Although that is name of Volodomyr's signature vodka cocktail.
Netanyahu begins coalition talks to form Israeli government
–– Liberals have Bibi in bonnet.
Bolsonaro Agrees to Transition, Two Days After Losing Brazil Election
–– Accepts da Silva medal.
Tom Schwartz Says He and Taylor Ann Green Have "a Rapport Going"
–– 'Oh, I thought you said Marjorie Taylor-Greene.'
Former Prime Minister Imran Khan shot in foot in reported assassination attempt in Pakistan
–– GOP jokes it was by former opposition batsman.
Confusion and Frustration Reign as Elon Musk Cuts Half of Twitter's Staff
–– Now it's appropriately just Twit.
Musk's Trump-style management rattles Twitter workers awaiting layoffs
–– Doesn't Musk deserve credit for his own Shitty Boss style?
'We need to pay the bills somehow!' Elon Musk haggles with Stephen King over verification fee after horror master blasts $20 price plan
–– Currently writing sequel The Musk.
CNBC axes Shepard Smith's news program amid broader 'strategic realignment'
–– That Shep has sailed.
'The White Lotus' Fans Are Fawning Over Theo James' Dong-Swinging Nude Scene In The Season Two Opener
–– Spotted dick.
James Cameron and the Cast of 'Avatar: The Way of Water' Hold Their Breath
–– Till they're Na'vi blue in face?
Matthew Perry Explains How Feeling "Uncomfortable and Agitated" Led Him to Start Writing
–– And start using.
Matthew Perry Jokes About His Substantial Friends Residuals: 'Yesterday I Bought Iowa'
–– Tried free-basing potatoes.
'Fate: The Winx Saga' Canceled After Two Seasons at Netflix
–– A Winx and no nod.
American Idol' Judge Luke Bryan Says He Knew Inviting 'Divisive Figure' Ron DeSantis Onstage Would Upset Some Fans
–– He smart.
Barbra Streisand on Her Pristine Early Recordings: 'That Girl Can Sing'
–– I cant believe it's not 'Butter!'
Julia Roberts reveals Martin Luther King Jr. and Coretta Scott King paid the hospital bill for her birth
–– File under 'Huh.'
Zosia Mamet Swapped Horses with Kaley Cuoco's Mom — and It's 'Obsessed with Swedish Fish'
–– You go first.
Massage Therapist Testifies Harvey Weinstein Masturbated in Front of Her: 'I Thought If I Tried To Struggle, It Would Get Worse'
–– Rubber ducked.
Henry Cavill Responds to 'Twilight' Author Calling Him the 'Perfect' Edward Cullen Actor: 'That Would've Been Cool'
–– We believe he would've just sucked.
Mark Cuban: Don't use credit cards—if you do, 'you don't want to be rich'
–– Mark, here's five bucks to shut up.
Tiffany Cross Out at MSNBC as Channel Cancels Weekend Show
–– Crossed out.
Why Squid Game's success makes Lee Jung-jae "hugely sad"
–– Because it stank?
Hasan Minhaj apologizes for Celebrity Jeopardy performance: 'I'm sorry for trying to make Jeopardy fun'
–– Whole career has been sorrily trying to make fun.
Mindy Kaling and B.J. Novak had scary encounter with would-be thief pretending to be fan of The Office
–– Turned out to be Dwight Schrute in mask.
Kal Penn Is Game to Host 'The Daily Show': 'Who Wouldn't Want to Have That Opportunity?' (Video)
–– 'What? You're supposed to be funny?'
LAPD to Investigate Captain Accused of Tipping Off Leslie Moonves About Sex Assault Investigation
–– Suspect Jim Brass.
Dan Levy explains how he knew it was the 'right' time to end Schitt's Creek
–– Took Schitt off air.
HBO Cancels 'Westworld' in Shock Decision
–– Fans simply don't understand…the show.
Serena Williams' Husband Alexis Ohanian Responds to Drake Calling Him a 'Groupie'
–– We thought it was grand slam.
Jack Harlow Playfully Addresses Online Rumors And Roasts In His 'SNL' Opening Monologue
–– For eight people who know who he is.
Paul Daniels cut me up and burnt me alive. We were so happy
–– Felt warm all over.
Jimmy Kimmel Says He's Lost Half His Fan Base Over Trump Criticisms
–– Basest of base.
Heidi Klum crawls into her Halloween party as a fishing worm, gets hugs from daughter Leni
–– Catches online carp.
If you're wondering how Heidi Klum did anything in her worm costume, she changed into a revealing bodysuit later on — but kept the worm makeup
–– Wriggle me this.
Heidi Klum's daughter says her mom sent her 25 bags of groceries randomly at college and the food almost didn't fit in her fridge
–– Almost? Does her dorm room have walk-in freezer?
After her quickie divorce, Gisele seems to be living the single life in Miami
–– Or she seems to be remarried?
'Truth or Dare' Director Alek Keshishian Says Madonna Asked for a Sequel, but 'We Just Didn't See Eye to Eye'
–– 'Plastic surgery had pulled hers halfway around her head like a Picasso painting.'
'My heart is racing, I'm terrified': Cat Power on recreating Bob Dylan's infamous 1966 'electric' gig
–– Just like a little girl.
'Equalizer 3' Drug Bust: Italian Police Seize 120 Grams of Cocaine From Film's Caterers, Raid Hotel Rooms
–– Gaffers had 'ludes to 'equalize' cast.
New non-profit aims to reduce fentanyl-related overdoses at US music festivals
–– Where crowds are Sprawling Room Only.
Prince Harry Reportedly Reached Out to His Ex-Girlfriends to Participate in His Memoir & They Apparently All Had the Same Reaction
–– 'A memoir? Him?!'
The Crown star Dominic West says he only looks like Prince Charles 'from behind'
–– Appropriate playing asshole.
Donald Trump's remark about Kate sparked "profanity" from William, Harry
–– Prince of the 'shitty.'
Kyrie Irving doesn't apologize for sharing video, but takes 'responsibility'; Silver to meet with Nets star
–– Says he does regret 'Jewish' last name.
Nike suspends relationship with Kyrie Irving amid antisemitism fallout
–– Bubbe said, 'Just do it, already.'
Kyrie Irving apologizes after Nets suspend him for refusing to disavow antisemitism
––
Was half-felt and dutiful… uh, we mean heartfelt and beautiful.
Brooklyn Nets and coach Steve Nash part ways after lackluster start
–– Nash bitches.
Meet the Astros Fans Willing to Spend $80,000 on Custom Baseball Caps
–– If you need potential buyers for used Altuve jockstrap.
Qatar police urged to show restraint during World Cup after Fifa talks
–– Goal to kick below belt, not above necks.
Call of Duty based some maps on real places. Not everyone was happy.
–– Particularly CG generals in cut scenes.
5 things to do with carved pumpkins instead of throwing them away
–– 3. Carve hole in bottom, make Jack fuck buddy.
McDonald's customers furious as stores start charging for dips
— So if you're friend's a dip expect bill.
Forget Free Coffee. What Matters Is if Workers Feel Returning Is Worth It.
–– For, um, how do you say, salary?
Opinion Let's say a permanent goodnight to daylight saving time
–– You'd still be in dark.
Clock runs out on efforts to make daylight saving time permanent
–– We've already lost more than hour reading about this stupid controversy.
Man Who Promoted Erotic Maternity Photos Is Suing The Women Who Called Him 'Creepy'
–– Pic of him squatting to 'deliver' baby was bit… dicey.
Please Don't Make Me Open That Gift in Public
–– But it's the 8.6" thrusting model with realistic telescopic thingy we discussed.
Your toilet is grosser than you think. Here's how to clean it better.
–– Throne off scent.
A decades-old Columbia car wash — once the showplace of a live tiger — has closed
–– Was cleaned so often he lost stripes!
Older, White and Wealthy Home Buyers Are Pushing Others Out of the Market
–– In shocking demonstartion of how capitalism works.
When a Girl's First Period Calls for Celebration, Not Stigma
–– And plenty of red balloons with strings trailing below.
Opinion: Rest is indeed resistance. For me and others, so is being child-free
–– America thanks you for your service.
Can't Sleep? Try Sticking Your Head in the Freezer.
–– Detach first.
Severe depression eased by single dose of synthetic 'magic mushroom'
–– But can lead to unsettling awareness of severe depression in time/space continuum.
What 300 therapists had to say about mental health
–– What is your profession?
You might have Crohn's disease, rheumatoid arthritis or lupus because your ancestor survived the Black Death, study says
–– And if they didn't, never mind.
Lyft to lay off 13% of staff
–– Will drop at front door.
Lions slip loose from Sydney zoo enclosure, overnight guests rushed to safety
–– Cats were hoping for takeout snacks.
A photographer aimed his camera at a surfer. A shark photobombed him.
–– Then snapped shot of him!
Dog's Intense Wonder In Face-To-Face Encounter With Sea Creature Is A Delight
–– After biting Aquaman in ass.
Giant beasts once roamed Madagascar. What happened to them?
–– Scared off by three ring-tailed lemur?
Scientists' detective work uncovers record of a valuable fossil destroyed in WWII bombing raid
–– Sedimentary, my dear Watson.
Stone Age child's grave site in Finland reveals surprises
–– Gloss Finnish.
King Tut's tomb was discovered 100 years ago — and unleashed a 'curse'
–– Which skeptics still tut-tut.
'Planet killer' near-Earth asteroid spotted, the largest in 8 years
–– Cue Jaws theme.
The climate is already collapsing in Africa – but its nations have a plan
–– Blame America.
Toxic smog engulfs New Delhi, prompting school and factory closures
–– At least you can't see beggars.
Egypt's human rights 'black hole' in the spotlight ahead of COP27 climate conference
–– Is that El-Sisi's new moniker?
When Covid-19, Flu and RSV Meet. The Potential for a Tripledemic.
–– Not a threebeat? A trifuckta?
Julie Powell Took Food Writing to a Franker, Darker Place
–– Recipes called for blackened hot dogs?
Douglas McGrath, Tony and Oscar Nominee, Dies at 64
–– Doug own grave.
Patrick Haggerty, trailblazing gay country star, dies at 78
–– Rode purple sage hard.
Gucci Mane, Questlove and More React to Takeoff's Shocking Death: 'God Help Us'
–– Took off.