Noel Rad Tracker

Week of 12/24/21
Actual headlines from the internets. You Google 'em.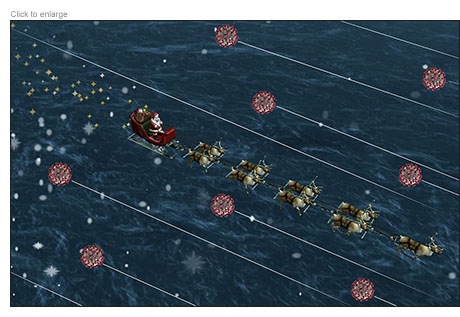 Parent uses right-wing slur during Biden call with NORAD Santa tracker
–– Let's go 'Brandon!'
Mary Bailey is the true hero of 'It's a Wonderful Life'
–– Barely.
Florida parade boats with messages criticizing Biden and profanities draws complaints
–– Mostly frig-its.
'Hey, Pal': Biden Welcomes a New Puppy to the White House
–– Will get Eric's old dog house.
White House staffers said it's 'beyond demoralizing' to see 'DC Randos' touring the West Wing before those who work with the Biden administration, a new report says
–– Would a widdle nap in the Lincoln bedwoom help?
Heir Apparent or Afterthought? The Frustrations of Kamala Harris
–– Or bad politician?
VP Kamala Harris told allies that the media coverage of her would be different if she was a white man: report
–– Remember how they loved Mike Pence, Dick Cheney?
'Betrayed': House progressives erupt over Manchin Build Back Better opposition
–– Spew palava.
Manchin has so many problems with the Biden child tax credit that a key Senate Democrat is worried about winning him over: 'I just don't know'
–– 'I mean right off the bat, it helps humans…'
Bette Midler apologizes to West Virginia residents for 'poor, illiterate, strung out' tweet
–– Even though 'the methed-out inbreds probably can't read it.'
The Jan. 6 Committee Says Jim Jordan Has Some Explaining to Do
–– To Lucy.
Two Georgia poll workers sue One America News, Giuliani over debunked election claims
–– After provocative bump and grind.
Rudy Giuliani associate Bernard Kerik set to release Jan. 6 documents: report
–– Kerik and shtick.
A judge dismissed Michael Flynn's lawsuit against the January 6 committee one day after he filed it
–– What took so long?
Manhattan DA Cyrus Vance Jr. is set to leave office without bringing criminal charges against Trump
–– Either he's worst DA in history or laws were written by corrupt rich men. Or both?
Cuomo lashes out at AG James after prosecutors decline to charge him in sexual misconduct allegation
–– Proving her point about him being touchy.
US Rep. Cawthorn, wife seek divorce after a year of marriage
–– Citing irreconcilable differences –– she's not total asshole.
San Francisco Board Approves Mayor's Plan to Crack Down on Homeless Camps in Tenderloin District
–– Poke Tenderloin.
GOP frets over Senate candidacy of disgraced former Missouri governor Greitens — aligned with Trump and leading in some polls
–– Running political ads on OnlyFans.
He pleaded guilty in a terrorism case and did his time. Now the government wants to strip him of his American citizenship
–– Awww.
Senate confirms Rahm Emanuel as ambassador to Japan, plus dozens more Biden nominees
–– Of course –– the politest man in America.
How did Bolsonaro win Time magazine's Person of the Year reader poll? Thank Telegram.
–– Because bullshit honor, meaningless for two decades?
Alec Baldwin Says "Not A Day Goes By" He Doesn't Think About 'Rust' Shooting
–– Insists on singing it.
'Spider-Man: No Way Home' has massive opening day, heads for box office records
–– And film most likely to sicken biggest audience ever.
Jessica Alba says she never had fun acting when she was younger because she was 'paralyzed with fear' and 'wildly insecure' about her abilities
–– And maybe a bit more realistic.
'The Matrix Resurrections' Review: A Pop-Subversive Sequel Smart Enough to Realize There's No Reason for It to Exist
–– Wow, high (toke toke) praise, man.
The world wasn't ready for the Wachowskis' 'Speed Racer' in 2008. It's now a must-watch.
–– Due to severe global brain damage in subsequent years.
James Franco breaks silence in 1st interview since sexual misconduct allegations, admits he's a sex addict
–– Can't help trying to screw media.
After Seth Rogen Said He Had No Plans To Work With James Franco Earlier This Year, James Opened Up About How He Feels About Seth
–– Revenge of the Seth.
Kate Winslet 'Couldn't Stop Crying' When She Was Reunited With Leonardo DiCaprio
–– Until he took foot off toe.
The People vs. Larry Flynt' at 25: Woody Harrelson calls Hustler founder 'most honest man' he ever met
–– Sin seer.
Peter Dinklage slams 'politically wrong' critics of his Herve Villechaize role
–– De pain! De pain!
Chris Noth makes first public comments amid scandal: 'I'll now let the chips fall where they may'
–– 'And the chippies, wink-wink.'
Beverly Johnson Told Us About Him Back In 1995': Beverly Johnson's 25+ Year Restraining Order Against Chris Noth Resurfaces Amidst New Sexual Assault Allegations
–– Noth by Noth worst.
And Just Like That… wanders into uncomfortable cringe territory
–– Had it ever left it?
Sutton Foster Confirms 'Music Man' Abscence Due to Positive COVID-19 Test as Hugh Jackman Praises Swings, Understudies
–– In full swings.
Rihanna's Wax Figure Is A Christmas Catastrophe At Madame Tussauds
–– RiRidiculous.
Blanca Blanco gets into the holiday spirit by wearing a Santa bikini
–– Obviously shaved her beard.
Cardi B Officially Launches New Platform Centerfold with Playboy as Creative Director
–– Duties include stapling.
Ryan Reynolds Says He's Often Mistaken for Ben Affleck at New York Pizza Place
–– Kind of is with extra cheese.
Alex Rodriguez cuts a lonely figure as he poses by his Christmas tree
–– Knifes intruder.
Tom Brady Invents New Signature Color, Brady Blue, for His Apparel Line
–– Was going to name it after alma mater, Hue of Michigan.
Claire Foy says she feels 'exploited' filming sex scenes in Hollywood: 'It's the grimmest thing you can do'
–– Did she sit through Season of the Witch?
Tom Holland Disagrees with Martin Scorsese's Assessment of Superhero Films: 'He's Never Made One'
–– The Irishman, Taxi Driver weren't?
'Platoon' star Willem Dafoe breaks down his famous death scene from Oliver Stone's 1986 Vietnam War classic
–– A dodgy oh! for stings.
Kim Basinger, 68, makes a rare sighting in Los Angeles
–– Of Madagascar pochard?
Aaron Sorkin explains how the iconic line 'Lucy, I'm home' was used to devastating effect in 'Being the Ricardos'
–– Ricky done lose that number.
How can Yellowstone be one of TV's biggest hits when it's one of the least discussed?
–– Should've kept original title: Piddlerock.
Don't Look Up Is More Than Your Standard Climate Cautionary Tale
–– It's genuine eco-disaster.
Jaden Smith gained 10 pounds after parents Will and Jada said they were worried about him
–– This Week in Oversharing.
'Spongeful' Buck ready to absorb Mets' info
–– But is he sponge-worthy?
Seven thoughts that shoot through your mind when you see the Sussexes' Christmas card
–– 4. Why am I even thinking about these media whores?
You'll Never Believe What the Queen Gave to Prince Harry's Son Archie for Christmas
–– Veronica!
Luxe London store Selfridges sold for $5 bln
–– Lotsa luxe.
A man strung Christmas lights from his home to his neighbor's to support her. The whole community followed.
–– She was hanging by neck, but still…
Why Christmas Gifts Are Arriving on Time This Year
–– And why media felt need to manufacture fake crisis in midst of legitimate catastrophe.
More than 50 Apple employees plan to walk off their jobs on Christmas Eve, urge customers to not buy anything amid the last-minute shopping rush
–– Genius? Bah!
Roman soldiers, booze, and mail trucks shaped the fruitcake's rich history
–– Caesar's drunken postal clerks were late with deliveries hence the dry, leaden texture?
'Pa-Rum-Pum-Pum Punch' packs a delicious one: Try the recipe
–– If you want little drummer boy in head in morning.
West Coast battered by severe storms as parts of U.S. see springlike temperatures
–– It's the darnedest thing how weather can vary across 3,717,792 square miles.
Insane Fight Erupts On Delta Flight Before Christmas
–– Not exactly Delta variant.
The Best New Year's Meals to Order Online, From Chef-Driven Brunches to Dinners for Meat Lovers
–– Chefs actually deliver them?
TikTok Made Them Famous. Figuring Out What's Next Is Tough
–– 'Like, I mean, which foot do I put down now? I'm falling…!'
After 78 years of waiting, this 97-year-old WWII veteran finally got his high school diploma
–– Realized his draft papers read 4-F.
Military is cracking down on 'questionable tattoos' to combat extremism. Here's how
–– Tatical advance.
Amir Assadollahzadeh: Fearing torture and possible execution, Iranian powerlifter quit team in Norway and ran for his life
–– Which really helped with cardio regimen.
China's 'social credit' system ranks citizens and punishes them with throttled internet speeds and flight bans if the Communist Party deems them untrustworthy
–– Exiles to 100 Acre Wood if they hint Xi looks like Winnie the Pooh.
Here's why WHO skipped Greek letters Nu, Xi to name Omicron variant
–– WHO terrified to offend Xi. Nu?
China threatened to send Lithuania to the 'garbage bin of history' after it stood up to Beijing by strengthening ties with Taiwan
–– Already in remaindered bin, but that's mean.
Glamping' in Saudi Arabia being considered as option for England fans at Qatar World Cup
–– Also sand castles, mirage hotels.
Saudi Arabia appears to be building its own ballistic missiles with China's help, report says
–– Which double as minarets.
Bahrain Takes A Tentative First Step Into Orbit, Adding To Gulf Space Race
–– Catapults satellite off Jabal al Dukhan.
Camels compete for crowns in UAE beauty pageant
–– Get humped.
Western powers say Libya's interim government still valid
–– Say they paid license renewal.
Tourist drug demand is bringing cartel violence to Mexico's most popular resorts
–– Where amenities include Hemp Bathrobes, Nose Rubs, Coke Plunge Pool.
Why does cannabis smell? The answer might not be what you think
–– Skunks not getting high?
Why Jamaican reggae and Finnish saunas have UNESCO status
–– Because ganja, kalakukko too ridiculous.
California Woman Pleads Guilty to Punching Flight Attendant in the Face
–– Heaving on a jet plane.
Jury finds Kim Potter guilty in Daunte Wright traffic stop shooting
–– A Daunte proposition for her.
An Idaho sheriff faces calls to resign after allegedly aiming a gun at church teens
–– Just wanted to put 'fear of Jesus in them.'
Woman who texted boyfriend to kill himself pleads guilty
–– First got him to binge watch Lost.
Greensburg man charged with directing woman to record video of sex act with child wants case dismissed
–– Well, of course he does.
'Unabomber' Ted Kaczynski transferred to a prison medical facility in North Carolina
–– Where can we send ticking Get Well package?
2 babies survive tornado that carried them away in bathtub
–– Didn't throw babies out with bathwater.
This Woman Explained How And Why Her Husband Breastfed From Her, And Here's Why Your Partner May Do The Same One Day
–– Sucks to be you.
Woman "grossed out" by sharing bed with boyfriend's dog asks internet for advice
–– After ruff night.
Researchers name prehistoric shark after retiring LSU museum official
–– Old 'bait-breath.'
Perfectly preserved baby dinosaur discovered curled up inside its egg
–– Fetus more information.
How NASA's Biggest Telescope Beat Loose Screws, Loose Budgets and Loose Clamps
–– And loose women.
Why a Chinese Company Dominates Electric Car Batteries
–– Because U.S. manufacturers have heads up tailpipes?
Most of the World's Vaccines Likely Won't Prevent Infection From Omicron
–– Joy to the World, MF!
Europeans Ponder Living With, Not Defeating, Covid
–– While pondering alternative in ground.
Jen Psaki praises Trump, says 'we are grateful' for his touting the safety and efficacy of COVID-19 vaccines
–– And wonders aloud if he's back tripping on dexamethasone.
Fringe factions of MAGA world are imploding after Trump publicly advocated for the COVID-19 vaccine
–– Marginal peripheral outposts.
Trump Doubles Down on Vaccine Advocacy, Dismisses Candace Owens's Skepticism
–– Vaxxing and vaining.
Anti-vaxxers furious at Trump after being turned away from his restaurant in NYC
–– Nicest thing he ever did for them.
Biden admin abandoned work on a mass COVID-19 testing plan because it thought it could vaccine its way out of the pandemic, report says
–– Took jab to jaw.
While omicron explodes around the world, covid cases in Japan keep plummeting and no one knows exactly why
–– Don't get Tokyo drift.
COVID outbreak leaves NBA's 'important' Christmas Day slate without top stars
–– Replaced by bench players wearing red noses, name Rudolph on jerseys.
Bill Gates on Omicron: 'We could be entering the worst part of the pandemic'
–– Heavens, Gates!
Boeing drops vaccine mandate for U.S. workers, joining Amtrak and other major federal contractors
–– Sick transit.
Outgoing NIH director says Trump and other Republicans pressured him to endorse unproven Covid-19 remedies and to fire Fauci
–– Side effect of Trumpitis was loss of free will.
Sally Ann Howes, who was Truly Scrumptious in 'Chitty Chitty Bang Bang,' dies at 91
–– Bang Bang, you're dead.
Grace Mirabella, Vogue editor who launched her own magazine, dies at 92
–– Fashion spread out.
Joan Didion, who chronicled American decadence and hypocrisy, dies at 87
–– Play it as she lays.
The Doors' John Densmore remembers Joan Didion, Eve Babitz and Jim Morrison
–– In cognitive assessment.
Remembering Joan Didion: 'Her ability to operate outside of herself was unparalleled'
–– Wasn't just slouching towards Bethlehem.