Oscar Dü 2020
Best Picture Nominees:
Ford v Ferrari –– Total drag race.
The Irishman –– Hoffa in the bag.
Jojo Rabbit –– Hitler youth.
Joker –– From the bottom of the dreck.
Little Women –– Average Jo.
Marriage Story –– Split faced.
1917 –– Combat boost.
Once Upon a Time in … Hollywood –– Manson with the stars.
Parasite –– Corporal clinger.
---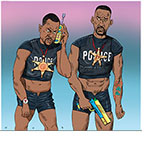 Bad Boys for Life –– Worse than ever.
Dolittle –– Doo little.
Weathering With You –– Weathering or not.
The Host –– With the least.
The Wave –– Bye-bye.
Blood Widow –– Screen bloody murder.
Feedback –– Distorted.
Disturbing the Peace –– That's the ticket.
Intrigo: Death of an Author –– That's all he wrote.
My Hindu Friend –– Morte bored.
---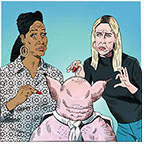 Like a Boss
–– Ex-
echh.
The Informer
–– The inside dope.
Underwater
–– Sub-merciful.
The Grudge
––
Grudge
dread.
Three Christs
–– And a 'Damn!'
Corrupted
–– Just plain rotten.
Inherit the Viper
–– A big asp.
The Dawn
–– Scumrise.
The Murder of Nicole Brown Simpson
–– Dead Bundy.
VHYes
–– Betamucks.
Reality Queen!
––Parasite Hilton.
Les Misérables
–– That would be the audience.
The Woman Who Loves Giraffes
–– Pain in the neck.
Diving Deep: The Life and Times of Mike Degruy
–– Flounders.
At the Video Store
–– Be kind, unwind.