Chase Longue

Week of 10/14/22
Actual headlines from the internets. You Google 'em.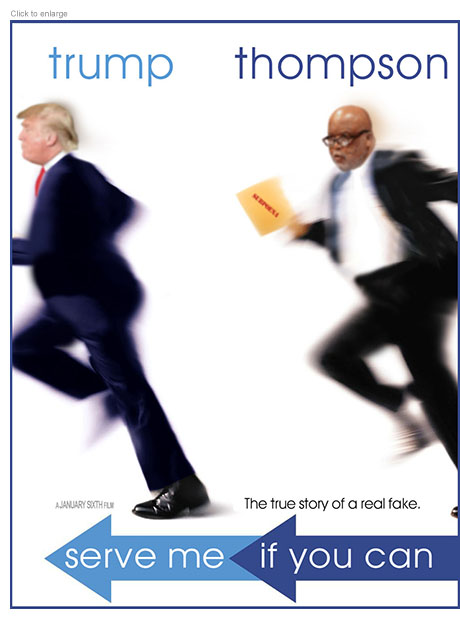 The most embarrassing part of Trump's response to the House subpoena
–– Bet you can't cite just one.
Trevor Noah Sets Date For 'The Daily Show' Exit
–– Noah's arc.
Michael Cohen: Trump's 14-page letter defending response to Capitol attack is 'insane'
–– 'It's something I could've written!'
Michael Cohen says he once naively believed he was Trump's 'apex predator' and wouldn't be betrayed: 'I was the one who threw people under the bus for him'
–– Forgot T wrecks.
Trump Says People Should Focus on Size of Jan. 6 Riot, Not the Violence: 'Was the Biggest Crowd and You Never Hear That'
–– He's just kicking Satire's corpse at this point.
Sidney Powell's nonprofit raised $16 million as she spread election falsehoods
–– RNC threw in all-expenses paid date with Pinocchio.
Supreme Court Rejects Trump Request to Intervene in Documents Case
–– Even Clarence Thomas was like 'SCOTUS this.'
Fact check: Trump falsely claims George H.W. Bush took millions of documents to a former bowling alley and Chinese restaurant
–– Rolls gutterball choosing lies from column A and B.
Trump told advisors last year he'd return Mar-a-Lago files in exchange for 'sensitive' documents about the FBI probe of his 2016 campaign's ties to Russia: NYT
–– You'd call it blackmail if he wasn't so racist.
Lindsey Graham told an officer who was beaten with a flag pole during the Capitol attack that he should have shot rioters 'in the head,' new book reveals
–– Even empty one?
Family of five sentenced for storming the US Capitol on January 6
–– Family that preys together stays together.
Nikki Haley: OPEC wanted to 'stick it to Biden' after Saudi remarks, Iran deal efforts
–– Insists U.S. should've minced Rachel Maddow in show of solidarity.
Mark Meadows told incoming Biden chief of staff Ron Klain during the presidential transition that 'no president' received a daily intelligence briefing: book
–– Klain replied, 'Only ones who could read.'

LA City Councilmember Nury Martinez resigns from office, two days after stepping down from leadership post
–– Won't see hide Nury hair.
Racist remarks in leaked audio could lead to redistricting changes in LA political maps
–– Pollish jokes.
Dozens of Candidates of Color Give House Republicans a Path to Diversity
–– Along Superhighway of Conformity.
Herschel Walker admits he had a relationship with the woman who accused him of paying for an abortion: 'I could have sent some money'
–– 'And a wire hanger.'
Trump-backed Tshibaka projected to defeat 20-year incumbent Sen. Murkowski, election forecaster says
–– Polls show Chewbacca could beat either in Alaska.
Tulsi Gabbard, who sought 2020 Democratic nomination, says she's leaving party
–– After never having found invitation to attend.
Dwayne 'The Rock' Johnson leaves the door open to future presidential run, but focusing on fatherhood right now
–– Leaving America sliver of Hope.
Texas city ignores NYC mayor's call to stop sending migrant buses
–– El Paso the buck.
Texas Gov. Greg Abbott criticizes NYC Mayor Eric Adams for ticketing buses carrying migrants
–– For moving violation.
Jury awards nearly $1 billion to Sandy Hook families in Alex Jones case
–– Jones on sandy hook for money.
Alex Jones Mocks Grieving Sandy Hook Families As He Livestreams $1B Verdict: "Do These People Really Think They're Getting Any Of This Money?"
–– Creeping up with the Jones'.
Explosion hits Crimean Bridge, damaging Russian supply route to Ukraine
–– Flash in the span.
Russian Judge Linked to Top Putin Ally Allegedly Killed in Bridge Bomb
–– Nyet way, José!
Trump blames US for 'almost forcing' Putin to invade Ukraine, says 'dumb' rhetoric taunted Russia
–– Insists Michael Myers had 'no choice' after Laurie Strode 'dissed him.'
Why experts say Kim Jong Un's bold new wardrobe is indicative of his military strategy
–– Screams, 'Hey, Uncle Sam, be not forgetting other ass-bad nuclear maniac!'
Gloom Grips China Investors Like Never Before Ahead of Congress
–– We interviewed money lenders of Xia Dynasty to confirm.
Khamenei likens Iran to 'mighty tree' that cannot be uprooted by protesters
–– A nut tree.
U.K. Prime Minister Liz Truss Sacks Chancellor Kwasi Kwarteng After Just Five Weeks
–– Sack of shit.
The Liz Truss Travesty Becomes Britain's Humiliation
–– But great name for punk band.
Dave Clark: 'Maybe I shouldn't have stopped, but you couldn't be a teenager all your life'
–– Because?
William Shatner says his trip to space on Blue Origin 'felt like a funeral': 'It was among the strongest feelings of grief I have ever encountered'
–– 'It was real 'Khan!' moment.'
Deadpool' star TJ Miller won't work with Ryan Reynolds again, thinks marriage to Blake Lively is 'curated'
–– Reynolds replied, 'Who?'
A man hurled a beer at a comedian who poked fun at his pro-Trump heckler wife. Now the club owner says he's pressing charges.
–– Might end in can.
'Back to the Future' Fans Brought to Tears by Michael J. Fox and Christopher Lloyd's Emotional Reunion: 'This Is So Beautiful'
–– Wish they could've been McFly on wall.
'Tilda' Writers Reminisce About HBO's Diane Keaton-Led Nikki Finke Show That Never Aired
–– What's better than skinny on total flops?
'Dahmer' Vaults to No. 2 All Time on Netflix English-Language Series Chart
–– Gets just desserts.
Armie Hammer Spotted Out for Dinner in Beverly Hills in Wake of 'House of Hammer' Docuseries
–– Ordered chick filleted.
Jennifer Lopez's Funeral Attire Included a Plunging Black Gown and Platform Heels
–– Her tits weren't sad.
Streamer And Adult Performer Adriana Chechik Says She Broke Her Back In The Foam Pit At TwitchCon
–– In latest slang for bed.
Geena Davis Details 'Bad' Audition With Bill Murray, Who Allegedly Screamed at Her on Set: 'I Should've Walked Out or Defended Myself'
–– Murray decay.
Seth Green Says Bill Murray 'Picked Me Up by My Ankles' and 'Dropped Me in the Trash' at Age 9: 'I Was Horrified and Just Cried'
–– Would still be same distance to bottom of can.
Rob Schneider Says Bill Murray 'Absolutely Hated Us' at 'SNL' and 'Really Hated' Adam Sandler and Chris Farley: 'I Mean, Seething'
–– And then there's positive.
Chevy Chase feels regret for remarks he made about Cary Grant's sexuality
–– Called out Father Goose.
Chevy Chase Claims John Belushi Stole His Cocaine off 'SNL' Stage: "I'm So Glad I Just Put that Stuff Aside"
–– 'Like my film career.'
Aubrey Plaza on 'Weirding Out' Robert De Niro in 'Dirty Grandpa': 'I Did Some Questionable Things I Wouldn't Do Anymore'
–– Aside from appearing in it?
Robert Kraft, Dana Blumberg tie the knot in surprise wedding in New York City: report
–– Husband expects 'Happy Ending.'
Opinion 'The Waste Land,' T.S. Eliot's primal scream, resonates 100 years on
–– You mean when we're living in one?
Grammy Predictions: Will Madonna Freeze Out the Competition in the Wide-Open Race of Remixes?
–– For her face?
Billionaire Byron Allen Makes History With Most Expensive Home Purchase By An African-American in the U.S.
–- Producing TV you'd never watch unless there was hurricane.
How I Fell in Love With the Coal Miner's Daughter
–– Workin' in a coal mine, goin' down, down, down…
Kanye West's Twitter account locked for anti-Semitic tweet
–– Locks and bagels.
What does bipolar disorder feel like? Can it explain Kanye's behavior?
–– Screw you, screw him. Oops, we were feeling manic.
'Man Who Fell to Earth' Will Not Return for Season 2 at Showtime (Exclusive)
–– He kept falling.
Mel Gibson to Testify Against Harvey Weinstein in L.A. Trial
–– Miramax: Beyond Thunderdome.
Nikki DeLoach on How Faith-Based Hallmark Christmas Movie Offers "Blueprint of How to Find Joy and Light"
–– In grand schema things?
How Colleen Hoover Rose to Rule the Best-Seller List
–– On backs of semi-literates?
"It's Fun For Maybe An Hour, And Then It's Exhausting": 18 Specific Things That Are Made To Look Fun In Movies But Aren't In Everyday Life
–– Montaging.
British Royal Family's Official New Post About Camilla, Queen Consort, Reminds Critics What Queen Elizabeth II Wanted For Her
–– Fate worse than death.
Agents, execs estimate the monstrous contract awaiting Aaron Judge
–– Judge juicy.
Angels Employee Sentenced to 22 Years in Prison Over Death of Pitcher
–– Catches Hell.
Waiter Who Claimed to Be King of Spain Juan Carlos' Love Child Drops Dead in Bar
–– Tipped off?
Video shows bikini-clad woman walking out of fire truck and into strip club in San Jose
–– Brave firefighters thought she was too smokin' hot for streets.
A Family Rented Their RV to the QAnon Queen. She Won't Give It Back.
–– Was it an Errstream?
Health Panel Recommends Screening All Kids 8 and Up for Anxiety
–– We assumed tense and above.
What Indigenous Peoples' Day means to Native Americans
–– Blowout sales on blankets, beads, kachina dolls?
I Think My Stepson Is Actually a Neighbor's Biological Child. What Should I Do?
–– It's bastard you just move on.
Can I Tell My Friend to Stop Using Her 'Sexy Baby' Voice?
–– And wearing that diaper cut up to here?
A purse frozen in time was found during school renovations. Inside were family photos, diary entries and a calendar opened to April 1959
–– Gen Z reporter stunned human history extends back that far.
A man is accused of breaking the bathroom door on a United Airlines flight and attacking a flight attendant while high on magic mushrooms
–– Was vacant and occupied.
Officer Fired After Shooting Teenager Who Was Eating in a McDonald's Parking Lot
–– He wanted fires with that?
Ohio 'incel' faces life in prison in plot to massacre 3,000 sorority girls
–– Incel up the river?
Texas murderer who ate his own eye will stay on death row: SCOTUS
–– Guards will keep eye out for him.
Dads shot each other's daughters in Florida road-rage gunfight: cops
–– Was take your daughter to jerk day.
Jury recommends life without parole for Nikolas Cruz
–– And suddenly liberal media is vehemently pro-death penalty.
9 Mistakes Everyone Makes Cooking Chicken
–– 7. You don't need to choke chicken first.
There's an Epic Taco Trail Hiding in Northern California
–– Just follow toilet paper stuck to heels.
What if Burnout Is Less About Work and More About Isolation?
–– Or even more about wussiness?
Dog finds X-rated 'treasure' on walk, refuses to drop it: He was 'very pleased'
–– As was Mistress who buried bone.
'I think your dog is broken': Labrador's reaction goes viral
–– Did you try cranking it?
Boater details shark encounter before being rescued
–– While still in water, bleeding?
Fat Bear finalists face off after cheating scandal rocks voting
–– Fur flies.
Mountain lions are eating California wild donkeys. Why scientists say this is a good thing
–– And why wild donkeys 'not so sure.'
Alaska snow crab season canceled as officials investigate disappearance of an estimated 1 billion crabs
–– Believed to be hiding in kelp.
Why these colorful fish engage in mouth-to-mouth showdowns
–– Because they're not blowfish.
Breaching whale shocks father and son fishing off Jersey Shore as it nearly comes aboard boat
–– Without asking permission!
These Gold Coins Were Stashed in a Stone Wall Nearly 1,400 Years Ago
–– Combination was 3 smashes to right, 1 left, 4 right.
Second world war 'Ghost Boat' emerges in California lake, puzzling officials
–– Ghosts full of riddles.
NASA Spacecraft Accomplishes Mission and Smashes Asteroid Into New Orbit
–– Armageddo'h!
Black Holes May Hide a Mind-Bending Secret About Our Universe
–– Or maybe, y'know, not.
Massive Energy Beam Pointed at Earth Appears to Break the Laws of Physics, Scientists Say
–– Ask any physicist you know.
Fossil fuel protesters throw tomato soup on Van Gogh's 'Sunflowers' in London gallery
–– Gesture so tone deaf they could be missing ear.
Just Stop Oil's attacks on art risk becoming a cliché
–– Just what we need, art crime critique.
Hundreds of squishy creatures wash ashore on Outer Banks island. Stay away, experts say
–– Aw, can't we tickle our toes stompin' 'em?
Return to Sanibel Island after Ian: Smashed homes, slick ooze, and wondering how to rebuild
–– 'Slick ooze'? Local politicos rode out storm?
Shocking video shows aftermath of waterfront bar that completely disappeared after Ian
–– Now every drink served with splash.
California approves desalination plant as historic drought hits water supplies
–– A salt on democracy.
Lake Mead water crisis is exposing volcanic rock from eruptions 12 million years ago
–– In magma opus.
Anton Fier, Drummer Who Left Stamp on a Downtown Scene, Dies at 66
–– Fier not.
Kitten Natividad, Movie Star in Russ Meyer's Bawdy World, Dies at 74
–– Breast in Peace.
Robbie Coltrane Dies: 'Harry Potter', James Bond & 'Cracker' Star Was 72
–– Had been looking Hagrid.
Daniel Radcliffe, Emma Watson and More 'Harry Potter' Stars Pay Tribute to Hagrid Actor Robbie Coltrane: 'One of the Funniest People I've Met'
–– Laid to rest in Potter's field.
Angela Lansbury, Star of Film, Stage And 'Murder, She Wrote,' Dies at 96
–– No mystery.