Red Tide in the Mourning

Week of 11/11/22
Actual headlines from the internets. You Google 'em.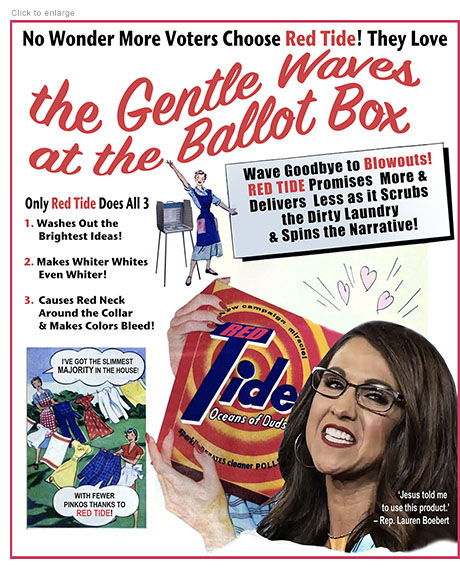 The 'Red Wave' That Wasn't
–– Or One Fish, Two Fish, Red Fish Blew Fish.
World has nine years to avert catastrophic warming, study shows
–– So extend lease on Rolls Royce Cullinan 8 years.
Control of Congress at stake: Red wave hits Florida, stops there
–– Wipes out 1,000 homes.
How Democrats Used the Abortion Debate to Hold Off a Red Wave
–– By same NY Times reporter who wrote this last week.
Trump Reportedly 'Livid,' 'Screaming at Everyone' over Midterm Results, as Prominent Republicans Speak Out
–– Via People so likely BS, but awfully pretty picture.
How Brian Kemp took on Trump and created a blueprint for the GOP
–– Paving way for other regressive, right-wing jerks who's only plus is spurning him.
Voters have been complaining about inflation for months, but they didn't punish Democrats for the economy as much as expected
–– Guess they forgot to read your coverage of what they were thinking.
'It's powerful': how John Fetterman's hoodie won the popular vote
–– Helped running against hood.
GOP Rep. Lauren Boebert shared a meme and said 'Jesus is Lord' as she is locked in a tight race for reelection
–– If he was it wouldn't be tight.
Democratic strategist apologizes for saying Lauren Boebert's House loss would be 'a gain for OnlyFans'
–– But would QAnonstopsex really be 'gain'?
Opinion The 10 most pressing questions the midterm elections will answer
–– 6. How dumb can country actually get?
Midterms Set to Shatter Spending Record With Over $16 Billion Projected
–– Didn't think they stacked cash, shit that high.
Biden's stock market record so far is the second worst since Jimmy Carter
–– Which should weigh heavily on voters' decisions.
Klobuchar pushes back against Newsom's claim that Democrats are 'getting crushed on narrative' by Republicans
–– Newsom thing was wrong.
Sen. Cory Booker says that Democratic party has a 'strong pathway' to control Senate despite recent polls
–– Similar to his pathway to WH in 2020.
Barack Obama says the GOP is the only party that 'actively tries to discourage citizens from voting'
–– Well, really just for Democrats, kinda like you do in elections.
'What Idiots': Biden Rips into Protesters for Calling Democrats 'Socialists'
–– Joe bitin'.
Youngkin sent Pelosi a handwritten note apologizing for comments about attack on husband
–– Authenticity verified because it was written in crayon.
Nancy Pelosi Says Attack on Husband Will Affect Her Political Future
–– Knee-capping at polls may have bigger effect.
Rick Scott claims he doesn't 'know one Republican who wants to change' Social Security after Ron Johnson floated proposals to put the program's spending in flux
–– Scott: 'Ron who?'
Trump says that his 2024 presidential bid announcement is coming in a 'very, very, very short period of time'
–– We're very, very, very scared
Trump mocked Florida Gov. Ron DeSantis — finally debuting a nickname, 'Ron DeSanctimonious' — as the 2 popular Republicans could face off in 2024
–– Not DeSantafake?
Twitter erupts over CBS's 'The Good Fight' finale which has character accuse DeSantis of being sex offender'
–– Blows up in face?
Oath Keepers founder used money donated to the far-right group for holiday travel and personal expenses: January 6 trial
–– This guy's not honest?!
Donald Trump calls for the release of hundreds of his supporters arrested in connection with the January 6 Capitol riot
–– And letting them back into wild.
The man who hit Ted Cruz with a can of White Claw implied he wanted the senator to catch the beverage and chug it
–– With mouth only.
Musk recommends voting GOP, bans Twitter accounts for 'impersonation'
–– Allows own imitation of social media guru.
Kathy Griffin suspended from Twitter for impersonating Elon Musk
–– Would need to be much bigger bitch to pull that off.
Elon Musk braces for $56 billion battle with heavy metal drummer
–– Takes sticks and stones.
How Molly Jong-Fast Tweeted Her Way to Liberal Media Stardom
— Rise was relatively Jong-slow.
With New Ruling, Sandy Hook Families Win Over $1.4 Billion From Alex Jones
–– Hook deeper into sea monster's mouth.
Kherson biggest Russian loss since withdrawal from Kyiv
–– And the Khersons go rolling along.
Drafted Russians were deployed to Ukraine without weapons and expected to dig trenches with their bare hands, relative says
–– Quite the scoop.
US observed Russian navy preparing for possible test of nuclear-powered torpedo
–– Just happened to be snorkeling in Arctic Sea.
Orthodox Church of Ukraine to allow Christmas on December 25 as rift with Moscow deepens
–– Already stocked with Santas.
"Tasty and that's it": McDonald's to be rebranded in Belarus
–– If tasty, that's not it.
'People are scared': Poland homeowners are lining up for days and even turning to trash to heat their homes — and coal stocks are still white-hot due to the demand
–– Will feel like North Pole.
Israel ultranationalist due for government role says: 'I've moderated'
–– Zion of the times?
Ex-Pakistan PM Imran Khan says three bullets were taken from his right leg
–– Should've been wearing cricketer's shin guards.
'Enola Holmes 2' director says that he almost had to cut one of Millie Bobby Brown's improvisations from the film for being too modern
–– Yes, teen detective fantasy is nothing if not historically accurate.
5 details you should remember before watching 'Black Panther: Wakanda Forever'
–– 3. First movie wasn't really that good.
Hailey Bieber Slips Into A Sheer Green Bodysuit For Victoria's Secret And Leaves Fans In Shambles
–– They're such eager Biebers.
Rainn Wilson Changes Name to Rainnfall Heat Wave Extreme Winter Wilson to Protest Climate Change
–– Still just drip.
Abortion Rights, Antisemitism and White Privilege: Amy Schumer on Her Wild 'Inside' Revival (and Hopes to Do More)
–– We'll be extra-sure to bookmark that one.
Martin Scorsese at 80: Francis Ford Coppola, Steve McQueen and Woody Allen on the 'greatest director alive'
–– Assuaging bull.
'Yellowstone' star Cole Hauser recalls the moment he realized Rip Wheeler was a heartthrob: 'She goosed me!'
–– Ripped him one.
'Guardians of the Galaxy' Star Alexis Rodney Joins Guy Ritchie's Netflix Series 'The Gentlemen' (Exclusive)
–– You remember his star turn as Moloka Dar (keep scrolling…)
Steven Spielberg: Streamers Like HBO Max 'Threw My Best Filmmaker Friends Under the Bus'
–– Not under truck from Duel?
Halle Berry Shares Sultry Lingerie Polaroid Photos in Nod to Dorothy Dandridge
–– What a touching tribute.
Cher, 76, defends 40-year age gap with new boyfriend Alexander Edwards, 36: 'Love doesn't know math'
–– 'And Alexander knows CPR.'
Dolly Parton Joined at Rock Hall Induction by Pink, Brandi Carlile, Simon Le Bon and Rob Halford, as L.A. Ceremony Becomes a Dolly-Fest
–– Whatever 'Rock' means.
Steve Reich, Busy as Ever, Enters His Late Period
–– He's 86 –– been in that room for awhile.
Kurt Vonnegut would have turned 100 today — his war novels are relevant as ever
–– Slaughterhouse live.
Inside the Mysterious Death of George Reeves, the Original Superman
–– Festered, then a speeding bullet.
Prince Andrew Reportedly 'Cried' When King Charles Dropped The News That He Was Fired As A Working Royal, Yikes!
–– He so loved make-believe dress-up.
Queen Elizabeth II Reportedly Started a Shocking & Unexpected Friendship With This A-List Actor Weeks Before Her Death
–– Knew Tom Cruise had been to heavens in Top Gun: Maverick –– wanted an in.
UK town burns giant effigy of Liz Truss on Bonfire Night
–– Guy Fawkes her up.
How the beloved 73-year-old Dusty Baker became the oldest ever manager to win the World Series
–– Turned 73?
Jim 'Mattress Mack' McIngvale wins $75 million as Houston Astros claim World Series title
–– Will bookies spring for it?
New Endorsements for College Athletes Resurface an Old Concern: Sex Sell
–– Concern or truism old as the chubby?
Sex toys to pork products: Items banned at Qatar World Cup
–– Not same thing?
Microsoft co-founder Paul Allen's art collection fetches a record $1.5 billion
–– Did it include Clippy art?
A recession in the US is not a slam dunk, Goldman Sachs says
–– Examine basket cases.
Tom Brady and Steph Curry's Crypto Firm Is Bankrupt
–– Was like slam dunk of football.
Former Billionaire Behind Crypto Crash Apologizes: "I F----- Up"
–– Bit the coin.
I Want to Rip Out the Tub in My Bathroom. Will That Hurt Resale Value?
–– Only if wife's still in it.
At least 38 were injured in a Manhattan apartment building blaze that was caused by a lithium-ion battery, officials said
–– If we had nickel-cadmium for every one of these news stories.
55 students may have to retake their SATs after they were lost from a UPS truck
–– Which was going at a constant speed of 40 miles per hour after leaving your school at 2:05pm. Your school is 4.8 miles from the UPS fulfillment center, with 10 stop lights along the route and a 5º grade in the last mile. Who was the driver talking to on his smartphone when he failed to notice your test flying out the door he forgot to secure?
Trauma was eating them alive. Then they tried shrooms
–– Now they think Blue Meanies are munching on them.
Permanent Daylight Saving Time will hurt our health, experts say
–– They're already in dark.
Smoking and Gambling Go 'Hand in Hand.' But Maybe Not for Long.
–– Especially when both hands are on walker due to emphysema.
Miss Manners: Neighbor's kids are ruining my quiet backyard sanctuary
–– They're harshing my Psilocybin high.
The Worst Ingredients No One Should Be Putting In Their Oatmeal Anymore, According To Health Experts
–– Darryl Oates.
Opinion Falling sales suggest plant-based meat may be all hat, no cattle
–– All under-sized fedora, no seitan?
Is This Vegetable Healthier Raw or Cooked?
–– And does it taste like clump of grass either way?
The Best Vegetarian Thanksgiving Looks as Good as It Tastes
–– To turkeys.
40 Chickens in 40 Days: How a Philadelphia Man Cheered His City
–– That's lot of bestiality.
Can the Most Hated Meal Be Redeemed? 'The Big Brunch' Says Yes.
–– Hated by poor chefs who actually have to make food customers like.
KFC Apologizes for Linking Chicken Promotion to Kristallnacht
–– At least it wasn't Arby's for Ham 'n Cheese Slider.
A chicken heiress, an emerald ring and her effort to help Ukraine
–– Carnak: 'Name a cock, a rock and a crock.'
Tyson Foods CFO Arrested After Authorities Say He Fell Asleep in Wrong House
–– Had chickenshit excuse.
A Video shows passengers standing on top of plane after crashing
–– Maybe that's what made it go down!
World's tallest woman takes her first plane flight after airline removes 6 economy seats to make it possible
–– Or did she cause plane crash?!
Psychiatrist convicted of plotting NYC sledgehammer attack
–– Talk about mood swing.
Dog walker's killer sentenced to life in prison, no parole
–– Alpo diet.
Man says 'flaming basketball' that fell from the sky destroyed his home
–– Net effect.
NASA's Artemis I mega moon rocket is back on the launchpad ahead of third launch attempt
–– Artemis fouled.
The Problem With Spinning Spacecraft
–– Dizzy astronauts?
10,000 brains in a basement: The dark and mysterious origins of Denmark's psychiatric brain collection
–– Any thoughts?
Far Side's 'Talking Dogs' Comic Is Scientifically Accurate (Really)
–– And this one on cats even truer.
What's the smallest dog in the world? Meet Milly, who is just under 4 inches tall.
–– Wait, don't sit down there! He's lying on his pill…ohhh…
It turns out that chimpanzees and gorillas can form lasting friendships
–– But that's nitpicking.
This miniature therapy horse is the newest member of the Ocala Police Department
–– On which Juvenile offender fled custody.
New study finds octopuses are capable of surprisingly human-like behavior
–– Especially in groping department.
'It's as if we found oil': Tuscan town savours discovery of spa trove
–– 'Olive oil. It's everywhere. We export like 1700 tonnes.'
Gobekli Tepe: The world's first temple that's 6,000 years older than Stonehenge
–– Just contacted Guinness World Records to prove claim.
Tunnel discovered beneath Egyptian temple may lead to Cleopatra's tomb, archaeologist says
–– Or, more importantly, further funding.
Rewriting the Story of Ötzi, the Murdered Iceman
–– With ice pick.
I chose to ride out a huricane in a Disney World resort. Here are my 5 biggest takeaways from the experience.
–– So fierce it knocked the R out of self.
Hurricane Nicole unearths human remains along Florida's Treasure Coast
–– Including Long John Silver?
World population reaching 8 billion: What this means for the family of humanity
–– Brutal Thanksgiving gatherings.
Watch the moment the UN Secretary-General realizes he's reading the wrong speech at COP27
–– Still had 2015 version instead of most recent from 2018.
The U.N. holds a climate summit every year. Is it actually working?
–– Local caterers, bartenders, sex workers seem to think so.
'Like Vegas, but worse': Sharm el-Sheikh fails to charm Cop27 delegates
–– Did they try Sharm el-Sheikh Shack?
Watch live as world leaders gather in Sharm el-Sheikh for day one of the Saudi Green Initiative Forum
–– With grass stains on white robes.
COVID variants BQ.1/BQ.1.1 make up 44% of U.S. cases
–– Can't they Bar-BQ?
Nick Carter reacts to the death of his brother Aaron at 34: 'God, please take care of my baby brother'
–– 'Better than me.'
An Intimate Last Look at Aaron Carter: "He Wanted to Connect"
–– Mostly with supplier.
Gallagher, Watermelon-Smashing Prop Comedian, Dead at 76
–– Pit-y.