War Whores

Week of 03/25/22
Actual headlines from the internets. You Google 'em.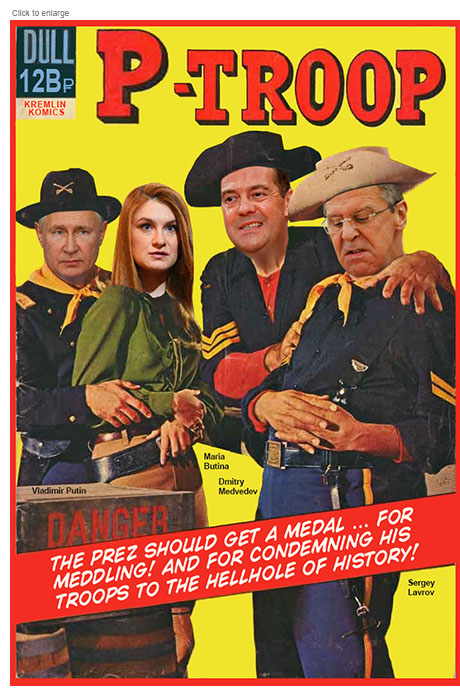 Russia says first phase of war is over as its advances in Ukraine appear to have stalled
–– Code Name: Operation FUBAR.
Zelensky calls out Nestlé over its ties to Russia
–– Quicky accused of spying for Moscow.
Russia says main goal is Donbass, suggesting scaled-back ambitions in Ukraine
–– So dumb-ass phase over?
Ukraine has 'defeated the initial Russian campaign,' study concludes
–– With secret weapon: Russian military.
Ukraine Confirms Fifth Russian General Has Been Killed
–– When he ordered delivery online from what he thought was McDonalds.
Russia's Lavrov compares European tactics to 'Nazi Germany'
–– 'And that is our jam!'
Maria Butina, the convicted Russian spy who tried to infiltrate the NRA, was targeted in the latest round of US sanctions
–– Offers to sleep with 'anybody in Kremlin' to get out of them.
Western sanctions won't sway Kremlin, says Russia's former president Medvedev
–– 'We have punched own ticket to Siberia.'
Who is the 'butcher of Mariupol' who allegedly ordered hospital bombing
–– And what's in his kovbasa?
Nestle to suspend many products in Russia, including KitKat
–– Zelensky broke himself off a piece of that.
Turkish president says Ukraine and Russia have reached "an understanding" on certain topics of negotiation
–– "We both like killing other guy."
Russia Continues Bombardment, but Its Forces Have Shrunk, Pentagon Says
–– They blame cold.
Putin quotes Jesus to justify invasion of Ukraine
–– Jesus quotes Logan Roy.
Vladimir Putin wore a $14,000 puffer jacket to promote his invasion of Ukraine
–– Thanks Jesus for buying for him.
A longtime Putin advisor has reportedly resigned over Russia's invasion of Ukraine and left the country
–– Had Putin his time.
Putin's foreign minister says freezing Russia's currency reserves was 'thievery' and that the Kremlin didn't expect such harsh sanctions
–– Awww…
Putin says 'unfriendly' countries must now pay for Russian natural gas in rubles
–– Or Monopoly money which is worth same.
Putin ally warns of nuclear dystopia due to United States
–– In latest pitch to Netflix.
How does Marie Yovanovitch feel about Putin? Just look at her coffee mug
–– It's kinda like one of these.
U.S. fighters say they felt calling to join Ukraine's cause
–– Killers gotta kill.
The bodies of Russian soldiers are piling up in Ukraine, as Kremlin conceals true toll of war
–– Didn't know they stacked shit that high.
Lawmakers reject Russian official's request to return Alaska: 'Never, ever, ever'
–– Will they take Palins instead?
Sanctioned Russian oligarch Roman Abramovich's $600 million superyacht is cruising off Turkey's coast after 8 days' sailing without a destination'
–– Like it ever had anyplace to go.
Marina Abramovic to Revisit 'The Artist is Present' for Ukraine Benefit Auction
–– Because she could really use long sit.
The richest man in Africa just opened the continent's biggest fertilizer plant. He says people are 'begging' him to sell crop nutrients as sanctions against Russia disrupt supply.
–– Sounds like ton of manure.
Sen. Lindsey Graham interrupted SCOTUS nominee Ketanji Brown Jackson so many times that Sen. Dick Durbin intervened to let her speak
–– Hollow Graham.
Sen. Ted Cruz repeatedly defies Sen. Dick Durbin's pleas to stop questioning Ketanji Brown Jackson after his time expired
–– Durbin warfare.
'Antiracist Baby' book sales spike after Ted Cruz's Supreme Court hearing comments backfire
–– 'Racist Baby' sequel in works starring him.
Ron Perlman Calls Ted Cruz a 'Big Prick' After Ketanji Brown Jackson Questions: 'Go F— Yourself'
–– Well, yeah, but you know he took it as compliment.
Mitt Romney says GOP attacks on Ketanji Brown Jackson's sentencing record for child pornography cases are 'off course'
–– PED crossing.
The GOP's 'Secret Handshake' to the QAnon Crowd at KBJ Hearings
–– With both hands tight around MAGA dick.
Supreme Court justice Thomas's wife urged Trump White House to overturn 2020 election -report
–– Doubting Thomas.
Supreme Court Justice Clarence Thomas hospitalized with infection
–– Came down with stupid bug at age 8.
Justice Thomas's wife is a political extremist. This is now a problem for the court.
–– Not if Nature would just take its darn course.
Kamala Harris viewed White House aides not standing when she walked into a room as 'a sign of disrespect,' book says
–– She doesn't do laps.
Kamala Harris reportedly felt 'belittled' by her Vogue cover where she's pictured wearing skinny jeans and Converse
–– Casual cruelty.
House Speaker Nancy Pelosi Eats Chocolate Ice Cream for Breakfast: 'A Great Way to Start the Day'
–– 'After I toast it because I thought it was an Eggo.'
Star Trek makes Stacey Abrams president of United Earth – and stokes conservative anger
–– Apparently she didn't run against Borg Brian Kemp.
Why ex-hedge funder Dave McCormick is beating Dr. Oz in US Senate run
–– Even bigger jerk.
Lauren Boebert's Hot Take On Allergies And Vaccines Shredded As 'Next Level Stupidity'
–– Infect, it is.
Cowboys for Trump founder receives split verdict in Jan. 6 trial
–– Ye whore.
Capitol riot suspect wanted by the FBI is granted asylum in Belarus
–– Let Lukashenko use as cannon fodder.
FBI offers $15,000 reward for information on January 6 defendant's whereabouts
–– Have they checked local Waffle Houses?
Rep. Mo Brooks says Trump repeatedly asks him to 'rescind' the 2020 election
–– Decided he'd sinned enough.
Trump sues Hillary Clinton and DNC, alleging conspiracy to link his campaign to Russia
–– And own Justice Department for appointing Special Prosecutor, carrying out investigation?
He's walking every D.C. street while wearing a 'Black and Brown Lives Matter' sign. He's also White and voted for Trump.
–– What's rest of riddle?
Israel, often under stress, is the world's ninth-happiest country. How did that happen? | Opinion
–– They compare selves to neighbors.
Wanda Sykes says don't expect 'sober Wanda' at the Oscars
–– And 'clean Wanda' hasn't been seen in years.
Why Amy Schumer Put Real-Life Struggle With Trichotillomania In New Hulu Show
–– Because it sounds funny?
Final Oscars Predictions: Best Supporting Actor — Troy Kotsur to Be the Second Deaf Acting Winner for 'CODA'
–– Come again?
Ranking Amy Sherman-Palladino's Fast-Talking Women By Likability
–– From -48 to 0.
Deep Water's snail wrangler has nothing but good things to say about Ben Affleck
–– Sounds like dirty euphemism.
Atlanta's Donald Glover praises Malia Obama as an upcoming show writer: 'She's really focused'
–– 'Like she remembers she's, y'know, writing.'
Sandra Bullock still 'embarrassed' she made this movie
–– This singular?
'Jeopardy!' contestants' wrong answers cause outrage among Diana Ross fans
–– Who forget 15 minutes later.
Kanye West Barred From Performing at Grammys Due to 'Concerning Online Behavior,' Rep Confirms
–– West slide story.
Kim Kardashian doesn't deserve this
–– Pity? Sympathy? Attention?
Disney star Oscar Isaac opposes 'Don't Say Gay' bill: 'Gay gay gay gay gay'
–– The male 'gays.'
Geena Davis Abruptly Drops Out of Upcoming CBS Drama Pilot
–– Trying to keep GD-IQ numbers low.
Mandy Patinkin Finds Healing in Refugee Work and Praying With His Dog
–– His dog finds humiliation and, thankfully, treats.
'Basic Instinct' at 30: A Time Capsule That Can Still Offend
–– Split screen presentation.
Judd Apatow says This Is 50 might be his next film
–– Middle-age bilge.
Miley Cyrus' plane forced to make emergency landing after being struck by lightning
–– Attracted by metal pole she was dancing on.
Britney Spears Gives Clueless Vibes in Puffy Top, Velvet Skirt and Her Favorite Pointy Brown Pumps
–– Always gives clueless vibes.
Tom Bergeron Reacts to Departure of DWTS Executive Producer: 'Karma's a B—'
–– How about Tyra?
Maury Povich Retires, Ending a 31-Season Run of Revealing Who Is the Father
–– Maury less.
Pixar's 'Turning Red' caught some parents off guard, but the film isn't the problem
–– Nope, it's always idiot parents, which is message of film.
Take a look at Nicolas Cage's spooky spin on Dracula for upcoming movie
–– But he sucks in every role.
John Waters Is Ready to Defend the Worst People in the World
–– Try starting with Putin, Trump.
'Eraser' refuses to be rubbed out as 'Eraser: Reborn' drops first trailer
–– Filmmakers rub one out.
Participation Trophy Jokes Can Be Good … Sometimes
–– Analyses of them never.
Salma Hayek Honors World Water Day With Alluring Bikini Snapshot in Mysterious Sea Cave
–– Water Day gets wet.
Lenny Kravitz says he and Jason Momoa are 'brothers for life' following Lisa Bonet split
–– Bear Bonet description.
Dolly Parton Just Did the 'Most Punk Rock Thing You Could Imagine'
–– If you've never listened to punk rock in life.
Pamela Anderson Is 'Killing It' In Rehearsals For 'Chicago' On Broadway: Fulfilling 'Her Dream'
–– The script.
Drake Pays $75 Million for Robbie Williams' Posh Beverly Hills Estate
–– Will add Ring Dings to front door buzzer.
Kenneth Branagh to Miss Oscar Wilde Awards Due to COVID
–– Was that Oscar's sister?
Queen to make 'early and dignified' attendance at Prince Philip's memorial service
–– Will leave fart cushion at palace.
Duke and Duchess of Cambridge 'shake their waists like nobody's business' as they begin Caribbean tour with dancing
–– Left to twist in the Windsor.
How Edward VIII Informed for the Nazis and Urged the 'Severe' Bombing of Britain
–– King of skeeves.
Hillsong megachurch founder Brian Houston has resigned after an internal probe found that he behaved inappropriately with 2 women
–– Of his internal probe?
'I Hope You're Haunted By My Limp Body:' Cleveland Serial Rapist Who Pretended To Be Uber Driver Sentenced
–– 'And my 1 star rating.'
Plano Man Among 3 US Muslims Suing Over Religious Questioning by DHS Officers
–– Sing us a song, you're the Plano man.
Microsoft is tied to hundreds of millions of dollars in foreign bribes, whistleblower alleges
–– Clippy was bag man.
Bitcoin Is on the Verge of a Major Breakout—and What Else Is Happening in Crypto Today
–– Acne.
Gas prices are high. Oil CEOs reveal why they're not drilling more
–– Please reread first sentence.
Afghanistan's last finance minister who now drives for Uber said America's fight for democracy and human rights in his home country was a 'pretense'
–– To guy he was delivering felafel.
Saudi Arabian Grand Prix to go ahead as planned despite Houthi missile attack
–– Figure fear of incoming fire will make drivers go faster.
Interpol president faces French probe after torture allegations
–– Emirati general didn't include on resumé?
Stan the T. Rex Will Be the Star of a New Museum in Abu Dhabi
–– Formerly worked for UAE interrogation squad.
Disney Says 'Sorry' After Texas High School Drill Team Performs Racist Dance
–– Uncle Remus made Zip-a-Dee-Doo-Dah apology.
Paralyzed man with brain chip says first words in months: 'I want a beer'
–– To go with chip.
Workplace 'energy vampires' can drain your life force. Stop them with these tips
–– Like Count Dragula.
Two cheerleaders free trapped ball during March Madness game
–– In point guard's shorts.
Hall of Fame Quarterback Warren Moon on Why NFL Owners Won't Give Colin Kaepernick Another Shot
–– Like knights who say 'Knee!'
Grocery stores are struggling to supply Totino's and Pillsbury
–– Taste buds: 'Thank God.'
This Couple Quit Drinking Alcohol for 4 Months and Shared What Changed
–– Can stand, but not each other.
Foreclosures are on the rise. Here's what that says about the housing market
–– Lots of banks will take bubble bath.
Notre-Dame Repair Crews Discover an Ancient Graveyard With a Sealed Sarcophagus
–– With interior hollow cut out for hump.
Well-Preserved, 9,000-Year-Old Shrine Discovered in Jordan Desert
–– Surrounded by ancient tasseled red fezzes.
In This Edwardian Townhouse, the Bathrooms Set the Tone
–– We don't give Victorian shit.
USS Clamagore submarine will be destroyed and recycled, museum says
–– Will always be remembered for honoring bloody bivalves.
4 people were shot in Austin's entertainment district
–– In free event, open to public.
No charges for rescuer who killed a drowning man he was trying to save
–– Authorities do strongly suggest he take rescue training.
After rescue, St. Petersburg pastor returns to lake and drowns
–– Again, could've used some training.
A SC woman lost her arms in a dog mauling. Here are tips to follow if a dog attacks you
–– First put your hands in front of your… no, wait…
Labrador retriever tops American Kennel Club's annual list of most popular dog breeds
–– Fetches prize?
'Gay' dog abandoned at North Carolina shelter adopted by same-sex couple
–– Can sit, beg, high-heel.
For the first time, wild dolphin observed 'talking' with harbor porpoises
–– Overheard: 'Even my mother gets us confused.'
'I'm still in shock': Woman stunned by pig pen surveillance video
–– 'I didn't realize that's where my husband went at night.'
Parasitic worms in your shellfish lead a creepy but popular lifestyle
–– Have definitely come out of their shell.
Climate action has been 'a calamity', says Senate Democrat Sheldon Whitehouse
–– True, but we can't keep thinking how great it would be to have President Whitehouse.
Madeleine Albright, first female US secretary of state, dies
–– Future not at Albright.