January 666

Week of 01/07/22
Actual headlines from the internets. You Google 'em.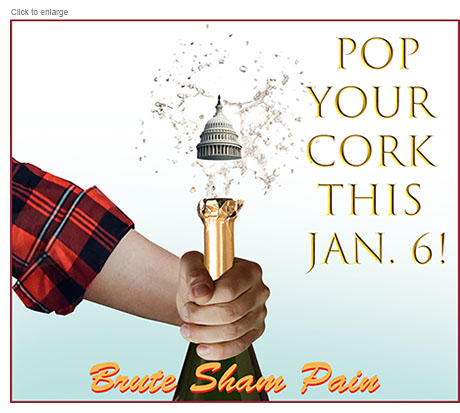 Since Jan. 6, the pro-Trump Internet has descended into infighting over money and followers
–– How do you descend from bottom of pit?
Devin Nunes officially resigns from Congress
–– Little slice of Devin.
Ignoring Trump Didn't Work. Biden Goes After 'a Defeated Former President.'
–– Like John Merrick wishing face would clear up.

Inside Biden's fiery speech and his decision to confront Trump's danger head on
–– Took it on the double chin.

Twitter permanently suspends Rep. Marjorie Taylor Greene's personal account over covid-19 misinformation
–– Cancel Greene stamps.
Rep. Dan Crenshaw says Marjorie Taylor Greene is either 'a Democrat - or just an idiot' amid COVID-19 testing spat
–– Just? She's perfect one!
Matt Gaetz and Marjorie Taylor Greene slammed for declaring 'we're proud of the work we did on Jan. 6'
–– Proud buoys.

Opinion: Marjorie Taylor Greene is a wart on the body politic. Facebook is a melanoma.
–– But you're always sitting on that wart so it hurts more.
As House Jan. 6 committee prepares to go public, Liz Cheney says they now know what Trump was doing
–– Amazing because he obviously didn't.
Cheney: January 6 committee has 'firsthand testimony' that Ivanka asked Trump to intervene during insurrection
–– A little Jared told her.
Dick Cheney returns to the House and receives a warm welcome . . . from Democrats
–– Hail the conquering zero.
Former White House press secretary Stephanie Grisham says Fox News host Sean Hannity was 'like a shadow advisor' to Trump
–– White Shadow advisor.
Cyber Ninjas, the firm hired to conduct an election review in Arizona, ordered to pay $50,000 a day in sanctions
–– Which would equal hundreds of thousands per fake vote found.
Cyber Ninjas, company that oversaw the partisan Arizona election review, is shuttering
–– Had us shuddering.
Sen. Tim Kaine, who was stuck in a winter storm traffic jam for 27 hours, jokes that talks on reforming Senate filibuster rules are going 'slow as my commute'
–– The Kaine monotony.
They resigned in protest over Jan. 6 — then never went after Trump again
–– Flimsy new spines snapped.
Capitol Police officers complained that Harry Dunn, who tearfully recounted being called the N-word during the January 6 riot, made it 'all about race': report
–– Was Dunn deal.
Steve Bannon and Peter Navarro Fume Over Trump Canceling Jan. 6 Presser
–– Fireworks display aimed at Capitol off, too?
Fourth resident of Florida Villages retirement community arrested on charges of voter fraud
–– Ballot-Stuffing Workshop big success.
GOP Rep. Peter Meijer says 'there's no other option right now in the Republican Party' beyond backing Trump
–– Just following odors.
'Happy New Year A**hole': Michael Cohen Taunts After Bill Barr Served Lawsuit Papers
–– Sue–whee!
Why is Dr. Oz Running for Senate?
–– And why isn't slogan, 'If I Only Had a Brain?'
High-ranking Tennessee Republican apologizes after apparent attempt to 'pants' ref
–– This dick totally exposed.
Alexandria Ocasio-Cortez says GOP is 'projecting their sexual frustrations' after former Trump adviser comments on her vacation photo
–– Hard-on them?
AOC Roasted for 'Sexual Frustrations' Tweet About GOP Critics: Taking Up the 'Plight of the Super Hot'
–– Responds with Right Said Fred cover.
Cuomo Will Not Be Prosecuted in Groping Case, Albany D.A. Says
–– Ex-Gov alleges AGs had just been 'projecting their sexual frustrations'.
The IRS Is Sending Out Letters About Stimulus Checks to Millions of Taxpayers This Month
–– With pics of porn stars demonstrating how to get off on them.
'The Mary Tyler Moore Show' Deaths in 2021 Reflect Passage of Time for Network TV
–– Can't passage of time reflect self?
Andy Cohen Has 'No Apologies' for Drunken New Year's Eve Hosting Stint: 'I Will Not Be Shamed'
–– Will not be slug-shamed.
Willow Smith says that she doesn't mind Will Smith and Jada Pinkett Smith oversharing: 'My parents are their own people'
–– 'Preferably ones unrelated to me, but whatever.'
Gal Gadot Now Admits Her Cover of "Imagine" Was in "Poor Taste"
–– Imagine!
Emma Watson recalls being 'beside' herself after her pet hamster died on the 'Harry Potter' set
–– And two of her moping was unbearable.
Bruce Willis films – ranked!
–– Bruce Willis films – rank!
Jon Stewart Accuses J.K. Rowling of Anti-Semitic Goblins in 'Harry Potter'
–– Why didn't his people who control film industry stop her?
Daniel Craig Recognized in Queen Elizabeth's New Year's Honors List with Same Title James Bond Holds
–– For martini consumption bestowed honorary designation Sir-Shaken-Alot.
Lily Collins Reveals She Once Threw a Toy Phone at Prince Charles's Head
–– Rang a bell.
Climate doom movies like 'Don't Look Up' could be more powerful than they seem
–– Duh! If they were made better.
Leonardo DiCaprio and His Girlfriend Camila Morrone Were Spotted On a Rare Outing
–– On $150 million yacht that runs on starshine, good intentions.
Janet Jackson's documentary: The revelations we can't wait for
–– Our nipple hard with anticipation.
Antonio Brown Storms Off Field During Buccaneers' Win Over Jets
–– Suffers Brown out.
Former Jets head coach Rex Ryan slams Joe Judge: 'This guy's hard to like'
-– Gets all Judgey.
Drew Barrymore's $99 air fryer sold out in 24 hours — but it's back in stock (for now)
–– Panko-crusted oxygen tastes great.

Woman stuns TikTok with her easy life hack for making 'perfectly round' cookies: 'This feels illegal'
–– No, sadly, stupid isn't illegal.
KFC and Chipotle launched new plant-based products nationwide. They probably won't be the last.
–– Untold customers will launch them as well.
'No worries,' 'you're on mute' and 'circle back' should be banished, annual list says
-– Per dons at Lake Superior State University.
Out-of-control rocket stage is tumbling toward Earth
–– Grab your mitts!
What chip shortage? Telsa posts record fourth quarter and full year sales
–– We don't know –– you made up crisis.
Man blows up his Tesla rather than paying $22K to repair it
–– Should've bought Boring Co. flamethrower for job.
'Operation Boo Dat': 5 missing teens found, 30 arrested in New Orleans sting
–– Boo dis.
Three men convicted of murdering Ahmaud Arbery sentenced to life in prison
–– Hope they are buried there.
Elizabeth Holmes found guilty on four out of 11 federal charges
–– Holmes wrecker.
10 of the country's most populous cities set homicide records last year
–– Who's Number 1 with a bullet?
NYPD cop sleeping in his car between New Year's shifts takes random bullet to the head outside Harlem precinct
–– Shell shocked.
Trial postponed again for Texas father, son accused of killing neighbor over mattress
–– Judge wants to sleep on it.
Homer Plessy, of Plessy v. Ferguson's 'separate but equal' ruling, pardoned by Louisiana governor
–– Delay pardon.
Scotland Considers Pardon for Thousands of Accused 'Witches'
–– Devil is in the details.
Olaf Scholz accused of appeasing Vladimir Putin by 'seeking to reset relations' with Russia
–– While oiling Vlad's naked pecs.
When China blocked Lithuania from exporting 20,000 bottles of rum in a diplomatic feud, Taiwan bought the whole shipment instead, report says
–– Ready to Taiwan on.
Sudan's Prime Minister, Abdalla Hamdok, Resigns
–– Ham docked.
Israeli deputy minister causes furore by describing settlers as 'subhuman'
–– Best wank.
Statue of slain Iranian commander Qassim Soleimani set on fire hours after it is unveiled
–– Wouldn't being fired on by drones more appropriate?
Iran vows revenge for Soleimani killing if Trump not put on trial
–– For once we agree with mullahs.
U.S. charges New York man with acting as Egyptian agent, tracking political opponents
–– And illegally booking gigs for belly dancers.
Kazakhstan's President Says Security Forces Can 'Fire Without Warning' to Quell Unrest
–– As they usually do.

France says car ads must come with a caveat: Walk, bike or take public transit instead
–– Caveats usually run better than Citroens or Renaults.
Opting for pets over children is selfish and 'takes away our humanity,' says Pope Francis
–– 'Though it does keep down abuse rate among all but kinkiest priests.'
Woman filmed carrying pet LION through streets after animal escaped
–– Didn't take lion down.
Kleptoparasitic bear steals wolves' kill in filmed Yellowstone drama
––– Kevin Costner in bear suit.
Rare 'piebald' deer known for unusual markings find home with Pennsylvania family as pets
–– Used to make Bald Deer Pie.
63 Horses Fly Almost 6,000 Miles From Chicago to Turkey
–– And. boy, are their ears tired.
Christians point to genetics breakthroughs to show Adam and Eve are not incompatible with evolution
–– Or ancient incest laws.
Citing danger to freshwater, scientists say we need to put brakes on road salts
–– Tough to measure value of human life vs. snail.
ICU doctor warns of 'compassion fatigue' toward unvaccinated patients
–– In latest slang for 'hatred.'
'Fox & Friends' Host Tells Viewers to 'Go to Work' and 'Live With' COVID While Broadcasting Remotely
–– Brian Kilmeade: droll model.
Tucker Carlson Criticizes Outdoor Appearances of Masked Biden and Unmasked AOC on the Same Show
–– Confirming Fitzgerald's contention that "the test of a first-rate intelligence is the ability to hold two opposed ideas in mind at the same time and still retain the ability to function." Except function part.
Fourth vaccine dose could be needed in fall, Moderna CEO says
–– Sounding a bit pushery.

The clever way Disney stops crowds from forming in their theme parks
–– Goofy's Water Cannon Splasheroo!
Seth Meyers Cancels Week of 'Late Night' Shows After Testing Positive for COVID-19
–– Snarkoleptics might notice.
Stephen Colbert rants about COVID-19 outbreak: 'I am f***ing never going into that room again'
–– Quarantine angst.
Texas Gov. Greg Abbott — who has opposed vaccine mandates — is now asking for federal help with COVID-19 testing and treatment
–– And will only accept if he can spit on it.
'He Is Not Your Commander-in-Chief:' Texas Governor Promises Guardsmen He'll Fight Biden Over Vaccine Mandate
–– Afraid he's Abbott forming.
New York City's mayor: School is the 'safest place' despite rising Covid cases
–– Only in light of city's soaring homicide rate.
Israel now offering fourth covid shot to anyone 60 and older
–– With schmear of cream cheese.
Why Novak Djokovic Was Blocked From Entering Australia
–– Novax.

Kane Tanaka, world's oldest person born in 1903, celebrates 119th birthday in nursing home
–– Who's second oldest born that year?
Critic's Appreciation: Betty White Was as Important as She Was Beloved
–– So marginally?
Betty White Had This 'Wish' For Her Funeral—Here's if It'll Be Public & Where She Won't Be Buried
–– 'Next to that bitch Bea Arthur.'

What is aquamation? The green alternative to cremation chosen by Desmond Tutu
–– Not Finding Nemo genre?
Comic Book Men' Star Robert Bruce Found Dead In NJ Storage Unit He Called Home
–– To be buried in resealable plastic bag.
Max Julien, Star of the Blaxploitation Classic 'The Mack,' Dies at 88
–– Mack deady.
World-renowned Kenyan conservationist Richard Leakey dies at 77
–– Leakey taps.
Lani Guinier, Legal Scholar at the Center of Controversy, Dies at 71
–– Lani down under.

Grichka and Igor Bogdanoff, Twins in an Uneasy Spotlight, Die at 72
–– Were nip and tuck.

Peter Bogdanovich, Oscar-Nominated Director and Champion of Hollywood's Golden Age, Dies at 82
–– The last picture showed.
Sidney Poitier, Oscar-winning actor and Hollywood's first Black movie star, dies at 94
–– Sid sack.

Harry Belafonte's Daughter Says Sidney Poitier's Death Is 'Most Difficult Thing' He's Had to Fathom
–– Buck end, the preacher.