Brain Farce

Week of 09/30/22
Actual headlines from the internets. You Google 'em.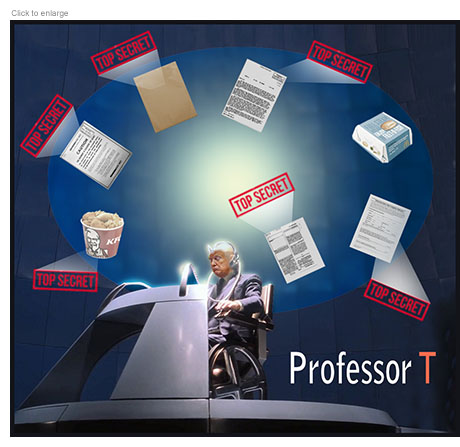 GOP Sen. Barrasso: Trump can't declassify documents by thinking about it
–– Can't even spell 'declassify documents' thinking about it.
Who Were the Painters of Pompeii?
–– Art lavas?
Mike Pence's former chief of staff said it's 'absurd' that Donald Trump thinks he can declassify documents by 'thinking about it'
–– It's 'thinking' part he finds risible.
Roger Stone is heard saying 'let's get right to the violence' in unearthed footage from 2020 election handed over to January 6 committee
–– Trump preemptively pardons him by thinking about it while imagining he's still President.
Biden signs spending bill that averts government shutdown with 11 hours to spare
–– All the tension of Bond film climax.
Capitol rioter who received phone call from the White House on Jan. 6 was identified as a 26-year-old Trump-loving New Yorker who joked about shooting Nancy Pelosi
–– Trump couldn't remember punch line.
Trump Says Mitch McConnell Has a 'Death Wish' During Racist Meltdown
–– He's vicious anti-whitist.
Trump's 'We Have to Keep Our Country Gay' Speech Gaffe Spurs a Social Media Frenzy (Video)
–– Did say with lisp, limp wrist.
Trump — who once endorsed DeSantis as his 'great friend' — slams the 'ungrateful' Florida governor, saying 'I made him,' report says
–– 'When I squatted at Mar-a-Lago.'
Ted Cruz said Republicans don't criticize Trump because if they do, 'he turns around and punches them in the face' for it.
–– Which could only help in his case.
Former Trump aide Lewandowski makes deal with prosecutors to avoid misdemeanor charge
–– 'I mean, I didn't want to go through the rest of my life known as Mister Meaner.'
A Colorado man who showed up to the Capitol riot wearing a 'Guns don't kill people, Clintons do' shirt and got into a 'tug-of-war' with police received a 30-month prison sentence
–– And suspension of membership in local Mensa chapter.
Election workers to be trained to deal with violence at polls as midterms approach
–– Taking ballot boxing lessons?
Breyer warns justices that some opinions could 'bite you in the back' in exclusive interview with CNN's Chris Wallace
–– ABreyer got back!
The worst food in White House history belonged to FDR
–– History prior to 2017, right?
Eric Adams: I reversed my diabetes. Now I want to help America get healthy
-– So he hasn't done absolutely nothing.
Denmark says damage to Nord Stream pipeline in Baltic Sea was 'deliberate'
–– In Nard Scheme.
Nord Stream rupture may mark biggest single methane release ever recorded -UN
–– Outside of World's Championship Chili Cookoff.
Seeking to avoid another major failure, Putin has become more hands-on with his commanders, refusing their requests to retreat from the last Ukrainian city under Russian control
–– Still brains-off.
Russian Proxies in Ukraine Push Moscow to Annex Occupied Regions
–– Got rocksies in head.
Biden denounces Kremlin's 'phony' move to annex Ukrainian territory
–– Challenges Putin to game of Risk to win back.
Sergei Lavrov calls Zelensky 'b*****d' and walks out of UN meet amid 'collective condemnation' of Russia
–– Buzzard? Bustard? Bighead?
Russian aviation expert is latest official to die in mysterious circumstances
–– Crash landed.
Highly sanctioned Russian oligarch with close ties to Putin indicted for sending flowers, arranging for child to be born in the U.S.
–– Charged by DOJ, FTD.
Russia Begins Mobilizing Ukrainians to Fight Against Their Own Country
–– Because Morale is Job 1.
How Liz Truss plunged the UK to the brink of recession in just one month
–– Had Truss in own instincts.
'They Have Nothing to Lose': Why Young Iranians Are Rising Up Once Again
–– To 'No' a veil.
Iranian security forces arrest a woman for eating at restaurant in public without her hijab, family says
–– They do make excellent napkins.
'Reason to worry': Italy's Meloni holds a mirror to Trump's GOP
–– Another rotten melon.
China is using a stealth fleet of fishing boats and ferries to boost its naval power, say military experts
–– So any junk?
Japan holds controversial state funeral for assassinated leader Shinzo Abe
–– With open sushi bar.
Bolsonaro or Lula? As Brazil prepares to vote, here's what to know
–– It's miserable choice.
A judge says he will be 'forced' to give Rudy Giuliani jail time unless the former mayor pays his ex-wife $225,000 by next month
–– And not in 'bitchcoin' like last time.
Judge rules Texas attorney general does not have to appear at hearing on abortion lawsuit after affidavit alleges he ran from person serving subpoena
–– Crying, wailing, wetting self.
Abbott and O'Rourke clash over immigration, abortion in Texas governor's debate
–– Austin powers: the guy who shagged me.
Mastriano said in 2019 that his bill would treat abortions as murder.
–– Pig Penn.
David Beckham Is 'Appalled' By His Son, Brooklyn, Airing Family Drama With His New Wife: 'We Don't Do This in Our Family'
–– Gave him onside kick.
Gabrielle Union, 49, Poses Nude in Emotional Instagram: 'Naked & Unafraid'
–– No Union suit?
Baywatch' star Donna D'Errico poses in a gold bikini after being told she's 'too old': 'Keep cool'
–– You're never too old for PhotoShop.
Why Does Hollywood Keep Using Fat Suits?
–– Why not more casting calls in Mississippi?
Elton John Performs for White House, Gets Surprise Medal From President Biden
–– So-called 'tinny dancer.'
Polish venue cancels Pink Floyd co-founder Roger Waters' shows after controversial Ukraine letter
–– Muddied Waters.
James Earl Jones Has Retired from Voicing Darth Vader, Signed Over Rights to Recreate His Voice
–– Will be 'voiced' by same AI that writes scripts.
Fans Praise Katie Holmes' Unedited Stretch Marks After She Poses In Bra
–– Insist they have more range than she does.
Kendall Jenner didn't mind wearing sheer top for first runway show: 'I'm all good with the nipple'
–– We heard they gave her hard time.
Ana de Armas Defends 'Blonde' Nude Scenes: 'It's Harder for People to Watch Than for Me to Make Them'
–– It only hurts when we laugh.
Here's One Reason Why Brad Pitt and Emily Ratajkowski Are Reportedly Going on Dates but Not "Dating"
–– He still can't get her last name right.
George Clooney reacts to 'pretty boy' Brad Pitt calling him the 'most handsome man'
–– Is it Pitt bull?
Amal Clooney Wore a Sheer Red Jumpsuit That Will Make You Stop Tailoring Your Pants
–– Sew you say.
Trevor Noah to Exit 'Daily Show' After Seven Years
–– And seven laughs.
Kanye West says he told his 9-year-old daughter North to 'never let anyone' take over his and Kim Kardashian's brands in the future
–– Insists he has trademark on 'Crazy.'
Lizzo plays James Madison's crystal flute while racists play dog whistles
–– And 'clever' headline writers toot own horns.
Betty White 'Did Not Look Away' After Jon Hamm Had To 'Back That Thang Up' On Her
–– Ordered self some Hamm butt.
How Oprah Winfrey and Ava DuVernay Led a 'Radical Reimagining' of TV With OWN's 'Queen Sugar'
–– And arrived at SOS.
Finally, the Depp v Heard trial movie that no one wanted is here
–– Provided you with dozen paragraphs of feigned contempt.
Dua Lipa's Booty And Abs Are Straight 🔥 In Thong Bodysuits On IG
–– Editor should be straight 🔥ed for headline.
Anthony Bourdain Texts Published In New Biography Reveal Grim Final Days: "I Hate My Fans…I Hate Being Famous…I Hate My Job" – Report
–– If only he knew how much we all hated him.
Liza With a Z at 50: One Showstopper After Another, With an Eye Toward Eternity
–– Perfume launched in 1988?
Sundance Liked Her Documentary on Terrorism, Until Muslim Critics Didn't
–– Raised halal.
King Charles Debuts New Royal Cypher, Which Will Gradually Replace Queen Elizabeth's
–– Charles is Royal cipher.
John Williams, Bob Iger Awarded Honorary Knighthood by Late Queen Elizabeth II
–– Dubbed White Walkers of the Realm.
Buckingham Palace issues photo of Queen Elizabeth's final resting place
–– Sofa she'd drunkenly slump onto each night.
'She sat for him 12 times': The Nigerian artist who made a bronze sculpture of Queen Elizabeth II
–– And on him 6.
Prince William Shares Sweet Moment That Happened After the Queen Died
–– Camilla tenderly went through pockets.
Prince Harry feared he would become 'irrelevant' after Prince George turns 18, new book claims
–– Was he born in 1966?
Prince Harry Is "Hustling" to Change Parts of His Memoir After Queen Elizabeth's Death
–– £20 BJs.
The Queen's grandson-in-law Mike Tindall says he almost accidentally curtsied to King Charles because he was copying his wife
–– And he had prettier dress.
'You Guys Should Go to Jail': Concussion Expert Rages After Dolphins QB Is Hospitalized
–– Gave 'em old one-Tua punch.
Shrouding Ime Udoka's suspension in mystery is unsustainable for Celtics
–– Story will dribble out.
Chefs Are Disclosing The "Restaurant Red Flags" You Should Always Watch Out For When You're Out To Eat
–– Remove from triple-decker sandwiches before munching.
Father and Son Charged in $100 Million Sandwich Scheme
–– That's lot of bread, no baloney.
Swiss court finds in favor of Lindt and orders Lidl to destroy its chocolate bunnies
–– They hire Elmer Fudge.
A man charged in the assault of a flight attendant on an American Airlines plane had to be restrained by fellow passengers and cuffed to a seat
–– Had ordered sucker-punch.
Once nicknamed 'Murderapolis,' the city that became the center of the 'Defund the Police' movement is grappling with heightened violent crime
–– This week in Coinkydinks.
Officers accused of inappropriate relationship with woman found dead
–– Pre or post-mortem?
These clothes cost thousands of dollars and only exist online
–– The Emperor has no brains.
Moans heard over an airplane PA system amuse passengers
–– Until they realize john was miked.
This iconic bar of soap, with two weird claims to fame, has stuck around for nearly 150 years
–– Ivory coasts.
They got a puppy — and a nearly 200 percent loan
–– We have no interest.
Dogs Can Smell When You're Stressed Out
–– After eating cabbage soup.
Car found covered in blood with no driver, Florida cops say. A dog solved the mystery
–– When he admitted to mauling, tossing owner out of vehicle when he wouldn't change rail station.
Rare tree dormouse not seen for 20 years found in Austria
–– Was locked behind dor.
Farmer uncovers stunning Byzantine-era mosaic in Gaza orchard
–– Root awakening.
What Do Stonehenge and Japanese Stone Circles Have in Common?
–– Oh, oh, oh! Stone?
Stunning discovery of 1,200-year-old shipwreck contradicts history books
–– Which say it sunk 1,199 years agos.
Fossil egg analysis in China adds to debate of what may have caused dinosaurs' demise
–– Scrambles theories.
A 'Nightmare' for Forecasters: Here's Why Hurricanes Are Getting Stronger, Faster
–– Poor forecasters blow it.
New island emerges from the sea after only 11 hours of volcanic eruptions, experts say
–– Following millennium of labor.
'I'm seeing homes in the ocean': Fiona makes devastating landfall in Atlantic Canada
–– 'And the prices are fantastic.'
Puerto Ricans Fear Extended Blackout After Hurricane Fiona
–– Citizens without power for decades.
Ian Duty Gives DeSantis The Chance To Act Like A Normal Governor Just Before The Election
–– Misspelled dead British punk artist supports DeSantis?
DeSantis becomes the latest Republican to evolve on disaster aid
–– Is barely Homo Electus.
Hurricane Ian makes landfall in Cuba as Category 3 storm; Florida on alert
–– Which constitutes dull awareness.
Florida hospital without running water faces a sanitation crisis in the wake of Hurricane Ian
–– Um, that tracks.
Cars line up at a closed McDonald's drive-thru during Hurricane Ian
–– Real gust-buster.
NASA to roll moon rocket back to hangar, as Hurricane Ian targets Florida
–– Or just let winds blow it.
China Wants New Partners For Its Moon Missions As Its Relationship With Russia Cools
–– Plans swingers' club for Sea of Tranquility.
Children, carers struggle on day 1 of Hong Kong vaccine pass extension with some turned away from various venues
–– How about don't-carers like us?
Has the Pandemic Changed Your Personality?
–– Or are you still a-hole?
Louise Fletcher, 88, Dies; Oscar Winner for 'One Flew Over the Cuckoo's Nest'
–– Ratched up.
Pharoah Sanders, Whose Saxophone Was a Force of Nature, Dies at 8
–– Nile and void.
Jim Post, Known for a Memorably 'Groovy' Hit Song, Dies at 82
–– Post Mortem.
Coolio, 'Gangsta's Paradise' rapper, dead at 59
–– Coldio.