Gifted Students

Week of 08/26/22
Actual headlines from the internets. You Google 'em.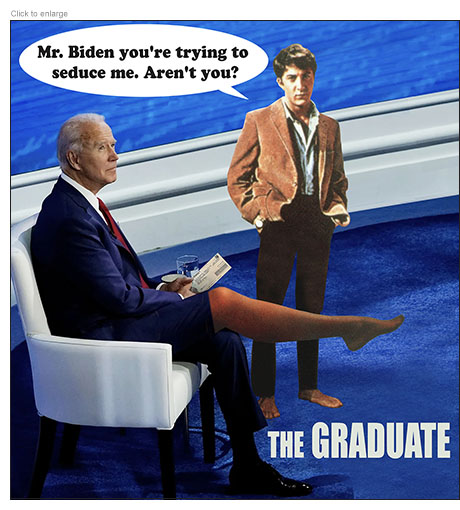 How President Biden decided to go big on student loan forgiveness
–– It's not his money.
Putin signs decree to increase size of Russian armed forces
–– Dedicates millions to make self taller.
Biden just forgave $10,000 in student loan debt. Elizabeth Warren calls it 'one of the biggest acts of consumer debt relief in American history,' while Mitch McConnell calls it 'socialism'
–– Both true.
Biden rebukes the criticism that student-loan forgiveness is unfair, asks if it's fair for only multibillion-dollar business owners to get tax breaks
–– Proposed 2024 slogan: 'C'mon, Life Isn't Fair.'
'It's like semi-fascism': Biden slams 'MAGA Republican' ideology in fiery speech urging Democrats to 'save democracy'
–– 'If you pull 'semi' off road.'
'Slap in the Face': Republicans Enraged after Biden 'Forgives' Billions in Student Debt
–– We say not hard enough.
Fed Chief Powell: Bringing down inflation will require economic pain
–– Isn't inflation economic pain?
Two plead guilty to theft of diary purportedly belonging to Biden's daughter
–– Breaking and entry.
Trump Bolted to Mar-a-Lago With Over Two Dozen 'TOP SECRET' Docs, Affidavit Reveals
–– Any image of Trump moving quickly lends note of doubt.
Donald Trump launched a furious attack on 'broken down hack' Mitch McConnell and his 'crazy wife' in bust-up over GOP Senate candidates
–– His 'crazy wife' implored him to 'Beat Best.'
The Final Days of the Trump White House: Chaos and Scattered Papers
–– Under incontinent POTUS.
Report: No respectable Lawyer Willing to Touch Trump With 10-Foot Pole After Mar-a-Lago Raid
–– DOJ would like to, over his head.
Rep. Liz Cheney said she's seen 'no evidence' the Mar-a-Lago raid was politically motivated despite some Republicans 'reflexively' attacking the FBI
–– Ironically, because she's not blind as rest of GOP.
GOP Rep. Dan Crenshaw rebukes some of his party's 'crazy' rhetoric following Mar-a-Lago raid: 'It makes us seem like extremist Democrats'
–– Crenshaw meloncholy.
Herschel Walker knocks new health care and climate law: 'Don't we have enough trees around here?'
–– Pointing to stump on shoulders.
Former Navy Pilot Rips 'Pathetic' Ron DeSantis Over 'Top Gun' Stunt
–– He's silly Goose.
Marjorie Taylor Greene says she was SWATTED at 1am at her Georgia home: Calls it a 'political attack' after cops responded to her home over a prank call
–– Like fleabrain should be.
Finnish PM apologizes for picture of topless influencers partying at official residence
–– Marjorie Taylor Greene refuses to apologize for bottomless ignorancers in her office.
Gen Z candidate will win Democratic nomination in Florida's 10th District, CNN projects
–– Can be official pill counter for his House caucus' elderly committee members.
Massive dark money windfall: New conservative group got $1.6 billion from single donor
–– Addled Mr. Burns didn't fully understand he was signing check.
Car explosion kills daughter of Putin ally Alexander Dugin, Russia says
–– Dugin the dirt.
Opinion: Father of slain Russian commentator Darya Dugina has been fiercely critical of Putin
–– Yeah, because he won't step up war against Ukraine's 'Atlanto-Nazi regime.'
As Attacks Mount in Crimea, Kremlin Faces Rising Domestic Pressures
–– And you know how responsive Vlad is to criticism.
US is sending Ukraine VAMPIRE rocket launchers that can turn a regular pickup truck into a drone killer
–– And driver into Dracula.
Devouring Oysters by Battlefield, Ukrainians 'Switch Off for a Bit'
–– If they can avoid shelling.
NBA Hall of Famer Dennis Rodman says he 'got permission' to go to Russia to help seek Brittney Griner's release
–– From voice in head.
Singapore to Repeal Ban on Sex Between Consenting Men
–– Singapore swing.
Shabab Attack on Somali Hotel Ends With 21 Dead, Officials Say
–– Death toll not too Shababby.
Bolsonaro Grabs for Man's Phone and Gets a New (Insulting) Nickname
–– That NY Times bends every which way not to translate as 'bitch'.
Former Pakistan Prime Minister Charged Under Terrorism Act
–– Khan jab.
Eric Adams After Dark: A Private Table and Tarnished Friends
–– Eric Adams in the dark.
See Brian Stelter's message on final 'Reliable Sources' show
–– Hell to Stelter.
An activist plans to test Texas' 'In God We Trust' law with signs in Arabic
–– Allah carte.
Fox Nation Gets Into the Movie Business to Target the "Female Fox News Fan"
–– Plan to make romances Cruzy Stupid Love, Fifty Shades of Pray, Pride in Prejudice, When Donny Met Stormy, Tucker: The Man and His Dreaminess, Four Weddings and an Insurrection, Utterly Clueless, Crazy Rich Arkansans, My Big Fat Maga Wedding, and satire Call Me By Your Pronoun.
George R.R. Martin Is Finally Getting the Show He Wanted
–– Subscribed to OnlyFans account Daenerys Does Dragons.
HBO Max's Customer-Help Account Asked HBO Max If It Needed Help Streaming 'House of the Dragon'
–– Or just staying awake during it.
'House of the Dragon': Here's What The Small Council's Balls Are For
–– Already with the torture!
Paddy Considine on 'House of the Dragon': "I've Been Waiting for a Role Like This"
–– Paddy waggin'.
Gary Busey charged with sex offenses at Monster Mania Convention in New Jersey
–– Chose appropriate venue.
Shia LaBeouf on His New Relationship with Catholicism: 'God Was Using My Ego to Draw Me to Him'
–– Needed another holy idiot?
Deaf Actress Rose Ayling-Ellis: "I Am Disabled Because I Live and Work in a World That Disables Me"
–– Come again?
Michelle Yeoh Says Tarantino Didn't Cast Her in 'Kill Bill' Because Nobody 'Would Believe Uma Thurman Could Kick Your Ass'
–– Or how to let intimidating martial-arts star down easy.
LeAnn Rimes Wants to End the 'Shame' Around Women's Sexuality and Bodies: 'It's Time to Make a Shift'
–– Rimes with 'Quiffed.'
RM, Boy Band Superstar, Embraces New Role: Art Patron
–– Suffers BTS D.
Inside Actors' Equity's Stripper Union Organizing Effort: "They Are Our Siblings in the Labor Movement"
–– Or striplings?
Brad Pitt's Make It Right Foundation Must Pay Katrina Survivors $20.5 Million in Settlement
–– Charity soaked.
Edie Sedgwick and Andy Warhol's bond was fleeting. The movies live on.
–– Like coronavirus.
Dua Lipa Just Wore the Micro Bikini *and* Exposed Thong Trend at the Same Time
–– Dual peeper.
Kate Moss Just Shared a Completely Naked Skinny Dipping Video
–– Moss, then she can bare.
Melvin Van Peebles: 10 Essential Works to Know the Influential Filmmaker-Actor
–– All the classics you know, love like Les cinq cent balls (1963), The Story of a Three-Day Pass (1963), BlacKout (1997).
'Loki' Composer Natalie Holt on Finding the Title Theme and Landing Danny Elfman's Blessing for 'Batgirl'
–– It was more last rites.
Brown University Acquires the Papers of Mumia Abu-Jamal
–– Including rap sheet?
Fetty Wap Pleads Guilty to Conspiring With a Long Island Drug Gang
–– Wet ass pushery.
'King Kong' Live-Action Series in the Works at Disney+
–– Can't wait to meet 25 ft. star in flesh.
Christmas Story Sequel, With Original Film Stars, Gets HBO Max Release Date
–– Scores ReNoël.
John Boyega Says He Won't Return to 'Star Wars' Franchise
–– Finnito.
Maitland Ward on why she went from Hollywood to porn: 'It's scary to forge your own path, but it's the only way that you're going to be happy'
–– She marched to own hummer.
Heather Morris Says Jennifer Lopez Cut Dancers From Auditions Because They Were Virgos
–– Her virgin of events.
New Ways Hollywood Dermatologists Tackle Cellulite: "We Are Looking for the Holy Grail"
–– 'Y'know, a sacred chalice filled with gelatinous fat.'
Capitol Records Severs Ties With FN Meka, an AI-Generated 'Virtual Rapper,' Over Stereotypes, Lack of Black Creative Involvement
–– Artificial outrage manufactured on laptop.
Dave Chappelle's Emmy Noms Show the TV Academy Isn't Swayed by Social Media
––- Or AI: Artificial Indignity.
Tommy Lee, 59, reveals he was on a 'motherf**king bender' at the time he posted THAT full frontal nude photo: 'I got f**king sideways as f**k'
–– We didn't check its bend.
Nirvana manager recalls Kurt Cobain-Axl Rose 1992 VMAs feud: 'They would be friends if Kurt were alive today'
–– After 30 more years of drugs rotting brain.
Armie Hammer Accusations 'Didn't Dawn on' Luca Guadagnino While Making Cannibal Love Story 'Bones and All'
-– Fleshing out plot?
Paul Newman's daughters sue late actor's charity foundation
–– Newman's owned.
Danny DeVito admits to getting Arnold Schwarzenegger stoned 'off the charts' on set of 'Twins'
–– Stonin' the Barbarian.
Danny DeVito on Disney's 'Hercules' Remake: 'If They Don't Put Me in That, They Don't Have a Hair on Their Ass'
–– He's right height to notice.
Jeanie Buss says John C. Reilly deserved Emmy nomination for portraying her father in 'Winning Time'
–– Throws him over Buss.
How Michael Flatley's Spy Thriller 'Blackbird' Attained Cult Film Status Without Ever Having Been Seen
–– Flatley rejected?
Jenny McCarthy likens Playboy Mansion to a 'Catholic school' when she lived there: 'There were no orgies'
–– 'Just bare-chested Playmates in wimples administering spankings.'
Lily James Experiences Beaches a Little Differently Now
–– In slo-mo.
Princess Diana died 25 years ago, but she endures as a role model for women
–– But, but, really?
Julian Edelman says 'atrocious' film sessions led to NFL retirement
–– Coaches kept showing Adam Sandler comedies.
A Reporter Went Down the Brewers' Slide. He Broke a Wrist and Cracked 6 Ribs.
–– Breweruised all over.
Miss England finalist becomes first in pageant's history to compete without makeup
–– And absolutely no talent.
Oscar Mayer is now selling frozen wiener pops
–– To dachshunds!
A treasured manuscript in a college library that was believed to have been written by Galileo is a forgery, university says
–– It's Pisa shit.
Singaporeans disagree with Japanese TikToker who claims 'chope-ing' is unique to Japan
–– We would chope so.
Illegal Las Vegas brothel allegedly run by an Asian woman saw nearly 200 visitors in 2 weeks
–– Really playing the slots.
How Quitting a Job Changed My Personal Finances
–– No salary had effect? Huh.
T-Mobile partners with SpaceX in effort to end cellphone dead zones
–– Zombies protest.
A mom ran her own shooting drill with her 5 year old and the video went viral
–– And kid shot her back.
UPS Drivers Say 'Brutal' Heat Is Endangering Their Lives
–– Don't stock body bags?
McDonald's is testing a chicken Big Mac. We hacked a preview.
–– We hurled one.
The Megalodon Was Bigger, Faster and Even Hungrier
–– In coming CGI-laden sequel.
Some Monkeys Use Stone Tools for Pleasure, Study Suggests
–– Hit me with your rhythm stick!
A Dad Took Photos of His Naked Toddler for the Doctor. Google Flagged Him as a Criminal
–– We flag Google as Pervert.
Dad chokes driver who tried to run Florida family off road in hate crime, feds say
–– Took to neck's level.
Slain mobster Whitey Bulger was beaten by inmates for 7 minutes – but wasn't found until 2 hours later: Feds
–– Boston dead socks.
Student killed in shootout with female robbers living off the grid with armed 5-year-old in Alabama forest
–– They raised Cain.
Military veteran admits to faking own death to escape charges of raping, impregnating 14-year-old stepdaughter
–– We salute you for your honesty and thank you for your service!
Woman believed to be mother of children found dead in suitcases is in South Korea, say Seoul police
–– She did a bag bag thing.
Brink's guard slept as thieves stole millions in jewels, lawsuit says
–– Suspicious authorities consider charge of kid napping.
Dinosaur tracks from 113 million years ago uncovered due to severe drought conditions at Dinosaur Valley State Park
–– Lead directly to Governor's Mansion.
Giant dinosaur over 80ft long discovered in man's backyard
–– In hammock!
Germany's railways offered a month of unlimited rides for $9. Here's what happened
–– Individuals got in luxury tank-style SUVs, drove millions of aimless miles, bitched about cost of gas?
EPA finally moves to label some 'forever chemicals' as hazardous
–– While praising 'stick-to-itiveness,'
Why QR-code menus are still around
–– Waiters keeps sneezing on paper ones.
Live Performance Is Back. But Audiences Have Been Slow to Return.
–– COVID still in front row.
Fauci Says He Will Step Down in December to Pursue His 'Next Chapter'
–– Entitled 'The End.'
Omicron Boosters Are Coming, But They Weren't Tested in People. Here's What You Need to Know
–– You're a guinea pig.
'Star Trek' Legend Nichelle Nichols' Ashes Will Be Sent to Deep Space
–– Yoo-hoo, rue!
Latisha Chong, Hair Stylist Who Helped Change Fashion, Dies at 32
–– Curled up, died.
Joe E. Tata, 'Beverly Hills, 90210' actor, dead at 85
–– Ta-ta.
Leon Vitali, 'Barry Lyndon' Actor and Personal Assistant to Stanley Kubrick, Dies at 74
–– So already did stint in purgatory.
Virginia Patton, Actress in 'It's a Wonderful Life,' Dies at 97
–– Patton infringement.