Choice Cuts

Week of 07/08/22
Actual headlines from the internets. You Google 'em.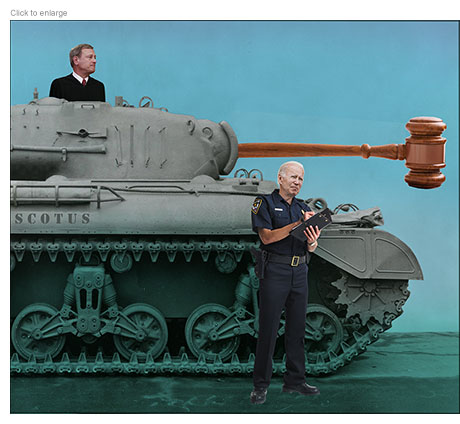 Biden signs executive order on abortion, declares Supreme Court 'out of control'
–– Judging gamy.
Boris Johnson Made a Terrible Mistake: He Apologized
–– Or was he just sorry PM?
After string of Supreme Court setbacks, Democrats wonder whether Biden White House is capable of urgency moment demands
–– Or tying own shoes.
Shinzo Abe, former Japanese leader, is assassinated by gunman
–– Abe for blood.
What are Japan's gun laws? Abe killing shocks nation where shootings are rare.
–– Obvious case of trademark infringement against U.S.
Pat Cipollone meeting with January 6 committee behind closed doors Friday
–– Deep cleaning service on call for chamber after he's done.
Merrick Garland's former law professor says he thinks the attorney general will indict Trump over January 6
–– If he can locate spine.
Joe Rogan says he refused to interview Donald Trump multiple times: 'I don't want to help him'
–– Speaks from Experience.
Opinion Democracy must not die in darkness
–– Jan. 6 riot, Roe v. Wade decision happened in broad daylight.
Ballot drop boxes not allowed in Wisconsin, state Supreme Court rules
–– They drop boxes?
Michigan's Trump-backed secretary of state nominee compares abortion to 'child sacrifice'
–– What they call it in her coven.
The Far Right and Far Left Agree on One Thing: Women Don't Count
–– Let's see if they can count votes in November.
Guest Column: What Hollywood Can Do After the Reversal of Roe v. Wade
–– Pretty much this.
The brutal US abortion ruling is a potential death sentence for all pregnant women
–– This Week in Overstatement.
The Trump Family Behaves Exactly How You'd Expect in Documentary Subpoenaed by Jan. 6 Committee
–– Like the Joads, uh…make that Choads.
Expert on White House chiefs of staff says Mark Meadows 'absolutely owns' the title of 'worst' chief in history after ex-aide's damning testimony
–– Only fitting for 'worst' commander-in-chief ever.
Jan. 6 showed two identities of Secret Service: Gutsy heroes vs. Trump yes-men
–– Good cop/worst cop.
GOP Rep. Adam Kinzinger defends his tweet calling Liz Cheney's challengers 'armpit farters,' saying they are 'spreading conspiracy'
–– There are some mutters, too.
Why Liz Cheney is in a lot of trouble in Wyoming
–– Is least populous state with densest population.
McCabe says his and Comey's selections for 'rigorous' IRS audits should be investigated
–– Audit erratic as fixation.
I.R.S. Asks Inspector General to Review Audits of Comey and McCabe
–– Law and audit.
Arizona Gov. Doug Ducey endorses rival to Trump-backed candidate in GOP gubernatorial primary
–– Aces Ducey.
Democratic nominee for Maryland comptroller is poised to make history
–– Let's guess: not straight white abled male?
Brittney Griner pleads guilty to drug charges in Russian court
–– Griner and bare it.
In Putin's Russia, the Arrests Are Spreading Quickly and Widely
–– Pinch of assault.
Moscow Official Accuses West of 'Blatant Russophobia'
–– Predictable psychological response to extreme Ukrainophobia.
Lavrov walks out of G20 talks after denying Russia is causing food crisis
–– Has Beluga Caviar lunch waiting for him.
Musk terminates agreement to buy Twitter
–– No longer Musk-have?
Florida city apologizes for saying 'a lot of people probably don't want to celebrate our nation right now'
–– Like this lunatic?
Crimo dad washes hands of guilt but talked with son about a mass shooting night before Highland Park massacre
–– Crimo: the crap.
GOP Governor Candidate in Illinois Roasted for Saying 'Let's Move On' Hours After July 4 Parade Mass Shooting
–– 'Except, y'know those Highland Park residents who physically can't.'
Police say the repeal of Indiana's handgun permit law means someone openly carrying a gun can be on a sidewalk eyeing a school but cops can't legally ask them what they're doing
–– Aw, probably just harmless pedo.
Rep. Lauren Boebert's Terrible Take On Denmark Shooting Slammed As 'Deadly' Stupid
–– Won't Dane to repeat it.
Uvalde mayor says he fears a cover-up of investigation into school massacre and calls on Texas Gov. Abbott to intervene
–– Who is expert in covering up.
'Cowards': Uvalde victims' families outraged over missed opportunities by police
–– Yes, but would you take bullet for their kid?
'Dilbert' cartoonist Scott Adams has a bleak take on our 'dangerous young man problem'
–– Yikes, it's Kilbert!
Most gun owners favor modest restrictions but deeply distrust government, poll finds
–– Prefer to put faith in psychotic incels.
Trump cracks down on deceptive fundraising by others using his name
–– Bravely defending own deceptive fundraising.
Son writes scathing obituary for dad: 'Evil does eventually die'
–– Don Jr. takes notes.
Jordan Peterson says he would 'rather die' than delete his 'hateful' tweet about Elliot Page
–– At least he's leaving options open.
8 Famous Actors Of Color Who Struggled To Get Cast Due To Their Race, And 8 White Actors Who Took Roles Away From People Of Color
–– And lots of white characters recast as people of color.
What Robin Williams' widow wants you to know about the future of Lewy body dementia
–– And that he wasn't crazy, just lost mind.
'Thor: Love and Thunder' director forgot Natalie Portman's 'Star Wars' role
–– Something we've all tried to do.
Cinemas Ban Groups Watching 'Minions: The Rise of Gru' in Formal Attire
–– We want painted yellow schlongs in tiny bib overalls.
The Duffer brothers defended themselves after 'Stranger Things' star Millie Bobby Brown called them 'sensitive Sallies' for not killing off more characters
–– 'We didn't have time even withbloated episodes–– you saw how Matthew Modine's character took, like, 20 minutes.'
David Harbour Calls Method Acting 'Dangerous' and 'Silly': Daniel Day-Lewis' Process Is 'Nonsense to Me'
–– Throw that in Hopper.
'Stranger Things' Star Answers Most Important Question About Vecna's Crotch
–– Is indeed upside down.
Jamie Campbell Bower comments on canceled Game of Thrones spin-off: 'Of course it's sad'
–– Bower's down.
Clint Eastwood Wins Second Big Lawsuit Against CBD Industry
–– High plains grifter.
Sacha Baron Cohen beats Roy Moore's $95M defamation lawsuit over 'pedophile detector' sketch
–– Judge couldn't agree Moore.
Adele says she was 'shell of a person' after canceling Vegas residency
–– Oh, the tragedy of fans who couldn't experience her artistry at Caesar's Palace Colosseum.
'Real Housewives of Beverly Hills' star Kyle Richards reacts to Diana Jenkins saying she'd head butt Sutton Stracke: 'You can't justify that'
–– 'Cause it's empty.
Padma Lakshmi shares nude photos, says it's 'often easier' to pose in the buff when a woman is behind the lens
–– Bare-ass posts always empowering to women.
Ted Nugent on Billie Joe Armstrong Renouncing US Citizenship: "You Have to Have Abused a Lot of Substances to Be That Stupid"
–– He would know, if he wasn't so stupid.
James Cameron Might 'Pass the Baton' to Another Director After 'Avatar 3'
–– Which will be relay, relay bad.
Toyah Pours Water on Herself as She and Robert Fripp Cover Rammstein's "Keine Lust": Watch
–– Wench tee-shirt contest.
Addison Rae's dad, 46, allegedly 'misled' 25-year-old into having affair
–– Was absolutely convinced she'd get own YouTube channel.
Bob Dylan's £1.5m Blowin' in the Wind vinyl is a bespoke insult to pop music
–– But barely compensates for last 19 years of lost album sales.
Kool & the Gang Get the Dance Floor Moving. Have They Gotten Their Due?
–– Not Kool with that?
'American Idol' winner Caleb Johnson says his winning single was a 'piece of crap'
–– Sounding much better then he ever did on show.
'Rust' Rallied Hollywood, But Has Spurred Limited Action So Far
–– Firing blanks.
Elon Musk reportedly had twins with a Neuralink executive
–– Doubled her workload.
Elon Musk Speaks Out After Welcoming Twins: 'Doing My Best to Help the Underpopulation Crisis
–– Already have plenty of congenital scumbags…
Nick Cannon Tells Elon Musk 'I'm Right There with You' After Billionaire Privately Welcomed Twins
–– …and jackasses.
Los Angeles Dodgers Peanut-pitching Vendor Banned From Pitching Peanuts
–– Is now closing games.
When Will Federer and the Williams Sisters Call It Quits? Maybe Never.
–– Chasing Grand Slam of self-delusion.
Bruce Murray spent years heading the ball. He worries it took a toll.
–– Not a goal.
Cyclist Daniel Oss withdraws from Tour de France after breaking neck in high-speed crash with fan
–– Fell head-over-heels for her.
Tom Cruise turned 60 the day before America's birthday and it feels right
–– Not Born on the Fourth of July?
He ate how many? Hot dog champ does it again
–– Oh, that old Chestnut.
Why you should always have canned fruit in your pantry
–– To stop intruders?
Boris Johnson blames 'the herd' as he resigns to make way for new U.K. prime minister
–– Lacked herd immunity.
Departing Boris Johnson carries out reshuffle after mass resignations
–– His deck is all Jokers.
Boris Johnson's tenure has been defined by scandal. Here are some of the biggest ones
–– 2. The whole hair thing.
A $23.8 M. Francis Bacon Painting Has Become a Political Football in the U.K.
–– A pigskin?
Her 'Chagall' Is Headed for the Trash. How's That for Caveat Emptor?
–– Pretty freakin' great.
Why Are We Still Talking About Black Mountain College?
–– We?
Amazon Hub in Newark Is Canceled After Unions and Local Groups Object
–– Because last thing Newark needs is more legal unskilled jobs.
Red flag: Consumers are using Buy Now, Pay Later to cover everyday expenses
–– Debt beat dads.
Subway is redesigning its menu
— Adding poison symbols next to most noxious items.
What's Wrong With Health Insurance? Deductibles Are Ridiculous, for Starters.
–– Premium outlet.
How To Create The Feel Of A Luxury Spa In Your Own Bathroom
–– Have skinny rich bitch in towel that doesn't quite cover ass sitting on bench in corner texting.
Christians strip down at a South Texas nudist community
–– Not many long horns.
These New Breastfeeding Guidelines Ignore the Reality of Many American Moms
–– Squeeze all fun out of it.
Former Theranos COO is guilty of federal fraud
–– Opened some eyes.
Feeling Anxious? Say These 3 Words to Calm Down, According to Scientists and Zen Monks
–– Another martini, please.
San Francisco property owners banned from parking car on it
–– Hit sore spot.
'Karen' Passenger Kicked Off Plane For Refusing To Sit Next To A Baby
–– Herself?
Elderly Woman Kidnapped, Allegedly Found Duct Taped In Alabama Man's Closet
–– Did stop her from leaking.
Six injured as controversial bull run returns to Spain's Pamplona
–– Toro de force.
Vegan Florida mother convicted of starving toddler to death with strict raw fruits, vegetables diet
–– Mash murder.
Frank Lloyd Wright designed the Guggenheim Museum -- and this 12-year-old boy's dog house
–– Walls decorated equally well.
What colors can dogs see? Explaining your pet's worldview.
–– And why he prefers Franz Kline.
A Whale Feeding Frenzy in Antarctica Signals a Conservation Success
–– Local sea life: 'Whoop-de-effin'-doo!'
Penguins at a Japanese aquarium are being fed cheaper fish - and they aren't happy
–– Forced to wear clip-on bow ties.
How to get rid of mosquitoes without killing friendly pollinators
–– Tiny, tiny blowguns.
Searching for Gold, Miners Discover a Frozen Baby Mammoth
–– Check for gold fillings.
New dinosaur species discovered that had tiny arms like T. rex
–– Reacher features.
Rocket Report: A Minotaur explodes after launch; Starship rolls to the pad
–– Husband can't get it up.
Opinion The worst virus variant just arrived. The pandemic is not over.
–– Bug more resilient than cockroach.
Should you get a second COVID booster now, or wait for updated shots?
–– We're asking, because experts know little as you.
Bradford Clark Freeman, the last surviving member of Easy Company's Band of Brothers, dies at 97
–– Over Easy.
'Yu-Gi-Oh!' creator Kazuki Takahashi found dead at sea
–– As hard to comprehend as his manga.
Larry Storch, Corporal Randolph Agarn on 'F Troop,' Dies at 99
–– A goner.
Tony Sirico, 'Sopranos' star, dead at 79
–– Cracked Walnuts.
James Caan, 'The Godfather' and 'Misery' Star, Dies at 82
–– Sleeping with fishes.
'Godfather' Legend James Caan Refused to 'Take It Easy' Right Until the End
–– Was his Sonny disposition.