Not to Manchin

Week of 07/15/22
Actual headlines from the internets. You Google 'em.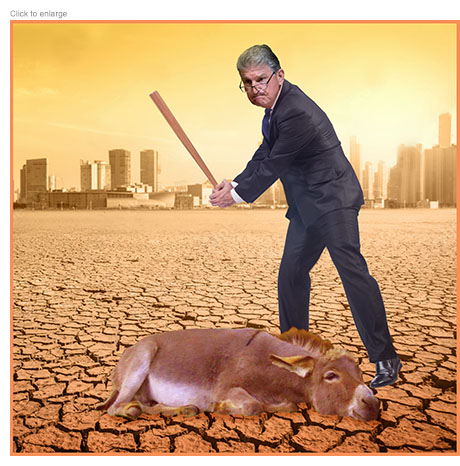 Biden Concedes Defeat on Climate Bill as Manchin and Inflation Upend Agenda
–– Joe Joe rabid.
Watchdog: Secret Service erased text messages
–– Were sexting Ivanka.
Trump 'standoff' with security on Jan. 6 BACKED UP by DC cop: Report
–– Went manhole a manhole.
Manchin says he won't support new climate spending or tax hikes on wealthy
–– Coal-cocked Biden.
After staff exodus, Vice President Harris to lose longest-serving aide
–– Had enough Harrisment.
Steve Bannon Agrees to Cooperate with January 6 Committee after Trump Waives Executive-Privilege Claim
–– Which didn't really exist.
Judge Rejects New Steve Bannon Demand For Trial Delay After Bombshell 'King' Trump Tape
–– Led House of Orange.
Jan. 6 hearings: Day 7 focuses on Proud Boys, Oath Keepers
–– Showing wild Oaths.
Paul Ryan was 'sobbing' as he watched the US Capitol attack unfold, new book says
–– Like tear gas got in eye.
Paul Ryan said he was 'surprised' at how easily Trump could intimidate the GOP: 'One guy could just Luca Brasi you'
–– 'You', the unprincipled craven coward.
Mick Mulvaney says a 'friend' in the White House said former Trump chief of staff Mark Meadows displayed incompetence, had a 'nervous breakdown' on January 6
–– Whereas Mulvaney displayed nervousness, had 'competence breakdown.'
Trump claims Rudy Giuliani was hospitalized with heart problems because of what his opponents 'put him through'
–– Imposed daily chianti regimen?
Most Democrats Don't Want Biden in 2024, New Poll Shows
–– Joe's nomentum.
Ex-presidential advisor David Gergen says it's 'inappropriate' for a candidate to seek the presidency in their 80s
–– One for the ageist.
Trump says 'life begins at 80' as Democrats publicly air fears that Biden's age — 79 — is affecting his leadership
–– There's where Trump's IQ begins, ends.
Opinion: Progressives are practically doing Republicans' job for them
–– Mocking progress.
Obama emailed Ronny Jackson expressing 'disappointment' for criticizing Biden
–– And that last prostate exam of his Presidency.
Wealthy space entrepreneur who has pushed for exploration of aliens and the afterlife donates $10 million to DeSantis
–– So he discovered malignant alien life form.
Elon Musk Says Donald Trump Should 'Sail Into the Sunset' in Latest Spat
–– Without a paddle.
Elon Musk's Father, 76, Has "Secret" Child With 35-Year-Old Stepdaughter
–– Asshole doesn't fall far from tree.
Republicans wince as their Ukrainian-born colleague thrashes Zelenskyy
–– They cry, 'Y? Y?'
Uber wooed Russia's rich and powerful but failed there anyway
–– Had insufficient hookers, coke in back seats.
Poland to buy 116 used Abrams tanks from U.S., says minister
–– That's the tanks they get.
Biden says diplomacy is still the best way to keep Iran from getting a nuclear weapon, despite Israeli skepticism
–– President Herzog sprained eyes by rolling so hard.
Secret Service employee sent home from Israel after a 'physical encounter'
–– In latest slang for shtup.
Biden Departs for Saudi Arabia for Meeting With Crown Prince, Taking a Rare Direct Flight From Israel
–– Passing directly over Hypocrisy.
Biden's Saudi Lesson: The Only Path Runs Through M.B.S.
–– More Bull Shit.
Biden begins sensitive Saudi trip with fist bump for crown prince, handshake for king
–– That'll teach him.
MBS fired back at Biden with US controversies after confrontation over Khashoggi's murder, says report
–– Best defense is offensive offense?
Iraqi cleric Sadr's supporters throng Baghdad streets in show of strength
–– So-called 'Sh'ite-heads'.
Japan probes Abe assassination motive as police chief admits 'problems'
–– If murdered ex-PM is 'problem.'
Who is Tetsuya Yamagami? What we know about the man suspected of shooting Shinzo Abe
–– Not inventor of cute robotic pet?
Akie Abe, widow of assassinated leader Shinzo Abe, set a new mold for Japanese first ladies
–– Not unlike these.
'Jesus f------ a---hole': How Boris Johnson lost his cool with a woman he had an affair with
–– Referring to either, both.
Government minister repeats claim Angela Rayner 'opened her legs' in Commons to distract Boris Johnson
–– Sharon Stoned him?
Ex-C.I.A. Engineer Convicted in Biggest Theft Ever of Agency Secrets
–– Punished for his Wiki, Wiki ways.
Mario Draghi to Resign as Italian Prime Minister
–– Was total draghi.
Top Social Security official keeps job after reports of being impaired at work
–– Just hold on a soc sec!
'The View' Hosts Mock Brett Kavanaugh for Fleeing Morton's Steakhouse With Protestors Outside: 'Let Me Take Out My Little Violin'
–– Barely had time to finish third pre-meal beer.
Chicago's 4th of July weekend death toll surpassed the Highland Park shooting. 'I thought there would be more outcry,' mother says
–– Probably would've been if not for typical weekend death toll.
One Big Reason Hollywood Hasn't Begun Boycotting States Over Abortion Access
–– $.
Bill Gates pledges to donate 'virtually all' of $113bn fortune to his foundation
–– Will just keep enough to pay bodyguards so kids don't kill him.
Brad Pitt says he suffers from facial blindness
–– Can he see our eyes rolling?
Journey's Neal Schon says he and Steve Perry are 'in a good place' before band's 50th anniversary
–– Presumably far from studio.
'Terminal List' Author Responds to Negative Reviews of Chris Pratt Series, Says Critics Are "Triggered" by Show
–– There are enough guns in it.
Anthony Anderson Reacts to Emmy Snubs for Final 'Black-ish' Season: "Can You Believe That S***?"
–– That's what Emmy voters asked.
Martin Lawrence And Will Smith Are Moving Forward With 'Bad Boys 4' Despite Oscars Controversy
–– Subtitled Slap-Happy.
'American Idol' finalist hired a bodyguard after Nicole Kidman pulled her aside at a restaurant and told her to 'invest in security'
–– Wanted protection from her.
'Gremlins' Creator Joe Dante Claims Baby Yoda Was 'Stolen' From Gizmo
–– Tore da Force.
Natalie Portman Fell in Love With Husband Benjamin Millepied in the Most Shocking Place
–– A millipede farm!
Natalie Portman: Chris Hemsworth Didn't Eat Meat Before 'Thor: Love and Thunder' Kiss Because I'm Vegan
–– Millepied: 'Neither did she.'
'She-Hulk' Star Jameela Jamil Addresses Criticism of Her Show Look: "I Accept Every Ounce of Shade"
–– Especially green?
'Stranger Things 4' Almost Permanently Killed Max: 'For a While That Was Going to Happen'
–– When formerly legit entertainment rag spoils formerly entertaining bloated series.
Stranger Things star Noah Schnapp confirms the obvious about Will: 'He is gay and he does love Mike'
–– For the love of Mike!
'House of the Dragon' showrunners reimagined some characters as Black because they didn't want it to be 'another bunch of white people on the screen'
–– So Brown Walkers?
Christopher Meloni Goes Nude for Peloton Ad: 'Some People Think the Way I Work Out Is Strange'
–– Without bike seat.
Persuasion: Netflix movie branded 'torture' to watch and 'the worst Jane Austen adaptation ever'
–– We're persuaded.
Florence Pugh wears a see-through dress in Italy to 'free the nipple'
–– In new twist.
Florence Pugh slams 'vulgar' men who attacked her for wearing revealing dress
–– Nips and the bud.
Lindsay Lohan Looks Totally Grool in Blue Bikini on Trip After Bader Shammas Wedding
–– We believe that's spelled G-R-U-E-L.
Beanie Feldstein Leaving Broadway Revival of 'Funny Girl' Earlier Than Expected
–– Beanie there, done that.
"Yes, I'm Affected": Lea Michele's Former Glee Costar On Funny Girl Casting
–– As in: (adjective): having or showing an attitude or mode of behavior that is not natural or genuinely felt : given to or marked by affectation
Guap, Formerly Known As Guapdad 4000, Premieres His 'H*e' Video And Announces His Short Film, 'Stoop Kid'
–– Wasn't Guapamole?
Terrence Howard Says He Reinvented Physics, Wants to Give Uganda New Forms of Flight, Defense
–– With assistance of brothers Moe, Curly.
Cameron Diaz thinks she was once a drug mule during her early days as a model: 'They gave me a suitcase'
–– Or high jackass?
Despite Emmys Snub for Acting, Selena Gomez Still Lands in the History Books for 'Only Murders in the Building'
–– Kinds which include citations like 'only second Latina nominated as Executive Producer' –– for credit that can charitably be characterized as 'honorary'.
Armie Hammer being financially supported by Robert Downey Jr.
–– Accept when he has people for dinner.
Mickey Rourke Slams Tom Cruise: He's 'Irrelevant' and Has Played the 'Same Part for 35 Effing Years'
–– Rourke's even irrelevant to irrelevance.
20 Sexy & Silly Instagrams of Birthday Girl Lisa Rinna That Prove Age Is Just a Number
–– But brain damage real.
Officials warned of 'serious wildlife incidents' at Queen's Sandringham estate
–– Prince Andrew sexually harassing woodland critters.
Tiger Woods Has Harsh Words for LIV Golf and Greg Norman
–– Now moral conscience of PGA.
Travis Scott Helps Stormi, 4, Create a Volcano in Science Experiment Filmed by Mom Kylie Jenner
–– Includes tiny screaming figures in lava flow.
U.S. tourist falls into Mount Vesuvius after climbing forbidden route
–– Hercules tosses idiot to safety.
Firefighters are battling a massive blaze on Nantucket Island, which damaged a historic hotel and several other buildings
–– There was a great blaze on Nantucket
Needing more than one fireman's bucket.
    The Chief said in a flash,
    As he wiped his black ash,
"On Cape Cod, I would've said fuck it."
China crushes mass protest by bank depositors demanding their life savings back
–– Yuan what army?
The euro and the dollar are a penny away from parity for the first time in 20 years
–– US or EU penny?
Average rent in Manhattan jumps to a record $5,000 a month
–– Pet included.
Traveling To New York City This Summer? 9 Questions To Ask Yourself Before You Go In 2022
–– 6. Does kevlar vest go with basic black wardrobe?
The napkin etiquette rule you should know for fancy restaurants
–– Do not use to wipe body parts below waistline.
How Panda Express won over customers with a made-up dish
–– Moo goo guy panda.
How to get free fries at McDonald's and Wendy's this week
–– Just reach over to next table…
Papaya King, a Hot Dog Pioneer on the Upper East Side, Faces a Possible End
–– Kingdom of Papaya raises protest at UN.
Cheddar, an extremely rare orange lobster, almost became dinner. Then, restaurant workers stepped in.
–– And grilled for lunch.
A New Jersey man was working on his driveway. He discovered a trove of money from the 1930s.
–– Suspect ass fault.
What Does The Physical Evidence Say About The Infamous Disappearance Of Hijacker DB Cooper?
–– Nothing, it's so bored of conversation.
O.C. chiropractor charged with molesting 7 patients; investigators say more victims likely
–– Touchy subjects.
People from elite backgrounds increasingly dominate academia, data shows
–– And overwhelmingly pretend they haven't.
Amazon's Ring has provided doorbell footage to police without owners' consent 11 times so far this year
–– Invasion of Privacy. Ring a bell?
Nobody likes self-checkout. Here's why it's everywhere
–– Really ka-ching on.
Pig heart transplants in humans show signs of success
–– Just look at SCOTUS conservative majority.
The number of Americans injecting drugs skyrockets to nearly 3.7 million people in 2018, study finds
–– Shoots up.
Man Does Not Live Longer by Exercise or Diet Alone, Study Says
–– Good, so we can ignore both.
Bones found in Chinese cave may be 'missing piece' in story of first Americans
–– Or, y'know, not.
A Texas meteorologist warned of power outages. Then the lights went out.
–– Founded own church next day.
An elephant fainted trying to protect its calf. See how vets revived her
–– Injected junk in trunk.
Fish Can "Count", And This Discovery Could Help Humans Too
–– But only to two on flippers.
How to spot a too hot dog – and other pet care tips for a heatwave
–– If you're sporting wood, tell her to put some clothes on.
Dog Found Shot in Derby Finds Forever Home With Family of Officers
–– What was he doing in hat?
Invasive beetle known for wiping out ash trees found in Oregon: "The most destructive and costliest forest pest ever to invade North America"
–– Total pain in ash.
A sprinkler system has been installed in the forest and a cabin wrapped in foil as wildfire threatens Yosemite's beloved sequoias
–– Cabin filled with baking potatoes.
Scientists Marvel at NASA Webb Telescope's New Views of the Cosmos
–– Which look like they were created by Marvel.
'The Sopranos' Creator: Tony Sirico Was the Only Actor to Ever Remove Dialogue From a Script
–– Had it rubbed out.
L.Q. Jones, 'Wild Bunch' Actor and Member of Peckinpah's Posse, Dies at 94
–– Posse whipped.
Monty Norman, Composer of the James Bond Theme, Dies at 94
–– Dum didda didda dum, dum didda…Dum didda didda dum, dum didda…
'A Survivor': Trump Family in Mourning After Ivana Found Dead at Home
–– But not of staircase.
Ivana Trump's 10 notable quotes, including this: 'The mother makes the child'
–– 7. 'I made Donald.'
NY AG delays depositions of Trump, 2 of his children, following death of Ivana Trump
–– Three celebrate wildly, but, y'know, solemnly.