The China Sin Drone

Week of 08/05/22
Actual headlines from the internets. You Google 'em.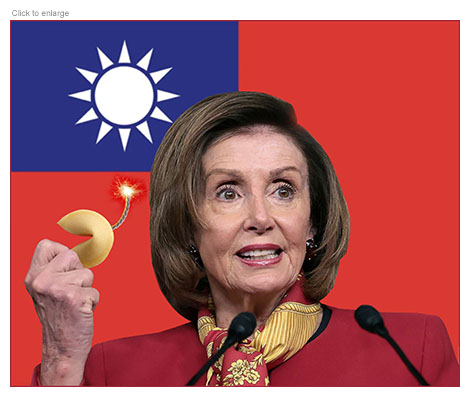 How decades of clashes with China led to Nancy Pelosi's Taiwan trip
–– Endless Beijing and moaning.
Dick Cheney torches Trump in ad: 'He's a coward'
–– Satan's burn.
China sanctions House Speaker Nancy Pelosi over 'egregious provocation' in visit to Taiwan
–– Ooo, that's gotta sting.
Furious China fires missiles near Taiwan in drills after Pelosi visit
–– Killing off some prime sushi in Japan waters.
White House summoned Chinese ambassador to condemn provocations after Pelosi's Taiwan visit
–– Threatened to put in Chinese finger cuffs.
Sinema says she will 'move forward' on economic bill, putting Biden's agenda on the cusp of Senate approval
–– Sinema scope.
Employers added 528,000 jobs in July, shattering expectations
–– Because U.S. is / isn't / might be /should be in a recession.
The Great Resignation Is Turning Into the 'Great Regret.' Employers Are Joining In Too
–– We're already sorry we started reading.
U.S. Drone Strike Kills Ayman al-Zawahri, Top Qaeda Leader
–– Early 21st-Anniversay Celebration of 9/11.
How Joe Biden and his team decided to kill the world's most wanted terrorist
–– Gleefully.
Attorney for convicted Russian arms dealer Viktor Bout is 'confident' prisoner swap with US will happen
–– No doubt a Bout it?
'There's no path out of economic oblivion for Russia': New report reveals how corporate exodus has already wiped out decades of post–Cold War growth
–– Will make tidy match with Moral Oblivion.
Putin's rumored girlfriend hit with latest U.S. sanctions
–– Kremlin decries 'slut shaming.'
Former Putin ally who fled Russia hospitalized with rare illness that made him suddenly lose feeling in his hands and legs: report
–– Sounds like clear case of Putinosis.
Turkey's Erdogan due in Russia to 'sound out' Putin on Ukraine and Syria
–– Will sound like wet sucking.
Brittney Griner Sentenced to 9 Years in Russian Prison on Drug Possession Charges
–– Penalized for traveling.
Trump calls detained WNBA star Brittney Griner a 'potentially spoiled person' while criticizing proposed prisoner swap for Russian arms dealer
–– Says monster born with silver spoon in every orifice.
First Capitol Rioter to Face Trial Gets 7 Years, Longest Sentence So Far
–– His previous longest sentence: 'Trump is God!'
Orban, Lindell and Bannon: Conspiracy and controversy take hold at CPAC
–– What else do they have?
Amid 'mixed race' speech blowback, Orban echoes Trump in Dallas
–– Orban clearly 'mixed species.'
Controversial Saudi Golf Tournament Morphs Into Mini Trump Campaign Event
–– Mini Trump even crazier than Mini-Me.
Trump advisers joked that Steve Bannon's only job at the White House was to leak stories to the press, according to Jared Kushner's new memoir
–– And take leaks on potted plants.
Trump Tells Judge He Was Too Busy as President to Sue Clinton Sooner
–– Making up insuting nicknames for her.
Donald Trump-themed burger restaurant in Texas becomes an unlikely tourist attraction and a hit with locals, report says
–– Patties 80% Lard / 20% Fat.
Trump apologized to Ted Cruz for calling his wife ugly and claiming his father plotted the JFK assassination, Manafort book says
–– Then claimed father was ugly, wife responsible for plotting 9/11.
GOP Rep. Jim Jordan says it's 'wrong' for Senate Republicans to work with Democrats on bills endorsed by Biden
–– 'That would be like carrying out your Constitutionally-mandated duty, you traitorous bastards!'
Arizona GOP House Speaker Rusty Bowers says 'America's tired' of Trump: 'I'll never vote for him, but I won't have to'
–– Rusty belts.
Alex Jones' company files for bankruptcy midway through Sandy Hook damages trial
–– Already qualified for reality exemption.
After Alex Jones' lawyers accidentally leak years of emails, Infowars financial documents are revealed in court
–– Defense wrests.
Jury orders Alex Jones to pay Sandy Hook parents another $45 million, this time in punitive damages
–– Chuck Jones.
Rep. Matt Gaetz, Roger Stone caught on hot mic discussing pardon, Mueller redactions: report
–– And hot teen in front row.
Meet the Neo-Confederate 9/11 Truther Maryland GOP Voters Picked for Attorney General
–– In Reb State?
Raphael Warnock has a nine-point lead over Herschel Walker in the Georgia Senate race, while Brian Kemp and Stacey Abrams are in a close contest for governor: poll
–– Georgia tetched.
Kari Lake wins Republican nomination for governor, completing sweep for Trump-backed candidates in Arizona
–– Where 120º heat has totally baked brains.
Doug Mastriano Is Keeping A Big Secret From Pennsylvania Voters
–– No, everyone sees he's knuckle-dragging troglodyte.
A Texas blueprint for converting the 'abortion-minded': Lattes and a view
–– Wouldn't work if it was Texas Tea.
DeSantis suspends Tampa prosecutor who took stance against criminalizing abortion providers
–– Acting like SauRon of Mordork.
'No' prevails: Kansas votes to protect abortion rights in state constitution
–– Which might've been 'Yes' if ballot wasn't so confusing.
Much About What Americans Think About Dobbs, Kansas Abortion Vote Is Wrong
–– 'Fraid? See Dobbs.
Republicans Begin Adjusting to a Fierce Abortion Backlash
–– Pray it's carried to term.
Sen. Pat Toomey takes jab at 'pseudo-celebrities' after comedian Jon Stewart blasted him for voting against a veterans healthcare bill
–– Loony Toomey.
Texas Gov. Greg Abbott Reportedly Stayed At Fundraiser For Hours After Uvalde Shooting
–– Insists he was sheltering in place.
We Are Living in Richard Nixon's America. Escaping It Won't Be Easy.
–– Feels more like Spiro Agnew's.
Neil Patrick Harris on His First On-Camera Gay Sex Scene in 'Uncoupled,' Fake Penises and Joining 'Doctor Who'
–– Butts, putz, nuts.
Judge dismisses lawsuit accusing Bob Dylan of sexually abusing a 12-year-old girl in the 1960s
–– Don't Look-Back Window.
America Has a Problem and Beyoncé Ain't It
–– This week in Damning with Faint Praise.
Beyoncé confirms she will remove a lyric from her new album, 'Renaissance,' following criticism that it's 'ableist' and 'deeply offensive'
–– 'Spaz' ticked.
Todd and Julie Chrisley say they 'feel like we're hemorrhaging' since convictions
–– Please, no photos!
'The Great' Star Nicholas Hoult Says His Character Can "Turn on a Dime"
–– Or, being 18th-Century Russian Emperor, a ruble.
Chris Rock Speaks Out After Will Smith's Video Apology: 'Everybody Is Trying to Be a F–ing Victim'
–– Slap dashed.
'The Flash' to End With Abbreviated Season 9 on The CW
–– What took him so long?
'Batgirl' Film Axed by Warner Bros., Won't Be Released on Any Platform
–– Studio hilariously claims 'the decision was not driven by the quality of the film or the commitment of the filmmakers.'
Leslie Grace Reacts to 'Batgirl' Movie Being Killed: 'Thank You for the Love and Belief'
–– 'Expressed in exact opposites.'
Batgirl Co-Director Was Getting Married When Warner Bros. Canceled the Movie
–– Studio sent singing telegram set to Color My World.
Kevin Feige, James Gunn and Edgar Wright Reached Out to 'Batgirl' Directors After Warner Bros. Axed Their Film
–– To gloat.
'The First Lady' Canceled at Showtime After One Season
–– FLOTUS away.
Salma Hayek calls Angelina Jolie 'probably the best director I've ever worked with'
–– How close was Angie when she said that?
Dominic Monaghan Reveals Why He Never Watched an Episode of 'Lost' : 'I Don't Need to Repeat Them'
–– Which really should've been subtitle.
House of the Dragon' Star Matt Smith Says He Questioned Whether All of His Sex Scenes Were Needed
–– Ugh! You will, too.
Quentin Tarantino Calls 'Top Gun: Maverick' a 'Spectacle' He Never Thought He'd See Again: 'I F—ing Love It'
–– Inglourious blusterd.
Talking dog parenting with Chris Evans
–– He shares child with talking dog?
Judge orders Kevin Spacey to pay House of Cards makers whopping $31M in firing dispute
–– Will take house of plastic cards.
SNL Ending at Season 50 Sounds Right, Says Kenan Thompson
–– If had occurred 40 years ago.
Kate Middleton 'Always Does Her Homework' Before Royal Outings, Says Insider
–– Currently trying to pass KS3 English.
Queen Elizabeth's Close Friend from Childhood Lady Myra Butter Dies at Age 97
–– Butter smeared.
Hulu's 'Not Okay' Ironic Content Warning About 'Unlikable Female Protagonist' Causes Confusion
–– Among irony-impaired.
Film and TV Spending in Georgia Hits $4.4B
–– Hollywood really punished state over anti-gay laws.
Atlanta's Music Midtown Festival Canceled After Court Ruling Made It Illegal to Keep Guns Out of Event
–– Shotlanta.
Ronda Rousey Suspended Indefinitely from WWE After Attacking an Official at SummerSlam
–– Knocked off her pins.
Hulu's 'Mike' Team on Retelling Tyson Story: "Endlessly Fascinating"
–– Technical Nod Out.
NBA's Iman Shumpert Arrested at Texas Airport for Pot Possession
–– Was Cavalier with law.
Boston Chinatown restaurant served as front for global money laundering scheme, DOJ says
–– Authorities mistakenly staked out Chinese laundries.
11-year-old boy scammed after man uses counterfeit $100 bill at lemonade stand, police say
–– Teaching invaluable lesson.
US dentist is accused of killing his wife on safari in Zambia. He says she accidentally discharged the gun
–– Or maybe Cheeta playfully pulled trigger.
Why It's So Hard to Find an Affordable Apartment in New York
–– Trump is paradigm of NY realtor.
Photographer recreates intimate portraits of young male models
–– On Cock News Now.
Cognitive decline linked to ultraprocessed food, study finds
–– Of course mental giants typically primary consumers.
Study Finds Another Condition That Vitamin D Pills Do Not Help
–– Making outrageous claims for Vitamin D.
Passenger fined $1,874 after two undeclared McMuffins found in luggage
–– Without toxic warnings.
Choco Tacos and Remembrance of Junk Foods Past
–– Madeleine con.
Amazon to buy vacuum maker iRobot for roughly $1.7B
–– Will not write 'they cleaned up', will not write 'they cleaned up'…
French mayor wants Mont Blanc climbers to pay €15,000 rescue and funeral deposit
–– And must carry own grave marker in backpack.
If You Drowned In Victorian London There Was A Good Chance You'd Get Tobacco Smoke Up Your Anus
–– As though you were Oscar Wilde's lover.
Vibrators, Weed, Plants: What Can You Take on a Plane?
–– And where do you need to stow 'em?
Why So Many Cars Have Rats in Them Now
–– Higher booster seats.
Why Do I Sweat So Much in My Sleep
–– Dreaming about rats in car.
Archaeologists Find 12,000-Year-Old Human Footprints in Utah
–– Paleoamericans biggest GOP voting bloc.
New Anemone Species Acts As A Fabulous Hat For Hermit Crabs
–– Out hermit crabs.
Lost Beluga Whale Spotted In French River, Miles Away From Arctic Home
–– Seeking caviar, champagne snack.
Research in pigs shakes up what we know about dying
–– We come back as porkers?
Top scientist admits 'space telescope image' was actually a slice of chorizo
–– Pork quoi?
Not just fun in the sun: Rehoboth Beach lifeguards on a century of service
–– And why they really need younger recruits.
Joe Rogan slams the Catholic Vatican as 'a country filled with pedophiles and stolen art'
–– 'Depicting naked babies, the puttiphiles!'
Havana announces blackouts, cancels carnival as crisis deepens
–– Carnival often led to multiple blackouts.
Tonga volcano blasted unprecedented amount of water into atmosphere
–– Unfortunate, but we still hear uke music everytime we read Hunga Tonga-Hunga Ha'apai.
Wildfires Have Burned Through California's 100-Year Carbon Insurance in 10 Years, Study Finds
–– Mother Nature Assurance raises premiums.
Biden Names White House Coordinator for Monkeypox
–– Curious George.
Biden 'played too loose' with CDC's mask guidance after negative COVID test, doctor says: 'Not a good look'
–– This from Fox 'eff masks' News.
Ivana Trump's death reminds us how dangerous falls can be. Here's how to reduce your risk
–– Don't stand at top of stairs with Eric behind you.
Ivana Trump was buried near the first hole of Trump National Golf Club. Her gravesite could offer tax breaks for the business.
–– Second hole for Marla, third for Melania.
Trump's Early Plans For Garish Bedminster Mausoleum Were Buried By Local Officials
–– Crypt opened by sinking miniature golf shot through replica of Taj Mahal.
'Brazilian Hulk' bodybuilder who injected oil into muscles dead at 55
–– Pump and circumstance.
Pat Carroll, Emmy-Winning Actress and Voice of Ursula in 'The Little Mermaid,' Dies at 95
–– Down Pat.
Nichelle Nichols, Lieutenant Uhura on 'Star Trek,' Dies at 89
–– Beam her down.
George Takei, J.J. Abrams, Stacey Abrams and More Pay Tribute to Nichelle Nichols: "Champion, Warrior and Tremendous Actor"
–– Plugged Nichols.
Vin Scully, Treasured Voice of the Dodgers, Dies at 94
–– Going, going, gone.
Red Sox honor passing of Celtics legend Bill Russell
–– Don black sox.
Bill Russell, Boston Celtics Legend and the NBA's Ultimate Winner, Dies at 88
–– Slam dunked.