No-Account Varmint

Week of 08/19/22
Actual headlines from the internets. You Google 'em.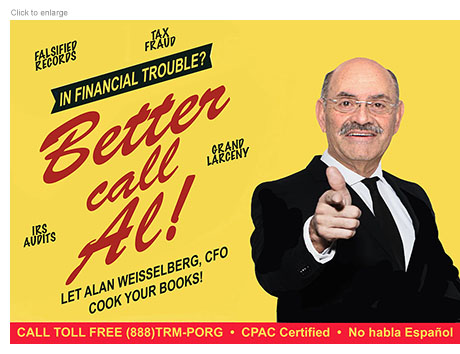 Trump Organization executive Allen Weisselberg pleads guilty to tax fraud
–– Confirms it was core business.

What's going on with all the missing Jan. 6 texts
–– Protected by secret server-ish.
Former CFO of Trump Org pleads guilty for his role in tax fraud scheme and agrees to testify against company
–– Just the Org.
D.A. Bragg: Trump Organization CFO Allen Weisselberg to Serve 5 Months in Jail & Testify in Upcoming Criminal Trial Against Trump Organization
–– So 3 per month of his 15 felonies.
Trump warns 'terrible things are going to happen' if the country's temperature isn't cooled
–– As he shoves hot poker up its patootie.
Trump lawyer claimed no classified material was at Mar-a-Lago in signed letter to Justice Department
–– You're expecting us to believe Trump, lawyer were untruthful?
'Fiction': Top Trump Officials Tell CNN His 'Standing Order' Claim Is Rubbish
–– Everyone knows he was too lazy to get up for any Presidential duty.
Trump Hires #BillionDollarLawyer to Represent Him in Georgia Election Interference Probe
–– After #TrillionDollarAmbulanceChaser turned him down.
Rudy Giuliani Cooks Up Bonkers New Excuse For Trump's Hoard Of Sensitive Docs
–– In Red Sauce heavy on the Chianti.
Weeks before Mar-a-Lago search, ex-Trump DOD official vowed to publish classified documents from National Archives
–– In Kash offer.
Man fatally shoots self after crashing car into barricade near US Capitol Building
–– One less Trump voter.
'I think these people are going to have egg all over their face': John Dean reacts to right-wing media
–– Not usual yellow substance in faces of those kneeling in front of Trump.
Trump was so distracted by grievances that he never got round to returning secret documents the FBI found at Mar-a-Lago: NYT
–– In latest slang for 'indolent, stupid, vindictive.'
A city, a county, a state and the country: How to keep track of Trump's legal issues
–– You'll need supercomputer.
Opinion What Biden could gain from pardoning Trump
–– Nation's undying contempt.
Documents show how Trump landed Lincoln Memorial for Fox News event
–– Had Stephen Miller write essay he signed entitled 'What the Gettysburg Address Means to Me.'
'Trump Was a Horrible President and Is a Horrible Person,' Says Stephen King
–– Can't wait for him to be horrible ghost.
Sean Hannity on FBI's Trump Investigation: 'Being a Felon Is Not a Disqualification' for the Presidency
–– Like criminal stupidity doesn't disqualify him from TV News job.
Turning On Trump? Laura Ingraham Says 'Exhausted' Americans May Be Done With Him
–– Then what do they feel about his shameless cheerleaders?
How Liz Cheney lost Wyoming's lone seat in the House
–– W-Y-O-M-I-N-G.
McCarthy says Cheney's potential primary defeat a 'referendum' on Jan. 6 panel
–– Among few thousand head of GOP cattle.
The Never Trump wing of the GOP never had a chance
–– Due to size of Never Think wing.
GOP Rep. James Comer says Marjorie Taylor Greene and Lauren Boebert have shown interest in being on Oversight Committee in a Republican-controlled House
–– Would be known as Coma Committee.
Arizona Republican secretary of state nominee kept 'Treason Watch List' and posted about stockpiling ammunition on Pinterest
–– Dropped when Trump was every other name.
Kari Lake, Election Denier And Arizona GOP Candidate, Says Trump, DeSantis Have 'BDE'
–– Big Dick Envy.
Mick Mulvaney thinks Trump is the only Republican who would lose to a Democrat in the 2024 election: 'I hope he doesn't run
–– Predictions of discredited weasels wrong about everything always welcome.
DeSantis says teaching requirements are 'too rigid' as Florida moves to let veterans without degrees teach
–– And voters education system producing still not dumb enough.
Russia's spies misread Ukraine and misled Kremlin as war loomed
–– Wrote 'Nukerain' on every report.
Putin brags that Russian weapons are 'years, perhaps even decades' ahead of rivals as his army pulls old Soviet-era tanks out of deep storage due to losses in Ukraine
–– 'But they still are breaking in old-fashioned way.'
Ukraine targets Russian soldiers threatening Europe's largest nuclear power plant
–– In fun game of Olly Olly Uranium Free.
Will an Attack on Crimea Change the Course of the Ukraine War?
–– Our experts take semi-informed highly-speculative whack at question.
Falling global food and fuel costs offer poor countries little relief
–– Block to basics.
Missile strikes wine warehouse. See how company is fighting back
–– Screw food and fuel –– Putin's after our joy juice!
Iraq Is Facing Difficulties Sustaining Its Russian Military Helicopters
–– File under 'Awwww.'
A second US congressional delegation visits Taiwan
–– Breathe Tsai of relief.
Beneath Kabul's surprising veneer of normalcy, a precarious balancing act
–– In and out burqa.
New US intelligence assessment finds al Qaeda 'has not reconstituted its presence in Afghanistan'
–– In fact they're still looking for pieces of al-Zawahiri after drone strike.
German police investigate Palestinian president over '50 Holocausts' remark
–– Abbasmal.
Mexico's president vowed to end the drug war. Instead he's doubled the number of troops in the streets
–– To control littering?
Married Finnish PM Sanna Marin 'danced intimately' with man at club: video
–– We heard he didn't finnish.
Finnish PM Sanna Marin says she has taken drug test after video of 'wild' dance party
–– Said she loved experimental hit of Molly.
'Westworld's' Season 4 Finale Suggests the Show Is at the End of the Line: TV Review
–– Kinda like Season 1, Episode 1 did.
'The Flash' Star Ezra Miller Seeking Treatment for 'Complex Mental Health Issues'
–– They/them pronouns suggest schizophrenia might be start.
Does The CW Network Sale Mean the End of DC's Arrowverse?
–– We quiver to think.
Hugh Jackman shows off his rippling muscles during swim with his dog
–– Bitch pretty hot, too.
Florence Pugh Slams First Reactions to 'Don't Worry Darling' Harry Styles Sex Scenes: 'We're Better Than That'
–– OK, try again while we watch.
Florence Pugh Just Revealed She Broke Up With Zach Braff After 3 Years of Dating—Talking About It Gives Her a 'Lumpy Throat'
–– Doc can give her some STD meds for that.
Florence Pugh has a rare condition that forced her to move from England to Spain
–– Compulsion to expose every step to public.
Bryce Dallas Howard: I Made 'So Much Less' Money Than Chris Pratt on 'Jurassic World' Sequels, but He Fought for Pay Equity
–– 'And I'm a so much bigger star!'
Chloe Cherry thinks she wouldn't have gotten into porn or acting if her dad hadn't passed away
–– Papa'd the Cherry.
'House of the Dragon' Sacrifices Subtlety in a Splashily Violent Spectacle: TV Review
–– Yes 'subtlety' first thing that comes to mind with GoT.
Australian TV exec apologizes for calling Game of Thrones' Emilia Clarke a 'short, dumpy girl'
–– Apparently doesn't know squat.
Nappy Roots rapper Fish Scales recovering after being shot and kidnapped in Atlanta
–– Tipped Scales.
Tish Cyrus files for divorce from Billy Ray Cyrus after more than 28 years of marriage
–– Tish tosh.
Julia Fox Took the Thigh-High Boot Trend to a Weird New Level
–– Her armpits?
Shania Twain Stuns in a Bedazzled Bra and Psychedelic Mini Dress in New Photos
–– Taste hospitalized, expected to recover.
Sharon Osbourne opens up about 'horrendous' facelift
–– Our word and hers.
Ted Lasso' star Juno Temple admits she doesn't always know when she's telling a joke on the show
–– We always know we're not laughing.
Dirty Dancing's Jennifer Grey on the enduring relatability of 'I carried a watermelon'
–– We don't give a spit.
Alex Wagner Talks About Her Debut As Permanent MSNBC Primetime Host: "This Is Going To Be A Different Show"
–– Displaying extraordinary media savvy.
Wednesday' Showrunners Say Netflix Series Isn't an 'Addams Family' Reboot, Is More Like "Eight-Hour Tim Burton Movie"
–– They are trying to attract viewers, right?
Academy Apologizes to Sacheen Littlefeather for 1973 Oscars' Marlon Brando Moment; Museum Will Host Special Program in September
–– Little feather in their cap.
Alleged Picasso painting worth 'millions' seized in drugs raid in Iraq
–– From his Blow Period?
More Stars Are Hiring At-Home Bodyguards, Sparked by High-Profile Crimes in L.A.
–– And need for round-the-clock audience.
Prince Harry and Meghan, Duchess of Sussex will visit UK and Germany in September
–– Doesn't even rate 1/2 a 'give-a-fuck.'
The Queen's subtle trick for putting people at ease – did you spot it?
–– The old 'wave in the lap' move.
Salman Rushdie taken off ventilator as 'road to recovery' begins, agent says
–– Allah be pissed.
Iran Denies Any Involvement in Rushdie Attack
–– That's big fatwa lie.
Scotland's police investigate threat made to JK Rowling after Salman Rushdie tweet
–– Hairy plotter.
'I'm Done With Him': A Mother's Anger Over Rushdie Attack
–– Seems like you already did your work on him.
Iran threats are 'an act of war', Bolton says
–– Who'd spill milliliter of blood to protect this fool from ridiculous plots?
Elon Musk Seemingly Disapproves of Grimes' Longtime Desire to Get 'Elf Ear Surgery'
–– How about someone put appropriate jackass ears on him.
Actress Gina Lollobrigida, 95, to run for Senate in Italy's elections
–– Well, not exactly 'run.'
The man who shot Reagan wants to play concerts. It's not going well.
–– Having trouble finding venues for 'Look at Me Now, Jodie' tour.
Little League World Series player was minutes from death after a fall, dad says. He soon awoke and asked if he could play in today's game
–– St. Peter replied, 'No, little feller, we already have Willie Mays in the outfield.'
The coworkers who fell in love when they shared a hotel room
–– Oh, my, the power dynamic –– man making more money, potential harassment…what's that? Lesbians? Phew!
Disney is wildly expensive. Super fans gave their 7 best tips to save.
–– 6. Sleep in kennel with Pluto, Goofy.
Pennsylvania Man Allegedly Bought Stolen Human Remains From Arkansas Via Facebook

–– This
innocent-looking
guy!?
Man convicted of child sexual abuse dies after prosecutor says he 'chugged' liquid in court as verdict was being read
–– Spiked bug-juice he wished he'd offered kids.
Mississippi man posted online about planning 'mass murder' at church, authorities say
–– Insists he meant he wanted to slay with reading during mass.
Man who hijacked school bus full of children, buried them in van is being released
–– Should be forced to live in buried van.
3 men indicted in the beating death of gangster James 'Whitey' Bulger
–– And awarded gold stars.
Co-pilot who exited a plane in mid-air during a North Carolina flight was 'visibly upset' and possibly sick prior to departing without a parachute, NTSB says
–– You should see him now.
Florida mom found 'explicit' photos on daughter's phone. Then came the pipe, cops say
–– In the pics?
Opinion The last Salem 'witch' is finally exonerated — thanks to my 8th-grade class
–– Satan: 'Why thank you, young lady. Mwaah-ha-ha!'
Target profit plunges 90% as inflation-weary shoppers pull back
–– Not on Target?
Dan Price, CEO who cut his pay so workers made at least $70,000, resigns
–– Needed higher-paying job.
Miller High Life Makes an Ice Cream Bar That Tastes Like Dive Bars
–– Hope they added hint of Mens Room.
McDonald's customers are deeply divided over a 'disgusting' new menu item: 'Not worth it'
–– Which one?
I tried Italian beef from 3 popular Chicago chains, and there's only one sandwich I'd order again
–– Tums on white with Pepcid mayo.
The best restaurants in America's busiest airports
–– Kinda like best football lineman in theater camp.
Polish vs. Slovak Hałuski: What's the Difference?
–– About 5 minutes in bathroom.
Drink Up, Japan Tells Young People. I'll Pass, Many Reply.
–– No 'sake to me, sake to me!'?
How Bad Are Hot Dogs For You, And How Many Are Too Many?
–– Worse than constant alarmist studies?
Kanye West's Yeezy Gap clothes are being displayed in giant trash bags
–– Saves time.
Great Moon Hoax of 1835 convinced the world of extraterrestrial life
–– Alex Jones reported on lunar man-bats just last week.
Norway euthanizes beloved 1,300-pound walrus named Freya
–– Due to Freya nerves.
Seal breaks into New Zealand home, traumatises cat and hangs out on couch
–– Gets our seal of approval.
Watch snake walk using robotic legs
–– In case your nightmares not intense enough.
2-Year-Old Kills Snake by Biting Back After It Bit Her Lip
–– Haven't we had enough back-biting about snakes?
Pigs to the Rescue: An Invasive Species Helped Save Australia's Crocodiles
–– By providing pork roles.
Scientists plan the resurrection of an animal that's been extinct since 1936
–– And will establish Church of the Tasmanian Tiger.
A man was hospitalized after an alligator bit him in the face at Florida's Lake Thonotosassa
–– Provided chomp change.
Quantum Physics Could Finally Explain Consciousness, Scientists Say
–– But not Quantum of Solace.
Medieval monks were 'riddled' with worms, study finds
–– Which is why King convened ecclesiastical synod there.
DIY fertiliser may be behind monks' parasite torment, say archaeologists
–– No, you're not going to want to read this.
Library's prized Galileo manuscript turns out to be a clever forgery
–– They drop like cannonball off Leaning Tower of Pisa.
Experience: I unearthed a mammoth from the ice age
–– Wooly bully for you.
JPMorgan CEO Jamie Dimon: 'Why can't we get it through our thick skulls?' America boosting oil and gas production is 'not against' climate change
–– 'And is 'utterly for' our shareholders!'
In America's fastest-growing metro, a rising fear water will run out
–– St. George, UT, average July high:102º. Who cares?
Lakes are drying up everywhere. Israel will pump water from the Med as a solution
–– Better call salt.
Ancient Vatican statue is latest artwork climate protesters glued hands to
–– It was their Laocoön day.
Nicholas Evans, 'The Horse Whisperer' Author, Dies at 72
–– Mr. Ed: 'Psst, you're dead.'
Anne Heche, 'Wag the Dog' and 'Donnie Brasco' star, has died at 53
–– Again in sequel.
LA County coroner rules Anne Heche's death an accident
–– Didn't fine house?
Anne Heche's ex-husband, Coley Laffoon, shares emotional tribute video: 'I got our son'
–– Who's Laffoon now?
Wolfgang Petersen, German Commander of 'Das Boot,' Dies at 81
–– Given da boot.