Raid and Review

Week of 08/12/22
Actual headlines from the internets. You Google 'em.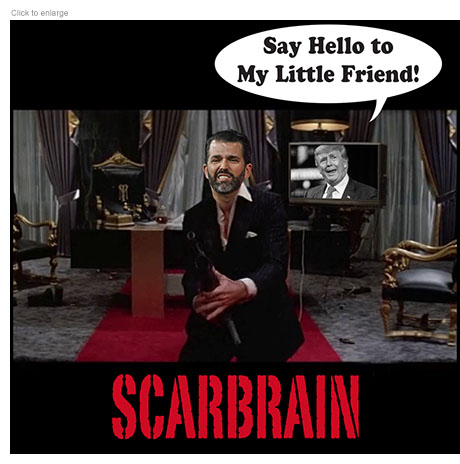 Garland: "I personally approved the decision to seek a search warrant"
– "And this message: Bite me!"
Donald Trump calls nuclear docs claim a 'hoax'
–– Getting his 'hoax' up high.
FBI searches Trump's Florida home as part of presidential records probe
–– Need delousing after leaving flea pit.
'They crossed the Rubicon': Conway reacts to FBI search of Trump's home
–– Of rube, a con.
Trump claims political persecution after FBI search of Mar-a-Lago residence
–– Oh, the inhumanity!
Wall Street Journal: Informant tipped off investigators about more documents at Mar-a-Lago
–– Like Larry, Curly, Mole.
Lara Trump incorrectly claims that Donald Trump had 'every authority' to take documents from White House
–– Displays certificate from French Culinary Institute as proof of expertise.
Opinion: Ominous warnings after search of Trump's home make no sense
–– And one expects level-headed wisdom from MAGA mob.
Gunman in FBI attack was Navy veteran who had served on submarine
–– To which ominous warnings made sense.
FBI attacker was prolific contributor to Trump's Truth Social website
–– Oaf of loyalty.
Haberman shares photos of Trump-era White House toilet clogged with wads of paper
–– Flushed with pride.
Inflation Reduction Act: What's next for Democrats' climate and health care bill
–– For GOP: Wroth IRA.
Inside Biden's hot streak, from the poolside to the Capitol
–– Even Jomentum has new get-up-and-Joe.
Josh Hawley offers back-handed praise for Senate Democrats over their recent legislative accomplishments: 'There's a lesson there for the GOP'
–– 'If only we could read.'
A victory at whose expense? Climate activists grapple with political compromise.
–– In navels they're gazing in.
Author Salman Rushdie attacked on lecture stage in New York
–– Satanic worse is.
NJ man, Matar Hadi, sympathizer with Iran arrested for stabbing Salman Rushdie
–– Matar hairy.
Trump declines to answer questions in New York deposition, invoking his right against self-incrimination.
–– We're just thrilled he's been deposed…from office.
Trump told top aide he wanted 'totally loyal' generals like Hitler had
–– Spare us Göring details.
In a growing schism in the GOP, Matt Gaetz slammed Kevin McCarthy at CPAC: 'He should not be the leader of the Republican conference'
–– Gaetz provides divisive jissom.
Rudy Giuliani says he can't make the trip to testify before a Georgia grand jury. But Fulton County prosecutors say they have receipts showing he's got no problem traveling.
–– And reassure him there have been Sunday liquor sales there since 2011.
Former Trump campaign chair Paul Manafort says an inmate named 'Ralph' invited him to the 'Italian table' in prison and became his 'mentor'
–– Out of respect for fellow mobster.
Fox boss Lachlan Murdoch privately levels harsh criticism against Trump, sources say
–– Nicknamed Lacknerve.
Cheney says DOJ not prosecuting Trump if there's evidence could call into question the US as 'nation of laws'
–– Calling that into question is primary plank of GOP platform.
Opinion Liz Cheney is the Obi-Wan to Trump's Darth Vader
–– So Bennie Thompson's Yoda?
Cheney predicts a lengthy fight for American democracy in her campaign's closing message
–– She'll be Cheyenne away from fight.
Trump ally Doug Mastriano's January 6 committee appearance ends without a single question answered, source says
–– Because he's that stupid.
Marjorie Taylor Greene says it's unfair to ruin Alex Jones for defaming Sandy Hook parents, claims Infowars is right 'most of the time'
–– Actually about as often as she is.
Wendy Rogers sees Alex Jones as a victim of the parents of murdered children he lied about
–– They massacred his reputation!
Alex Jones' wife angry at nude photo release to Roger Stone

–– Was more than she could bare.
Lindsey Graham Would Like States to Decide If LGBTQ People Count as Fully Human
–– Let's start by passing judgment on him.
Maps in Four States Were Ruled Illegal Gerrymanders. They're Being Used Anyway.
–– GOP invoked Engangered Species Act.
Ex-Ohio court mediator arrested; allegedly sent feces to Jim Jordan, other GOP lawmakers
–– Via U.S. Poostal Service.
A Republican Lawmaker Said "Not Her Body, Not Her Choice" Before Indiana Passed A Near-Total Abortion Ban
–– Chattel prod.
Drop Box for Babies: Conservatives Promote a Way to Give Up Newborns Anonymously
–– And deliver via FetEx.
New wave of Russian "mobilisation" in Donbas sees all market loaders conscripted
–– People who stock shelves?
'Bastards and scum': Ex-Russian President Medvedev broadcasts dark Kremlin ambitions
–– After naming his pronouns.
Pink Floyd's Waters backs Russia, calls Biden a 'war criminal' over Ukraine
–– We don't need no education, eh, Rog?
Pink Floyd's co-founder accuses Biden of 'huge crime' in Ukraine. Hear why
–– 'First, I'm a flaming asshole…'
Why China's People No Longer Look Up to America
–– 73 years of propaganda worked?
Justice Dept. Charges Iranian in Plot to Kill John Bolton
–– Like Bolton out of the blue.
Another Gaza Conflict, but With a Difference: Hamas Sat It Out.
–– Outsourced brick-tossing.
Former Supreme Court Justice Stephen Breyer Says He's 'Still an Optimist' in First Appearance Since Retirement
–– Admits he's drinking heavily.
'Games of Thrones' Star Sean Bean Says Intimacy Coordinators 'Spoil the Spontaneity,' Decries Censorship
–– Bean counters.
FX's 'The Patient' Creators on Why Non-Jewish Actor Steve Carell Plays a Jewish Character
–– Someone's not kosher.
CPR on set of 'Better Call Saul' saved Bob Odenkirk's life, star says
–– Saul good.
Venice: '48 Hours,' 'Red Heat' Director Walter Hill to Get Glory to the Filmmaker Honor
–– Not over Hill?
Jason Momoa Says His 'Conan the Barbarian' Remake Was "Turned Into a Big Pile of S***"
–– Seemed like pretty average pile.
Peter Jackson Considered Hypnosis to Try and Forget 'The Lord of the Rings'
–– Ironic, we use LOTR to put us under.
How a Karate Tournament Carpool Inspired the New 'Predator' Movie, 'Prey'
–– Seems like it was written in back seat by children.
Doja Cat Assures Fans She's OK After Shaving Off Her Hair & Eyebrows: 'I'm Rich, I'm Fine'
–– 'I'm starved for attention.'
Jeffrey Wright on Playing an "Usher" for Audiences in 'Westworld,' Bernard's Plan and Why His Character Is a "Laurie Anderson Fan"
–– Showing them to virtual seat for nonexistent show.
'Grease' actor Eddie Deezen found incompetent to stand trial
–– Deezen dose.
Mindy Kaling isn't bothered by speculation that B.J. Novak is the father of her children
–– That he gave at The Office?
Can 'House of the Dragon' Be HBO's Next 'Game of Thrones'?
–– Yes, of disappointing final season.
'The Flash' Star Ezra Miller Charged With Felony Burglary in Vermont
–– Not Flashing?
'Hamilton' Team Protests After Church Production Adds Christian Theme
–– Burr under their saddle.
Man v. Food' Star Adam Richman Says He Nearly Died After Getting an Infection in His Mustache
–– From gross food rotting in his beard.
Damon Lindelof: Make 'Less Marvel Movies' So 'Each One Can Be a Bit More Special'
–– Or you could skip some.
'The Terminal List' Creator Denies the Show Is 'Right-Wing Fantasy': Critics Hate It Because 'Woke Stuff Isn't Shoved Into It'
–– Is that why it put us to sleep?
Rachel Maddow: Tucker Carlson Has 'Dangerous Ideas' but He's 'Always Been Talented'
–– At cramming them into empty skulls.
Savannah Guthrie is 'showing NBC who is boss' amid Hoda Kotb feud
–– Kotb that.
Armie Hammer's alleged victims come forward in 'House of Hammer' trailer
–– Whoa, it does look scary.
Nicola Peltz marries Brooklyn Beckham in a decadent Valentino gown
–– Guests marveled at how he fit in it.
Mötley Crüe's Tommy Lee shares full-frontal naked photo from bathroom
–– Mötley Crüde.
Frank Ocean Selling $25,000 Luxury Cock Ring
–– Whoa, getting a little salty.
Queen Elizabeth II Reportedly Begged Prince William To Stop a Hobby That Could 'Threaten the Line of Succession'
–– Involving too tight Luxury Cock Ring.
Redbox Is Now Officially Part of Chicken Soup for the Soul Entertainment After $370 Million Deal Closes
–– Like hard, flavorless matzo ball.
Serena Williams announces she will 'evolve away from tennis' after upcoming US Open
–– Like party pupa.
Serena Williams suggests upcoming retirement: 'Something's got to give'
–– Looked like it was going to be tennis outfits.
Pete Rose dismisses questions over statutory rape claims in return to Philadelphia: 'It was 55 years ago, babe'
–– Typically Rose to occasion.
Longtime Oklahoma Sooners football assistant Cale Gundy resigns after reading aloud 'shameful' word off player's iPad
–– Sooners: 'Later!
Bought for $50,000, mint Mantle card drawing bids in excess of $6 million
–– Somebody's Mickey mental.
Why sport stars are wealthier than ever – but they still may not be getting their fair share
–– And why we should give shit?
Afghan Man Charged in Muslim Killings Was Headed for Texas
–– News commentator: 'From Afghanistan and named Muhammad, but he theoretically could be White Nationalist, right? Did he have a Proud Boy accomplice? Voted for Trump?'
Fear turns to shock among Albuquerque Muslims as police say the shooter is a Muslim
–– And among news commentators.
Woman killed after being struck by an umbrella blown in the wind at a South Carolina beach
–– Folded.
A man who was being strangled by his 15-foot pet snake before police shot it in the head has died
–– Someone coiled 911.
What Psychologists Want Today's Young Adults to Know
–– They really need to …Get over it!
Tinder's first female CEO out after less than a year
–– Swiped out.
The US Postal Service is raising rates for the holidays
–– Their gift to you.
Should I Tell My Elderly Turkish Dad That His Grandchild Is Trans?
–– Are you anxious to inherit money?
Armed man takes hostages at Beirut bank demanding return of frozen funds
–– Thaw loser.
Kenyans are casting their ballots for a new leader. But 'tribal considerations' may supersede competence
–– Could be Kansans.
Gangs gain the upper hand in war with Haitian police
–– Talk about Haiti crimes.
North Korea is destroying sites at the Mount Kumgang resort area
–– Center of porn industry?
The Rhine is shrinking, endangering Europe's top economy
–– Siegfried trades in Rheingold for Bitcoin.
In Italy, Where Pizza Was Born, Domino's Bows Out
–– Was always thought of as pie's idiot cousin.
What if the ancient Greeks and Romans actually had terrible taste?
–– And ate at Little Caesars?
France's most notorious condiment is running out
–– Mustard's notorious?!
$15 French Fries and $18 Sandwiches: Inflation Hits New York
–– In Manhattan those sound like deals.
Food prices are skyrocketing, and it's not just because of inflation
–– We taste hint of greed.
The Best Ice Cube Tray
–– Rocks solid.
Footprints Discovery Suggests Ancient Tracks May Cover the West
–– Particularly around retirement communities.
Archaelogists Discovered 800-Year-Old Ancient Palace That May Have Belonged To Genghis Khan's Grandson
–– Sammy.
Hunters are swarming the Florida Everglades for the annual python challenge. The state says it's vital to save the ecosystem
–– Bounty python.
Sneeze by Sneeze, Sponges Fill the Seas With Their Mucus
–– Can wipe shelves with selves.
The Mysterious Dance of the Cricket Embryo
–– An Off Off Broadway flop.
A disastrous megaflood is coming to California, experts say, and it could be the most expensive natural disaster in history
–– It says here in treatment for latest Roland Emmerich disaster pic.
Earth broke the record for the shortest day since atomic clocks were invented
–– Maybe there is merciful God.
CDC loosens coronavirus guidance, signaling strategic shift
–– Like they ever had grip on it.
U.S. Moves to Stretch Out Monkeypox Vaccine Supply
–– Has series of exercises lined up.
Paul McCartney honors ex-brother-in-law after his death: 'He was unbeatable'
–– 'Except, y'know, by that Grim Reaper fella.'
Issey Miyake, Japanese Fashion Designer, Dies at 84
–– Issey or isn't he.
Australian folk star Judith Durham of The Seekers dies at 79
–– Founders.
Lamont Dozier, Writer of Numerous Motown Hits, Dies at 81
–– Nods off.
Clu Gulager, Horror Character Actor and 'Return of the Living Dead' Star, Dead at 93
–– We haven't a Clu.
Bert Fields, Litigator to the Stars, Dies at 93
–– Elysian Fields.
Anne Heche is brain dead after fiery crash into home, spokesperson says
–– Heche tagged.
Olivia Newton-John, Australian Songstress and 'Grease' Star, Dies at 73
–– Grease pained.
David McCullough, Pulitzer-Winning Historian, Dies at 89
–– He's history.