Atlas Slugged

Week of 07/29/22
Actual headlines from the internets. You Google 'em.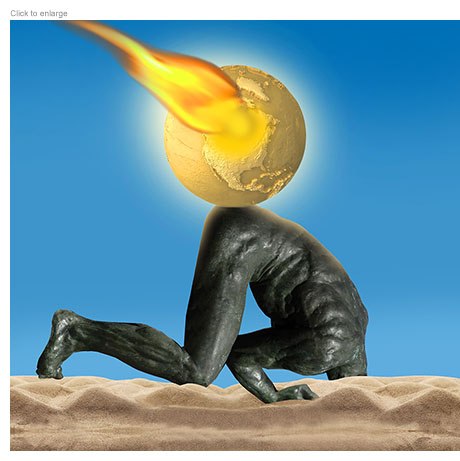 Climate experts experience an odd sensation after the Manchin budget deal: optimism
–– Or is that warm feeling heatstroke?
Where Marvel's Multiverse Saga Could Go
–– To Hell.
Wait, Is Biden a Better President Than People Thought?
–– How many Americans actually think?
President Biden Continues to "Improve Significantly" After COVID Diagnosis, Says His Doctor
–– Presidency still on life support.
Murdoch's New York Post dumps Trump, calling him "unworthy to be chief executive again"
–– After being so perfect first time around!
Merrick Garland does not rule out charging Trump and others in January 6 probe
–– How brave!
There's a Reason Trump Could Try to Overturn the Results of the 2020 Election
–– Really, Jamelle Bouie, whatever might that be?
Secret Service's 'ludicrous' deletion of Jan. 6 phone data baffles experts
–– And 'farcical' removal of MAGA tats.
Accuser testifies Jeffrey Epstein brought her to meet Donald Trump when she was 14; no wrongdoing alleged
–– Because he dismissed her as 'no Ivanka.'
Jared Kushner said Steve Bannon threatened to break him 'in half' and screamed at him about leaking to the press
–– And he's already half-human.
Report: In New Memoir, Jared Kushner Says He Wasn't Willing to Turn His Back on Saudi Prince Over One Measly Murder-by-Bone Saw
–– 'Hey, I used to run The New York Observer and I wish I could've cut some of those so-called journalists. Wink-wink.'
RNC warning to Trump: If you run for president, we stop paying your legal bills, says official
–– Threaten to take his lunch money if you want results.
Trump offers Trumpian defense for hosting Saudi-backed golf event
–– '$.'
Donald Trump Without Makeup Photo Sparks Ridicule: 'Looks Like a Zombie'
–– Zombie: 'F-u-u-uck you.'
Steve Bannon said he's willing to go to prison to support Trump after his contempt conviction: 'If I go to jail, so be it'
–– Oh, it be good.
Top House Republican McCarthy doesn't recall Jan. 6 talk with Hutchinson
–– Shame Committee could never ever unearth cell phone records.
Hungary's Viktor Orbán, Condemned for "Pure Nazi Speech" at Home, Is Still Set to Get an Audience at CPAC Texas
–– Orbán decay.
Maryland's GOP governor says fight for the soul of the Republican Party is 'long from being over'
–– Especially because they can't find it.
How two Texas megadonors have turbocharged the state's far-right shift
–– Fund da mental list.
OAN, a Dependable Trump Promoter, Faces a 'Death Blow'
–– Will rebrand as ONAN, post far-right porn.
Justice Alito mocks Prince Harry, Boris Johnson for opposing Roe reversal
–– In latest Netflix stand-up special: Roe v. Wah-wah-wah-waah.
Matt Gaetz: Women Who 'Look Like A Thumb' Shouldn't Gripe About Abortion Rights
–– Representative 'hung like a pinkie' shouldn't talk.
Mike Pence's former chief of staff just owned Matt Gaetz
–– But returned damaged goods.
Matt Gaetz, under investigation for possible sex trafficking, was among 20 Republicans to vote against reauthorizing a sex-trafficking law
–– From This Week in Coincidence.
GOP congressman attends gay son's wedding after opposing protections for same-sex marriage
–– Closed eyes when he kissed 'bride.'
Columnist says she regrets calling on Franken to resign. Hear his response
–– While children cover their ears.
Alex Jones' company files for bankruptcy amid Texas trial to award damages to Sandy Hook families
–– Jones vows to please insanity.
Two Americans Killed in Ukraine Ambush Are Identified: 'Proved Their Bravery'
–– Fulfilled their ambushin'.
Video appears to show Russian soldier castrating Ukrainian prisoner
–– Cut to the chased.
Russian Navy's massive submarine could set the stage for 'a new Cold War' in the oceans
–– Claim U.S. munitions manufacturers who want new toys.
Russia Says It Will Quit the International Space Station After 2024
–– Just open hatch, wave bye-bye.
U.S. Air Force pauses some operations over pilot ejection seat concerns
–– Brass in hot seat.
The Pope went to Canada to apologize. For some indigenous school survivors, he triggered more pain
–– Was it the headdress?
Elon Musk denies affair with Sergey Brin's wife Nicole Shanahan
–– Wasn't Google gaga?
'Black Panther: Wakanda Forever' teaser trailer is here and...wow
–– We'll be judge of wow.
Lupita Nyong'o Says Making 'Wakanda Forever' Was "Therapeutic" After Losing "Our King Chadwick Boseman"
–– Hope she enjoyed $200 mil group session.
No, Jordan Peele's 'Nope' Isn't a Box Office Disappointment
–– Can't be! We invested so much free promotion in it.
The Gag Is: Keke Palmer Is a Movie Star
–– Gag real.
Keke Palmer Shuts Down Comparisons to Zendaya or 'Anyone': 'I'm an Incomparable Talent'
–– She's comparable to lots of middling talents with absurd sense of own worth.
Keke Palmer says she still doesn't know who Dick Cheney is, years after viral meme
–– Never heard of this 'wikipeedohs'.
'Full Frontal With Samantha Bee' Becomes Latest TBS Casualty
–– Buzzes off.
Johnny Depp's lawyer says filing his own appeal was "never about the money"
–– Was about getting bitch to pay it.
Spanish prosecutor asks for eight-year jail term for Shakira
–– Charges hips lied.
Kid Cudi storms off stage after hecklers throw objects at him
–– Gee, can't he take constructive criticism?
Netflix Must Pass Its 'Gray Man' Test with Flying Colors
–– Because gray is, um, a color.
Ashton Kutcher Explains Returning for 'That '70s Show' Spinoff 'That '90s Show': 'We're Only in the Position That We're in Because of That Show'
–– 'Needing a job.'
'The Whale' First Look: Brendan Fraser Transforms Into a 600-Pound Man in Darren Aronofsky's New Film
–– Looks like mopey dick.
Sharon Stone, 64, is feeling 'gratefully imperfect' in topless poolside photo
–– Two boobs with one Stone.
'I wasn't just famous; I was famously sexy': Model Emily Ratajkowski on the dangers of being desired
–– You didn't just 'pose', you 'posed nude.'
Ashley Graham poses naked in new Instagram photo: 'My booty's out'
–– Pretty hard to miss.
Fans React to Jennifer Lopez Posing Nude on IG to Celebrate Her 53rd Birthday
–– Get, uh… give it up for her.
Sydney Sweeney 'won't stop' doing nude scenes
–– News flash.
Look of the Week: Julia Fox takes the low-rise trend to new extremes
–– Put on pubic display.
Will Smith Says He Is 'Deeply Remorseful' Over Chris Rock Slap
–– 'And I ask you humbly, Hollywood, how sorry do I need to be for you to greenlight my next project?'
Is there a single comedian out there who isn't fatphobic? Apart from me, of course
–– Laying it on thick.
Report: 'To Kill a Mockingbird' Will Not Return to Broadway Due to Scott Rudin
–– So Mockingbird finally dead?
'Tomb Raider' Film Rights Has Hollywood in "Feeding Frenzy"
–– Should visit Croft services.
David Harbour Predicted 'Stranger Things' Would Be Canceled After Season 1: 'It Was Going to Be a Disaster'
–– Got second prediction right.
The Queen was shocked by this aspect of the Duke and Duchess of Cambridge's daily life
–– Sheer emptiness.
So, Prince Harry's memoir is done – but what's likely to be in it?
–– Sheer emptiness.
Pretty in Any Color: Women on the Court Make the Style Rules
–– For makeup games?
Dior accused of 'culturally appropriating' centuries-old Chinese skirt
–– Gee, isn't that more 'grave-robbing'?
Chess-playing robot breaks boy's finger at Moscow tournament
–– That'll teach punk to cheat.
Muhammad Ali's WBC 'Rumble in the Jungle' belt bought for $6.18 million by Indianapolis Colts owner
–– To hold up tiger-stripe PJs.
Dallas Cowboys owner Jerry Jones apologizes for using derogatory term for little people
–– Brought up short.
He's Baseball's Only Mud Supplier. It's a Job He May Soon Lose.
–– Can retire to Mudville.
Mike Trout downplays concerns after Angels trainer says back condition could affect his career
–– Won't flounder through it.
Too Many New Yorkers Can't Swim. It's Time to Change That.
–– Rats make great instructors.
Opinion The Uvalde paradox: So many police, so little protection
–– Even less spine.
Ex-Marine sharpshooter accused of killing 4 was searching for a non-existent girl who he believed needed help, sheriff says
–– In rejected plot outline for Law & Order: SVU.
4 inmates captured within hours of escaping Tennessee detention center
–– Did have time to attend yearly Mensa meeting.
71-year-old man mauled to death by dogs; owner arrested, sheriff's office says
–– Guess 'adorable' breed.
T-Mobile agrees to pay customers $350 million in settlement over massive data breach
–– Each!
Welcome to Chicago, Hot Dog Town, U.S.A
–– More like Hot Dog's Breakfast Town.
Tim Hortons Offers a Free Coffee and Pastry for Spying on People for Over a Year
–– We'd spy on people for coffee alone.
Giant fireball explodes over Texas in incredible footage
–– Above site of chili cook-off.
24 travel snacks to take along on your next vacation
–– Not one bag of chips –– eff you.
Diana Kennedy's Complicated Relationship With Mexican Cuisine
–– Ooo, 'complicated'. If only her name was Gomez.
How to store fresh herbs to keep them perky and happy
–– Hire greens fluffer.
Is Pilates as Good as Everyone Says
–– What 'everyone' are you dupes talking to?
Can Using Vaginal Fluids as Perfume Get You Laid?
–– Or just perv-licked?
Claim that sex ed 'grooms' kids jolted Nebraska politics a year before it swept the nation
–– Well they should keep it clean, neat down there.
Many young Democrats are furious at Democrats. But they're pushing through.
–– Gee, aren't they wonderful!
He Runs a New York Real Estate Empire. Did He Steal It
–– Didn't they all?
The Dog Lawyer Doesn't Care That You Hate Him
–– Or that he gets paid in returned chew toys.
Why do dogs tilt their heads? Understanding your pet's nonverbal communication.
–– Can't believe your pathetic baby talk.
U.S. shark mania began with this attack more than a century ago
–– Of Paranoid Personality Disorder.
Great white shark sightings are up in the US, which is kinda good news
–– For lazy 'journalists.'
First pictures of orcas devouring great white shark's liver
–– With nice chianti.
See why swarms of jellyfish are surrounding this boat in the Mediterranean
–– It's filled with peanut butter.
Rare Footage Of Bizarre Cnidarian Reminds Us We've Just Got To Deal With What's In The Sea
–– If we live 9,000 ft. under it.
Roman Coin Depicting Zodiac Symbol Discovered off Israel's Coast
–– Researchers catch a crab.
What Do You Name a $6.1 Million Gorgosaurus Skeleton?
–– Regret?
Scientists May Have Found a Key Shift Between The Brains of Humans and Neanderthals
–– With invention of ASCII keyboard.
How to Simulate Walking on the Moon—Without Leaving the Planet
–– Shove helium balloon in shorts.
Asteroid Size of Chrysler Building Traveling at 13,100 MPH Towards Earth
–– Planet bends over anticipating shaft.
Triple-Digit Temperatures Break Records in the Northeast
–– Hyperventilating news coverage breaks records everywhere.
Melting Profits Threaten the Ice Cream Man
–– In lamest DCU film yet.
L.A.'s Drought: Favorite Low-Water Plants Recommended By A-List Landscape Designers
–– Dry pressed flowers.
Third set of human remains found at Lake Mead amid drought, National Park Service says
–– Mystery Mead.
'Harbingers of doom': Anchor lashes out at meteorologist over heat wave reporting
–– Did forecast hail and damnation.
Teen saves herself and her dog by swimming to roof where she waited for several hours during flooding
–– All about eaves.
Opinion You are being misled about monkeypox
–– If you're told you're at serious risk and not having gay sex.
Post-Covid, Elvis Presley's Graceland bonds default
–– Stocks rattle and roll.
New studies agree that animals sold at Wuhan market are most likely what started Covid-19 pandemic
–– Animals fostered at lab next door.
Conductor Dies After Collapsing During Performance in Munich
–– On down beat.
Greenland hit with 'unusually extensive' melting of ice sheet, boosting sea levels, scientists say
–– That's lot of Slushies.
Tony Dow, Who Played Wally Cleaver on 'Leave It to Beaver,' Still Alive Despite Representatives Confirming Death
–– Leave it to bereaver.
'Goodfellas,' 'Law & Order' actor Paul Sorvino dies at 83
–– In Family plot.
Bob Rafelson, 'Five Easy Pieces' Director and 'The Monkees' Co-Creator, Dies at 89
–– I'm a bereaver.
Micky Dolenz on How Bob Rafelson Used the Monkees to Help Create a Looser, Hipper 'New Hollywood'
–– And way higher.
William Richert, Writer-Director of 'Winter Kills,' Dies at 79
–– In Summer, no less.
Veteran British actor David Warner, star of The Omen and Tron, dies aged 80
–– Time, Warner.