Heil Be Damned

Week of 09/02/22
Actual headlines from the internets. You Google 'em.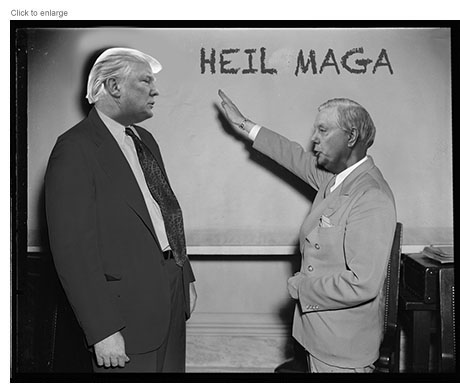 Biden punches back, and punches hard, at Trump and 'extremist' MAGA Republicans
–– Below Bible Belt.
'Defund the Police' Is Dead. Now What?
–– Got anymore dumb ideas?
Biden to hecklers at Philadelphia primetime speech: 'They're entitled to be outrageous'
–– Heckle and jackal.
'Horribly insulting': GOP governor reacts to Biden's comments made at closed DNC event
–– To 'semi-fascists'.
The White House pushes back on Ted Cruz's 'galling' comments that Biden canceled student debt for the 'slacker barista' who studied 'completely useless things' in college
–– Studying his career a course?
Ted Cruz says there's a 'real risk' that Biden's student-loan forgiveness will help Democrats in the 2022 midterm elections
–– Slacker barista could've told him that.
GOP Gov. Sununu — whose home state of New Hampshire has one of the highest education loan averages in the country — calls student debt relief 'inherently unfair' and Biden's loan cancellation 'fairly illegal'
–– Sununu? Nu!
AOC Shuts Down Critic of Student Debt Relief: 'Not Every Program Has to Be for Everybody'
–– Which is title of children's book she's writing.
Elizabeth Warren points out Mitch McConnell graduated from a school that cost $330 a year amid his criticisms of Biden's student-loan forgiveness: 'He can spare us the lectures on fairness'
–– In days tuition was paid in bartered skins.
How Biden outdid Trump, Obama and George W. Bush in confirming federal judges by this point in office, a feat overshadowed by war and inflation
–– By you, the media.
WH says it has nothing to announce on decriminalizing marijuana
–– 'Like we thought we did, but, it's um… y'know… here, try some of this shit. Primo, right? Um, what was the question?'
Sen. Ron Johnson goes after FBI over alleged 'suppression of the Hunter Biden laptop': 'Joe Biden would not be president'
–– Where does Johnson keep his Brilliant Baby Laptop?
Judge Keeps Door Open to Special Master in Trump Documents Inquiry
–– Request doesn't deserve pet door.
Bill Barr slams Trump's special master request as 'red herring' as legal battle with DOJ continues
–– Adds: "Hmm, herring, yum… I'm starving!'
After Mar-a-Lago search, Meadows turns over more texts and emails to Archives
–– After self-cavity search.
Trump says he will 'very, very seriously' consider January 6 pardons if he runs and wins in 2024
–– He's never been 'very, very serious' about anything besides McDonald's menu.
Truth Social faces financial peril as worry about Trump's future grows
–– Might need to rebrand Bullshit Social to avoid false advertising laws.
Jared Kushner called Chrissy Teigen a 'nasty' troll after she after she criticized Ivanka Trump
–– So he waited awhile.
Doug Mastriano, Trump-backed Republican running for Pennsylvania governor, sues January 6 committee
–– Thinks Jeanine Pirro is still sitting judge.
Sarah Palin complimented Mary Peltola as 'a real Alaskan chick' in texts after the Democrat beat Palin in a special House election
–– From 'genuine dumb broad.'
Dinesh D'Souza's Election Denial Book Suddenly Delayed Over 'Significant Error'
–– Beyond central thesis?
How Ukraine is using resistance warfare developed by the US to fight back against Russia
–– And trying to get them to wear red coats.
IAEA inspectors on their way to Zaporizhzhia nuclear power plant 
–– Bringing couple of spare Zs, just in case.
Price Cap on Russian Oil Wins Backing of G7 Ministers
–– Refuse to invite date to Gazprom.
Russia is trying to sell other countries the new 'cutting-edge' tank that Moscow itself apparently doesn't really want to buy
–– Mounted Ukraine war as product demo.
Russian security service accuses second suspect in Darya Dugina's murder
–– Found another Ukrainian bystander.
Head of Russian oil giant Lukoil dies after falling from hospital window, reports state media
–– Was in for poisoning which was taking too long.
At least eight Russian businessmen have died in apparent suicide or accidents in just six months
–– Oh well, we'll just have to blame the Kremlin's.
Poland demands $1.3 trillion war reparations from Germany
–– Bonn doesn't get Polish joke.
Death in Navy SEAL Training Exposes a Culture of Brutality, Cheating and Drugs
–– And lots of annoying clapping.
Texas Gov. Abbott buses 75 migrants to Chicago. Illinois Gov. Pritzker echoes mayor in welcoming them.
–– Then threatens to bus Cubs to Houston.
Chicago Mayor Lori Lightfoot says she'd be 'happy to drain Texas' of all its residents: 'We'll rent the buses'
–– 'And the pumps.'
If an Alternative Candidate Is Needed in 2024, These Folks Will Be Ready
–– Beck, Trent Reznor, Dave Grohl.
'Lady In The Lake' Apple+ Series Forced To Halt Production After Extortion Threats From Baltimore Locals
–– Demanded protection money, too many selfies with star Natalie Portman.
In fantasy, medieval life is depicted as all sexual violence and squalor. It's not that simple
–– Maybe in your fantasy.
Paulina Porizkova, 57, is celebrating her body in new stripped-down photo
–– If you say so, we follow her just for articles.
Jeff Bezos tweets a picture of himself eating a McDonald's burger in a throwback to his first job
–– Managed same-day delivery of stomach pump.
Ozzy Osbourne explains why he's leaving America: 'Everything's f***ing ridiculous there'
–– Out-ridiculoused him?
'The Conners' Star Michael Fishman Addresses Series Exit: 'I Was Told I Would Not Be Returning'
–– Joined the Goners.
Dave Chappelle says that before Oscars slap, Will Smith 'did an impression of a perfect man for 30 years'
–– And being so-so actor who did he fool?
'She-Hulk' Star Ginger Gonzaga Sold Her Own Clothes to the Show's Costume Department
–– Including Bulldogs' gear.
'She-Hulk' team explains how Megan Thee Stallion ended up in series: 'We all lost our minds'
__ 'Y'know, rode wild, bucked our broncos, let go of the reins.'
'Doctor Strange' Breakout Xochitl Gomez, 'Birds of Prey' Star Mary Elizabeth Winstead Join 'Ursa Major' (Exclusive)
–– Does impassively reading lines constitute 'breakout?'
Opinion Forget Tom Cruise and Nicole Kidman. Anime just might save theaters.
–– Nicole Kidman? What, her supporting role in Aquaman in 2018?
'Narcos' Producer Sues Ex-Partner Over $1 Million in Profits on Netflix Series
–– Which were laundered in Caymans.
Ted Nugent: Ozzy Osbourne Would "Rather Live in a Tyrant England" Than in "Hellhole" Los Angeles
–– Or Nugent's own "Shitshow."
'SNL' Loses Three More Castmembers Ahead of Season 48
–– Leaving just 403.
Rob Schneider Roasted for Saying He'd 'Absolutely' Sacrifice His Career for His Right-Wing Political Beliefs
–– Can always emcee CPAC cons.
Rob Schneider Says Kate McKinnon Singing "Hallelujah" Was the Moment He Knew SNL Was "Over"
–– Not his hire in 1990?
Paul Schrader in Venice on 'Master Gardener': "That's My Job Here, to Give You S*** to Ruminate Over"
–– That title should generate press clippings.
'Bardo's Alejandro G. Iñárritu On Capturing Personal Dream On Film: 'I Don't Know If I Am Interested In Going Back After This Just To Tell A Story'
–– When entertaining us so beneath you.
Eva Mendes on Her Stylish Sponge Line, Parenthood and Her 'Bluey' Cameo
–– Is she mopping up?
Heidi Klum reveals she called her daughter 'every two hours' after the 18-year-old moved away for college
–– Nice to know her insatiable appetite for attention extends to mothering.
Not even Ana de Armas understands how Blonde warranted Netflix's first NC-17 rating
–– Figured some like it hot.
Olivia Wilde Wanted Oral Sex and More in 'Don't Worry Darling' Trailer, but MPA Forced Cuts: 'I Was Upset About That'
–– Censors muffed it?
Kate Moss recalls Johnny Depp gifting her a diamond necklace he had hidden in 'the crack of his a**'
–– She'd never seen such expensive anal beads before.
How 'the Most Vicious, Horrible Animal Alive' Became a YouTube Star
–– Marjorie Taylor Greene has own channel?
Sydney Sweeney Says Photo From Mom's Birthday Has Been Turned Into a Political Statement: "Please Stop Making Assumptions"
–– First you please, please stop posting.
Canadian influencer gets real about her body: 'Why are some curves praised and others torn down?'
–– Like lump in your head?
A Catholic Podcasting Star Says Theocracy Is Not the Way
–– You gotta believe hot priest.
CNN interviewed Serena Williams when she was 9. Here's what she said
–– 'Me, me, me, me!
Rafael Nadal overcomes hitting himself in face with own racket to beat Fabio Fognini in US Open second round
–– Catgut your tongue?
Rafael Nadal hit out at John McEnroe after the tennis commentator once again accused the star of getting preferential treatment from umpires
–– In face?
Kohl's and Gap have a surprising plan for this season's unsold clothing
–– Dye it, sell next year?
Washington Commanders running back Brian Robinson Jr. was shot in possible attempted robbery or carjacking, police say
–– Possibly shot or grazed?
The Anglican Church's 'Kick in the Guts' to Gay Parishioners
–– Wasn't more shot by fingers, pew, pew, pew?
I Broke My Knee, Which Fractured My Marriage
–– Oh, do patellas more!
'Moorish Nation' Members Arrested After Breaking Into NASCAR Driver's Mansion
–– No Moor Mr. Nice Guy.
'After you're dead, you can't explain it.' Parents usually split their estate evenly among their kids. But if they don't — look out.
–– Foul heir.
BSO says a deputy received a purse with $1,600, and what he did with it was grand theft
–– Tried to wear it like Kate Middleton.
Florida man arrested for calling sex worker on his honeymoon
–– For his wife!
Abducted Pennsylvania girl Janae Kalia-Henry found walking in Brooklyn with no shoes
–– Sole-crushing experience.
Five shot, one fatally, at New York City's Coney Island boardwalk
–– Suspect described as tall person of color, wearing heavy tan vest, Nathan's cap.
Penn Station Plan Makes a High-Stakes Bet on the Future of Office Work
–– Homeless approve of no-cost housing option.
Turns Out, It's Illegal for People Under 21 to Buy Canisters of Whipped Cream in NY
–– Especially if they're cherry on top.
Back-to-School Lunch Ideas Your Kid Might Actually Eat
–– First 5 NY Times lists for your scrappy little vegan: Pasta With Pumpkin Seed Pesto, Tomato Sandwiches, 5-Minute Hummus, Pasta Salad, Cowboy Caviar (bean & corn dip.)
Mom who breastfed 4-year-old on iconic 'Time' magazine cover looks back: 'I didn't like the photo'
–– NY Times missed this source of nutrition.
Ultraprocessed foods linked to cancer and early death, studies find
–– But preservatives leave fresh corpse.
TikTokers are telling viewers to point their genitals at the sun to 'increase your vibrations.' Experts warn against it, but 'perineum sunning' keeps going viral.
–– Got the sun in the morning and the moon in the morning.
'Why didn't they give him the respect?' Black teen feels he has to leave school after refusing to cut his hair, parents say
–– And why can't 14-year-olds make all the rules?
2 separate Bigfoot sightings reported in South Carolina this year
–– Outside separate road houses at exactly 2:30 AM!
This Teen Was Prescribed 10 Psychiatric Drugs. She's Not Alone
–– Not with all those voices in head.
Did My Cat Just Hit On Me? An Adventure in Pet Translation
–– Girlfriend, you need a human date.
His emotional support animal is an alligator. They sleep in the same bed.
–– Bizarre on scales of one to ten.
'Wood Is Life': A Hong Kong Sawmill's Last Day
–– We say it when we wake up each morning.
Trainers Reveal the Shortest Time You Need to Hold a Plank in Order to Still See Results
–– We find it's hard to keep from stroking it.
Saudi Arabia is becoming the drug capital of the Middle East
–– Sure they don't want to switch to alcohol?
NASA scrubs Artemis test flight to the Moon
–– Artemis foul.
NASA, and Space Fans, Await Decision on Next Chance to Launch Artemis Moon Rocket.
–– From Almighty?
Why NASA Is Going Back to the Moon
–– Left rover keys up there.
Bullying and Sex Abuse Scandal Engulfs Elite Danish School
–– Not for prude Danish.
Turkish pop star placed under house arrest over joke about religious schools
–– Imam hate tip.
Iraq Clashes Leave 12 Dead After Powerful Cleric Says He Is Leaving Politics
–– al-Sadr, but wiser.
Thousands evacuated in India before implosion of giant skyscrapers
–– That was thoughtful.
Pakistan Hit by Deadly Floods of 'Epic Proportions'
–– Noah way!
Jackson Water Crisis Has No Clear End Date, Mississippi Officials Say
–– Moms running out of Mississippi cups for babies.
Biden: Mississippi governor 'has to act' on Jackson water
–– He is acting, like typical Federal Aid-denying Republican.
The nation's poorest state used welfare money to pay Brett Favre for speeches he never made
–– Maybe now he can rally thirsty Jackson residents to 'go deep.'
Nuclear fusion power inches closer to reality
–– At 1 MMPH.
Emergency alert telling all of LA, 'Eastern North Pacific Ocean' to evacuate was sent in 'error': authorities
–– Will provide residents free Tide pods to wash underwear.
Millions in covid aid went to retrain veterans. Only 397 landed jobs.
–– It only took $1mil each.
Drought is exposing world relics — from dinosaur tracks to Nazi ships
–– See in this thrilling documentary!
Rick Reed, G.O.P. Adman of 'Swift Boat' Campaign, Dies at 69
–– What he took to Hades.
'Man of the Hole': Last known member of uncontacted Amazon tribe dies
–– Lives down to name.
Mikhail S. Gorbachev, Reformist Soviet Leader, Is Dead at 91
–– Leaves port wine stain to Moscow Museum of Modern Art.
Mikhail Gorbachev's Pizza Hut commercial — now used in memes and history lessons — cost millions to make and paid the former Soviet leader much-needed cash
–– Granted Pizza Hut was better than local pie in 1997.
Putin denies Gorbachev a state funeral
–– We should just be happy he'd didn't order a hit on… hey, wait a second…
Kremlin says Putin is skipping the funeral for Gorbachev, the last Soviet leader, because he doesn't have the time
–– Doesn't want to be seen crying uncontrollably in public… from laughter.
Before Mikhail Gorbachev's death, a close friend said the former USSR president was 'upset' at the state of Russia and felt his 'life's work' was ruined
–– Putin perspective.