Bragg 'n' Rights

Week of 04/07/23
Actual headlines from the internets. You Google 'em.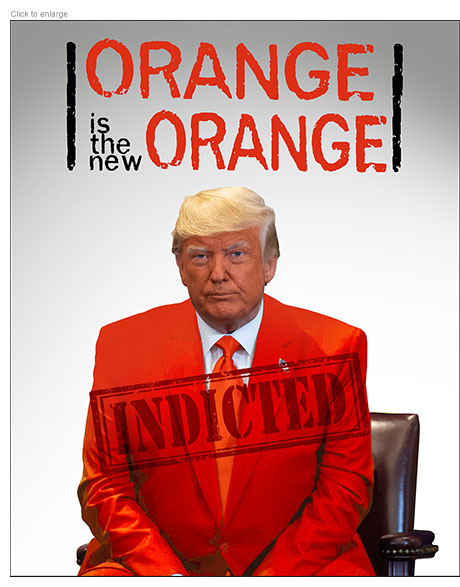 Donald Trump Arraigned on Criminal Charges, Pleads Not Guilty
–– A-rained on his parade.
Should Trump's judge muzzle him?
–– Physically?
Masking his worry, Trump has kept up his bravado.
–– Only thing he can keep up.
Trump claims judge overseeing New York case 'hates' him. His lawyer says it isn't true.
–– Why, hasn't he seen, heard him?
Trump rails against charges in post-arraignment speech at Mar-a-Lago
–– Make that pre-derangement.
Melania Trump Apparently RSVP'd "Fuck Off" to her Husband's Post-Arraignment Speech
–– Logan Roy sent "Sincerest regrets from a Fan."
NYT's Maggie Haberman says several Trump Organization employees told her they were 'really happy' about Trump's indictment: 'There is a long trail of people who feel burned'
–– Got Trumped-up charges from it.
Trump wants to sit out his next court appearance. The judge presiding over his case says all defendants have to show up and he's no different.
–– But will consider removing whoopee cushion from seat.
Barr: Trump should not testify in hush money case because 'he lacks all self control'
–– There are no Depends for mouth.
Chris Christie says the 'bravado from the Trump camp' toward the indictment 'is baloney' as the former president's arraignment approaches: 'You can't make that a good day'
–– 'Thick, dense, garlicky baloney that would taste great on pumpernickel with mustard and a slice of raw onion.'
Giuliani argues that Trump's hush money payments were a 'business expense'
–– Business of bilking American electorate.
Manchin makes plea to DA Bragg after Trump indictment: 'Remove all doubt'
–– Bragg: 'OK, you're an asshole.'
John Bolton says if Manhattan DA case flops, it could be 'rocket fuel' for the former president: 'I'm worried about Alvin Bragg benefitting Donald Trump'
–– Y'mean we might have to agree with Walrus Puss?
Eric Trump said passengers on a commercial flight hugged him when his father was indicted
–– Was actually to restrain him from attacking snack cart.
Stormy Daniels says Trump shouldn't go to prison over a hush money payment: 'I don't think that his crimes against me are worthy of incarceration'
–– Yet another time she should've kept mouth shut.
Mike Pence won't fight order to testify in DOJ probe into efforts to overturn 2020 election
–– Thought, 'Hang it all.'
Tennessee House expels two Democrats in historic act of partisan retaliation
–– Blacks out.
What happens next after Tennessee House expelled two Democrats
–– Will establish exploratory committee to reinstate lynching.
Clarence Thomas Secretly Accepted Luxury Trips From Major GOP Donor
–– They weren't to Mensa meetings.
Justice Thomas Says He Was Advised Lavish Gifts Did Not Need to Be Reported
–– Thought 'lavish' referred to bathroom products.
Can a Supreme Court justice be impeached? Meet 'Old Bacon Face.'
–– Who always provided smoky odor in the court.
Asa Hutchinson Announces Presidential Bid
–– Where's Asa base?
Robert F. Kennedy Jr. files paperwork to run for president as a Democrat
–– Via vax?
Sen. Fetterman opens up about 'downward spiral' before receiving treatment for depression
–– The bigger they are…
Roy McGrath is believed to have shot himself during traffic stop, document says
–– Gunned engine.
InfoWars' Alex Jones purchased a $4,000 cryogenic chamber and spent $100,000 on guns, filing shows
–– Keeping frosty with purchases.
Silicon Valley Bank's risk model flashed red. So its executives changed it.
–– Like disabling smoke alarm before pants catch fire.
Morgan Stanley analysts are forecasting something 'worse than in the Great Financial Crisis' for commercial real estate
–– Landlord only knows.
DeSantis signs permitless gun carry law at low-key ceremony
–– All sidearms had silencers.
Ron DeSantis orders Florida's inspector general to see if Disney execs were personally involved with making the loophole to thwart him
–– And see if he can get help untying it from around ankle.
How Disney Dodged Ron DeSantis and Kept Control of Its Florida Lands
–– It's Ron DeSantis!
No One Is Talking About What Ron DeSantis Has Actually Done to Florida
–– All those headlines about different DeSantis?
Texas judge suspends FDA approval of abortion pill; second judge protects access
–– Women may have to take fertility supplements along with mifepristone.
Eight bills targeting transgender rights in North Dakota on governor's desk
–– Making it difficult to read latest issue of Hustler Barely Legal.
BOMBED OUT Pro-Putin Russian propagandist Vladlen Tatarsky blown up in cafe blast after being handed gift 'hiding TNT bomb'
–– Talk about booby prize.
Ukraine seeks to prevent military leaks after NATO assistance plans reportedly appear on social media
–– Had far too many 😘s.
Russia swings to $29 billion first-quarter budget deficit
–– With Bennie Goodman on clarinet.
Finland's Prime Minister Sanna Marin concedes election
–– Sannatized. Marinated.
Saudi Arabia Is About Much More Than Oil. Pizza, Toll Roads, and Other Stocks to Play.
–– Don't forget bone saw futures.
Why would the Saudis normalize relations with Iran? The answer may surprise you
–– And Saudis.
'The Mandalorian' exec producer tells us they discuss whether or not Baby Yoda should say his first words since he's over 50 years old: 'It's definitely something we think about'
–– Using Justice Clarence Thomas as model.
The Mandalorian season 3, episode 6 review: "In danger of turning into The Book of Bo-Katan"
–– So geriatric it's like Book of Boca Raton.
Turns out Lizzo manifested her Mandalorian cameo with a Halloween costume from 2021
–– And performance from box of Cracker Jacks.
James Gunn Admits The Blip Has Made It 'Really Hard' For Marvel To Keep Making Good Movies
–– If only Marvel could snap fingers and make half their product disappear.
Jeremy Renner reveals 'last words' to his family after horrific snowplow accident: 'Just let me go'
–– Was always getting lyrics from Frozen wrong.
Maude Apatow Says She Suffered Concussion in 'Little Shop of Horrors' Onstage Accident
–– In head Audrey later tried to eat.
Anya Taylor-Joy Pulled Off The 'Barbiecore' Trend In A Hot Pink Leather Corset Top And High-Low Skirt For Michelle Yeoh's Party
–– As ET Barbie?
'Pretty Baby' Producers George Stephanopoulos, Ali Wentworth on Tackling Icon Brooke Shields and Why the 1978 Louis Malle Film Is 'Revolting'
–– Causes Malle de mer.
Kanye's Christian School Is an Absolute Disaster, Teachers' Lawsuit Says
–– Then again, why would you send child there unless you hated them?
Opinion: When it comes to happiness, Jewel says society has it all wrong
–– OK, Society, listen up!
Showtime cancels Ziwe after 2 seasons
–– Orders Ziwe wrap.
Phillip Schofield disowns brother Timothy after guilty verdict for sexually abusing teenage boy
–– 'Now, can I keep my job?'
Regé-Jean Page says he sweated so much in his 'Dungeons & Dragons' costume it became a 'scuba suit' filled with his 'own juices'
–– Also lacked zipper.
Chris Pine Blows Michelle Rodriguez's Mind When He Reveals The Indiana Jones Scene That Inspired His Dungeons And Dragons Character
–– Must be one fragile mind.
Box office: 'Dungeon and Dragons: Honor Among Thieves' outperforms expectations with $38.5M 1st place opening
–– Justifiably low ones.
Ron Howard admits he considered directing porn for directorial debut
–– Opie Does Mayberry?
Shania Twain talks posing nude, embracing her body, and why she's 'aging naturally'
–– In latest slang for 'withering.'
Tax Documents Show Prince Harry and Meghan Markle Only Worked on Their Nonprofit, Archewell, for One Hour Per Week in 2021
–– Rest of work week at for-profit Scamwell.
'Queen Camilla' used officially for the first time on King Charles' coronation invitation
–– Achieved royal dampness for first time in 45 years.
Endeavor's UFC, WWE to Merge; Ari Emanuel to Serve as CEO, Vince McMahon as Executive Chair
–– Which he will smash over Emanuel's head.
For nearly 50 years, only Black men caddied The Masters. One day, they all but vanished
–– Down rabbit hole on 18th green.
Churches Gather Diminished Flocks for Fourth Easter Since Covid
–– Sheep a little slow.
7 Good Friday religious marches held across Hong Kong but most members told to keep faces visible
–– No bunny masks?
Go aboard a US nuclear-powered submarine on the lookout for threats from China
–– Like fake weather balloons?
'This is not a zoo' - Why sex workers are protesting in Amsterdam
–– With heavy petting?
This woman got a breast exam on live TV. No bra, no blurring. Here's why.
–– Exam needed to be seen from space.
The 'King Kong' of Weight-Loss Drugs Is Coming
–– You'll look like Fay Wray after squeeze.
She lost 8- lbs in 8 months without dieting––here's how.
–– Death.
Plastics touching our food may be making us gain weight
–– We knew it! That credit card was too close to our Cheesecake Factory Breakfast Burrito.
Cancer and heart disease vaccines 'ready by end of the decade'
–– Shall we carve that prediction in stone?
More people are getting cremated, but what happens to the ashes?
–– Urn on the side of caution.
Why the news is so negative — and what we can do about it
–– And why we won't so you'll keep reading.
Hidden expulsions? Schools are removing students, but data can mask the reason
–– What left them expell-bound?
I'm a Wheelchair User. What's the Best Thing to Wear to a Formal Event?
–– You're asking us?
Texas man uses Apple AirTag to track down person who stole his truck, then kills him: Police
–– That's Apple ad we'd like to see.
Thieves Cut Through Coffee Shop Wall to Pull Off $500,000 Apple Store Heist
–– Did Apple AirTag items?
Brass Knuckles And 'Substantial Amount Of Blood' Found In Florida Plastic Surgeon's Car In Attorney's Murder Investigation
–– On bright size, his nose jobs were cheap.
A teenager and a 12-year-old were arrested in teens' triple homicide in Central Florida, sheriff says
–– Had just learned to count to three.
Suspects sought in Chipotle fight over extra cheese, Crime Stoppers offering cash reward
–– Had melt-down?
One Dead and Dozens Hurt in Roof Collapse at Illinois Theater
–– Be careful what you wish for, heavy metal band.
NASA Names Diverse Astronaut Crew for Artemis II Moon Mission
–– Who will only visit dark side.
How good, really, was Pablo Picasso?
–– How dumb, really, is question.
Scientists identify secret ingredient in Leonardo da Vinci paintings
–– The da Vinci load.
Signs of life in mummy exhibit in Mexico have experts worried for those who get close
–– A wrapped audience?
Man Who "Drunkenly Stole" a 2,000-Year-Old Terra-Cotta Thumb From a Philadelphia Museum Accepts a Plea Deal
–– Had impudently held against nose during duration of trial.
Gruesome cache of severed hands is evidence of trophy-taking in ancient Egypt
–– Was finger lacking good?
The Mysterious Tomb Of The Silver Hands
–– Builders all thumbs.
Bronze-age people took hallucinogenic drugs in Menorca, study reveals
–– While on vacation cruise.
Volcanic Gas Cloud Reaching A Scorching 550°C Turned Vesuvius Victims' Brains To Glass
–– Wrote of feeling 'clear-headed.'
Is It Ok to Let Your Dog Lick Your Face?
–– Only if it's OK for you to lick his ass.
Golden retriever's intense "side eye" when owner takes back precious items
–– Expressed anal glance.
Warning as dog almost dies after eating hot cross buns
–– One a puppy, two a puppy.
Shark makes drastic turn off Outer Banks into the mid-Atlantic. What could it mean?
–– Broken signal?
The Longest Snake In The World Can Be As Long As 16 Corgis
–– Which was only ever unit of measure in Buckingham Palace.
Deepest ever fish caught on camera off Japan
–– Talking heavy Zen shit.
Rare freshwater pearl mussels to be released at secret Welsh site
–– So long as scientists don't welsh on deal.
This insect flings pee from a 'butt catapult.' Now engineers are studying practical uses
–– If USAF decides to invade apiary.
Imagine T. Rex. Now Imagine It With Lips.
–– Now imagine it in negligee wearing stiletto heels.
The oceans just reached their hottest temperature on record as El Niño looms. Here are 6 things to watch for
–– 4. Pre-boiled shrimp.
'Runaway' black hole is tearing through the universe, NASA warns
–– Distraught parents: 'But he'd always been such a good region of spacetime.'
NASA discovers 'invisible monster' that weighs as much as 20-million suns
–– By blowing vast amounts of talcum powder into void.
A cosmologist Explains How Our Universe Could Be a Random Bubble in the Multiverse
–– Doesn't 'explain' mean 'make clear?'
America's Tornadoes Are Evolving, Fast
–– Providing new twist.
Iconic New York Times food critic Mimi Sheraton dead at 97
–– To be buried in closed casserole.
Seymour Stein, Record Industry Giant Who Signed Big Names, Dies at 80
–– Will see more dirt.
Oscar-winning Japanese composer Ryuichi Sakamoto dies aged 71
–– After life of synth.