Mug Whomp

Week of 03/31/23
Actual headlines from the internets. You Google 'em.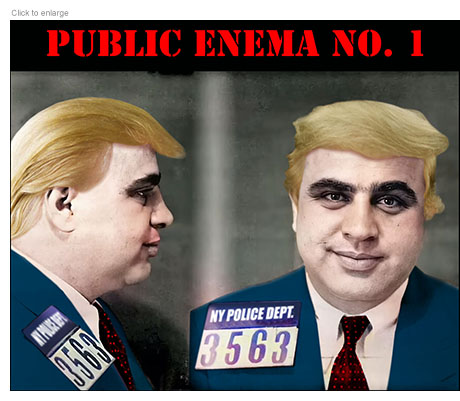 Manhattan grand jury votes to indict Donald Trump
–– In landslide.
Gwyneth Paltrow wins ski collision case
–– Accuser takes powder.
Manhattan's DA wanted a Friday Trump arrest. Trump's team said no.
–– Was hoping for TGI Friday's ad tie-in.
Republican leaders and Trump loyalists on Capitol Hill rally behind the former president after indictment
–– Can march right with him into cell.
Enraged Fox News Host Warns After Trump Indictment: 'People Better Be Careful'
–– To not break law repeatedly over 50-year career?
Events suspended at Mar-a-Lago as Trump hunkers down with legal team
–– No Palm Sunday parade of virgins, flaying of asses.
For Some G.O.P. Voters, Fatigue Slows the Rush to Defend Trump
–– Couldn't be shame because they have none.
New York grand jury reconvenes in Trump campaign finance probe tied to hush money payments
–– Hard!
Manhattan DA lawyers feared Stormy Daniels case against Trump was too weak to bring without other criminal charges, report says
–– Report hangs head in shame.
Lindsey Graham Suggests Trump 'Punch A Cop' On The Way To Tuesday's Arraignment
–– We suggest cop cracks skull in response.
Trump Says He's 'The Most Innocent Man in the History of Our Country' at Lie-Filled Waco Rally
–– Pure as driven snow dog pissed, shit, died in.
When President Ulysses S. Grant Was Arrested for Speeding in a Horse-Drawn Carriage
–– And officer failed to note open whiskey bottle on seat next to him.
Eric Trump Fumes Over A Pharmacy Chain In The Wake Of Dad's Indictment
–– Doesn't stock his Flintstones vitamins.
Gasps Heard During Fox News' Announcement of Donald Trump's Indictment in Stormy Daniels Case
–– Any spitting out of Kool-Aid?
Donald Trump's Truth Social post about having 'such respect' for the New York grand jury has aged really poorly
–– And we've finally worked up some.
Biden's FAA nominee withdraws after Sinema scuttles committee vote
–– Grounded.
A secret deal between Justices John Roberts and Anthony Kennedy on gay rights and what it means today
–– Don't look under robes.
Fox's Kilmeade: 'Insane' for Trump to feature Jan. 6 footage at rally
–– And what did you think of chorus?
'QAnon Shaman' Jacob Chansley was released early from prison, and a former prosecutor said it's totally normal to have sentences reduced
–– Besides it was grazing season.
Proud Boy testifies that talk of 'stacking bodies' was locker-room banter
–– These morons couldn't stack donuts.
Fired Fox News Producer Says She Was Told Maria Bartiromo Could 'Go Wild' on Show: 'There Will Be No Fact-Checking Today'
–– New day, same shit.
Opinion Jim Jordan doesn't understand his job
— Doesn't even understand three-letter word.
Lauren Boebert, whose teen son got his girlfriend pregnant, says she doesn't want to 'nitpick what the Bible says is right and wrong'
–– 'Sometime you just have to ask, 'What would Jesus screw?'"
Man arrested over secretly recording Republicans prompts Senate to change security policies
–– Tapped out.
DeSantis warns Disney World he'll take a third swing at them after the company wrote in a loophole that collapsed his takeover plan
–– He'll huff and he'll puff…
Ron DeSantis teases next moves in battle with Disney: 'You ain't seen nothing yet'
–– With BTO cover band playing behind him.
MTG Responds to Nashville Shooting by Calling for More Guns Around Kids
–– Particularly pointed at heads.
Some Republicans are speculating that the Nashville shooter's reported trans identity played a role in causing the deadly incident
–– Without trans substantiation.
Nashville Shooter Amassed an Arsenal Despite Being Under Doctor's Care
–– Doctor Death.
Sen. John Cornyn Says Congress Has 'Gone About As Far As We Can Go' On Gun Legislation
–– Nowhere.
Bakhmut has turned into a Russian 'slaughter-fest'
–– Putin trying to book Megadeth to perform.
Ukrainian troops say Russia's Wagner fighters would rather die in Bakhmut then retreat and face punishment
–– We're not choosy.
Finland cleared its final hurdle to joining NATO, bringing a geopolitical nightmare for Putin close to reality
–– Race to the Finnish.
Finland to formally join Nato within days, Jens Stoltenberg says
–– Over the Finnish line.
Israel Boils as Netanyahu Ousts Minister Who Bucked Court Overhaul
–– Like cholent.
Turkey summons Danish envoy over burning of Koran
–– When they expected nice sear.
Selena Gomez's Throwback Bikini Pic Will Make You Wanna Go Blonde Real Bad
–– Down there?
Jonathan Majors' 'Be All You Can Be' U.S. Army Ad Campaign Pulled Following Arrest
–– Was that or retitling 'Beat All You Can Beat'.
Inside Jonathan Majors' Scrubbed Army Ad Campaign
–– Aimed at scrubs.
Jonathan Majors' Lawyer Says Evidence Exists to Prove He's 'Completely Innocent' of Alleged Assault
–– Rummaging through old scripts now.
Brooke Shields says she was 'envious' of Emily Ratajkowski's confidence being 'nude the whole time' during a photo shoot they did together
–– Bare in mind.
Hugh Grant says movie sets 'are so weird now,' as actors no longer get drunk and fall 'in love with each other' because of mobile phones: 'It's so sad'
–– Shaggy dog story.
Hayden Panettiere says she almost 'pooped, puked,' and 'fainted' while recording music for 'Nashville' because she wasn't properly trained
–– To go on paper?
Sports Illustrated Swimsuit model Ella Halikas shares where she gets her 'delusional confidence' from
–– Holds up, shakes bottle of red pills.
Ron Howard says it was a 'complete assault' on his 'psyche' to watch daughter Bryce Dallas Howard perform fully nude in a college play
–– Snapped at ginger cookie.
Brian Austin Green Debuts Shocking Hair Transformation
–– You will flip your wig!
Florence Pugh Says She Chopped Off Her Own Hair for 'A Good Person': "Found it Really Liberating"
–– 'And cleared way for world to admire my nipples.'
Gwyneth Paltrow's accuser describes moment of impact during ski crash
–– On all of Western Civilization.
The Retired Army Optometrist Who Accused Gwyneth Paltrow Of Crashing Into Him While Skiing Says His Injuries Have Completely Changed His Life
–– Now he's a STAR!
Jennifer Aniston says Gen Z are going back to episodes of 'Friends' and finding the show 'offensive': 'I don't think there was a sensitivity like there is now'
–– Or do they just have sense of humor? Nah.
'Succession' star Brian Cox is apparently a 'closet Spice Girls fan'
–– Auditioned as F**k off Spice.
Murder Mystery 2' Review: Adam Sandler and Jennifer Aniston in Netflix Sequel That Leaves No Room for Laughs
–– Killed only one from 1?
'Ant-Man 3' Crashed at the Box Office After a Trilogy-Best Opening. What Went Wrong?
–– People saw it.
Nicolas Cage Dismisses Reports He Went Method as Dracula on 'Renfield' Set: "I Had a Lot of Laughs in Between Takes"
–– "And it was perfectly normal for me to sleep in a coffin lined with native dirt in my trailer."
Latto Says Comments About Her Looking Old Got to Her: 'I Never Thought I Looked Old Until I Read It'
–– 'With my granny glasses.'
Nick Cannon opens up about past antisemitic comments and his 'growth moment'
–– His nose when he lied about not meaning it.
The Story Behind the Famous SI Swimsuit Photo of Hannah Ferguson in the Body Painted Fishnet Swimsuit
–– Redefining 'famous.'
Alexander Skarsgård Explains the Answer to Everything. (It Involves Doing Some Math.)
–– (And playing Tarzan.)
Jennifer Aniston says Adam Sandler accidentally 'ripped my skirt' while they were filming 'Murder Mystery 2'
–– If you actually read this, please reexamine your life.
Mark Wahlberg explains his decision to leave Hollywood for Las Vegas with his teenaged children: 'It's giving the kids a chance to thrive'
–– 'As croupiers, dealers, pit bosses.'
Victoria Alonso Clashed With Marvel Over Blurring Gay Pride References in 'Ant-Man 3' for Kuwait (Exclusive)
–– Missed rainbow connection.
Donnie Yen responds to petition calling for his Oscars removal: 'cancel culture has got to stop'
–– 'Instructs Chairman Xi.'
Metal musicians were asked to pick the heaviest riff of all time. This Metallica riff was the (not so clear) winner
–– Without shred of evidence?
Joe Bonamassa names the guitar pedal he's used the most throughout his career
–– Dubs it Footsie.
As King Charles Adjusts to Being Center Stage, So Do His Impersonators
–– Windsor? Not!
Where the Royal Family Is Rehearsing for King Charles' Coronation
–– The Glory.
ISIS Matchmaker Gets 18 Years in First Trial Under N.Y. Terrorism Law
–– Jury of peers included Yente.
Dueling semitruck drivers go head to head in road rage clash, Louisiana video shows
–– In crappiest sequel to Spielberg movie ever.
Did voter fraud kill Edgar Allan Poe?
–– Quoth the Raven, 'What the f**k?'
Boy Scouts insurers seek to delay $2.5 billion abuse deal, bankruptcy exit
–– Working on merit badges in Law, Railroading, Reptile and Amphibian Study.
Serial sperm donor who fathered 550 children sued for increasing incest risk
–– Ewws your daddy.
What Is "Vabbing" And Does It Really Work?
–– And we suppose that's ladies sticking fingers up hoo-ha and smearing on skin? What, it is?
Woman Sues Over 'Foreign Object' Left Inside After Colonoscopy—for Years
–– Gastroenterologist's French tickler.
Having an alcoholic drink or two per day is not healthier than abstaining, study shows
–– Four or more is!
Toddler's mystery infection traced back to cake-snatching iguana
–– Symptoms include pendulous dewlap under throat.
Fatigue is common among older people. Finding its cause is important.
–– No clue in 'older?'
High school freshman with size 23 feet getting custom shoes from PUMA, Under Armour
–– Bilbo Choo.
High egg prices send profits at largest US producer soaring more than 700%
–– Eggstortion.
Cup Noodles' new ramen flavor puts your breakfast cravings into a cup
–– You pour boiling coffee over them?
See moment Pennsylvania candy factory explodes
–– Death by chocolate?
Contaminated Meat is the Surprising Cause of Some U.T.I.s
–– Which in men is sometimes referred to as 'contaminated meat.'
Wright Brothers' Airplane Factory Is Badly Damaged in Fire
–– We feel simply Orville about it.
Ski resorts in California got so much snow they're going to stay open through June
–– Must've been slope new day.
Opinion: My father's experience with frontotemporal dementia makes me grieve for Bruce Willis' family
–– Crave sympathy for your loss or props for your empathy?
Palihouse West Hollywood Hotel Reopens, But Not in West Hollywood
–– But you can still bring your pally.
FTX founder Sam Bankman-Fried tried to bribe Chinese officials, prosecutors say
–– That must've been hard work.
Lyft's Co-Founders to Step Down as Company Struggles
–– Achieve Lyft off.
A TikToker captured the moment a flower seed 'popped out' of her cheek after being lodged there for three weeks, as followers breathed a sigh of relief
–– TikTok equivalent of Zapruder film.
Pregnant wife died after 'push on Arthur's Seat'
–– Round Table sex game.
Virginia Great Dane gives birth to 21 puppies in 27 hours
–– 'Whelp' is only comment.
Pit Bull Still Hoping for a Home After 763 Days in the Shelter Without Adoption Interest
–– Nicknamed Sucker.
They're destructive, there are 5 million of them—and they're sacred
–– Holy cow!
Mountain lion claws man's head while he sits in hot tub, officials say
–– Customer refuses to pay for scalp massage.
A tiny, 600,000-year old shrimp is now Utah's official state crustacean
–– And smartest resident.
After 50 years in captivity, Lolita the orca may be freed
–– Will need to find 80-year-old that finds her hot.
Colorado Men Plead Guilty to Poaching 463 Pounds of Salmon
–– Imagine size of pot!
Woman dies, husband in ICU after eating 'deadly' puffer fish: 'Devastated'
–– Puff deady.
Blue-ringed octopus, one of the most toxic animals on Earth, bites woman multiple times
–– Never give sucker an even break.
Sparkly Rock in Museum Turns Out to Be 60-Million-Year-Old Dinosaur Egg
–– Experts scramble for answers.
2,000 mummified ram heads left in honor of Egypt's most powerful pharaoh are found inside an ancient temple
–– Ramses, of course.
Frozen Fur Ball Turns Out To Be 30,000-Year-Old Ice Age Squirrel
–– Scrat catch fever.
$25 M. Statue Seized from the Met as Restitution Efforts Continue to Target the Museum
–– Heads off to Turkey.
Astrophysicist explains how to see 'planetary parade' in the night sky
–– Stand in open field after dark, look up, play John Philip Sousa on phone.
From 20 dollars in his pocket to a dumpling empire: Din Tai Fung founder dies, age 96
–– Wonton destruction.
Mark Russell, Piano-Playing Political Satirist, Dies at 90
–– Buried in baby grand.