Omar the Tense Maker

Week of 02/03/23
Actual headlines from the internets. You Google 'em.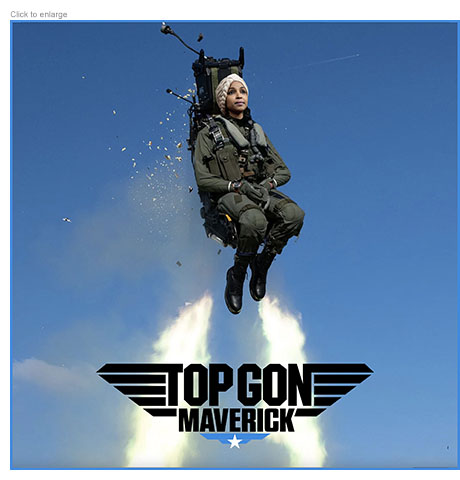 House Republicans vote to remove Rep. Ilhan Omar from the Foreign Affairs Committee
–– For being too, er, 'foreign.'
The Empire State Building Should Stop Doing This
–– Then give it talking to, genius.
2 House Republicans caught saying Ilhan Omar removal was the 'stupidest vote in world' before begging reporters to not tell GOP leadership what they said
–– McCarthy, 'In the whole world? Wow, I am so proud.'
AOC to GOP: Don't tell me you're condemning anti-Semitism when a Republican 'who has talked about Jewish space lasers' gets a plum committee assignment
–– Green thump.
Ocasio-Cortez explodes over vote to boot Omar, slaps notebook against podium: 'Targeting women of color'
–– Like sistahs Schiff, Swalwell.
Astonishingly strong US jobs report sends stocks sinking
–– Which is why we love Wall Street.
Runaway Tech arrested
–– Thanks, Reuters, for terse headline. Now what's it mean?
The US economy added a whopper 517,000 jobs in January
–– So all at Burger King?
Offices are more than 50% filled for the first time since the pandemic started
–– With fast food wrappers.
Pete Buttigieg says U.S. can fix the most dangerous thing in transportation
–– Damsels tied to tracks.
Kevin McCarthy Dodges Grilling On George Santos, Claims It's Congress That's 'Broken'
–– Offers self as proof.
Republicans are mostly ignoring a $9.4 million sexual assault lawsuit against the Trump-aligned head of CPAC
–– Schlapp dash response.
House Judiciary chair Jim Jordan pushes narrative the FBI is being 'weaponized'
–– This from blunt instrument.
Mehdi Hasan Trashes 'Far-Right Loon' Tucker Carlson Over Paul Pelosi Conspiracy Theory
–– Hammers him.
Paul Pelosi attacker trafficks in conspiracy theories in call to TV station after video release
–– Sure it wan't Carlson?
Steve Bannon Tells Kari Lake She Deserves Respect Because 'You're The Frickin' Governor'
–– 'In my, like, mental Arizona.'
Sorry, not sorry: Some 1/6 rioters change tune after apology
–– Siege it another way.
McCarthy rejects claim that Jan. 6 rioter was murdered
–– Allows she 'died differently.'
George Santos Commemorates Holocaust After Lying About It
–– Extols distant cousin Anne Frank.
George Santos' campaign spent more than $26,000 at an Italian restaurant in Queens. That's enough to buy 1,131 orders of the rigatoni bolognese.
–– Everyone knows he holds world's record for pasta consumption.
He lost to George Santos. Now he's trying to make up for it.
–– He's Santoast.
Hunter Biden laptop repairman responds to legal threats from president's son: 'Kind of gotten used to it'
–– Will go Scot free?
Trump Announces Plan To Build 'Impenetrable Dome' To Protect U.S. From Nuclear Threats
–– Impenetrable dumb.
'Loser, Loser, Loser, Loser': Chris Christie Says Trump Can't Win in 2024
–– After defining his own legacy.
Hillary Clinton Mockingly Reveals What Trump Was Doing In Infamous Debate Moment
–– Peeing on stage to mark territory.
Ex-publisher of National Enquirer set to meet with prosecutors investigating Trump
–– Pecker in a vice?
Chinese spy balloon flying over U.S. 'right now,' Pentagon says
–– Are they sure?
US to Postpone Blinken's Visit to China Over Its Spy Balloon
–– Makes inflated claims.
Boris Johnson says that Vladimir Putin threatened to fire a missile at him. The Kremlin calls it 'a lie.'
–– 'Although his yellow mop top make for good target.'
A Risky Trade in Ukraine Grows Riskier Amid the War
–– Sex workers that is. How are dope dealers making out, NY Times?
Celebrating Stalingrad, Putin tries to justify his Ukraine war
–– Which celebrates Stalin.
Former US Defense Secretary Robert Gates says Putin believes it's his 'destiny' to 'recreate the Russian Empire'
–– As Mordor.
Loved Abroad, but Divisive at Home: The Controversial Legacy of Jacinda Ardern
–– Heroine withdrawal.
Should We Still Even Be Talking To Netanyahu?
–– No, diplomats should hold breath, close eyes, hope he goes away.
Are French People Just Lazy?
–– Mais, non! They're also pretentious, smug, rude, smelly.
Eva Green Tells Court: 'S—y' B-Movie Could Have 'Killed My Career'
–– Green with envy.
'Shotgun Wedding' Proves That Jennifer Lopez Is Incapable of Turning in a Bad Performance
–– But always really tries.
Trevor Noah on 'Daily Show' Guest Hosts Wanda Sykes, Leslie Jones: "I've Been Loving All of It"
–– Because they make his tired act look better.
Brendan Fraser Gets Real About The Physical Struggles He Experienced Near The End Of His Stint In The Mummy Franchise
–– We've heard this wrap before.
Brandi Glanville and Caroline Manzo Exited 'Ultimate Girls Trip' Early After 'Unwanted' Kisses
–– Reached buss stop.
Why Susan Sarandon Says She Won't Apologize For Daughter Eva Amurri's Upbringing Being Like A 'Circus'
–– She's clowning self.
Alec Baldwin formally charged with involuntary manslaughter in 'Rust' death
–– Cocked-a-maimie charges.
Rachel Bloom Weighs in on 'Reboot' Cancelation: "Nothing's Straightforward Anymore"
–– Bloom is off.
James Cameron's Avatar: The Way Of Water Just Hit Another Box Office Milestone As It Gets Closer To Becoming The No. 1 Movie Of All Time
–– For those who say Cinema isn't dead.
Is Roman Polanski's New Film 'The Palace' Going to Cannes or Venice?
–– He'd love to be in Cannes.
Gary Glitter Reportedly Freed From Prison After Serving Half 16-Year Sexual Abuse Sentence
–– Pleaded for 8 years in juvie.
Roseanne Barr eyes cancel culture rebound with new comedy special
–– With all-new racist jokes.
Nine Fun Facts to Know Before This Year's Grammy Awards
–– 2. Show hasn't been fun in 40 years.
The extremely online psychedelia of brakence
–– From NPR where median listener age is 55.
Rita Ora Wore Star-Shaped Pasties Under a Fully See-Through Latex Dress
–– Ora of desperation.
Rupert Grint found 'Harry Potter' role 'quite suffocating'
–– Especially when Hagrid hugged him.
Pamela Anderson says she and Kid Rock broke up over her Borat cameo
–– Wasn't that covered under marriage vow, 'in sickness'?
Jennifer Grey struggled to keep her weight up while playing Christian diet guru Gwen Shamblin
-– Poor thing.
Sharon Stone says many big stars are 'misogynists,' but two Hollywood icons are the exception
–– With stones smaller than hers.
Skinamarink: The experimental horror being called one of the 'scariest films ever made'
–– By its producers.
Lisa Rinna Owns the Runway in Spaghetti Strap Swimsuit and Leopard Print Coat
–– How much did she pay for it?
Bill Gates says Elon Musk's ambition to colonize Mars is not a good use of money
–– Unless he goes, too.
The Princess of Wales Broke the Queen's "Golden Rule" By Revealing This Private Detail
–– Golden shower.
King Charles plans to open up Buckingham Palace to the public all year round
–– Visitors can buy bags of oats to feed Camilla.
Ghislaine Maxwell's brother: 'Ludicrous' to think Prince Andrew-Giuffre assault happened in 'very small tub'
–– Especially by 'Tubby?'
King Charles Will Not Support Prince Andrew's Charity Rebrand
–– Even though Andrew exposed his haunch, handed him hot iron.
Queen Elizabeth Will Be Removed from the Australian Five Dollar Bill—But King Charles Won't Replace Her
–– Will have face stamped on joy buzzers.
Prince Harry Recalls Tripping on Mushrooms During Party at Courteney Cox's House: 'I Was a Chandler'
–– Friends in high places.
Trump Courses Will Host Three Tournaments for Saudi-Backed LIV Golf
–– Pro shops will stock bone saws for pressers.
Novak Djokovic Captures His 10th Australian Open Men's Singles Title
–– Gives sport shot in arm.
Tom Brady announces he is retiring from the NFL 'for good'
–– Make that for 'great!'
Robert Kraft: 'We Will Do Everything' for Tom Brady to Retire as Member of Patriots
–– 'And yes, that includes full body massage with happy ending.'
Harvard is shutting down project that studied social media misinformation
–– Now that it's totally stopped.
Erie man discovers early Underground Railroad station and once-enslaved couple who ran it
–– Living in over-55 community!
Couple leave ticketless baby at Israeli airport check-in
–– Should've been in checked bag.
'Shortness of breath': How police first described what happened to Tyre Nichols
–– Very long shortness.
Post-ABC poll: Confidence in police drops after Tyre Nichols beating
–– Expectation they'll act like thugs sky-high.
When the officers are Black: Tyre Nichols' death raises tough questions about race in policing
–– For opinion writers with one gear.
This is the biggest threat to Black America. Hint: it's not the police
–– Oh, do tell, Fox News.
'Run, hide, fight' tactic in active shootings may be outdated, security experts say
–– How about 'run, run, run?'
$100 repair bill put Half Moon Bay gunman over the edge, prosecutor says
–– Gee, WaPo, thanks –– that explains 7 bodies.
Transgender rapist should not be considered a woman, says victim
–– That's not a weapon in your pocket?
Woman presumed dead was found gasping for air in body bag at Iowa funeral home
–– Zipper shock.
Italian Mobster, 16 Years on the Lam, Is Found Working at a Pizzeria
–– Prosecutor: 'We've tried all the rest, now try the best.'
Students Lost One-Third of a School Year to Pandemic, Study Finds
–– And can't tell you how many months that equals.
How Parenting Today Is Different, and Harder
–– On kids tormented by whining parents.
Jewish family fleeing the Nazis sold a Picasso in 1938. Their heirs want it back
–– Talk about seller's remorse.
Famous 'Vermeer' painting is not actually his, new research finds
–– So don't have to bury with him?
Scarred by defeat, they gave birth to a golden age of Danish art
–– Some absolutely stunning pastries.
How many times can you wear pajamas, jeans and other clothes without washing them? Experts weigh in
–– Ever heard of Smell Test?
Saunas Are Filling Up, but Are They Actually Good for You?
–– Please tell us, Mommy!
The link between our food, gut microbiome and depression
–– Talk about shitty moods.
Is lab-grown steak kosher? Religious leaders weigh the sensitive question.
–– Ugh, certainly not in non-religious sense.
Opinion: This simple ingredient has been substituted for eggs for generations
–– Dyed testicles.
The Inventor of Cult-Fave 'Cascatelli' Pasta Has Dropped 2 New Pasta Shapes
–– Didn't he direct Phantasm?
13 red flags at a buffet that should make you turn around
–– 11. Actual red flag attached to ladle.
Search underway for missing radioactive capsule in Western Australia
–– Anticipate glowing notices.
Dallas Zoo's missing tamarin monkeys were found in a closet, and investigators still want to find photographed man, police say
–– Did monkey take selfie with him?
Huge humpback whale washes ashore in New York
–– Orders 2 dogs, fries at Nathan's Famous.
Hearts melt over Labrador's response to first bath after being rescues
–– Leaps out, tears open chests of bystanders.
Beloved 'Weinerman' statue returned to West Virginia restaurant
–– After dogged pursuit.
At 30 years, Portuguese dog Bobi named world's oldest by Guinness
–– Older sister Boobi insistes she's 25.
What the Ancient Bog Bodies Knew
–– Wasn't 'keep out of bogs.'
The Surprising Substances Ancient Egyptians Used to Mummify the Dead
–– Packing peanuts, Silly Putty, MSG.
'We are being cooked, choked...' Chris Packham unleashes fury at Shell over record profits
–– In oil?
'Dangerously cold' Arctic blast coming for Northeast; wind chills as low as 40 below zero: Friday updates
–– Meterologists just shootin' the breeze.
Northeast Braces for Bitter Cold as Wind Chill Could Hit Minus 65 Degrees in Some Areas
–– Do we hear a minus 75?
What is wind chill? Here's how it makes the air feel colder.
–– And forecasts so much scarier.
Reporter froze a pair of jeans in minutes during 'epic' cold blast in Vermont
–– On herself!
How this photo of a Waffle House in the Texas ice storm warmed our hearts
–– That doesn't show waitress' car in ditch.
The Waffle House Brawl Belongs in a Museum
–– The Fracas Collection? The Museum of Melee Art? Ufisty Gallery?
Why More Physicists Are Starting to Think Space and Time Are 'Illusions'
–– Legalized pot.
Mpox is almost gone in the US, leaving lessons and mysteries in its wake
–– Like why'd you hype the hell out of it?
Lisa Loring, the original actor who played Wednesday Addams in 'The Addams Family,' has died at the age of 64
–– Loring into ground.
Bobby Hull, hockey's 'Golden Jet' of the ice, dies at 84
–– Hull and farewell.
Tom Verlaine, Founder of Influential Punk-Era Band Television, Dies at 73
–– Preempted.
Cindy Williams, Star of 'Laverne & Shirley,' Dies at 75
–– Shirley, you jest.
Melinda Dillon, Actress in 'Close Encounters of the Third Kind' and 'A Christmas Story,' Dies at 83
–– Transported to Mothership.