Greasy Pol

Week of 01/06/23
Actual headlines from the internets. You Google 'em.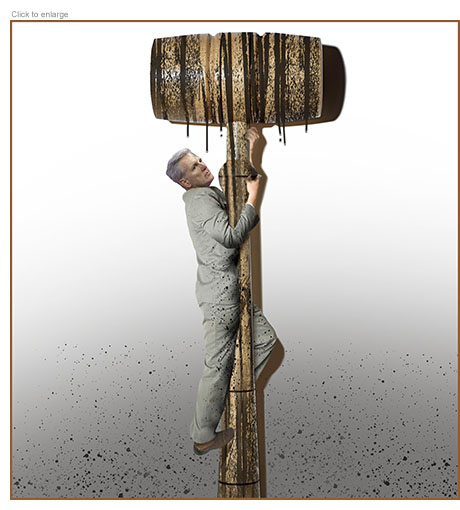 McCarthy Wins Speakership on 15th Vote After Concessions to Hard Right
–– Balls to be returned upon completion of term.
North Korea fires Kim's No. 2 military official
–– With anti-aircraft gun?
Trump urges support for McCarthy, warns GOP about embarrassment
–– Warns or promises?
House speaker vote – live: Kevin McCarthy makes major gains in 12th ballot but Gaetz, Boebert remain defiant
–– The derpy dozen.
McCarthy commits to key concession in call with frustrated lawmakers but it's no guarantee he'll win speakership
–– Will wear trap-door slacks for timesaving MAGA spankings.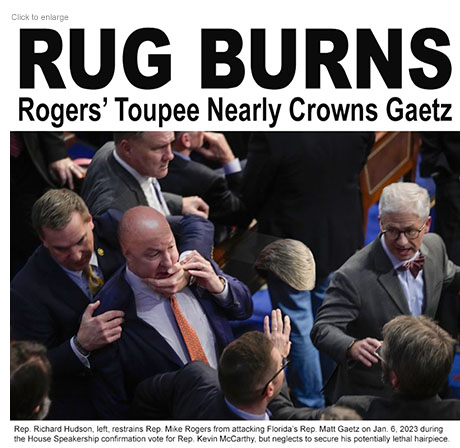 New York congressman Hakeem Jeffries is the new House Democratic leader, succeeding Nancy Pelosi
–– Can he fill her over-sized pumps?
Hoyer on Pelosi: 'Probably the most effective political leader that I've worked with'
–– No Hoyer power.
Two Years Later, Prosecutions of Jan. 6 Rioters Continue to Grow
–– Gee, but there still seems to be someone missing…
Hope Hicks said 'we all look like domestic terrorists now' after January 6 and that another White House aide was a 'genius' for getting out early
–– Beating rap would qualify you as genius in that clown show.
The most ridiculous ways accused Capitol rioters got caught, from bad Bumble matches to an unbelievable Uber ride
–– Shocking when coup attempt so brilliantly planned.
Supporters raise millions to rebrand Jan. 6 rioters as 'patriots'
–– And relabel shit gold.
JD Vance is joining a distinctive club of conservatives who parlayed their celebrity into a GOP seat
–– Like revered statesmen Gopher, Sonny Bono.
SC senator found 'slumped' in car, had slurred speech before arrest, police report says
–– Cops ask why he's not making speech on Senate floor.
The start of 2023 means carrying a gun without a license is now legal in half of US states: 'Lipstick, an iPhone, maybe a little Smith & Wesson .38'
–– Is what NRA suggests you ladies 'fanny pack' each morning.
DeSantis' second inauguration as governor will have a 'Free State of Florida' theme, an intimate candlelight dinner, and a toast to moms supporting the GOP governor
–– With gift floral designer bandoliers to carry their ammo.
A Heavily Armed Man Caused Panic at a Supermarket. But Did He Break the Law?
–– Was he carrying Abortion pills from pharmacy?
Trump invited the press to a 'media availability' slot at Mar-a-Lago. Not a single cable news network covered it.
–– As successful as his Taj Mahal slots.
The newly relevant relationship between Trump and 'Sunset Blvd.'
–– The new Norma?
Donald Trump Jr. turns 45 on December 31. Here are 10 things you probably didn't know about him.
–– 7. Liver turns 85.
Katie Hobbs outsmarted Kari Lake, again, with her private swearing-in ceremony
–– Like hiding treat on dog's head.
Brazilian Authorities Will Revive Fraud Case Against George Santos
–– Santos slay.
Ukraine missile strike on Russian-held city of Makiivka kills scores of troops
–– Putin their place.
Russia says soldiers' cellphone use led to the deadly Makiivka strike.
–– Did earn plenty of rollover (into dirt) minutes.
Russia's war in Ukraine shows why troops need to learn to put their phones away, top US Marine general says
–– Should be recommending Russians be given iPads in field.
Russia announces temporary ceasefire in Ukraine for Orthodox Christmas services, Kremlin says 
–– Fox News decries 'War on War on Christmas.'
Lula da Silva sworn in as Brazil's president amid fears of violence from Bolsonaro supporters
–– Assassins want on Silva platter.
Tom Hanks Addresses Nepotism Debate, Defends His Children Working in Entertainment: "This Is a Family Business" 
–– Like "ham processing."
A 'House of the Dragon' showrunner reportedly exited because HBO wouldn't let his wife be a producer again for season two
–– Producer Sapochnik: 'Yeah, what Hanks said.'
Gwyneth Paltrow and Daughter Apple Pose on a Boat in Black and White Bikinis to Kiss 2022 Goodbye
–– Death to smoochies.
Angela Bassett and Courtney Vance's teen son apologizes for participating in fake celeb death TikTok trend
–– Father almost qualifies as fake celeb.
Lena Dunham Reveals the Inspirations Behind 'Catherine Called Birdy'
–– Fulfilling nobody's request.
We Found Out the Real Reason 'The Twilight Zone' Was Canceled After Just 5 Seasons
–– Alien from future switched bodies with CBS exec James T. Aubrey, gave Rod Serling choice to quit or doom humanity to nuclear Holocaust.
'Glass Onion' director Rian Johnson says he was dragged 'kicking and screaming' to choose major plot twist
–– By self as sole credited screenwriter?
Hugh Grant Confirms He Is 'Married to James Bond' in 'Knives Out' Cinematic Universe
–– Was Johnson dragged 'high kicking and screaming?'
'Romeo and Juliet' Stars Sue Paramount for Child Abuse Over Nude Scene in 1968 Film
–– Starkers crossed lovers.
Christian Bale Did Not Method Act During 'Pale Blue Eye,' Says Co-Star Harry Melling: 'No Staying in Character'
–– We see.
Billie Eilish says she watched 'The Office' so much that she legitimately thought the Irish band U2 was from Scranton
–– Which she thought was in China!
Simu Liu: 'Barbie' Will Dismantle 'Blonde, White' Stereotypical Doll Beauty Standards
–– Not 'bland, woke' stereotypical dull diversity standards?
Dua Lipa's Butt Is 💯 In A Thong And Backless Dress In New Years' IG Pics
–– Centimeters in diameter?
Dave Bautista Calls Marvel Exit a 'Relief' Because Playing 'Silly' Drax 'Wasn't All Pleasant': 'I Don't Know If I Want Drax to Be My Legacy'
–– We still await his definitive Inspector Clay.
James Marsden Calls 'Westworld' Axing a 'Disappointment,' Wants to Complete the Story: 'I Understand It's an Expensive Show'
–– Only part of show he understands.
James Marsden on Shocking 'Westworld' Cancellation: Show's Fate Should Be Based on "More Than Financial Success"
–– Although $10 mil per episode budget should buy couple of explanations.
Bella Hadid Looks Like a Jungle Queen While Taking a Dip in a White String Bikini
–– This Jungle?
Taye Diggs Says He And The Cast For 'The Best Man Holiday' Were Paid 'Pennies'
–– And still got too much.
Padma Lakshmi Claps Back After Being Accused of Making Her Daughter 'Uncomfortable' with Her Breasts
–– Tells critics to 'suck on this.'
"This Clip Fully Convinced Me Of The Skin-Colored Gloves Theory" — People Are Just Now Discovering That Dolly Parton Wears Gloves, But It's Not A Theory, It's Fact
–– Oh, we beg to clap back!
Todd Field: Adam Sandler in 'Punch-Drunk Love' Is 'One of the Great Screen Performances of All Time'
–– Field and scream.
Paul Schrader Assumed 'Emily the Criminal' Was a Spin-Off of 'Emily in Paris': I 'Somehow Confused' the Two on Netflix
–– While reading Emily Post which he mistook for Emily Brontë.
We're Still Dreaming About This High-Slit Dress Mariah Carey Wore While Performing Her Final 'Merry Christmas To All!' Show
–– Are you prepping insanity plea?
'Extra' Stands by Billy Bush After Leak of Sexual Comments About Kendall Jenner
–– Actually dirty joke wittier than we'd give him credit for.
Celine Dion's exclusion from Rolling Stone's 'Greatest Singers List' sparks outrage
–– They had 'Screecher' sub category?
Jeremy Pope on How Leaving a Big Studio Film Led to His Breakout Role in 'The Inspection': 'I Was Tired of Negotiating My Worth'
–– Yeah, Jer, that's agent's job.
Suggs: 'A 93-year-old Chelsea Pensioner once told me I've retained my looks but my music is s--t now'
–– She obviously retained hearing.
Brooke Shields Reveals Controversial Film 'The Blue Lagoon' Would Never Be Made Today
–– What she reveals is her opinion.
Here's How Nick Cannon Responded When Andy Cohen Asked Him About Getting A Vasectomy
–– Total dick response.
CNN's Andy Cohen And Anderson Cooper Don't Drink Alcohol, But Find A Workaround
–– And reach around?
Down on 2023? We get it. But here are some things that might improve.
–– Please say your editorial page, WaPo.
Leonardo DiCaprio Welcomes 2023 with His 23-Year-Old Pal
–– So each subsequent year's new girlfriend slightly more age appropriate?
Barbara Walters Changed TV Interviews in a Way That May Never Return
–– How very true… say what?
Prince Harry Talks Reason for Taking Royal Family Concerns Public in '60 Minutes' Preview: "Silence Is Betrayal"
–– Silent like talk, sing, tattle, squeal, snitch, blab?
Prince Harry says he wants Charles and William 'back' but Royal family 'unwilling to reconcile'
–– Maybe just more 'embarrassed to acknowledge existence.'
Prince Harry's Alleged Reason For Not Taking Shots at Camilla Gives Important Insight Into His Relationship With King Charles
–– One who really deserved them.
Prince Harry criticized by UK military figures – and Taliban – after claiming he killed 25 fighters in Afghanistan
–– Casualties of bore.
Duke and Duchess of Sussex's use of Mandela's name is 'upsetting and tedious', claims granddaughter
–– Can't see Meghan's struggle as spiritual heir to apartheid?
Grappling With, but Not Yet Turning Away From, Football's Violent Pull
–– It's dumb, violent sport, but you can die playing ping-pong.
Nats sign former first-rounder Michael Chavis in latest risk-reward move
–– If 'risk-reward' is synonym for 'total surrender.'
Idaho Murder Suspect Had Been a Student of the Criminal Mind
–– While being out of his.
Idaho murder suspect doesn't break a sweat as he's perp-walked through Monroe County Courthouse under heavy guard
–– Perfectly calm like any sane person wrongly charged with multiple homicides.
Suspect in New Year's Eve machete attack on police near New York's Times Square expressed desire in diary to join Taliban, die a martyr, sources say
–– Should make resolution to visit reality more often.
Father arrested for allegedly intentionally driving Tesla off cliff
–– Don't you mean 'allegedly intentionally possibly theoretically'?
Montgomery, Alabama, airport worker died after being 'ingested' into aircraft engine, NTSB says
–– Jet let out satisfied burp.
I paid $250 to stay in a plastic tiny house dome in New Zealand in the middle of winter. I thought I'd freeze but by morning, I didn't want to leave.
–– Ass stuck to polyurethane wall.
Pull From Your Pantry for This Easy Lemon Butter Pasta
–– If you keep lemons, butter out on shelf.
7 Foods We Should Eat More of in 2023
–– 1. Sarge's The Monster (did not see that coming!)

The best nonalcoholic wines
–– Like best platonic hookers.
Colorado library closes due to meth contamination
–– During 'Speed Reading Week.'
How the marijuana 'green rush' fell apart
–– Are we supposed to be fretting over dope dealers' profits?
Marijuana Use Spills Into NYC Classrooms as Educators Grapple With New Cannabis Landscape
–– Bongs tipping over everywhere.
Oregon opens the gates for legal psilocybin industry in 2023
–– Gates in your soul.
Mexico captures Ovidio Guzmán, son of El Chapo and alleged fentanyl trafficker
–– Chap o' the old block.
Extradition of 'El Chapo' son to the US halted after 29 killed in arrest operation
–– Had quite the fan club.
Want to Understand L.G.B.T.Q. Life in America? Go to Alabama.
–– Well, guess then we'll never understand.
Rick Singer, Mastermind of Varsity Blues Scandal, Is Sentenced to 3½ Years in Prison
–– Once again safe for average folk to pony up $80,000 to send kid to Ivy League.
New York becomes 6th US state to green light human composting law
–– Worms in Legislature provide decisive vote.
Wall Street Journal reporter was handcuffed by police while standing outside a Chase Bank. The newspaper is demanding answers
–– Cops insist he should've been wearing fedora with PRESS card in band.
Black women are worried another hair-care brand could abandon them
–– Some next-level abandonment issues.
Biblical site where Jesus healed blind man excavated for public view: 'Affirms Scripture'
–– 'And lo, one day there shall come upon the place called the Pool of Siloam a gathering of clamorous pilgrims arrayed in cargo short, wide-brimmed headdress and floral raiment.' (John:9)
'Where's Your Jesus Now?': Mobs Chant While Destroying Virgin Mary Statue in India
-–– 'Hanging with some of your 330 million deities.'
There Has Never Been a Better Time to Be Short
–– So here's an IOU.
What Is Gaslighting? 11 Subtle Signs of Gaslighting To Look For in Your Relationship
–– 2. He actually watches movie it's based on.
Over 80% of adults don't meet US strength guidelines. Don't forget these muscles
–– You can give our 'muscle' daily, vigorous workout.
NASA chief says China could claim the moon as its own territory if it beats the US to the lunar surface
–– Then it'll 'hit your eye like a big 葱油饼.'
This Flat Earther Boldly Claimed He Could Prove His Theory, And Then His Experiment Confirmed The Earth Is Round
–– Paging Ripley.
Aging Is a Problem Even Science Cannot Solve (Yet)
–– You mean Science that totally cured COVID?
Invasive rats are making some reef fish more peaceful, and that's bad, actually
–– Selling them bootleg hooch.
Amateur Sleuth Helps Unearth A 'Surreal' Finding In Cave Drawings
–– If 'unearth' means 'concoct.'
Stone Age humans stepped out in cave bear fur 300,000 years ago
–– Positively stylin'!
Has the Amazon Reached Its 'Tipping Point'
–– Or is it still working for salary?
Longtime 'The View' Producer Bill Geddie Remembers Barbara Walters: "She Kept Me on My Toes"
–– Based on height difference, looks like she needed to be on hers.
Mark Capps death: Grammy-winning recording engineer fatally shot by Nashville police
–– Busted a Capps.
'Mad Dog' surfer dies riding giant waves in Nazaré, Portugal
–– Curls up, dies.
Modest Mouse drummer Jeremiah Green dead at 45
–– Squeaks by.
Rapper Gangsta Boo, Former Member of Three 6 Mafia, Dies at 43
–– Boo who?
Benedict XVI, First Modern Pope to Resign, Dies at 95
–– Poped out.
Former Pope Benedict XVI asks for forgiveness, thanks God in final published letter
–– Almighty politely returns unopened.