Bums in Seats

Week of 01/20/23
Actual headlines from the internets. You Google 'em.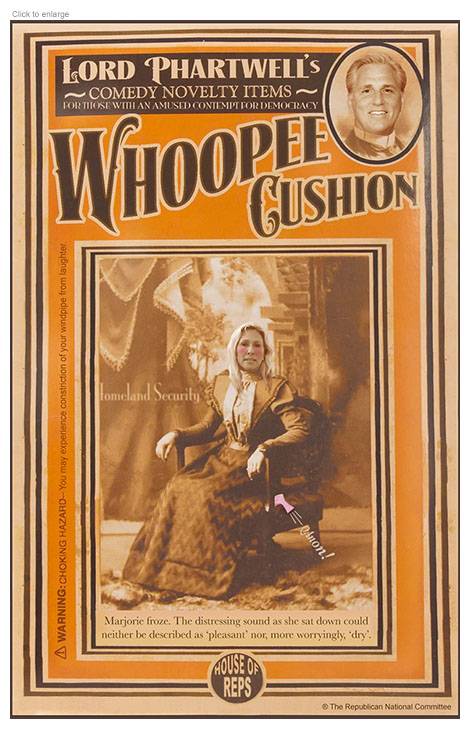 Reps. Marjorie Taylor Greene and Paul Gosar get plum committee assignments in GOP-led House
–– Both on Overshite.
Microsoft is laying off 10,000 employees
–– Clippy flippy burgers.
68 Days of Silence: Why the White House Stayed Mum on Classified Documents
–– Can't recall where they left docs this morning.
GOP House Oversight Chair Can't Explain Why He's Investigating Biden Classified Docs But Not Trump's
–– 'Sometimes you just have to follow your heart.'
Opinion / Dear special counsels, follow James Comey's lead
–– You remember, the guy who got Trump elected.
Rudy Giuliani says Trump once advised him to take top-secret files home
–– Wrapped around wine bottle so he could drink in car.
Trump's former chief of staff John Kelly had to repeatedly remind the former president he could not share classified information with friends, NYT journalist says
–– Nor hang on toilet roll holder in executive john.
Trump targets the 'thug' special counsel investigating him and his 'Trump Hater' wife in new attacks
–– Which qualifies her as eminently sane.
Trump Confused Rape Accuser Carroll With Ex-Wife in Deposition
–– With daughter in Bergdorf Goodman dressing room.
Say a Prayer for the Mar-a-Lago Busboys: Donald Trump Was Just Fined $1 Million for His Very Frivolous Clinton Lawsuit
–– Throws them under-the-busboys.
A New GOP Bill Could Fine You $1,500 For Not Misgendering Trans People
–– Have hidden misgender?
Could a parasitic fungus evolve to control humans?
–– And already has in Congress?
Opinion: Jim Jordan and other election deniers don't deserve to head House committees
–– Fly by the seat of their pans.
Supreme Court says it cannot determine who leaked draft Dobbs opinion
–– Can only feel warm dampness in robes.
Supreme Court says justices 'actively cooperated' in leak probe
–– Lied directly to investigators' faces.
New York Mayor says "no room" in his city for migrants
–– Might as well visit El Paso –– has done nothing at home in first year.
Kellyanne Conway says 2020 election should've been a 'blowout' for Trump but his campaign squandered a $1.6 billion war chest. Millions went into merchandise and Trump properties.
–– Only blowout was of her do.
Harbor City called George Santos a 'perfect fit.' The SEC called the company a fraud.
–– So they spoke truth.
Video shows George Santos calling himself Anthony Devolder at a 2019 event, raising questions about his name
–– Alias oops.
George Santos' former roommate says the congressman stole his $520 Burberry scarf and wore it to a 'Stop the Steal' rally: report
–– Where he scarfed down food!
George Santos once bragged about having no student debt from a school he never actually attended: 'I hate looking at youth today and seeing them sitting on their behinds'
–– Added he loved looking at behinds.
George Santos Lands 2 House Committees: Small Business and Science
–– After he explained he founded Apple, perfected cold fusion.
Matt Schlapp sued by former Herschel Walker aide over sexual assault allegations
–– Did it warrant schlapp to face?
Raskin gives update on cancer treatment: 'I'm losing about 40 or 50 hairs a day'
–– And he's not splitting any.
Threatened Texas Brewery Defends Decision To Turn Away Kyle Rittenhouse Rally
–– Won't serve shots?
Failed GOP candidate arrested on suspicion of orchestrating shootings at homes of Democrats in New Mexico, police say
–– Lead from the rear.
On Martin Luther King Day, nine facts about him that may surprise you
–– 7. Positively loved macramé.
Opinon 6 things people believe about politics that are totally wrong
–– 2. Reading this hooey will deepen understanding one iota.
'Like walking on missiles': US airman recalls the horror of the Vietnam 'Christmas bombings' 50 years on
–– Metaphor absolutely no one can relate to.
Jacinda Ardern, like George Washington, knew when to quit
–– Yeah, remember him leaving before term was up, whining 'I no longer have enough in the tank.'
Jacinda Ardern's resignation shows burnout is real – and it's nothing to be ashamed of
–– Like we're totally burned out on bullshit excuses.
Chris Hipkins set to become next prime minister of New Zealand
–– Sounds coolbeans.
A former X Factor contestant studied law so she could sue Simon Cowell's company after the show 'almost ruined my life,' report says
–– X marks the suit.
Rihanna's Toned 🍑 In A Thong Is 'Crushing Hearts' In A New Lingerie Video
–– Must be sitting on chests pretty hard.
Lana Del Rey Is A Confident Queen In This Topless, NSFW Album Cover Pic 💯
–– Album of duets?
Catherine McNeil Marries Basketball Player Miles Plumlee in a Striking and Risqué Wedding Gown
–– Who who what?
'Glass Onion' Star Kate Hudson on Why Her Character's Narcissism Isn't "The Evil Kind of Narcissism"
–– Like her own?
Madonna Unveils Dates for 'Celebration' World Tour, Featuring 'Four Decades of Mega Hits'
–– Of Botox.
John Laroquette Says He Turned Down a 'Night Court' Spinoff in the '90s
–– But was now way more desperate.
Sources: HFPA President Left "Shocked and Upset" Over Jerrod Carmichael's Monologue
–– Didn't pay $500,000 to get pissed on live?
Marie Osmond says her kids won't get an inheritance: All it does is 'breed laziness and entitlement'
–– 'And this way they won't push me down stairs for money.'
Young women 'misunderstood the reality' of Andrew Tate and thought 'they'd be his next wife,' bodyguard says
–– Sounds like she generally misunderstood reality.
A Rosier View of Roald Dahl
–– But don't worry, reader, I'll shit on him.
'White Noise' Director Noah Baumbach on Returning to a Favorite Book From His Youth: "I Felt I Was in Communication With My Younger Self"
–– "And neither of us had any idea of how to make it work."
Chelsea Handler Confessed She Didn't Know The Sun And The Moon Weren't The Same Until She Was 40 And She Was So Serious
–– Any other bright ideas?
Amazon Likely to Part Ways With Jeremy Clarkson After Final Commissioned Shows Go to Air; 'Grand Tour' Host Sent Email Apology to Harry & Meghan (EXCLUSIVE)
–– Top jeer.
'Rust' Shooting: Alec Baldwin, Other Crew to Be Charged in Halyna Hutchins' On-Set Death
–– After they assumed shoot wrapped.
Brendan Fraser tearfully accepts Critics Choice best actor award: 'I was in the wilderness'
–– 'And all my bawling freaked out the animals.'
Shakira Allegedly Discovered Gerard Piqué Was Cheating Thanks to a Jar of Jam
–– When it comes to condiments she's Piqué, Piqué, Piqué.
Opinion: Shakira is reminding us about a universal truth
–– Never read articles with pop star's name in headline.
Robert Pattinson Calls Out 'Insidious' Male Body Standards, Says He Ate Only Potatoes for Two Weeks as a Detox
–– For his role as Irishman?
Pink Floyd's classic 'The Dark Side of the Moon' turns 50 and is still unsettling to some
–– Causes Brain Damage?
Julie Bowen Talks Openly About Her Plastic Surgery: 'They Do You Like A Sneaker'
–– Looks like they forgot to lace up her eyelets.
Sarah Michelle Gellar Returns to Fighting Form: "I've Earned the Right to Stand Where I Am"
–– Astride crappy supernatural teen drama?
Damien Chazelle Says It's Good 'Babylon' Divided Audiences: 'More Movies Should Do That'
–– Between hate and loathe.
'Pee Diddy' Trending After Yung Miami Shares That She Enjoys Golden Showers
–– Urine luck.
Antoine Fuqua to Direct Michael Jackson Biopic for Lionsgate, Set to Begin Shooting This Year
–– Where's the Jerry Sandusky musical?
David Foster Says It's a 'Little Bit Different' Raising a Toddler at 73: 'I Can Offer Him Wisdom'
–– 'Like, don't kneel down on the floor to play –– you'll never get up.'
5 rules Prince William has to follow as heir to the throne that Prince Harry was allowed to break
–– 3. Zip up in public.
'The ball boy took my racket': Rafael Nadal loses favorite racket in strange moment in Australian Open first-round win
–– Catgut your tongue?
Andy Murray Slams 'Disrespectful' Rule After Not Being Allowed to Use Toilet During Nearly 6-Hour Match
–– Pissed off?
If Affirmative Action Ends, College Admissions May Be Changed Forever
–– Forever? Really?
Dry for January? New Bars Cater to the 'Sober Curious'
–– How about 'Drunk Definite'?
Are We Living in a Computer Simulation, and Can We Hack It?
–– Did some AI hack write this?
Soldiers outsmart military robot by acting like video game characters
–– Robot's rules of order.
Redheads aren't going extinct. Here's why.
–– They fuck like red hares.
A USC office removes 'field' from its curriculum, citing possible racist connotations
–– 'Field' and scream.
Obsessed by the Present, Who's Got Time for Old Masters?
–– Regression toward the meme.
I Lost My Dad. These Are The 7 Words I Wish I'd Never Been Told At His Funeral.
–– His estate's way smaller than you think.
A TikTok of husband calling at the Iowa State Fair is going viral. Yes, it's real.
–– Sooie! for divorce.
France's national dish is under threat. Hear why one baker is speaking out
–– Hate baguettes hate.
Truffle hunters in Italy are poisoning their competitors' dogs with snail bait in a war for the 'black gold' that goes for up to $5,000 per pound
–– 'Shroomer has it.
Surging egg prices mean record profits for largest US egg producer
–– Consumers shelling out.
The magic dust that's a game-changer for your pie crust
–– Meth really cranks up the rhubarb.
Anthony Bourdain Had the Idea. How Did This Street-Food Market Turn Out?
–– Didn't kill himself dreaming this up.
Elizabeth Holmes made an 'attempt to flee the country' after her conviction, prosecutors say
–– Just missed Holmes run.
What's behind Canada's drastic new alcohol guidance
–– Canada Dry club.
Party City files for bankruptcy
–– Employees rush to order decorations.
Vanished $4 Billion Brings Down Century-Old Retailer in a Week
–– Hope it wasn't H&R Block.
If New York Is So Great, Why Isn't There Anywhere to Pee?
–– They closed subway stations?
New data reveals NYC's workforce has shrunk by 300,000 since start of pandemic
–– More room for flashers on rush hour subway.
NYPD police officer filed a complaint alleging sergeant tugged her ponytail to prove a point – causing 'substantial' neck pain
–– Does department have officers in grade school?
Deadly Yeti Airlines crash highlights dangers of flying in Nepal
–– Like, Yetis?!
She was catching a flight in Florida. Then TSA noticed her 'emotional support' snake
–– 'Hugging' neck of next customer in line.
A Hawaiian Airlines pilot told investigators a cloud 'shot up' like a plume of smoke, causing turbulence that injured dozens of passengers: report
–– From crack pipe.
Sicilian mafia boss arrested after 30 years on the run — the last of Italy's most-wanted crime lords
–– And, mama mia, are his legs tired!
Photos show the moment a 77-year-old flipped his car over inside a car wash, getting trapped for an hour
–– Should be stunt coordinator on next Bond film.
Man who couldn't afford bail dies after losing nearly 100 pounds in jail, lawsuit says
–– Will Bail Bond Diet catch on?
Body discovered in a sunken boat belongs to man missing since Ian, Lee County sheriff says
–– Hope authorities find him so they can return it.
I'm a 100-Year-Old Doctor. I'm Not Too Old to Work.
–– Be our guest, on that other guy.
At 2,100 Years Old, Lady Dai's Mummy Is Still In Unbelievable Shape
–– After dying in chariot crash with lover pursued by paparazzi.
Meet Spike, officially the world's oldest living dog
–– Watch him obey Play Dead command.
Bed-Sharing With Dogs Can Be Dangerous In Winter, Warns Vet
–– Especially if pit bull is hungry.
Foot-long dwarf boa found in Ecuadorian Amazon
–– Told to grow up.
This egg-laying mammal blows bubbles to cool off
–– Bubbles 'delighted.'
Velociraptor may not have used claws for slashing after all, says study
–– Picking nose more likely.
Arizona city cuts off a neighborhood's water supply amid drought
–– Nothing but dry eyes in house.
How Lake Mead water levels look after weeks of heavy rainfall
–– Like someone forgot to stick plug in drain.
How Selma recovers after tragedy, from civil rights battles to tornados
–– Hope there are plenty of octogenarians from 60s on clean up.
'Dress like a cabbage': Surviving Yakutsk, the world's coldest city
–– And throw self in boiling water.
Temperatures on Greenland haven't been this warm in at least 1,000 years, scientists report
––According to old timers.
Pompeo Claims Trump Told Him to 'Shut the Hell Up' about China's Covid Response
–– Should we take one from Liar A or one from Liar B?
Opinion: Why Lisa Marie Presley's untimely death was so jarring
–– Is Elvis obsessive all shook up?
Sister André — the world's oldest person — has died at 118. She drank a glass of wine every day and credited her long life to working until she was 108.
–– And never reading government guidelines.
Gina Lollobrigida, legend of Italian cinema, dead at 95
–– La donna è immobile.
David Crosby, Folk-Rock Voice of the 1960s Whose Influence Spanned Decades, Dies at 81
–– Crosby still, nish young.
How David Crosby and the Screenwriter of 'Jaws' Almost Made an Apocalyptic Hippie Movie in 1971
–– In high deaf.