Joke Topper

Week of 05/12/23
Actual headlines from the internets. You Google 'em.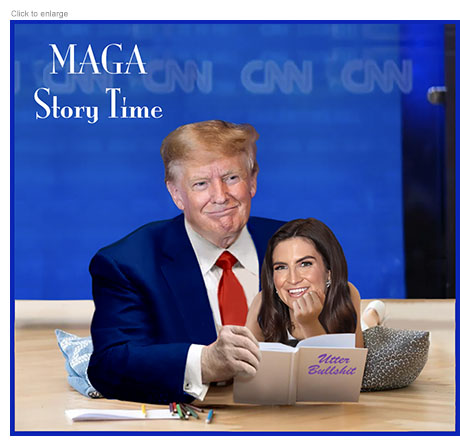 CNN leadership under fire after 'disastrous' Trump town hall
–– Trump roll, please.
DeSantis signs "medical freedom" laws
–– Liberating Floridians from objective reality.
CNN hoped a Trump town hall would give it credibility with the GOP. Instead, it got dunked on.
–– Wanted to spin off Sex Criminal of the Week.
CNN's Anderson Cooper Addresses Trump Town Hall Debacle: "You Have Every Right to Be Outraged"
–– Thanks, Andy.
Kaitlan Collins, in a White Suit, Takes on Trump
–– In white supreme assist?
Rep. George Santos charged with 13 counts of fraud, financial crimes
–– Claims it's 15.
George Santos took unemployment for a year during the COVID pandemic despite having a $120K a year job at an investment firm, feds say
–– To be fair it took him away from job #1: fraud for personal gain.
George Santos confessed to stealing checks in Brazil to drop charges
–– Got real.
U.S. sees record migration influx as pandemic border restrictions lift
–– In latest slang for 'explosion.'
Trump will not testify in E. Jean Carroll battery trial
–– Will let lie.
Tears and laughter: Amid harrowing rape testimony, E. Jean Carroll joked of Trump, men, and three-bean salad
–– Chickpee, slima, anallini.
In closing argument, attorney for E. Jean Carroll says she was 'exactly' Trump's type
–– Damning own client with faint praise.
Trump sexually abused writer E. Jean Carroll, must pay her $5 million, jury says
–– How's that grab you, Pussy?
As Trump probes intensify, foes of ex-president see opening
–– Gaping asshole.
Judge in Trump criminal case issues protective order to prevent sharing of evidence
–– Knowing defendant's generosity of spirit.
Georgia GOP chairman says he was just following orders from Trump lawyers
–– His 'Sieg heil!' was unfortunate flourish.
Inside the Biden White House, aides reportedly knock president for eating 'like a child'
–– C'mon, Fox, don't you really mean 'dementia patient?'
Senate Judiciary chair says 'everything is on the table' in response to Clarence Thomas revelations
–– No bribes under it?
Ron DeSantis Says Disney Has "Not Made A Peep" Since Skirmish Over "Don't Say Gay" Law: "The Party Is Over For Them"
–– Not even Bo Peep?
Florida bans Chinese citizens from buying land: 'We don't want the CCP in the Sunshine State,' DeSantis says
–– Raising philosophical question: 'is it ever OK to agree with moron?'
Six months after midterm losses, election deniers mount new efforts
–– If at first you don't suck siege…
Fox Corp. Swings to Quarterly Loss Due to Dominion Litigation
–– Courtesy of Woody Herman.
Fox News anchor Bret Baier's reputation takes hit after text messages reveal what he said in wake of 2020 election
–– Baier ass sprint.
Feinstein returning to Washington after extended health-related absence
–– Still looking for office.
Governor rejects $1.2m reparation pay-out for black Californians
–– Was proposal composed of letters cut out of magazine?
Republican front-runner for North Carolina governor attacked Civil Rights Movement: 'So many freedoms were lost'
–– Black candidate Jim Crows.
Henry Kissinger says he wants to call attention to the dangers of A.I. the same way he did for nuclear weapons but warns it's a 'totally new problem'
–– AI: 'He is 99, we will not need to terminate him.'
Putin tried to project strength, but Moscow Victory Day parade revealed only his isolation
–– Superman cape did not help.
Kremlin calls Polish decision to rename Kaliningrad 'hostile act'
–– Like 'stab in the back?'
Former NBA star Dwight Howard sparks backlash in China after calling Taiwan a 'country'
–– Forgot to call Xi 'tyrannical thug'?
A massive new US embassy in a tiny Middle East nation is raising eyebrows
–– Lebanon baloney.
Richard Dreyfuss Says Oscars Inclusion Requirements "Make Me Vomit"
–– Reminds us of his performance in The Goodbye Girl.
'Game of Thrones' Spinoff 'The Hedge Knight' Writers Room Pauses as George R.R. Martin Offers 'Unequivocal Support' of WGA
–– Hedge's bets.
'Happy Days' star Scott Baio announces he's leaving California due to homeless crisis, crime
–– Baio pigs.
Renee Baio, wife of Scott, buys home in Bradenton, says: 'Living our best life in Florida'
–– Their best life/Bradenton deserve each other.
Bethenny Frankel Jokes That Her Plunging One-Piece Swimsuit Makes Her Feel Like Borat
–– Carrying two deflated punching bags.
Michael Shannon Addresses 'The Flash' Costar Ezra Miller Controversy: 'It's Difficult to Talk About'
–– And impossible to read.
PETA Gives James Gunn an Award for 'Guardians of the Galaxy Vol. 3': 'An Animal Rights Masterpiece'
–– Belongs on Masterbeast Theatre.
Why 'Guardians of the Galaxy Vol. 3' star Will Poulter is Marvel's new golden boy
–– It's not body paint?
Fans Are Calling What James Gunn Did To Gamora 'Painful.' It Hit Me In The Feels Too
–– Wish Drax would hit you in the faces.
Sylvester Stallone Shares Throwback Of Intense Rocky Workout, Explains Why Getting In Shape 'Will Kill You'
–– Exactly why we avoid it.
Jacob Tremblay Defends Flounder's New Look in 'The Little Mermaid': "I Couldn't Really Imagine it a Different Way"
–– Bravely admitting his limitation.
Yes, Nick Cannon has 11 kids with six women. He also makes $100 million a year
–– So he can buy enough love to go around?
Priyanka Chopra Jonas Says Nick Jonas Watched Her Win Miss World Pageant When He Was 7 Years Old
–– Popped a choppy?
'The Mother' Review: As a Military Sniper Who Comes Out of Hiding to Protect Her Daughter, Jennifer Lopez Anchors an Inflated Action Movie
–– And drags to bottom of box-office.
Robert Rodriguez Says Ben Affleck Is Similar to Old Hollywood Stars Who Lived Off 'Steak and Cigarettes'
–– And couldn't really act.
Johnny Depp Signs $20 Million-Plus Dior Deal, Marking the Biggest Men's Fragrance Pact Ever (EXCLUSIVE)
–– Doesn't pass smell test.
Seth Rogen Gives Heartbreaking Update After Suffering a Loss
–– Dealer misplaced key.
Dwayne Johnson Says He's Had Multiple Bouts of Depression Throughout His Life: "You're Never Alone"
–– And schizophrenia?
'Bad Cinderella' to Close on Broadway This Summer
–– Living down to name.
Mr.Beast responds to backlash over reports he's been buying up an entire neighborhood for family, friends, and employees: 'I was just helping some people'
–– Beast friends forever?
Oprah warns against imposter syndrome during captivating speech
–– Disguise the limit.
Queen Cleopatra' actress Adele James talks 'blackwashing'
–– Really asks, "Blackwashing isn't a thing, is it?"
The Weeknd Says "Everything's a Risk" While Talking 'The Idol' Reshoots, Adds He "Sacrificed My Health and Home" to Retool HBO Show
–– Such nobility of spirit for vanity project.
Star Wars' Kathleen Kennedy Explains How The Franchise's Film Strategy Is Taking A Cue From James Bond Moving Forward
–– You mean how they killed character, series?
'The Flash' star Ezra Miller's off-screen controversies have made headlines. Co-stars still laud the actor's 'many talents.'
–– Or they could tank film, damage own careers.
'Portrait of a Lady on Fire' Star Quits Cinema Over French #MeToo Inertia
–– Understandably felt burnt.
Opinion | King Charles is the monarch Britain needs right now
–– Like they have choice.
'For me, the 800-year-old throne was the star of the show, I couldn't take my eyes off it'
–– For us it was 75-year-old crone.
Prince Harry went to Buckingham Palace after the Coronation – but didn't see his family
–– Just needed to use lav.
If William wants to be the King's liege man, he must forgive Harry
–– The King's leech man?
This Man Is Not Meghan Markle
–– Or 'Does internet have cricket ball-sized brain tumor?'
Dan Snyder Enters Agreement for $6 Billion Sale of Washington Commanders to Josh Harris
–– That'll teach him!
Opinion | The only thing I hate more than pickleball is hearing about pickleball
–– How about getting hit in nuts by pickleball?
Dad knocks out umpire at son's baseball game
–– Slinking around in form-fitting strapless number.
'Boomers can't conceptualize': This college student on TikTok says older generations don't know about inflation, never had to fight for jobs — and the comments are in full support
–– How could old farts?
Liz Holmes Wants You to Forget About Elizabeth Holmes
–– This one blinks!
Indicted FTX founder Sam Bankman-Fried urges court to toss charges
–– Claims, 'they're almost bigger BS than our crypto.'
News Analysis: What Jonathan Majors' dramatic rise and fall says about race and justice in Hollywood
–– Nothing about slapping around women?
Jonathan Majors Appears Virtually in Court as DA Updates Complaint
–– To 'nagging.'
'Raise the age' gun bill passes Texas committee after months of advocacy by Uvalde families
–– Supporters to committee: 'Grow up!'
One way to prevent gun violence? Treat it as a public health issue
–– Bull shy.
Louisiana man arrested for shooting 14-year-old girl while she was playing hide and seek
–– Not very well, sadly.
Los Angeles police arrest 3 men suspected in January triple murder
–– So they solved 9 homicides?
Daniel Penny Will Be Charged in Subway Chokehold Killing of Jordan Neely
–– In for a Penny, in for a pounding.
Jordan Neely Was on New York's 'Top 50' List of Homeless People at Risk
–– List every supportive family hopes child will make.
Chokehold Killing Fuels Scrutiny of Police's Growing Role in Subways
–– What, NYT, was Penny undercover cop?
Investigators examine Texas gunman's white-supremacist views after 8 killed
–– Are neo-Nazis inclusive enough for Hispanic lunatic?
A police chief got rid of a neo-Nazi. Then came the hard part.
–– Getting stink out.
After being a Nazi leader for two and a half decades, he says he regrets his past belief
–– Used to be Trekkie.
After 18 years in prison, he took over his old L.A. gang. A string of murders followed
–– This not from Fox News.
Mom whose teen son stabbed cheerleader 114 times sentenced for evidence tampering after washing blood from his jeans
–– Hoping for detergent deal from Dide.
Eviction lawyer details little known method to removing squatters
–– Make them straighten up.
Why Mother's Day is the most hated day in the restaurant industry
–– Yeah, owners must despise estimated $35.7 bil expected this year.
How Mother's Day became its founder's worst nightmare
–– Veritable brunch from Hell.
Here's how much S.F. restaurant reservations have dropped, according to OpenTable
–– More than waitstaff?
Woman survives 5 days in the wild on wine
–– And five nights partying with coyotes.
New York City passes bill banning weight discrimination
–– Want to really fill positions.
When Should Women Get Regular Mammograms? At 40, U.S. Panel Now Says.
–– Can boobs make up their minds?
Before Dylan, There Was Connie Converse. Then She Vanished.
–– This week in 'make-believe cultural history.'
Why art historians are reframing 19th-century 'supermodel' Elizabeth Siddal
–– Her ginger maidenhead?
Can Literal Mall Rats Save the Mall?
–– At least they could stomach food court.
Fierce bunny removed from neighborhood after lunging at residents
–– Not bad bunny?
How Deep-Diving Sharks Stay Warm Will Take Your Breath Away
–– Mouth-to-mouth with humans?
When You Try to Watch Pornhub in Utah, You See Me Instead. Here's Why
–– Prudence doesn't do Provo.
Gray Floors Elicit Visceral Reactions. So Why Are They Seemingly Everywhere?
–– We saw on ceiling!
People Are Looting Mammoth Fossils And Trading Them For Beer In Mexico
–– Gettin' pretty woolly.
Astronomers Catch a Star Swallowing a Planet
–– On xxxblackholz.com.
Chaotically shifting planets could be a sign of advanced aliens
–– Or fidgeting.
W.H.O. Ends Mpox Global Emergency
–– Monkey off back.
What Is Causing So Much Pink Eye?
–– Moe?
US Treasury takes middle road on solar panels 'Made in the USA'
–– Their bright idea: products containing cells made with 100% Chinese materials qualify.
Heather Armstrong, influential mommy blogger also known as Dooce, dies at 47
–– Dooce and dont's.
John Roland, Longtime TV Anchor at New York's WNYW, Dies at 81
–– Roland over, plays dead.
Bill Saluga, "You Can Call Me Ray" Comedian, Dies at 85
–– You can call him passe.
Vida Blue, Pitching Sensation for Champion A's Teams, Dies at 73
–– In batter's box.
Newton N. Minow, 97, Dies; F.C.C. Chief Deemed TV a 'Vast Wasteland'
–– Down the tube.
Bruce McCall, Satirical Artist Who Conjured a 'Retrofuture,' Dies at 87
–– Curtain McCall.
Sam Gross, cartoonist of 'radical honesty,' dies at 89
–– Gross cold.