Auto Corrupt

Week of 07/14/23
Actual headlines from the internets. You Google 'em.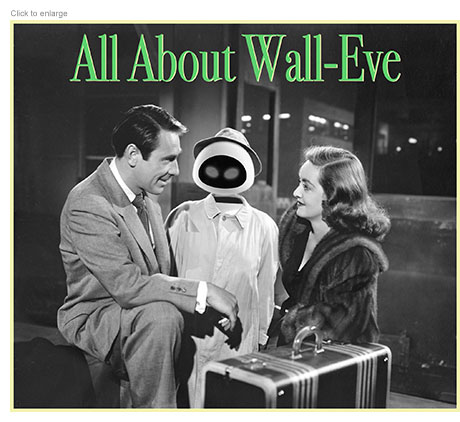 SAG-AFTRA Calls History-Making Strike as Talks With Studios Collapse
–– Book walk-off role.
US inflation cooled in June for the 12th straight month
–– Run that through your AC ducts.
Watch Fran Drescher Blast 'Insulting' AMPTP Behavior in Fiery SAG-AFTRA Strike Speech: 'Shame On You!'
–– Yes, in that voice.
Striking SAG Actors in Disbelief Over Studios' Dystopian AI Proposal
–– So bad they assumed striking WGA came up with it.

Disney CEO Bob Iger Says Writers and Actors Are Not Being 'Realistic' With Strikes: 'It's Very Disturbing to Me'
–– 'I mean it's like Pinkonoccchio or That Darn Commie! or Red-Threat Ralph.'
Three Pulitzer-winning cartoonists let go in one shocking day
–– Erasable ink.
California has spent billions to fight homelessness. The problem has gotten worse
–– Didn't address houses?
Look at What John Roberts and His Court Have Wrought Over 18 Years
–– Wrought irony.
Justice Kavanaugh seeks to dispel the notion that the Supreme Court is partisan
–– Insists you drink on it.
Biden administration forgives $39 billion in student debt for more than 800,000 borrowers
–– Owe whatta feeling!
Biden's new plan to forgive $39 billion in student loans, explained
–– Slowly because we know you never graduated.
Lina Khan Is Taking on the World's Biggest Tech Companies—and Losing
–– Lina out.
F.T.C.'s Court Loss Raises Fresh Questions About Its Chair's Strategy
–– Pros and Khan.
Opinion: This is the real reason Ron DeSantis is struggling in the polls
–– Hint's in 'Ron DeSantis.'
Republican 2024 hopeful DeSantis supports revoking China's trade status
–– After someone tells him what it is.
Pence raises less than $1.2 million, leaving questions about debate eligibility
–– But Jesus verified every last dollar.
House Votes to Limit Abortion Access in the Military, Bowing to the Right
–– Is positioning self to provide oral pleasure bowing?
Biden Says Ukraine Is Not Ready for NATO Membership
–– Fears premature indoctrination.
Marjorie Taylor Greene fumes after Secret Service closes White House cocaine investigation
–– Blow's over.
Will There Ever Be Another Popular Mayor of New York City?
–– Or at least one who's not do-nothing fabulist?
U.S. Is Destroying the Last of Its Once-Vast Chemical Weapons Arsenal
–– Toxic wasted.
Butcher Who Assaulted Officers on Jan. 6 Is Sentenced to 7 Years in Prison
–– In meat grinder.
Kremlin says Wagner chief Prigozhin met with Putin after attempted rebellion
–– Brought lovely bottle of vodka, sincere and funny 'Apologies' card.
Yevgeny Prigozhin's Explanation for His Violent Mutiny: 'I Went Crazy'
–– Too much grog with mateys?
Video appears to show Wagner Group troops preparing to leave Africa, suggesting a purge by Moscow, report says
–– Locals crying, waving bye-bye a surprise.
Russia fires top commander in Ukraine who criticized Defense Ministry
–– Diss ornery conduct.
Chopped fingertip was mailed to French president's official residence, says Paris prosecutor
–– Of middle finger, we would hope.
Hard-living Kim Jong Un earns unflattering nickname over massive appetite for European booze, food: expert
–– Fat Drunken Fuck.
Geraldo Rivera spills tea about his Fox News firing over "very toxic relationship" with co-host
–– Not his first toxic spill.
AMC Theatres CEO Slams Conspiracy Theorists Over 'Sound of Freedom' Disruption Claims: 'So Much Garbage Information Is Spread'
–– 'During this movie.'
Tim Ballard, Inspiration Behind 'Sound of Freedom,' Quietly Leaves Anti-Trafficking Group
–– That sigh is sound of freedom.
Rainn Wilson says he wasn't happy while filming 'The Office' because 'it wasn't enough'
–– Gee, then how's he feel about post-Office career?
Rob McElhenney shares he was diagnosed with neurodevelopmental disorders and learning disabilities at 46
–– Read diagnosis at 45, but just got it.
Cary Grant's Daughter Says Hollywood Legend 'Wasn't Flirtatious with Men' — But She Wouldn't Have Cared if He Was
–– Wasn't Judy, Judy, Judy?
Jonah Hill's Ex Details 'Emotionally Abusive' Relationship With Actor
–– Still not over the Hill?
Kevin Spacey Alleged Victim Says He Woke Up to Find Actor "Performing Oral Sex" on Him, U.K. Jury Hears
–– Was just trying to get rise out of him.
Prosecutor Says Kevin Spacey Is Not Just a "Big Flirt," But a "Big Sexual Bully"
–– And a "bad boy!"
Matt Damon 'Fell Into a Depression' While Filming a Movie He Knew Was a 'Losing Effort': 'What Have I Done?'
–– We fell into despair watching it.
Here we go again: Harry Styles hit in eye with object while performing on stage at Vienna concert
–– Fan scores Styles point.
Lala Kent Tells Mom-Shaming Trolls to 'Go F–k Yourself' After Baring Her Butt in Racy Photo
–– In scene right out of Jane Austen.
Keke Palmer Worries That Fame Has Gotten 'Godlike.' Here's What Keeps Her Human
–– We worry her self-regard has gotten 'dumblike.'
Jack White Slams 'Disgusting' Mark Wahlberg, Mel Gibson and More for Interacting With 'Fascist, Racist, Piece of S—' Donald Trump
–– Like White on rights.
Hollywood Vampires: Don't give up the day job, Johnny Depp
–– Hollywood vampires: 'But he's cancelled.'
Hollywood suffers 'diversity fatigue' as inclusivity chiefs step down
–– Includes them out.
'Boy Meets World' star Rider Strong says Donald Sutherland has a rule that nobody on set 'can make eye contact with him'
–– He's so tall it was easy to enforce.
Wonka' Trailer: Timothée Chalamet Dances, Hugh Grant Transforms Into an Oompa-Loompa and More
–– More? What more could we ask?
'Wonka' Director Paul King Cast Hugh Grant as Oompa Loompa "Because He's the Funniest, Most Sarcastic Sh** I've Ever Met"
–– King of pain.
Robert Downey Jr. Remembers The Moment He And Jon Favreau Knew Iron Man Was A Success, And What Happened After
–– It was success?
Robert Downey Jr. thought playing Iron Man for a decade was going to ruin his acting chops: 'You start to wonder if a muscle you have hasn't atrophied'
–– Was relieved to learn he could still overact.
'The Flash' Is Now Worst Box Office Flop in Superhero Film History
–– Flash dense.
Harrison Ford First Saw Indiana Jones' Costume and Was Baffled: 'What Am I Going to Do With a F—ing Whip? I'm Going to Whip People?'
–– Didn't foresee Indiana Jones and the Lash Crusade.
We're Ignoring the Real Reason Barbie Might Dominate the Box Office
–– And real reason behind your wild pointless speculation?
Cillian Murphy Was 'Competitive' with Himself About 'Oppenheimer' Weight Loss: 'I Don't Advise It'
–– Ended up looking like Little Boy.
Oppenheimer will feature "prolonged full nudity" and sex scenes
–– Oppie drops 'Fat Man' on ladies.
Zendaya Denies That She Was Refused Entry To Restaurant Because Of Her Crop Top
–– From media's crap tap.
Ashley Graham Wanted Her Barbie to Have 'Thick Thighs, Lower Belly Fat, Round Arms, Cellulite'
–– More like Blobby.
'Rocky' star Dolph Lundgren, 65, and Emma Krokdal, 25, seemingly get married in Greece
–– Possibly smooch, theoretically copulate.
Danielle Jonas Says She Feels 'Less Than' Priyanka Chopra And Sophie Turner
-– Besides in looks, talent, intelligence?
Britney Spears memoir 'The Woman in Me' to be released in October
–– Sounds like lesbian fan fiction.
Biden meets King Charles III for the first time since coronation
–– Can't stop calling him, 'Mum.'
Robert Irvine On 'Restaurant: Impossible' Cancellation At Food Network: "They Have A Different Idea Of What Viewers Want"
–– Order to go.
Wimbledon umpire asks spectators not to uncork champagne bottles during serves
–– Especially when aiming at line judge.
New York Times will close sports desk, sending readers to the Athletic
–– What's manly man reader to do? Eek!
Opinion | Men are lost. Here's a map out of the wilderness.
–– Thanks, author of Rethinking Sex: A Provocation, we were just about to ask.
Men Are Baring Midriffs in Crop Tops
–– We think you're misgendering these individuals.
'Nobody was there': What's behind the summer slump at Disney World and Universal Orlando
–– Cheshire Cats?
Albert Einstein's Role in the Atomic Bomb Was the "One Great Mistake in My Life"
–– Didn't take genius to figure out.
Does Sugar Actually Feed Cancer?
–– This week in Young Wives Tales.
Aspartame Is a Possible Cause of Cancer in Humans, a W.H.O. Agency Says
–– Don't sugarcoat it.
Infamous 'cocaine hippos' are running rampant and breeding like rabbits: 'The state must act urgently'
–– When high enough, hopping like rabbits.
A Texas zoo is mourning the death of its 31-year-old giraffe, Twiga
–– Got it in the neck.
Former Celsius CEO arrested, company agrees to pay $4.7 billion settlement
–– Sounds like temp position.
Special needs teacher fired after school district discovered OnlyFans account denies 'egregious' conduct
–– Insists she was satisfying subscribers' special needs.
Video Shows Nude Man Shocking Vegas Casino Patrons, Cops Say Suspect 'Flaunted His Genitals'
–– Crap's out.
Man behind viral blue-black dress photo charged with attempted murder of wife
–– We always thought dress controversy criminally stupid.
5 members of Jehovah's Witnesses congregations charged with child sexual abuse in Pennsylvania
–– Awake! and sin.
Suspect in Larry Nassar stabbing said ex-doctor made lewd remark watching Wimbledon, AP source says
–– So he rallied with forehand slice.
Huw Edwards, BBC's face of historic events, identified as suspended presenter
–– Huw who?!
Leslie Van Houten, follower of cult leader Charles Manson, released from California prison
–– Held her, dealt her.
Why has Brenda Andrew been on death row for two decades? It has everything to do with sex.
–– Quite a sentence.
Gilgo Beach murders: Suspect in Long Island serial killings in custody, officials say
–– Shore as hell.
50 Cent Says Los Angeles 'Finished' By No-Bail Policy: 'Watch How Bad It Gets Out There'
–– Adds his four bits.
Pennsylvania man who allegedly tried to abduct teen girl at mall had 28-page rap sheet
–– In crayon.
Chicago Man Accused of Brutally Killing Cats and Replacing Them With Lookalikes
–– Was discovered when imposters proved insufficiently indifferent to owner.
21 Of The Funniest Acts Of Vandalism I've Ever Seen
–– 11. When the pumps didn't work because the vandals stole the handles.
Early Americans wore pendants made from the bones of giant sloths
–– Out of sheer laziness.
Humans May Have Arrived in the Americas Earlier Than Previously Thought
–– According to newly-discovered printed invites.
E-bikes Are Going to Keep Exploding
–– Are we talking sales or faulty batteries?
Printer ink is a scam. Here's how to spend less.
–– Hand color documents.
Don't crank down your thermostat when it's hot out. Do this instead.
–– Sweat.
Extreme U.S. heat wave intensifying with world records in jeopardy
–– In hot put, coals vault, 100-yard flash, humid pyramid, steam tennis, backheatstroke.
A weekend of misery ahead for millions in the U.S. as record heat takes hold
–– C'mon, those people would be unhappy if it was 70º with cloudless skies.
Farmers Insurance pulls out of Florida, affecting 100,000 policyholders
–– Drugrunners Insurance to step in.
Climate-hit Pakistan to cooperate with Switzerland on ways to manage the risks of natural disaster
–– May relocate to Alps to avoid sea rise.
River is so polluted that it now has layer of toxic foam
–– Available as topping at local café.
'Under no circumstances': John Kerry rules out U.S. paying climate reparations to low-income countries
–– 'We might consider free reflexology therapy for their carbon footprint.'
Opinion | Covid flipped the introvert-extrovert script. And I hate it.
–– We're well-adjusted and couldn't care less.
Jimmy Weldon, Ventriloquist and Voice of the Cartoon Duck Yakky Doodle, Dies at 99
–– Dummied up.
Peter Nero, Grammy-Winning Pianist and Ex-Conductor of the Philly Pops, Dies at 89
–– Nero fiddles away.
Milan Kundera: The Unbearable Lightness of Being author dies aged 94
–– Gets heavy.