Eat At Joe

Week of 09/08/23
Actual headlines from the internets. You Google 'em.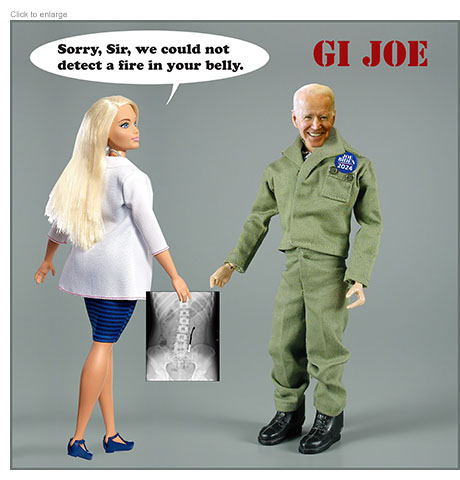 Biden faces continued low approval ratings, concerns about age, poll finds
–– Age is just a number like Lidocaine.
Stock market drives U.S. households to record wealth
–– Biden, that bastard.
Resilient U.S. Economy Defies Expectations
–– Doddering leftist!
Battery Boom: $154B invested, 166K jobs planned in US as EV rollout intensifies
–– Hah, what's senile codger know about new technology?
Apartment rents are on the verge of declining due to massive new supply
–– Lessee come home.
Proud Boys Leader Sentenced to 22 Years in Prison for Seditious Conspiracy and Other Charges Related to U.S. Capitol Breach
–– Tarri-
ho!
Sarah Palin On Insurrectionists' Prison Time: 'What's The Use In Being A Good Guy?'
–– Or an obtuse twat?
Trump asks to move lawsuit seeking to boot him from 2024 ballot in Colorado to federal court
–– We suggest court order bigger boot.
Fani Willis Tears Into Fake Trump Electors' Defense In Blistering New Filing
–– Fani you should ask.
Donald Trump Accused of Inflating Net Worth By as Much as $3.6 Billion
–– Charter member of billion sneers boys club.
Biden says he went to his house in Rehoboth Beach, Del., because he can't go 'home home'
–– With wife wife, dog dog.
Judge denies Mark Meadows's effort to move Georgia case to federal court
–– Says he'll consider allowing him to wear DC jumpsuit when sentenced to Fulton County jail.
Judge denies Kenneth Chesebro's request to sever Georgia charges from Sidney Powell
–– Till debt do they part.
Georgia special grand jury recommended charging Lindsey Graham in Trump case
–– Couldn't seat Graham jury.
Trump, Under Oath, Says He Averted 'Nuclear Holocaust'
–– Original Oath Creeper.
Trump dismisses Democrats' arguments he could be removed from ballot under 14th Amendment
–– 'Or any of the other, what, 90-some odd of them?'
Newt Gingrich on Trump's enduring appeal with Republican voters: He's 'not a candidate' but the 'leader of a mass movement'
–– Like explosive diarrhea.
Bill Maher Pushes Back on Joe Rogan: Trump Is a "Crazy Stupid Criminal"
–– Like counterpunching Jell-o.
Ramaswamy says pardoning Trump will 'reunite' nation, but 'not most important thing' he'd do as next president
–– Likely 'most pathetic.'
Vivek Ramaswamy's Campaign Speech Interrupted When a Sign Reading 'Truth' Falls on Him: Watch
–– Imagine if crowd knew what ironic meant.
Tucker Carlson Fearful For Trump's Life — Draws Chilling Comparison To JFK — 'I've Never Been This Worried About Anything As I Am About Where This Is Going'
–– Gassy troll theory.
Schiff calls Meadows testimony 'Hail Mary to escape a potential conviction'
–– Does Trump have Hail Satan in him?
G.O.P. Gets the Democratic Border Crisis It Wanted
–– Though they would appreciate more drownings.
Surprise: Donald Trump's Border Wall That Mexico Never Paid for Caused "Irreparable Harm" to the Environment, Endangered Species, and Cultural Sites
–– Or, for Trump, 'bonuses.'
Dem governor demands his kids be off-limits after GOP group includes his underage daughter in new attack ad
–– And PAC boss Rand Paul's fantasies.
Arizona GOP braces for volatile Lake-Masters match-up
–– Will be lack-lusters.
Nancy Pelosi will run for reelection
–– Wants to be 'next Dianne Feinstein.'
Brett Kavanaugh says he's hopeful the Supreme Court will take 'concrete steps' to address ethics scandals
–– How about concrete swimsuit for Justice Thomas' next swim?
Kim Jong-un and Putin Plan to Meet in Russia to Discuss Weapons
–– And their ability to maim, dismember, destroy humans.
North Korea says it has produced a 'tactical nuclear attack submarine'
–– Shaped like Kim's stool.

Ukraine is furious with Elon Musk for thwarting an attack on Russia's navy
–– Not Putin up with him.
And then Elon Musk said there'll be no more war – not via his satellite. Aren't we lucky to have the world in his hands?
–– Musk rat love.
'Where Is the Money?' Military Graft Becomes a Headache for Ukraine
–– Hidden in pyrohy.
When It Comes to China, Pope Francis Keeps Criticism in Check
–– Which is in mail.
India's government replaces 'India' with ancient name 'Bharat' in dinner invitation to G20 guests
–– Modi's should read 'Borat.'
Clashes erupt in Sweden's third largest city after another Quran burning and at least 3 are detained
–– Swede and low-down.
Mexico's Supreme Court Decriminalizes Abortion Nationwide
–– 4th-world country to North
The Middle East Becomes the World's ATM
–– With PIN code OPEC.
Aaron Paul says it's 'insane' Netflix doesn't pay him 'Breaking Bad' residuals
–– We say it's 'sheer madness' he thinks we care.
'Poor Things' Director Yorgos Lanthimos Says Star Emma Stone Had to Have 'No Shame' Filming Movie's Sex Scenes
–– Real embarrassment is appearing in pretentious flick.
Thousands stuck at Burning Man amid mud, dust and 'really gross' bathrooms
–– Typically no mud, acts 'really gross.'
Diplo hitchhiked ride out of rain-drenched Burning Man after walking miles 'through the mud' and actually made it to his DC concert
–– Diplo mess.
Former NASCAR Star Danica Patrick Was 'Stuck' at Burning Man but 'Made It Out'
–– Thank god!
Marjorie Taylor Greene worries that Burning Man attendees are being brainwashed about climate change
–– Doesn't look like they're washed anywhere.
Bruce Springsteen being treated for gastrointestinal condition, postpones multiple concerts
–– Gutty days.
Woody Allen On Cancel Culture: "I Find That All So Silly. I Don't Know What It Means To Be Canceled"
–– Mia gulper.
Woody Allen in Venice: "I've Been Very Lucky My Whole Life"
–– Looks on Soon Yi side of life.
'Succession' Creator Jesse Armstrong Settles Debate Over Whether Kendall Roy's Name Was Underlined or Crossed Out
–– Nothing succeeds like the X.
'I didn't know I had trauma': Rapper Jeezy opens up about his mental health journey
–– 'Inflicted it, sure.'
Sydney Sweeney Gets Candid About 'The Most Difficult Thing' To Deal With After Getting Famous In Hollywood
–– Her.
Prince Harry Visits Grandmother Queen Elizabeth's Burial Site at Windsor Castle on First Anniversary of Death
–– Swipes flowers for Megan bouquet.
Sarah Ferguson posts pic of Queen Elizabeth's corgis 1 year after her death: 'They are thriving'
–– 'Without the bitch.'
King Charles III Proves Unexpectedly Popular During First Year of Reign
–– For buffoon.
Patriots Coach Bill Belichick Breaks Up With Longtime Girlfriend, per Report
–– Is there any subject less than Bill Belicik's love life?
Furious Italians Ban Kanye West And 'Wife' Bianca Censori For Life After Couple Commit a Lewd Act On a Boat In Venice: 'He is No Longer Welcome'
–– She had hands around pole like gondolier.
Jimmy Fallon Apologizes to 'Tonight Show' Staff Following "Toxic Workplace" Accusations
–– Charged in Fallonious Assault.
Jerry Seinfeld Says Jimmy Fallon Toxic Workplace Report Includes 'Idiotic Twisting of Events'
–– 'What's with reporters twisting events in hit pieces?'
Chris Noth says he 'strayed' on his wife, but denies sexual abuse allegations by two women
–– Noth by Noth worst.
A woman said she was defending her mom during viral porta-potty brawl at Morgan Wallen's concert: report
–– What do you expect from shit-kickers?
On its way to charmlessness, college football showed it can still charm
–– We're going to take timeout to decipher that.
Police have cell phone video of Julio Urías' altercation from domestic violence arrest
–– Urías' heap.
I'd always fantasized about living in Japan. But after nearly 3 years of living here as a Black woman, I'm ready to move back to the US.
–– Why not try as White man?
A woman depicted in a drawing by the BTK serial killer has possibly been identified, sheriff says
–– Art imitates death.
Manhunt Intensifies as Escaped Pennsylvania Prisoner Remains at Large
–– Upgraded to 'utter embarrassment.'
Horrified judge sends Indianapolis cop to prison for stomping defenseless man's face
–– How he got to be flatfoot.
Indiana man accidentally records murder in voicemail, gets sentenced to 85 years
–– And he looks so tech-savvy.
Actor Danny Masterson Sentenced To 30 Years In Prison For Raping 2 Women
–– Hope cellmate enjoys time in can.
Court docs: Indiana man 'spread love' by waving at cars while fully nude
–– Not waving with hand.
Convicted sexual predator sues mustard company for misleading 'custumers' with packet packaging
–– Suit doesn't cut it.
West Reading chocolate factory explosion: recovery fund tops $1 million
–– That's icing on top.
7 Clever Recipes That Will Help Empty Your Pantry
–– And fill your panty.
If You Love Pickles, There's One Kitchen Tool You Must Own
–– A dillator.
I Think I solved My Premature Ejaculation Problem. I Wish I Hadn't.
–– Don't want to be latecomer?
What Is A 'Summer Penis' And Does It Really Exist?
–– And is it best in cold soups or salads?
What Ever Happened to the Tiny House Movement?
–– In tiny dustbin of history.
BMW decides heated seat subscriptions are a bust
–– Will try scrotal massage seats.
Toxic Positivity Is Very Real, and Very Annoying
–– But not more annoying than reading about.
A School Lunch Solution: The Bento Box
–– If you want little Johnny slapped silly.
Meet the TikToker who is spending a year trying 100 Philly coffee shops
–– If you need to feel pity.
Kroger and Albertsons sell 400 stores to Piggly Wiggly's parent company
–– Pigged out.
Apple could be about to make the biggest change to the iPhone in 11 years
–– Cable from 9 years ago.
Grindr Loses Nearly Half Its Workforce After Implementing Return-to-Office Policy, Union Says
–– Swiped out.
Activists spray red paint over billionaire Walmart heiress's superyacht for a second time
–– In shape of asshole logo?
Delta flight forced to turn around because of diarrhea incident
–– For more barf bags.
Delta flight forced to turn around because of Couple demand refund after being seated next to 'snorting, farting' dog on flight
–– Who refused to share coke.
Ryanair CEO pied in the face by climate activists in Brussels
–– Shoo fly?
'Dinner plate sized' device found inside woman's abdomen 18 months after cesarean birth
–– At 6" diameter was more Cesarean salad plate.
2,100-year-old shoe of a child worker unearthed in salt mine in Austria, photos show
–– Shod up!
Norway man with metal detector makes gold 'find of the century'
–– 23 years not that impressive.
Lost 'rainbow cup' coin minted by Celts 2,000 years ago discovered in Germany
–– Neo-Nazis suspect gay barbarians.
Biblical steps where Jesus 'performed miracle' unearthed by archaeologists
–– Very minor one of pulling shekel from beggar's ear.
Delaware man who stole thumb from terracotta warrior statue receives sentence
–– Pulled out a plum, said what a good boy am I.
Dog with rare condition "tied up outside shelter" with heartbreaking note
–– Reads, "I have lexdysia."
Woman charged after abandoning old, visually impaired dog on Arizona roadside
–– Blind Justice.
Deadly dog bites are on the rise, CDC reports, but it's unclear what's driving the trend
–– TikTok?
Cat tells owner "love you" in tearjerking
–– Doesn't feel like it's our tear you're jerking.
How a Small Snake Can Eat Meals Many Times Larger Than Its Head
–– Eyes are bigger than stomach!
I'm proud of my wildlife-friendly patch, but I really don't dig this mole
–– Or remove from chin.
Scientists finally know why Germany's wild boar are surprisingly radioactive
–– Well, we don't want to hang with them.
A grizzly bear that killed a woman earlier this year gets euthanized after breaking into a house with a cub to steal food
–– No, we don't know what was last meal.
World isn't moving fast enough to cut pollution and keep warming below 2 degrees Celsius, UN scorecard says
–– Predict blowout for hurricanes.
Dwayne 'The Rock' Johnson and Oprah Winfrey face backlash for asking fans to donate to Maui fund instead of contributing more themselves
–– Maui owie.
Urban Animals Can't Take the Heat, Study Finds
–– Don't try to scare us about global warming by warning there will be fewer rats.
Gayle Hunnicutt, Texan actress who thrived in Britain, dies at 80
–– Honey cut.
In Jimmy Buffett's look and lifestyle, the rise of the casual male
–– And now its lowering.
Dennis Austin, the software developer of PowerPoint, dies at 76
–– Bites the •.
Former U.N. ambassador Bill Richardson is dead at age 75
–– Bill and cool.