Alms Race

Week of 09/01/23
Actual headlines from the internets. You Google 'em.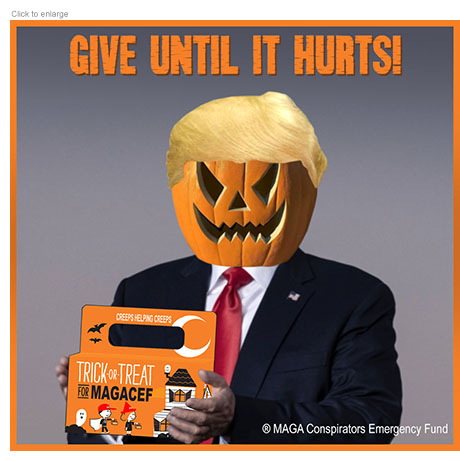 'Trump isn't funding any of us': Co-defendants in Georgia case are struggling with mounting legal bills
–– Was funning you whole time.
Justice Amy Coney Barrett: 'I've acquired a thick skin'
–– Around brain.
As Trump and Republicans target Georgia's Fani Willis for retribution, the state's governor opts out
–– Kemp to himself.
"He's in big trouble": Experts say Mark Meadows' "goose is cooked" after new Fani Willis filing
–– If she can find pot big enough for big bird.
Trump's D.C. election-obstruction trial set for March 4, 2024
–– Stupor Monday precedes Super Tuesday.
Trump tells Glenn Beck he'd 'lock up' political opponents if reelected
–– With him?
Trump spokeswoman after historic mug shot: 'He is the single most famous man on the planet'
–– Just call him Famous Anus.
Trump Spokesperson Mocks Suggestion He Needs Legal Fight Prep: Donald's 'Not Your Average Person' (Video)
–– 'Hasn't got mental facility to comprehend charge let alone conviction.'
"Disgrace to my profession": Legal experts blast Prof. Jonathan Turley for excusing away Trump call
–– Turdley.
Giuliani loses defamation lawsuit from two Georgia election workers
–– Misunderstands rudyments of law.
Proud Boy leader Joseph Biggs sentenced to 17 years for Jan. 6 crimes
–– Biggs shot.
Proud Boys Lieutenant Sentenced to 17 Years in Jan. 6 Sedition Case
–– Hope he's proud of self.
Vivek Ramaswamy Tells NBC's Chuck Todd That Mike Pence Should Have Overturned the 2020 Election Results for Donald Trump (Video)
–– Promises sock puppet as his running mate.
"Can't afford a $200K bond?": Lawyers question why "billionaire" Trump needed help of bail bondsman
–– Only thing he has billion of is IOUs.
Trump Warns of 'Dark Days' in Overnight Social Posts: 'America Is Becoming a Banana Republic'
–– When it's lights out in his cell block.
"I don't want to have to draw my rifle": Georgia GOPer warns of "civil war" if Trump is prosecuted
–– Ooo, scary Goober incel!
Christie Confronted for Standing by Trump After Rape Allegation and Other Scandals
–– Foul weather friend.
Nikki Haley says America's retirement age is 'way too low' and needs to be increased, while also calling on cognitive tests for politicians over 75
–– How about cognitive tests for anyone who served in Trump administration?
Mitch McConnell appears to freeze again while talking to reporters
–– Keeping it frosty.
Capitol physician medically clears McConnell after health scares prompt new questions over his leadership position
–– For takeoff.
McConnell 'medically clear' to do job, says attending physician to Congress
–– After administering horse tranquilizer.
A different way to consider McConnell's (and Feinstein's) Senate service
–– Without horror?
Justice Thomas Reports Private Trips With Harlan Crow
–– We suggest he eat Crow.
Tennessee State House votes to 'silence' Rep. Justin Jones, 1 of 2 Democrats expelled earlier this year
–– This Justin.
Pope says 'backward' U.S. conservatives have replaced faith with ideology
–– And ideology with idiotology.
Time is running out for Ukraine's counteroffensive. Its allies will be crucial in what comes next
–– Countermeasured in inches.
Exclusive: Russia will not probe Prigozhin plane crash under international rules
–– Will use Airplane! screenplay as basis for report.
A Putin Critic Fell to His Death in Washington. We Still Don't Know Why.
–– You haven't been paying attention.
A Weird Animal May Finally Expose Where Malaysian Airlines Flight MH370 Crashed
–– In bizarre dream we had.
U.S. Does Not Want to 'Decouple' From China, Commerce Chief Says
–– Talks dirty to Premier Li Qiang.
With wary eye on China, U.S. moves closer to former foe Vietnam
–– Who promises to 'love you long time.'
Kim Jong-un on trend with fashionable fisherman sandals
–– Is this reporter insane?
Mark Thompson named CNN chief executive and chairman at critical juncture in news network's history
–– Execs are Beebliebers.
'Comandante' Review: Visceral Italian Naval Drama Wrecked by Its Own Worthiness
–– Film of sub stance?
Liam Neeson Reveals Embarrassing Reason He Stopped Going to Confession at 15
–– Read sins from Kinsey Report.
'How I Met Your Father' Canceled at Hulu After Two Seasons
–– And apologies offered for letting it go on that long.
'The Sopranos' Star Drea de Matteo Launches An OnlyFans Subscription Site
–– Not very tony.
Ridley Scott Has a 'Fantastic' Cut of 'Napoleon' That Runs Four-and-a-Half Hours and Features Way More Joséphine
–– Admits current 158-minute theatrical cut 'an utter bore.'
Decades Later, Sylvester Stallone Says 'Superior' Arnold Schwarzenegger One-Upped Him As An Action Star
–– His deltoid dom.
Gal Gadot Opens Up About Thanking Arnold Schwarzenegger After His Recent Auschwitz Visit
–– Happy camper?
Well, I Certainly Wasn't Expecting Keke Palmer's Under-Butt Tattoo
–– Which I saw while kissing her ass for this profile.
Millie Bobby Brown is ready for 'Stranger Things' to end
–– You go, girl.
Months After CNN Firing, Don Lemon Thinks He Knows The Real Reason He Was Let Go
–– Spent time watching tapes of his dreadful performances.
Henry Winkler Says "Most of the People in My Industry Don't Have Enough" Amid Strikes
–– We've had enough of them.
Whoopi Goldberg Clarifies Sexuality After Raven-Symoné Says She Gives Off "Lesbian Vibes"
–– Whoopie coozin.'
Melissa McCarthy Marks Husband Ben Falcone's 50th Birthday: 'I'd Marry This Guy All Over Again'
–– And he'd ruin your career same.
Dolly Parton had to decline tea invite from Kate Middleton, jokes 'she wasn't going to promote my rock album'
–– Tempest in a D-cup.
Comedian David Cross: 'A lot of people in America would think I'm a terrible father because I believe in diversity'
–– People who would think that never heard of you.
Adam Driver Is a Motoring Icon on a Mission to Save His Company and Legacy in 'Ferrari' Trailer
–– Where he has shot to improve his perfectly awful Gucci accent.
Elton John briefly hospitalized after a fall, now back home and in 'good health'
–– Insists he wasn't rehearsing hit.
Why this British photographer has spent a decade dressing up as Dolly Parton
–– Yet another mental illness story?
Gran Turismo Bests Barbie To Win The Weekend Box Office, But Blue Beetle Is The Real Story
–– That it's still BO stink Beetle?
Iggy Azalea Says She Was Not Allowed to Finish Show in Saudi Arabia 'Because of My Pants Splitting'
–– Authorities sent in crack troops.
Tuesday Weld's Best Movies, From 'Bachelor Flat' to 'Once Upon a Time in America'
–– All Weld and good?
Are We Finally Ready to Take Tammy Wynette Seriously?
–– Can't stand by your man.
'The Idol' is canceled after just one season
–– HBO takes Weeknd off.
Some Three Decades After Waterworld the Movie, Universal Studios' Live Stage Show Remains a Must-See
–– And delivers more profound emotional payoff than film.
Dr. Seuss Dives Into Podcasts: 'Cat in the Hat' Series First Under Pact With Amazon's Wondery (EXCLUSIVE)
–– Are they gonna hum pictures?
Princess Diana revealed Charles was 'disappointed' after Harry's birth because 'we wanted a girl'
–– Did get bitch.
Spanish Prosecutors Open Inquiry Into Soccer Official Who Kissed Player
–– No besos in law.
Ronald Acuna Jr. tackled by fan at Coors Field during Rockies-Braves game
–– Falcons fan thought it was pre-season game.
Quintana has Mets wishing 'we had him since the beginning of the year'
–– 'So we could've spoiled more starts by not hitting.'
The Iten killings: Deaths of elite athletes cast spotlight on domestic violence
–– Domestic if you live in Kenya.
A thrift store shopper joked she'd found a famous artist's work for $4. It turned out she really had
–– Turned out to be Wyeth decision.
He Was Shot 14 Times at the Dinner Table. His Children Want to Know if Britain Ordered the Hit.
–– And if there were just desserts.
Are There Any Rules About Going Braless?
–– Strap yourself in.
Women working in Antarctica say they were left to fend for themselves against sexual harassers
–– Bastards should drop bait in ice fishing hole.
Alabama wants to be the 1st state to execute a prisoner by making him breathe only nitrogen
–– Death only thing state leads in.
The Dungeons & Dragons Players of Death Row
–– Where everyone's own Dungeon Master.
Once Rarely Seen, Gilgo Beach Suspect's Family Now Barbecues on the Lawn
–– We'll pass on those ribs.
Robert O'Neill, Former Navy SEAL Who Claims He Killed Osama Bin Laden, Arrested in Texas
–– Signed SEAL, delivered.
Myon Burrell, who was sent to prison for life as a teen but set free in 2020, is arrested
–– Missed his homies.
If Harvard Succeeds In Revoking Francesca Gino's Tenure, It Would Be History Making
–– History she would plagiarize.
For Women With Money Issues, an A.D.H.D. Diagnosis Can Be Revelatory
–– When making excuses to creditors.
Musk's X to collect biometric information and employment data
–– Just for boss' sick pleasure.
Burger King must face lawsuit over size of Whopper
–– Biggest lie about slab of meat since Trump's height, weight claim at Fulton County Jail.
I've studied more than 5,000 near death experiences. My research has convinced me without a doubt that there's life after death.
–– Playing in OT?
One of Louisiana's only pediatric cardiologists has left the state over anti-LGBTQ legislation
–– Homophobic parents heartless.
Do you have 'gymtimidation'? Here's how to fix it
–– 'Gymperfection.'
In a Decaying Queens Fortress, It's One Man Versus 47 Kinds of Mosquito
–– Skeet shooting.
The N.Y.C. Neighborhood That's Getting Even Thinner on Ozempic
–– Our benefit, get to see less of them.
A New Wonka Candy Is On The Way, And I'm Excited About What This Could Mean For Wonka Bars
–– Aside from there being another one?
If You Have Unwanted Halloween Candy This Year, Donate It
–– With or without razor blades in it?
A Time Capsule Opened Live on Stage Was Empty. Later, Treasures Emerged From the Silt
–– No deposit, no return.
An 'ancestral bottleneck' took out nearly 99 percent of the human population 800,000 years ago
–– Homo Sapiens took it in throat.
Archaeologists Discover 3,000-Year-Old Shaman's Tomb In Peru
–– With furry horned headpiece like you-know-who!
Boy Playing in Sandbox Finds 1,800-Year-Old Roman Coin
–– Buys 1,200-year-old ice cream cone.
Why You Shouldn't Use Magnets To Hunt For Meteorites
–– You'd need one 2,200 miles long.
Dogs aren't people: Why we need to keep pets out of planes
–– Too much fidgeting in overhead bins.
Secrets of the butt sniff: The hidden data dogs gather during a canine handshake
–– Tail-end of conversation.
Why Do Dogs Drag Their Butts? Experts Explain This Impolite Canine Behavior
–– Why do postal workers?
37 Percent Of US Dog Owners Think Vaccines Will Give Their Dog Autism
–– And still read better than them.
See what happens when woman finds bear cub stuck in a plastic jug
–– Mixed with sarsaparilla, sugar water for bottle of root bear.
Giant panda Tian Tian celebrates last birthday in DC zoo
–– Gets drunk, sleeps
The next frontier in saving the world's heaviest parrots: genome sequencing
–– And keto diet.
India's lunar rover keeps walking on the moon, days after spacecraft's historic touchdown
–– Actually dancing to Bollywood soundtrack.
Hurricane Idalia wasn't as bad as feared. Here are 5 reasons.

–– 3. Forecasters blow.
America Is Using Up Its Groundwater Like There's No Tomorrow
–– Sere sucker.
Is It Time to Wear a Mask Again?
–– Yeah, ugly, we're talking to you.
As U.S. COVID hospitalizations rise, some places are bringing mask mandates back
–– So morons have something to argue about.
Dire Straits guitarist Jack Sonni dies age 68
–– Dier straits.
Arleen Sorkin, Days of Our Lives Vet and Original Harley Quinn, Dead at 67
–– To be pounded into ground with giant mallet.
'Joe the Plumber,' Political Activist and Media Sensation, Dead at 49
–– Completely drained.
Mohamed al-Fayed, tycoon whose son died with Princess Diana, dies at 94
–– al-Fayed away.
Bob Barker, Famed Game Show Host, Dies at 99
–– Came on down.
The reason Bob Barker won't have a funeral or memorial service
–– Animal lover will have dogs bury bones.