Asshole Turnover

Week of 08/11/23
Actual headlines from the internets. You Google 'em.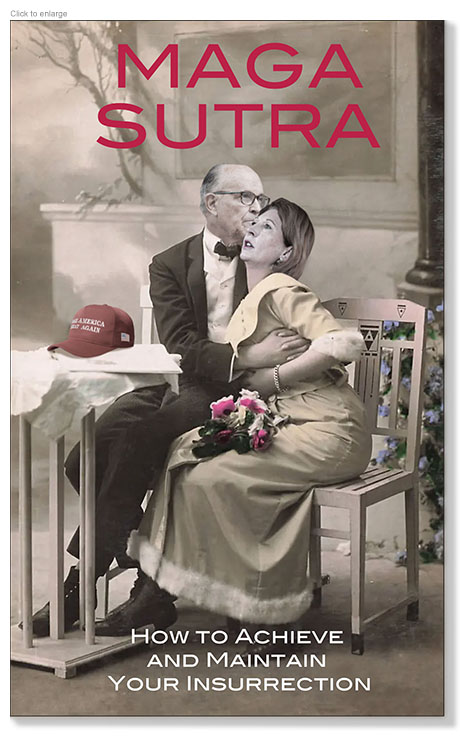 Previously Secret Memo Laid Out Strategy for Trump to Overturn Biden's Win
–– In cartoon form.
Russia heads back to the Moon with Luna 25
–– And back to Ukraine with Lunatic 1.
Special Counsel Obtained Search Warrant for Trump's Twitter Account
–– Purchased HEPA-filtered glove box to examine.
Opinion: Trump has dug himself into the deepest possible hole
–– Just passed Putin.
Mimicking Trump, G.O.P. Contenders Feed Voter Distrust in Institutions
–– Poll faulters.
Experts: Cannon daring court to replace her after "coming out swinging" at Jack Smith in new order
–– Landing punch after punch to own face.
Trump Cheers the Defeat of Rapinoe and the U.S. Women's Soccer Team
–– Goal pissed.
Donald Trump receives polling blow from Republican voters
–– Refuses to pay for it.
Chris Christie Turns Trump's 'Fat Pig' Insult Into A Gutsy New Attack
–– Hogs' spotlight.
DeSantis Bluntly Acknowledges Trump's 2020 Defeat: 'Of Course He Lost'
–– New tactic is to utter occasional truth?
Supreme Court blocks Purdue Pharma's multi-billion opioid settlement, will hear appeal
–– Conservative majority 'comfortably numb.'
For an Ailing Feinstein, a Fight Over the Family Fortune
–– That's what America's worried about?
Clarence Thomas's $267,230 R.V. and the Friend Who Financed It
–– With sewer hose attached to Court bench.
Ohio voters reject higher bar for altering constitution, a win for abortion rights supporters
–– Instead of simple majority why not just flip for amendment?
Elon Musk bragged about lifting '45 lb weights' on Friday. Now he says he has to get an MRI on his neck and back and may need surgery before his cage match with Zuck.
–– From carrying around massive wagging tongue.
Elon Musk says X will pay the legal fees of users who are 'unfairly treated' by their boss for liking or posting content on the platform
–– Need to exceed his standards for 'unfairly.'
2016 Trump Staffer Impregnated by Boss Takes Elon Musk Up on Legal Aid Offer
–– XXX service.
Nikki Haley Fights to Stay Competitive in a One-Sided G.O.P. Primary
–– After KO from shadow she's boxing.
GOP presidential candidate Vivek Ramaswamy calls Juneteenth a 'useless' holiday 2 months after he said the holiday should be a 'celebration of the American Dream'
–– Confusing his 2 Black supporters.
This Chicago suburb has promoted integration for more than 50 years. New challenges have local officials reevaluating their approach
–– Ones who've been around since 70s?
Biden order proposes new restrictions on China tech investment
–– Chinese will accept passcodes in lieu of cash.
Don't Be So Picky About a Job, China's College Graduates Are Told
–– Or about human rights, religious freedom, free speech.
For Scotland, Leaving Will Always Be an Option
–– Aye, the door is a wee bit open.
Iran Releases Four Americans From Evin Prison
–– Evin can wait.
Imran Khan's arrest shows how Pakistan's military calls the shots
–– In latest Khan game.
Kim Jong Un fires top general, orders North Korean military to 'gird for war'
–– Hopes to gird self with girdle.
Every start-up is an AI company now. Bubble fears are growing.
–– AI, AI, oh!
Billy Porter Slams Bob Iger, Says "I Have to Sell My House" Due to Ongoing Strikes
–– Drags him.
Black Adam Didn't Get a Sequel Literally Because the Hierarchy of Power Changed
–– And looked at box-office from first one.
Blue Beetle predicted to have the year's lowest opening weekend for a DC movie
–– Expects to be squashed.
How Did Secret Invasion Possibly Cost $212M, Way More Than Barbie, Oppenheimer and Other Box Office Hits?
–– Rocket service to get Skrulls to set.
Christopher Nolan's 'Oppenheimer' Scripts Are Selling Out Fast on Amazon
–– Readers discover unintelligible dialogue in theater still makes no sense.
Bill Maher Bashes 'Barbie' as a "Preachy, Man-Hating Zombie Lie"
–– Men are from Maher's?
'The Fugitive': Harrison Ford hid from Tommy Lee Jones in real St. Patrick's Day parade
–– Dressed as leprechaun!
Phylicia Rashad to step down as Howard fine arts dean after school year
–– Who'll play part in new season?
Seth Rogen Did Not Want 'TMNT' Animators Overworked and Suffering, Told Director That Work Should Not 'Become Their Entire Lives'
–– Looks like they made plenty of pot stops.
Will Smith Regrets Going 'Scorched Earth' While Attempting to Make His Kids Famous
–– How about 'slapped flesh?'
Will Smith Says He 'Went Too Far' for 'Emancipation' and Got Stuck in Real Slave Chains: 'I Wanted to Feel the Degradation'
–– 'Like Chris Rock.'
Jada Pinkett Smith says she is having a hair 'come back'
–– We hope Smiths are paying for this image rehab.
Dennis Quaid credits his faith for successful 4th marriage: 'We pray together'
–– That Randy won't visit.
Jennifer Lawrence Jokes About Motorboating Her No Hard Feelings Co-Star, And He Deadpanned Right Back
–– Won boobie prize?
Ayo Edebiri Is Suddenly Everywhere
–– On your web page.
Courtney Pauroso's one-woman sex robot clown show is a live comedy trust fall
–– We didn't catch her.
Driver says he considered Treat Williams a friend and charges in crash are not warranted
–– Would've backed over him if he didn't like.
Wayne Brady Comes Out as Pansexual: 'I've Always Felt Like a Sham Because I Wasn't Being Forthcoming With Myself'
–– Has been dating Greek god of wild since last year.
How They Literally Built A Complete 1800s Ship - And a Half - To Film Last Voyage of the Demeter
–– Figuratively put vampire on board.
Taylor Swift Intends to Make "as Many Albums as Humanly Possible"
–– Wants to "in the worst way."
I paid $2,300 for 2 floor seats at Beyoncé's Renaissance World Tour but I was still disappointed by my view
–– Of my phone.
Richard E. Grant says he left his 'bloodied' underwear in his room at Sandringham House while staying with King Charles
–– Successfully claimed they were Camilla's.
The new face of U.S. women's soccer is stunned disbelief
–– Because any team we promoted so relentlessly simply couldn't lose!
Jon Rahm's 'crazy' request for the PGA Tour – a porta potty at every hole
–– In case he needed to sink double bogie.
Mountaineer denies ignoring dying porter on K2 record-breaking climb
–– She offered to take selfie so he could say he met record-holder for fastest summit of all 14 of world's 8,000-meter mountains.
Paramount Agrees to Sell Simon & Schuster to KKR, a Private Equity Firm
–– Make book on it.
Full-time UPS drivers will earn $170,000 a year, on average, in new contract, CEO says
–– Union delivers.
Opinion
| Want employees to return to the office? Then give each one an office.
–– And let 'em do No. 1 in your executive washroom.
SHIB Surges 10% Over the Week Amid Push for Identity Service, Binance Integration
–– Well, duh!
U.S. judge sends FTX's Sam Bankman-Fried to jail over witness tampering
–– Fried at last.
Giada De Laurentiis Says Her Roasted Vegetable Pasta Is the 'Easiest Way to Get a Meal Together'
–– Guess she never heard of microwave.
Those Wilted Veggies In Your Fridge Are Probably Still Good. Here's How to Use Them.
–– Feed them to neighbor's kid.
Campbell Soup buys Rao's, the beloved pasta sauce brand
–– Doesn't promise Rao hope.
Burger King hopes this change will reignite America's love for the Whopper
–– Adding nitroglycerin to patty.
Succession's Brian Cox Wants 'A New Paradigm on How We Eat'
–– Thus spake voice of McDonald's.
The Loki and McDonalds collab has seemingly been leaked, and it's deeply bizarre
–– Happy Meal includes ass guard for kid's underwear.
Taco Bell Adds a New Birria-Inspired 'Dipping Taco' to the Menu — and We Tried It
–– Tasted like barium.
Liven Up Baked Beans With Summer Peaches For An Easy Labor Day Side
–– And spend September 5 in toilet.
Hummus turns into a sauce for this fast one-pot pasta
–– Pot being toilet.
Italian cheesemaker crushed to death by wheels of his Grana Padano
–– Cheesed off.
Their Rooftop Photos Are Stunning. Their Subculture Has Its Critics.
–– Their cleanups are super-icky.
California says Cruise, Waymo can charge for 24-hour driverless taxi service throughout S.F.
–– Cruise will ride atop his when doing 90 weaving in, out of traffic.
Air horns and moving trucks: How Oakland, California, residents are facing a surge in crime
–– Can't keep at Bay.
Public outcry results in smallest possible raise for Oakland mayor
–– Still highway robbery.
NYPD Chief of Detectives James Essig resigns; police brass told by new Commissioner Edward Caban department going in a different direction
–– Caban fever.
Cop-watchers are now YouTube celebrities. They've changed how police work.
–– They're considering joining SAG-AFTRA strike.
United Will Be the First U.S. Airline to Add Braille to Its Plane Interiors
–– Including cockpits?!
A woman saw an airline worker fatally 'ingested' into a Delta plane's engine. Now she's suing for $1 million.
–– Pretty tough to swallow.
Police issue warrants after large 'physical altercation' on dock
–– And warnings for related 'metaphysical rumble.'
Gilgo Beach suspect Rex Heuermann's lawyer argues against admission of pizza crust evidence
–– Crunch time for defense.
YouTuber 'chopped up boyfriend and dumped his head in sea'
–– Guilty of baiting him.
Woman Allegedly Put Bleach in Husband's Coffee Over Period of Months, Wanted to Kill Him for Death Benefits
–– Hoping he'd come clean.
Officer who held back crowd during George Floyd's murder sentenced to over 4 years in prison
–– Something to see here.
Police Arrest Suspect Accused of Killing Man Vogueing to Beyoncé at Brooklyn Gas Station
–– Put a handcuff on it.
Texas woman accused of stabbing online date to avenge Iran's Soleimani dodges jailtime
–– Iranic.
Normal lungs successfully transplanted into bodies with reversed organs
–– Patient breaths hgis of relief.
A dog escaped his yard, ran down one of the country's busiest interstate highways, was hit by a truck, kept running, and led police on a mile-long foot chase
–– Did catch rabbit.
A dog hit the pedal on a golf cart and ran over a 4-year-old, who was uninjured
–– Named Leadfoot!
Petting other people's dogs even briefly boosts your health for MONTHS
–– Even if it's in their homes during burglary.
Cocker spaniel sitting on owner's lap like she's still a puppy melts hearts
–– Groans, look of ecstasy on male owner's face turns stomachs.
Everything you need to know about dog blood transfusions
–– They're good enough for granny.
We let our dog choose chose our baby name after we struggled with it
–– More than verb tense?
What are 'zoomies'?: The science behind your dog's freak-outs
–– Kibbles doused with Zoloft, 'shrooms.
Cat Rests Her Paw On Dog Afflicted By Anxiety Attacks Till They Subside
–– Then claws him.
Nile Crocodiles Recognize and React to the Sound of Crying Babies
–– In their bellies.
California wildlife officials captured a massive 500-pound black bear dubbed 'Hank the Tank,' which they say broke into nearly 2 dozen homes
–– Searching for BBQ.
These Long, Skinny Fish Hide Behind Bigger Fish to Sneak Up on Their Prey
–– Like piscine Laurel & Hardy.
In a Stone Age Community, Women Moved while Men Stayed with Family
–– At dawn of babysitters.
Bronze Age pyramid with ties to ancient horse "cult" discovered
–– So not really "cult?" Horse "club?" Horse "loose affiliation?"
The average doctor in the U.S. makes $350,000 a year. Why?
–– Don't ask yours when on table.
Biologist weighs in on the viral sun bear video from Chinese zoo
–– Rates him upstanding member of community.
Rare walrus calf rescued in Alaska after wandering alone currently under 24/7 cuddle care
–– Demands upgrade to happy endings regime.
People in Hawaii flee into ocean to escape wildfire destroying historic Maui tourist town
-– Yowie!
New variant EG.5 is on the rise as Covid-19 cases and hospitalizations go up
–– When did we give up, stop giving strains cool names?
Opinion | Long covid has derailed my life. Make no mistake: It could yours, too.
–– Which is why you must read my self-pitying screed.
Jimmy Carter, The Oldest Living President, Redefines Hospice Care With His 95-Year-Old Wife As They Enjoy Ice Cream And Celebrate Their Anniversary
–– And keep obit editors guessing.
Robbie Robertson, Guitarist and Songwriter With the Band, Dies at 80
–– Dead Weight.
William Friedkin on The Exorcist, battling Gene Hackman and his many 'sexual liaisons'
–– Friedkin' unbelievable!
'The Exorcist' Star Linda Blair Praises William Friedkin As "My Director, Friend And Protector"
–– Left her head spinning.
Francis Ford Coppola Remembers William Friedkin: "Billy's Work Represents True Milestones In Cinema"
–– To love and die in LA.