Queen of Shamer

Week of 04/08/22
Actual headlines from the internets. You Google 'em.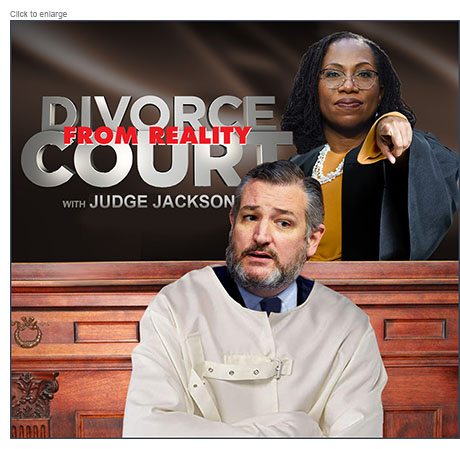 Senate confirms Ketanji Brown Jackson to be first Black woman to sit on Supreme Court
–– Removed thumbs from asses for up motion.
A "recession shock" is coming, BofA warns
–– Trust bank that's been fined over $80bn?
Ketanji Brown Jackson may be Biden's last justice
–– Dems only due one per term.
Mitch McConnell just moved the goalposts -- again -- on Supreme Court nominees
–– As commissioner of Political Football League.
Why McConnell struggled with questions about his 'moral red line'
–– 'Amoral' way easier.
Republicans voted against Jackson for inane reasons — and a reasonable one
–– Most hesitated on water fountain privileges.
Ketanji Brown Jackson brings a personal narrative no other justice can match
–– So she wins that decision.
'Panthers can do anything': Miami Palmetto students celebrate Jackson to Supreme Court
–– Cougars, too.
Washington Post calls for media 'reckoning' on 'accurate and relevant' Hunter Biden stories
–– Crack reporting.
NBC News journalists vexed by MSNBC's move to hire White House press secretary Jen Psaki
–– Vex populi.
Bucha shows the 'cruel face' of Russian army, says EU's chief
–– Pronounced 'Butcher.'
Satellite images show bodies lay in Bucha for weeks, despite Russian claims.
–– 'Hey, we may be war criminals, but we are neat.'
Russians discussed killings of civilians in radio traffic intercepted by Germany, officials say.
–– On Morning Zoo.
Russian aluminium producer Rusal calls for investigation into alleged Bucha war crimes
–– Foiled again?
Zelensky's compelling question: What is the UN for?
–– For many years it was free parking for foreign diplomats.
Video appears to show execution of Russian prisoner by Ukrainian forces
–– Can't hold moral high ground.
The White House is freaked out that Putin's next big win could be in Paris
–– Le Pen pall.
Moscow rules: Why the west's Middle East partners choose Putin over principle in Ukraine war
–- Old proverb: The enemy of innocent, slaughtered civilians is my friend.
Four Million Dead Chickens Tell Grim Story of Ukrainian Farm
–– Remarkable because they're chickens, dead.
Biden administration imposes new sanctions on Russia banking institutions and Putin's daughters
–– Pay for dad genes.
Belgians encouraged to reduce energy consumption to support Ukraine
–– Can't run Renaults on Stella?
Russian car sales have collapsed since the invasion of Ukraine
–– As cars often do.
E.U. proposes cutting funds to Hungary for rule-of-law breach
–– No Orban renewal?
Kristi Noem, potential 2024 contender, says Biden's leadership style has emboldened Putin
–– She's not qualified for garden gnome.
Sen. Joni Ernst confronts Biden nominee who called her 'hideous' on Twitter: 'I'm calling you out'
–– Nominee: 'How dare you call me out. For all you know I'm closeted.'
Ernst: 'Did you mean I look hideous or my soul was hideous?'
Nominee: 'I feel bullied by your hypersensitivity. Bully.'
Ernst: 'Well bully for you! I could call you…icky.'
Nominee: 'Hideous bully.'
Ernst: 'Bitch!'
Nominee: 'Poopyhead!''
For Ammon Bundy, who thinks society's rules don't apply to him, finally justice served
–– Shred Bundy.
Why 30 percent of the House GOP voted against reaffirming NATO support
–– Thought it was North African Treaty Organization.
Progressives are wrong about Clarence Thomas. And they have been for decades.
–– He's way bigger loser than they thought.
Trump's Truth Social in trouble as financial, technical woes mount
–– Truth hurts.
Opinion: Is Trump crazy — or calculating? His opponents have to decide.
–– Intensely stupid not option?
Member of Proud Boys leadership pleads guilty to US Capitol attack charges and will cooperate with prosecutors
–– Rat up his alley.
False election claims dominate party for Trump, allies at Mar-a-Lago
–– Big Lie themed with Pin the Fail on the Donkey, stuffed ballot box pinata, Trump Punch bowl.
'I've got nothing to lose,' Sarah Palin speaks out about her run for Congress
–– And Alaskans nothing to gain.
Jimmy Kimmel Mocks 'Snowflake' Marjorie Taylor Greene For Calling Cops On Him
–– Greene eyed monster.
President George W. Bush encouraged daughter Jenna Bush Hager to elope
–– Inept, incompetent and cheap.
House Democrats tell USPS to pump the brakes on gas-guzzling truck contract
–– Letter
2 Navy personnel injured in accident aboard docked nuclear submarine
–– Moor the pity.
Grammy Awards Hit Historic Low Despite Excellent Show, 1 Million Less Than Last Year
–– Fact vs. opinion.
Clive Davis at 90: His Executives Recall the Man, the Mentor, the Music and the Long, Cold Meetings
–– Clive streaming.
Chris Rock's brother Kenny says the slap 'eats' at him
–– Him, Kenny. So how do second cousins feel?
Billy Crystal Weighs In on Will Smith Slapping Chris Rock: 'It Was an Assault'
–– Crystal clear.
David Oyelowo says he had 'racially coded encounter' with 'older white gentleman' after Will Smith Oscars slap
–– Zip code.
Historic Comedy Store, Birthplace of Comedians David Letterman, Jim Carrey and More, Turns 50
–– That had maternity ward in back?
Kathy Griffin on 'trying to get uncanceled,' Louis C.K. and staying away from Joe Rogan
–– She was delisted?
Where to find all 8 Elden Ring Legendary Talismans
–– Up virgin nerd's ass.
Paige Spiranac has one-word response to Masters towel idea
–– Our one-word question first, 'Who?'
Paula Patton responds to fried chicken controversy
–– Wings it.
Mark Wahlberg says his 30-pound Father Stu weight-gain transformation 'really took a toll' on him
–– On wine, wafer diet.
Idris Elba Confirms That, Yes, He DID Sell Dave Chappelle Weed Before Hitting It Big With 'The Wire'
–– And no, it wasn't 'research.'
'I'm completely devoted to one person': David Hyde Pierce on love, death and the Frasier reboot
–– "Me! Have you gotten a load of my exquisite comic timing?'
Ezra Miller Arrest Prompts Emergency Warner Bros. Meeting About Star's Future
–– Flash dunce.
'Everything Everywhere All at Once' is the mind-bending metaverse movie you didn't know you needed
–– Oh, we knew.
Embalmed Body of Dead Rapper Propped Up at D.C. Nightclub
–– Death jam record.
Shohei Ohtani Makes History, Faces and Throws Angels' 1st Pitch vs. Astros
–– Another Angel pitched to him?
Diego Maradona's 'Hand of God' shirt estimated to sell for more than $5 million at auction
–– About $500k per sweat stain.
Nikola Jokic makes NBA history in Denver Nuggets win over Memphis Grizzlies
–– Pan for goal.
Boris Becker found guilty of four charges under Insolvency Act
–- Becker-hand shot.
Tiger Woods Lets F-Bomb Fly On Hot Mic In A Friggin' Great Return To Masters
–– With weapon of mashie destruction.
Wales Women happy to face music against finely tuned England in Six Nations
–– Eleanor Rugby.
Disney and Universal will build affordable housing in Florida, where need is acute
–– Made of bricks so that you can't huff, puff, blow down.
Most managers willing to fire remote workers, cut their pay, poll says
–- Then dox them on SM.
What Elon Musk's big investment in Twitter could mean
–– Become even nastier, crazier?
Eccentric Japanese billionaire now betting that 'emotional' robots can heal your heart
–– Should stick to 'sexual' ones that can jack your dick.
Tokyo's iconic Nakagin Capsule Tower to be demolished
–– Reduced to caplets.
Malaysian influencer apologises for wearing Vietnamese national dress provocatively
–– May lay.
Breadcrumbs that could bring down a government
–– Leaven on the edge.
22 spring dresses you won't ever want to take off
–– And 10 things to do when friends all abandon you.
Can You Be Too Old for a Jean Jacket?
–– Can you be too smart for that question?
If you're living with chronic aches and pains, this activity could bring relief
–– Suicide.
Are massage guns worth it? We asked experts to find out
–- And what's the hold-up getting them?
Ferrero recalls some Kinder chocolates from US over salmonella fears
–– Which is Kinder disgusting.
Is Lucky Charms Cereal Really Making People Sick?
–– Aye, they be turnin' 'em green as a shamrock.
Bill would create 'no-fly' list for unruly passengers
–– To keep them from pissing on flight crew.
People Living With Gun Owners Twice As Likely To Die By Homicide, Finds Study
–– And 80% less likely to be garroted.
2 men accused of posing as federal officers to get near Secret Service
–– Headwear gave them away.
Louisiana pastor, 'Survivor' contestant allegedly taped students' mouths shut for talking too much
–– Was lot quieter on island of Ko Tarutao.
The remarkable brain of a carpet cleaner who speaks 24 languages
–– So how do you say lint in Bulgarian?
The man who bought a cruise ship on Craigslist
–– And captain's uniform on Etsy.
Plane splits in two at Costa Rica airport
–– So a biplane?
Worried pit bull cries every time her baby brother cries: 'We don't need both of you crying!'
–– Wants baby to grow up big, juicy the better to maim.
Man caught a venomous 'blue dragon' sea slug along the Texas coast
–– Couldn't outrun it?
Jersey Zoo welcomes birth of endangered black lion tamarin
–– Parents are um, uh, stoked?
Yellow-Bellied Marmot Hibernation Could Unlock the Key to Longevity
–– For other rodents –– don't get excited.
Bear completely destroys and punches her way out of NC family's car
–– Entertainment system not working.
We're finding out more about dinosaurs than ever – but their sex lives still elude us
–– And we've been out on a lot of dates.
Big triceratops was healing a hole in its head
–– Where the rain got in and stopped his mind from wandering.
Dinosaur fossils discovered from the day the asteroid hit Earth
–– Along with remnants of 'I Just Got Smashed' buttons.
SpaceX just launched paying customers to the ISS. Here's everything you need to know
–– These people have way the hell too much money.
Extraordinary' W boson particle finding contradicts understanding of how universe works
–– Now we're glad we never understood.
Hardy new forests could keep the Austrian Alps from crumbling into landslides
–– Yodel-lay-hee–hoo-boy.
I'm a Scientist in California. Here's What Worries Me Most About Drought.
–– Dry up!
There is no water. See what Lake Powell looks like today
–– No water?
US life expectancy continues historic decline with another drop in 2021, study finds
–– Coronavirus, pumping fist: 'Yesss!'
Sarah Jessica Parker testing positive for Covid cancels 'Plaza Suite' on Broadway
–– From Silver Linings Plague Book file.
Liberal media critic Eric Boehlert dies in bicycle collision
–– With train, in sad, but apt metaphor.
Bobby Rydell, 1960s Pop Idol and Star of 'Bye Bye Birdie,' Dies at 79
–– Bye bye, Bobby.
Estelle Harris, known for role on 'Seinfeld,' has died at 93
–– Thought of George masturbating finished her.