Silver Linings Plague Book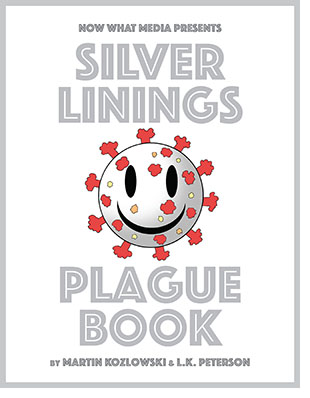 Hey, Debbie Downer and Gloomy Gus!

Global pandemic bumming you out? Quarantine cramping your style? Call us delusional (we are Americans, after all), but we believe that the Dark Ages had its Bright Side; we say Oedipus was a Cock-eyed Optimist; we commend Dr. No for his Positive Thinking; and we're sure Black Holes hum 'the Sun'll come out tomorrow!'

So join us in uncovering the light under that basket of discarded PPE with our guide to being upbeat about Lockdown and fearless about Reopening
in a fully-illustrated and very funny collection of advice, reviews and comics in this brand-new ebook by Martin Kozlowski and L.K. Peterson.

Because infectious laughter is the best medicine!
Be inspired by:
• 7 Habits of Very Successful Hermits
• Fun Projects You Can Do at Home
• A Shutdown Reading List
• Headbangers: Actual Heartwarming Headlines from the Internets
• Stock and Awe Food Plan
• Tom Hachtman's Crazy Cult Comic Immunotoons
• Things You Miss and Regret After Quarantine
• How to Karen
• A Guide to Hand Signals
• A Guide to Face Mask IDs
• Go Away Getaway Travel Guide
• E. Basil St. Blaise's Poison Capsule Reviews of Lockdown Cinema
and much, much more.

Available for immediate download to your tablet, phone, laptop or desktop.
Download the Apple Books app from the App Store and click on this link:




To request a Review Copy please write to nowwhat@nowwhatmedia.com
Ebook • 102 pages • Color

Sample Pages