Now What Media had a table at MoCCA Fest on April 1 & 2, 2023 –– our seventh go-round since 2012. MoCCA Fest is an annual alt-comics convention run by the Society of Illustrators which features the non-superhero, pro-hipster approach to the form, with plenty of cute and snarky animal cartoons thrown in. The joint was jumping and the organizers enthused that there was a big bump in attendance for their second post-pandemic event, which was genuinely inspiring to see and participate in.
We debuted: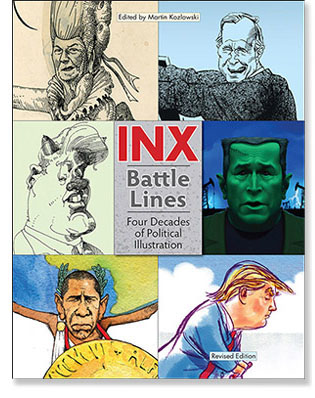 Inx Battle Lines: Four Decades of Political illustration
In 2012 we published INX Battle Lines featuring the best work from the first 30+ years of the premier syndicated editorial art service, inxart.com. Now we've revised and expanded that collection to mark the group's 40th Anniversary by adding the last 10+ years of powerful graphic commentary. Includes over 425 drawings in 175 blockbuster pages, etching a searing picture history of U.S. and world events since 1980.
We featured the biting TrumpTruth: Dissecting America's Most Dishonest President by Henry R. Kaufman & Feggo. It's a very funny collection of political cartoons created to focus a spotlight –– at times a microscope –– on political developments in the late 2020 Presidential campaign.
To accompany this new volume we tossed in our other two Trump titles, Trump Tweets Alt-American History and Talk to the Hair in an (appropriately) shameless bid to capitalize on the anticipated arraignment of the former President in Manhattan. We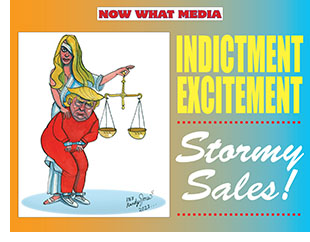 included the display ad seen to the right which incorporates Randy Jones' very funny Inx image.
We also displayed Andrea Arroyo's beautiful ImagiNATIONS: Art as Solidarity, her premiere collection which represents an ongoing series of images created in response to issues that touch us everyday. With extraordinary compassion she explores topics like immigration, civil and gender rights, displacement, gun violence, international conflicts, and the environmental crisis.
Plus the rioutous retelling of the Lewis Carroll Classic entitled Karen in Wonderland by L.K. Peterson with drawings by Deborah Berk. It's a trip down the rabbit hole that sends Karen on a quest to speak to the manager, but everyone she meets along the way, from the Caterpillar to the Cat and some Mad Tea Partiers, just makes her furiouser and furiouser.
And a choice selection of our other humor books and comics collections including Political Animals: Now What Anthology No. 2, Gertrude et Alice, and The Golem's Voice.
Creators Andrea Arroyo, Tom Hachtman, David G Klein, L.K. Peterson, Felipe Galindo and Martin Kozlowski were on hand to sign copies of their books. And we were happy to greet old friends Deborah Berk, Jill Karla Schwarz, Bill Plympton, Steve Brodner, Rick Meyerowitz, Chip Kidd, Frances Jetter, Jordin Isip and many more.