We will be at MoCCA Fest 2023 on April 1 & 2 at the Now What Media table 157 from 11:00 a.m. - 7:00 p.m. on Saturday and from 11:00 a.m. - 6:00 p.m. on Sunday.
MoCCA Arts Festival takes place at
Metropolitan Pavilion
125 West 18 Street
between 6th and 7th Avenues
in New York City.
We will debut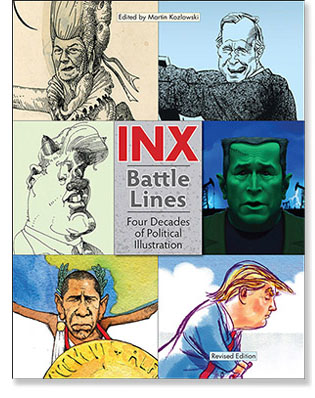 Inx Battle Lines: Four Decades of Political illustration
In 2012 we published INX Battle Lines featuring the best work from the first 30+ years of the premier syndicated editorial art service, inxart.com. Now we've revised and expanded that collection to mark the group's 40th Anniversary by adding the last 10+ years of powerful graphic commentary. Includes over 425 drawings in 175 blockbuster pages, etching a searing picture history of U.S. and world events since 1980.
We will feature the biting TrumpTruth: Dissecting America's Most Dishonest President by Henry R. Kaufman & Feggo. It's a very funny collection of political cartoons created to focus a spotlight –– at times a microscope –– on political developments in the late 2020 Presidential campaign.
Along with Andrea Arroyo's beautiful ImagiNATIONS: Art as Solidarity, her premiere collection which represents an ongoing series of images created in response to issues that touch us everyday. With extraordinary compassion she explores topics like immigration, civil and gender rights, displacement, gun violence, international conflicts, and the environmental crisis.
Plus the rioutous retelling of the Lewis Carroll Classic entitled Karen in Wonderland by L.K. Peterson with drawings by Deborah Berk. It's a trip down the rabbit hole that sends Karen on a quest to speak to the manager, but everyone she meets along the way, from the Caterpillar to the Cat and some Mad Tea Partiers, just makes her furiouser and furiouser.
And a choice selection of our other humor books and comics collections including Political Animals: Now What Anthology No. 2, Gertrude et Alice, and The Golem's Voice.
Creators Andrea Arroyo, Tom Hachtman, David G Klein, L.K. Peterson, Felipe Galindo and Martin Kozlowski are scheduled to be on hand to sign copies of their books.
For more info on the Festival, visit the official site.
Please like our Now What Media Facebook page.