Collared Greene

Week of 04/22/22
Actual headlines from the internets. You Google 'em.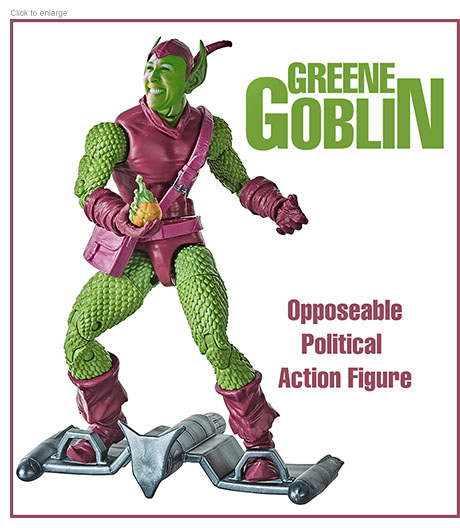 Marjorie Taylor Greene Apparently Can't "Recall" Anything That Happened in the Last Three Years
–– Insists COVID face mask cut off oxygen to brain.
Florida legislature approves end of Disney's special status
–– In Mickey Mouse vote.
Marjorie Taylor Greene Is Terrified of the Media Watching Her Testify Under Oath
–– Really? She's that self-aware?
Rep. Marjorie Taylor Greene testifies for more than 3 hours in hearing on whether to disqualify her from seeking reelection
–– Question that takes 10 seconds to answer.
Russia says its goal is to control southern Ukraine as well as Donbas
–– Putin to words their hopes, dreams.
Kremlin asks why Zelenskiy is not seeing its proposal
–– 'We pin it to charred body of old lady right out in open.'
Zelenskyy says the war in Ukraine would already be over if allies had sent more weapons
–– Well, sure: nukes.
White House brings on retired three-star general to help coordinate Ukraine assistance
–– Though allies are concerned about lowish Yelp rating.
Putin rattles his 'Satan II' nuclear saber to hide Russian failures in Ukraine war: analysts
–– Figures he'd have over-the-top nickname for penis.
'He looks at me like I'm a tramp': CNN's Matthew Chance on meeting Putin
–– Maybe it was that slutty, skin-tight dress with slit up to here.
The first European Union leader to meet with Putin since the invasion of Ukraine says the Russian president 'believes he is winning the war'
–– Also sure he's 6'2" with full head of hair.
An old clip of Volodymyr Zelenskyy side-eyeing Trump's suggestion that he 'get together' with Putin and solve their 'problem' has resurfaced on Twitter
–– Swollen glance.
Russia will retaliate if its Warsaw embassy cannot work, Russian envoy says
–– Did that embassy ever really work?
Atrocities in Ukraine War Have Deep Roots in Russian Military
–– Honoring proud tradition.
McCarthy says Russia 'probably' wouldn't have invaded Ukraine if Biden administration had sent arms sooner
–– We have established he's moron, right?
The film Putin doesn't want the world to see: Firebird, a gay love story about fighter pilots
–– Can we not want to see without aiding Russian war effort?
Rep. Ilhan Omar said it would be 'staggeringly hypocritical' for US to support a war crimes investigation into Putin without joining the International Criminal Court
–– Fraudian slip?
Former head of state-run Chinese newspaper claims 'high probability' of war with US
–– What does Magic 8 Ball say?
Saudi crown prince Mohammed bin Salman started 'shouting' at Biden's national security advisor when he brought up Jamal Khashoggi's brutal killing, report says
–– Sure sign of innocence.
White House stops asking Saudi Arabia to pump more oil to offset Biden's Russian-energy ban, report says, as US-Gulf relations hit new low
–– Offers to pump more blood.
Vox Aims to Be the Voice of Cinema in West Asia
–– Which apparently includes Saudi Arabia, Kuwait.
President Says Mexico's Women 'Shouldn't Worry' After Missing Teen Found Dead
–– That must be reassuring.
Opinion: This trend imperils the future of liberalism, democracy and capitalism
–– Chunky loafers.
Joe Biden must ditch 'woke advisers' to fix US economy, Mitt Romney says
–– Mitt always a fan of sleepy government.
Elizabeth Warren Outlines Her Plan for Democrats to Avoid Election Disaster
-– In crayon.
Florida rejects 41% of new math textbooks, citing critical race theory among its reasons
–– And because arithmetic questions 'too hard' for idiot childern.
Florida Lawmakers Pass Bill Aimed at Eliminating Disney's Special District
–– In Crappiest Place on Earth.
Here's How DeSantis and Florida Republicans Just Violated Disney's Civil Rights
–– Oh, right, Mother Jones, they are an individual.
"I Got A Nice Text From Ivanka": Piers Morgan Reveals He's Back In Touch With The Trumps Ahead Of New Talk Show
–– 'Suggesting I attack the old man on bullshit election results.'
Trump walks out of explosive Piers Morgan interview after being pressed on 2020 election
–– Press junk it.
'I've Had It With This Guy': GOP Leaders Privately Blasted Trump After Jan. 6
–– But can't stay angry at lovable galoot.
The Trump campaign has been instructed to pay ex-Trump aide Omarosa Manigault Newman's $1.3 million in legal fees
–– Which barely covers makeup costs for court appearances.
Jan. 6 revelations will 'blow the roof off the House,' Rep. Jamie Raskin says
–– Our guess… 'Nope.'
MyPillow CEO Mike Lindell tells Insider he'd be willing to speak to the January 6 committee if subpoenaed — as long as his testimony is televised
–– Wants attempt to smother Democracy airing live.
Mike Lee Breaks Silence on White House Text Messages, Denies Backing Trump's Effort to Overturn Election
–– Cuts one.
Oath Keepers texted about protecting GOP Rep. Ronny Jackson during Capitol riot
–– aka Dr. Dumb.
Tennessee Republican says only Jared Kushner and Ivanka Trump will care that state GOP kicked Trump-endorsed candidate off the ballot because 'she's Jewish'
–– State Senator fails to live up to being Frank Nicely.
'The Masked Singer' Finally Unveils Rudy Giuliani: "Is That Robert Duvall?"
–– Or Lon Chaney?
Formerly anti-Trump author of 'Hillbilly Elegy' wins long-running battle for ex-president's endorsement in GOP Senate primary in Ohio
— Odd Vance notice.
Two of Bannon's co-defendants plead guilty to 'We Build the Wall' fraud
–– We bilk the Wall.
A former Madison Cawthorn staffer called the congressman a 'bad person' and 'habitual liar,' and claimed his district office had 'more liquor bottles than they do water bottles'
–– So he's not just drunk on power?
Sarah Palin Opens Up About New Love and Pain of Divorce: 'Earth-Shattering'
–– 'And the Earth is flat, dontcha' know, so it like, really shatters.'
Right-wing social media site Gab said Elon Musk should drop his bid to buy Twitter and invest $2 billion in them instead if he really cares about free speech
–– Gab at straws.
Netflix's world has been turned upside down as stock plunges 35%
–– Netflix and deathly chill.
Netflix's collapse is a warning sign for stocks
–– Which investors might heed if roused from Fentanyl stupors.
Elon Musk says Netflix is losing subscribers because 'the woke mind virus' is making it 'unwatchable'
–– Sounding bit catatonic.
Johnny Depp claims Amber Heard 'severed' his finger: 'I was looking directly at my bone'
–– 'Then I looked above belt line and noticed bloody finger.'
Johnny Depp's sound engineer says Amber Heard once yelled 'how dare you talk to me' on a plane
–– Had head in clouds.
Johnny Depp alleged Amber Heard or one of her friends defecated in their bed after he broke up with her on her 30th birthday
–– In apt metaphor for entire proceeding.
Johnny Depp: Disney Wanted to Cut Ties on 'Pirates of the Caribbean' 'To Be Safe'
–– We know: enough of this shit, but check out Heard's lawyer's name: Rottenborn.
Jane Fonda Was Proud to Spark a Generation's Sexual Awakening: "I'll Take That"
–– That's sound of one hand clapping.
The Unbearable Weight of Massive Talent' Filmmakers Detail How to Get Nicolas Cage to Star in a Movie About Nicolas Cage
–– How granular can you get about signing check?
Face/Off: How Nicolas Cage, Die Hard and a confused Johnny Depp helped make an action classic
–– Inspired by Die Heard?
Nicolas Cage Says That He Actually Turned Down Some Of The Biggest Movie Franchises Ever Because Of His Family
–– Claims children ate offers before he even saw them.
Searchlight Pictures Suspends Production on Aziz Ansari's 'Being Mortal' to Investigate Complaint
–– About script, we hope.
Bill Murray reportedly accused of 'inappropriate behaviour' on film set
–– White. Male. Over 70. Guilty!
Former Fox News host Bill O'Reilly was spotted raging at a JetBlue employee after his flight to the Caribbean got delayed
–– Oh, c'mon, that doesn't sound like our Bill!
Gayle King Under Fire For Not Grilling Alice Walker About Anti-Semitism In Recent etflix's collapse is a warning sign for stocksInterview
–– Something not kosher about questions.
Billie Eilish said she 'should not be headlining' Coachella and ended her performance with 'sorry I'm not Beyoncé'
–– Why? It, she totally third-rate.
I Wore Smart Glasses to Coachella and It Changed My Whole Experience
–– Especially at such stupid event.
Janelle Monáe stuns in skintight latex look for 'Live With Kelly and Ryan'
–– Asked to do full-body scrub of studio kitchen.
Iconic prop from 'The Shining' can be yours for a scary price
–– In case spouse is locked in huge walk-in freezer.
Jada Pinkett Smith 'hurt' Tupac when she asked him not to beat up Will Smith years ago, friend claims
–– Felt 'like a slap.'
Jay Leno says the 'most disturbing' part of Will Smith slapping Chris Rock at the Oscars was his 'real anger'
–– Nah, was the slap.
Elizabeth Hurley Teased Her New Movie With a Stunning Pic in a Turquoise Bikini
–– Offered flick hand job.
On Her 50th Bday, Carmen Electra's Abs And Butt Look Toned AF In A Bikini
–– Brain flabby as ever.
Jennifer Grey on her nose jobs, Patrick Swayze and the 'Dirty Dancing' sequel
–– Gets sniffy.
Jennifer Grey wishes she could apologize to her 'Dirty Dancing' costar Patrick Swayze for their 'friction' during filming
–– Was too young to know about lubricants.
Katharine McPhee Foster's wet T-shirt photo shoot has an important message
–– Don't wear bikini top under it!
Why Amy Schumer Thinks Husband Chris Fisher's Autism Spectrum Disorder Is His "Superpower"
–– She's on spectrum, too?
Keith Urban shares how wife Nicole Kidman helped him through his battle with alcoholism: 'I just realized I'm allergic to it'
–– 'I mean, she also gives me rash.'
Kim Kardashian Leaves Little to the Imagination in Sheer, Mesh Bodysuit: 'This Completely Snatches'
–– Even 'coozes.'
Paulina Porizkova shares powerful message about celebrating 'imperfections': 'It's what makes people beautiful'
–– 'It's not why you're staring at me, but, y'know, other people.'
Steve Young Admits It's 'Painful' to See NFL Players 'Silently Suffering' Due to CTE
–– More painful when they open mouths.
Airplane passenger punched by Mike Tyson was once listed as having 'habitual felony offender status'
–– Oh, then it was cool for ex-heavyweight champ to pummel him.
ASAP Rocky Arrested in Connection With Los Angeles Shooting
–– Taken for a sap.
Tony Awards Push Back Nominations Date, Extend Eligibility Period
–– Desperately search for anything that would remotely qualify.
Prince Harry Cites 'Hurt, Embarrassment and Distress' in Latest Lawsuit Against the Mail on Sunday
–– And that was just from marrying Meghan.
Barbie's latest doll honors the legacy of Queen Elizabeth II and her historic Platinum Jubilee
–– Currently more sentient than monarch.
Revenge spending may keep the economy chugging along
–– Hitmen expecting big year.
Old Navy was supposed to save Gap. Now it's struggling
–– Going down with the hip.
Thai rapper's mango sticky rice stunt at Coachella boosts sales of beloved Thai dessert
–– Bowled over.
How psychedelic mushrooms helped pro surfer Koa Smith overcome depression and trauma: 'I never slipped back'
–– 'And I still believe I was riding an ionic storm wave at the edge of Alpha Centauri.'
Florida bride and caterer charged with lacing wedding food with cannabis
–– Something borrowed, something blew.
Here's why ice cream always looks perfect in ads
–– They're ads, stupid.
Why MIT Researchers Are Studying Oreos
–– Received grant from Cookie Monster.
Time-restricted eating no better than counting calories, study finds
–– Both way worse than loaded chili dog.
Police play Disney tunes to prevent video of them on patrol being posted online, California lawmaker claims
–– Same tactic used to torture perps in custody.
Arrest made in death of 51-year-old Queens woman found in duffel bag near home
–– Sent packing.
At least 4 injured in shooting near Connecticut Ave. NW, police say
–– aka Friday.
Nine wounded at rural South Carolina bar in state's second mass shooting in two days
–– aka the Weekend.
Texas man fatally shoots neighbor, continues yard work after disputes over dog, officials say
–– Buries bones?
He went missing nearly 3 years ago. Deputies found him shivering outside a gas station 700 miles away
–– So how many MPH did he walk? Extra points: what was his body temperature?
Forest bathing could be the key to feeling better -- and you can even do it at work
–– If you're forest ranger.
Scientists Say There's an 'Anti-Universe' Running Backward in Time
–– Good to know.
'Unusual' deep-sea jellyfish discovered off California coast
–– As opposed to usual ones we see every day.
7 ocean mysteries scientists haven't solved yet
–– 3. Size of Aquaman's 'love barnacle.'
Glowing spider fossils may exist thanks to tiny algae's goo
–– Goo might be from excited spiders, but whatever.
Dingoes aren't just feral dogs, says study
–– They're also total assholes.
Meet Jinx, the cat who will be the new mayor of Hell (the one in Michigan)
–– Hi, Jinx.
Where your recycling actually goes – and what you can do about it this Earth Day
–– Nowhere, nothing.
In an effort to make schools greener, the White House is offering billions of dollars
–– Should buy awful lot of paint.
Cynthia 'Plaster Caster' dead at 74: Artist captured rock star privates
–– Stiff as a broad.
Montreal Canadiens icon and hockey Hall of Famer Guy Lafleur dies at 70
–– Lafleur plucked.
Robert Morse Dies: 'Mad Men', 'How To Succeed In Business Without Really Trying' Actor Was 90
–– Morse cold.