Here Lies

Week of 06/10/22
Actual headlines from the internets. You Google 'em.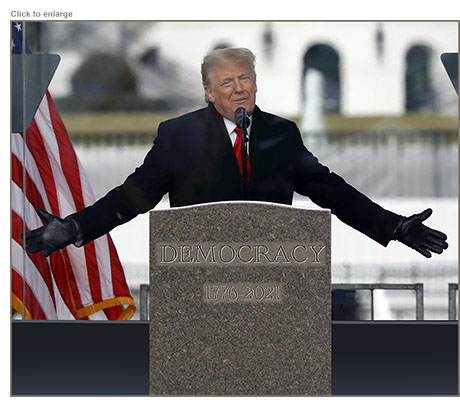 Kevin McCarthy Blames 'Everybody In The Country' For Jan. 6 Attack
–– Everybody named Donald J. Trump.
Sriracha shortage: What you need to know
–– Sphincters worldwide breath sigh of relief.
Donald Trump Allegedly Cheered Mob Wanting To Hang VP: 'Mike Pence Deserves It'
–– Neck's level crazy.
Trump says January 6 'represented the greatest movement in the history of our Country' ahead of the House committee's first public hearing
–– A massive dump.
Kevin McCarthy says he hasn't ruled out testifying before the January 6 committee but argues the investigation has 'permanently damaged the House and divided this country'
–– In wake of unifying Jan. 6 pep rally.
Liz Cheney Is Ready to Follow Donald Trump to the Gates of Hell
–– Where her dad owns ringside seats.
Woodward and Bernstein say Trump's efforts to overturn the election was a deception that 'exceeded even Nixon's imagination'
–– Nixon in Hell: 'Fuuuck you!'
Of course Fox News isn't airing the Jan. 6 committee hearings
–– Instead showing Watergate Hearings highlight reel with laugh track.
Email shows fake Trump electors in Georgia told to conduct plan in 'secrecy'
–– Memo from Sinners (cannot make it up.)
Fake Trump electors in Ga. told to shroud plans in 'secrecy,' email shows
–– Atop layer of 'stupidity.'
Raskin says Jan. 6 panel has found more on Trump than 'incitement'
–– Will they offer any incite?
Former Trump spokesman says clip Jan. 6 committee aired is incomplete
–– Missing his stupid maskless face?
Trump calls Paul Ryan a 'pathetic loser' after the former Republican House Speaker said many in the GOP didn't have guts to impeach him
–– Poor traits in courage.
Sen. Ted Cruz says watching paint dry would be more productive than tuning into a single second of the January 6 committee's first public hearing
–– If it was from can poured over his head.
Former Trump Education Secretary DeVos says she had 25th Amendment discussions with Pence and Cabinet members
–– Because she couldn't understand word of it.
Kushner dismisses Trump legal counsel threat to quit as 'whining'
–– Which he couldn't hear over his own.
Trump says Ivanka was 'checked out' following Jan. 6 public hearing
–– He was always checking her out.
Kushner Had a 'Mathematical Formula' For Keeping Father-in-Law Donald Trump Happy
–– Divide and conquer.
Kellyanne Conway's Memoir Sales Fall Flat After Trump Blasts Her and 'Crazy Husband' on Truth Social
–– Book clubbed.
Rep. Alexandria Ocasio-Cortez says watching the January 6 hearings made all the trauma from the Capitol riot come 'rushing back into the body'
–– 'And made my spitey sense tingle.'
FBI arrests Michigan gubernatorial candidate on charges related to involvement in January 6 riot
–– And own protection due to fear he'd forget how to breath.
Commanders coordinator Jack Del Rio calls Jan. 6 insurrection a 'dust-up'
–– Dust is up in head.
Peter Navarro complains about potential legal fees: 'I'll be eating dog food if I stay out of jail'
–– And sausage if he goes in.
This House Republican says 'you can't even lie to Congress' if you are a Republican
–– 'Thank God for my constituents!'
Paladino Draws Backlash for Calling Hitler 'the Kind of Leader We Need'
–– Had Reich stuff.
Ryan Zinke, Trump's interior secretary, ekes out a win in a House primary in Montana.
–– Montana wild hack.
'Multiple' GOP Lawmakers Sought Pardons for Trying to Overturn Biden Win: Jan. 6 Committee
–– Or sanctuary in Mar-a-Lago.
Former Trump advisor says Steve Bannon only touted the former president's baseless voter fraud claims to get a pardon
–– Ditto his constant praise of Trump's 'huge schlong.'
Herschel Walker's Pitch For 'Mist' That Magically Kills COVID Targeted In Campaign Ad
–– Mist opportunity.
Why this Republican senator just blinked on his proposal to raise taxes on low-income Americans
–– Which reptilian Scott can't even do.
Senators say gun deal is within reach, but without Biden's wish list
–– Ready to pull trigger?
Matthew McConaughey Calls on Congress to "Reach a Higher Ground" and Pass Gun Reforms
–– Because flood of guns a-comin'.
Kyle Rittenhouse claims he's going to Texas A&M. The university begs to differ.
–– Aggie-rated assault.
Kyle Rittenhouse posts video of himself firing off a slew of bullets from an automatic firearm, declaring: 'Joe Biden, you're not coming for our guns'
–– GOP's premier political theorist weighs in.
Janet Yellen dismisses Cardi B's recession prediction: 'I don't have that much time for her'
–– Warned of 'Wet Ass Pricey.'
Commerce secretary says the 'brutal reality' is that there 'isn't very much more to be done' on gas prices
–– Democrats smartly embrace 'brutal reality' as winning strategy.
Biden Has 'Only Bad Options' for Bringing Down Oil Prices
–– More fun than barrel full of donkeys.
Biden should not visit Saudi, meet crown prince, Democratic Rep. Schiff says
–– 'Bad Option' Number 1.
Biden is reportedly delaying his broad student-loan forgiveness announcement until late summer — closer to when debt payments are set to resume
–– And too late for failing Democrats to capitalize on.
Meet a teacher with $303,000 in student debt who says Biden's $10,000 loan-forgiveness plan 'is not even a drop in the bucket'
–– Guess she isn't teaching economics.
Armed man arrested near Brett Kavanaugh's home after making threats against justice
–– Had six-pack of beer to lure from house.
Biden turns to his old friend Chris Dodd for a sensitive job
–– Needed young blood, Dodd's just 78.
'No threat' after Bidens temporarily moved from Delaware beach house following airspace incident, official says
–– Only Joe droning.
A former Dianne Feinstein staffer insisted that keeping the 'diminished' 88-year-old in office is 'better than a junior California senator'
–– Senile denial.
Blinken says there are 'credible reports' Russia is stealing Ukraine's grain and selling it, accusing Moscow of trying to 'blackmail' the world with a food crisis
–– Chaff-priced sale.
I prosecuted Nazis at Nuremberg. Here's how to go after Putin and his thugs.
–– Does involve lots more war crimes, but basically fool-proof.
Putin the Great? Russia's President Likens Himself to Famous Czar.
–– More RashPutin.
Putin undermined his own rationale for invading Ukraine, saying that the war is to expand Russian territory
–– Tsar Wars.
Putin says Russian anti-aircraft forces 'cracking' enemy weapons 'like nuts'
–– Ones on twig or ones hanging below?
The Door Between Russia and America Is Slamming Shut
–– Hope Putin's twig's stuck in it.
David Hogg Shuts Down Marjorie Taylor Greene's Invitation to Meet on Gun Reform: 'Don't Really Have Time to Help You Go Viral'
–– Won't Hogg spotlight.
A man had his AR-15-style rifle stolen at gunpoint. He then used a second gun to open fire on the robber, police say.
–– Who produced third gun to fire second gun from hand which accidently hit trigger of bystander's fouth gun which then lodged bullet in barrel of AR-15-style rifle scattering all other shooters from food market.
Bill Maher Thinks America 'Might Be Empirically, Verifiably Too F–ing Dumb to Continue' (Video)
–– America: 'Im-perkly?'
'Ted Lasso' will end with Season 3, writer-star says
–– Will rein it in?
Julia Roberts Brings Thong Sandals & Denim Shorts to the Beach With Ethan Hawke While Filming 'Leave the World Behind'
–– Or was that Leave the World's Behind?
Robert De Niro Says He's 'Not Not a Fan' of Taylor Swift: 'I Probably Hear Her Music and Like It'
–– Gives good Swift kick.
Neve Campbell out of 'Scream 6' over salary dispute: 'Did not equate to the value I have brought to the franchise'
–– That's a scream.
Robert Englund Says His 'Stranger Things' Character Was Crafted More By 'Treasure Island' Than 'Nightmare on Elm Street'
–– Billy Bonesed up on it.
Johnny Depp booked out an entire 300-seater Indian restaurant on his UK tour and left a big tip, staff say
–– From middle finger?
Eillie Eilish sang about Johnny Depp and Amber Heard's trial in brand new song she debuted onstage
–– Or maybe it was Willie Pep, Lady Bird –– hard to make out moaning.
Jennifer Lopez, 51, Just Showed Off Her Toned Booty In A New Swimsuit Instagram Pic
–– Toned def.
Jennifer Lopez's Elegant Naked Dress Is the Very Definition of an Oxymoron
–– By moron on oxy.
Charo talks defying expectations: I'm more than 'the cuchi-cuchi girl'
–– Cootchie-cootchie, too?
Todd and Julie Chrisley, Self-Made Moguls on Reality TV, Are Convicted of Fraud
–– Grisley fate.
'Donkey Kong defense' comes up at Bill Cosby sex abuse trial
–– Was that other nickname for his 'Fat Albert?'
'Deep Throat' still hard for America to swallow on 50th anniversary re-release
–– Prefer spitting image.
Priscilla Presley Says Elvis Impersonator Vegas Ban 'Has Nothing To Do With Me'
–– Santa did take credit for elves impersonators North Pole ban.
If New York City Gets Las Vegas-Style Casinos, What Else Will It Get?
–– All those Elvises?
'Atlanta': The Thought-Provoking Season Three Explores the Curse of Whiteness
–– Honky pox.
'Predator' prequel 'Prey' pulls audiences back to the Comanche tribe 300 years ago
–– Will they have reservations?
Poor Sam Neill just found out that the first dinosaur Alan Grant ever saw in Jurassic Park is dead
–– Touched saur spot.
'The Survivor' Star Ben Foster on Dropping 62 Pounds to Portray Concentration Camp Prisoner
–– If he'd lost 2 more we would've totally believed him.
'Batman & Robin' Costume Designer Says Batsuit Nipples Were His Idea and "Informed by Roman Armor"
–– Gay Roman Armor.
Jamie Chung says she chose surrogacy to welcome twins due to career concerns
–– Of course Big Hero 6: The Series comes first.
Harry and William's break 'could be final', suggests body language expert
–– What does dropping trou in their direction suggest to body language expert?
Prince Louis throws a tantrum during Queen's Platinum Jubilee pageant
–– Inspired by Auntie Meghan.
Platinum Jubilee Concert Kicks Off With Surprise Video Appearance From Queen Elizabeth II and Paddington Bear
–– Share Marmalade.
Elizabeth Hurley Honored Queen's Platinum Jubilee With a Beachside Romp in Stunning White Bikini
–– Which is what it rates.
Inside "Operation London Bridge," the Detailed Plan for When Queen Elizabeth II Dies
–– For when she's 'falling down?'
Lip Reader Reveals What Kate Middleton Said to Prince Louis During His Viral Meltdown
–– 'Remember what we did to your Uncle Harry.'
Why Sydney Sweeney's micromini outfit feels like a threat to body positivity: 'So coveted yet unachievable'
–– Though shalt not covet thy neighbor's ass.
Disney Apologizes After Employee Thwarts Marriage Proposal
–– Micro-Minnie crisis.
Apple unveils new MacBooks, iOS 16 features and more
–– But not enough for headline.
I'm still haunted by the U2 spyware on my iPhone
–– Bono-no.
Geico ordered to pay Missouri woman $5.2 million after she contracted STD in a car
–– From Gecko!
Can I Tell My Parents That Their Estate Plan Hurts My Feelings?
–– Yes, and hopefully they'll cut you out entirely.
5 percent of young adults identify as trans or nonbinary, survey says
–– 95% as Confused –– Other.
Mongols Motorcycle Club Says Its Leader Was an Informant
–– Khan job?
Man drowns as Arizona police watch: 'I'm not jumping in after you'
–– Authorities in sink.
TikTok, Instagram photos of colorful nails lead to Hialeah woman's child porn charges
–– Law enforcement scratches surface.
Opinion Why Black people are afraid of 'crazy' White people
–– Is that one-way street?
Boris Johnson Weathers No-Confidence Vote With a Weakened Grip on Power
–– Don't Boris with details.
It's Been 50 Years. I Am Not 'Napalm Girl' Anymore.
–– Have new secret identity?
Nap dresses are all the rage: Here's what to know and which to buy
–– Gets down to nub of it.
Lots of People Apply Sunscreen Wrong. Here's How to Do It Right.
–– It doesn't go on tongue?
Believe it or not, gas station bathrooms used to be squeaky clean. Here's what changed.
–– Not.
How 'Fairy Tale' Farms Are Ruining Hudson Valley Agriculture
–– Bo Peep sheep: 'Bah!'
13 Potluck Desserts You Can Make in a 9-by-13 Pan
–– 4. Alice B. Toklas brownies.
One of Europe's 'largest ever' predatory dinosaurs discovered in the U.K.
–– By Jurassic World: Dominion PR team.
Depressed pit bull experiencing 'phantom' pregnancy has sweetest reaction to new puppy: 'My heart just broke'
–– Doesn't really sound like heart is problem.
'We're scared': Orange County shelter overcrowded with surrendered pets as rent rises
–– 'Pit bulls eying us hungrily.'
As more brown recluses start to appear, here's how to recognize them and stay safe
–– About spiders or non-White hermits?
Five planets are aligned in night sky for first time in 18 years
–– Neptune, Uranus protest. Pluto sues.
CDC's travel advisory on monkeypox: 'Practice enhanced precautions'
–– 'And NO sex with apes!'
Carbon Dioxide Levels Now Higher Than Ever in Human History
–– Just try to prove us wrong.
WHO covid origins report says 'lab leak' theory needs further investigation
–– Test tube maybe.
Biden officials ending international travel COVID testing requirement
–– Coronavirus flies free.
Man Arrested in Shooting Death of Atlanta Rapper Trouble
–– Trouble in storage.
Jim Seals, of soft rock duo Seals and Crofts, dies aged 80
–– Lips sealed.
Original Gerber Baby Ann Turner Cook, the familiar face on thousands of baby products, dies at 95
–– Ironically, last meal was Strained Applesauce.
Alec John Such, founding Bon Jovi member and bassist, has died
–– Parting is Such sweet sorrow.