Ship of Fool

Week of 04/15/22
Actual headlines from the internets. You Google 'em.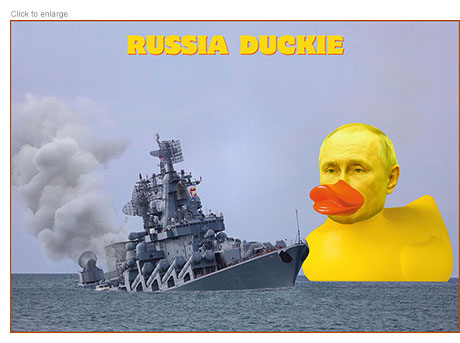 Moskva Ship 'Finished' Says Former Navy Officer as Russia Suffers Huge Blow
–– Like vodka martini: two shots and a splash.
Facebook paid GOP firm to malign TikTok
–– We'd do it for free.
Russian warship sunken in Ukraine war may have been carrying a piece of the 'true cross,' a treasured Christian relic
–– Just as Jesus would have wanted it.
Ukraine says Russia is failing to recruit new troops because they know they'll become 'cannon fodder'
–– Or 'soldier buoys.'
The Titanic sank 110 years ago. Here are some rare photos of the ship and artifacts.
–– File under Historical Relevance.
Ukraine War: Biden accuses Russian troops of committing genocide in Ukraine
–– Russia to judgment?
Putin calls Ukraine war a 'tragedy' but insists Russia 'had no choice'
–– Insists his German Shepherd made him do it.
Putin says peace talks with Ukraine are at dead end, goads the West
–- Goad red.
Zelensky says repeating his requests to world leaders makes him 'feel like Bill Murray' in Groundhog Day
–– More like Lost in Translation.
Le Pen Backs NATO-Russia Reconciliation and Reduced French Role in Alliance
–– The bull Le Pen.
Ukraine arrests close Putin friend dubbed 'The Prince of Darkness' as Zelensky offers to trade him for captured soldiers
–– Swap meat.
Wife of captured Putin ally Viktor Medvedchuk called on Zelenskyy to release her husband as the Kremlin hung him out to dry
–– He looks positively sere.
It's 3 p.m. in Kyiv. Here's what you need to know
–– It's 9 a.m. in Rio.
Unraveling the tale of Hunter Biden and $3.5 million from Russia
–– Will take crack reporting.
Champion boxer turned Kyiv mayor becomes a rousing wartime leader
–– Playing rope-a-dope with Putin.
Civilians Rush to Flee as Russian Troops Mass in the East
–– Slow fleeing never recommended.
Austrian chancellor says he had 'tough' talks with Putin
–– Real Wiener roast.
Biden's pollster on the recipe for how to 'not get our a---- kicked' in the midterms
–– Afraid that's nothing burger.
Psaki: Fox News feeds Doocy questions that makes him look like a 'stupid son of a...'
–– Psaki to him!
Biden to Nominate Michael Barr as Fed Vice Chair for Supervision
–– Because eyesight's good.
RNC unanimously votes to withdraw from commission that sponsors presidential debates
–– Vote on complete withdrawal from reality expected soon.
Trump Brags About Relationship To Putin As Fox News Shows Body Bags In Ukraine
–– But insists he would've had far more body bags by now.
Texts Show Mike Lee Released 'the Kraken' and Tried to Give Trump a Smarter Coup Plan
–– Seems more like he released crack.
Alleged Capitol Rioters Turn On Trump to Save Themselves
–– Have already gnawed off legs to escape.
Trump endorses Dr. Oz in Pennsylvania Senate race, a key battleground
–– Like having Scarecrow, Tin Man & Cowardly Lion all backing you.
Trump says he advised Bill Barr to get impeached in support of his bogus election claims because it would boost Barr's ratings
–– Impeachy keen.
Warren demands investigation into Kushner getting $2billion investment
–– C'mon, Liz, from murderous bin Salman, what's big deal?
With new abortion bans, GOP isn't waiting for the Supreme Court
–– Never want to go more than trimester.
Are Republicans about to blow a Senate seat?
–– And someone in it?
Andrew Giuliani is test-driving his father's legacy in New York
–– Clown car putt-putting through Queens.
Candidate Ignites Controversy with 'Lie Back and Enjoy It' Rape Comment — Which He Says Is Misconstrued
–– Obviously, he's lying back, enjoying it.
Scandal-tarnished Pruitt hopes to go from Trump's EPA to Senate
–– Should appeal to pollutocrats.
Lt. Gov. Benjamin Arrested in Campaign Finance Scheme
–– But did he make staff feel uncomfortable?
GOP hopeful sold tear gas used on Black Lives Matter protesters
–– Talk about crying shame.
Gillian Anderson says meeting Bill Clinton was so 'intimate' she expected a phone call from him
–– From her XXX-Files.
Elon Musk says his offer to buy Twitter is about 'the future of civilization,' not making money
–– So he'd shut down?
Twitter adopts 'poison pill' measure that could thwart Elon Musk's takeover bid
–– Please, no cyanide remarks.
'SNL' Addresses Will Smith's 10-Year Oscars Ban: "Is That a Punishment?"
–– Predictably not funny, but legit question.
Opinion: Not every controversy is as easy as banning Will Smith from the Oscars
–– Well, that's just your incredibly brave opinion.
Molly Shannon Claims Gary Coleman Sexually Harassed Her: 'I Wish I Could Have Stood Up for Myself More'
–– 'Then he never could've reached my boobs.'
Sam Elliott apologizes for comments criticizing 'The Power of the Dog'
–– Took path of leashed resistance.
Tish Cyrus files for divorce from Billy Ray Cyrus after more than 28 years of marriage
–– Tish tosh.
Thandiwe Newton axed from 'Magic Mike' sequel after fight with Channing Tatum over Oscars fiasco
–– Stripped.
Rosie Perez was 'pissed off' at Woody Harrelson and Wesley Snipes after Oscars appearance
–– Rosie the pivoter.
Cuba Gooding Jr. pleads guilty to forcible touch
–– Fingered by law.
Chloe Cherry, 24, on dating 'sugar daddies' and why she prefers seeing multiple people at the same time
–– Popped Cherry question.
Ke Huy Quan looks back on 'Indiana Jones' and 'The Goonies' and reveals what made him finally return to acting
–– Short Round of questions.
Idris Elba Confirms Dave Chappelle's Claim He Used to Buy Weed off Actor When He Was Security Guard
–– Down to Wire?
'The Equalizer' Reveals Fate of Chris Noth's Character Following Sexual Assault Allegations
–– Noth for nothing.
Amazon Orders Canadian Maple Syrup Heist Series 'The Sticky' With Jamie Lee Curtis Producing
–– Strictly for saps.
Meet the brilliant team who helped Julia Child pull off 'The French Chef'
–– Roux the day.
Sweeping Basquiat Show Curated by His Sisters Offers Intimate Look at the Artist
–– Garbage should be swept.
Harry and Meghan 'offer olive branch' to Queen in low-key reunion
–– And dead dove of peace.
The U.S.F.L. Isn't Back. The U.S.F.L. Is Here.
–– Um, uh, OK.
Tom Seaver's Statue Stands 10 Feet Tall. Just Like Seaver.
–– Um, oh, OK.
Coca-Cola Enterprises boss admits taking £1.5m in bribes
–- Run and Coke.
The Fortunes of MacKenzie Scott
–– Isn't it mostly the one, Jeff's?
'We got him': Mayor Adams and NYPD announce arrest of Brooklyn subway shooter
–– You mean understood his instructions to catch him?
Uber and Lyft will refund customers charged with surge prices near the site of the shooting.
–– Gee, that's uber-generous.
Man Inspired by QAnon and Hopped Up on Caffeine Purposefully Derailed Train
–– Ironically, on milk run.
ISIS 'Beatle' convicted on all counts related to kidnapping and death of four Americans
–– Recordings banned include: Happiness Is a Warm AK-47, Let It Behead, Everybody's Got Something to Hide Except Me and My Mullah.
College Cop Was Secretly a Racist, Anti-Homeless Reddit Troll for Years
–– Blue meanie.
Woman Pleads Guilty to Tackling Black Teen at SoHo Hotel
–– But brags she stopped him from scoring.
How an 8-year-old found her way home when she was deserted in a busy airport
–– On back of Lassie!
Florida woman busted for putting boy in laundry dryer and starting the machine
–– Without softener.
The Four-Hundred-Year-Old Fruit That Built New York
–– Or, at least, West Village.
Gilded Age corsets poised to make the next fashion breakthrough
–– As bellies pop out.
Professional Baby Namer Reveals Parents Pay Her Up to $10,000 for 'Bespoke' and 'On-Brand' Names
–– Nicknamed Lady Googoo.
23 Babysitters Shared The Terrifying Moment They Realized The Parents They Worked For Were Unhinged
–– Then blew their doors off.
U.S. grants temporary deportation relief to immigrants from Cameroon
–– And cookies from macaroon.
This Canadian river is now legally a person. It's not the only one.
–– Named Flo.
Pakistan Prime Minister Imran Khan ousted as country's leader following vote of no-confidence
–– Doing Khan con.
He Was Remarkably Healthy Until Chronic Diarrhea Nearly Killed Him
–– Runs down.
What Happens to Your Body When You Eat Eggs Every Day
–– Becomes ovi weight?
Paella that is out of this world: Spain's top chefs take space food to next level
–– Langosta show ya.
The military might be creating 'a perfect storm' for eating disorders
–– Code named Operation Perfect Storm.
The Best Non-Alcoholic Beers (That Actually Taste Good)
–- (this page intentionally left blank)
Baskin-Robbins is getting a makeover — and will sell bicycles
–– With banana-split seats.
How Nissan creates its signature 'new car smell'
–– Meet ex-sumo wrestler Soshi with rectal prolapse.
These cleaners are more dangerous than standing behind a car's exhaust
–– If it's backing up over you.
Devoted pit bull dad refuses to leave nursing 'wife's' side: 'You can't tell me animals don't have feelings'
–– Pit bulls feel joy, pride when they tear out your throat.
The moon's near and far sides are surprisingly different. A new study sheds light on the mystery
–– With accompaniment by Pink Floyd.
Possible Royal Graves Dated to the Time of King Arthur Found in Great Britain
–– Frankly Avalon.
This is the oldest known use of the Maya calendar
–– Toilet paper.
The untold, dramatic story behind the discovery of America's first murder hornet nest
–– Next to Sasquatch's yert.
If we can farm metal from plants, what else can we learn from life on Earth?
–– Um, back up –– farm metal from plants?
2 Dead California Mountain Lion Kittens Test Positive For Rat Poison
–– Were suicidal, misread cat for rat.
He's a pandemic pundit on TV. Now he's Biden's new coronavirus czar.
–– Sounds like Trump minus Fox.
U.K. Police to Fine Boris Johnson for Breaking Lockdown Rules
–– And for "outraging public decency due to criminal unkemptness."
Opinion: We're locked down in Shanghai with 25 pounds of mangoes -- and some very helpful neighbors
–– That's your opinion?
Why This Coastal County Has the Highest Covid Death Rate in Its State
–– Hint: Republicans!
FDA authorizes first Covid-19 breath test
–– Must walk straight line to pass.
Adam Schefter apologizes for 'insensitive' tweet about Dwayne Haskins
–– Takes it quarter back.
From Benito's chicken to Bardot's dog, inside Rome's elite pet cemetery
–– Do dogs ever dig up bones?
Mike Bossy, Hall of Famer on Champion Islander Teams, Dies at 65
–– Buried in crease.
Franz Mohr, Piano Tuner to the Stars, Is Dead at 94
–– No Mohr.
Jack Higgins, Author of 'The Eagle Has Landed,' Dies at 92
–– Aerie coincedence.
Liz Sheridan, Jerry's Mom on 'Seinfeld,' Dies at 93
–– Joins George's mom in Del Boca Vista Phase ∞.
Gilbert Gottfried, Comedian and 'Aladdin' Star, Dies at 67
–– Comes to screeching halt.
Gilbert Gottfried's final Instagram post was about Chris Rock
–– Before final slapdown.
Gilbert Gottfried Laid to Rest in Star-Studded, Joke-Filled Funeral: 'He Would Have Loved It'
–– Spoke 'too soon.'
Gilbert Gottfried left behind secret 'Aladdin' outtakes, 200 hours of footage
–– Sought by CIA interrogators to torture detainees.