Hate-and-Seek

Week of 06/17/22
Actual headlines from the internets. You Google 'em.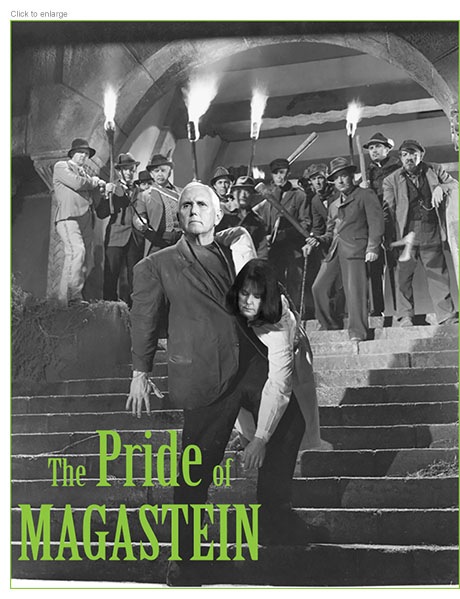 Newly released photos show Pence and family in hiding from pro-Trump mob during Capitol riot
–– That's Pence under Mother's skirt.
Russia is 'hemorrhaging' millionaires
–– Ukrainians just hemorrhaging.
Rioters got within 40 feet of Pence and informant reveals Proud Boys 'were willing to kill vice president'
–– Pence ill pushers.
Pence advisor says if VP had obeyed Trump's demand to toss valid electoral votes it would have been the 'first constitutional crisis since the founding of the Republic'
–– Which is what Trump was shooting for.
Paul Ryan called Mike Pence ahead of Jan. 6 to tell him he did not have authority to overturn Donald Trump's election loss
–– Affirmed Trump did not have power to condemn his soul to eternal damnation.
'Wimp!': Trump reportedly berated Pence on Jan. 6 phone call
–– Not Wimpy who he deeply admires as hamburger connoisseur.
31 people with ties to White nationalist group arrested for conspiracy to riot near a Pride parade in Idaho
–– Hope families are proud of them.
Former Attorney General William Barr testifies election fraud claims were "crazy stuff"
-– Or "consistent."
Barr: Trump became 'detached from reality' after 2020 election loss
–– Cut the cord.
Bill Barr Pans Dinesh D'Souza's 'Indefensible' Election-Fraud Film '2000 Mules' in Jan. 6 Testimony
–– Votes it down.
Jan. 6 hearing testimony: 'Intoxicated' Giuliani told Trump to simply declare victory on 2020 election night
–– Drunk on power.
Accusing Rudy Giuliani of being drunk on election night can incorrectly 'reinforce that idea that these were not serious people,' an authoritarianism expert says
–– While also being 'perfectly accurate.'
Giuliani Attributes His 'Intoxicated' Election Night Meddling To His Love For Diet Pepsi
–– Added to gallon jug of Chianti.
Pence team said Trump's allegations of voter fraud were 'relatively small in number, or cannot be verified'
–– And 'less accurate than size estimates of his inauguration crowd.'
GOP governor says many Republicans are quietly seeking an 'off-ramp' from Trump's bogus election-fraud claims
–– Off Big Lieway?
Trump Botched His 'Coup' By Not Marching To Capitol Jan. 6, Says Expert On Autocrats
–– Or at least taking golf cart.
Trump's Truth Social Is Banning Users Who Post About Jan. 6 Hearings, According to Reports
–– Shred of Truth.
US Capitol rioter who carried weapon loaded with hollow-point bullets pleads guilty
–– Was also found with empty head.
Confederate flag-waving man found guilty in Capitol riot case
–– Among stars behind bars.
Rep. Andy Biggs really reeeeally doesn't like Jan. 6 hearings. Now we know why
–– What's the Biggs deal?
New CNN Boss Wants Staff to Stop Calling Trump Claims 'The Big Lie' to Avoid Democratic Party 'Branding'
–– In bid to get more than population of Springfield, MO (177,796) average prime time viewers 25-54.
House Democrat calls for Clarence Thomas to resign following report of wife's email with Eastman

–– Doubting Thomas.
Production team with 'Late Show with Stephen Colbert' arrested in House building
–– Triumph the Insult Comic Dog suspected of pooping in hall.
Bipartisan group of senators announce agreement on gun control
–– Shotty workmanship.
Matthew McConaughey comments on bipartisan framework for gun control package: 'something' has happened
–– Which is nicest thing you can say about it.
Don't Add Curbs on Guns. Repeal Liability Protections for Gun Makers and Sellers.
–– Hey, how about both!
White House press secretary says Americans are 'well positioned' to face economic challenges
–– Balled up in fetal position.
The Gerontocracy of the Democratic Party Doesn't Understand That We're at the Brink
–– Of proving progressive wing's filled with delusional, ageist prigs.
Ukraine War Live Updates: Johnson Offers to Train 10,000 Ukrainian Soldiers
–– In how to par-tay!
French media say that when traveling abroad, Putin is followed by attendant who collects his excreta
–– Vladimir Poopin.
Russia's rebranded McDonald's restaurants are hastily scribbling out the golden arches on ketchup packets
–– Replacing contents with Ukrainian blood.
AOC blasted Rep. Matt Gaetz for saying Rep. Jamie Raskin is 'unable' to serve in Congress because his son died by suicide and it 'clouds his judgement'
–– Shrunken head as headshrinker.
Sarah Palin will advance in Alaska's wild House special primary election, CNN projects
–– Edges out Santa Claus, sled dog.
Dr. Oz says he'll fight to end illegal immigration. A business owned by his family, in which he is a shareholder, faced the largest fine in ICE history for hiring undocumented workers.
–– Wait, you're saying snake oil salesman isn't straight shooter?
'Jamal Khashoggi Way' sign unveiled in front of Saudi embassy in Washington, DC
–– Was 'Salman Cut-off.'
WWE Board Probes Secret $3 Million Hush Pact by CEO Vince McMahon, Sources Say
–– Ref calls for strangle hold.
John Stamos "Disappointed" Bob Saget Was Left Out of Tony Awards' In Memoriam Segment
–– No one will forget his Hamlet.
Tony Awards: Jennifer Hudson Scores EGOT With Win for 'A Strange Loop'
–– EGADS.
Ariana DeBose Sings from Andrew Garfield's Lap in the 2022 Tonys Audience as He Laughs
–– Dick, dick…Boom!
Rebel Wilson reveals relationship with woman: 'I found my Disney Princess'
–– Her Cinderfella.
Simon Pegg: Tom Cruise Will 'Flatly Deny' Any Wrongdoing on Set
–– Has him pegged.
Azealia Banks storms off stage at Wynwood Pride after arriving late. What set her off?
–– Banks shot.
Kit Harington is reportedly on board for a Jon Snow 'Game of Thrones' spin-off
–– Only if he promises to tell us how awful the experience when it's over.
Tyler Perry Clarifies He Was "De-escalating" the Situation Not "Comforting" Will Smith After Oscars Slap
–– 'Elevating' the bullshit.
Pixar's 'Lightyear' Movie Banned in 14 Markets for Portraying Same-Sex Relationship
–– Darkage.
What Hollywood Needs to Learn from the Creative Disappointment of 'Jurassic World: Dominion'
–– Will more likely learn audience's taste's primeval.
Chris Evans: Homophobic 'Lightyear' Critics Are 'Idiots' Who Will 'Die Off Like Dinosaurs'
–– 'After dinosaurs, y'know, eat our lunch.'
Ezra Miller Can't be Located as Court Tries to Serve Protective Order
–– Noes Flash.
'Predator' at 35: Arnold Schwarzenegger recalls mistake of honeymooning with Maria Shriver on film's Mexico set
–– Whoa, he's way older than that.
Justin Bieber battling rare virus causing facial paralysis: 'This is pretty serious as you can see'
–– Hope he keeps stiff upper lip.
Scream 's Matthew Lillard, Jamie Kennedy Support Neve Campbell's Decision Not to Return for 6th Film
–– Remember they had to act with her.
Ashley Graham Says She's 'Tired' But 'Here' as She Tandem Breastfeeds Twin Boys Malachi and Roman
–– Sucks to be her.
Katy Tur shares her reaction to her father coming out as transgender
–– She's split.
Lady Gaga Chilling Poolside in Las Vegas Wearing a Thong Bikini Is a Vibe
–– Gaga reflex.
Cindy Crawford Just Recreated Her Iconic Pepsi Ad, And She Looks Exactly The Same
–– Claims Mr. Magoo.
Katie Holmes, 43, Flaunts Seriously Sculpted Legs in Undies and Knee-High Boots on IG
–– Covered in plaster.
Jennifer Lopez cried after a magazine article referred to her as a 'criminally underrated performer'
–– Lies do that to her.
Who Killed Mae West's No. 1 Fan?
–– Sank without life vest.
How Joining "Obi-Wan Kenobi" Helped Bonnie Piesse Heal After NXIVM
–– So show has some small measure of value.
From 'Definitely, Maybe' to 'Beautiful Boy': 14 Movies for Dads and Their Kids to Watch on Father's Day
–– Obviously complied by non-male non-father.
Ethan Hawke reacts to being called 'the "Moon Knight" guy,' talks daughter Maya's breakout in 'Stranger Things'
–– OK with career being reduced to ridiculous villain on idiotic comic book show.
Stranger Things' fans should brace themselves after Noah Schnapp confirms 'some deaths ' are coming
–– Schnapp decision.
Guy Ritchie to Direct 'Hercules' Live-Action Remake
–– Where's Herc's Cockney geezer who grasses on Zeus.
Hula-hooping topless at 74, Grace Jones launches Meltdown with a thrilling sense of danger
–– Crowd could easily hurt selves laughing.
Leah Remini Takes Over for Matthew Morrison on 'So You Think You Can Dance'
–– After stint on So You Think You Can Audit.
Amber Heard Speaks Out for First Time on Johnny Depp Verdict: I 'Understand' Jury, but Social Media Wasn't 'Fair'
–– 'So I was guilty, but don't hate on me for it.'
Lizzo's Lyric Offended Fans. She Changed It, and They Forgave.
–– Big of her bitches.
'Father of the Bride' Screenwriter Feels a "Sense of Responsibility" With Latin Take on Classic Film
–– To entire audience one would hope.
Martha Stewart says the Kardashians 'all eat very little' and recalls Kris Jenner serving her 'a very fancy, nice lunch'
–– Subsist on nuggets of gossip, spilled tea.
Britney Spears and Sam Asghari's Wedding Video Is Straight Out of Cinderella
–– Like Prince put non-skid ankle sock on Patient.
Andrew Lloyd Webber Booed After Calling His 'Cinderella' Musical a 'Costly Mistake' During Final Curtain Call
–– 'Like Spears, Asghari wedding.'
Queen Elizabeth II becomes world's second-longest reigning monarch of all time
–– Chasing Ming the Merciless.
Princess Diana Reportedly Swore by This Radiant Moisturizer for Her Rosacea & It's 15% off on Nordstrom
–– The same jar!
Rangers fan arrested after knocking out Lightning fan with vicious sucker-punch
–– Like thunderclap.
Mets' Max Scherzer feels '90 percent' with oblique recovery, but explains that's just 'half the battle'
–– Demonstrating why he didn't pursue career in math.
Opinion Is AI sentient? Wrong question.
–– Says my computer.
The Garmin Venu 2 Plus is a robust fitness tracker and smartwatch — but is it worth the $449?
–– It is to Garmin.
'People were very offended': 'Tone deaf' corporations facing backlash for Juneteenth themed products
–– Um, how exactly are white folks supposed to celebrate?
Juneteenth isn't just a celebration of freedom. It's a monument to America's failures.
–– Can we fit that on commemorative plate?
I stayed in a 'cabana' at Margaritaville's new RV park in Florida for $195 a night and I now understand the hype the brand has built
–– All-you-can-eat Buffet.
Unopened wine bottles still on board a royal ship 340 years after it sank
––Should be served with a splash.
During National Bourbon Day, up your bourbon IQ with these 13 facts you've never heard
–– 7. Bourbon makes you think you can win Kentucky Derby –– running.
Coca-Cola is putting Jack & Coke in a can
–– Would sooner add jack-off.
"You Know What I Say About Men Who F--- Asian Women?"
–– Well, we know it's going to be a measured, sensible opinion.
Meet the family behind 'Texas Thighs,' an account for a mom's salacious photos (when it isn't getting banned)
–– Thighs matter?
Mom has no idea how to respond when toddler asks if they're 'real or pretend'
–– Her boobs?
Uvalde's school district police chief said he intentionally left his radios behind when responding to the mass shooting because he thought they would slow him down
–– And he likes to guess what's going on with his officers.
Study finds German Catholic priests sexually abused over 600 victims
–– Appropriately in city of Münster.
'Naked and Afraid XL' contestants make shocking decision with 12-foot anaconda
–– Don't cover up 6-inch pythons.
Joan Jett Blasts SeaWorld for Alleged Sexual Abuse of Animals
–– Grouper grope.
Missing Florida Dog Found After 'Giant' Pet Turns Up at a Dollar General and Refuses to Leave
–– Ironically answered to Penny.
Galapagos 'fantastic giant tortoise' was believed to be extinct for 100 years — until the discovery of a lone 50-year-old female nicknamed Fernanda
–– Who'd killed old males just for some quiet.
Watch alligator race across Florida woman's backyard. 'Never saw one run before!'
–– 'And with a squirrel jockey on his back!'
Sloth bear kills couple walking through Indian forest
–– Doesn't seem sin was sloth.
William Shatner says he couldn't stop crying after flying to space with Blue Origin because he was thinking about how Earth was getting destroyed
–– Not 'cause Kirk was scared shatless?
Sepsis still kills 1 in 5 people worldwide – two ICU physicians offer a new approach to stopping it
–– So like 1.5 billion?
Some Scientists Coined a New Name for Summer: 'Danger Season'
–– Ask Beach Boys to record anthem for it.
Europe heatwave: France braces for record-breaking temperatures as Spain battles forest fires
–– Chaud off.
Yellowstone flooding: Why is it happening now?
–– Will explanation hold water?
Predators are growing hungrier in the rapidly heating seas
–– Wet their appetites.
No satisfaction: Jagger has COVID, Rolling Stones gig off
–– Jumpin' vax flash.
Fauci tests positive for Covid-19
–– Leads by example.
We Let Monkeypox Spread for Too Long. If It Infects Our Pets, There's No Getting Rid of It
–– No walk in the pox.
Philip Baker Hall, the Library Cop Lt. Bookman on 'Seinfeld,' Dies at 90
–– Checked out.
Jean-Louis Trintignant, French Star With a Gift for Introspection, Dies at 91
–– Zzzzz…