Hug Finn

Week of 05/13/22
Actual headlines from the internets. You Google 'em.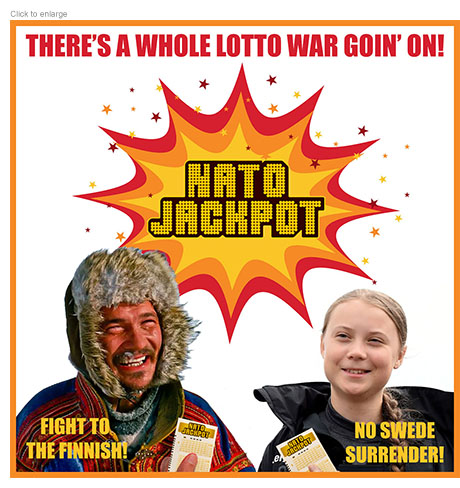 G7 nations pledge to ban or phase out Russian oil.
–– Considering extra-virgin olive oil alternative.
Russia fumes as Finland and Sweden push for NATO membership
–– Europe will be running on fumes.
Finland's leaders push NATO membership 'without delay'; Russia vows response
–– Particularly noxious fumes.
Journalist watched Russian state TV for 50 hours. Hear what surprised him
–– Sound of essential oils being endlessly rubbed into Putin's pasty skin.
Putin has put himself at the center of Russia's Victory Day. But he has little to celebrate
–– And many in crowd arrested for mistaking V for Victory fingers for Peace signs.
May 9 Is a Revered Day in Russia. For Many, Putin Has Hijacked It.
–– In Slow, Furious 9.
Ukraine is rebuilding cities as fast as Russia destroyed them
–– Um, uh, literally?
Ukraine's top canine deminer receives award from Zelensky
–– Canis deminer?
GOP Gov. Defends Law Forcing Incest Victims to Carry Pregnancy to Term, Won't Rule Out Criminalizing IUDs
–– Or banging his kin.
Clarence Thomas says Supreme Court leak has eroded trust in institution
–– Kind of genius opinion we were spared all those years.
Opinion: What other brilliant ideas are in Alito's medieval law book?
–– Has killer formula for turning lead to gold.
How period tracking apps and data privacy fit into a post-Roe v. Wade climate
–– Little red flags.
White House bolsters efforts to get baby formula into the hands of WIC recipients
–– To prove they don't suck at everything.
Judge nixes Jan. 6 plea deal after right-wing streamer 'Baked Alaska' declares himself 'innocent'
–– And 'delicious with a cup of coffee.'
Trump released an insult-laden message wishing everyone a Happy Mother's Day, including 'Very Unfair Radical Left Democrat Judges'
–– 'And the whores who breed them.'
Trump 'didn't seem to care' that the law required him to release millions in aid to Ukraine that he froze while pressuring Zelenskyy, his ex-Pentagon chief says
–– Let's get this straight: Donald Trump's a scofflaw?!
Trump griped about how US Navy ships were ugly in comparison to 'nicer, sleeker' Russian and Italian ships, says Mark Esper
–– Made plaster casts of his 'Don Jr.' as models for new ones.
Trump hit back at Mark Esper's series of damaging claims, saying his former defense chief was so useless he had to 'run the military' himself
–– 'And it was really, really tough getting it into ground.'
How Trump Helped Transform Nebraska Into a Toxic Political Wasteland
–– Before was just wasteland.
Workers began tearing down the gold letters of the Trump International Hotel's sign hours after the sale of the DC hotel went through
–– After dynamiting gold toilet in Presidential suite.
Former GOP strategist Steve Schmidt slams Sarah Palin as 'unwell' and says she has no business serving the public 'even as a crossing guard'
–– Palin by comparison.
Steve Schmidt Says John McCain Lied When He Denied Affair With Lobbyist in 2008
–– Prisoner of Whoa!
The Crypto Crisis Has Been Very Bad for White Nationalists
–– You don't have to convince us –– we already know it's great.
DeSantis-appointed judge signals Florida's congressional map is unconstitutional for diminishing Black representation
–– Drew district lines in Wite-Out.
Club for Growth Starts Ad Blitz for Kathy Barnette in Pennsylvania Senate Primary
–– After releasing latest New Wave Pop album.
Musk says he will ban Twitter spam bots, but he has been a beneficiary
–– Currently dating one.
Elon Musk says his deal to buy Twitter is on hold
–– Waiting for water pipe to come around again.
Hunter Biden laptop repairman details first encounter with president's son
–– "It was like, 'Lo, tech!'"
Who is 'Bongbong' Marcos Jr and why are some Filipinos nervous about his family's return?
–– Slogan: 'Get It On, Bang a 'Bongbong', Get It On.'
The Philippines could have elected a human rights' lawyer as president. It chose a former dictator's son instead.
–– Yeah, real surprising after six years of world-class thug.
SNL's McKinnon tries a Justice Barrett impression. Will it stick?
–– Or just stink?
John Mulaney Headlines Hollywood Bowl Amid Heightened Security Awareness Following Dave Chappelle Attack
–– Fearing ironic heckle from twee hipster?
Will Smith's Next Film 'Emancipation' Likely Pushed to 2023
–– When studio can free up time.
Chris Rock Brings Up Johnny Depp Trial During Comedy Show: 'Believe All Women Except Amber Heard'
–– In zero-star review of performance on stand.
Chris Rock jokes that he 'got most of my hearing back' after Will Smith Oscars slap
–– Thus the Heard joke?
What Spell Did Marvel Cast on the MPA for 'Doctor Strange 2' to Receive a PG-13 Rating?
–– 'May the Eye of Agamotto leak your nude iCloud photos if you give us an R!'
'Doctor Strange in the Multiverse of Madness' Is Another Example of Why Marvel Has a Director Problem
–– But not discerning fan issue.
Elizabeth Olsen: Criticizing Marvel Movies as a 'Lesser Type of Art' Disrespects the Crew
–– 'Art' disrespects English.
Dave Bautista Says 'Goodbye Drax' After 'Guardians Vol. 3' Wraps Filming: 'It Ended So Suddenly'
–– Off with flex time.
Kevin Spacey is set to star in a movie about Genghis Khan's grandson, marking his biggest project since sexual-harassment allegations
–– Will he have Hoarde on?
Janelle Monáe: 'Erasure is happening right under our noses'
–– Of pencil mustaches?
Britney Spears Bares It All Once More With Pre-Pregnancy Nudes on Instagram
–– Such firm boob.
Hilary Duff poses nude for Women's Health cover: 'I'm proud of my body'
–– Hilary buff.
Halsey is 'allergic to literally everything' since giving birth and has been hospitalized multiple times
–– They break out if you use her pronoun.
Mario Batali Accuser Describes Nightmarish Assault by 'Wasted' Celebrity Chef
–– And 'waisted', if y'know what we mean.
Celebrity chef Mario Batali is acquitted of groping woman at Boston restaurant
–– Groper not on menu.
Paris Hilton shares school abuse story. Now she's urging Congress to put a stop to it
–– Please, Dear God, we don't know how much more we can listen to!
Bankside Boards Groucho Marx Movie 'Raised Eyebrows' With Geoffrey Rush, Sienna Miller & Charlie Plummer — Cannes Market
–– E. Basil St. Blaise's pre-review: 'Fallen arches.'
Léa Seydoux Says Intimacy Coordinator Wouldn't Have Helped Conditions on 'Insane' Blue Set
–– Blue right by them?
Why Johnny Depp and Amber Heard aren't in court this week and what's at stake when they return
–– And how many articles can we post reporting they aren't.
'Justice for Johnny Depp' petition to bring the actor back to the 'Pirates' franchise reaches over 475,000 signatures amid Amber Heard defamation trial
–– Yo-ho-ho, a battle of scum.
'She's coming off looking good': the week Amber Heard finally spoke
–– So you had sound off?
Elizabeth Hurley, 56, luxuriates by the pool in a bikini: 'When filming wraps for the day'
–– 'Of me shooting more selfies.'
Rita Moreno reflects on relationship with Marlon Brando: 'He was the lust of my life'
–– Greet Star Named Desire.
Kaley Cuoco Stuns in Incredible Strapless White Lace Gown as She Honors John Ritter
–– Who would've just splooged with appreciation.
Machine Gun Kelly on How Megan Fox Inspired Directorial Debut 'Good Mourning'
–– She made him want to kill self?
Jesse Williams responds to buzz over his Broadway nude scene: 'It's a body'
–– Sounds dickish.
The backward thinking behind reactions to Jesse Williams' leaked nude Broadway images
–– They're not thinking behind.
Emmy Rossum wore 3-pound fake breasts that gave her blisters in order to pull off her role in 'Angelyne'
–– Won't read, want to guess where.
Everything on Broadcast TV Just Got Canceled
–– All excited till we read it was really just 17 shows.
New Doctor Who Revealed: 'Sex Education' Star Ncuti Gatwa Confirmed By BBC
–– Has 'Who?' down pat.
'Sugar Shack,' an iconic painting featured on a Marvin Gaye album cover, sells for $15.3 million
–– If that's too Gaye for you.
Jumi Bello: Author's essay about plagiarism retracted after allegations of additional plagiarism
–– Headline itself being checked for plagiarism.
Robert Kiyosaki says that hot inflation will 'wipe out 50% of the US population' — what he means and how to protect yourself
–– Means he watched Avengers: Endgame too often.
'We've all made mistakes,' says golf great Greg Norman of Saudi journalist Jamal Khashoggi's murder
–– 'I've sliced my fair share, too, mate.'
U.S. Picked as Host of Rugby World Cup
–– Scrum bag.
Brewers' Christian Yelich becomes first MLB player to hit for cycle three times against same opponent
–– Then rides it out of ball park!
Adidas ads celebrating 'breasts in all shapes and sizes' banned in the UK
–– By bunch of odd tits.
How false reports of homework overload in America have spread so far
–– Idiot reporters went to those schools.
Science fiction, fantasy, thriller? Books we love but can't define.
–– See above.
Family claims mom's ashes spell out emotional message for them on surface of water: 'Chills all over'
–– Read: 'I can't swim!'
Butt Lifts Are Booming. Healing Is No Joke.
–– Is NY Times Magazine dedicating major article with multiple ass pics one?
7 less expensive summer vacation destinations
–– 4. Death Valley.
Barbie unveils its first-ever doll with hearing aids
–– That's hard to hear.
Kate Moss' daughter Lila proudly sports blood glucose monitor in 'Fendace' campaign
–– Sweet!
How Julia Child would test baking powder before using
–– Used it to salve hubby's heat rash.
Camilla Announces the Winning Platinum Jubilee Pudding — That Will Be Named After Queen Elizabeth!
–– Because it's equally sentient.
Apple is discontinuing its last iPod model
–– Microsoft introduces new 'throwback' brown Zune.
Stephanie Rosenthal Named Project Director of Guggenheim's Long-Awaited Abu Dhabi Outpost
–– Great gig if you can keep paint from melting.
Wall Street's slide continues, with the S&P 500 edging closer to bear market territory.
–– What den?
SoftBank's Funds Post $27 Billion Loss on Plunging Tech Investments
–– HardLuck.
Taking a Mental-Health Day? There's a Right Way to Do It.
–– You crazy bastard, you.
Vicky White had a 'special relationship' with inmate Casey White. Here are some other people who fell in love with inmates behind bars
–– List of birdbrains.
Officer who helped inmate escape dies from self-inflicted gunshot wounds during arrest: authorities
–– Which she needed like another hole in head.
Casey White Reveals What He and Jail Guard Lover Did During 11 Days on the Run
–– Netflix sans chill.
Overdose Deaths Continue Rising, With Fentanyl and Meth Key Culprits
–– And it's tough for zonked Deaths to climb out of bed.
I've lived in Britain 22 years and have kids here – why am I being deported to Jamaica?
–– You're asking us?
'Phage therapy' successes boost fight against drug-resistant infections
–– Is it phage scientists going through?
Soldier killed and another injured in bear attack in Alaska
–– Did beast have right to bear arms?
Bears hit with bizarre NFL scheduling quirk that team hasn't seen in 58 years plus 10 other schedule oddities
–– Which might explain soldier field attack.
A Massachusetts family thought they rescued a stray puppy. It turned out to be a coyote
–– Coyote ugly.
A lost dog crept into a couple's bed overnight. She didn't want to leave.
–– Wants to live with owners who leave door open all night.
Boy, 11, 'exhibiting canine mannerisms' rescued from flat where he was living with 22 dogs
–– Really ruffing it.
Dinosaur Legs Grown On Genetically Modified Chicken Embryos In World First
–– Tyson scientists getting freaky.
Here's a Gorgeous, 630-Foot-Deep Sinkhole You Can Admire Instead of Fear
–– Bring Your Own Lube.
Construction Workers Uncover Massive 800-Year-Old Aztec Dwelling in Mexico City
–– Would love to know Arkitec.
10,000-Year-Old Stonehenge Pits Show Site Was Used Earlier Than Previously Thought
–– As Druid loo.
More human remains found at Lake Mead as reservoir's water level plunges
–– Natural flavorings.
Joy for environmentalists as California blocks bid for $1.4bn desalination plant
–– Too much salt water addled brains.
California surplus expected to hit unprecedented $97 billion under Newsom's budget plan
–– They're gonna need for sun block, VOSS Water.

Tuvalu, sinking in the Pacific, fears becoming a superpower 'pawn'
–– Or prawn.
North Korea 'Sending Out SOS' as It Admits Unnamed Disease Has Spread to 350,000 People
–– Even COVID years behind there.
'Get the f**k out!': Broadway legend Patti LuPone screams at audience members not properly wearing their masks
–– She's one of The Ladies Who Launch.
Kevin Samuels' death raises a simmering debate between Black men and women
–– Where besides in this article?
Fred Ward, Famed Character Actor, Dead at 79
–– Ward cleavered.
George Pérez, Who Gave New Life to Wonder Woman, Dies at 67
–– Pérez into service.