Stop Gun

Week of 05/27/22
Actual headlines from the internets. You Google 'em.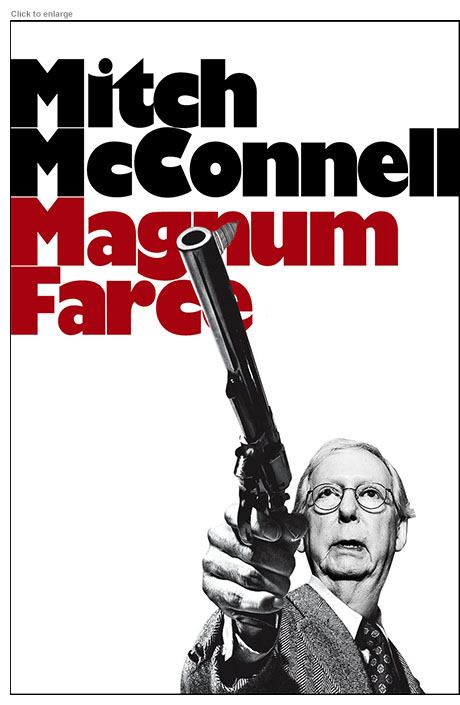 Biden demands U.S. 'stand up' to gun lobby after Texas school shooting
–– Get off knees, wipe mouth.
The Republican wave is building fast
–– Toxic as Red Tide.
Biden after Uvalde Elementary School Shooting: 'Second Amendment Is Not Absolute'
–– Is Number 2.
Maker of rifle used by Texas gunman draws fury for 'incendiary' ads
–– Fire away.
Exclusive: McConnell says he has directed Cornyn to engage with Democrats on a 'bipartisan solution' on gun violence
–– Will probably just result in usual heavy petting.
Tale of two senators: Cruz doubles down against gun regulation while Cornyn leads GOP in negotiations
–– So at least Cruz is honest about his awfulness.
The GOP's two favorite Dems try to turn their cred into a guns deal
–– Cred shot.
Camerota asks Texas Republican why GOP works quickly to protect embryos but not 10-year-olds
–– He replies they're working on ways to arm fetuses.
Experts say we can prevent school shootings. Here's what the research says
–– Uhn-uh.
What to say to kids about school shootings to ease their stress
–– How about not mention it?
What Greg Abbott gets *totally* wrong about the Uvalde shooting
–– *everything*.
Gov. Greg Abbott Just Said the Texas School Shooting 'Could Have Been Worse'
–– Unlike himself.
NRA to host Texas convention days after Uvalde school shooting
–– Will distribute child-sized targets to lucky attendees.
Trump doubles down on his 'longtime commitment' to speak at an NRA convention after deadly Texas school shooting: 'America needs real solutions and real leadership in this moment'
–– And appreciated opportunity to promote 'sheer evil.'
Country singer Larry Gatlin is latest to withdraw from NRA convention after Texas shooting
–– Will send Gatlin gun in place.
Mass shootings are so common that mayors now have a checklist for when one happens
–– So-called honeydie list.
Alexandria Ocasio-Cortez says Lauren Boebert should 'quit' instead of 'acting like a useless piece of furniture when babies are shot with AR15s'
–– Armchair philosophy.
Alexandria Ocasio-Cortez says she's thinking of getting rid of her Tesla after her Twitter feud with Elon Musk
–– Modern equivalent of hunger strike.
Texas seeks discipline for top lawyer over 'dishonest' election claims
–– Imagine level of dopey duplicity to be reprimanded in Texas.
Senate Republicans block domestic terrorism prevention bill in key vote
–– Looking to protect key constituency.
Southern Baptist Sex Abuse Report Stuns, From Pulpit to Pews
–– So they used Spanish Fly like Cosby?
Trump expressed support for hanging Pence during Capitol riot, Jan. 6 panel told
–– Trump: 'I just said I pictured him as well-hung.'
Meadows burned papers after meeting with Scott Perry, Jan. 6 panel told
–– After he realized he couldn't read.
Georgia Secretary of State Brad Raffensperger will dispatch Trump-backed primary challenger, CNN projects
–– Georgia impeach.
'Trump picked this fight': Why heavyweight Republicans no longer fear Trump
–– So brave 18 months after he was booted from office.
New York appeals court rules Trump, Ivanka and Don Jr. must sit for depositions
–– Can bring favorite butt plugs.
Pornstar Stormy Daniels Files To Legally Change Name Following Trump Scandal
–– To Blowy Daniels.
Georgia Democrats signal brutal ad campaign against Herschel Walker as high-stakes Senate race begins
–– Tough on him because of big words, few pictures.
The anti-abortion movement is about to win. Even it isn't ready for what comes next.
–– Like it doesn't want to see minority women in ERs, graves.
Poll: Supreme Court approval nosedives after leak of draft opinion that would overturn Roe v. Wade
–– Writ them off.
Pelosi responds after archbishop denies her Holy Communion for supporting abortion rights
–– With Host of objections.
After Perdue tells Abrams to 'go back where she came from,' she says Republicans just 'deflect'
–– Perdue chicken.
House Ethics Committee launches investigation into Madison Cawthorn
–– Dully Madison.
Ethics watchdog: 'Substantial reason to believe' Rep. Jackson improperly used campaign funds
–– So faith-based decision?
Putin says 'Thank God' some foreign companies have left Russia
–– Insists he's 'psyched' about disastrous invasion.
'Ashamed' Russian diplomat resigns over Putin's 'aggressive war'
–– Was he Red in face?
'They basically got everything wrong': A Russian diplomat speaks out on the war.
–– Engaged in Russkie business.
Don't Let Turkish President Erdogan Bully NATO Like He Bullies Everyone Else
–– Turk meanie stand.
Russian soldier gets life in prison in Ukraine's first war crimes trial
–– Improvement on life in Russia.
China is alarmed by the Quad. But its threats are driving the group closer together
–– Aways more focused on Patella, Achilles.
Kellyanne Conway says Trump offered her a blanket pardon after the 2020 election, saying 'they go after everyone, honey'
–– She replied, 'But my blanket is innocent.'
Trump declined to engage with former presidents on COVID, saying 'Ugh. They're all horrible to me,' Kellyanne Conway writes in her new book
–– Feared contracting cooties.
Trump hits back at Kellyanne Conway for admitting that he lost in 2020
–– Conway twitty.
Kellyanne Conway spars with Alyssa Farah on 'The View' over former boss Donald Trump: 'Such a cheap shot'
–– No, cheap shit.
Barack Obama Reunites With Boy From Viral 'Hair Like Mine' Photo
–– They release cover of Black Is The Color Of My True Love's Hair.
The most audacious Confederate spies — and how they got away with it|
–– Southern exposure.
Lara Logan, Once a Star at CBS News, Is Now One for the Far Right
–– Lara scoffed.
Billie Eilish Speaks About Her Tourette's Syndrome And Clears Up Some Misconceptions
–– After calling reporter 'c**ksucker'.
The Black Panther 2 villain might have just leaked
–– Personal henchperson to clean up.
Marvel Star Will Poulter Calls Superhero Body Transformations 'Unhealthy' and 'Unrealistic'
–– Poulter gripes.
The 'Loki' Screenwriter Says Thing Will Get Weird(er) in Season Two
–– Not more comprehensible(r)?
A Child Autopsy, Sexy Intestines and Kristen Stewart: 'Crimes of the Future' Earns Cannes Walkouts and 7-Minute Standing Ovation
–– Um, can we get slo-mo clip of those intestines for friend?
Tom Hanks Skirts Around Question About Polarizing 'Elvis' Accent at Cannes Press Conference
–– Or answered in his Parker accent and nobody understood.
Austin Butler Says He Was "Rushed to Hospital" After Filming 'Elvis' Biopic
–– Had to have hips unswiveled.
Kate Moss Denies Johnny Depp Pushed Her Down Stairs in Defamation Trial Testimony
–– Roll, stoned, but gathered no Moss.
Amber Take a bow: Kate Moss outfit sends subversive message at Depp libel trial
–– Screamed, 'I wasn't pushed!'
Lost $50 Million Due to Johnny Depp 'Abuse Hoax' Claims, Expert Says
–– Have expert checked for Histrionic Personality Disorder.
Warner Bros. Considered Replacing Amber Heard in 'Aquaman 2'
–– With real actress?
Aquaman' star Jason Momoa shares photo of himself in MRI machine, fans express concern
–– Hurt self trying to fake chemistry with Heard.
Ricky Gervais Defends His Transphobic Jokes: "That's What Comedy Is For"
–– Talk about lipstick on pig.
Why Tom Cruise's Jacket in 'Top Gun: Maverick' Had Taiwan Moviegoers Clapping and Cheering
–– Displays Taipei personality.
Justin Timberlake sells his entire music catalog
–– To be hung in outhouse.
'Bridgerton' star Jonathan Bailey ran off set in 'modesty thong' after he was 'traumatized' by a camera in between his legs during bathtub scene
–– Until he realized it was own 'zoom lens'.
Bobby Brown wants you to get to know who he is now
–– Thanks, CNN, we really wanted to get reacquainted.
Aerosmith frontman Steven Tyler voluntarily enters rehab after relapse
–– Tipsy anew and Tyler, too.
'Smokey and the Bandit' star Paul Williams talks Burt Reynolds, sobriety and why the 1977 blockbuster makes him feel 'like a Beatle'
–– Pete Best.
Chris Pratt and Katherine Schwarzenegger's second child has arrived
–– Unannounced at front door.
Dua Lipa Matched Her Denim Versace Bra Top to an Ultra Miniskirt and Sky-High Boots
–– In latest intelligence test.
Will Smith saw his career destroyed in 'hellish' ayahuasca trip before Oscars slap
–– Was he still high at ceremony?
Jada Pinkett Smith and Mom Adrienne Reflect on Missing "Nurturing Touch" in Their Relationship
–– Was it more slap?
Kevin Spacey charged with four counts of sexual assault
–– That's once Spacey meatball.
Paris Hilton wants to be the 'Queen of the Metaverse'
–– Metaverse deserves her.
Nate Middleton Wears Another Monochromatic Look to the Buckingham Palace Garden Party
–– Real surprise her color is vanilla.
Ways to Describe a Limited or Prestige Series Without Saying It's "Like a Six-Hour Movie"
–– It's like a quarter season of Barnaby Jones, but way more pretentious.
Judge blocks Catholic University from auctioning 'Wizard of Oz' dress
–– Don't judge Judy.
Why it's usually a bad idea to grill boiled hotdogs
–– Boiling grilled ones arguably worse.
The real reason you should stop peeling your potatoes
–– All those eyes staring at you.
Shiny but deadly – don't throw goldfish in rivers, pet owners told
–– Swallow in effort to revive 1930s college fad.
Fishermen land a giant 500-pound bluefin tuna in 3-hour fight
–– Mostly verbal squabble.
20 women's house dresses you're never going to want to take off
–– And 10 men's you'll never put on.
Thousands of people are leaving Hong Kong — and now it's clear where they're going
–– Elsewhere.
People Are Praising This Woman For Her Simple Solution To Getting Rid Of Camel Toe When Wearing Biker Shorts Or Leggings
–– Opinion split?
English 16-year-old sent nude to her mom. It was meant for a Miami-Dade teacher, cops say
–– Sextbook case.
She once wrote an essay on how to murder your husband. This week a jury found her guilty of murdering her husband
–– In final edit.
High school grad couldn't say 'gay' in speech, so he did this instead
–– A lot of waving limp wrist?
Didi's disastrous foray onto Wall Street is over
–– Made doo-doo.
The wild life of billionaire Twitter founder and 'Block Head' Jack Dorsey, who's officially left the social network's board, eats one meal a day, and takes ice baths
–– Still isn't remotely cool.
Adaptive Evolution In Mammals And Birds Is Much Faster Than We Thought
–– Why we never respected your opinion.
This strange 500-million-year-old sea urchin relative lost its skeleton
–– Still surchin.
New research suggests cat and dog 'moms' and 'dads' really are parenting their pets – here's the evolutionary explanation why
–– And why their nipples are sore.
Man spends $15K on high-tech dog costume to fulfill his lifelong dream
–– Now he dreams of running, ear rubs, kibbles.
NASA Snaps Photos of Underwater 'Sharkcano' Erupting
–– Syfy rushes in film crew.
Temple Restoration Reveals Vibrant Art of Vulture-Like Egyptian Goddesses
–– Keep calm, carrion.
DNA of Pompeii Man Killed During Vesuvius Eruption Yields Its Secrets Almost 2,000 Years Later
–– Was total ash-hole.
UK hits oil and gas companies with $6 billion windfall tax
–– Litre hosin'.
Supreme Court allows Biden administration to continue counting the costs of planet-warming emissions, for now
–– Did warn it was dangerously close to 'scientific.'
Memorial Day weekend calls for triple digit temperatures and storms for some
–– Holiday getting demanding in old age.
California governor pleads for more water conservation, warns of mandatory statewide restrictions
–– Residents respond: 'Dry up!'
Touch Screens in Cars Solve a Problem We Didn't Have
–– Hogwash! Lack of distracted driving was reaching crisis proportions.
Hubble identifies unusual wrinkle in expansion rate of the universe
–– NASA to launch massive space iron.
The real COVID surge is (much) bigger than it looks. But don't panic
–– Our long COVID won't allow us to.
The Answer to Covid Fatigue Is Creativity, Not Surrender
–– Stitch message into decorative pillow: 'Pandemic, You Rule.'
Bill Gates has Covid
–– In worst review of new book.
Colin Cantwell, who designed the Death Star for 'Star Wars,' dies at 90
–– See you later, Darth Vader.
Andy Fletcher, Founding Member of Depeche Mode, Dies at 60
–– Fletch (no longer) Lives.
Alan White, Longtime Yes Drummer, Dies at 72
–– White out.
Ray Liotta, 'Goodfellas' star, dead at 67
–– Buried under Hill.
Stars pay tribute to Ray Liotta: 'The epitome of a tough guy who was all mushy on the inside'
–– Is that what finished him?
'Narc' Director Joe Carnahan Remembers the Late Ray Liotta Once 'Having a Go' at Tom Cruise
–– Another reason to like.