Shocked and Loaded

Week of 06/03/22
Actual headlines from the internets. You Google 'em.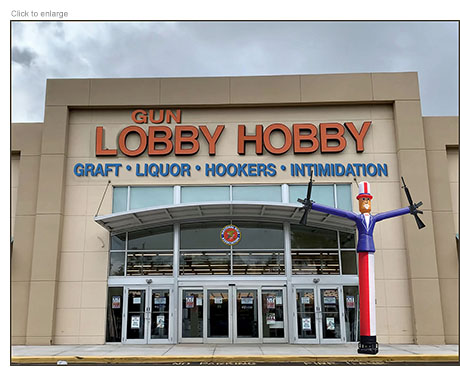 In Texas and beyond, many politicians receive mega donations from pro-gun supporters
–– Bullet-proof invest.
Why Nobody Wins in the Depp-Heard Verdict
–– Except, um, Depp.
Harris calls for assault weapons ban after back-to-back mass shootings
–– -to-back-to-back-to-back-to-back-to-back-to-back-to-back-to back…
Canada's Trudeau announces bill to cap sales, transfers and imports of all handguns in the country
–– Snubs nose.
Funerals for children killed in mass shooting continue in grieving Uvalde as police, bikers block press
–– Can't vultures circle overhead?
Donald Trump's Stiff Chant Of Uvalde Victims' Names At NRA Rally Curdles Critics' Blood
–– Is stiff chant what Huffpost calls recitation of dead?
Donald Trump Blasted by Writers of 'Hold On, I'm Coming' for Using Song at NRA Rally
–– He also used with Stormy Daniels.
Don Trump Jr. Suggests Uvalde Shooter Could Have Killed 19 Kids With A 'Bat'
–– That takes some balls.
Ted Cruz Chewed Out at Restaurant for Speech at NRA Convention: 'Why Did You Take Blood Money?'
–– Ironically, he'd ordered plasma soup with side of scabs.
Russia's War on Ukraine at 100 Days Has No End in Sight, Threatening Global Costs
–– Putin celebrated with 100-proof bottle of vodka.
Zelensky Says Russia Now Controls One-Fifth of Ukraine
–– Should rebuild USSR in 80 years.
Bond between Americans and Ukrainian forces they trained remains strong as war grinds on
–– Used Gorilla Glue.
Russia's Gazprom cuts off natural-gas supply to the Netherlands after the Dutch refused to pay in rubles. Denmark could be next.
–– Dutch boy called upon to stick finger in pipeline.
In a new U.S. poll, a majority identify as 'pro-choice' for the first time in decades
–– We're sure SCOTUS will weigh that heavily.
Supreme Court abortion decision faces churn of draft opinions, dissents
–– Are they ruling on Roe v. Wade or butter?
How Trump's Team Conned Susan Collins Into Dooming Roe v. Wade
–– Boy, she looks really hard to fool.
Grand jury indicts former Trump adviser Peter Navarro for contempt of Congress
–– Contempt mutual.
David McCormick Concedes to Dr. Oz in the G.O.P. Primary for Senate in Pennsylvania
–– Vows to continue quest for brain.
Fetterman says he 'almost died' after ignoring heart condition
–– And this one needs heart.
Opinion | Many Reporters Think Kevin McCarthy Is Dumb. Why Can't They Say So?
–– They know he wouldn't understand.
Biden and Saudi crown prince planning to meet later this month
–– Saw past Khashoggi murder.
Why Turkey changed its name: populism, polls and a bird
–– They can get stuffed.
Math books outrage China with 'ugly, sexually suggestive, pro-American' images
–– And you really don't want to get cancelled in China.
Michael Avenatti sentenced to 4 years for stealing nearly $300K from Stormy Daniels
–– From hope chest.
Nancy Pelosi's Husband Pushes Back Hard After DUI Arrest
–– Still has foot drunkenly pumping pedal.
Jamie Foxx: "Never Thought I Would Live In A 'Christian Society' Where They Would Let Little Children Die Over And Over Again"
–– Ease up on 'Christian Society', Jamie, but yeah.
Jon Voight, Outspoken GOP Supporter, Calls For 'Proper Qualifications for Gun Ownership' After Uvalde Shooting
–– Auditioning for role as sane person.
Grandfathers are to fight: Putin signs a law admitting people to the army under contract up to age 65
–– Grand fodder.
Seven People Died in Connection With the Capitol Attack. Trump Just Called the Insurrection a 'Hoax'
–– Cross his heart and hoax to die.
Former House Speaker Paul Ryan says too many lawmakers now rise through Congress by being 'entertainers' on social media
–– That lox never entertained anyone.
"Yellowstone" Lakota Actor Moses Brings Plenty Wants to be U.S. President
–– Brings Plenty of peyote, apparently.
Ellen DeGeneres, a Signature Star of the Obama Era, Says Goodbye
–– Gay lady down.
Tennis star Naomi Osaka 'petrified' after seeing panicked people flee Brooklyn's Barclays Center
–– How did normal mortals react?
Lady Gaga Dropped a Topless, No-Makeup, Unfiltered Selfie and I'm in Awe
–– You better check your awe meter.
George Carlin's Daughter Says He'd 'Roll Eyes' at Far Right
–– Which body part for Far Left?
Machine Gun Kelly Says He and Pete Davidson Once Brought 40oz Beers to Sandra Bullock's Easter Party
–– For her Peeps?
I went to Pete Davidson's Pebble Bar where a crab cake costs $30 and cocktails at least $20, and I'd go back again
–– And yes, I'm on company charge account.
Stop Pretending All Books Are Written in English
–– This author totally lost in translation.
We Will All Mourn, and We Will All Be Mourned
–– Even if we is Trump?
Beavis and Butt-Head Return for New Movie Do the Universe: Watch the Raucous Trailer
–– Look at DC, it's like they never left.
Stranger Things' star Noah Schnapp says he asked the Duffer Brothers to change Will's hair, but they insisted on keeping the bowl cut
–– Moe better blues?
Bobby Brown says he locked himself in the bathroom on his wedding day to Whitney Houston because he was 'scared to death'
–– And that's where coke was.
'He Needs to Be Stopped': Sources Say Cary Fukunaga 'Abused His Power' To Pursue Young Women on Set
–– Extras yell 'Cut!'
Olivia Wilde sometimes felt like a 'huge f--king failure' as a parent
–– Daughters draw big L on her forehead with play lipstick.
At 57, Paulina Porizkova Poses Topless in Un-Retouched IG Pic About 'Shame'
–– Shame of other older women comparing selves or shame of hubbies with chubbies?
Why Kelly McGillis Isn't in Top Gun: Maverick: "I'm Old and I'm Fat, and I Look Age-Appropriate"
–– That's about 'shameless' –– we love it.
Tom Cruise's Scientology connection shouldn't be ignored amid 'Top Gun' success, says Leah Remini
–– Wants ace in hole.
Can Peaches Still Fit in Those Pink Hot Pants?
–– Please spare us photo evidence.
Danica Patrick on removing her breast implants, being single: 'When the right guy comes along, I'll know it'
–– 'No more boobs.'
Madonna's son David Banda wears sporty red dress during night out with mom
–– Matched with distressed vintage bag.
Photos show Andie MacDowell and Helen Mirren dancing with each other across the Cannes red carpet
–– Gray Lady, get down.
Johnny Depp's Defamation Verdict Stuns Legal Experts: 'Complete and Total Vindication'
–– Even Lady Justice felt like she got pushed down stairs.
Why Was Depp-Heard Trial Televised? Critics Call It 'Single Worst Decision' for Sexual Violence Victims
–– Worse than jury's?
Amber Heard didn't want Johnny Depp to pay $100 million. She wanted to send a message
–– 'Pay me $200 million or I'll sue you for $100 million!'
Ted Sarandos Defends Controversial Dave Chappelle, Ricky Gervais Specials: "Everything's Not Going to Be for Everybody"
–– Not something you hear everywhere every day.
Ari Emanuel Marries Fashion Designer Sarah Staudinger in France With Larry David Officiating
–– It was all 'We are gathered here, yada, yada, yada…'
Elvira, a.k.a. Cassandra Peterson, Opens Up on the Freedom of Coming Out: 'I Feel Lighter'
–– Up front?
Nicole Kidman Says She Begged to Wear the Viral Miu Miu Micro-Mini Skirt on Vanity Fair Cover
–– Got down on very-exposed knees.
Nicole Kidman Reveals She and Dolly Parton Have Same Dentist: 'That's How Small-Town Nashville Is!'
–– Why, dental damn!
John Stamos Shares Sweet Photos of 'Little Moments' with Son Billy, 4: 'I Like Those the Best'
–– 'Because I can't stand spending too much time with him.'
Sheryl Sandberg Is Stepping Down From Meta
–– More a slip, slide, tumble.
Jada Pinkett Smith hopes Will Smith and Chris Rock 'have an opportunity to heal, talk this out, and reconcile'
–– We hope she has opportunity to shut the hell up.
We're Devastated to Report That 'The Real Housewives of Dubai' Is Tragically Boring
–– Emir waste of time?
Queen Elizabeth Goes Crown-less (and Surprisingly Low Key!) in Historic Platinum Jubilee Portrait
–– Nobody mentioned missing shoe, porridge stain down front of dress.
The queen pulls out of Friday jubilee event after experiencing 'some discomfort'
–– Charles kept stepping on toes.
Cheers and some jeers as Prince Harry and Meghan return to UK
–– No leers, few smears.
Queen Elizabeth Was 'Radiant' and 'Very Happy' After First Day of Platinum Jubilee: 'She Seemed Full of Joy'
–– And then 'Pffft!'
Paul McCartney congratulates Queen Elizabeth II on Platinum Jubilee
–– Insists, 'she's a pretty nice girl, but she doesn't have a lot to say.'
Before Pixar's 'Turning Red,' 'Braceface' and a 1946 Disney Short Tackled the "Taboo" of Menstruation
–– How about The Red Badge of Courage?
Menstrual cramps derail Chinese teen's French Open dream in loss to Swiatek
–– Couldn't pad score.
Iga Swiatek: The 21-year-old who could break Serena Williams' record winning streak
–– Record? 34 is 12th on all-time list.
Bob Hope's $29 Million LA Home Has a Par-3 Golf Hole Designed by the Comedian Himself
–– Made ho-ho-hole in one?
Man Throws Pastry at Mona Lisa, Smearing Cream on Glass Case
–– And Napoleon at David's Coronation of Napoleon?
My party of 4 spent $700 on dinner at Disney World's California Grill and we're still talking about the filet mignon and sushi
–– Still repeating week later.
How can I keep chicken juicy? That and more cooking questions, answered.
–– Ply with bourbon.
She struggled to love her small chest. After starting a bra company, she finally does
–– It's where she stores gewgaws.
Brace yourselves for an economic 'hurricane,' Jamie Dimon says
–– Superstorm Jamie?
Elon Musk Reportedly Tells Tesla Workers To Return To The Office, Or Quit
–– Musk rat love.
Airbnb CEO: 'We're not pulling on the brakes, we're stepping on the gas'
–– Pulling? What's this guy driving?
'Irreplaceable' $2 million gold tabernacle stolen from Brooklyn church
–– Host of suspects.
My Roommate Won't Pay Rent and Won't Leave. What Can I Do?
–– Did you ever see Rear Window?
Married People Are Sharing The Brutally Real Things Unmarried Couples Need To Know Before Taking That Step
–– Or deciding to maintain their brutally sad lives.
Gunman in Tulsa hospital shooting angry over pain after back surgery, police say
–– Practiced deadside manner.
Texas school shooter warned teenager in Germany about rampage
–– Wasn't time for her to mail postcard warning Texas authorities.
Woman Gets 15 Months in Prison for Punching Flight Attendant in the Face
–– Time to stew over it.
'Disgusting' behaviour at Canadian police undercover training course sparks inquiry
–– Disguise: the limit.
Florida man and woman crash into FedEx truck during sex act
–– In hard-on collision.
Owner of Massachusetts ice cream parlor says customers waited in a 45-minute line because he didn't have enough staff — and that's a month ahead of the busy summer season
–– What a scoop!
As pools and beaches open for Memorial Day, experts warn a nationwide lifeguard shortage could prove deadly
–– Let that sink in.
South Florida gets soaked as potential tropical storm prepares to cross state
–– Still can't wash away stupid.
Lab-Grown Ear Made From Patient's Own Cells And Successfully Implanted
–– Come again?
Dax, a Lake County Sherriff's Canine, Apprehends 9 in 24 Hours, Police Say
–– Keeps all those handcuffs attached to collar.
Baby woodpecker gets tangled in woman's hair. See what happened next
–– She OK? Knock on wood.
Woman becomes New York legend after booting opossum from bar
–– Aw, she was just playing possum.
Some Elephants Are Getting Too Much Plastic in Their Diets
–– Tourists asked to stop taunting with charge cards.
Court Rules That Legally, Bees Can Be Classified as Fish
–– And spelling bees MMA matches.
Telescopes reveal why Neptune is more blue than Uranus
–– Saddened by attention 'your anus' jokes give twin.
Rogue Planets In Our Galaxy Might Be Massive Alien Spaceships, Study Proposes
–– Or, um, y'know, not.
Report: Denmark, U.K. on track for net-zero emissions by 2050 as U.S. lags
–– We're praying for nut-zero emissions on social media.
Breakout Indian Rapper Sidhu Moose Wala Shot Dead at 28
–– Moose murders.
Ronnie Hawkins, Rockabilly Road Warrior, Is Dead at 87
–– Ronnie, specter.
Bo Hopkins, 'Wild Bunch' and 'American Graffiti' Actor, Dies at 84
–– Bo deadily.
Heddy Honigmann, Whose Films Told of Loss and Love, Dies at 70
–– 1285 words explaining why you never heard of her.