Penny Ante Up

Week of 04/29/22
Actual headlines from the internets. You Google 'em.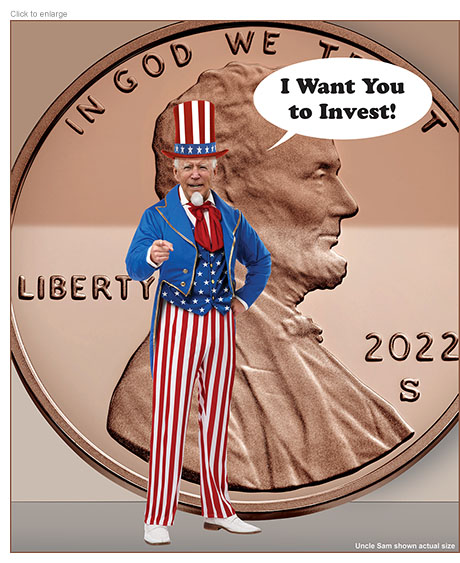 G.D.P. Report Shows the U.S. Economy Shrank, Masking a Broader Recovery
–– Uncle Sam blames cold water.
How Martinis Came Roaring Back
–– And ended up in toilet you're clutching.
Biden Digs In on Ukraine Strategy, Seeking $33 Billion More in Aid
–– Kyiv until it hurts.
What Russia cutting off energy to Poland and Bulgaria means for the world
–– Will find tough to slav off.
Trump blames deaths in Ukraine war on 'rigged election' in the US: 'It's a shame all those people are dead'
–– He means his voters, mentally?
As bombs rain down, 'shocked' Guterres says Kyiv should be spared
–– 'Particularly when I'm in it!'
West Ramps Up Ukraine Weapons Aid as Expectations About War's Outcome Shift
–– Arms-a-gettin'.
Russian foreign minister says possibility of nuclear conflict and outbreak of World War III over Ukraine is 'serious, real'
–– 'Very sexy.'
Russia deploys trained dolphins at Black Sea naval base, satellite images show
–– With nukes strapped to them.
Russia makes last-gasp dollar bond payments in bid to avoid default
–– Oligarchs check under sofa pillows, in bottomless offshore tax shelters.
Ukrainian Comedian Does Stand-Up in Bomb Shelters to Raise Money for Army
–– Bombs without, within.
Belarus eyes wider death penalty use after anti-war railway sabotage
–– Living under Lukashenko already life sentence.
Hunter Biden is prime target if Republicans win Congress
–– Hunter becomes hunted.
Harris tests positive for COVID-19, Biden not 'close contact'
–– See, Kamala, that's why he never takes your calls.
Opinion: Democrats should embrace being woke and make 2022 about GOP's extremism
–– If they're serious about losing record number of seats.
Smeared as a Groomer, a Michigan Democrat Goes on Offense
–– Insists she 'never even shampooed a dog.'
Trump says Matt Dolan is 'not fit' for Ohio's Senate seat. He's gaining ground anyway.
–– Ass doesn't look that big.
This is a job for voters: Rickety Constitutional argument won't remove Marjorie Taylor Greene
–– Or exorcists.
Elizabeth Warren Calls Out Kevin McCarthy As A 'Liar And Traitor'
–– And biggest dummy since Charley.
DeSantis signs bill creating new Florida election police force
–– Hollow point ballots.
Disney says Florida would have to pay nearly $1 billion to dissolve special district
–– In bribes to Seven Dwarfs.
Greene, in text to Meadows, raised topic of martial law to keep Trump in power
–– Greene eyed monster.
Marjorie Taylor Greene's lawyers say she has 'no recollection' of martial law text to Mark Meadows
–– Can't remember if she actually has thumbs to text.
Reps. Matt Gaetz and Jim Jordan plotted with Trump to stop Biden from becoming president, House January 6 committee says
–– Effectiveness of plan was dead giveaway.
Why this former Trump official comes out looking absolutely terrible in the Mark Meadows texts
–– Perry messin'.
GOP Rep. Scott Perry claimed 'the Brits' were manipulating the 2020 election results and asked Mark Meadows to 'immediately seize' Dominion voting machines
–– Perry pathetic.
New York's highest court blocks Democratic-drawn congressional map over gerrymandering
–– At least Republicans know enough to bribe judges.
Blinken says US will return diplomats to Ukraine during meeting in Kyiv, official says
–– Winkin' Blinken gives nod.
Emmanuel Macron Defeats Marine Le Pen for Second Term as French President
–– Le Pen pall.
Judge rejects Trump bid to end $10,000-a-day contempt fine
–– Not enough money in world to pay for contempt he deserves.
Video shows Donald Trump struggling to say the name of his own social media platform, Truth Social
–– Could never speak 'Truth.'
Trump said he took a cognitive test because he didn't 'like being called stupid'
–– And couldn't remember what it meant.
Trump Testified That He Was Scared He Was Going to Be Killed by a Flying Pineapple
–– We can understand his terror.
Trump calls Prince Harry "whipped," says titles should be removed
–– Pussy riot.
Prince Andrew's Household Reportedly Leaked Prince Harry and Meghan Markle's Relationship to the Press
–– Was lotta leaking there.
Prince William had a panic button installed in Kate Middleton's apartment when they dated, book claims
–– She couldn't remember safe word?
US left behind $7 billion of military equipment in Afghanistan after 2021 withdrawal, Pentagon report says
–– 'Private Property' stickers on them meant to deter Taliban from filching.
Inside the Implosion of CNN+
–– Cave-in News Network.
Chris Wallace opens up about CNN+ shutdown, professional future: 'Two weeks ago, streaming was king'
–– Wallace and grimace.
'The Mummy' Reboot Director Calls the Tom Cruise Film "The Biggest Failure of My Life"
–– Deserved bad wrap.
Jason Sudeikis Claims He Was Unaware Of Olivia Wilde Being Served Court Papers At CinemaCon
–– Which made laughter that much richer.
Johnny Depp Says He Wanted to Give Jack Sparrow a 'Proper Goodbye'
–– Yo-ho-ho-hum.
Johnny Depp Forgets His Own Acting Credits During Testimony in Case Against Amber Heard
–– In bid to make self more relatable to movie-goers.
Johnny Depp concludes testimony in defamation case against Amber Heard
–– After successfully removing last shred of dignity.
Johnny Depp's security guard testifies about actor's penis
–– Which he called his Jack Sparrow.
Makeup brand Milani says product Amber Heard allegedly used to cover bruises didn't hit shelves until after her divorce filing
–– Don't rub it in.
Sharon Osbourne opens up about 'horrendous' facelift
–– Talking out of both sides of her face.
Sharon Osbourne details her 'horrendous' face-lift: 'You have no idea'
–– We have eyes.
Laverne Cox poses in 'skimpy lingerie' ahead of her 50th birthday: 'This body has been through so much, both inside and outside'
–– Like these eyes.
Lauren Hutton Poses Topless for Harper's Bazaar , Talks Cosmetic Procedures: 'There's a Thin Line You Tread'
–– 'Then snort.'
'Euphoria' star Chloe Cherry, in lingerie campaign, says, 'Our bodies are for so much more just than to look at'
–– Porn actress should know.
'Ozark' Boss, Jason Bateman and Laura Linney on Avoiding a "Junk Food" Ending and the "Choicefulness" of Final Episodes
–– Seem OK with junk food language.
Marlon Wayans Speaks On Oscars Slap: "It Was Like Watching Two Brothers Fight"
–– Because they are brothers, right?
Nicolas Cage Defends His VOD Film Era: 'I Did Some of the Best Work of My Life in That Period'
–– Putting entire oeuvre in context.
Harry Styles Dropped Out of Robert Eggers' 'Nosferatu' Remake With Anya Taylor-Joy
–– For those who say he can't suck enough.
Lea Michele Says She Once Showed Her "Whole Vagina" To Jonathan Groff … Using A Desk Lamp!?!
–– Hole?
Michael Douglas says Debra Winger bit him, confirming longtime Hollywood rumors
–– Wingered him in arm.
Alan Cumming Offering $10,000 Reward for Any Info on Missing Chimpanzee Co-Star
–– Who, surprisingly, never bit him.
James Corden on The Late Late Show Exit: "I Never Saw It As My Final Destination
–– Neither did Craig Kilborn.
NBC News slammed for labeling 'Jeopardy!' champ Mattea Roach 'lesbian tutor'
–– We thought it came naturally.
Here's who beat Jennifer Aniston and Liz Hurley in 'hottest woman over 50' poll
–– Creme de la crepe.
Megan Fox: I Pre-Dated #MeToo and 'Got Ridiculed' for Calling Out Hollywood Misogyny
–– But after ridicule for acting, right?
'A symbol of strength': how Rihanna's bump has changed pregnancy style
–– For all those other ultra-rich exhibitionistic pop star entrepreneurs.
Don't Call Her 'Baby.' At 62, Jennifer Grey Is Taking the Lead.
–– Unless you're referring to her infantile attitudes.
Liberace's Secret West Hollywood Townhouse Oozes with Old Hollywood Glamour
–– And ooze.
Pat Sajak's question to Vanna White upsets some viewers
–– Who assume he can change own diaper.
Host and executive producer of Showtime series "Ziwe" on asking uncomfortable questions
–– Here's one: Ziwe?
HBO Fires Back After Jerry West Criticism: 'Winning Time' Is "Based on Extensive Factual Research"
–– Goad West, young man.
Elisabeth Moss Speaks Out on Scientology, From 'Handmaid's Tale' Criticism to Profane Emmys Speech
–– Does she explain why she even has career?
Los Angeles Dodgers' Trevor Bauer suspended for two seasons
–– For choking up on the bad.
Hope Solo requests postponement of National Soccer Hall of Fame induction, says she will voluntarily enter alcohol treatment
–– Goal against the flow.
Opinion Was Martha Mitchell 'gaslit'? Or 'gaslighted'? Maybe neither?
–– Or just plain lit.
'Washington Crossing the Delaware' Sails Toward the Auction Block—and Could Fetch $15 Million
–– Isn't valley forgery?
F.D.A. Moves to Ban Sales of Menthol Cigarettes
–– To avoid black lung?
Harvard Creates Fund to Redress Its Ties to Slavery
–– More like shackles.
Judge Orders Man Who Defaced L.G.B.T. Pride Mural to Write Essay on Pulse Shooting
–– Throws in the pen?
The intriguing history of water pie
–– Still or sparkling?
The absolute best uses for your leftover pineapple core
–– After butt plug.
The world's skinniest skyscraper is ready for its first residents
–- Wallet needs to be amongst world's fattest.
Is This the Most Expensive Pilates Class?
–– Ask assholes who want to brag they go to it.
If a Rat Falls Into Your Bed, Call Your Lover's Boyfriend
–– For threesome?
US egg factory roasts alive 5.3m chickens in avian flu cull – then fires almost every worker
–– Who punched the cluck.
My stepfather died. He inherited my late mother's estate and always said he'd take care of us in his will. How do I tactfully broach this issue with his children?
–– Do you own pistol?
Russia deploys trained dolphins at Black Sea naval base, satellite images show
–– Quack case.
Cops Kill Man Over Stolen Pokemon Cards in Target Parking Lot
–– Kissimmee PD motto: "Gotta catch 'em all.'
World's largest blue diamond to come to auction has sold for $57.5 million
–– That's a lot of freakin' almonds.
A quarter of all the electricity in this county is powering Bitcoin mining
–– The rest for meth labs.
Professor says he knows why the last 10 years in the US have been so 'stupid'
–– 'Just listen to me.'
Palestinian farmer finds 4,500-year-old goddess statue while working his land
–– Didn't PLO under?
'Happy Easter X': Missing set of valuable Charles Darwin notebooks returned with note
–– From Galapagos tortoise, his Peeps.
Scars on Snails Offer a 100,000-Year Record of Crab Populations
–– Where evolution went sideways.
Tiny spider catapults to safety after mating to avoid sexual cannibalism
–– Ding dong acts as spring.
They're All Good Dogs, and It Has Nothing to Do With Their Breed
–– No heels?
Watch this wee recon robot survive almost anything
–– Except wee-wee.
Mysterious 'Instability' in the Cosmos Puzzled Scientists for Decades. Now, We Have an Answer.
–– Kanye acting crazy.
Paleontologists in Argentina Discover New Megaraptor Fossil
–– Made big impression.
Mississippi residents felt shaking and heard loud booms. It was a fireball flying at 55,000 mph.
–– Meth labs totally outta control.
Punishing heat wave in India reaches 115 degrees, part of a 'hotter and more dangerous world'
–– Delhi serving hot dogs.
Lake Mead plummets to unprecedented low, exposing original 1971 water intake valve
–– And rubber duckie from 1951.
'Deep-sea gold rush' for rare metals could cause irreversible harm
–– Ore not.
Dr. Fauci on why the U.S. is 'out of the pandemic phase'
–– Boy, what a relief, now we can finally …
Fauci drops out of White House Correspondents Dinner over COVID concerns
–– … stay home.
Ex-CDC Chief Says Trump Administration Silenced Him on COVID
–– When he had so much bad info to impart.
Covid deaths no longer overwhelmingly among unvaccinated as toll on elderly grows
–– There's full dose of mood booster.
Shailene Is 'Done' With Aaron—Here's Why She Officially Broke Up With Him After Giving Him 'Another Shot'
–– But didn't he refuse to get first one?
Cities Want to Return to Prepandemic Life. One Obstacle: Transit Crime.
–– It's off rails.
Opinion: What's revealed when Americans take off their masks
–– In our opinion, a face.
Jim Hartz, NBC News Veteran and 'Today' Co-Host, Dies at 82
–– Broken Hartz.
Orrin Hatch, Seven-Term Senator and a Republican Force, Dies at 88
–– Down the Hatch.
Neal Adams, Batman Comic Artist and Eisner Hall of Fame Inductee, Dies at 80
–– Neal and void.
Marvel's Roy Thomas Remembers His 'X-Men' Artist Neal Adams as "Bigger Than Life"
–– Quite the X-Colleague.