Patience Zero

Week of 03/20/20
Actual headlines from the internets. You Google 'em.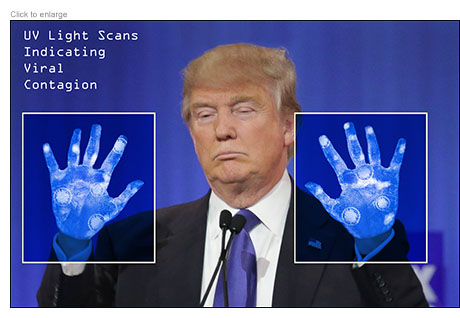 Trump's own words contradict claim he's always viewed coronavirus as 'very serious'
–– 'I always said there's nothing worse than a hoax.'
IRS extends tax deadline to July 15 from April 15
–– Whenever 15 for corporations.
Trump throws tantrum over coronavirus question: 'You're a terrible reporter'
–– When reporting on someone terrible.
Trump Resists Pressure to Force Companies to Make Coronavirus Supplies
–– Better latex, then never?
Top coronavirus doctor puts head in hands when Trump mentions 'Deep State Department' at briefing
–– Fauci wah-wah!
Government officials reportedly 'just couldn't get' Trump to do anything about coronavirus early on
–– When they said most deaths likely in Blue States.
Coronavirus bungling by White House is now 'too late to be fixed,' Obama's Ebola czar says
–– Has bug up ass.
California Governor Expands "Safer at Home" Directive Statewide: "We Will Meet This Moment Together"
–– "While completely apart."
Data from China shows the majority of people with Covid-19 only suffer mild symptoms, then recover
–– Clarifying absolutely nothing.
China issues 'solemn apology' to doctor reprimanded for early coronavirus warnings
–– Government lays teddy bear with 'Sorry. I'm Such an Idiot.' t-shirt on grave.
Chinese Tycoon Who Criticized Xi's Response to Coronavirus Has Vanished
–– Sanitized.
Trump announces American has been released from Lebanese prison
–– Into self-isolation with no release date.

Senate GOP crafting new massive coronavirus package at 'warp speed'
–– And you know how warped they are.
Lindsey Graham is reportedly trying to talk Trump out of coronavirus relief checks for Americans
–– Suggests empty envelopes with 'Psych!' slips inside.
Trump, asked about coronavirus response, gives himself a 10 out of 10
–– Doesn't notice 90 more boxes.
Maryland GOP Governor: 'No Question' Donald Trump Made A Mistake With Coronavirus Response'
–– 'Mistake' such a mild word for untold thousands of deaths.
Ex-FEMA boss bolts from MSNBC interview: 'I don't have time to listen to bull----, people'
–– Even though a bull---- person.
Trump halts most traffic on U.S. border with Mexico
–– First anti-virus move he enjoyed.
Jared Kushner is reportedly leading a chaotic coronavirus 'shadow' task force after telling Trump in the outbreak's early days the crisis was overblown
–– Overblowing father-in-law his specialty.
Lou Dobbs Reaches 'North Korea Levels' Of Trump Adoration With Bizarre Poll
–– Somehow kisses ass while maintaining 230 miles of social distancing.
Lou Dobbs Said Media Hyped Coronavirus. Now He's in Quarantine.
–– In own echo chamber.
A White Nationalist Has Rebranded Himself as Coronavirus Expert. And People Are Flocking to Him.
–– Studies only white blood cells.
National Spelling Bee called off because of coronavirus
–– Will rest a spell.
Typhoid Mary's tragic tale exposed the health impacts of 'super-spreaders'
–– Made fever pitch.
A malaria pill from the 1940s has caught the eyes of doctors, analysts, and even Elon Musk as a potential coronavirus treatment
–– It's a bit dusty, but…
Melania Trump announces plans to appear in coronavirus PSAs
–– As Quiet Suffering.
I'm an epidemiologist. When I heard about Britain's 'herd immunity' coronavirus plan, I thought it was satire
–– By Jonathan Not-so-Swift?
'Get your heads out of the sand': Warning as coronavirus claims UK's youngest victim
–– Does Johnson have sand packed up there?
'We're not going to be popularist': UK defends coronavirus response as other countries ramp up measures
–– Or rationalist.
Queen Reunites with Prince Philip at Windsor Castle as They Relocate Amid Coronavirus Pandemic
–– Puckish Philip dresses up as Grim Reaper.
Spring breakers grind and party on booze cruise despite coronavirus pandemic
–– Psst, hey, coronavirus, ever been to Spring Break? You would so love it!
Stop calling 911 over coronavirus toilet paper shortage, cops beg
–– Roll over.
This mom's toilet paper stockpile got ruined in the saddest way
–– Went to shit.
This toilet paper calculator tells you how long your stash will last
–– Wiper window.
Woman licks plane toilet seat for 'coronavirus challenge'
–– Tongue depresser.
Europe Gives Internet Providers Right to Throttle Online Traffic Amid Virus Crisis
–– Can they throttle influencers?
The Weekend Bags So Stylish They'll Make You Actually Enjoy Going To The Airport
–– And sit there two months until next flight leaves.
How to EAT your way to a six pack while in isolation
–– Wolf down two pizzas, bag of chips, then drink beer.
Evangeline Lilly Refuses to Self-Isolate Amid Coronavirus, Makes Comparison to Martial Law
–– Say Wasp?
Amazon is hiring 100,000 workers, 7-Eleven will hire up to 20,000 — here are the sectors adding jobs amid coronavirus
–– Corpse cart operators.
Coronavirus: Rand Paul holds up Senate vote on rescue package with doomed amendment
–– Assholes around world: 'Don't look at us.'
GameStop says it's an essential business. Employees are outraged
–– Nerds nod so hard they suffer whiplash.
Gaming Usage Up 75 Percent Amid Coronavirus Outbreak, Verizon Reports
–– Fortnite
Man Under Coronavirus Lockdown in France Completes Marathon on His Balcony
–– Which collapses from obsessive running back and forth.
Man fined for 'proposing' to girlfriend on beach during COVID-19 lockdown
–– 'With this ring I, thee spread…'
These St. Patrick's Day Quotes Will Bring You Good Luck on March 17, Even If You're Not Irish
–– 'May COVID-19 always be at your back.'
Philippines detects bird flu outbreak in quail farm
–– Kind of a BFD at the moment, no?
We may know less about the 'amphibian apocalypse' than we thought
–– Feeling swamped?
Impact of a second Dust Bowl would be felt worldwide
–– Great Plains particulately?
Locust crisis poses a danger to millions, forecasters warn
–– This year's Seder to feature all 10 plagues live.
11 pandemics that changed the course of human history, from the Black Death to HIV/AIDS — to coronavirus
–– 7. Disco Fever.
Jared Leto Emerges From 12-Day Meditation Retreat to Find "Mind-Blowing" Coronavirus Pandemic
–– Please go back for 12 months.
Photo shows "corona" crossed out and replaced with "Chinese" in Trump's briefing notes
–– Trump: "Toyota, which everyone knows is a Chineses company, even had a car named after it."
Coronavirus devastates China's economy and the 'nightmare' is not over
–– Wuhan is the loneliest number.
Financial expert: Do this with money during coronavirus outbreak
–– Superglue bills over nose, mouth, eyes.
Tennessee man sitting on almost 18,000 bottles of hand sanitizer says he's doing 'a public service'
–– Waiting for it to hatch.
Sanders says first thing needed in coronavirus pandemic is to 'shut this president up'
–– Vast infectious cloud spewing from mouth.
Trump was reportedly saved from tweeting Tom Hanks had died from coronavirus after officials misunderstood what being 'discharged' from hospital means
–– Should be discharged from job after discharging in shorts.
'See you real soon': Disney World officially closes its doors amid coronavirus; more Disney closures announced
–– Mickey self-quarantines in hole.
Italy's coronavirus lockdown is so severe that you need a form to prove you have a good enough reason to be outside
–– It's-a like Mario and Luigi are in-a jail.
Secret Recording Exposes Intelligence Chairman Warning Donors About Coronavirus 3 Weeks Ago
–– Errin' Burr.
Senator Dumped Up to $1.7 Million of Stock After Reassuring Public About Coronavirus Preparedness
–– Was afraid for health of portfolio.
'He must resign from the Senate': Fox News host demands Richard Burr's ouster after bombshell report suggests he dumped up to $1.72 million in stocks before coronavirus crisis
–– Tucker Carlson: 'Less than 2 mil? We can't have penny ante grifters in Trump's Washington.'
Four senators sold stocks before coronavirus threat crashed market
–– Hunch was infectious.
Richard Burr Is No Longer the Most Revolting Profiteer in the Senate
–– So many to choose from.
Devin Nunes contradicts health experts' 'social distancing' recommendation
–– Of course, it's sane.
'It's a great time to go out': California Republican Devin Nunes talks about life amid the coronavirus pandemic
–– Feet first?
Luxury perfume makers Dior and Givenchy will produce free hand sanitizer for French health authorities
–– Eau de Humanity.
What Pornhub Data Says About How People Are Spending Their Social Distancing Time
–– Cleaning hands by vigorously rubbing with lotion.
Paulina Porizkova shares sultry vintage vacation photo from quarantine: 'Topless is my favorite bikini'
–– Much more pleasant than coronavirus knobs.
Olga Kurylenko, James Bond actress, says she has coronavirus
–– Was in Quantum of Solace so 'actress'?
Coronavirus: governor tells Trump to 'get shit together' amid airport chaos
–– That's what we've had 3+ years of.
Trump tests negative for coronavirus, White House says
–– He typically flunks.
Trump says he's told his 13-year-old son the coronavirus situation is 'bad'
–– 'Like fake-news-lying-about-my-inauguration-crowd bad.'
---
Silver Linings Plaguebook

Ted Cruz Praises Alexandria Ocasio-Cortez's 'Good Advice' On Coronavirus Conduct
–– Only takes global catastrophe for them to agree.
Alex Jones peddled a fake coronavirus cure that can turn people's skin permanently blue
–– Smurfazine ointment.
'Saturday Night Live' has suspended production because of the coronavirus
–– Shortage of testing skits.
Travel influencers say coronavirus is 'impacting income massively'
–– Dunder the influence.
Meghan Markle's Hollywood Dreams Could Be Shattered
–– No Hazmat Suits?
The 'Friends' Reunion Special Has Been Delayed Due To The Coronavirus
–– Considered filming as monologues from six separate apartments.
---
"Hungry" Tom Brady officially signs with the Tampa Bay Buccaneers
–– For crow, apparently.

Prince Harry and Prince William Are Reportedly "Filled With Anger and Resentment" Toward Each Other
–– In bid to unite nation.

In Mexico, a cartel is taking over: Jalisco New Generation
–– Boy band releases Narcocorridos EP.

Oprah Swears She Hasn't Been "Raided or Arrested" Following Her Rise to Twitter's Trending Topics
–– Claimed it was sexy role-play with Stedman dressed as cop.

I'm a dry-faster and haven't had any water in 4 years
–– But still am wet blanket.

Priyanka Chopra Says Nick Jonas Is a "Version of My Dad"
–– Has him wear World's Best Dad briefs to bed.

Guy Pearce Looks Back on Reading Nolan's 'Memento' Script: 'It Felt Like Gobbledegook'
–– Exactly how it played.

Robert Englund (aka Freddy Krueger) was 'Afraid of Snakes' for a 'Long Time'
–– Snakes absolutely terrified of Freddy.

Bloomberg to give $18M to DNC; state parties to get offices
–– After call him billionaire pig.

Progressive group's analysis finds Stacey Abrams is Biden's best choice. Here's why.
–– Hint in first word.

Tulsi Gabbard Finally Ended Her Increasingly Quixotic Campaign
–– Campaign Manager Panza looking for work.

Sanders curses out CNN reporter when asked about failing campaign
–– And insists he get off lawn.

'I'm dealing with a f---ing global crisis': Bernie Sanders issues a scathing response when asked if he'll suspend his campaign
–– "And I am totally high risk, s---thead!"

Mike 'The Situation' Sorrentino and Michael Cohen formed a friendship over chicken in prison
–– As in young boy?

Linda Fairstein sues Netflix for portrayal in Central Park Five film
–– Cites casting of convicted felon Felicity Huffman to play her.
Oil collapses by another 24% to $20. It hasn't been this low since 2002
–– Just in time for Throwback Thursday.
Greta Thunberg's Climate Mission Helped End Her Torment, Reveals Powerful New Memoir
–– Then it's all worthwhile.
A chunk of Yellowstone the size of Chicago has been pulsing
–– Told to turn down House music.
Here's how the 'unicorns of the sea' got their tusks
–– Narwhals paid Kenyan poachers.
Two New Species of Mysterious Deep Water 'Saw-Like' Sharks Have Been Discovered
–– Diver 'like saw' them.
A Museum of Underwater Art Is Opening on the Great Barrier Reef
–– Dolphins sign on as docents.
This 'wonderchicken' walked the Earth with dinosaurs
–– Got squashed a lot.
Our Hands Originated in Earth's Oceans at Least 380 Million Years Ago
–– Near Palm Beach.
Does Your Dog Have A Food Allergy, Or Is It Food Intolerance?
–– Or are you just indulging the miserable mutt?
Vin Diesel Says Steven Spielberg Told Him He Hasn't Directed Enough: 'That Is a Crime of Cinema'
–– Referring to sole feature Strays?
Remember when Madonna's cone bra made its debut?
–– Yeah, what a scoop.
Bill Weld ends Republican presidential campaign
–– Front page headline, if not for coronavirus!
Bill Weld and His One Delegate Fold the Tent
–– Fits in backseat of Mini Cooper.
Former Rep. Duncan Hunter sentenced to 11 months in prison for misusing campaign funds
–– That's Hunter Congressional Republicans should've pursued.
Trump says he is 'strongly considering' full pardon of Michael Flynn
–– Error Flynn.
Stuart Whitman, Star of 'Cimarron Strip' and 'The Mark,' Dies at 92
–– Vault Whitman.
Lyle Waggoner, Actor on 'The Carol Burnett Show' and 'Wonder Woman,' Dies at 84
–– Lyle in repose.
Remember when Liz Hurley wore 'that' dress?
–– Then you're 'that' pathetic.
Miley Cyrus says she didn't wear shorts, bikini for years after VMAs performance: 'I was so insecure'
–– 'Couldn't flash my hoo-ha for weeks.'
Fiona Apple Says 'Excruciating Night' With Paul Thomas Anderson, Tarantino Changed Her Life
–– Like being forced to watch double bill of Magnolia / Django Unchained.
Dear Bobbi: How Should I Apply Makeup for My Older Hooded Eyes?
–– With cowl's feet?
Vampire bats 'French kiss with blood' to form lasting bonds
–– Spit-take!
The company behind 'Get Out' and 'The Invisible Man' says it gives away the plot of its movies in trailers on purpose
–– Plots worthless anyway.
Man Says Twin Brother's 'Obsessive' Behavior Has 'Gotten In The Way' Of Their Relationship
–– Spitting image.
Iran president says Iran responded, will respond to assassination of Soleimani
–– 'And, may I add, shall respond in the future'
Israel's elite Mossad unit set up a luxury diving resort in the 1980s as a front to smuggle Ethiopian Jews out of Sudan. Here's what it was like.
–– Pretty freakin' cool.
Ex-governor's candidate in Florida says he's entering rehab
–– Won't seek higher office.
Egg McMuffin rat is the newest fast food rodent star in New York
–– Wearing Ronald McDonald wig.
Woman who hid a sawn-off shotgun behind her bed headboard for her boyfriend is jailed
–– Sounds like barrels of laughs.
Western couple abducted in Burkina in 2018 found alive in Mali
–– After worst Discover Africa tour ever.
3 Myths About Washing Fruits and Veggies — and How to Do it Right
–– 2. Three Goddesses and the Unclean Golden Apple.
'Dead Sea Scrolls fragments' at Museum of the Bible are all fakes, study says
–– Praise the Lord!
Possible Half-Human, Half-Praying-Mantis Carving Found on Ancient Rocks
–– In cave used for drug-fueled rites.
Foreman for Harvey Weinstein jury says he's 'fine' with the 23-year prison sentence
–– He's not sharing cell, is he?
R. Kelly 'Knowingly and Intentionally' Gave Women Herpes Through Nonconsensual, Unprotected Sex, Prosecutors Say
–– Rubber check.
Jenna Bush Hager Shares Her Dad's Reaction After She Was Cited for Alcohol Possession at 19
–– Chip off the old blockhead.