Iran Poor Blood

Week of 01/03/20
Actual headlines from the internets. You Google 'em.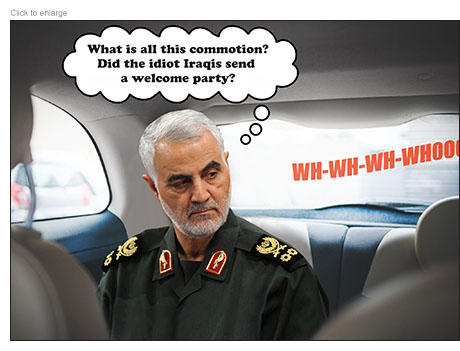 Leader of Iran's elite Quds Force killed in US airstrike near Baghdad airport
–– Damaged Quds.
What I Learned in Avalanche School
–– It's who you snow.
Trump orders killing of Iran Revolutionary Guards commander in Baghdad airport strike
–– By wag-the-dog soldiers.
Serious debate preceded Trump's decision to strike Soleimani
–– Seriously?
Iran's Ayatollah Vows Revenge for Soleimani Killing: 'His Blood Was Shed by the Most Barbaric of Men'
–– 'Which I admit was extremely appropriate, but still …'
Soleimani attack site cleared as Iraqis celebrate his death
–– With all the confetti, like Times Square after New Year's Eve.
Trump has created his biggest foreign policy crisis yet
–– Fubar none.
The Iraq War Cheerleaders Are Back on TV Cheering Another U.S. Intervention in the Middle East
–– Shaking their bomb-bombs.
Lindsey Graham: 'There Will Be No Benghazis' Under Donald Trump
–– 'He's goin' straight for Hiroshima.'
Shocking photos show what the US Embassy in Baghdad looked like after it was attacked by swarms of violent protesters
–– Like rest of Bagdad has looked since US troops arrived.
White House budget official told Pentagon that order to hold Ukraine aid came from Trump, national security site reports
–– Had tiny little fingerprints all over it.
Trump gave 'clear direction' to hold Ukraine aid, says White House official in uncovered documents
–– 'It was receiving clear direction that floored us.'
Manafort Said Hannity Served as His Trump Backchannel: Docs
–– Now it's cellmate 'P-Dawg.'
Delta flight attendants say their chemically treated Lands' End uniforms are giving them migraines, hair loss, and boils — and now they're suing the retailer
–– Landing's end.
Trump Cost Taxpayers An Extra $5 Million By Starting Afghanistan Trip In Florida
–– Had to pick up special Snuggie at Mar-a-Lago for long flight.
Trump spent 1 of every 5 days in 2019 at a golf club
–– A-hole in one.
The UN is in financial distress, and the US still owes $491 million for 2019
–– Should cover Trump's greens fees through 2020.
Ex-Fox News Reporter Courtney Friel Says Donald Trump Asked Her Over 'To Kiss'
–– WH Press Secretary Grisham: 'The President clearly meant his ass like her colleagues.'
Ron Howard Calls Donald Trump a 'Self-Serving, Dishonest, Morally Bankrupt Ego Maniac'
–– With 'Beautiful Mind.'
Gabrielle Union said her Uber driver asked to use her bathroom and 'dropped a deuce' on New Year's Eve
–– Or 'a twenty twenty.'
Jennifer Lopez Admits She Considered Stripping When She Was Starting Out: 'It Sounded Awfully Good'
–– Still does!
Vanessa Hudgens Recalls 'Really F**ked up' Nude Photo Leak
–– And totally normal ones.
Kaia Gerber's parents are trying to help Pete Davidson through a "difficult time", apparently
–– His life.
A palm reader was arrested for allegedly scamming a client out of $71,000 to banish a demon from her daughter
–– Demon breathes sulfurous sigh of relief.
A gunman is holding a person hostage inside an Illinois bank
–– As collateral.
Ex-Nissan chief made escape to Beirut aboard charter flights
–– Went Nissan rogue.
Australia Fires Intensify: 'It's Going to Be a Blast Furnace'
–– Highway to Hell named new national anthem.
Millions of Australians Are Choking on Smoke From Wildfires
–– Threw another roo on the barbie.
Exxon Mobil Australia Blasted For 'Astoundingly Tone-Deaf' Tweet Amid Wildfires
–– Tough to hear anything over sound of crackling forests.
Australian Prime Minister Scott Morrison Shouted Out Of Town Razed By Wildfire
–– Residents understandably hot.
Pneumonia Outbreak in China Spurs Fever Checks From Singapore to Taiwan
–– And flu credit cards.
What does pansexual mean and how does it compare with being bisexual?
–– Into lost boys?
Manuka honey: why is it so expensive and what are the health benefits?
–– Will cost your Hanukkah money.
Italian Vogue launches 'photo-free' sustainability issue
–– 'Pretension-rich.'
Kevin Bacon Killed, Actor With Same Name Pays Tribute
–– Six degrees of desecration.
Meat has been taken off the menu at this year's Golden Globe Awards dinner
–– No Bacon, Meatloaf, Hamm, T Bone, La Boeuf.
Wild boar cause of Cespedes' ankle fractures
–– Made pig of self.
A DC school is apologizing after fifth graders of color were asked to portray enslaved people
–– Promises Caucasians will portray all enslaved people in allowable form of 'whitewashing.'
Trump's approach to Iran is muddled and unpredictable
–– Or consistent with overall foreign policy.
A Michigan restaurant server got a $2,020 tip on a $23 meal for the New Year. It's part of the 2020 Tip Challenge
–– Thanks God for alcohol.
Hess Beats Shale Carnage as 'Fairy Tale' Find Rallies Stock
–– And Shale Carnage one heck of a wrestler.
Pope Francis Apologizes After Slapping Away a Clinging Pilgrim
–– Trying to serve him Thanksgiving turkey.
Linda Ronstadt compares President Trump to Hitler
–– Blew by you.
Confused About 'The Witcher' on Netflix? Showrunner, Henry Cavill Explain How the Timeline Works
–– 'Not at all.'
'The Witcher': Henry Cavill Explains Why Geralt Has a Strange Accent
–– Can't read dialogue with straight mouth.
'He'll claim it was a witch hunt': Democrats fear Trump will be 'emboldened' if he survives impeachment trial
–– Will start dressing in black samurai-style armor with sword strapped to back, long white hair in ponytail, speaking in strange accent.

Giuliani Ally Parnas Set to Give iPhone Data to House Committee
–– After swiping right on Adam Schiff.
Donald Trump Renews 'Fredo' Attack On CNN's Chris Cuomo
–– Acting like Veto Corleone.
Ukraine Sows More Wheat Than Expected Despite Dry Weather
–– And more socks despite warm weather.

Lindsay Lohan Pledges to 'Come Back to America and Start Filming Again' in 2020
–– Marines mobilized.
David Stern, former NBA commissioner, dead at 77
–– Kicks bucket.
Aviation chief criticises Greta Thunberg and 'flight-shaming' movement
–– Ground zero.
Elizabeth Warren Isn't Talking Much About 'Medicare for All' Anymore
–– Looking for next big bad idea.
After ICE Raids, a Reckoning in Mississippi's Chicken Country
–– Editors' New Years Resolution #1: 'Reckoning' may only be used when quoting old coots.
Trump faces firestorm after identifying alleged whistleblower
–– Editors' New Years Resolution #2: 'Firestorm' must consist of no less than 100,000 tweets.
Andrew Yang has a simple idea for how the DNC can increase diversity at the next debate
–– Only invite candidates below 5%.
Jeremy Corbyn mocked for describing 2019 as 'quite the year'
–– He's 'bit of' a twat.
Single mum branded 'fat cow' sheds half her body weight in a year and a half
–– But couldn't remove brand from haunch.
Sharon Stone Asks Bumble to Unblock Her Account: 'Don't Shut Me Out of the Hive'
–– Queen bee-atch.
Pregnant Ashley Graham strips down for yoga photo shoot: 'Open to surrender'
–– 'Uncle!'
'Friends' is leaving Netflix — and fans are reeling
–– And doing other Celtic folk dances.
Lindsey Graham Suspicious Giuliani's Ukraine Information May Be Russian Propaganda
–– Ooo, Lindsey must've aced his Nancy Drew: Stay Tuned for Danger video game!
Giuliani associate asks court to allow handing over documents sought in Trump impeachment
–– Giuliani demands he be allowed to spill red wine all over them first.
Rudy Giuliani reportedly participated in a phone call with Nicolás Maduro. The White House was confused.
–– Was person in room most fluent in thuggish.
Pompeo to visit Ukraine as Senate weighs impeachment trial
–– Kyiv him points for nerve.
New Report Details Unrest Among Trump Officials As Trump Withheld Ukraine Aid
–– The naives are restless.
How Long Can Nancy Pelosi Hold Back These Articles of Impeachment? Longer Than You Think
–– Is currently attaching to long pole to dangle outside Mtch McConnell's bedroom window.
Explainer: The case for Trump's impeachment - and the case against it
–– Explainer and Alibier.
Donald Trump Ties Barack Obama as Most Admired Man of 2019 in New Gallup Poll
–– Muck and admire.
Cop Resigns After Writing 'Pig' Insult On Coffee Cup And Blaming McDonald's Workers
–– Use Trump-certified Sharpie.
1997 hit 'Men In Black' is still yet to make a profit says screenwriter
–– Genius accountants forgot to neuralyze.
Neil Innes, 'Monty Python' collaborator, dead at 75
–– Shuffles off mortal coil.
Cincinnati Zoo's Walter the warthog has died
–– From shame over stupid name.
'Cats' Bound To Lose At Least $71M After All Ancillaries: Here's How
–– Leaves claws in contract.
'Killing Zac Efron': Actor almost dies while filming series in Papua New Guinea
–– 'Almost' spoils series.
Blake Shelton Admitted He Was a 'Jerk' Before Meeting Gwen Stefani
–– 'Schmuck' thereafter.
Doing less than 25 minutes of exercise a day could help ward off cancer, says study
–– 0 is less, right?
The Obama and Trump reading lists, compared
–– Hardcover and bubble gum wrapper.
All the cadets pictured giving a Nazi salute will be fired, West Virginia governor says
–– And hired by State Police.
US women's soccer players Ashlyn Harris and Ali Krieger tied the knot in Miami
–– Tripped down aisle with sneakers tethered.
Opinion: Your electric car and vegetarian diet are pointless virtue signaling in the fight against climate change
–– Like carbon obnoxide.
Extinction Rebellion is using holacracy to scale its international movement
–– Ass holacracy?
Whose Voices Were Those at the End of 'Star Wars: The Rise of Skywalker'?
–– Ones saying 'That sucked!', 'I can't believe I paid for this!', 'Even worse than Last Jedi!'?
'Star Wars' is entering a new phase, but its galaxy goes beyond streaming
–– Total eclipse.
'Star Wars: The Rise of Skywalker' Writer Chris Terrio Says They Weren't Trying to Sideline Rose Tico
–– Was happy accident?
Robbie Williams met wife Ayda Field just after sleeping with drug dealer
–– Was still craving dope.
Kate Beckinsale Compares Herself to Bono While Showing Off Toned Body In Itty-Bitty Sports Bra
–– Not Cher?
Maye Musk shares beauty secrets, advice to women in new book
–– Musk haves?
When Will George R.R. Martin's 'Winds of Winter' Be Finished? He Says 'Soon'
–– By then will be Zephyrs of Spring.
Prince Charles crowned 'hardest working royal' of 2019
–– Against stiff competition from Queen's prize Corgi.
Meghan Markle and Prince Harry have been spotted 'hiking and jogging' during their Christmas break to Canada
–– Subbing for Vixen, Prancer in Santa's sleigh team.
Prince Harry and Meghan Markle Got Archie the Filthiest of Christmas Gifts
–– Porn spoof starring grandmother lookalike, Di Hard.
Family surprised by note on 'lazy' Christmas decorations: 'It was the rudest and most ignorant'
–– Replacing tinsel with Kraft Easy Cheese Spray not exactly inspired.
Julián Castro Is Worth More Out of the Presidential Race Than He Was in It
–– Especially if he wins Mega Millions lottery.
Elizabeth Warren's campaign is 30% behind in quarterly fundraising 4 days before deadline
–– How many days before Elizabeth Warren leaves race?
US businesswoman Jennifer Arcuri claims she kept 'intimate' diaries of chats with Boris Johnson
–– Can you feel sharp tang of reflux in back of throat?
Florence Pugh Shuts Down Fan Shading Boyfriend Zach Braff's Age Difference
–– Braff new whirl.
'What the hell were you thinking?': Trump berated White House staff for not telling him Putin was trying to call him
–– In January 2017? 'Maybe we all won't be buried in shit in three years.'
Putin thanks Trump for tip Russia says foiled attacks
–– And tip he nestled between lips.
Trump could lose popular vote by 5 million but still win 2020 election, Michael Moore warns
–– Just in case you're getting in festive mood.
'I had nowhere to go': Mississippi hunter battles rattlesnake in deer stand
–– Which he mistook for umbrella in stand.
Terry Gilliam Liked All of 'The Irishman' Except the Last 30 Minutes
–– After Hoffa hit when it totally fell apart? Why?
Eddie Murphy calls his old stand-up jokes about gay people 'cringey': 'Oh my God, I can't believe I said that'
–– 'Cringey'? Yeah, it is awful word.
NYT's Bret Stephens Faces Criticism For Citing Eugenicist In Op-Ed On Ashkenazi Jews
–– What's wrong with folks from Eugene, OR?
Trump campaign launching 'Evangelicals for Trump' at Hispanic megachurch
— Had better facilities then state Mental Hospital.
Elizabeth Hurley Is Sneaky & Sultry In Cleavage-Baring Ninja Suit
–– And, we all wish, invisible.
The cost of getting genealogical records from the government could go up nearly 500%. An effort is underway to stop that
–– Opponents stumped.
A ghost ship with seven bodies on board washed up on Japan's shore
–– In latest crappy J-horror sequel.
Kristen Bell Says Dax Shepard 'Brilliantly' Spoke with Their Daughter About the Middle Finger
–– Germane Shepard.
Spotify Will Suspend Political Ad Sales in 2020, Citing Need For More Robust Ways to Vet Content
–– Most content already all vet.