Arse and Flowers

Week of 02/14/20
Actual headlines from the internets. You Google 'em.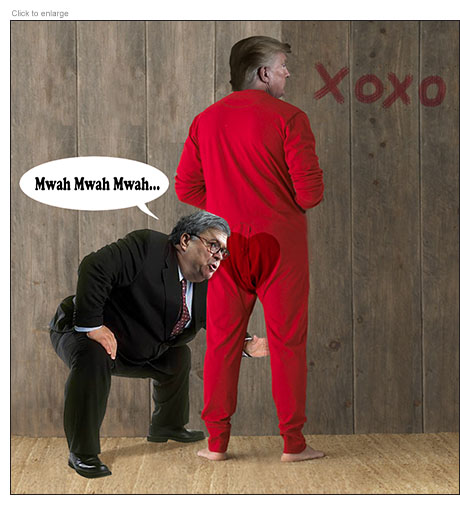 Barr says Trump's tweets about DOJ cases make it 'impossible to do my job'
–– Kissing ass passionately while Trump's distracted?
Bloomberg campaign in non-stop damage control
–– Damaging Trump.
AG Barr: I'm not going to be bullied by the President
–– You mean, again?
Barr confirms Justice Department is receiving Giuliani information about Ukraine
–– Which Rudy leaves in hollowed-out pumpkin.
Barr Installs Outside Prosecutor to Review Case Against Michael Flynn, Ex-Trump Adviser
–– And The Wolf from Pulp Fiction to clean up evidence.
Trump Denies Pressuring Justice Dept. in Roger Stone Sentencing
–– Barr 'imagined' stranglehold on testicles.
All Four Prosecutors Quit After Justice Department Intervenes On 'Excessive' Stone Sentencing; Trump Applauds
–– Stone cold slobber.
After Stone Case, Prosecutors Say They Fear Pressure From Trump
–– Has fingers on scales of justice, and in Lady.
As sentencing approaches, Roger Stone turns to former mob lawyer for help
–– After mob boss did all he could.
Chuck Todd: 'I don't understand how Bernie is considered a front-runner' after New Hampshire primary
–– Ask morons you work with.
Bernie Sanders says he won't release post-heart attack medical records
–– Myocardial infraction.
Investors aren't panicking about Bernie Sanders. Here's why
–– They'd like Trump to win 40+ states.
Sanders doesn't think Buttigieg can simultaneously 'represent working people' and accept donations from big industries
–– Something no Democratic candidate in history has done.
Joe Biden says Democrats can run Mickey Mouse against Trump and have a chance
–– But he's running like mini mouse.
Corey Lewandowski Rips Biden Over 'Dog-Faced Pony Soldier' Comment
–– Was popular Lassie film.
Biden on Buttigieg: 'This guy's not Barack Obama'
–– You're not Geraldine Ferraro.
Rush Limbaugh: 'Mr. Man' Trump Will 'Have Fun' With 'Gay Guy' Buttigieg Kissing His Husband
–– Mr.'s first name 'Mad.'
Rush Limbaugh doesn't think America will elect a man who 'loves to kiss his husband'
–– Limbaugh will soon get chance to pucker up with Baal, Beleth, Balaam.
Bookshop burglary foiled after prosecco distracts raiders
–– Fizzed out.
Drunken Airline Passenger Eats Own Mobile Phone, Forces Emergency Landing
–– Messengers lawyer with large bowel peristalsis.
As many as eight GOP senators expected to vote to curb Trump's power to attack Iran
–– The courage!
U.S. Reaches 'Reduction In Violence' Deal With Taliban In Afghanistan
–– 18 years late.
Dubai's Jobs Vanish at the Fastest Pace in a Decade
–– Spontaneously combust in heat.
Chinstrap penguin numbers may have fallen by more than half on Antarctic island
–– Can't pull selves up by bootstrap?
One-third of all plant and animal species could be extinct in 50 years, study warns
–– As long as there's enough flora to mark fauna's graves.
French Film Industry Reacts to Resignation of Cesar Academy's Board
–– Honors sound editing.
Bong Joon Ho Thinks Alfred Hitchcock Is the Most Original Filmmaker
–– Paracites him.
He's been gone for eight years, but he still gets his wife flowers every Valentine's Day
–– Which she places on grave.
Robert De Niro and Grace Hightower reach custody deal on Valentine's Day
–– Exchange heart-shaped boxes of chocolate with arrows jammed through them.
Sheldon Adelson to donate $100m to Trump and Republicans, fundraisers say
–– Suckers' money to buy suckers' votes.
Ozzy Osbourne's New Ordinary Man Album: 7 Things We Learned
–– 3. He really is that awful.
Gwyneth Paltrow Said She "Failed as a Mother" When It Came to This Milestone in Daughter Apple's Life
–– Instilling core values.
Biggest turtle that ever lived had 10 foot shell with horns
–– Was red, had pointy tale, hooves.

Turtles the size of cars once roamed Earth
–– Filled up at Shell.
More Than 1,500 Bee Dance Moves Decoded by Scientists
–– Done to dance hit singles' bee-sides.
These jellyfish can sting without touching you, thanks to 'mucus grenades'
–– Spit polish enemies.
While We Get Snow During Our Winter, Martians May Get Salty Water During Theirs
–– And have to 'snow' streets?
The Prosecution Makes Final Case Against "Abusive Rapist" Harvey Weinstein
–– Is there really any other kind?
Trump Calls Bloomberg 'A 5'4 Mass Of Dead Energy', Shares Doctored Photo
–– From 6'2 Black Hole.
Bloomberg calls Trump a 'carnival barking clown' after president labels him a 'tiny version' of Jeb Bush
–– Trump calls on pencil neck geek Eric to respond.
Sarah Sanders Says Without Irony That Michael Bloomberg's Language Is 'Offensive'
–– Rudy had Parnas, Fruman whack irony.
Michael Bloomberg unveils immigration plan including place-based visas
–– Beginning to sound way too sane for this race.
"This is a president declaring himself above the law": A former ethics chief on Trump's dangerous new era
–– And Senate adding "Please take my wife.'
Trump Just Came Out and Admitted He Sent Rudy Giuliani to Dig Up Dirt on His Rivals
–– Out of water closet.
Trump says he may stop letting others listen in on calls with world leaders
–– Which is only fun they get in WH jobs.
Rudy Giuliani Claims Democrats Want to 'Literally Kill' Him
–– Finally, no hyperbole.
Fossils of prehistoric human-sized rat that weighed nearly 200 pounds and had massive teeth discovered in South America
–– Rattus Donjuniorus.
Trump Jr. Greeted With Chants of 'Forty-Six' at New Hampshire Rally
–– How do they know his IQ?
Florida man complains after dialysis center prevents him from bringing Trump cutout to treatment
–– Should be standard equipment at colonoscopies.
Mitch McConnell Admits There Are 395 House Bills Sitting in the Senate
–– Which he naps behind undetected.
McConnell reiterates that Senate would confirm a Supreme Court nominee if there's a vacancy this year
–– Because, after all, fair is fair!
Risqué 'Wheel of Fortune' puzzle leaves viewers stunned: 'One of the most lurid-sounding puzzles ever'
–– Suggestive solution: 'Say, jack off my Vanna, right?'
Michael Avenatti Found Guilty of Trying to Extort Millions From Nike
–– Sneaker tied.
Hope Hicks' return is a sure sign of White House arrogance
–– Hopelessly lost.
Game over for HQ Trivia
–– Soon won't even qualify as trivia.
Pugs 'cooked to death' after being left in tent for eight hours on 34C day
–– Mmmm, roast pug.

Kate Middleton Looked Chic During Her Surprise Farm Visit
–– Pigs impressed.
Prince Harry and Meghan Markle to close office at Buckingham Palace
–– Let go chimpanzee staff.
Meghan Markle and Prince Harry 'Are Besotted with Each Other' Amid Royal Exit, Source Says
–– And Harry knows from besotment.
Meghan Markle, Prince Harry will skip Prince Andrew's birthday, royal source claims: 'It's an open secret'
–– It is, which is why they'll send underage sex doll gift.
A high school student redrew a map of the US to feature Ohio 2, Long Texas and no Wyoming. Her goal? To drive us all mad
–– And your excuse for this 'news' story?
A police officer who said he was told to 'tone down your gayness' reaches $10 million settlement and gets promoted
–– Fellow male officers wearing pink tutus to work.
Teacher tied to a chair, beaten and fatally hit by truck
–– In worst time-out ever.
The Bounce-back Stripper Calls 15-Foot Pole Drop Blessing in Disguise
–– That was one tall slav.
Brazil's president blasts Pope Francis on Amazon climate change: He 'may be Argentinean but God is Brazilian'
–– Has bikini wax to prove it.
Great white sharks older than previously thought, study says
–– Explains going white.
Polar bears are getting thinner and having fewer cubs. Melting sea ice is to
–– Not cutting down on Klondike bars?
Mammal That Mates Itself to Death Will Struggle Under Climate Change: Study
–– Cares fuck all.
How did this rare pink manta get its color?
–– Embarrassed by photograph?
Mysterious 'ghost population' of ancient humans discovered
–– By sense of smell.
White House extends national emergency on the southern border
–– And mental health crisis north of Stephen Miller's neckline.
In 141 years of record-keeping, there has never been a warmer January
–– It's enough to melt your heart, other organs.
Cuomo calls out what Lindsey Graham wore on Fox News
–– Judges backless number with spaghetti straps, "tasteless.'
Wayfair is cutting 550 jobs
–– Which is, like, way unfair.
Vermont deputy police chief resigns after she admitted to running 2 fake social media accounts
–– Apologizes for bogus maple syrup brownies recipe.
Democrats need to stop pretending they live in a dictatorship
–– What do you call system with pretend dictator?
I Questioned the Sincerity of Donald Trump's Pro-Life Stance. The Response From My Fellow Evangelicals Was Troubling
–– 'Long Live Satan!'
Nation's largest teachers unions call to end active shooter drills over fears they're traumatizing students
–– But isn't that one of 3 Rs –– Reading, Writing, Raw Panic?
David Hockney's 'The Splash' sells for $29.8 million
–– Someone pooled resources.
London will use live facial recognition cameras to police the city
–– From Cam-den Town to Cam-bridge.
Chairman of Iowa Democratic Party resigns after caucus catastrophe
–– Down from the count.
A school called police after a kindergartner with Down syndrome pointed a finger gun at her teacher. The girl's mom says they went too far
–– Sounds like teacher, not finger, was loaded.
Elizabeth Warren Rejected 'You Win, I Lose' Politics. Then She Lost in New Hampshire.
–– Sounds like she actually embraced.
Yang Is Out. Yangism Is Here to Stay.
–– If anyone has yen for it.
Andrew Yang: After quitting the presidential race, will he run for mayor of New York?
–– He could probably poll at 6% there, too.
Warner Bros. tweaks the name of its box office flop, 'Birds of Prey'
–– Turds of Prey?
Two bonsai trees are back at a museum days after being stolen
–– Bonsai, buckaroo.
A woman's remains were found at a landfill. Police believe she was 'dumpster diving'
–– Vultures were seen 'dumpster diving.'
Native American burial grounds threatened by blasts for border wall construction, Arizona congressman says
–– Warns of angry spirits eating souls of evil White Men.
Trump makes 86 false claims over two weeks, including whoppers about Bloomberg, Pelosi and Social Security
–– Aides worry about slowing pace.
Trump called senator a 'munchkin.' Watch his response.
–– Disnvitation from Lollipop Guild.
Trump repeatedly asked Reince Priebus if Wisconsin badgers are 'mean to people,' how they 'work,' and what they eat, according to a new book
–– Was considering as potential first pet.
Former Rep. Katie Hill says America needs a female president 'f***king soon'
–– Angling for position of Naked Drug Czar?
'It's kaputt.' Movers accidentally drop virtuoso's one-of-a-kind $194,000 piano
–– Kaputt? Hole in one?
Space Force says Russian satellites are following American satellite
–– In trench coats, dark glasses.
A new bill could finally make it legal for unmarried people to have sex in Virginia
–– With married animals.
Former MLB pitcher sues Houston Astros saying the team's sign-stealing cut his career short
–– Induced walk?
Former Astros outfielders J.D. Davis, Jake Marisnick apologize for their roles in the sign-stealing scandal
–– Yankee catchers flash one finger.
A 6-Year-Old Girl in Florida Was Committed to a Mental Health Facility After She Threw a Fit at School
–– Fit hit 3-year-old in head.
I Waited Until I Was 41 To Lose My Virginity. But Was It Worth it?
–– Which part?
Mitt Romney Is a 'Judas' to Many Republicans. But Not in Utah.
–– And Trump their Jesus?!
She Ran Over and Killed 2 Children. Should She Have Had a Car?
–– Is that trick question?
Michael Douglas Names 2020 Democrat His Dad Kirk Douglas Endorsed With Last Words
–– 'Rose…bud.'
Kirk Douglas Tribute: Mitzi Gaynor Remembers Her Former Co-Star
–– At 88 impressive she remembers any co-star.
Inside the prisons where remnants of Islamic State are held in limbo
–– Forced to shimmy under wooden pole held by guards.
Data of All 6.5 Million Israeli Voters Is Leaked
–– Chacked.
Janelle Monáe Opens Oscars in Song, Celebrates Being 'a Black Queer Artist Telling Stories'
–– Who's she lying to?
Joaquin Phoenix Rails Against Cancel Culture, Cow Insemination in Wild Oscar Acceptance Speech for 'Joker'
–– Milking for all it's worth.
Spike Lee Pays Tribute to Kobe Bryant in Gucci Suit at Oscars
–– So that's what he was buried in!
This New York deli offers customers free food if they can solve simple math problems
––All involving how many calories equals obesity.
Anatomical details of rare electric fish revealed by an advanced imaging technique
–– Including cute little 'lightning rod.'
Endangered Gray Wolf Found Dead in California After Traveling Nearly 8,000 Miles Without a Pack
–– Instead wore money belt for cash, credit cards.
A KFC food worker in China was infected with the coronavirus, despite efforts to curb spreading with contactless delivery and thousands of store closures
–– Should've banned finger lickin'.
NYC Lunar New Year parade showcases support for China, Wuhan
–– Even dragons wearing face masks.
Trump 'Is Not a Racist' Because the 'People Who Wash Dishes' at Mar-a-Lago 'Love Him,' Says Ben Carson
–– 'And he has me shine his shoes, which I kiss before buffing.'
Trump to propose cuts in foreign aid and social safety nets in budget: officials
–– Increases in corporate aid, high society safety net.
A man was arrested at the White House after he told a Secret Service agent he planned to kill Trump
–– TMI, dude.
Rep. Ayanna Pressley has a message for those who called her 'Mr. Clean' after she went public with an autoimmune disease
–– 'You can scrub my ass.'
Florida 1st grade teacher tried to buy an 'eight ball' of meth while at school, authorities say
–– Student brought ounce from home for show and tell.
Van Go? Van Gof? Van Gog? They're all wrong, Van Gogh experts say
–– I say tomahto.
Robert Conrad of 'The Wild Wild West' dead at 84
–– West fallen.
Robert Conrad: I didn't enjoy doing 'The Wild Wild West'
–– Not wild wild about it?
Chris Brown has a new face tattoo
–– Sadly can still see face.
Cindy Crawford's son just got a face tattoo
–– All of which should read by law: 'Loser.'
Amber Rose Claps Back at Trolls for Judging Her New Face Tattoos: 'Beauty Is Not on the Outside'
–– Proves point.
Macaulay Culkin Auditioned for 'Once Upon a Time in Hollywood,' and It Was Disastrous
–– Film stunk, but 'disastrous'?
Academy Museum's Dilemma: How to Handle #MeToo Offenders
–– At arm's-length, you'd think.
How 'The Lodge' Dismantles Gender and Mental Illness Tropes
–– And still bombs at box office.
Hollywood's Black Hair Problem on Set: "We've All Cried in Our Trailers"
–– Want to curl up, dye?
Rick Moranis Returns from 24-Year Acting Hiatus to Star in Honey, I Shrunk the Kids Reboot
–– Honey, I shrunk expectations.
'Birds of Prey' Lays an Egg at the Box Office
–– You're talon me?
Why Harley Quinn Became a Bernie Sanders Supporter in 'Birds of Prey'
–– Character is insane.
Patty Jenkins repeatedly offered Cathy Yan advice during 'Birds Of Prey' shoot
–– She wants that known?
Cleveland Browns mascot Swagger dies at 6
–– Of terminal humiliation.
Veteran actor Orson Bean, 91, struck and killed by car while walking in Los Angeles
–– Bean there, done that.
Trump defends firing of key impeachment witness Vindman
–– Vindictive.
Nancy Pelosi: Trump impeachment witness Vindman's 'shameful' firing a 'brazen act of retaliation'
–– Revenge of the Shit.
Trump says military may consider discipline for ousted aide Vindman
–– Will refer to Chiefly Petty Officer.
Army won't investigate Vindman over impeachment testimony, top leader says
–– Won't be disciplined for telling truth?
Former FBI Official Andrew McCabe Won't Face Charges
–– Won't be prosecuted for telling truth?