Perversionary Tactics

Week of 01/10/20
Actual headlines from the internets. You Google 'em.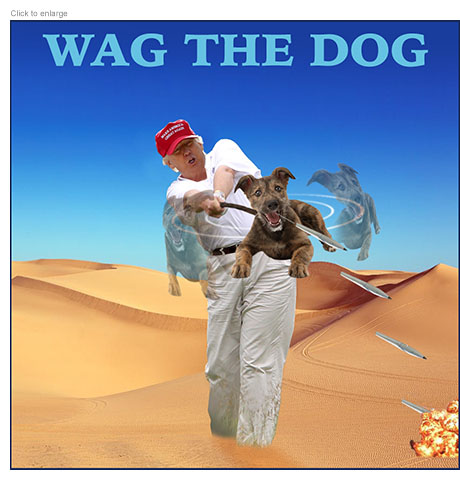 Iran's supreme leader says missile attacks were slap in face for US
–– More like slap on knee for Trump.
Artificial gills for humans could become a reality
–– Don't hold your breath.
Iran's strikes seem intended to avoid US deaths. Here's why that might be the case
–– Option two was for military leadership to drop trou, pass wind in westward direction.
CIA Director Gina Haspel reportedly pushed for Soleimani's killing –– and perfectly predicted Iran's response
–– As child guessed who shot JR.
US officials reportedly think Iran may have been shooting to miss as missile attack in Iraq leaves no casualties
–– Putting miss in missile.
US knew Iranian missiles were coming ahead of strike on Iraq bases housing American troops
–– Got evite to 'Duck!'
Pelosi reportedly told a room full of House Democrats to 'pray' following news of Iranian attack on US forces in Iraq
–– That somehow this wasn't going to work out for Trump.
House approves resolution to limit Trump's war powers on Iran
–– To weekends, holidays.
US tried to take out another Iranian leader, but failed
–– Potential date gave cold shoulder.
Trump reportedly admitted impeachment played a big role in his Soleimani decision
–– His way of saying, 'What would you do without my rash, borderline illegal, destabilizing antics?'
Pompeo won't define "imminent" when talking about Soleimani threat
–– Hey, stupid, read this.
Pompeo: Iranian threats "included 'attacks on US embassies.' Period, full stop."
–– 'To whatever shred of credibility I had.'
Trump apparently furious over war powers vote, sources say
–– Obviously mad.
Sarah Huckabee Sanders: 'Can't Think of Anything Dumber' Than Giving Congress War Powers
–– And she had to defend idiotic Trump lies.
U.S., Iran draw back from brink but new threats show crisis not over
–– Caught in brinks' job.
Trump's Iran Strike Leaves Anti-War Republicans Out in the Cold Again
–– Along with smattering of sane ones.
Rachel Maddow Explains Why Trump Picked Most Extreme Iran Option
–– And Son of Sam's motivation.
Philippines allows citizens to stay in Iran, Lebanon as Middle East tensions ease
–– Was preparing to send dissenters there if war broke out.
Hannity: Iran's Refineries 'Could Soon Go Up in Flames'
–– 'Along with any sense of reality on Fox.'
Mark Levin Accuses Fox News Colleagues of Taking His Ideas 'Without Attribution'
–– Did preface with 'some wack job told me.'
Republican apologizes for saying Democrats are 'in love with terrorists'
–– But maintains they 'like to blow jihadis any chance they get.'
A 'confused' Trump tried to take credit for the Ethiopian prime minister's Nobel Peace Prize
–– Which he oddly referred to as 'threepeat.'
Confirmed: American businesses and consumers are paying 'approximately 100%' of Trump tariff costs
–– Base volunteers to pay 'like 200%.'
Ukrainian Boeing plane crashes in Iran, 176 people dead
–– In tragic attempt to combine too many hot topics.
Iran Says It Is Willing to Share Jet's Black Boxes, Denies Hostile Act
–– Promise breakdance performance to accompany jam.
Pompeo on Ukraine airliner crash: "We'll see what actually transpired"
–– In latest slang for 'concocted.'
Woman was worried before her plane crashed in Iran, her husband says. She called him 20 minutes before takeoff
–– Nice that the Psychic Friends Network takes an interest in international aff… oh, that's CNN?
2 Earthquakes Hit Near Iranian Nuclear Power Plant Hours After Missile Strike, Plane Crash
–– Ayatollah Khameini: 'I was just saying to m' mullahs, it's not our week.'
Origin of mystery humming noises heard around the world, uncovered
–– Little pretty bitty one.
A Stanford researcher did 2 push-ups every time he went to the bathroom and lost 20 pounds
–– Yeah, was going to bathroom every 20 minutes.
A North Korean woman is under investigation after saving her 2 kids from a house fire –– but not her portraits of the Kim family
–– Swears in confusion she thought fat little kid was Dear Leader.
Justin Bieber reveals he's battling Lyme disease
–– Vodka and lyme?
Denise Richards' Team Denies Report She Had a Months-Long Affair With Brandi Glanville
–– Rebuts 'wagging tongues.'
Killed-off Kevin Can Wait actress Erinn Hayes says she'd kill to be on Kevin Can F*** Himself
–– For spinoff Kevin Can Be Buried.
An ex-con who was helped by prison consultants says Lori Loughlin should learn to 'be humble' ahead of her college admissions scandal trial
–– Just stow shiv up there with smile.
I planked for a minute every day for a month, and was surprised when I actually noticed a flatter stomach
–– And wood splinters in abdomen.
Lose fat in your tongue to improve sleep apnea, study says
–– Researchers deserve fat lip.
Body of stowaway found in Air France plane's landing gear
–– Luggage ends up in Switzerland.
A huge meteorite smashed into Earth nearly 800,000 years ago. We may have finally found the crater
–– Laos suffers depression.
Michigan Man Killed, Cannibalized By Grindr Date, Police Say
–– Turned into grinder date.
'It was touch and go': Man develops life-threatening infection after using nail to remove popcorn from teeth
–– And hammer to gargle.
'Human Ken Doll' comes out as transgender, shares transformational photos: 'I've always felt like Barbie'
–– Now anatomically matches ideal.
California is suing a Silicon Valley billionaire for blocking public access to a beach
–– Not enough other Northern California coast to access frigid Pacific?
'You're Never Prepared For This': Puerto Rico Reels From Fresh Quake Nightmare
–– 'More unexpected than Spanish Inquisition.'
Jim Bakker To Christians: You Must Love Trump To Prove You're 'Saved'
–– 'Saved' by the bull?
Judge Threatens Harvey Weinstein With Jail For Using Cellphone On Day 2 Of Trial
–– And prohibits inviting hookers to court.
HUD to roll back Obama-era housing desegregation rule
–– Sec. Ben Carson Jim Crows about it.
Trump aims major rollback of landmark U.S. environmental law
–– Another big 'Frack You' to Obama.
Chinese students arrested on charges of photographing US military base
–– Had selfie stick 5 yards long.
Selena Gomez Gets Stung by a Man O' War While Vacationing in Hawaii
–– Soldier wielding joy buzzer.
Carlos Ghosn: 'I did not escape justice. I fled injustice.'
–– Entire WH staff: 'Hmm, I like the sound of that.'
Carlos Ghosn slipped out of Japan undetected because the crate he hid in was too big for a Japanese airport's baggage scanners
–– How Godzilla made it back to Monster Island undetected.
Ghosn Nearly Crossed Paths With Japan Prime Minister as He Fled
–– Was in adjacent crate.
Photos of Jeffrey Epstein's cell and a noose made out of a bedsheet published by '60 Minutes'
–– And included in IKEA's 2020 catalogue.
A Kenyan pastor fatally stabbed his wife in church and then killed himself on the pulpit, police say
–– Was during sermon on penance.
Elizabeth Warren on Bloomberg 2020: 'I guess he figured it was cheaper than paying a two-cent wealth tax'
–– Oh, he'd pay two-cents.
Under pressure, Michael Bloomberg faces a new court challenge to his company's use of non-disclosure agreements in discrimination cases
–– Mike and spike.
Ocasio-Cortez Refuses to Pay DCCC Dues, Frustrating House Dems
–– Unless they're renamed AOCCC dues.
Marianne Williamson ends her 2020 Campaign
–– Chakras across nation blocked.
McConnell Says He Will Proceed on Impeachment Trial Without Witness Deal
–– And any semblance of legality or legitimacy.
The impeachment impasse appears to be over, and Mitch McConnell got what he wanted
–– Mitch ado about nothing.
Bolton Impeachment Testimony Bombshell Flummoxes Senate GOP
–– Others claim they're merely discombobulated.
Rand Paul: You'd have to be brain-dead to believe that
–– 'That being a thing I say about impeachment, Iran or just about anything.'
One of America's oldest and largest milk producers files for bankruptcy
–– May reorganize as LElsie.
Lincoln Chafee files to run for president as a libertarian
–– Chafee at the bit.
Edd Byrnes, Kookie on '77 Sunset Strip,' Dies at 87
–– Kookie cutter.
Buck Henry, Who Helped Create 'Get Smart' and Adapt 'The Graduate,' Dies at 89
–– Buck shot.
Burt Ward from iconic 60s TV show 'Batman' gets his star on the Hollywood Walk of Fame
–– Ward heeler.
Ricky Gervais Tells Hollywood to "F*** Off" in Expletive-Filled Golden Globes Monologue
–– Industry offers him face print in cement on Walk of Fame.
All the Gorge Red Carpet Looks from the 2020 Golden Globe Awards
–– Good gully!
Gwyneth Paltrow Shocks in Jaw-Dropping "Naked" Dress at Golden Globes
–– 'Naked' as in weighs 30 lbs.
Kerry Washington Wore a Topless Dress With a Thigh-High Slit to the Golden Globes
–– Slit to her golden globes?

Joaquin Phoenix Adorably Gassed Up Girlfriend Rooney Mara On Golden Globes Red Carpet
–– Forgot to remove hose.
Megyn Kelly Mocks Joaquin Phoenix's Decision to Wear the Same Red Carpet Tux to 'Reduce Waste'
–– Doesn't mention same underwear he wore throughout Joker shoot.
Jennifer Aniston said Reese Witherspoon asked Jay-Z for a glass of his champagne when their Golden Globes table ran out of water
–– Tastes same.
Quentin Tarantino shares how there would be no 'Reservoir Dogs' without 'The Golden Girls'
–– Oh, that episode where Bea Arthur tied Betty White to chair, threatened to shave legs with Venus Women's Razor?
Quentin Tarantino's Once Upon a Time In Hollywood extended cut could debut 'maybe in a year's time'
–– Masochists all atwitter.
Kristen Stewart Thriller 'Underwater' Hopes to Build Mystery in Its Marketing
–– Why would anyone want to see it?

Kristen Stewart's new movie Underwater gets sunk by first reviews
–– Critics wet selves over pun-friendly title
David Hasselhoff ditching the States - for a sheep farm in Wales
–– Refugee sheep seen on rafts off Guernsey.
UK royals rocked after Harry, Meghan 'defied Queen' in quitting roles
–– Were thisclose to beheadings.
Prince Harry defied the Queen by announcing he and Meghan would step back from royal duties
–– Flipped royal bird.
Black Britons Know Why Meghan Markle Wants Out
–– And why she wanted in?
What will happen to line of succession now that Meghan Markle and Prince Harry have quit
–– And who can possibly give fig?
Madame Tussauds removes waxworks of Harry and Meghan from royal family display
–– Wax off.
Nicki Minaj's new Madame Tussauds waxwork infuriates fans who claim it looks nothing like her
–– And was way too smart.
Adele Tells a Fan She's Lost About 100 Pounds During Vacation Encounter With Harry Styles
–– Wow, what did she have for dinner that night?
On Top of Everything Else, the Queen's Granddaughter Zara Tindall Is Now Banned From Driving
–– Prince Philip will have to chauffeur her.
The 'towns are rolling up on us,' warns Land O'Lakes CEO of rural America at annual Fed summit
–– Butter comment make no sense.
Men are paying $76,000 for a limb-extending surgery that involves breaking leg bones and inserting nails and screws
–– Only limb worth extending has no bones.
Netflix releases official Witcher timeline, revealing season 1 took place across 50 years
–– Which felt like 100.
Aliens exist and they are living among us, says first British astronaut into space
–– Who never fully returned from orbit.
A classic Star Wars character was killed off in Rise of Skywalker (and no-one noticed until now)
–– Explaining how term 'classic' is relative.
Beyond Meat's chief growth officer says he 'can't remember when we've ever said no' to creating a new menu item for a fast-food chain
–– Like artificial Beef Jerky Concrete at Shake Shack.
Impossible Foods CEO calls reports of company backing out of McDonald's deal 'complete bulls**t'
–– 'Which is also the main ingredient in recipe we were preparing.'
Blood-red skies loom over southeast Australia after deadly bushfires bring 'one of worst days ever'
–– More russet, but we get idea.
Aussie wildfire victim slams prime minister for forced handshake
–– Feel the burn.
Terry Gilliam: I'm 'Tired' of White Men Being Blamed for Everything That is Wrong' in the World
–– Will he take rap for shitty movies?
White House Refuses to Release 20 Emails About Ukraine Aid Freeze
–– Mick Mulvaney threatens to chew up, swallow them.
Don't abbreviate 2020. It's for your own good
–– We were gonna call it twe-twe.
Dozens of mourners killed in stampede at Soleimani funeral
–– Thought it was Big and Tall Cleric's Warehouse door-buster sale.
Iran Now Knows Decapitation Will Be Part of Strategy Going Forward, Ret. Major Says
–– Or heading off.
Trump says doesn't need Congress's OK for even 'disproportionate' strike
–– 'Like when the missile is too big for the drone, but still gets launched.'
Iraqi Lawmakers Urge End U.S. Troop Presence as Iran Mourns a Slain General
–– Trump offers to send bow for gift to Iran.
Shocked Iraqis Ask Team Trump WTF After General's Botched Pullout Letter
–– What The Fatwa??!!
George Conway: 'Desperate, Evil' Trump Is Escalating With Iran Because Of Impeachment
–– Could've written War and Impeach.
Jeremy Corbyn refuses four times to describe Iranian General Qassem Soleimani as a 'terrorist'
–– Term for any Army Chief of Staff in world depending on perspective.
Supreme Leader's military adviser says Iran's response will be 'against military sites'
–– Base instinct.
US spies detected Iranian ballistic missiles at a heightened state of readiness following the assassination of Qassem Soleimani
–– Fully erect.
Trump warns Iran if it hits any Americans or American assets 'we have targeted 52 Iranian sites'
–– 'And 70-odd virgins.'
Mike Pompeo claims strike killing Iranian general was a 'collective decision' despite report saying leaders were 'stunned' by Trump's choice
–– Made by national socialist comrades in WH.
Soleimani's daughter asks for revenge
–– 'Please Sir, may I have some more?'
Rod Stewart and his son have been charged with simple battery after New Year's event, police say
–– AA.